On the first weekend in November I attended the Arizona Classic Jazz Festival at the Crowne Plaza in downtown Chandler. This hotel has been greatly expanded from the original that opened in 1913 as the first in the state to have a grass golf course. (What else would a golf course be made of?) The hotel adjoins a historic district that features numerous boutiques and trendy restaurants.
Since I had never been here before, I arrived a little early to get acquainted with the venue and immediate area. For first-timers, a map of the hotel in the festival program would have been helpful. However, all four music locations are within about 100 yards of each other, so it's not difficult even for the geographically challenged, which I am not, to find their way around. Three venues were inside, and there was a covered patio just outside the hotel lobby that accommodated about 50 people, plus any eating at tables slightly farther away. This site, however, was occasionally plagued by traffic noise.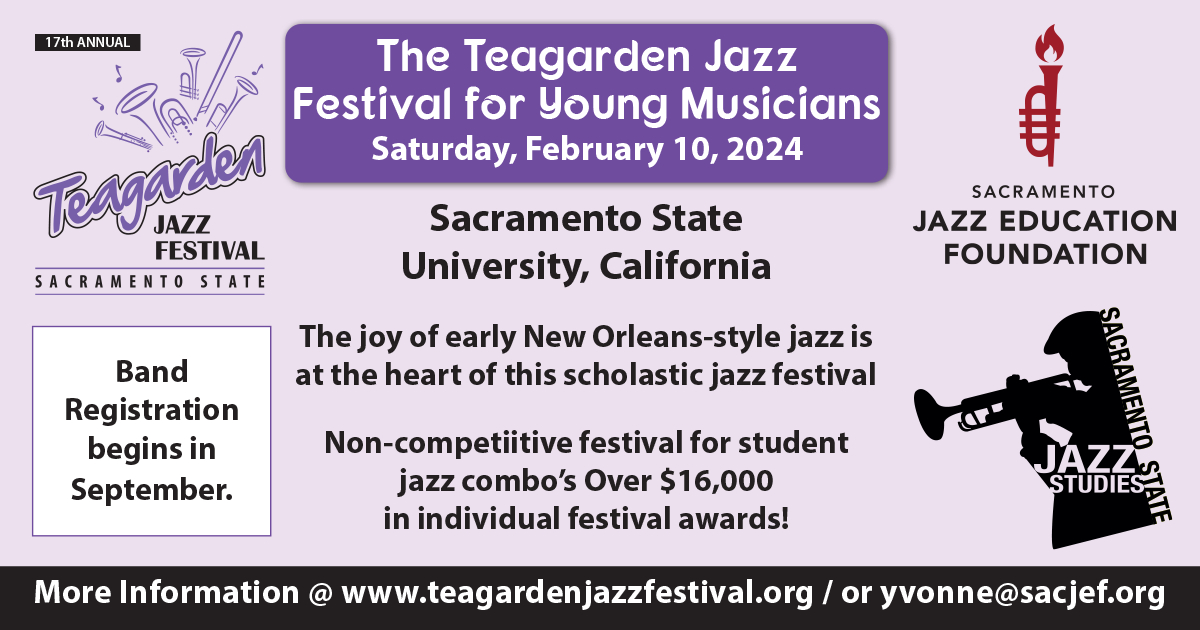 The festival took ample health precautions in the face of COVID. Hand sanitizers were ubiquitous, masks were available for anyone who wanted one, and mask-wearing was encouraged but not required. Masks were provided for anyone who wanted one. I'd guess no more than about 10% of patrons wore them. But given the age of most attendees, I presume nearly all have been vaccinated. Disposable gloves were available for the dancers but I saw few people wearing them.
I did not stay at the host hotel, having found less expensive digs at the Extended Stay Suites two miles away. The difference in price paid more than half my airfare. I used my bike to go back and forth. Bad weather does not seem to be an issue 'round those parts in early November, although I learned that there have been times when the festival was plagued by rain and cold.
With 13 bands on the card, I spent about an hour constructing an itinerary in order to catch as many of the groups as possible. Living on the East Coast, I was unfamiliar with most of them. Fortunately, the festival had put a textual and graphic schedule on their website, so I was able to do some initial reconnaissance at home. I made all my selections in pencil so I could make adjustments on the spot, which I did several times during the weekend.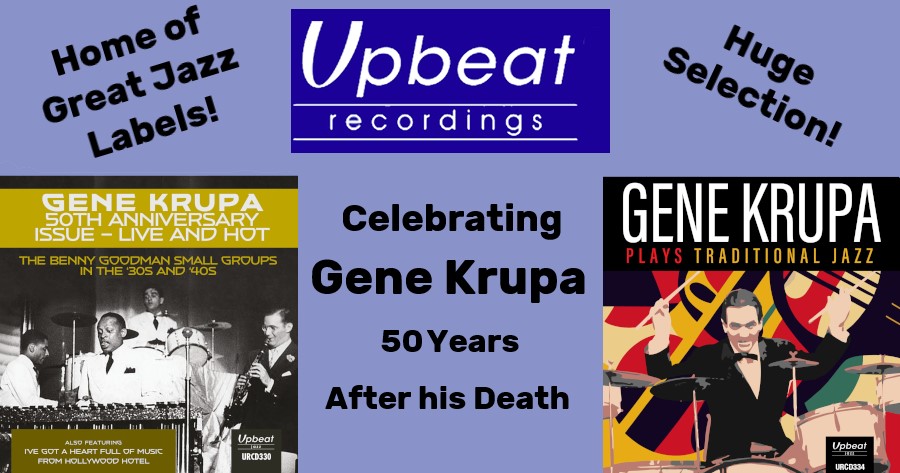 Guitarist/banjoist Howard Alden, who lives locally, was a special guest during the weekend. He was scheduled to accompany several bands, but when the Wolverine Jazz Band's regular Bob Barta had to cancel due to a family emergency, Howard filled in on all their sets.
Several other musicians also played with bands other than the one with whom they appear regularly. These included drummer Danny Coots and bassists Sam Rocha and Steve Pikal. Reed man Dan Levinson from New York played in Cheryl's Vintage Jazz, but he also did a set with Stephanie Trick and Paolo Alderighi.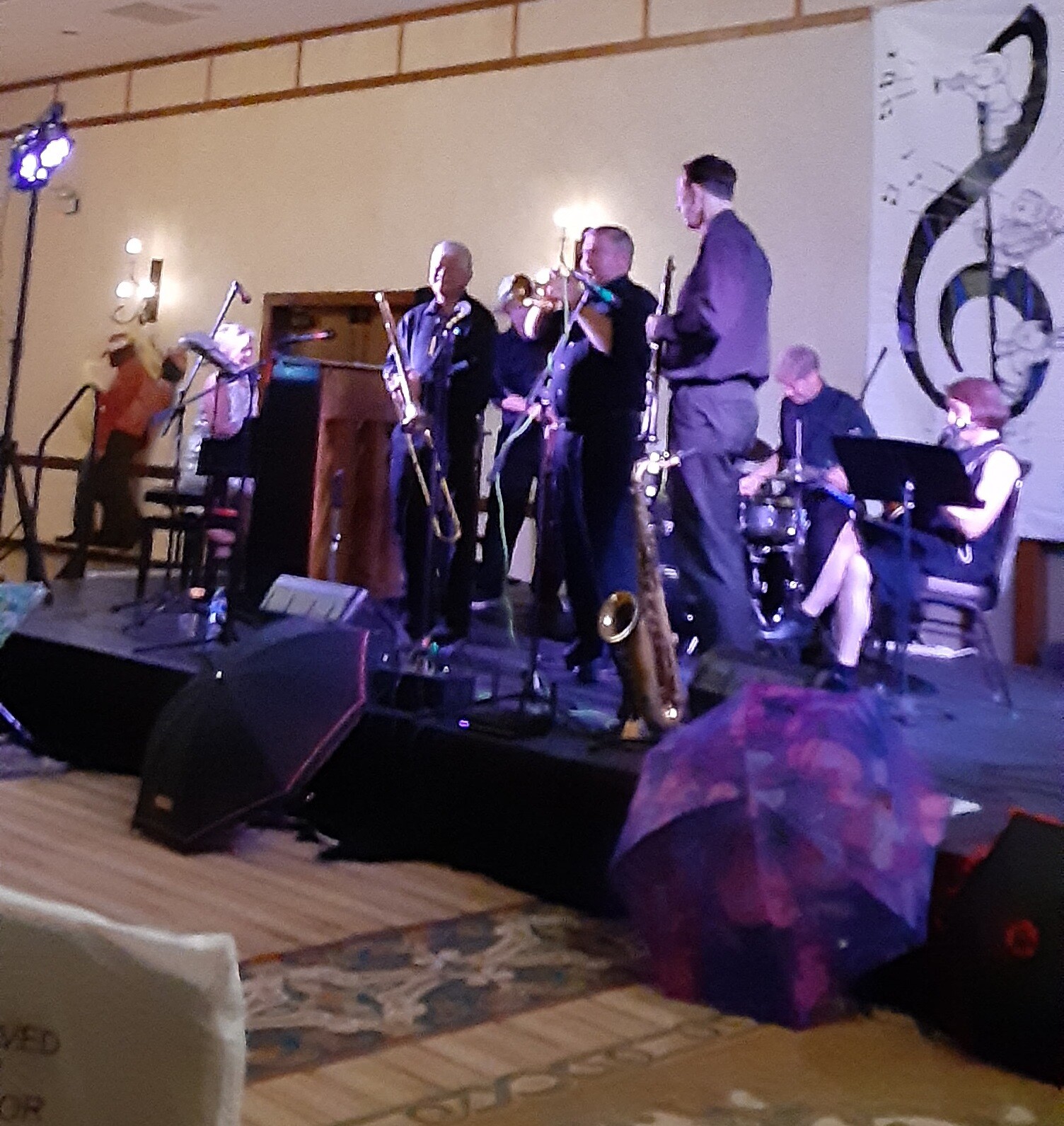 Opening night, Thursday, had all four sets in the main hall. These featured Something Doin', a Ragtime-style quartet from the larger Queen City Jazz Band; Stephanie and Paolo, duo pianists; the Wolverines from New England; and an expanded B.A.D Rhythm. Only the first group was new to me, although I had not seen the current iteration of B.A.D. Frankly, I like the smaller version better. They added two amplified guitars, while I prefer acoustic.
Friday and Saturday offered nine one-hour sets per day from 10:30 AM to 9:10 PM. On Sunday there were four sets, not counting a gospel service and the grand finale. There was also the optional Afterglow that evening, which I sprung for, that included dinner and 2-½ hours of music by WYSIWIG and Cheryl's Vintage Jazz.
This festival is essentially a smaller version of the Thanksgiving weekend San Diego festival, which went online only again this year but which I attended in 2018 and 2019. Both events had reserved seating for sponsors and sponsor access to the hospitality suite. At Chandler my sponsorship allowed me to eat lunch and dinner without having to leave the facility—a very welcome and time-saving convenience. And the food offered was very good—not just unhealthful snack food that one might have expected. The food was prepared by festival director Helen Daley, as if she didn't have enough to do managing the event. My compliments to the chef.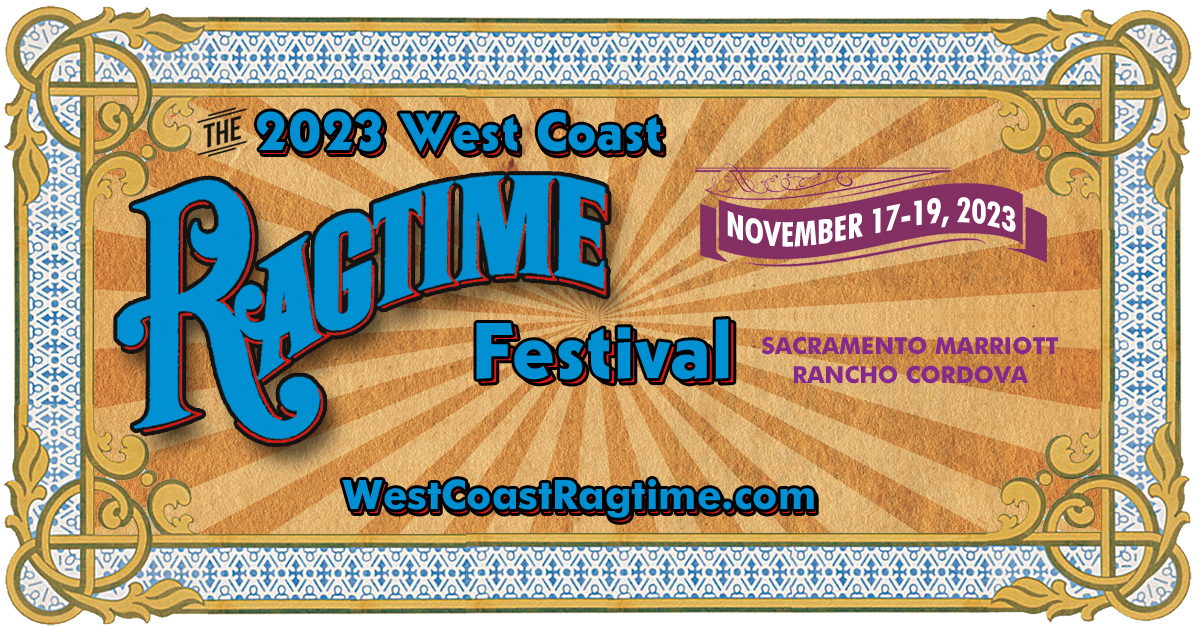 As at San Diego, I saw many young swing dancers at the evening sets in the large ballroom, always a fortuitous sign. Even the smaller rooms had dance areas that were more utilized than I am used to seeing. Maybe dancing is a bigger thing on the West Coast than in the East.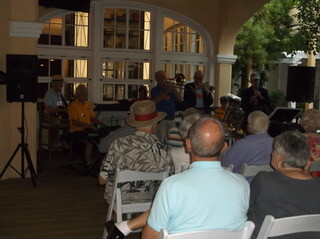 Although I had never been to this festival, I did meet several people I knew from elsewhere: TST subscriber Pat Scull from Northern California (he actually reads my columns!), my Tri-State Jazz Society colleague Mike Mudry, and Sharon Cioffi from Connecticut. I also met fellow TST correspondents Shelley Gallichio and Lew Shaw.
The 2022 schedule was released on Friday; it's November 3-6, and all-events passes were being sold at a discount. The performers list is almost identical to this year's, with the addition of special guest Pieter Meijers.
I was able to see all the bands, most for at least one set, and multiple sets of bands I especially came to see. For the few exceptions, I watched about half a set, enough to give me what I thought was a fair sampling. I gave each group a letter grade, shown below. Your opinion may differ, but that's OK.
My A-rated bands were the Wolverine Jazz Band, whom I had not seen since the demise of the Connecticut festivals; the St. Louis Stompers; Cheryl's Vintage Jazz, a band formed for this festival and comprised primarily of California players; and Stephanie and Paolo. I unashamedly profess a great admiration of them that was only enhanced over the weekend. They were perhaps the main reason I came; I had not seen them in two years. Their shows are almost as much visual as aural. It's a good thing they're married—to each other! They need to be seen, whether on one piano or two (and we saw both this weekend) to be fully appreciated. They played eight sets, a total of about 80 numbers, with no repetitions.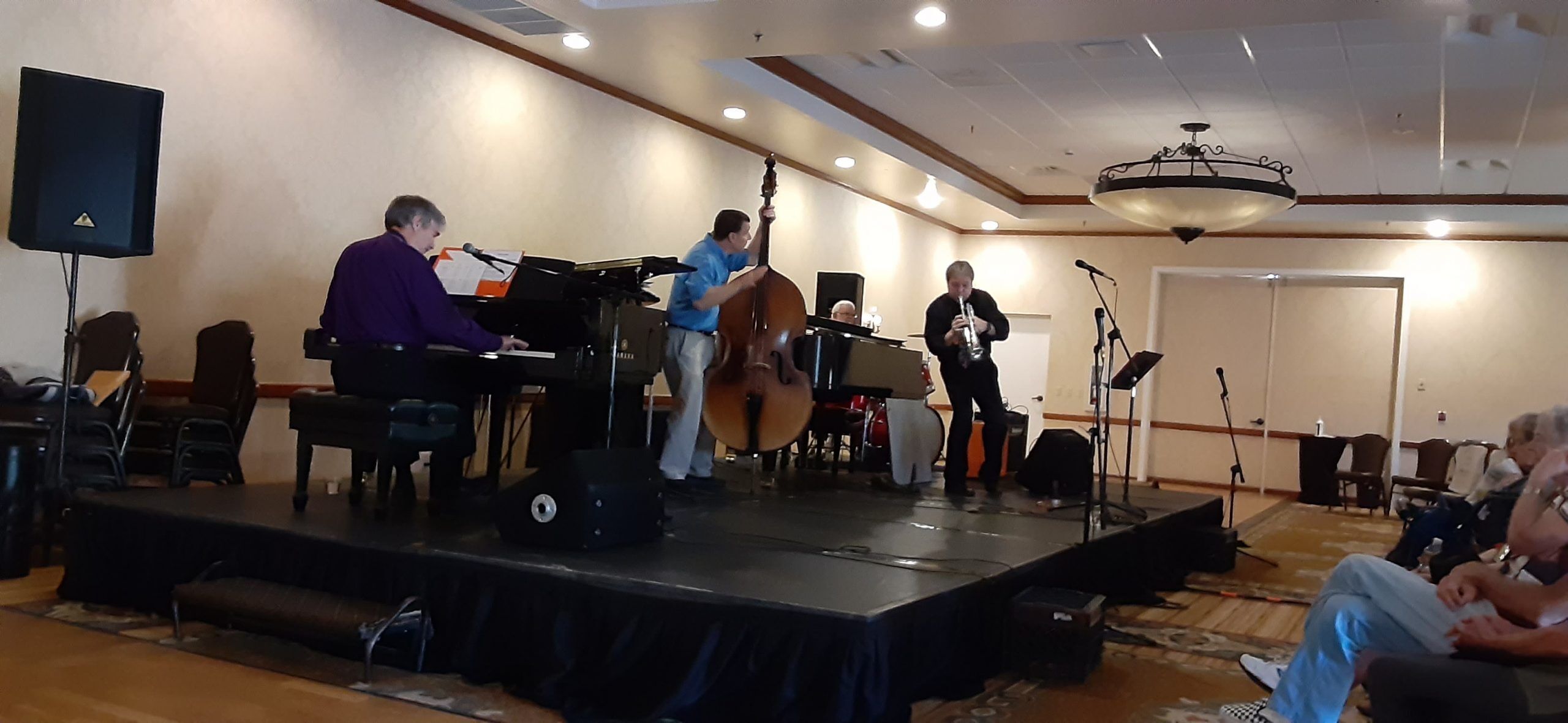 My grade B bands, although that doesn't necessarily mean they're second-rate, included "Big" B.A.D. Rhythm and Groovus, both anchored by pianist Brian Holland and drummer Danny Coots; We 3+1; the Wildcat Jazz Band from Tucson; the Phoenix-area Sun City Stomperz; and the Queen City Jazz Band from Denver.
Although the first two bands listed above are top-notch, I felt their sets included too much bantering and not enough music. The expanded B.A.D., with bassist Sam Rocha and Pat Bergeson on guitar and harmonica added, sounded, to me, too much like a rock band. About the three core members—Holland, Coots and Andy Reiss—I have only positive things to say.
The other three bands were new to me. We 3+1 is a female quartet of violin, drums, piano, and vocal whose style is a cross between gypsy jazz and Western swing. They are very good but since their music is not a type that I care to hear frequently, I only saw one of their own sets, plus their part in the grand finale with Stephanie and Paolo. In that set their pianist Nicole Pesce turned in a stellar performance.
The Wildcats, Stomperz and Queen City were all good but nothing out of the ordinary. The Queen City's subset called Something Doin' is actually more notable as a Ragtime quartet than is its parent as a jazz band.
One band I graded C was Dick Maley's WYSIWIG (what you see is what you get) from Florida. Dick acted more like a standup comic than a drummer and bandleader. As with B.A.D. Rhythm and Groovus, there was too much chatter, some of it in dubious taste. Another band I did not return to was Sentimental Breeze, who claims to play everything from the 20s to the 70s, but the set I saw was mostly newer music played in a newer style; definitely not trad jazz.
Finally, there was Tom Rigney and Flambeau. I first heard this band at the Olympia festival in 2016. In my report on that festival, I wrote that I had trouble fathoming their presence at a trad jazz festival. But I decided I owed them another chance. Here, as at Olympia, their set was in front of a full house and was enthusiastically received. So to many eyes and ears they are doing something right. I found no fault with their musicianship, but Cajun/zydeco music is just not my type and I still question its place at a classic jazz event.
All in all, this was a very enjoyable festival, one to which I would definitely return.