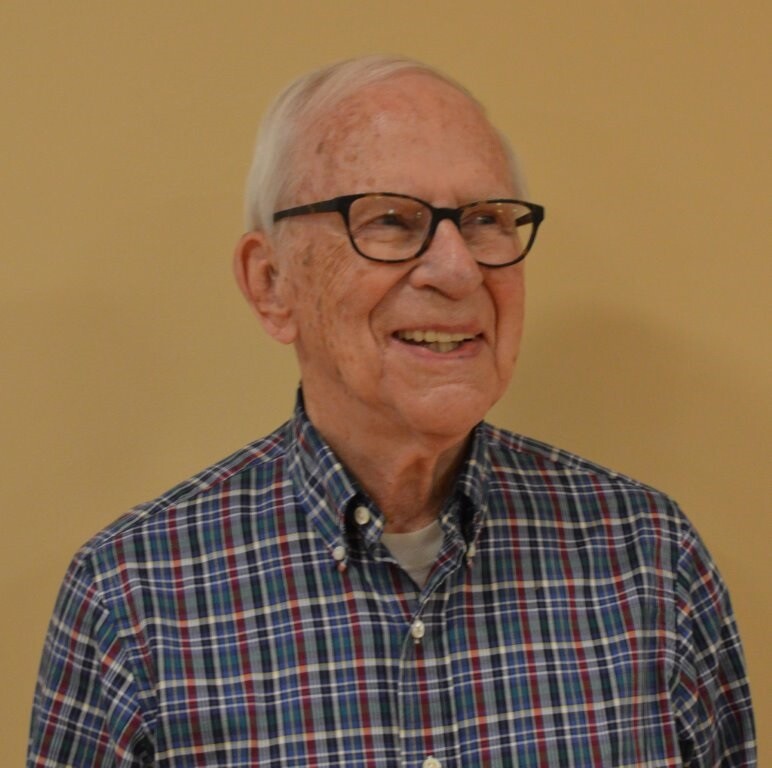 Lew Shaw thanks his lucky stars that he was born in 1926. That meant he came of age—as a man and as a music fan—at the height of the Swing Era, when jazz was America's popular music.
As he celebrates his 95th birthday on January 14, Lew recalls the excitement of the big bands that so captivated him as a teenager growing up in Western Massachusetts. No wonder he went on to craft a multi-faceted career dedicated largely to the presentation and preservation of classic jazz.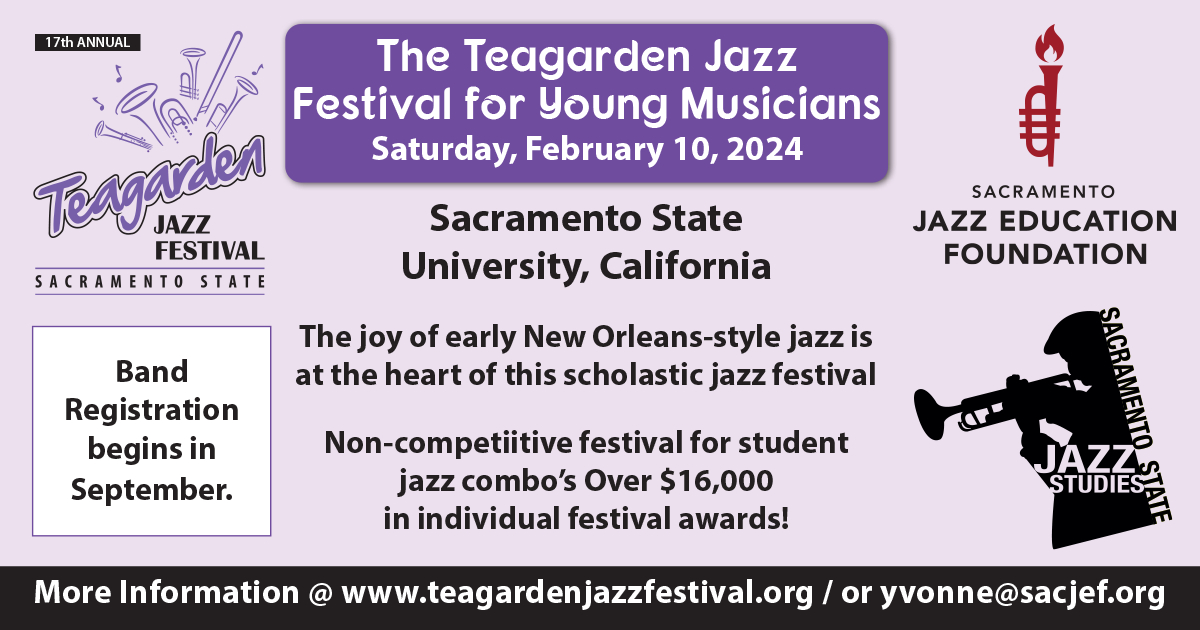 Lew, who writes a monthly column called Jazz Jottings for The Syncopated Times, has compiled two books of interviews with contemporary musicians and has excelled at organizational jazz tasks—serving on jazz societies and coordinating festivals—on both the East Coast and more recently in the Southwest.
Raised in Springfield, Massachusetts, Shaw traces his jazz obsession to the Big Band Era.
"When I was in high school, I had a huge collection of 78s," Lew remembers. In those days, there was no YouTube, no internet on which to sample the tunes before you laid out your hard-earned cash. But retailers provided a sneak-peek method.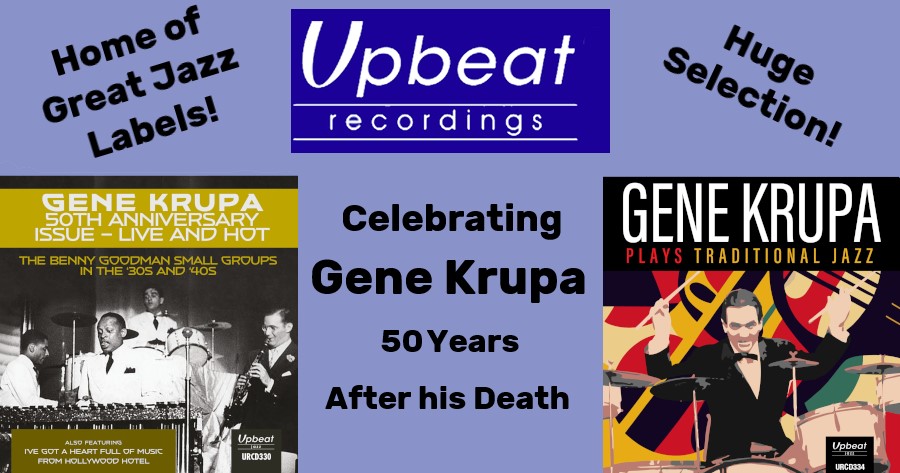 "Every department store records section had at least one listening room where you could spin the disc and check it out," Lew says. He focused primarily on big bands such as Duke Ellington's Orchestra, the Dorsey Brothers, Glenn Miller, and Benny Goodman.
"But I have rather eclectic taste when it comes to music," he says. "So I bought records made by trios, and piano solos by keyboardists like Teddy Wilson, Eddie Heywood, and Joe Bushkin, some Dixieland, a few show tunes and even light classics."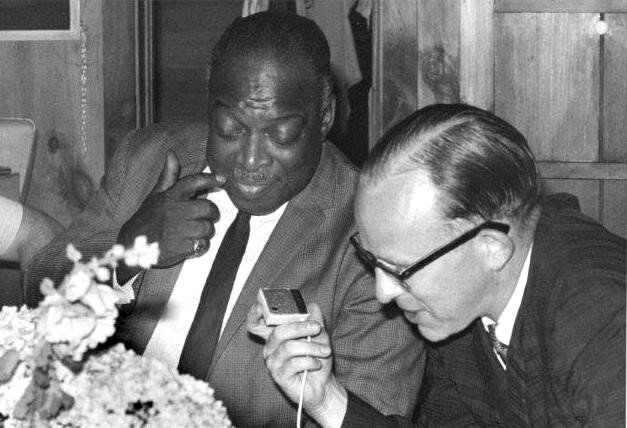 But he kept returning to those 12- to 20-piece orchestras, especially after experiencing them performing live, inspiring the unbridled joy of jitterbugging for thousands of courting couples.
Hearing a professional, well-rehearsed band pounding out clever arrangements of pulsating swing tunes embellished with top-shelf instrumental soloing, well, that's something that could mesmerize a man for life, even as long a life as Lew's.
In his hometown of Springfield, touring bands rolled through rather regularly, primarily playing movie theaters. Shaw saw ensembles led by Tommy Dorsey, Les Brown, Sammy Kaye and Ray McKinley at the Paramount Theatre down on Main Street and once caught a solo set by stride pianist Fats Waller at Springfield's historic Court Square Theatre.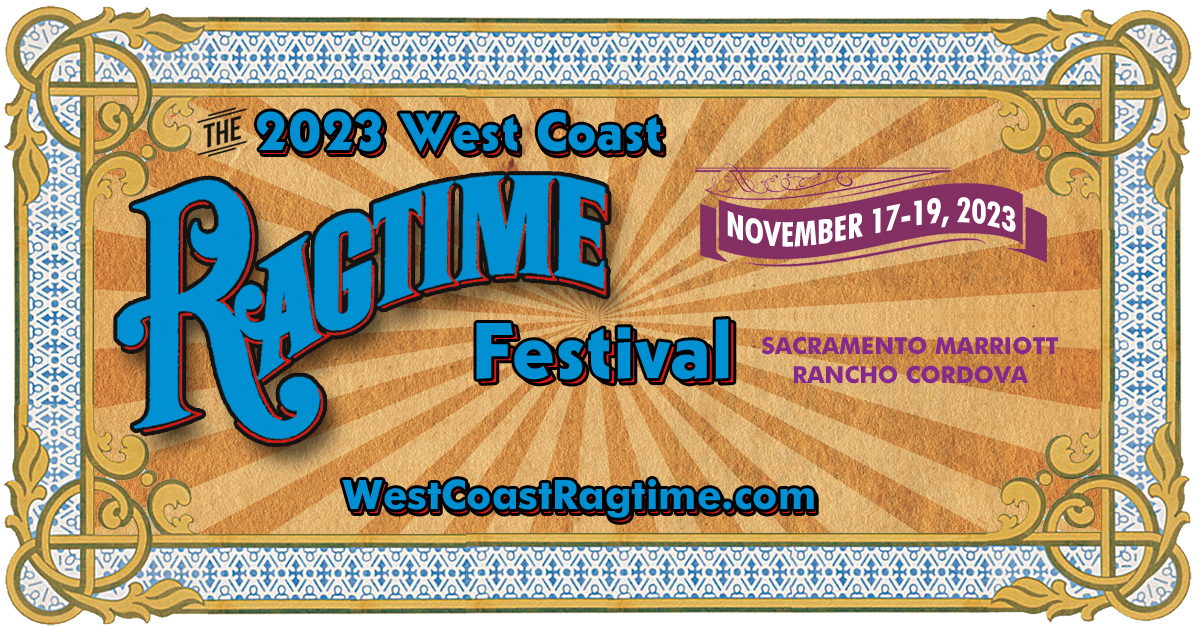 "You'd go to the movies and it'd be a double feature with an orchestra," Lew recalls. "That was our entertainment. After the movie, you'd see the band rise up from the bowels of the stage." That show business spectacle clearly impressed the young man.
Roundabout 1942, Lew and his high-school classmate, Bill Sheehan (who later became president of ABC-TV News), hopped a train down to New York City to enjoy one of those movie-and-music double bills at the Strand Theatre in Times Square.
"The movie was one of the Bing Crosby, Bob Hope and Dorothy LaMour road-show comedies," Lew remembers. It was probably The Road to Morocco, a box office smash in 1942. But the band was definitely the Jimmy Dorsey Orchestra.
Reedman Jimmy and his trombonist brother, Tommy, had argued and split up in 1935, but six years later Jimmy was at the top of his game, charting an impressive 12 Top Ten hits with singers Bob Eberly and Helen O'Connell on tunes such as "Green Eyes" and "Amapola."
As he and Sheehan applauded Dorsey's swinging set that day, little did Lew know that in a couple of decades he'd be hobnobbing with the biggest names in jazz, names even bigger than Dorsey's.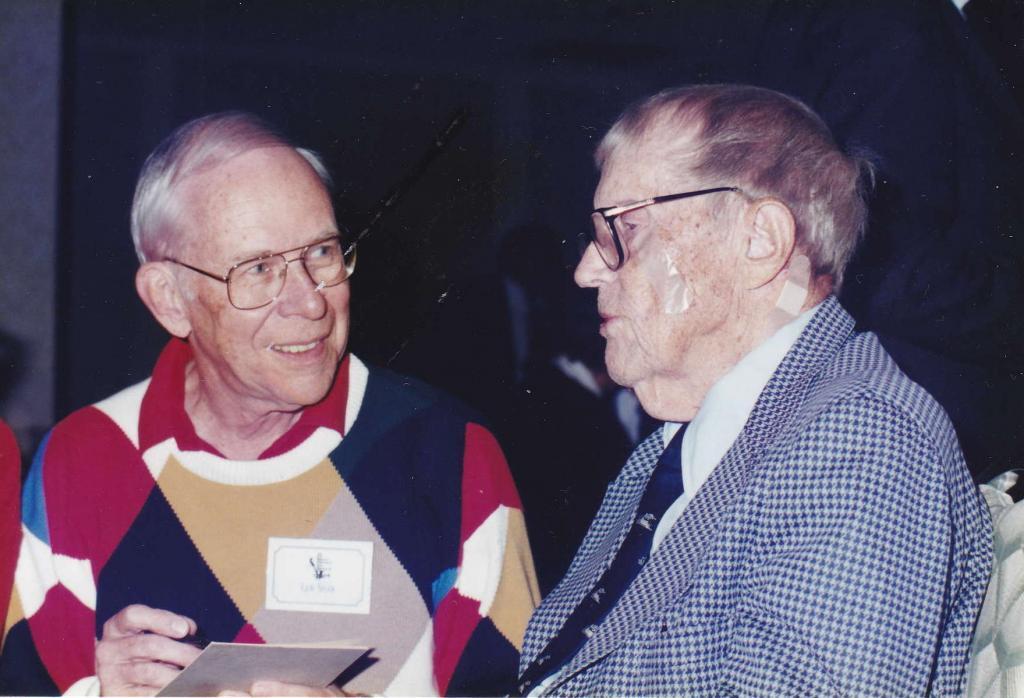 Before he could start a career, however, World War 2 intervened. Shaw spent three years as a sailor in the U.S. Navy, navigating landing ship tanks from Pearl Harbor to Okinawa to China.
Following the war, he earned a degree from Brown University and took a job as sports-information director at Brown. In fact, football would stand alongside jazz as one of the most fulfilling facets of Lew's life. Later he would run the Valley of the Sun Chapter of the National Football Foundation & College Hall of Fame, and became a 25-year member of the Fiesta Bowl Media Operations Committee.
But back in 1950, he was hired by Massachusetts Mutual Life Insurance Company to work on a national advertising campaign featuring illustrations by Norman Rockwell.
While on staff at Mass Mutual Life, he met the love of his life, Carol. She worked in the personnel department, and one day she appeared at the company's home office to bond him.
"That had to be a foretelling experience," he quips. The couple plan to celebrate their 70th wedding anniversary this year on May 5.
A year after the wedding, Lew grew disenchanted with the corporate milieu in which he found himself. So he established his own marketing and public relations firm, went on to edit a weekly newspaper and headed a regional tourism promotion agency.
In 1962, one of his ad agency clients was the Berkshire Music Barn in Lenox, Mass. devoted specifically to jazz and folk music. The Music Barn routinely staged performances by artists such as Pete Seeger, Mary Lou Williams, Gene Krupa and Peter, Paul & Mary.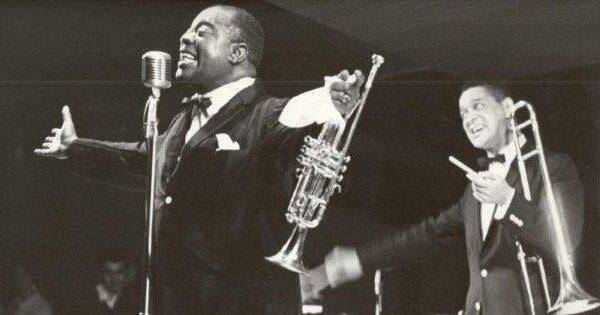 For three summers—1962, '63, and '64—Shaw promoted Music Barn concerts by superstars like Louis Armstrong, Count Basie, Dave Brubeck, Duke Ellington, and Stan Getz.
"I got to interview Armstrong, Ellington, Basie, and even Kenton," Lew recalls
Lew and Carol remained in Massachusetts where they raised three children before the couple relocated to the Grand Canyon State in 1984. Once in Scottsdale, Lew happened onto a spirited performance by a Dixie-style combo called the Desert City Six, and he knew he was in the right place.
He co-founded the Arizona Classic Jazz Society whose membership soon grew to 1,000, and he helped establish the society's annual festival. Now helmed by the indefatigable Helen Daley, the Phoenix-area festival marked its 30th anniversary in 2020, despite the ongoing pandemic.
Arizona's ovenlike climate and equally torrid jazz scene lit a fire inside Lew Shaw. Even as he approached his 70s, he started writing regularly for jazz publications such as the West Coast Rag and the Mississippi Rag.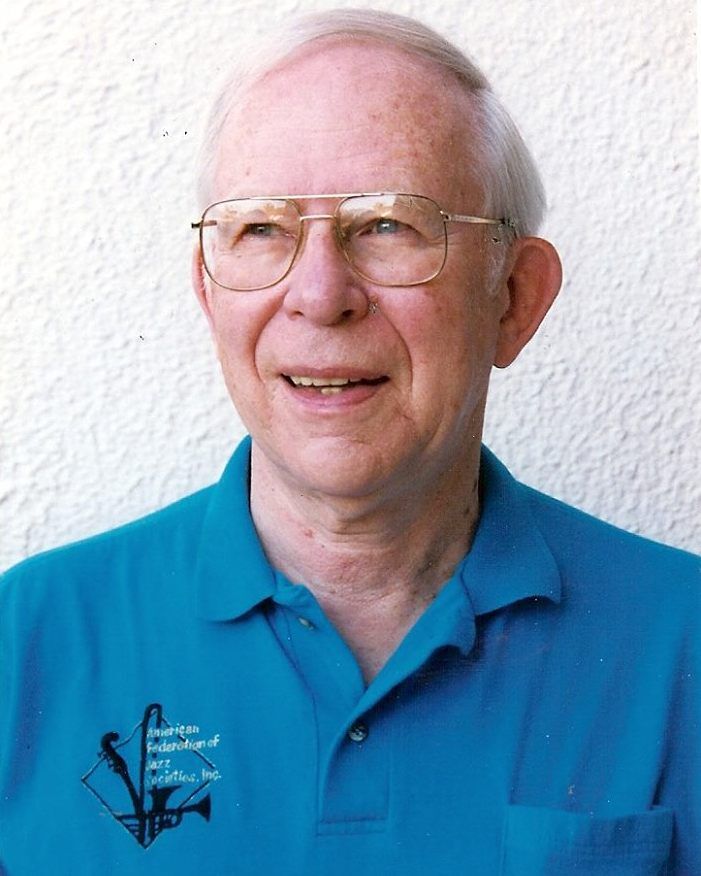 After the West Coast Rag morphed into The American Rag, Lew went with it as its primary staff writer. Newspapering led logically to more permanent publications. Shaw's first book, Jazz Beat, Notes of Classic Jazz (2013), featured 47 profiles of contemporary musicians. His more recent effort, Jazz Beat Encore (2019), focuses on 43 prominent players from Adrian Cunningham to Katie Cavera, from Jon-Erik Kellso to Rebecca Kilgore.
Lew's prose style is super straightforward. He avoids jive and jargon in favor of facts and figures. He's more in the class of reportorial critics such as the New York Times' John S. Wilson and less like jazz fabulists such as Mezz Mezzrow.
The musicians appreciate Shaw's no-nonsense style.
"What gets put down on paper is not chronologies of all the gigs or the famous people with whom we've played, but rather 'inside' looks at what makes us tick," says New York City cornetist Ed Polcer.
For instance, in his newest book, Lew reports that clarinetist Dan Levinson was battling throat cancer when he met vocalist Molly Ryan at one of the Sacramento Jubilees. It's a wonder Levinson could even ask her for a date because his voice was temporarily impaired. Now they're married and have a 3-year-old daughter, Aven.
Similarly, Shaw tells the story of trumpeter Randy Sandke who endured 10 years without his horn after surgery. During that time, Sandke scuffled to stay in music. He played piano for student dancers at a Vermont college, worked for ASCAP in Manhattan and played electric guitar in funky dance bands. Finally, he began blowing the brass again, taking lessons from Vincent Penzerella of the NY Philharmonic. Before long, Sandke was gigging with Vince Giordano and Bob Wilber and playing a regular gig at Eddie Condon's Jazz Club.
Occasionally, Lew elicits unusual anecdotes from unexpected sources. For instance, in his Jazz Beat Encore profile of Golden State banjoman Eddie Erickson, Shaw reports that Eddie's first steady gig was in 1968 at Capone's Warehouse on Cannery Row in Monterey, Calif., where the band performed a mess of Spike Jones routines.
"I even had a guitar shaped like a toilet seat," Eddie suddenly gushed. "The waitresses were called 'The Untouchables,' and I ended up marrying one."
Lew views his work as a support system for the music. Being a jazz reporter, Lew says, "is a partnership with the musicians, and it's our job to give those musicians some recognition."
As a jazz advocate, Lew Shaw has drawn inspiration from a wide variety of like-minded folks. Some of his most respected associates include NYC cornetist Ed Polcer, former pianist and AFJS board member Ed Metz Sr., harmonica man and prime force behind Jazz Pensacola, Fla., Norman Vickers, Washington, D.C. cornetist/bandleader Dave Robinson and Rich Johnson, longtime music director of Iowa's Bix Beiderbecke Festival.
Organizers of what was originally called the Sacramento Dixieland Jazz Jubilee hold a special place in Lew's heart.
"The Sacramento Jubilee was really the granddaddy of festivals," Lew says. "We would all go to Sacramento over Memorial Day weekend to check out bands for our own festivals."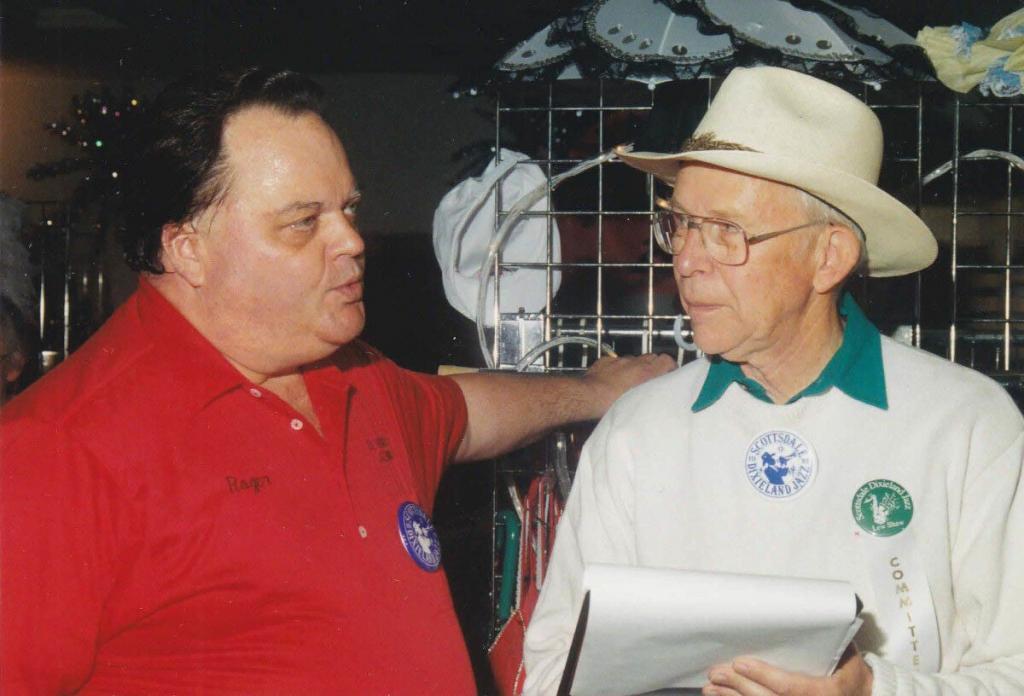 Naturally, Shaw became close to the Jubilee's head of operations, Mike Foley and to its executive director, the late Roger Krum. "Roger played bass for the Fulton Street Jazz Band and ran the Sacramento festival," Lew remembers. Krum recommended that Lew join the board of directors of the American Federation of Jazz Societies, where he eventually served as president.
Five years ago, as Lew prepared to turn 90, he undertook a daunting reclamation project. In fact, if it weren't for Lew's efforts, you wouldn't be reading these lines in the pages of The Syncopated Times.
The Mississippi Rag folded in 2007, and The American Rag, published by Don Jones in Fresno, Calif., seemed destined to suffer the same fate, but Shaw refused to just let it die. When Jones was ready to sell the Rag, Lew reached out to jazz enthusiasts across the country looking for someone to take over.
Luckily, he found Andy Senior, a Utica, N.Y. writer who hosted his own classic jazz radio program called Radiola.
"Lew Shaw was instrumental in helping me decide to make an offer on The American Rag," Senior recalls. "We were both dismayed by the prospect of the paper going out of business. Lew's experienced help was invaluable as The American Rag changed hands and soon became The Syncopated Times."
Lew's books and Jazz Jottings will go a long way toward preserving swing, Dixie and ragtime for many years to come as will The Syncopated Times. Shaw predicts that the cream will always rise to the top.
"My interest is in classic jazz, which today appeals to a niche audience," he observes as he prepares to turn 95. "The numbers aren't what they were 40 years ago, but I'm encouraged by the number of young musicians playing that style and the young audiences they attract. Good music will always survive."
---
Lew Shaw has published two books of his collected artist profiles: Jazz Beat: Notes on Classic Jazz, and Jazz Beat Encore: More Notes on Classic Jazz