The 31st Annual Arizona Classic Jazz Festival was held in Chandler the first weekend in November—and New Orleans moved 1300 miles closer to the Pacific Ocean! Bands representing all styles of traditional jazz converged at the San Marcos Hotel for three and a half days of fantastic live music. The masked and distanced attendees truly enjoyed the opportunity to hear live music again. Most of the musicians had not performed in the past eight months and were more than anxious to share the stages.
Although several of the scheduled bands cancelled their engagements a few months prior, the musicians that did attend were enthralling. Queen City Jazz Band from Denver and The Black Market Trust were the only non-local bands to have their entire group on stage while other bands shared their players much to our delight.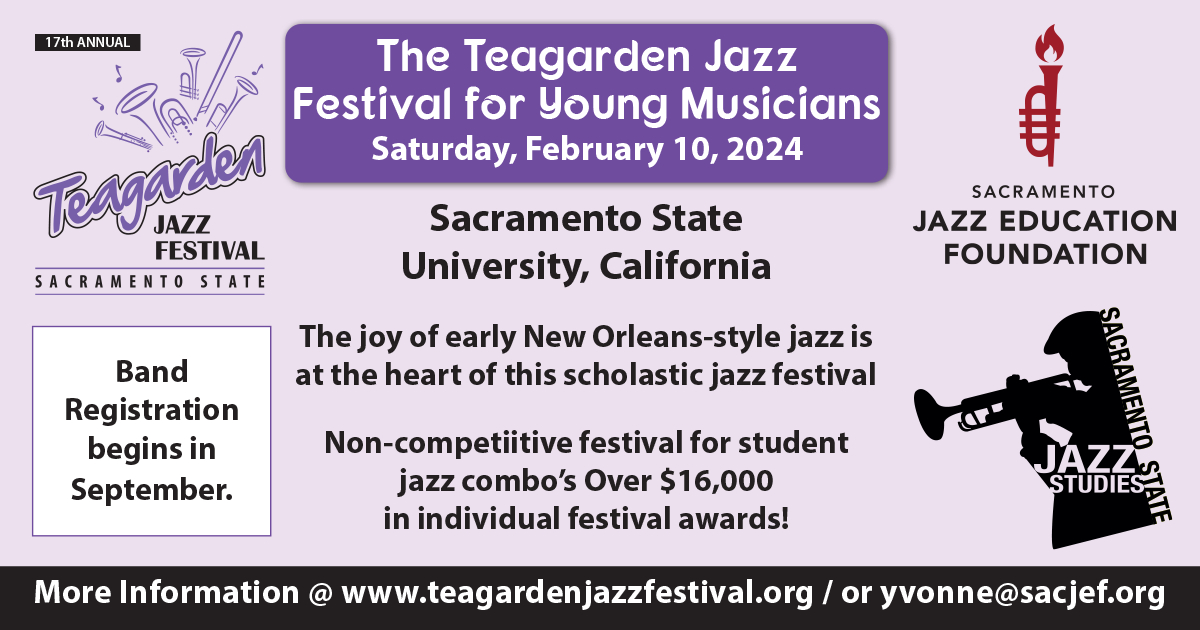 Only a few days before the event, drummer Danny Coots was not able to make the trip and all drummers in attendance were called to "special duty" with the other bands. When Cornet Chop Suey cancelled, Dick Maley (dr) decided he still wanted to attend and brought along Herb Bruce (tb), Randy Morris (p) and Steve Pikal (bs) to form WYSIWYG (What You See Is What You Get) and they were fantastic.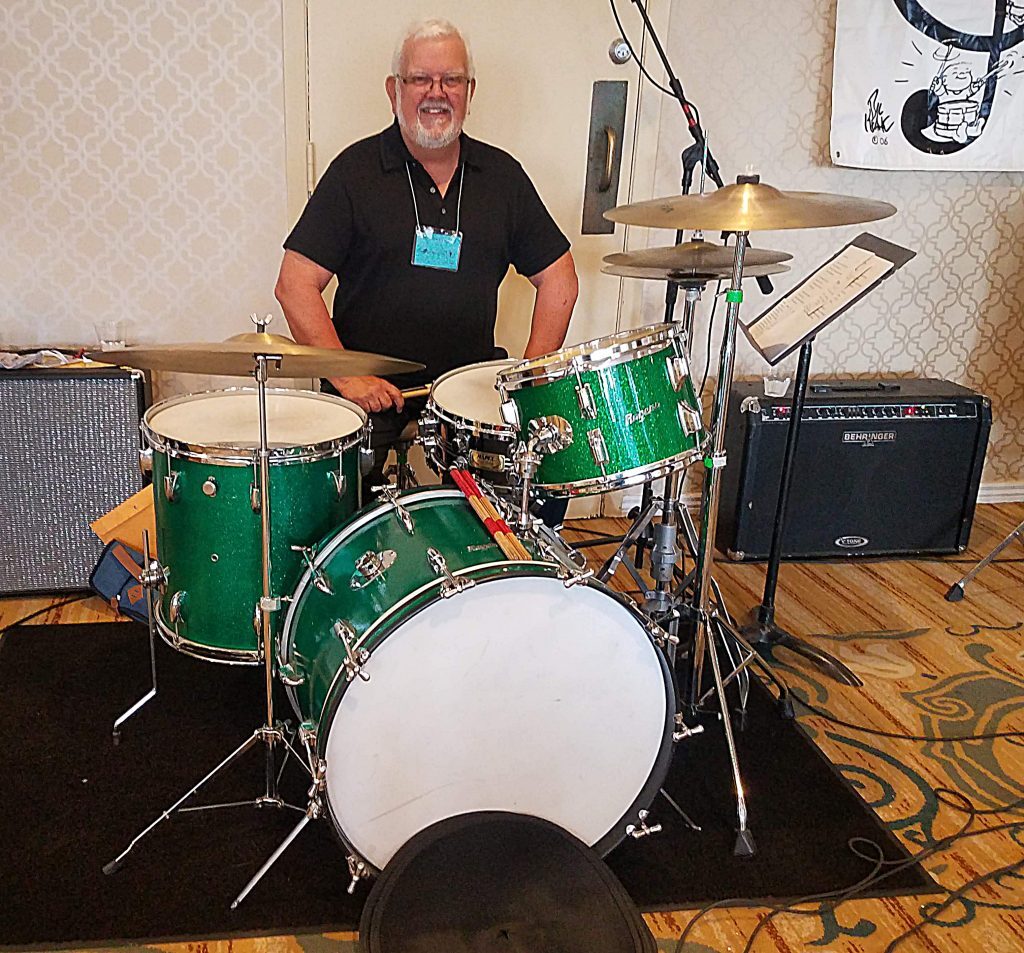 As it turned out all four of them were called upon to fill in for any missing musicians and Dick Maley ended up in 21 sets for the weekend, playing over 11 hours in one day! I don't know how the sets were configured for the four venues on the hotel grounds but that must have been the world's most difficult spread sheet! Even if it wasn't planned that a musician was to play a set, if they wanted to join in, they were welcomed by all.
There are a few sets on the Thursday evening opening night. With only two of its five members in attendance B.A.D. Rhythm now (without the "B" (Brian Holland, p) or the "A" (Andy Reiss, gtr) or the "D" (Danny Coots, dr) consisted of Pat Bergeson (gtr), Sam Rocha (tp), Dan Levinson (cl), Cheryl Thurston (p/v), Bob McKeon (dr) and Steve Pikal (bs). Sam usually plays the bass with the group but it was terrific to hear him on trumpet. On a subsequent set, Sam also played guitar! Always wonderful Dan Levinson made the trip as a guest with Cheryl's Vintage Swing.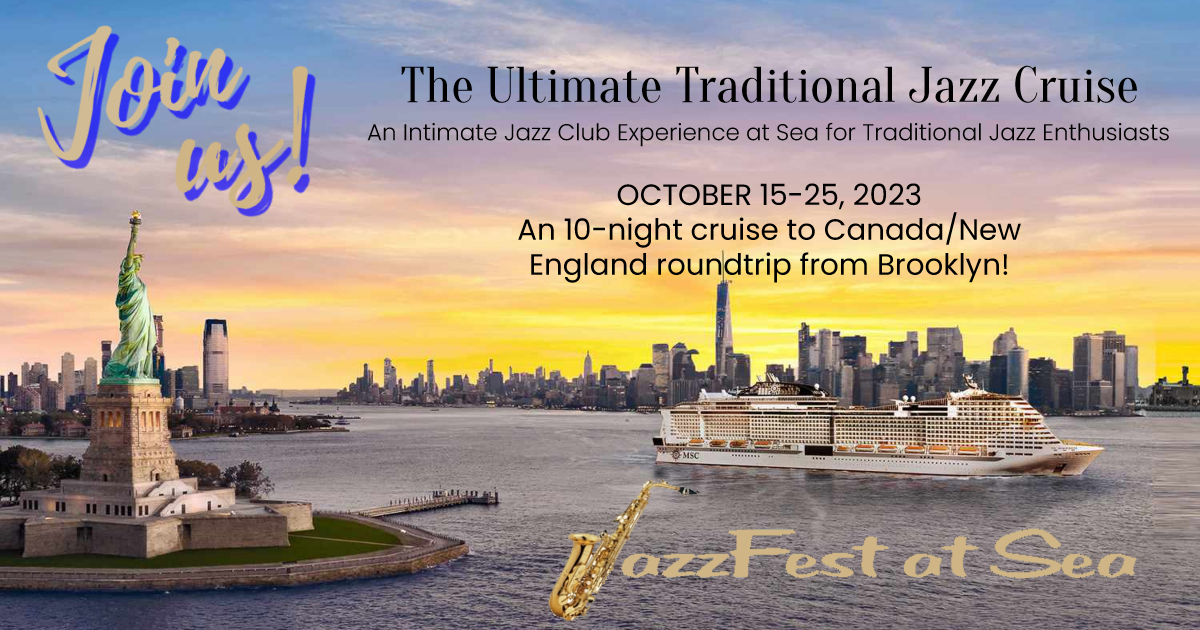 Cheryl's Vintage Swing also started Friday morning with a Jammers set for anyone who brought their ax and wanted to join in. Later that day, she led the Vintage Swing along with the St. Louis Rivermen and Queen City for a parasol parade through the hotel and parts of downtown Chandler.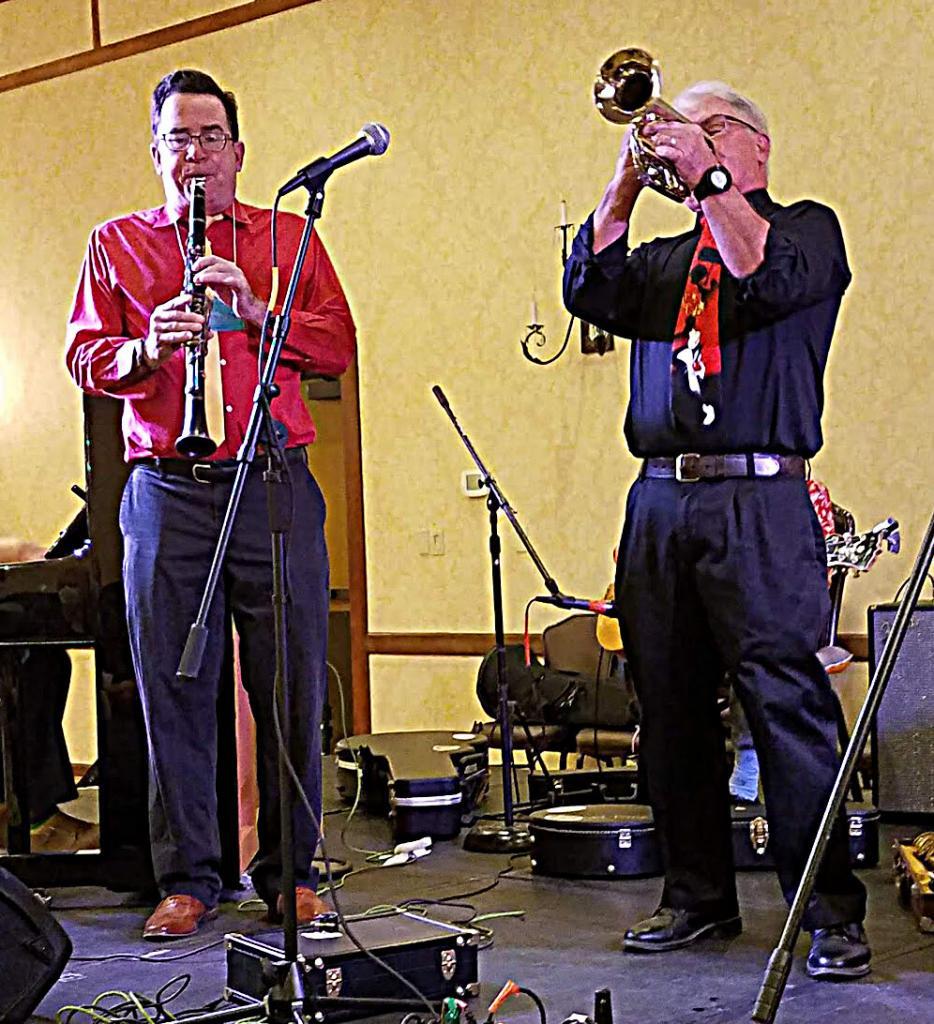 The Wolverines from Boston and the St. Louis Rivermen only had five of their own members so they depended on each other in many sets, dubbing themselves the St. Louis Wolvermen for this glorious weekend.
The first Wolverine set included John Clark (cl), Rick MacWilliams (tuba), Dan Reed (tp), Randy Morris (p), Dick Maley (dr), Dan Gabel (tb) and Howard Alden (gtr/bj). Check out John's podcast on WGBH titled "Jazz Focus" for lots of historical data on traditional jazz.
Dan Gabel is a trombonist, arranger, bandleader, historian and educator from the Boston area that was enticed by John Clark to attend this festival. Dan has several bands in the Boston area and also leads the 18-piece Vaughn Monroe Orchestra bringing back the 1940s experiences with first rate stage shows complete with dancers and vocal groups.
Howard Alden now lives in the Chandler area and was called upon in many sets. He is truly world-famous on both guitar and banjo and it is always a pleasure to be in the audience when he is performing.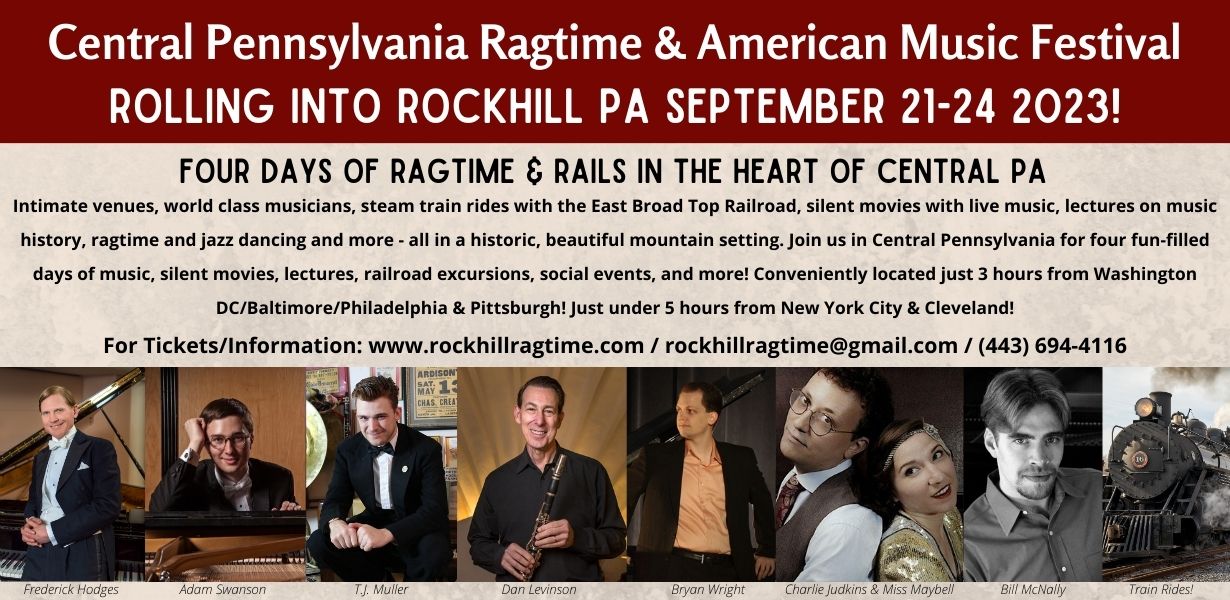 Stephanie Trick and Paolo Alderighi are simply delightful and we enjoy the stories that accompany their pieces giving insight to the working couple's attention and devotion to their craft. Their special set explored the output of Italian and Italian-American songwriters of the 20th century including Domenico Modugno, Bruno Martino, Nick LaRocca, Henry Mancini (Enrico Nicola Mancini) and many others. Paolo told a story of concert in London where they played the 1937 tune "Lambeth Walk" and did not include the traditional Cockney interjection "oi" after the chorus. They discovered cultural differences do have their amusing if interesting moments!
The Wolverines' Friday set included John Clark (cl), Rick MacWilliams (tuba), Dan Gabel (tb), Arthur Vint (dr), Dan Levinson (cl/sx), Randy Morris (p), Dan Reed (tp) and Howard Alden (gtr/bj). Young drummer, Arthur Vint, was delighted to attend as he is originally from Tucson and after being in New York the past few years, has accepted a teaching position with the University of Arizona. He will be playing regularly with the Wildcat Jazz Band after his move "back home."
B.A.D. Rhythm's set on Friday included Pat Bergeson (gtr/harm) Sam Rocha (gtr), Steve Pikal (bs), Dick Maley (dr) and another special guest Sonny Leyland (p). Sonny is well known for his boogie-woogie, blues and jazz piano styles and it was a real treat to see him again. The set presented "Influences and Evolution of American Classic Jazz and its Effects on Popular Music" as part of the educational component.
On another set, B.A.D.Rhythm had Pat Bergeson (gtr/bj), Sam Rocha (gtr), Tony Pantelis (dr), Sonny Leyland (p) and Howard Alden (gtr/bj).
Black Market Trust made their second appearance at this festival and is always well received. The five member band included Jeff Radaich (gtr), Nick Coventry (vln), Brandon Laws (dr), Brian Netzley (bs) and Kale Stiles (reeds/gtr) and featured Django Reinhardt inspired gypsy acoustic sounds and intricate vocal harmonies.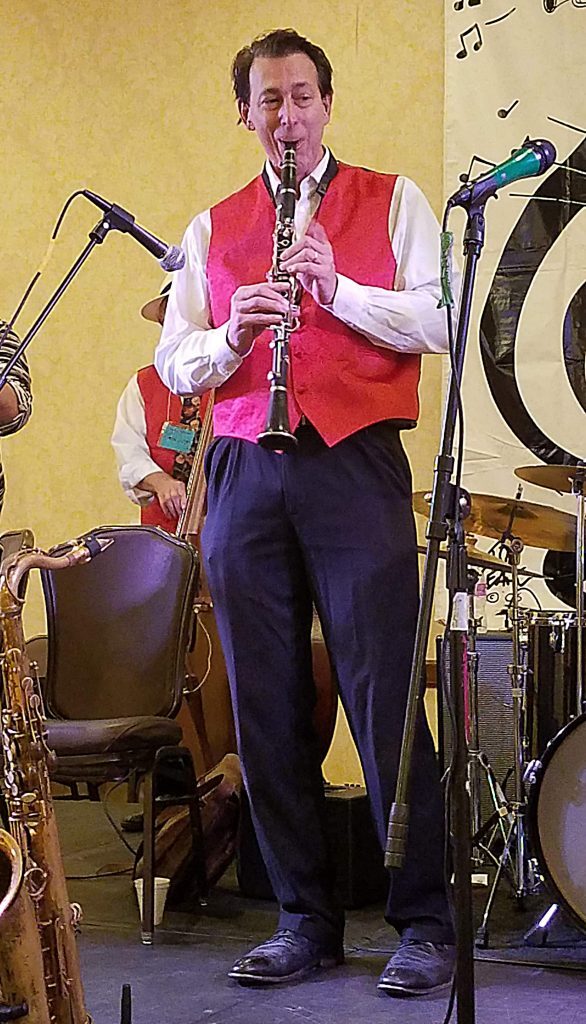 Cheryl's Vintage Swing did a set honoring many early women jazz composers such as Lil Hardin Armstrong, Valaida Snow, Lovie Austin, and Mary Lou Williams with Dan Levinson (cl), Evan Dain (bs), Arthur Vint (dr), Howard Miyata (tb), Marc Caparone (tp) and Howard Alden (gtr/bj).
The Wildcat Jazz Band with Rob Wright (gtr/bj), Rob Boone (tb/p), Evan Dain (bs), Rick Peron (tp) and Marco Rosano (cl) added some Rock and Roll to one of their sets and Arthur Vint (dr) beat out a great camel groove on another set featuring Hindustan and Caravan numbers.
The St. Louis "Wolvermen" with Steve Lilley (cnt), John Clark (cl), Dan Gabel (tb), Dave Majchrzak (p), Jim Maihack (tuba), Dick Maley (dr) and guests Paul (gtr/bj) and Theresa (v) Scavarda were very entertaining. To watch and hear these professional musicians "jam" with each other was truly inspiring. One of their sets explored the music of the "Trumpet Guys" from the New Orleans brass bands through the early big band and the trad revival.
Starting with Buddy Bolden, the tributes continued through Freddie Keppard, Joe Oliver, Louis Armstrong, Nick LaRocca, Paul Mares, Bunny Berigan and others. Steve Lilley also announced that their leader Red Lehr (sousa) has officially retired and read a farewell note from Red and his wife. Red has been playing for over 60 years with Red's Powerhouse Five and many other bands throughout the decades. Red also provided a stack of CDs as parting gifts to the audience.
This set also included a rondo of "Rose Room" intertwined with "In A Mellow Tone" and Steve Lilley channeled trumpeter Ziggy Elman (Harry Aaron Finkelman) in the legendary 1938 Benny Goodman Carnegie Hall concert with a rendition of "Bei Mir Bistu Shein."
Sentimental Breeze and its six members spotlighted the most popular music during WWII with a medley of military branch service songs.
Sun City Stomperz and its seven members presented a "Salute to Showbiz" featuring tunes from early Broadway musicals and movies.
We 3 + 1 with Renee Grant Patrick (v), Suzanne Lansford (vln), Nicole Pesce (p) and Sheila Early (dr) are a dynamic quartet with incredible talent. To listen to Renee's rendition of many of her father's (George Grant) songs as a member of the Ink Spots while Nicole's fingers fly on those piano keys is a moment to treasure. The violin and drums accompaniment is so well arranged that one marvels as the melodies and harmonies blend together perfectly.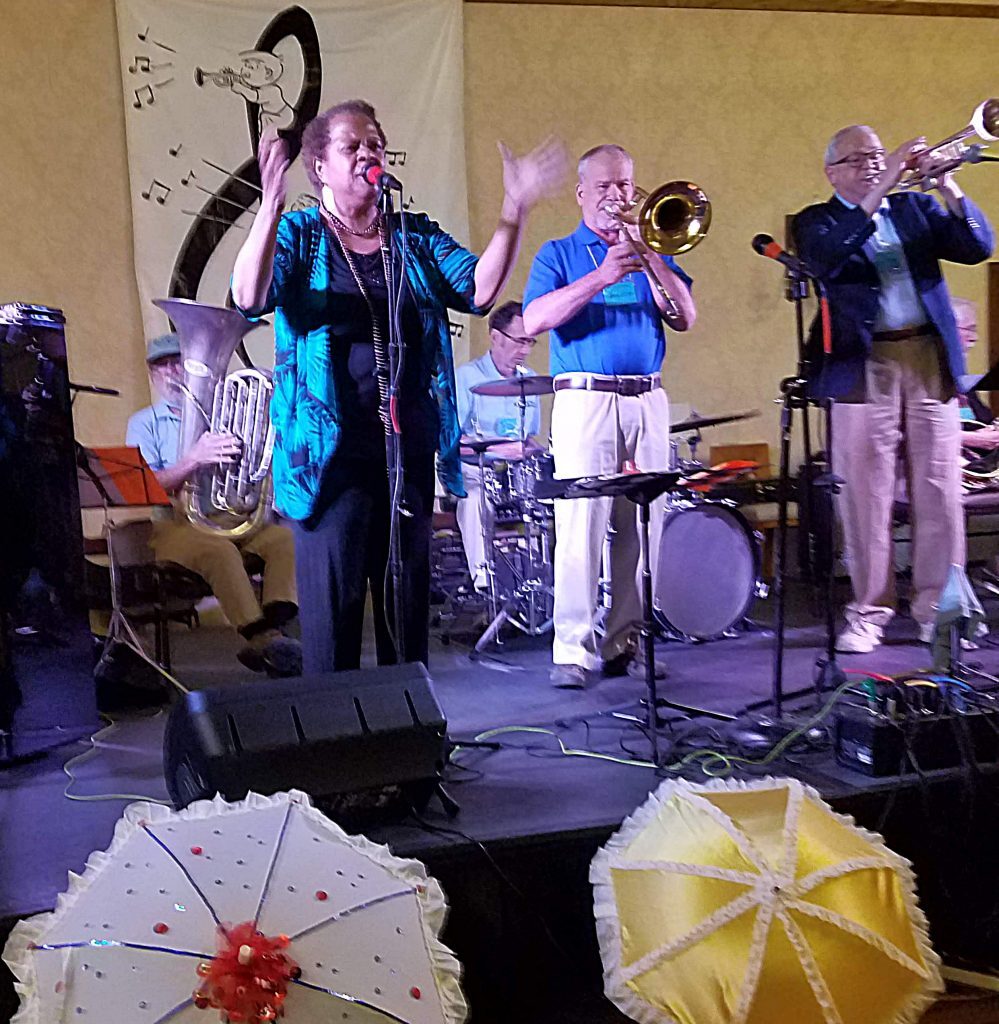 Queen City Jazz Band is celebrating over 60 years in the Denver area and its current members include Bill Clark (tuba), Kevin Bollinger (tp), John Bredenberg (cl/sx), Wende Harston (v), Tony Pantelis (dr), Eric Staffeldt (tb), Rory Thomas (bj) and Hank Troy (p). Their special sets focused on the Novelty and Dance Bands of the 1920s—the dance music of the Jazz Age—and the expertise of its musicians and arrangers. Most notably, the Coon Sanders Band and the Savoy Orpheans in London were among a multitude of small bands that influenced the era.
Queen City also performs the Sunday morning Gospel set which has the audience participating in a variety of hymns and energizing numbers to start the last day of the festival. Wende Harston always recites a poem by Joseph Bert Smiley—St. Peter at the Gate—that is filled with humor and modern day lessons for life. Although written in 1893, the poem has pertinent significance in today's environment and promotes tolerance and other virtues.
The Grand Finale featured Lynn Roberts and his Swinging Saxes with a total of five reed players switching between soprano, tenor, alto and baritone saxes, flutes, a piccolo, both B-flat and bass clarinets with a rhythm section of piano, bass guitar and drums. Those eight musicians sounded like 30! Lynn featured a lot of the Big Band sound with renditions of Glenn Miller and Les Brown numbers. Lynn purchased the library of arranger Norm Hoagy from Washington State with his original Seattle Saxes. Lynn has since updated the collection and added many new features.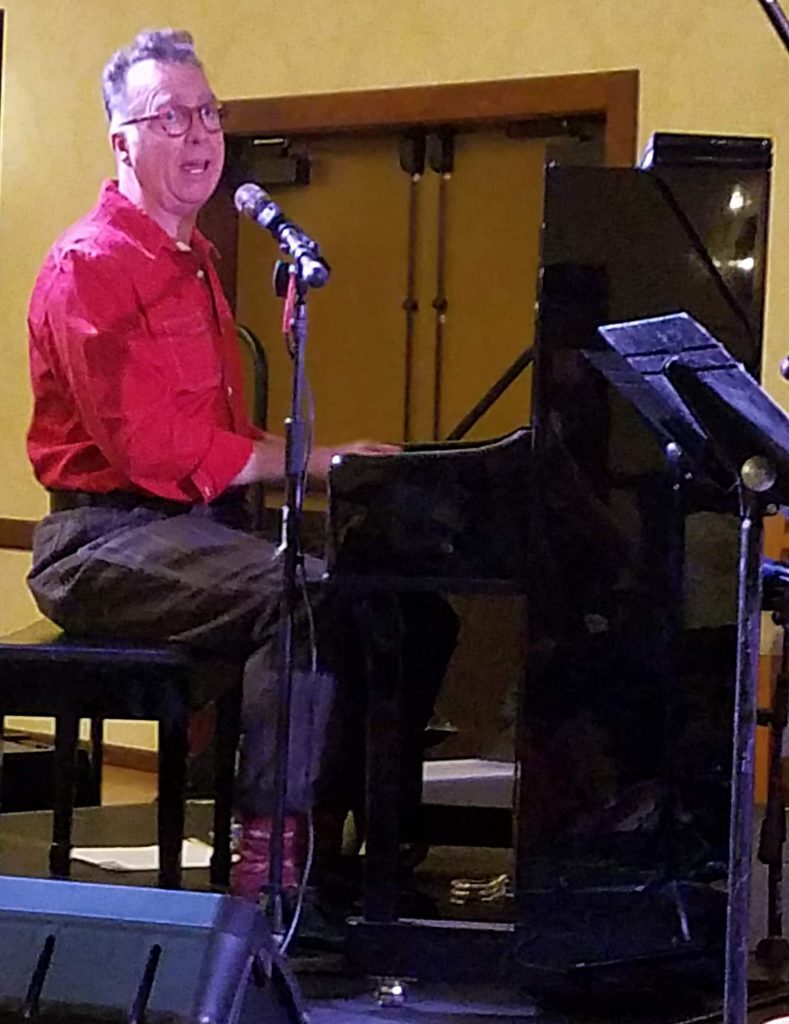 It was Lynn Roberts that closed the festival several years ago with his Bob Hope tribute that is still remembered by the attendees. It was beautiful and as he did then, the set ended up with the distribution of boxes of candy for any veteran in the audience.
The Lindy Hoppers usually in the main ballroom held their lessons on the upstairs patio on both Saturday and Sunday. It is always fun to watch both Karen and Dabney Hopkins instruct the 30+ members of the group but this year it was decided to have them occupy an outdoor area on the second floor. In the evenings the class did spend some time on the ground floor patio away from the attendees but in hearing distance of whichever band was performing in the closest room. We could hear them clapping in appreciation as the evening sets ended; now they were the "auxiliary" audience!
The "Afterglow" on Sunday evening had so many musicians staying over that there were three short sets to accommodate them all. The usual buffet was instead served by the hotel staff and delicious as always. It was another evening of "jamming" and "thank yous" and "farewells"—so many of the musicians that had never played together before expressing their total and sheer delight at the glorious end of a wonderful weekend. And so many old and new friends vowing to return and see each other again.
There were over 40 recognized sponsors for the individual bands and many of those sponsors did not attend the event. It is through their efforts and dedication to this live music tradition that we are grateful to have had the opportunity to enjoy this musical oasis in our beautiful Sonoran desert.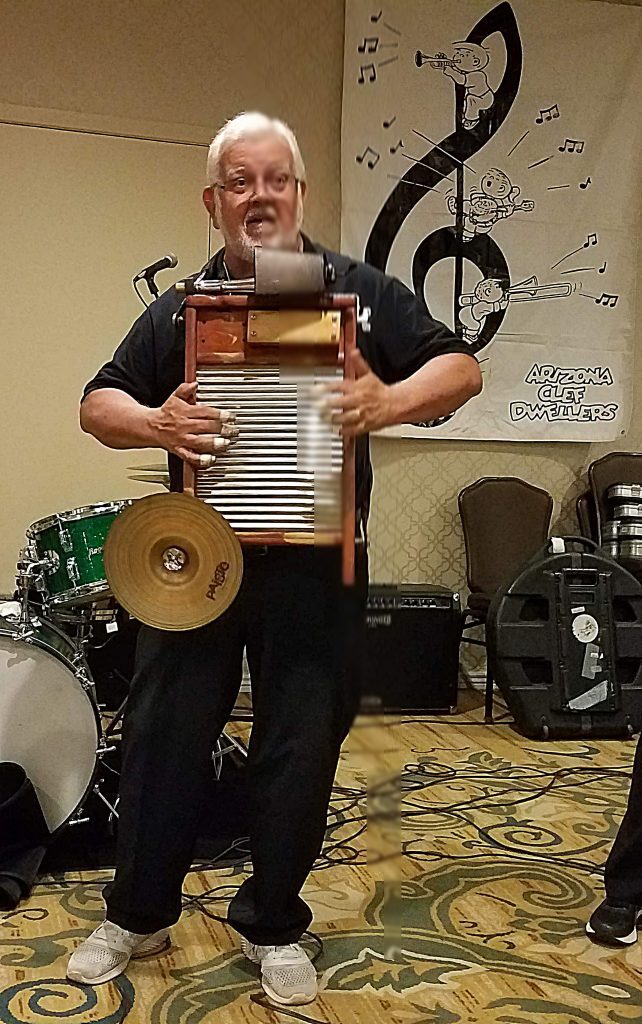 This well-organized festival is certainly a tribute to Festival Director Helen Daley, her husband Bill and immediate family members together with the dedicated 40+ volunteers. With over 60 musicians to coordinate across four stages not only providing food, housing and general comfort, the strictest of compliance efforts was enforced.
Chairs (some in groups of two or three) in all rooms were distanced, everyone wore masks and no one was closely approached. The dancers all wore disposable gloves while microphones and instruments were sanitized between each set. The musicians were ecstatic to be performing and broad smiles were the norm for both those on and off the stages. The hotel staff welcomed us back and they were diligent in their responsibilities.
Musicians and attendees from coast to coast and border to border gathered together for one very special weekend. Everyone was considerate and all were conscious that we were experiencing an historic happening; here was a way to safely and properly enjoy a live music venue during these unusual times. Our spirits were lifted and our joys unsurpassed, all while she celebrated her birthday weekend, too—THANK YOU, HELEN DALEY!
---
All Photos by Ken Arnold