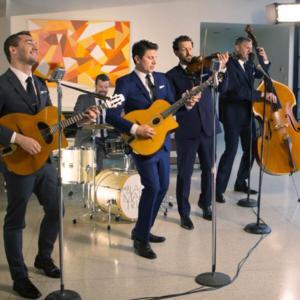 Imagine Django Reinhardt jamming with Frank Sinatra.
That's not too much of a stretch in describing The Black Market Trust, a fast-rising quintet out of Los Angeles who combine the sounds of legendary crooners and vocal groups with the fire and energy of gypsy jazz guitarist Jean "Django" Reinhardt. Playing multiple instruments while vocalizing in four-part harmony, they are a throwback to a bygone era, with modern tones and updated beats, along with a dash of Rat Pack-style comedy, creating, as one observer noted, "two distinctly different vibes—one of a gypsy campfire, the other a slick metropolitan nightclub—into a cohesive, stylish sound."
The group draws heavily from the Great American Songbook and appropriately pay tribute to such vocal icons as Sinatra, the Beach Boys, Mills Brothers and the Beatles, along with a bit of Western Swing. The current lineup consists of Jeffrey Scott Radaich, lead guitar; Nick Coventry, violin; Brian Netzley, bass; Brandon Laws, drums; and Kale Stiles, rhythm guitar, saxophone, and clarinet.
Radaich and Netzley grew up in Southern California, listening to and playing rock & roll. In 2006, someone gave Radaich a gypsy jazz album. Meanwhile, Netzley had been playing jazz standards with a musician from France who introduced him to Django Reinhardt. The two immediately fell in love with the gypsy style of jazz.
According to Radaich, "Reinhardt heard Louis Armstrong in 1930, and it blew his mind. He wanted to mimic Armstrong's style, but his musical roots were grounded elsewhere. However, the Armstrong influence did come through in Reinhardt's music."
The Gonzalo Bergara Quartet
Jeff and Brian became members of the Gonzalo Bergara Quartet, led by the virtuoso composer and guitarist, known for mixing a cascade of progressive arpeggios with the sounds of Paris and his native Argentina to forge his own unique style of progressive gypsy jazz. The Quartet played festivals all over the world and twice headlined the prestigious Django Reinhardt Festival in Samois-sur-Seine, France (the final resting place of Reinhardt).
After spending six formative years (2009-2016) as supporting cast members with Bergara, Radaich, and Netzley decided the time was right to focus on a new project that would stay true to their love of Django, but combine it with a strong American flavor.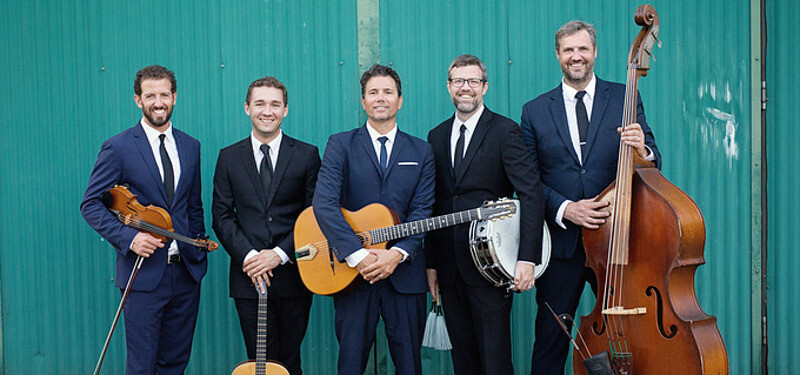 Keeping the core trio lineup from their first all-instrument album of Radaich, Netzley, and Chris Irwin on rhythm guitar, they rounded out the lineup in 2013 with LA-based session and touring drummer Brandon Laws, and Nick Coventry, a Tucson, Arizona violinist/Eastern European folk music expert. Then, in 2017, Chris Irwin retired from the group and was replaced by rhythm guitarist and vocalist, Kale "Kully" Stiles. In addition to the expanded roster, they also decided to add another new element to The Black Market Trust sound: vocals a la The Four Freshmen.
The Band Members
Jeff Radaich has gained renown for his songwriting as well as his technical prowess and musicality and been touted as one of the most innovative and influential American acoustic gypsy jazz guitarists today. He grew up influenced by rock guitarists Eddie Van Halen, Eric Johnson, and Stevie Ray Vaughan. He has developed a unique and fiery style of lead guitar that is a synthesis of his lead guitar heroes, with nods to classical composers, blues legends and Western Swing steel guitar greats.
Brian Netzley is one of the most in-demand bassists in today's gypsy jazz scene. As a former member of The New Hot Club of America, he has gained a reputation as a solid, tasteful and versatile player who is frequently asked to back top European artists when they perform in the United States. A graduate of the University of Southern California, he worked in marketing for a music publisher and a craft beer company before becoming a full-time musician.
Nick Coventry has become one of the most-respected gypsy jazz violinists performing today, playing festivals and stages throughout the United States and in Europe and South Korea. Influenced by the great Swing violinist Stephane Grappelli, Coventry draws on his own musical experiences as a classically- trained violinist and adept fiddler of bluegrass and folk music.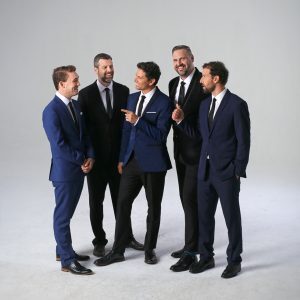 Drummer Brandon Laws, who provides the pulse and energy to The BMT sound, is a touring percussionist who maintains a studio in Long Beach. His fresh perspective, dedication and love for the craft has led him to play with multiple artists in many different styles, and he has recorded and performed throughout the United States and abroad.
The most recent addition to the band and the youngest member is Kale Stiles, a multi-instrumentalist originally from Hawaii. When he relocated to Southern California, one of his early jobs was as a gondolier plying the canals of The Naples section of Long Beach "where I got to practice my singing and people skills." The leader of the Mimosa Jazz Band and a lover of old songs, he has spent considerable time playing and studying Dixieland music in New Orleans.
Why the name?
The unusual name of the group prompts people to ask, "What does it mean?" Brian Netzley explains, "There's no deep meaning or mystery in the name. There were four of us in the group at the time, and we didn't have a name. ABC-TV put out a call for music for its sitcom series, Happy Endings, and we wrote some music, were hired and suddenly needed a name for the show credits—'like right now!' Not wanting a boring name, we started throwing words around and came up with The Black Market Trust. I wish we had a more interesting story. It doesn't really have any significance, but it does start a lot of conversations with fans."
Recording in Sinatra's home
In early 2019, the members of The Black Market Trust stepped into the living room of Frank Sinatra's Palm Springs estate and recorded a couple of music videos. For Jeffrey Radaich, it was a surreal experience. "Frank Sinatra has had a huge influence on the band," he said. "Singing in the place where Sinatra lived and interacted with fellow members of the Rat Pack was an experience we'd never forget."
However, Sinatra wasn't always his favorite. He remembers hearing, Ol' Blue Eyes as a youngster at his grandmother's house, but the music didn't impress him at the time. "When I was a kid, I loved rock 'n' roll—Van Halen, Led Zeppelin, Motown, pop and rock," he said. "But as I got older, I developed an appreciation for Sinatra and the others who sang songs from the Great American Songbook."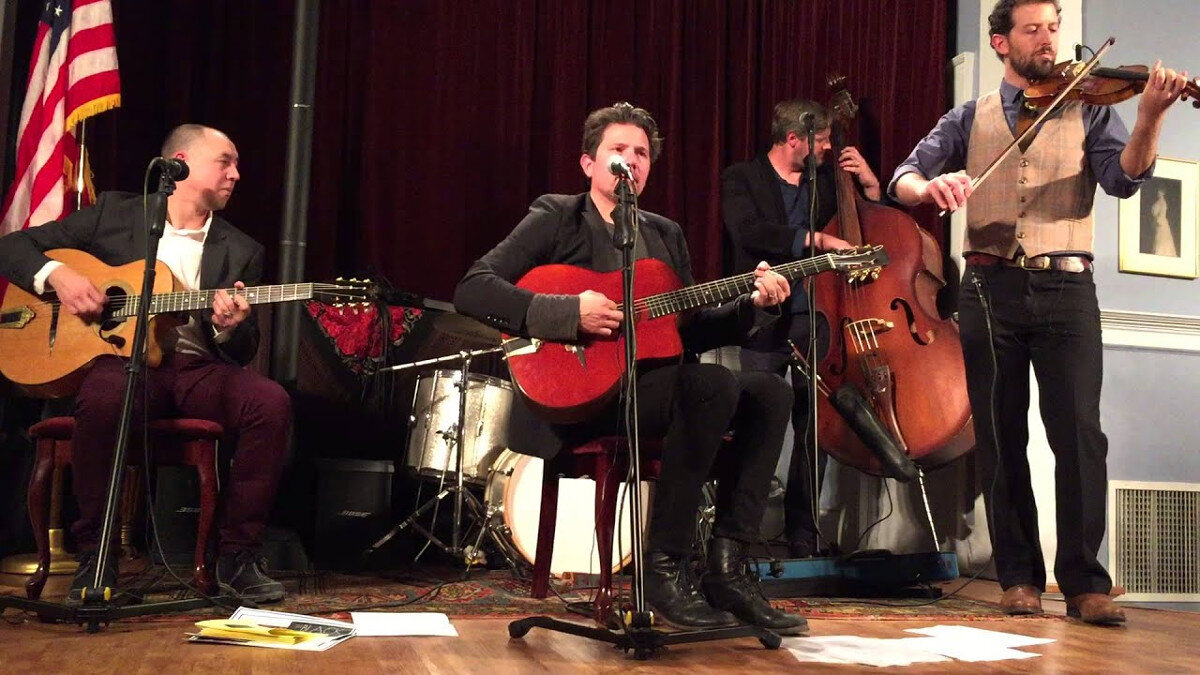 "When I was in my early 30s, I listened to his songs about falling in love," he continued. "They hit me in a completely different way. Maybe it was the timbre of his voice or the words of the songs themselves, but from then on, I've never listened to Sinatra the same way."
Busy Performing Schedule
As its popularity has grown, so has its bookings, surpassing 175 in the past year. Sun Valley was the first of the trad jazz festivals to book the band in the Fall of 2018. Co-director Jeff Loehr recalls, "I had known Jeff and Brian from the Bergara Quartet. When I heard they had a new thing going, I hired them on the spot without even seeing the band first." But Jeff Radiach said the band had some reservations and was a bit nervous, knowing of the Festival's past musical history. But it wasn't too many sets before The Black Market Trust was playing before packed venues and audiences that responded with standing ovations.
Helen Daley brought them to Arizona in late 2019, commenting on how well the band relates to the audience. The Olympia Festival in Lacey, Washington, had BMT in its 2020 lineup.
The Black Market Trust has created an organic new sound that is daring, fresh, and exciting yet somehow familiar and inviting. Jeff Radaich acknowledges that all the band members contribute to the final product and how well they compliment each other musically. Combining old world romance with new world form, they present great melodies in a simple, elegant, and well-defined classic sound . . . sounds that will appeal to multiple generations.
Jeff Radaich promises audiences a memorable concert experience when they come to hear The Black Market Trust. "Our goal is to entertain people like they've never been entertained before," he said.