The last thing I expected from my 10th annual visit to the Pershore Jazz Festival was the premiere of an unreleased Benny Goodman tune. Yet there it was, smack in the middle of an incredible tribute titled "Benny Goodman 1935 – His Life & Times".
Keith Nichols, probably the foremost authority on classic jazz, took advantage of the talented musicians, present for the weekend, to create an 18-piece orchestra that covered Goodman's life from the earliest years to the gems from the 1938 Carnegie Hall concert.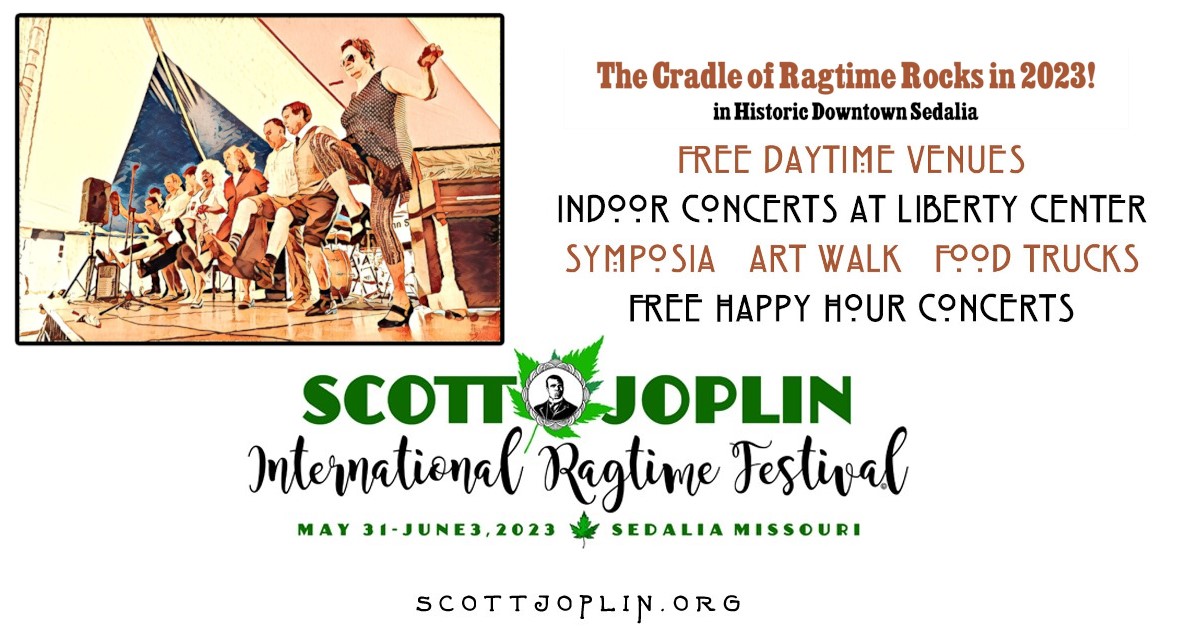 As the concert developed, Keith explained that two unreleased tunes, "Dodging a Divorcee" and "Sweet Hot", were discovered in the BG archives. The latter piece was incomplete, so Keith finished and arranged it. We had the privilege of hearing the premiere of this arrangement.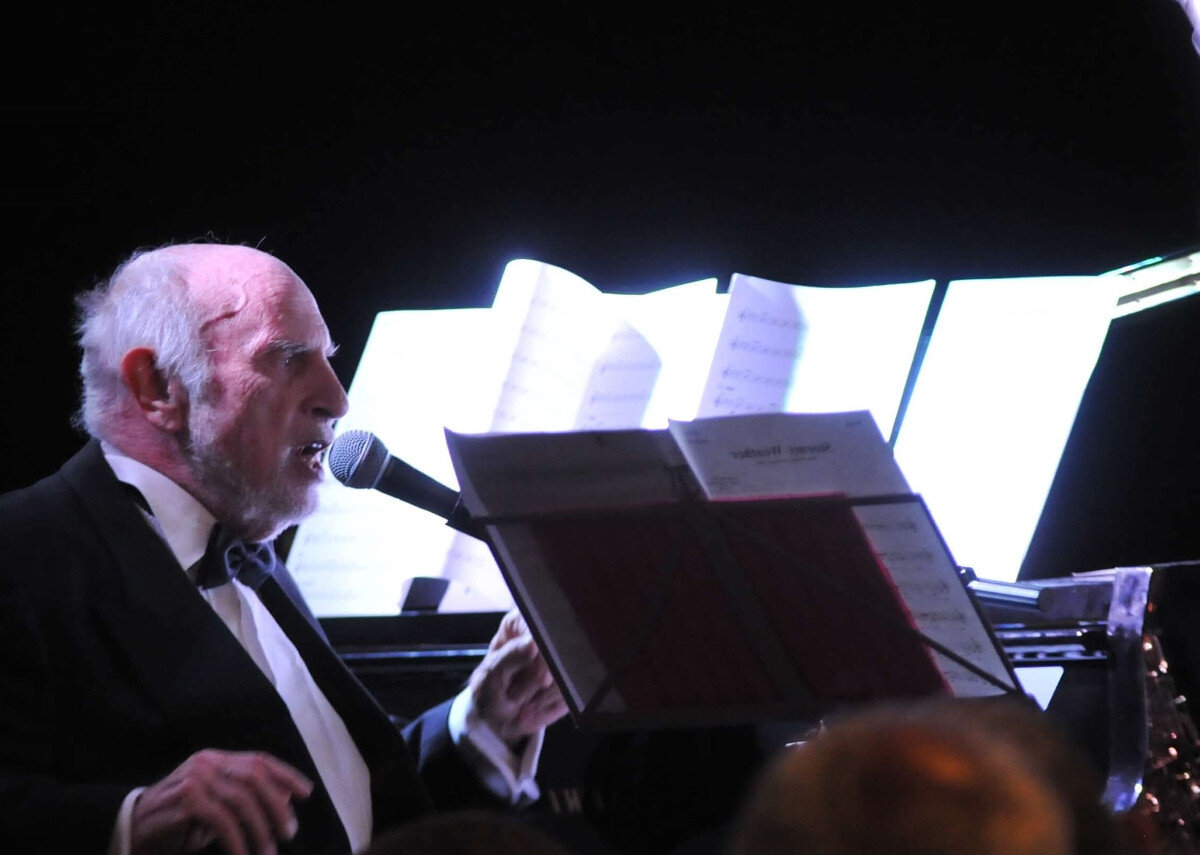 The concert was incredible. A session put together by Keith Nichols is like attending a college course. His knowledge is awe-inspiring. With a wicked sense of humor, he motivates the best in the musicians while enlightening the audience to the nuances of each piece.
Two talented clarinetists played the Goodman roles. Michael McQuaid, the young BG, and Richard Exall, the older. McQuaid's lyrical interpretation of "Memories "was outstanding as was Exall's "The Man I Love".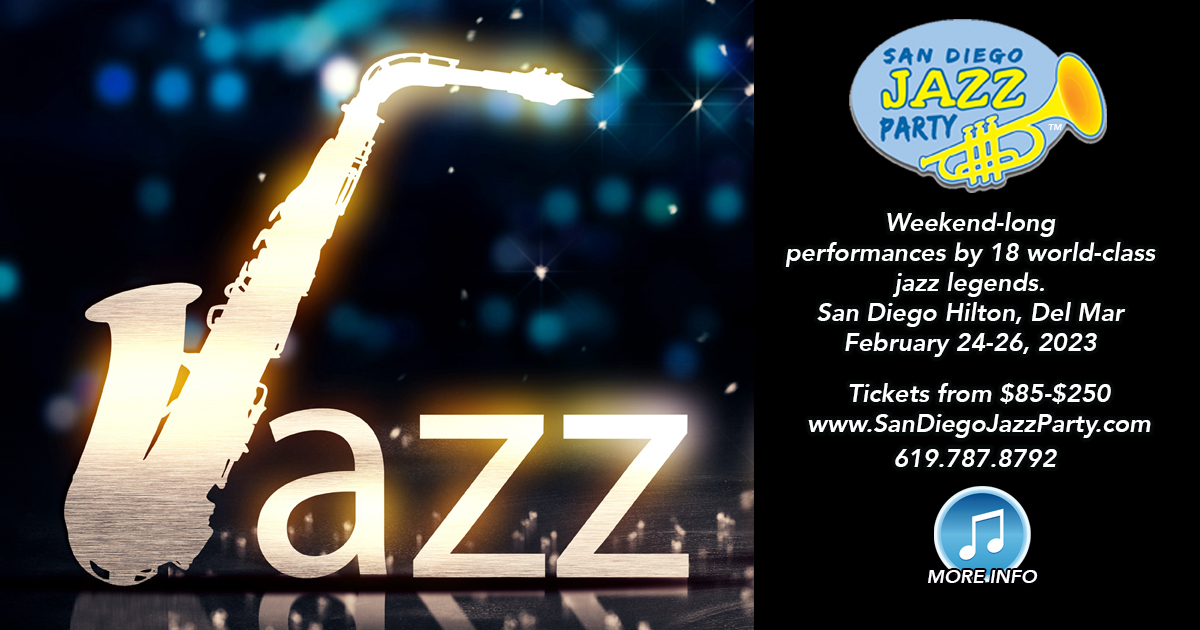 Enrico Tomasso, on trumpet, was featured, as he put it, "impersonating Harry James (at Carnegie) impersonating Satchmo". Earlier he recreated Bobby Hackett's tribute to Bix at the same concert.
Jamie Brownfield, trumpet and Adrian Fry, trombone joined McQuaid in recreating the Ted Lewis 1921 orchestra with "When My Baby Smiles at Me"
As the evening progressed it was clearly apparent that the musicians were truly relishing the moment as much as the audience, reaching its peak with a full rendition of the Carnegie finale, "Sing, Sing, Sing". It's impossible to comment on every number. For someone like me, who was practically weaned on BG, this concert was the ultimate. If I had gone home that evening, I would have been satisfied at getting my money's worth from Pershore.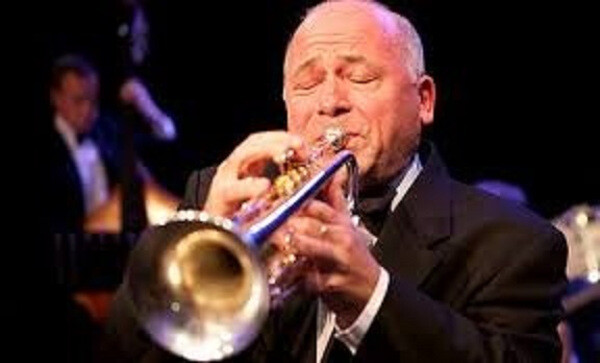 Pershore is more a Jazz Party than Festival; one big family of friends having a ball. With about 150 musicians and audience space limited to only 600 patrons, due to limitations set by the local college venue, the ratio of 4:1 and the configuration at Pershore forces an intimacy that I have not seen except on cruises. The whole setup covers a small area. The college auditorium and a large marquee are the main stages. The wood-paneled Student Club, housing about 80 people, provides a cozy setting for smaller groups as does the Vale Piano room. The bar next to the club allows musicians and friends to interact in the manner of a small pub. One can sip a pint while enjoying the sounds emanating from next door. The adjoining student cafeteria rounds out the opportunities for meeting and greeting. Overall a warm ambiance is created, giving a rare opportunity for patrons, most of whom are annual returnees, to mingle informally with the musicians.
Yet tell any Brit that you just came from the Pershore Jazz Fest, the general response will be a blank look. If they know Pershore at all it's mostly as a name on the road signs when traveling by the area. However, this small town, has been home to one of the most enjoyable classic jazz festivals for 18 years.
Over the weekend, through sensitive mixing and matching, a program that offered 36 sessions divided into 72 sets was created. While the emphasis is on classic jazz, room was made for broadening the interpretation of the music without losing the essence. Timing of breaks allows one to sample different styles. It gave me the chance to listen to my favorites as well as sampling the newcomers.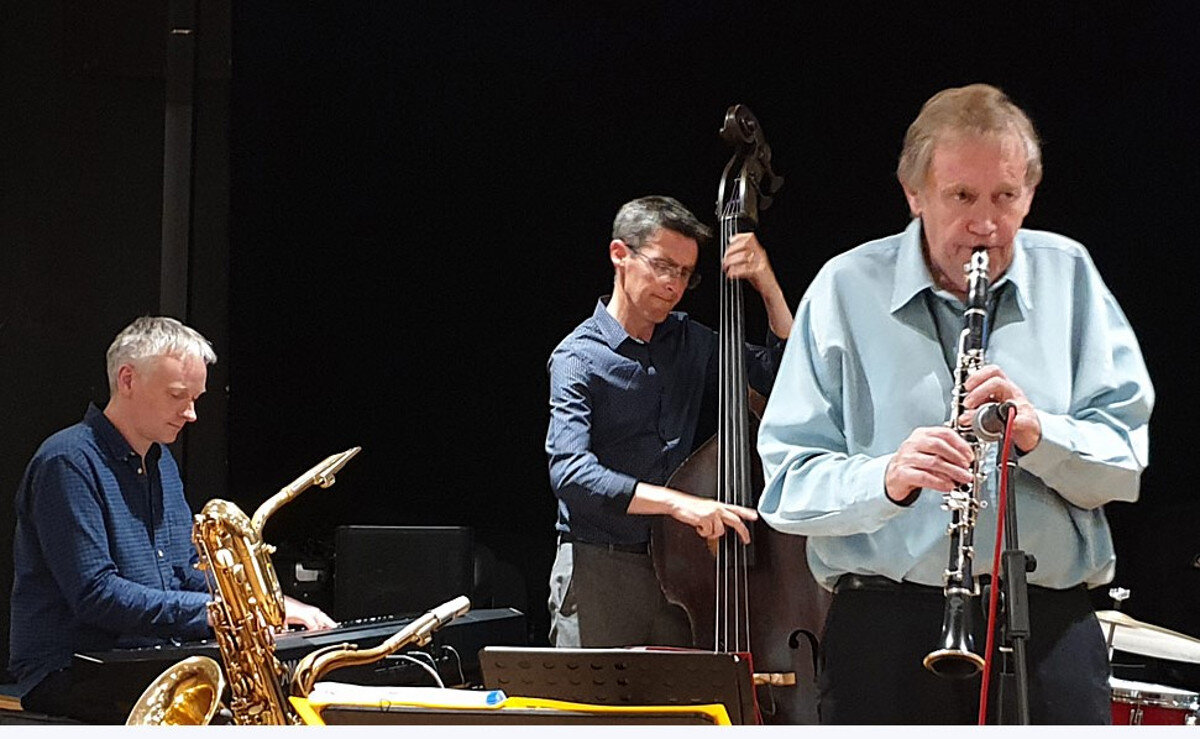 At the top of the list is John Hallam on reeds. A quite manner belies the music he creates. Saying little, he lets his instruments give voice to his feelings. A master of the American songbook, whether offering "Misty" or "Stardust" the sound is deliciously lyrical and sensitive. Switching to clarinet, we hear a toe-tapping "Sweet Sue". His session with Alex Clarke, a young lady who just won the "Rising Star" award 2019, is an example of his generosity in sharing the stage with the next generation. His versatility was shown when paired with Carl Sinclair's "Boogie Band" which called for a hard-driving sound bordering on R&B. Finally he closed the festival with Graham Smith's "Shades of Jazz Band" a more traditional combo.
Prominent as a collaborator in many Hallam's sets and recording sessions is another favorite, pianist Tom Kincaid. Like John he says little, letting his sensitive supporting style add to the listening pleasure. Here he was busy accompanying one set with Hallam, one with Enrico Tomasso and two with Jamie Brownfield. His rendition, in a moving solo of "Hymn of Freedom", played as the penultimate number of the last set with Brownfield, was a perfect finale.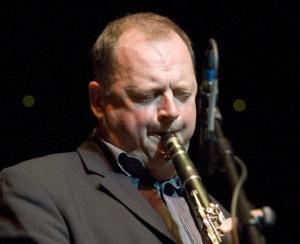 Alan Barnes is another of my favorites, a sentiment widely shared as one notes his multi-awards from "Best British Jazz" including alto sax and clarinet. Apart from the first night BG concert, he played in four other sessions. As an integral part of the "Buck Clayton Legacy Band" he was featured in a recreation of the Ellington small band, with new arrangements of "Take the 'A' Train", "Perdido" and more, for two hours of exhilarating, swinging music. His session in "Tribute to Henry 'Red' Allen" with Peter Horsfall trumpet, was another swinging remembrance of one of the greats.
Enrico Tomasso, winner of Best Trumpeter Award was featured in four sessions. With all respect to Marsalis and Payton, Enrico is probably the finest interpreter of Louis Armstrong today. He captures the essence of Satchmo better than anyone I know. In two of the sessions his teenage daughter, Analucia Tomasso, joined on vocals. Last year, we heard her for the first time and were impressed. Now her voice and stage presence has matured. Analucia is a natural who will go far if she chooses.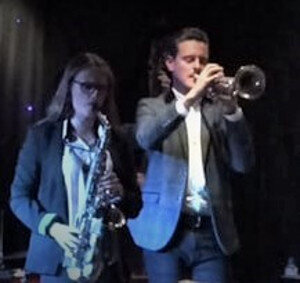 Pershore is notable for the number of younger artists who have become regulars. I first heard trumpeter Jamie Brownfield in 2010. A teenager, he was already well on the way to be an accomplished musician. Now, a regular at Pershore, he is an established leader on the British jazz circuit and helps develop other young players like Alex Clarke. I caught the final part of their set and was rewarded with a beautiful rendition of "Stardust" by Jamie matched equally by Alex on sax.
Adrian Cox, clarinetist, at 36 is already a twenty-year veteran performer. For Pershore, he brought a show he created in 2017 titled "Profoundly Blue", celebrating the music of legendary New Orleans clarinetist, Edmond Hall. The CD of this show has just been nominated for "Best Album 2019".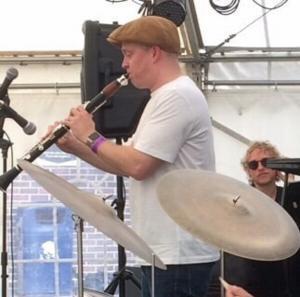 Cox uses the music to tell the story of Hall's participation with so many of the greats of classic jazz from the 1920s until his untimely death in 1967. From "High Society" to "Don't Give me Sympathy", Hall's only known vocal, it was a moving tribute to this often-overlooked musician who contributed to so many recording gems of classic jazz. I particularly liked the soulful rendition of "The Man I Love" as well as the medley of six Ellington compositions.
Ben Holder, violin, is another of the "youngsters" who is a veteran at Pershore. This year he teamed up with Pete Allen, reeds, Jim Douglas, banjo and guitar, Tom More, bass and Malcolm Garett, drums, to open the festival with a swinging session.
Pershore perennials, Jeff and Anne Barnhart satisfied their many fans with a melodic session of favourite tunes while Jeff also shared a set with Keith Nichols playing the music of the silent movies.
Probably the most unusual group to categorize was the "Mama Shakers". Five young musicians from France that reminded me of the street bands one finds in New Orleans. Musically very talented, they presented a high-energy, hot, swinging show of trad jazz that captivated the audience.
Truly astonishing are the number of leading British Jazz Musicians who gather together here annually; British Jazz Award winners and nominees are always prominent. Adding to those mentioned above, Ian Bateman, The Dart Valley Stompers, Robert Fowler, Kevin Grenfell, Graham Hughes, Martin Litton, Nick Millward, Dave Newton, Amy Roberts, Malcolm Sked, Jim Swinnerton, Nick Ward, Martin Veasey and Martin Wheatley are just a few of the top musicians, active today in the UK, who are regulars at Pershore.
It's always amazes me that these talented musicians, who devote their careers to interpreting the classic music of America, are for the most part totally unknown in the USA. It is a question worth researching for a future article.
This wonderful festival is made possible by the Pershore Jazz club under the leadership of Graham Smith as Chairman and Artistic Director, Peter Farrall, Secretary, Maggie Smith, Treasurer supported by a dedicated group of volunteers. They have justifiably earned the title of "small Festival with a big heart". If you are in the area, the club's monthly gig is last Wednesday each month. Next year's dates are August 14-16, 2020. Info at pershorejazz.org.uk
As an aside, for the vacationer, Pershore is just a short ride from Stratford-on-Avon. In fact, the Avon river runs through the town. So, each year we treat ourselves to a play at the Royal Shakespeare Theatre. Pershore is also located less than an hour from Oxford, Blenheim Castle, the Cotswolds and other areas of historic interest making it a perfect festival for those who want to combine jazz with sightseeing.