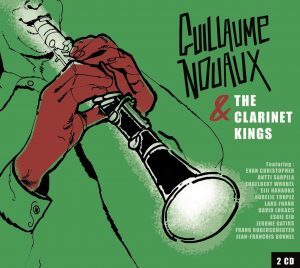 Inspired by a record store find many years ago Guillaume Nouaux has finally brought his most ambitious project to fruition. The inspirational records were two volumes titled Zutty Singleton and the Clarinet Kings, featuring the drummer with the clarinet wizards of his day. As a drummer who has had the opportunity to play with a host of today's greatest clarinetists Guillaume Nouaux wondered how tough it would be to gather them all on one record. Perhaps surprisingly herding jazz cats was more pleasure than pain and he recruited no less than eleven clarinetists for this double disc.
They are; Evan Christopher, Antti Sarpila, Frank Roberscheuten, Engelbert Wrobel, Aurélie Tropez, Lars Frank, Eiji Hanaoka, Jean-François Bonnel, David Lukàcs, Jérôme Gatius, Esaie Cid. Most are from the European classic jazz scene but several came from other continents.
For consistency across the album each is paired in clarinet-piano-drums trio, the formation Nouaux says he most favors as it frees him for maximum self expression. Four pianists are used, each selected for the strength of their left hand in a base-less setting. They are; Luca Filastro, Alain Barrabès, Harry Kanters, Jacques Schneck.
43 year old Nouaux is a regular at all the major festivals in Europe as a classic jazz specialist. He's performed with Ken Peplowski, Bob Wilber, Scott Hamilton, Harry Allen, Scott Robinson, Warren Vaché, Duke Heitger, Dan Barrett, Wycliffe Gordon, Butch Thompson, Cecile McLorin Salvant, and Jason Marsalis, (to focus on names familiar to American readers). He's been part of over 80 albums, is regularly featured in drumming magazines and has written two reference books on jazz drumming.
Recently he's been making regular appearances in my review pile as part of a cohort of superb musicians in Europe making true to form traditional jazz at a level of unmatched creativity and verve. Often appearing in trios and quartets there is a temptation to consider some of this chamber jazz, but I have an aversion to that term. These are players who really get it, they play to spread joy rather than impress. As impressive as they are.
It's hard to summarize an album featuring at least 12 unique trios over 24 cuts. Nouaux's stated purpose is to allow each clarinetist to express their own personality. His success in that regard is a double album of trio performance that never feels repetitious or looses its edge. Each clarinetist appears twice or more, but the tracks themselves are arranged for album flow rather than grouped by artist. A pleasant diversity in tempo and tone is maintained. Fats Waller is well represented with four credits, but other titles are from a truly diverse array of composers. "Avalon", "Honeysuckle Rose", "China Boy", "Liza", "Shreveport Stomp", "Somebody Stole My Gal", and other fine vehicles for creative romps are highlights.
Generally speaking, the piano keeps to the bass line while the clarinetists are allowed to flow. Nouaux's drumming is propulsive and expressive with masterful brushwork. Laidback but always engaging, with the deep listening fan in mind this album brings greater joy with each listen. I smell a word of mouth hit among the cognoscenti of classic jazz. For clarinetists, this record is a must have.