The saying "you can't keep a good woman down" might well have been inspired by the Swedish Queen of Swing, Gunhild Carling. She is bouncing back from a global pandemic and shutdown, the only way she knows how—with lots and lots of love, humor and music, as well as a new album.
The last time The Syncopated Times caught up with the multi-talented and multi-lingual multi-instrumentalist in 2021 (see: Gunhild Carling: Living the Jazz Life), she had been staying home due to the COVID-19 shutdown. The epidemic, while of concern, didn't curb Carling's creativity and passion for jazz and performing for audiences.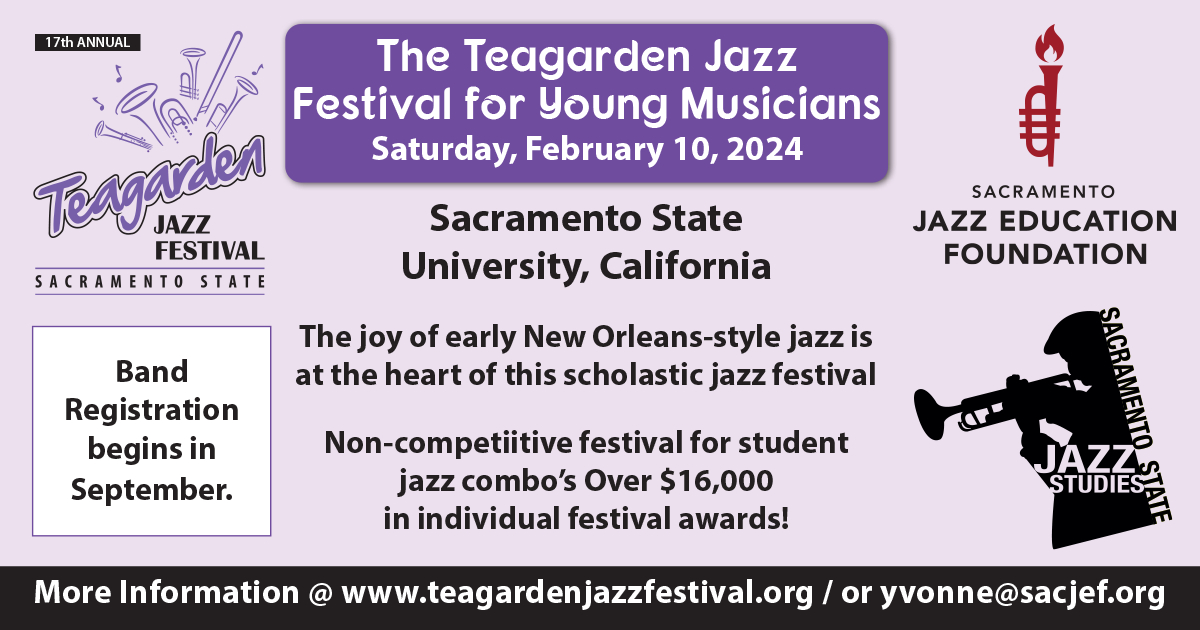 Now in 2023, live music is back in full swing and Carling has released a brand-new album, Good Evening Cats, that she says attempts to capture the fun of her live performances. It is a landmark album, given it is her 10th release, coming on the heels of her 2015 release Harlem Joy. Carling put out her first record back in 1984 and has become a global jazz sensation known her skills at playing many instruments (often at the same time), enthusiastic dancing, and her charming, Billie Holiday-inspired singing.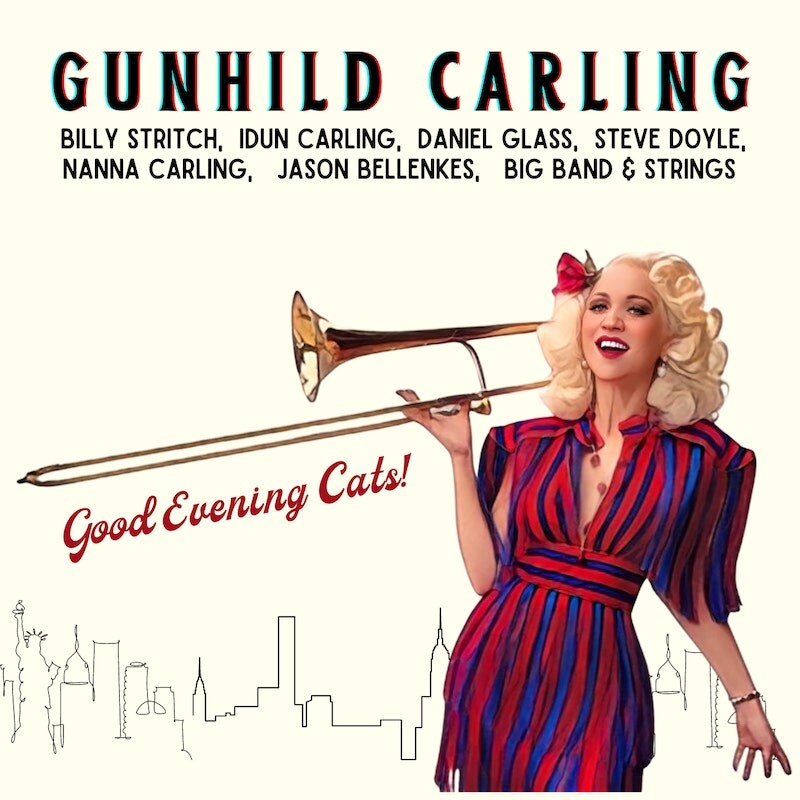 "I must say that COVID pandemic situation was great for me," Carling said speaking from her home in Cupertino, California, "because I have a family with two kids, and as a musician I have to travel all the time. There is no way to get away from that. Since my kids were small, I have always traveled. I tried to take them with me as much as I could. But suddenly everything stopped, and I was together with my family."
Born to a family of musicians in Gothenburg, Sweden, Carling grew up in a household full of music that often resembled, as she recalled, "a variety show." While living her in the US, it was no different with her children, daughter Idun Blomé and son Viggo Blomé, getting in on the act with Mom.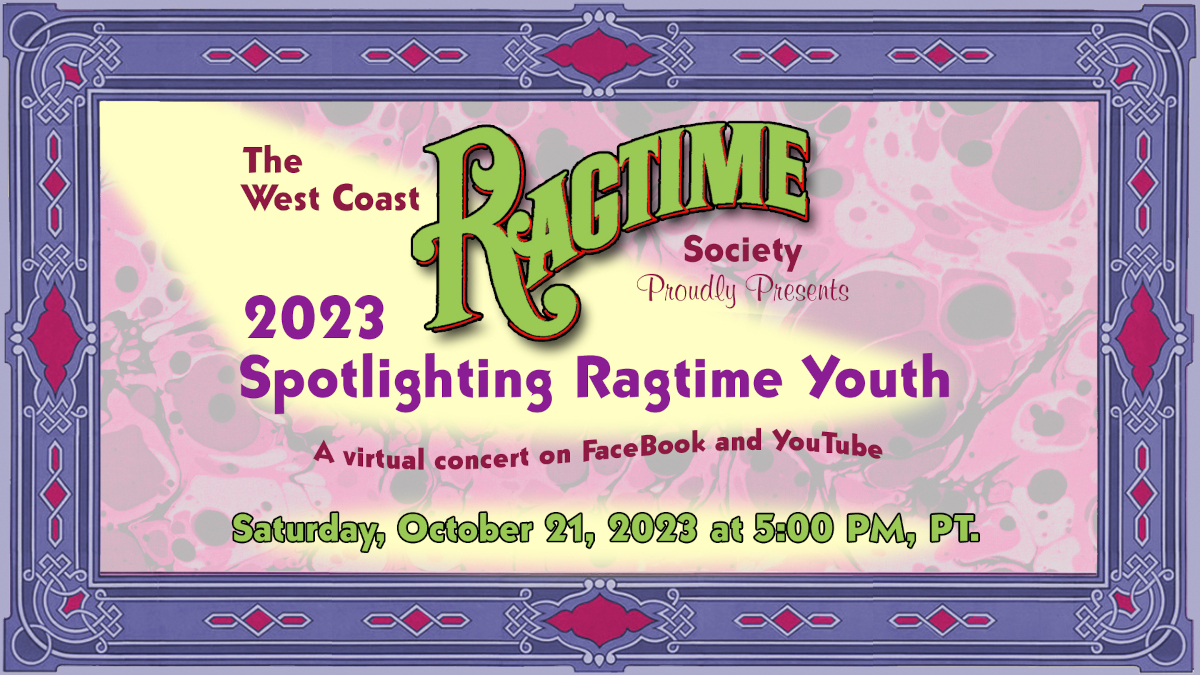 During the pandemic Carling, and her family, were joined by young neighborhood musicians for outdoor concerts in her garden. The whole world enjoyed their performances after Carling's high-tech and musical husband Johan began live streaming them on YouTube and other social media platforms. She already had a large following on the online video platform. Several of the videos have reached over one million views and she continues to do online mini-concerts when her schedule permits.
While the school might have been shut down, those who came to play or to listen to these concerts, "Professor" Gunhild gave Master's level classes in rhythm every week.
"Remember that rhythm is [my] religion," Carling said. "Just get the rhythm, timing, and everything. It was so wonderful for me to not be able to go anywhere just deepen in my relationship with music."
Besides playing, Carling's family and friends did a lot of listening to the foundational musicians of jazz.
"We have to listen to Johnny Dodds…and to the sound of King Oliver, and Bix, and Jelly Roll, of course. We were listening to jazz all the time, and we were playing, listening and writing arrangements," Carling said.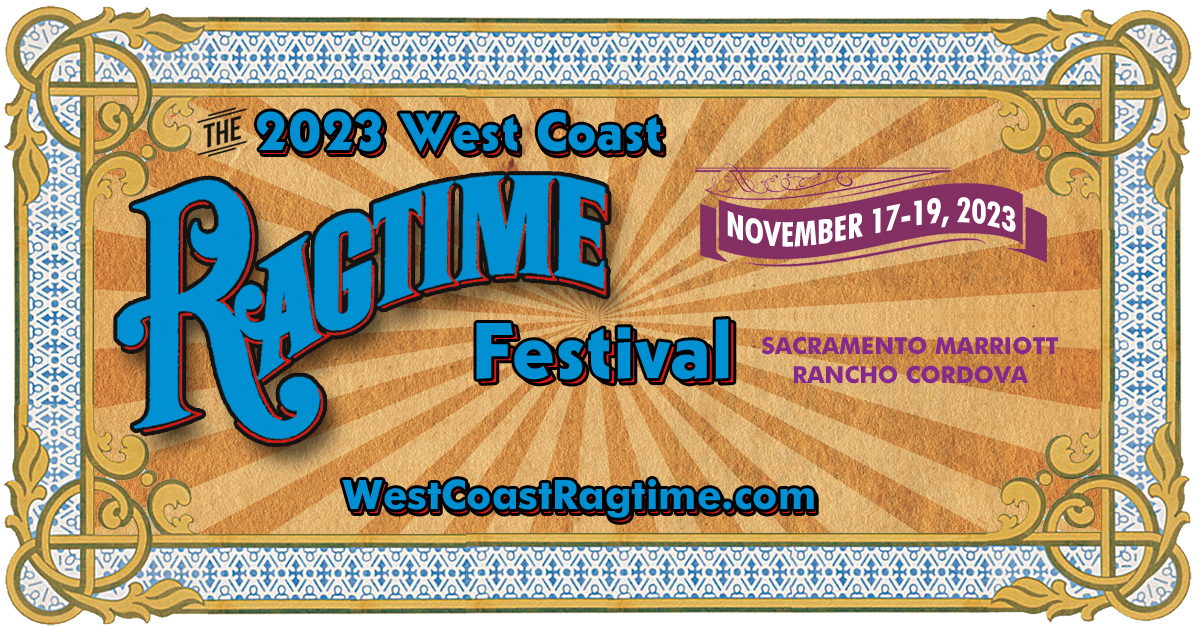 When the COVID-19 shutdown came to end, so did Carling's idyllic time at home. She said she sadly saw many of her neighbors, immigrants like herself, move back to their home countries. As for the young people, who sat in on jam sessions, they went back to school, work, and their pre-pandemic social activities.
"We were here [in California], and suddenly I woke up to my normal life," Carling remembered.
And "normal life" for Carling meant performing before audiences. She headed out back on tour in 2021. The Carling family wowed audiences everywhere including at the Birdland Theater in New York City, a city she says she loves most. Carling did nothing less at that venue than successfully revive vaudeville, the long dead style of variety show that featured music, comedy and dancing.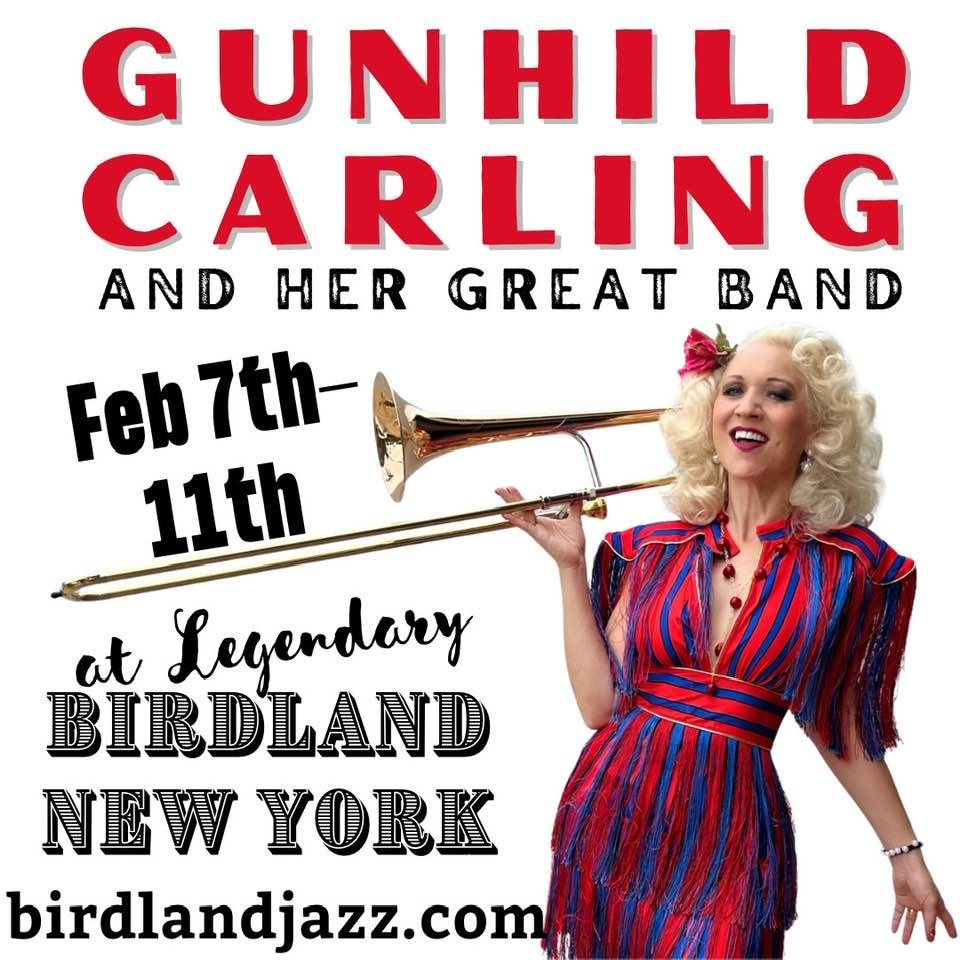 Online Broadway World critic Stephen Mosher raved, "this writer who sees as much nightclub, cabaret, and concert action as is humanly possible can honestly say I have never seen anything like this before. In simplest terms: The Carling Family is amazing."
Carling believes those at Birdland to be as close to her as those in her own family.
"I consider I have a family there [at Birdland]. Every Monday, Jim Carauso has a "cast party" where we played with Billy Stritch and Daniel Glass as we became like a family. After the show, I called them up and said we needed to do something more," Carling said.
Carling had the idea of capturing the magic of her live shows in the recording studio. In February 2022, she and her family, including Stritch on piano, drummer Glass and bassist Steve Doyle, recorded Good Evening Cats in a New York City. The album showcases Carling's musicianship but also her talent to sing in English, French ("La Vie en Rose"), and German, as well as her song writing acumen.
"At first, I only wanted to record originals," Carling admits. "I've done hundreds of ballads in a 'Laura'-style, with complicated, beautiful chords with a lot of coloring. But we had to mix it up so [we added] some New Orleans-style and swing pieces with my ballads."
Her six original songs, which comprised most of the record, sound like they are straight out of the classic Great American Songbook even though Carling isn't American and English is her second language.
"I've read poetry all of my life as well as listen to the Great American Songbook. I'm very interested in poetry and I write a lot of lyrics every day," she said. Her love of poetry in heard in the lyrical sweetness of originals such as "My Lovin' Heart Can't Forget," "Million Stars Are Out Tonight," "Two Movie Stars," and "Monday through Sunday."
It also didn't hurt to have the elegant, stylish touch of Grammy winner Billy Stritch at the keyboards. Stritch is no stranger to adding the right amount of support to female vocalists. He's been an accompanist and musical director for such musical icons as Christine Ebersole, Linda Eder, Marilyn Maye and Liza Minnelli.
"I like him very much as a musician and as a human," Carling gushed. "He is unbelievable. He has such a special touch on the keys. It's so very delightful. Everything he plays is so inviting, nice and beautiful."
The album's opener and title track, "Good Evening Cats" is an old-fashioned hard swinging tune Carling wrote based on the jazz standard "Moten Swing." It lets the listener know, like those who see her perform it live, that something wild, fun and creative is about happen.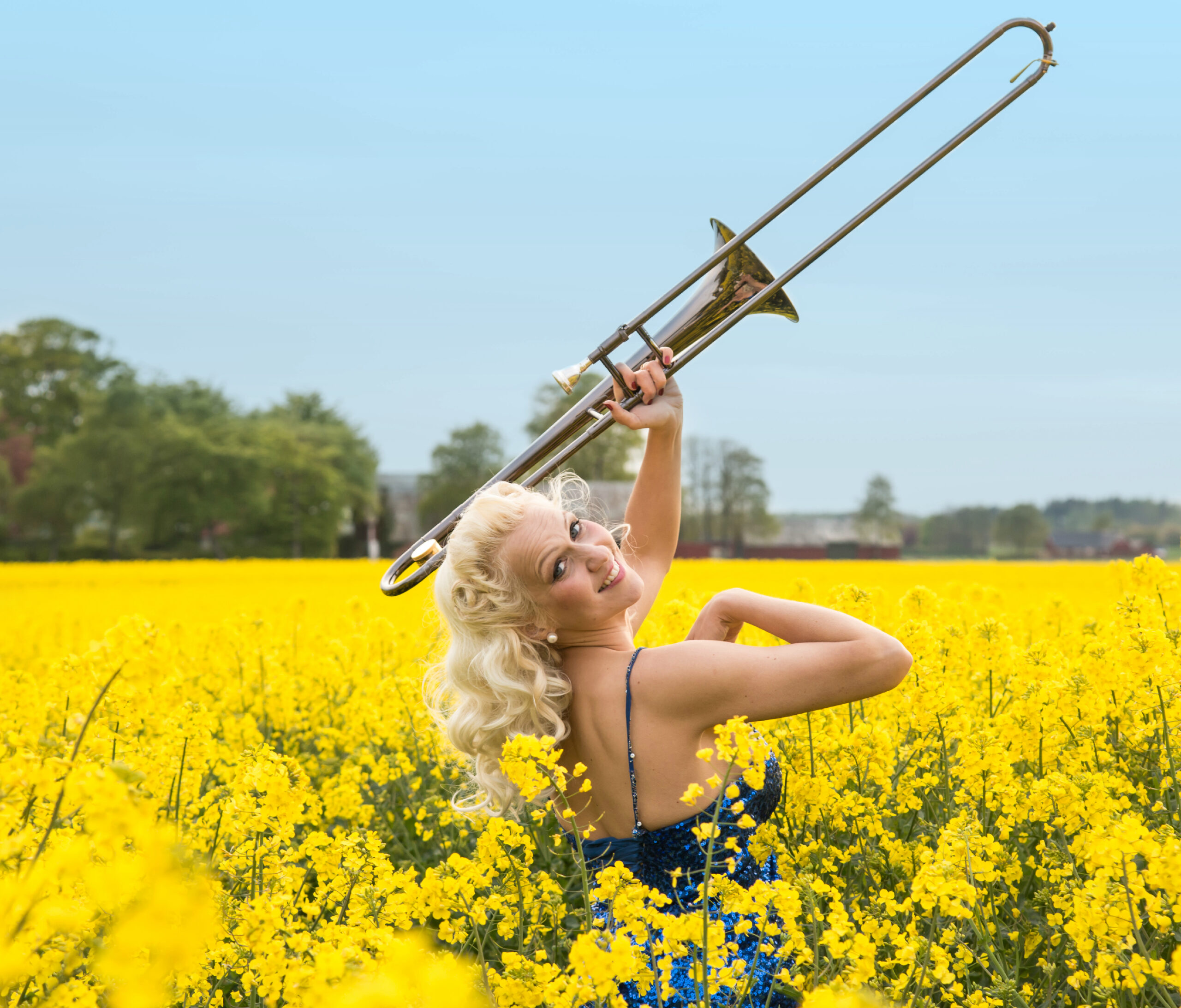 "Sometimes I take an old form, like a blues, or a song like 'I'll Be Glad When Your Dead, You Rascal You'—whose lyrics don't fit me because I like dancing and holding hands and watching stars— and do them in a new way," Carling said.
It also not a Carling show without her family. Besides showcasing the burgeoning vocal talent of her daughter Idun on "Att Angöra en Brygga," the album features Carling's niece Nanna, an established musician on the Swedish trad jazz scene who brings more swing to the audio party.
Carling never fails to surprise. For example, take the album's third track—the 1928 Kurt Weill classic "Mack the Knife." Many, many jazz musicians have played it. But Carling does it with a twist that she's been doing in on stage—playing it on bagpipes.
"I play bagpipes at the end of a show and I ask the audience if they want to hear some jazz," she said. "They don't say yes because I don't give them time to respond. I then ask if they want medieval bagpipe music? Or do you want to hear German Opera? They don't want to hear that but then I start playing 'Mack the Knife,' which is from a German opera. I sing it in German." She said the audiences go crazy, never thinking such an instrument could swing as hard as a more standard instrument.
The last track also features an instrument that's familiar to any elementary school student but doesn't get much use in jazz concerts. Carling plays a wooden recorder on the Antonio Carlos Jobin's "Wave," which adds a beautiful etherealness to the song.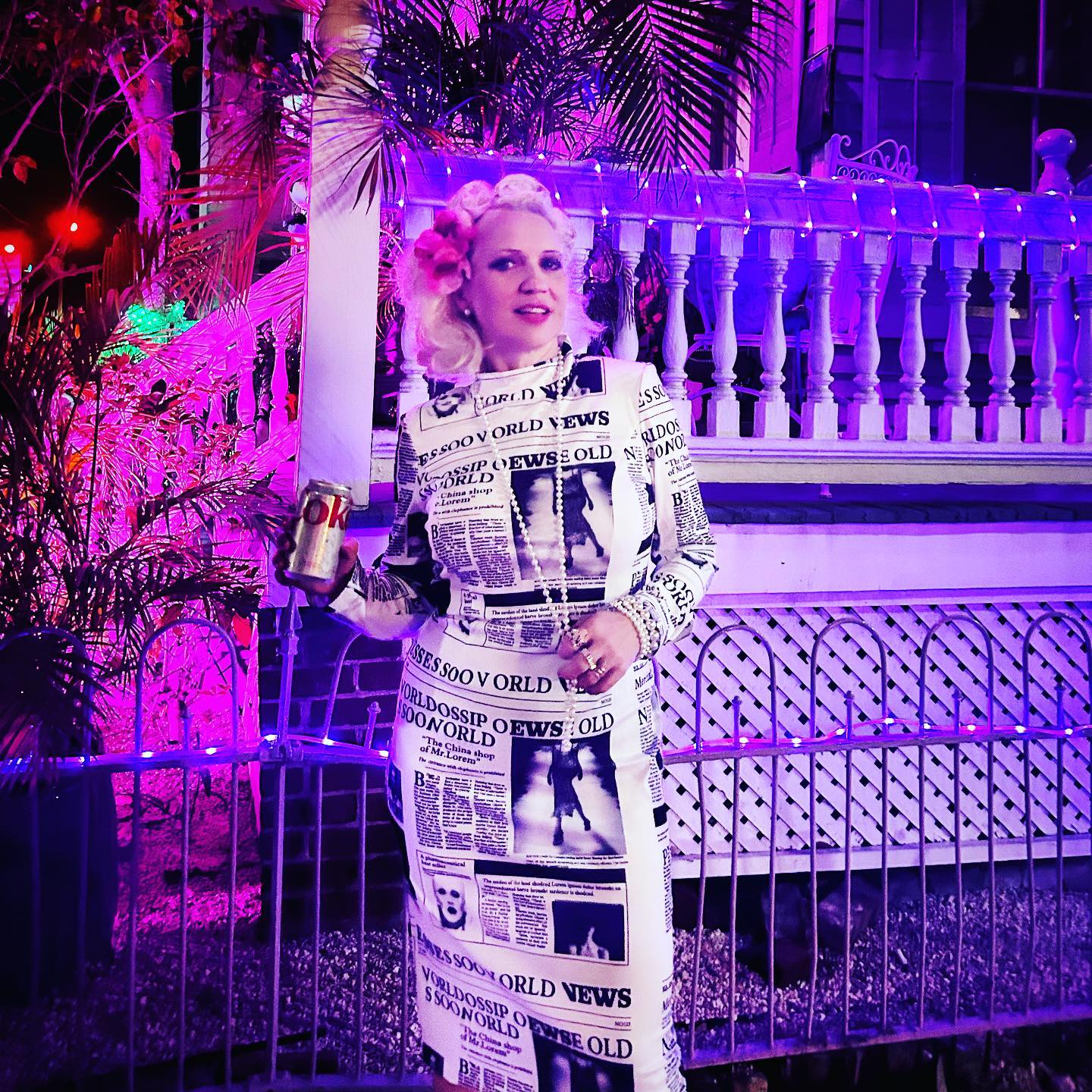 Carling says when she does something "strange" or "out of the box," her audiences respond to it. However, no matter how uniquely she presents the music, she always has great respect for the music from early jazz.
"I never try to educate the audience," Carling said. "I just play, and I believe that the music speaks for itself. But, since I do take so much from Armstrong, and Bix and Billie Holiday, I feel that would be unfair not to talk about them. Even with my originals, I'm taking inspiration from New Orleans and while times may change, humans are much the same as they were 100 years ago and these wonderful jazz melodies are still going strong."
Besides more live performances on stage and on online this year, Carling is preparing for her next album which will feature a big band which she premiered at a concert in Rhode Island. They are doing multiple dates around the country in preparation for the recording sessions.
As for Good Evening Cats, she modestly admits it may be no masterpiece but she's proud of it as it paints a true musical picture of the Gunhild Carling experience.
"I just deliver the songs." she advises, "Don't make them too complicated. Play them. Sing them. And have a wonderful feeling of love and happiness when you play and try to communicate that to the listener."
You can visit Gunhild Carling online at her website www.gunhildcarling.net, Facebook, Instagram, Spotify, and especially on YouTube