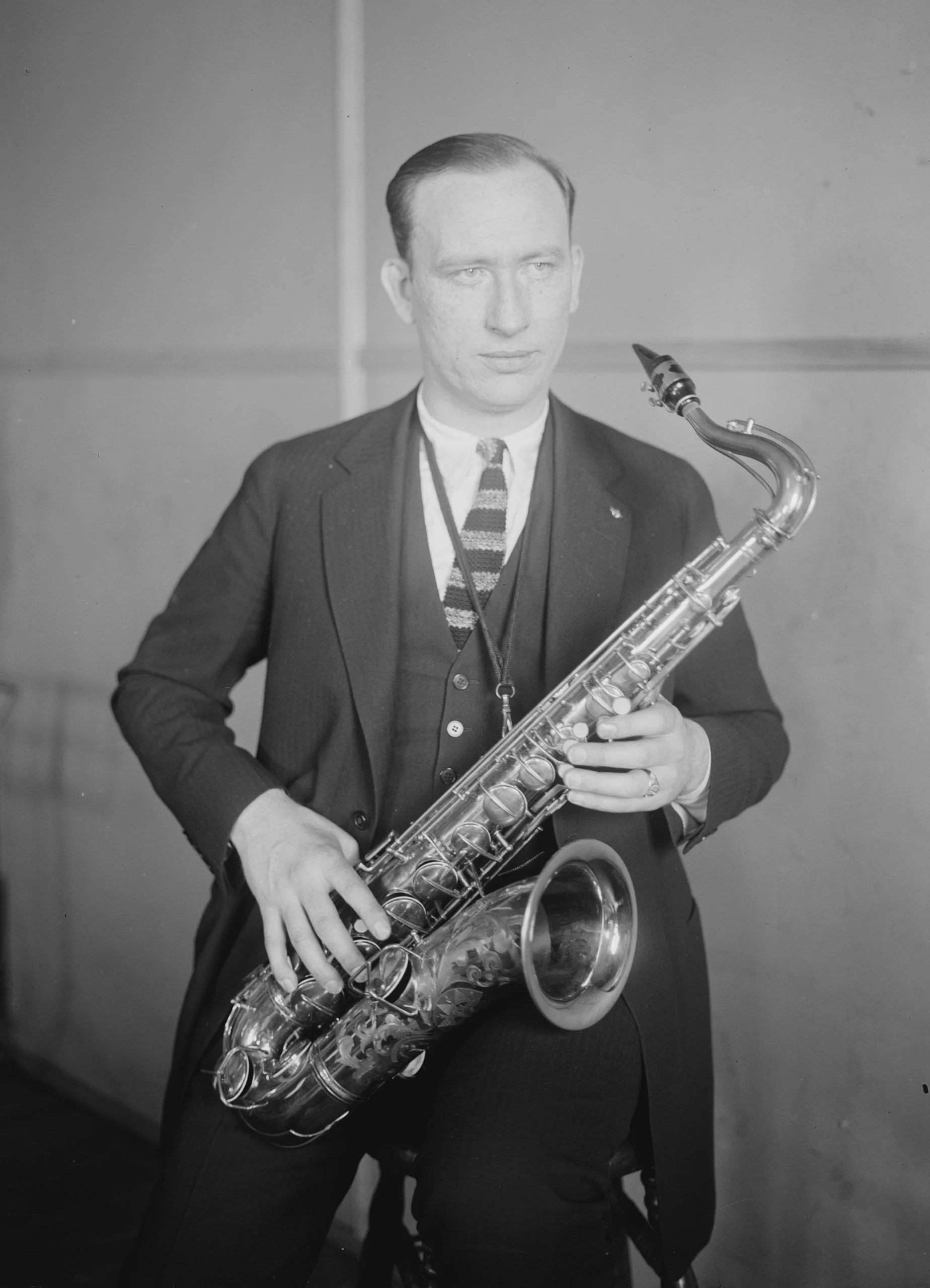 Isham Jones, whenever he is mentioned today, is cited as being a talented songwriter who added several standards to the Great American Songbook. However he was actually a multi-talented individual who, beyond his composing, led a series of high-class big bands, a very skilled arranger as well as a composer and, although it is rarely ever mentioned, a pioneer of the tenor-sax.
Isham (pronounced eye-sham) Edwin Jones was born on January 31, 1894, in Coalton, Ohio. When he was five, his family moved to Saginaw, Michigan. While his father was a miner, the elder Jones enjoyed playing country fiddle and later in life led his own local dance band. Isham Jones learned violin and piano although early on the string bass and tenor-sax became his main instruments. As a young teenager, he led his first band to play for services and functions for the Methodist church. In 1908 when he was just 14, Jones had his first composition published, "Mid Summer Evenings." In 1913 while serving in the Michigan National Guard, Jones played alto sax with the Third Regiment Band.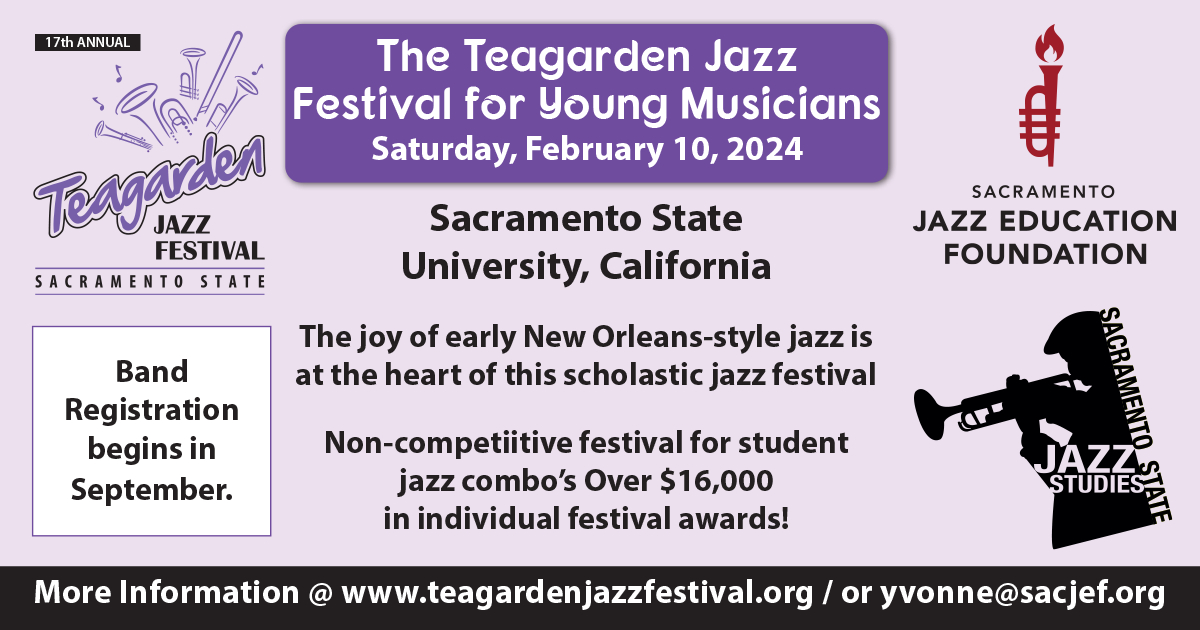 Although he worked with his father briefly, driving coal cars and a mule, Jones found that he could make much more money (and have an easier lifestyle) performing music. In 1915 he moved to Chicago. While he was in the Army for several years until 1919, Jones was also able to play music throughout the Midwest. He put together a trio to play at Mahoney's Club. By 1918 he was leading a seven-piece dance orchestra in Chicago, at first based at the Green Mill Gardens and then for a long period at the Rainbo Gardens in Chicago where it eventually grew to 11 pieces. His band was popular from the start and appeared at hotels and dance halls in Michigan and Pennsylvania in addition to Chicago.
Jones' talents as a composer were already being recognized. Back in 1911 he had written "On The Alamo" although it would be a decade before that song was recorded and began to catch on. In 1917 he wrote "We're In The Army Now" (also known as "You're In The Army Now") which had a revival during World War II. He composed the music for the musical comedy The Gumps and had his first minor hit with 1919's "Meet Me Tonight In Bubble Land."
The Brunswick label signed up Isham Jones' Rainbo Orchestra in 1920 and they made their first recordings in June. The 37 selections that the ensemble recorded that year have been reissued on Archeophone's two-CD set Happy and they are a bit of a revelation to hear. The original band consisted of Jones on tenor and C-melody sax leading a septet that also included trombone, violin, piano, banjo, tuba, and drums. In October, a second saxophonist (on alto and soprano) and violinist were added and in December the band acquired its first trumpeter.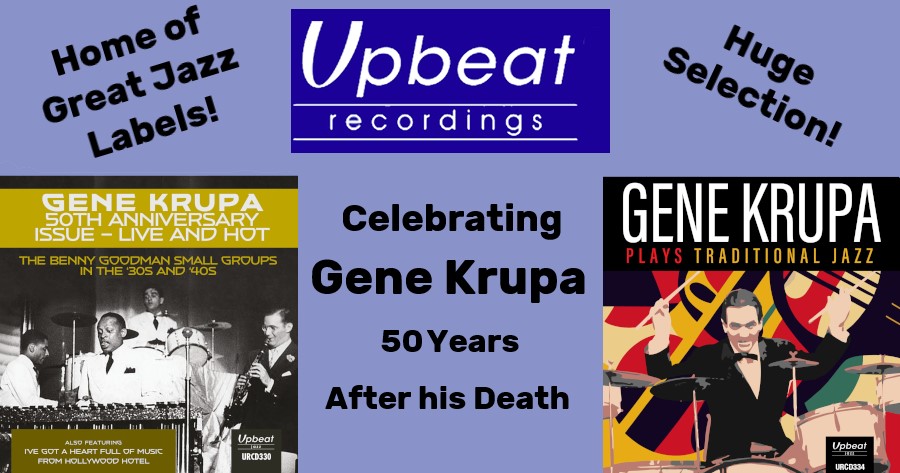 When one thinks about the history of the tenor sax in jazz, it is always assumed that Coleman Hawkins was the first important tenor player. While the instrument had been utilized by the Six Brown Brothers in the teens, it was largely a horn without a purpose. Unlike the alto, C-melody, and soprano which could be utilized as lead instruments, or the baritone and bass sax for bass notes, the tenor did not really have a role except perhaps as a poor substitute for a trombone. Coleman Hawkins, who first recorded with Mamie Smith's Jazz Hounds in 1921, was the instrument's pacesetter by 1923 although he did not really emerge as a major soloist until his 1926 recording of "Stampede" with Fletcher Henderson.
Isham Jones preceded Hawkins. On "So Long Oolong" from June 1920, one can hear him not only leading the ensemble but playing some reasonably swinging lines throughout the piece. On some of these early numbers (such as Oct. 1920's "Sweet Woman"), Jones gets somewhat hot in his playing and, while always a melodic player, he does improvise a bit. Even when largely sticking near the melody on "Dreamy Paradise," his syncopated rhythms mark him as an early jazz player, and arguably the first jazz tenor-saxophonist on record.
Surprisingly only two of the 37 selections recorded by Jones' orchestra in 1920 are the leader's originals. His band at the time fell between jazz and dance music, with jazzy ensembles that rarely left the melody behind. As would always be true of his orchestras, the musicianship was impeccable with no superficial effects (unlike many of the bands of the time) or moments when anyone's intonation became erratic or sloppy. The music on the Archeophone release is still quite listenable 101 years later and the recording quality is superb for the time.
In 1921 the Isham Jones Orchestra added trumpeter Louis Panico who became the band's best known sideman. While he was utilized for some outstanding two and four-bar breaks on many of the band's recordings, it was his cornball feature on 1921's "Wabash Blues" (which found him laughing and crying through his horn) that became a big hit, reportedly selling over a million copies. Panico, who was 19 at the time, had some lessons with King Oliver and was considered an early master of the muted trumpet; Bix Beiderbecke and Louis Armstrong were fans of his playing. One can hear Panico in excellent form on "Those Longing For You Blues," "Aunt Hagar's Children's Blues," "Somebody's Wrong," and "Never Again."
Based at the Hotel Sherman in Chicago, Jones was quite busy during 1921-24, recording and performing regularly, including as an accompanying band for Al Jolson and Marion Harris. In 1921 he and his orchestra appeared in Ziegfeld's Midnight Frolic. Jones had some of his biggest successes as a songwriter during this period. "On The Alamo" caught on in 1922 and he composed "Broken Hearted Melody" (1922), "Swingin' Down The Lane" (1923), "Spain" (1924), and in 1924 a trio of songs that are still performed regularly today: "I'll See You In My Dreams," "The One I Love Belongs To Somebody Else," and "It Had To Be You."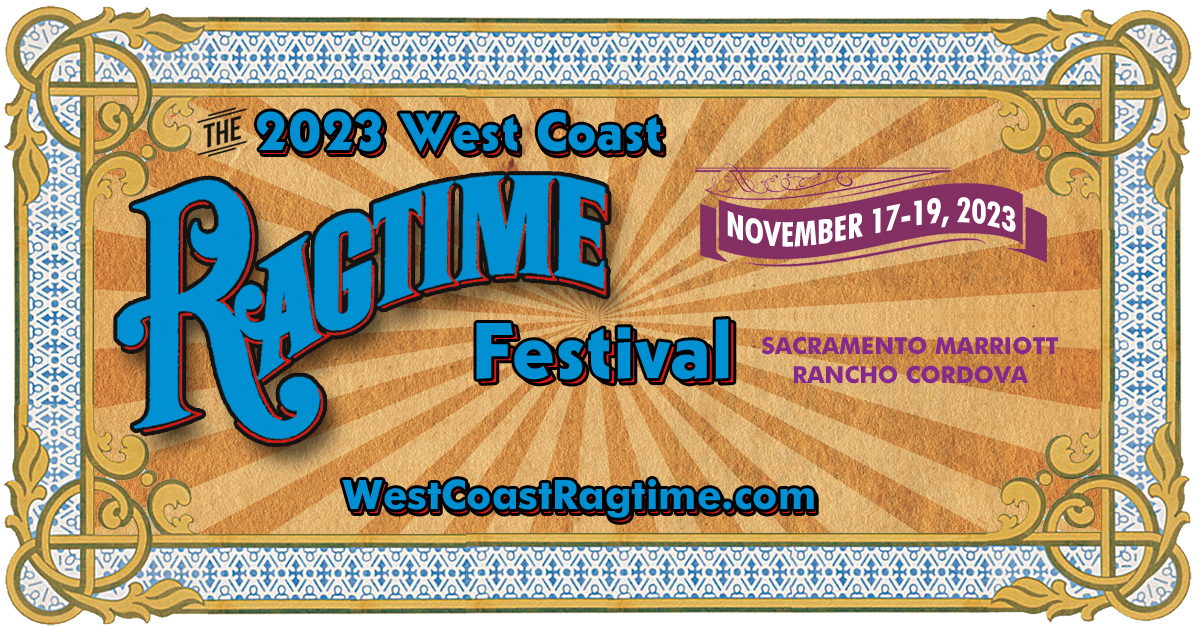 As an early arranger, Isham Jones kept his ears open to the latest developments in jazz, and he recorded credible versions of such tunes as "My Honey's Lovin' Arms," "The World Is Waiting For The Sunrise," "Farewell Blues," "Memphis Blues," and "Who's Sorry Now" before those songs were firmly established as standards.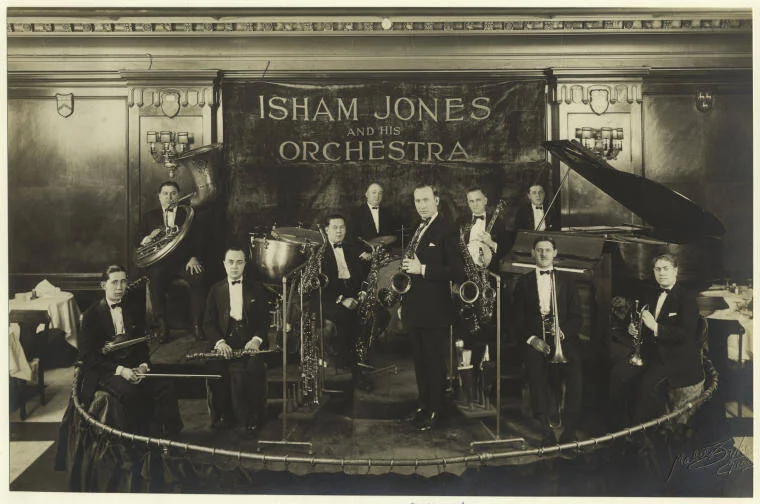 The Isham Jones Orchestra had a successful visit to London in the summer of 1924 and, even with the loss of Louis Panico by October (the trumpeter started his own mildly successful band), Jones continued building on his popularity. One can argue that in jazz, Isham Jones had already hit his peak by 1925, but there would be other highpoints and accomplishments during the next dozen years. His 1925 recordings of "Riverboat Shuffle," "Sweet Georgia Brown" (which has Jones taking a tenor solo), and "Charleston" kept up with the times although many of his other records of the time were more commercial and predictable.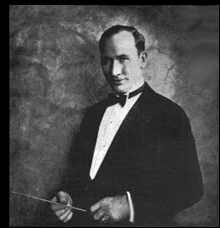 Due to his success as a composer, Isham Jones broke up his band in 1926 to concentrate on writing. He led some studio orchestras on a handful of titles during 1926-27 but it was until 1929 that he became a bandleader again. While not as jazz-oriented as his earlier bands, the Isham Jones Orchestra of 1929-32, which features arrangements mostly by Jones and Gordon Jenkins, was a first-class dance band. Occasionally trumpeter Whitey Moeller would take a heated jazz solo and among their better recordings of the era are Jones' "What's The Use," "Miss Hannah," and "My Baby Just Cares For Me." Hoagy Carmichael's "Star Dust" had originally been played fairly fast but in 1930 the Isham Jones Orchestra (with an arrangement by Victor Young), slowed down the tempo, leading to it becoming one of the most recorded of all songs even though it did not have lyrics yet. The band accompanied Bing Crosby on his 1932 hot recording of "Sweet Georgia Brown." The following year Crosby would record Jones' "You've Got Me Crying Again."
1932 found Isham Jones relocating to New York and signing with the Victor label. His orchestra of the next four years (switching to Decca in 1934), while emphasizing dance music, featured sophisticated arrangements and occasionally broke open with some freewheeling jazz. That was especially true during their first Decca session on August 31, 1934, when they performed swinging versions of such numbers as "The Blue Room," "I've Found A New Baby," "Sweet Sue," China Boy," and "Tiger Rag." Jones was still listening closely to other bands and, having weathered some of the worst years of the Depression by emphasizing smooth dance music, now he seemed to be predicting the beginning of the Swing era which was still a year away.
In 1935 the young Woody Herman joined the band, playing clarinet, tenor, and baritone. By then Isham Jones had retired his own tenor and was content to lead the 17-piece orchestra. As heard on their Viper's Nest CD The Isham Jones Centennial Album, this was one of Jones' finest big bands although it was soon overshadowed by many others. On his set of radio transcriptions from April 29, 1935 (which predate the beginning of the swing era), Jones leads his impressive band not only though a medley of his hits but on swinging arrangements of such tunes as "Sugar," "The Blue Room," "King Porter Stomp," "Sugar Foot Stomp," "Crazy Rhythm," and "Royal Garden Blues." The ensembles sound a bit like Benny Goodman's orchestra, but several months before Goodman hit it big. Jones' Decca recordings of 1935, while often featuring Herman's vocals, also include some fine jazz performances. And in 1936, Isham Jones Juniors (an octet/nonet taken out of the big band) recorded six numbers that really showcase Herman.
On September 29, 1936, Isham Jones (who had recently written his last hit, "There Is No Greater Love") broke up his orchestra, probably tiring of leading bands and touring. He certainly did not need the money and he looked forward to taking it easy even though he was still just 42. After a career of making the right moves and consistently predicting future musical trends, Jones had made one of his few mistakes. The nucleus of his band became the first Woody Herman Orchestra while Isham Jones was now on the sidelines, and soon he was itching to return.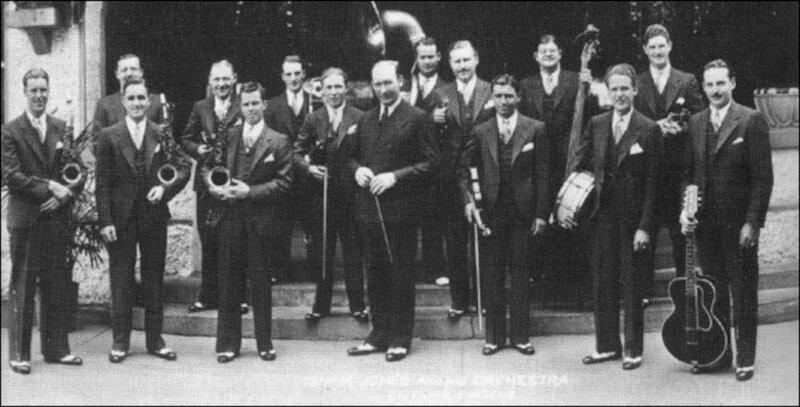 In 1937 Isham Jones formed a new band that included a few of his former sidemen, recording a few decent titles in addition to radio transcriptions, often performing his versions of other band's hits. But unlike his previous unit, that orchestra did not make much of an impression and broke up in 1938. While Jones led other short-term orchestras (recording radio transcriptions in 1940 and as late as 1947), he was largely retired. To pass the time, he ran a general store in Colorado, had a poultry farm, and in 1955 moved to Florida. Even that late in life, he was sponsoring a new Isham Jones Orchestra led by Paul Nero, but his time had long passed.
On October 19, 1956, at the age of 62, Isham Jones passed away from cancer in Hollywood, Florida. His best songs have not been forgotten and he left behind quite a few rewarding recordings. Easily recommended are such CDs as Happy (Archeophone) , Isham Jones 1922-1926 (Timeless), Song Of The Blues (Rivermont) which has highlights from 1923-30, Shadows In The Swanee 1932-1934 (Rivermont), Blue Room 1933-36 (Hep) and the Isham Jones Centennial Album (Viper's Nest).