Watching the Macy's Thanksgiving Parade on television, Butch Miles recalled "it was hard to believe but I marched in the Macy's parade with the Charleston (West Virginia) High School Mountain Lion Championship Marching Band 55 years ago. We led off the parade and jumped on buses right after our spot to head for the old Polo Grounds to play the halftime festivities between the New York Titans (later Jets) and Dallas Texans (later Cowboys). Then headed out that night to hear Maynard Ferguson's big band sharing the bill with Buddy Rich's sextet at Birdland. THAT was a memorable Thanksgiving!"
♫ ♫ ♫ ♫
Stephanie Trick and husband Paolo Alderighi had a scheduled concert in Marcq-en-Bacoeul, a suburb of the City of Lille in Northern France canceled the day after the November 13 terrorist attack in Paris.
♫ ♫ ♫ ♫
The Colorado Springs Jazz Party in November reported a 20% increase in attendance over 2014. "If we get another 50 people, we'll need a bigger room," says energetic committee member Jan Ostrom.
♫ ♫ ♫ ♫
The offices of the Sacramento Traditional Jazz Society are now located at 301 North 10th Street, Sacramento CA 95811. The phone number remains the same: (916) 444-2004.
♫ ♫ ♫ ♫
Our good writing buddy Cam Miller recently took a spill in his driveway that put him in the hospital for a week. He is current rehabbing in a skilled nursing facility near his daughters in Riverside, CA. Here's hoping he'll be back on his computer real soon.
♫ ♫ ♫ ♫
Guitarist Russell Malone was a double winner at the 2015 awards ceremony sponsored by Hot House Magazine at the Metropolitan Room on West 22nd Street in New York City. Fans voted him the year's Best Jazz Artist as well as the top guitarist. Bria Skonberg topped the list of trumpeters for the second year in a row.
A partial list of other winners includes Ken Peplowski, clarinet; Scott Robinson, baritone sax; Wycliffe Gordon, trombone; Chuck Redd, vibes; and Daryl Sherman, female vocalist. Music for the event was provided by Nicki Parrott and Rossano Sportiello.
♫ ♫ ♫ ♫
Congratulations to Alida and Pieter Meijers, who celebrated their 50th wedding anniversary while sailing the Danube on a riverboat cruise. Back in Florida, Susan and Bill Allred observed their 38th anniversary.
♫ ♫ ♫ ♫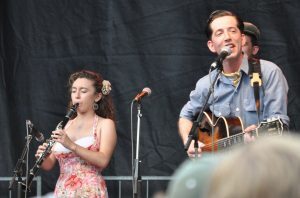 Chloe Feoranzo left the Pokey LaFarge band at the end of December, saying "These past three years have been an absolute whirlwind of adventure and travel. Thanks for the opportunity to play with incredible musicians and to meet great people along the way. Am looking forward to what the music world has in store for me next."
The Pokey LaFarge band focuses on its American roots, incorporating elements of early jazz, ragtime, country blues, Western swing and beyond. One critic wrote, "Its music evokes the old-time spirit of a thousand crackling 78rpm records."
♫ ♫ ♫ ♫
Smithsonian Magazine recently came up with a short list of six places to hear great jazz:
1. Congo Square, New Orleans
2. Minton's Playhouse, New York City
3. Louis Armstrong House Museum, Queens, NY
4. American Jazz Museum, Kansas City
5. Saint John Coltrane African Orthodox Church. San Francisco
6. Green Mill Lounge, Chicago
Once Al Capone's favorite hangout. The Green Mill is where fans can hear the Fat Babies (Andy Schumm, John Otto, Dave Bock, Paul Asaro) on Tuesday nights.
♫ ♫ ♫ ♫
Musical instruments, sheet music, awards, diaries, films and recordings that belonged to trumpeter-bandleader Louis Prima have been donated to the Hogan Jazz Archive at Tulane University in New Orleans by the Gia Malone Prima Foundation. Starting in 2017, Tulane will house the collection in the Louis Prima Room of Jones Hall.
♫ ♫ ♫ ♫
Fans listening and watching the post-season baseball playoffs learned that Toronto Blue Jays catcher Russell Martin's father is a jazz saxophonist who used to play in the Montreal subways to help pay for his son's baseball training. The elder Martin played the Canadian and American national anthems at the Blue Jays opening day for the 2015 season before 40,000 fans. One of the son's middle names is Coltrane.
♫ ♫ ♫ ♫
Someone did a parody on how the late-great Yogi Berra would have explained jazz: "Anyone who understands jazz knows that you can't understand it. It's too complicated, but that's what's so simple about it. 90% of all jazz is half improvisation. The other half is the part people play while others are playing something they never played with anyone who played that part. So if you play the wrong part, it's right. If you play the right part, it might be right if you play it wrong enough. But if you play it too right, it's wrong."
♫ ♫ ♫ ♫
"You find out who you are from improvisation," the late scat singer Mark Murphy told an interviewer in 1997. "You throw away what's not needed and get to what's real."
♫ ♫ ♫ ♫
Interesting question: Yahoo Travel asked if cramped airplane seats are a human rights violation?
♫ ♫ ♫ ♫
Final Thought: Books in your home are a counterrevolution to technology overload.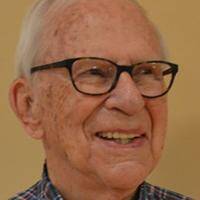 Lew Shaw started writing about music as the publicist for the famous Berkshire Music Barn in the 1960s. He joined the West Coast Rag almost thirty years ago and has been a guiding light to this paper through the two name changes since then as we became The Syncopated Times.  47 of his profiles are collected in Jazz Beat: Notes on Classic Jazz. Volume two, containing profiles from 2013-2016 will be available on Amazon soon. He taps his extensive network of connections and friends throughout the traditional jazz world to bring us his Jazz Jottings column every month.