Nights at the Turntable December 2016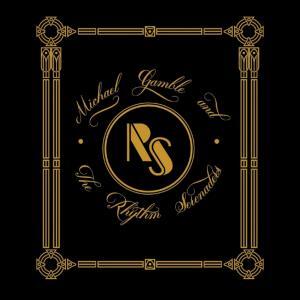 MICHAEL GAMBLE AND THE RHYTHM SERENADERS
Do you enjoy hot small-group swing? Then Michael Gamble and the Rhythm Serenaders' self-titled CD is definitely for you. Bassist Gamble utilizes an octet or a nonet on a set of swing standards and obscurities, sometimes bringing back the memory of the Benny Goodman Sextet of 1940, a group with trumpeter Cootie Williams, tenor-saxophonist Georgie Auld and guitarist Charlie Christian that was actually a seven-piece group. Melodic solos are often backed by riffing horns, the solos sound very much of the period, and the ensembles are consistently exciting. Goodman's group is not the only role model for one also hears tributes to Duke Ellington, Lester Young, Artie Shaw's Gramercy Five, Count Basie and Billie Holiday. Laura Windley does a fine job in the Lady Day role, taking four vocals while drummer Russ Wilson does effective singing on two Eddie Condon-style jams.
But even with the references to earlier jazz greats, the musicians never merely copy the past. While guitarist Jonathan Stout does a very good job of capturing Charlie Christian's sound, the soloists generally solo in their own voices. Keenan McKenzie and Paul Cosentino take clarinet and tenor solos (I wish that it was identified who plays what where), Gordon Au and Noah Hocker alternate on trumpets, Lucian Cobb and David Wilken take turns on trombones, and Craig Gildner and James Posedel both prove to be excellent swing/stride pianists.
However it is the sound of the full band in their stirring riff-filled ensembles that really make this CD a delight, both for listeners and swing dancers alike.
Michael Gamble and the Rhythm Serenaders (Organic Records OR16552, 18 selections, TT = 62:42) www.organic-records.com
---
THE SPLENDID MIDIRI BROTHERS
Any self-respecting swing fan should know about the Midiri Brothers. The twins, clarinetist Joe Midiri and vibraphonist Paul Midiri, are two of the most consistently exciting performers on the classic jazz circuit. Their group has been one of the main attractions at many jazz festivals during the past decade. Joe Midiri can sound like a hyper version of Benny Goodman on clarinet, plays occasional alto like Johnny Hodges, and his vocal imitation of Louis Armstrong is remarkable both in how close he sounds to Satch and the fact that few musicians look less like Armstrong than Midiri! Paul Midiri, a high-energy vibraphonist inspired by Lionel Hampton, is also a triple threat as a powerful drummer and a credible trombonist. Co-leading their septet with trumpeter Dan Tobias, guitarist Pat Mercuri, pianist Jeff Phillips, bassist Jack Hegyl and drummer Jim Lawlor, the Midiri Brothers can always be counted on to put on a memorable show.
Their latest CD, Simply Splendid, is a more relaxed affair than one might expect. Since many of their most rousing numbers (such as "Air Mail Special") have been recorded in the past, only six or seven of the 15 songs on this CD can be considered standards with three being originals. Joe Midiri does not take any vocals but he plays soprano (bringing back the spirit of Sidney Bechet on "Si Tu Vois Ma Mere") and tenor in addition to his clarinet and alto. Highlights include "Three Little Words," the forgotten "That Old Gang Of Mine," a heated "On The Beach At Waikiki," and the dramatic "There's Something About That Name."
While I wish that the Midiri Brothers had added a few more uptempo numbers to this often-mellow set, Simply Splendid lives up to its name.
Simply Splendid (Midiri Music MIDI 11, 15 selections, TT = 77:45) www.midiribros.com
---
TWO FROM GHB
George Buck, the late founder-owner of GHB Records and other labels that followed (including Jazzology), loved New Orleans jazz. While his companies also documented swing, blues and some cabaret singers, trad jazz was his first and main love. Fortunately his legacy has continued past his passing with both new recordings and reissues of classic jazz being released by his companies.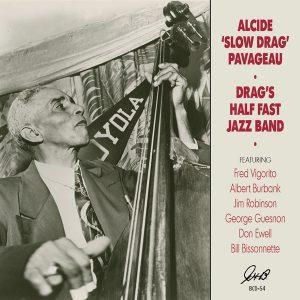 Bassist Alcide "Slow Drag" Pavageau was a member of Bunk Johnson's band during 1944-46 and was a regular fixture with clarinetist George Lewis for decades. Although not really a soloist, he could be counted on for a solid beat and a big sound that drove Lewis and others. Drag's Half Fast Jazz Band contains Pavageau's only album as a leader, a set from Apr. 21, 1965 that ironically was his final recording (although the bassist lived until 1969).
The nine selections team him with cornetist Fred Vigorito, trombonist Jim Robinson, clarinetist Albert Burbank, banjoist George Guesnon, pianist Don Ewell, and Big Bill Bissonnette who was normally a trombonist although he proves quite effective on drums.
While Burbank sometimes slips a little out of tune, Vigorito provides a solid lead and Robinson (always a superior ensemble player) is in top form. Their ensemble-oriented music leaves room for solos although Pavageau does not take a single one. Highlights include "Struttin' With Some Barbecue," two versions of "I Can't Escape From You" and "Climax Rag."
Also included on Pavageau's CD are three alternate takes by the Kid Thomas-George Lewis Ragtime Stompers from 1961. Since Vigorito was influenced by Kid Thomas Valentine and Burbank often hints at Lewis, there is a definite unity on this reissue.
The three Thomas-Lewis numbers which are labelled "Bucket's Got A Hole In It," "Salty Dog" and "Battle Hymn Of The Republic" are out of order and are actually "I've Been Working On The Railroad" (rather than "Battle Hymn"), "Salty Dog" and "Bucket's Got A Hole In It." But, no matter, the music is fun and spirited.
Drag's Half Fast Jazz Band (GHB BCD-54, 12 selections, TT = 43:16) www.jazzology.com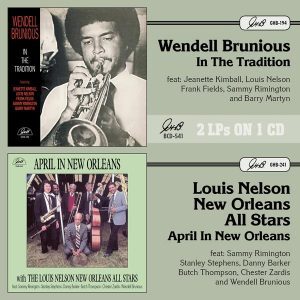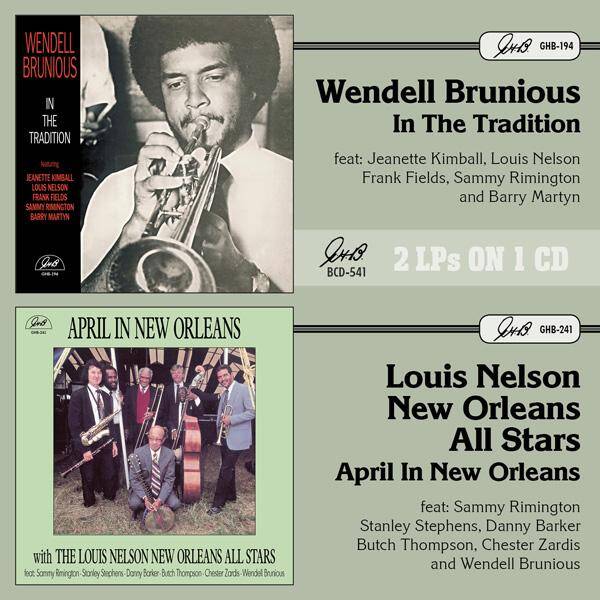 In The Tradition/April In New Orleans is a single CD containing the music of two very complementary former LPs, both of which feature the frontline of trumpeter Wendell Brunious, trombonist Louis Nelson, and Sammy Rimington on clarinet and alto. While Brunious, a powerful player with self-restraint who is in the tradition of Alvin Alcorn and Thomas Jefferson, was only in his early thirties during these sets from 1986 and 1988, he sounds like a true veteran of New Orleans jazz.
His own set, In The Tradition, probably has a few too many of his vocals (his range is pretty limited) but the repertoire displays both his versatility and consistency as a trumpeter. With fine backing from pianist Jeannette Kimball, bassist Frank Fields, and drummer Barry Martyn, and some fine George Lewis-inspired playing by Rimington, the group uplifts such numbers as an exciting "Bugle Boy March," "Maryland My Maryland," "Put On Your Old Grey Bonnet," and even an offbeat 'Mr. Sandman."
The second set, Louis Nelson's April In New Orleans, is actually slightly better. Brunious sings much less, banjoist Danny Barker (who sings a fascinating version of "Bill Bailey") is a major asset, and pianist Butch Thompson has some good spots while bassist Chester Zardis and drummer Stanley Stephens provide solid support.
While Nelson was not quite on Tommy Dorsey's level on "This Love Of Mine" (he reportedly loved Dorsey's playing), his percussive work in the ensembles and his solos are excellent. This version of "Climax Rag" is one of the best and other highpoints include "I'm Sorry I Made You Cry," "I Can't Believe That You're In Love With Me," and "Mahogany Hall Stomp." If one had any doubt that there was plenty of fine New Orleans jazz to be heard in the 1980s, this CD can prove as evidence.
In The Tradition/April In New Orleans (GHB BCD-541, 18 selections, TT = 76:12) www.jazzology.com
---
THE MUSIC FROM WOODY ALLEN'S CAFÉ SOCIETY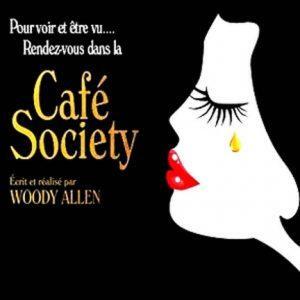 Woody Allen has long loved early jazz, whether it is Sidney Bechet, Django Reinhardt or virtually any of the giants of the 1920s and '30s. He has often used both vintage recordings and newer versions of classic songs on his soundtracks. Since Café Society is set in the 1930s, it is no surprise that the music in his film is swing.
What is a little surprising is that most of the performances are by a quartet rather than a big band. A unit consisting of bassist-leader Vince Giordano, pianist Mark Shane, either Chris Flory or Vinny Raniolo on guitar, and drummer Christopher Gelb.
Since Shane's style is influenced by Teddy Wilson, their versions of such songs as "The Lady Is A Tramp," "Manhattan," and "Pick Yourself Up" are tasteful, melodic and swinging. Singer Kat Edmondson joins the group for an effective version of "Mountain Greenery." Pianist Conal Fowkes performs a solo version of "This Can't Be Love" and plays "Out Of Nowhere" with a trio. In addition, there is an atmospheric rendition of "The Peanut Vendor" that features violinist Yrving Veras. Historical recordings by Benny Goodman ("I Didn't Know What Time It Was"), Count Basie ("Taxi War Dance"), and Ben Selvin ("I Only Have Eyes For You") round out the soundtrack album.
While this is not an essential acquisition, those who enjoyed Café Society or just want a set of relaxing swing will enjoy the soundtrack CD.
Café Society (Sony Classical 88985 54226 2, 15 selections, TT = 46:30)
---
JAZZ CLASSIC OF THE MONTH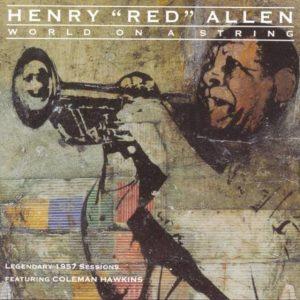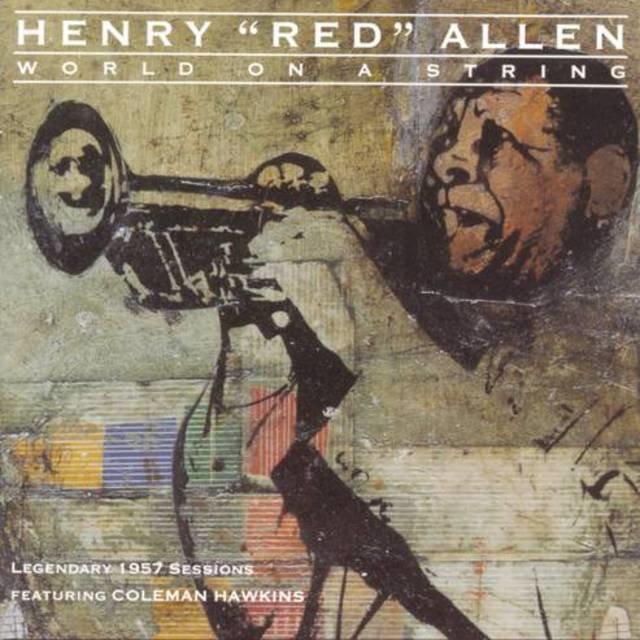 Henry "Red" Allen (1908-67) was one of the greatest and most advanced of the early New Orleans trumpeters. He was always a bit of a paradox, spending much of the 1950s performing in rowdy bars while being a teetotaler. His music was quite boisterous with him counting off the tempo by saying "Whamp, whamp," which could sound quite humorous on ballads. His playing was spontaneous and flashy yet he himself was very much a family man and was never less than impeccably dressed. And while he often stuck to Dixieland and New Orleans standards, his solos were quite unpredictable and sometimes a bit futuristic.
While Allen had notable stints with big bands in the 1930s, including those of Luis Russell, Fletcher Henderson, and the Mills Blue Rhythm Band, he spent most of his final 25 years leading combos. 1957's World On A String has him at the head of an all-star octet that includes tenor-saxophonist Coleman Hawkins, clarinetist Buster Bailey, and trombonist J.C. Higginbotham. While the other musicians have their great moments, Allen makes the most memorable statements including an abstract improvisation on "I Cover The Waterfront" (no one sounded like Allen), leading heated ensembles on a joyous "Love Is Just Around the Corner," engaging in some notable blues singing and playing on "Let Me Miss You Baby," and contributing the catchy blues "Algiers Bounce."
Red Allen recorded many worthy sessions but World On A String ranks at the top. This CD was released in 1991 and is probably out-of-print but copies can be located on Amazon.
World On A String (Bluebird 2497, 11 selections, TT = 61:21) 
---
In each issue of the Syncopated Times, this monthly column features reviews of CDs by classic jazz, 1920s and '30s, New Orleans jazz, Swing and Dixieland artists, covering both vintage greats and some of today's top musicians. If you wish to have your CDs considered for review, please send the music to Scott Yanow, P.O. Box 1220, Lake Hughes, CA 93532. If you are a musician and need liner notes, bios or press releases, feel free to drop me a line at [email protected] In addition CHOPS, a series of 50 Jazz Trivia Quizzes totaling 1,000 multiple-choice and true/false questions covering all eras of jazz, is available from me as a PDF for $25 via Pay Pal at the same E-mail address.
---
Where we can link directly to an artist, publisher, or record label when mentioning an item we do so. For items where this is not possible, we link to Amazon. "As an Amazon Associate I earn from qualifying purchases."
---
Online Only
For Online Only Access without delivery of the print paper sign up below.
Subscription Options
---
Print Edition
 If you'd like the PRINT EDITION, (12 monthly issues) use the following PayPal link. After your payment is complete you will be allowed to create an online account. You will receive the next mailed copy, usually shipping around the 22nd of the month. See a PDF Sample Here.