Sam Wooding and his Orchestra were a popular New York Jazz band in the early 1920s. They played at venues such as the The Nest, on the Fox vaudeville circuit and at the Club Alabam. In 1925 Wooding's band was picked to be the orchestra for a new musical revue called Chocolate Kiddies which was being formed to tour Europe. Chocolate Kiddies was built around the vaudeville team of Rufus and Drayton and featured performances by Wooding's eleven piece orchestra, thirty chorus girls, dancers and comedians. 
Edith Wilson
 and Adeline Hall were vocalists in the show and 
Tommy Ladnier
 was the star soloist. Chocolate Kiddies also included music by 
Duke Ellington
 and Jo Trent.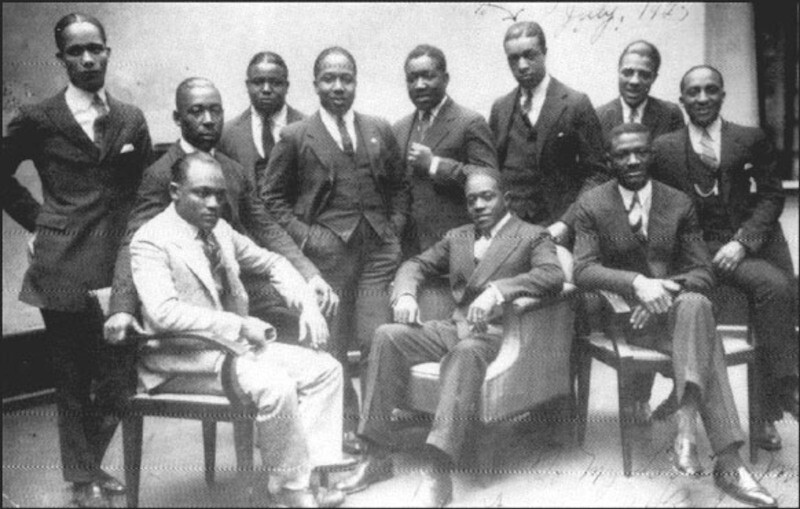 Wooding's orchestra stayed with Chocolate Kiddies for around a year and then extensively toured Europe without the revue playing in Germany, Sweden, Spain, France, Switzerland, Istanbul, Turkey, Romania, Italy, Czechoslovakia, Holland, Belgium and Russia. In 1927 they took the act to South America and played in Buenos Aires. They returned to the America in 1927 and played in vaudeville and turned down a gig at the Cotton Club. Wooding's Orchestra returned to Europe in 1928 and continued to play abroad until they broke up in Belgium in 1931. Wooding returned to America in 1932 and reformed the band until 1935; during this period Sidney Bechet was with the band briefly. After 1935 Wooding left the music business for a few years to attend college and earn a master's degree in music from the University of Pennsylvania.

Title

Recording Date

Recording Location

Company

Alabamy Bound


(B.G. DeSylva / Bud Green / Ray Henderson)

7-1925
Berlin, Deutschland
Vox
018890


2359-A

Alabamy Bound


(B.G. DeSylva / Bud Green / Ray Henderson)

7-1925
Berlin, Deutschland
Vox
1891


2757-B

Am I Wasting My Time On You?


(Irving Bibo / Howard Johnson)

10-1926
Berlin, Deutschland
Polydor
20692
Behind The Clouds


(DeSylva / Davis)

10-1926
Berlin, Deutschland
Polydor
20689
Black Bottom


(B.G. DeSylva / Bud Green / Ray Henderson)

10-1926
Berlin, Deutschland
Polydor
20689
Bull Foot Stomp
7-1929
Barcelona, Spain
Parlophone
B-25424
Button Up Your Overcoat


(Ray Henderson / Lew Brown / Buddy DeSylva)

11-1929
Paris, France
Pathé
X-8696
Cellodisc
C-8684
Breakaway


(Archie Gottler / Sidney D. Mitchell / Con Conrad)

12-1929
Paris, France
Pathé
X-8707
By The Waters Of Minnetonka


(Lieurance / Grofe)

7-1925
Berlin, Deutschland
Vox
018882


2360-A

By The Waters Of Minnetonka


(Lieurance / Grofe)

7-1925
Berlin, Deutschland
Vox
1891


2358-B

By The Waters Of Minnetonka
Dreaming Of A Castle In The Air


(Lieurance / Grofe)

10-1926
Berlin, Deutschland
Polydor
20690
Can't We Be Friends
(From The Little Show)


(Key / Swift)

12-1929
Paris, France
Polydor
22994
521597
Carrie
7-1929
Barcelona, Spain
Parlophone
B-25420
C'est tout que j'ai (All I Have)


(Mistinguett)

12-1929
Paris, France
Pathé
X-8698
Cellodisc
C-8698
Deep Night


(Vallee / Henderson)

11-1929
Paris, France
Pathé
X-8697
Downcast Blues


(Sam Wooding)

10-24-1929
Paris, France
Pathé
X-8684
Cellodisc
C-8684
Dreaming Of Castles In The Air
9-1926
Berlin, Deutschland
Polydor
20692
Dreaming Of Tommorrow


(Joe Sanders)

9-1926
Berlin, Deutschland
Polydor
20690
Even If You Love Me
6-1931
Paris, France
Brunswick
A-500098
I Can't Give You Anything But Love


(Dorothy Fields / Jimmy McHugh)

7-1929
Barcelona, Spain
Parlophone
B-25423
Hallelujah!


(Vincent Youmans)

10-24-1929
Paris, France
Pathé
X-8696
Cellodisc
C-8696
How Am I To Know?
(From The Talkie "Dynamite")


(Key / Swift)

12-1929
Paris, France
Polydor
22994
521597
I Lift My Finger And Say "Tweet-Tweet"!


(L. Sarony)

11-1929
Paris, France
Pathé
X-8693
Indian Love
7-1929
Barcelona, Spain
Parlophone
B-25424
I've Got A Feeling I'm Falling
(Fats Waller / Harry Link / Billy Rose)
12-1929
Paris, France
Polydor
22993
521596
I Surrender Dear


(Barris / Clifford)

6-1931
Paris, France
Brunswick
A-500098
J'ai Deux Amours
(I Have Two Loves)


(Scotto)

6-1931
Paris, France
Brunswick
A-500097
Just A Cottage Small


(Hanley)

10-1926
Berlin, Deutschland
Polydor
20693
Krazy Kat
(Frankie Trumbauer / Chauncey Morehouse)
7-1929
Barcelona, Spain
Parlophone
B-254223
Le Pirate
(Lover Come Back To Me)


(Krumgold / Romberg)

12-1929
Paris, France
Pathé
X-96058
Lonesome And Sorry
10-1926
Berlin, Deutschland
Polydor
20693
Love For Sale


(Cole Porter)

6-1931
Paris, France
Brunswick
A-500097
Mammy's Prayer
7-1929
Barcelona, Spain
Parlophone
B-25422
Milenberg Joys
(Jelly Roll Morton)
10-1926
Berlin, Deutschland
Polydor
20691
My Pal Called Sal
7-1929
Barcelona, Spain
Parlophone
B-254221
My Sin


(Fields / Gromak)

12-1929
Paris, France
Pathé
X-8707
O Katharina (a)


(L. Wolfe Gilbert / Richard Fall)

7-1925
Berlin, Deutschland
Vox
01882
O Katharina (b)


(L. Wolfe Gilbert / Richard Fall)

7-1925
Berlin, Deutschland
Vox
1883
Ready For The River


(Gus Kahn / Neil Moret )

7-1929
Barcelona, Spain
Parlophone
B-25422
Shanghai Shuffle (a)
7-1925
Berlin, Deutschland
Vox
018890
Shanghai Shuffle (b)
7-1925
Berlin, Deutschland
Vox
1883
She's Funny That Way


(Neil Moret / Richard Whiting)

11-1929
Paris, France
Pathé
X-8693


300502-1

She's Funny That Way


(Neil Moret / Richard Whiting)

11-1929
Paris, France
Pathé
X-8693


300502-2

Singing In The Rain


(Arthur Freed / Macio Herb Brown)

12-1929
Paris, France
Polydor
22993
521596
Smiling Irish Eyes
10-24-1929
Paris, France
Pathé
X-8697
Sweet Black Blues
7-1929
Barcelona, Spain
Parlophone
B-25421
Tampeekoe


(Louis Panico / Elmer Schoebel)

10-1926
Berlin, Deutschland
Polydor
The Wedding Of The Painted Doll


(Nacio Herb Brown)

12-1929
Paris, France
Pathé
X-8698
Cellodisc
C-8698
Tiger Rag
(Nick La Rocca)
7-1929
Barcelona, Spain
Parlophone
B-25420
Weary River


(Clarke / Silvers)

10-24-1929
Paris, France
Pathé
X-8684
Cellodisc
C-8684

| | |
| --- | --- |
| Artist | Instrument |
| Jerry Blake | Clarinet, Alto Saxophone, Vocals |
| Billy Burns | Trombone |
| Gavin Bushell | Clarinet, Alto Saxophone, Oboe |
| Doc Cheatham | Trumpet |
| June Cole | Bass Brass |
| Sumner Leslie "King" Edwards | Bass Brass |
| Maceo Edwards | Trumpet |
| Ted Fields | Drums, Vocals |
| Herb Fleming | Trombone |
| George Howe | Drums |
| Ralph James | Clarinet, Alto Saxophone |
| Freddy Johnson | Piano, Vocals |
| Percy Johnson | Drums, Celeste |
| Tommy Ladnier | Trumpet |
| Willie Lewis | Alto Saxophone, Baritone Saxophone, Vocals |
| Bobby Martin | Trumpet |
| John Mitchell | Banjo |
| Gene Sedric | Clarinet, Tenor Saxophone |
| John Warren | Bass Brass |
| Sam Wooding | Piano, Leader |
| Albert Wynn | Trombone |
| unknown | Harmonium |

Some Hustling This! Taking Jazz to the World, 1914-1929, by Mark Miller, Mercury Press , 2006