Early this year, veteran reedwoman Sarah Spencer relocated permanently to her native England after nearly two decades in the United States. Over the past several years she had lived in Connecticut, but no matter whether gigging in London or Hartford, her music remains ever-faithful to old New Orleans.
Sarah fronted her own Transatlantic Band at four concerts in New England and Upstate New York in September and October, and last month she herself marched in two New Orleans-style parade gigs at The Villages, an active adult community located a few miles northwest of Orlando.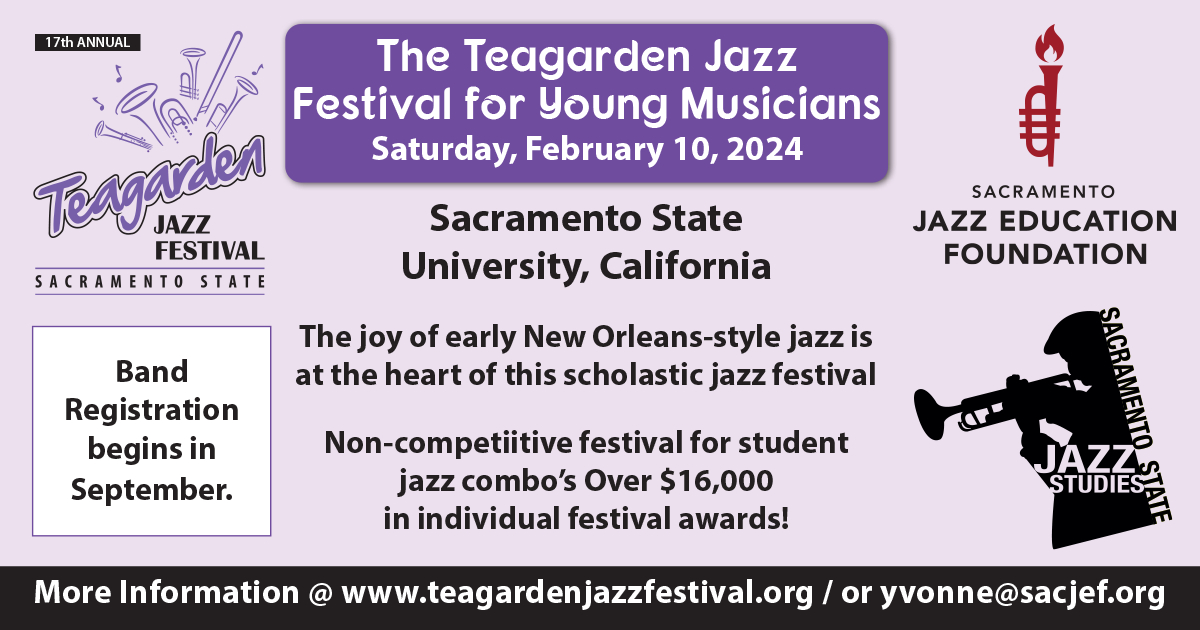 The Band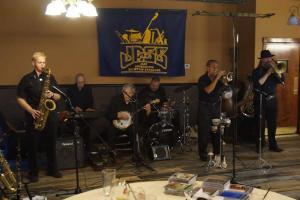 On the afternoon of Sunday, September 17, Sarah primarily played her tenor sax as the Transatlantic combo played a concert hosted by the Jazz Appreciation Society of Syracuse at Uriah's restaurant in Liverpool, New York. The septet's only other Brit, the brilliant Birmingham-born trombonist Mike Owen, is leader of Scarlette's Serenaders and the Woodland Jazz Band, which pays tribute to his idol, Kid Ory.
The venerable Fred Vigorito who has helmed Connecticut's Galvanized Jazz Band since 1971, plays cornet, and Boston's legendary Jimmy Mazzy whose career can be traced back to Beantown's "banjo bars" of the 1970s and later blossomed in the Wolverine Jazz Band and the Yankee Rhythm Kings, strums the tenor banjo.
The Transatlantic Band's rhythm section includes pianist Bill Sinclair, a former member of the Easy Riders Jazz Band; bassist Art Hovey, an original member of the Galvanized Jazz Band, and drummer Tom Palinko, a versatile skin-hitter who has toured with the Tommy Dorsey Band and also performs with New England Traditional Jazz Plus.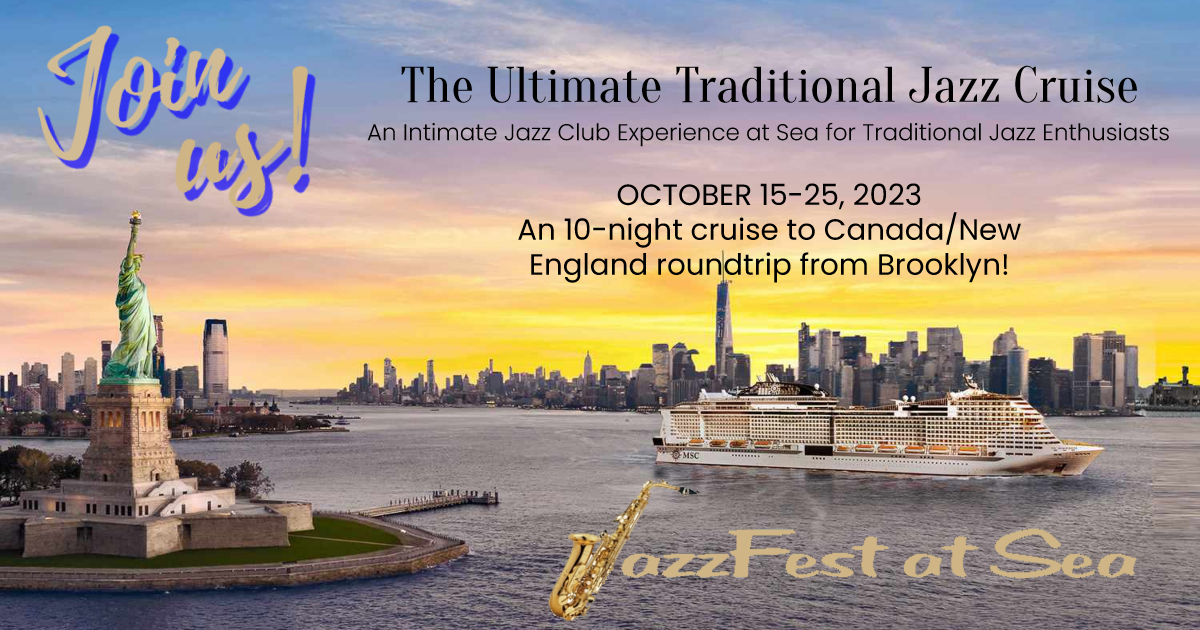 The Music
Sarah's repertoire vividly reflects her Big Easy roots with tunes such as George Lewis' "Move the Body Over," Jabbo Smith's "Love" ballad, and Leadbelly's "Titanic (Fare Thee Well)." On the latter, Sarah's bluesy vocal channeled the pioneering Georgia blues shouter, Gertrude "Ma" Rainey.
The septet opened its September 17 sets with "My Memphis Baby," which it recorded in 2008 on the disc, Whenever You're Lonesome (PEK Records). They continued in that Southern tradition with Billy Hill's "The Old Spinning Wheel," once waxed by Bob Crosby and His Orchestra.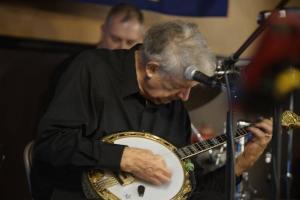 Sarah asked banjo master Jimmy Mazzy to do the singing on tunes such as "Tennessee Twilight" and "Careless Love," on which she blew her clarinet. Mazzy—a gutsy singer who often strums the banjo for Butch Thompson's New Orleans Jazz Originals Band—also vocalized "Last Night on the Back Porch," the 1923 number written by Carl Schraubstader and Lew Brown.
Then Mazzy turned some heads by warbling the old Schaefer Beer TV commercial, famously reminding us that "Schaefer is the one beer to have when you're having more than one." Skol!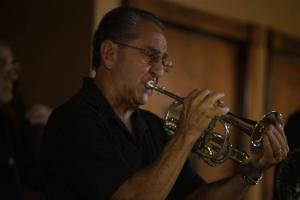 Trumpeter Fred Vigorito and Sarah sat out as trombonist Mike Owen stepped up to the microphone to sing a slow one called "If I Had a Heart of a Clown." Later Owen paid tribute to Edward "Kid" Ory, giving voice and plenty of tailgate trombone to "Do What Ory Said." Owen also sang a nifty version of "Until We Meet Again," sparked by Vigorito's marvelously muted trumpet.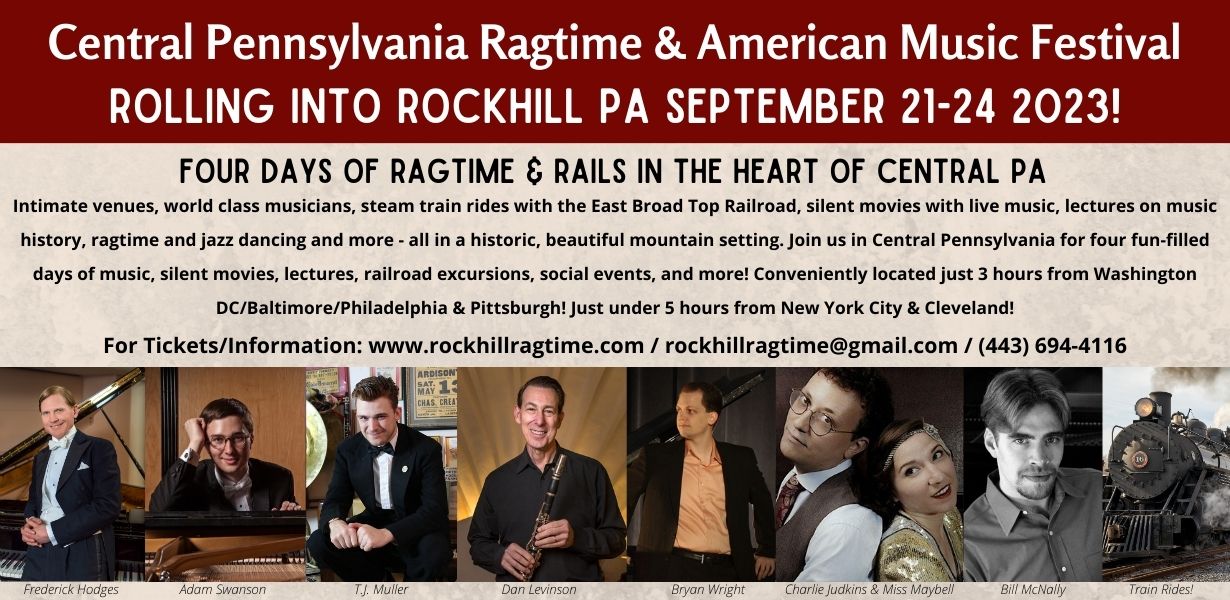 Sarah Spencer's Transatlantic Band concluded its JASS concert with a spirited rendition of "Red Wing," the 1907 hit written by ragtime composer Kerry Mills. Over the years, "Red Wing" has been recorded by artists as disparate as Bob Wills, George Lewis, Slim Whitman, and Chet Atkins.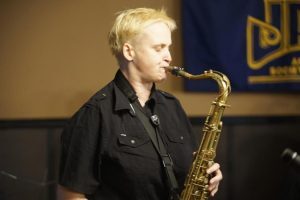 The Transatlantic version of "Red Wing" was captured in 2015 at a live concert hosted by Rochester, New York's Flower City Jazz Society, a performance later released as a CD titled An Embarrassment of Riches.
Sarah Spencer
When she was just 11 years old, British-born saxophonist Sarah Spencer first met legendary tenor man Manny Paul in New Orleans.
"I had listened to him on records, and so he's always been my inspiration for tenor," she said. "When my parents brought me to New Orleans in 1978, Manny gave me a sax which I still have to this day."
Emanuel Paul passed away in 1988 at the age of 84. He had played with Kid Thomas's Algiers Stompers and Dejan's Olympia Brass Band before joining the world-famous Preservation Hall Jazz Band.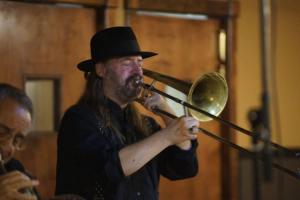 "For alto, my main inspiration is another New Orleans guy, Cap'n John Handy," she said. In the 1920s, Handy had played clarinet in New Orleans bands such as his own Louisiana Shakers. He switched to alto sax in 1928, and in the 1960s he hooked up with Kid Sheik Cola.
In the mid-1990s, Sarah was briefly married to Connecticut-born trombonist Big Bill Bissonette and recorded a CD with Big Bill's British Band in 1995. Sarah's roots— like Bissonette's—reach deeply into the Crescent City's hallowed jazz tradition spanning the generations from A.J. Piron to Professor Longhair.
The multi-faceted musician never fails to fulfill her promise to perform "hard-driving music straight from the streets, bars, riverboats and dance halls of New Orleans."
Her Style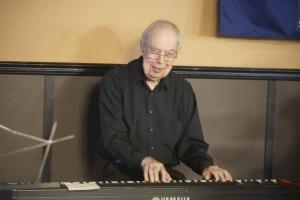 Sarah Spencer is a musician who clearly feels the music. When she's not blowing, she's moving her lips to lyrics real or imagined. She hums out loud. She bounces in her seat. She cheers the work of her bandmates. She claps in rhythm.
And her singing is downright otherworldly as she opens wide and lets loose with head tones that send the words sailing into the ether. She barely needs amplification.
Sarah's creed has always been to "play it hot and dirty," according to her Web site, sarah-spencer.com.
In 2008 her Transatlantic Band released a disc called Whenever You're Lonesome (PEK Records) with performances of "My Memphis Baby," "Uptown Bumps," "Bogalusa Strut," "Short Dress Gal," and "Just a Closer Walk with Thee."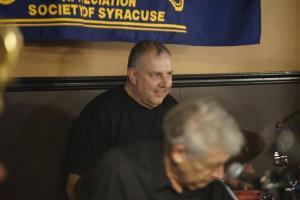 In 2015, a live concert hosted by Rochester's Flower City Jazz Society was recorded and released as a CD titled An Embarrassment of Riches. Tracks include "Red Wing," "Down in Honky Tonk Town," and Buddy Bolden's brazen show-closer "Get Out of Here and Go on Home."
After nearly two decades in the States, Sarah relocated permanently to England in January. "I have more musical opportunities over here in the UK and in Europe," she explained.
She plans, however, to return to American annually. "My intention is to come over every year for about six weeks," she said. "I'll sleep on as many couches and in as many spare rooms as I can!"