Sonny Clay's
 Orchestra played Plantation Café in Culver City, California in the mid-1920s. The nightclub was located on Washington Boulevard, at Elenda Street, across the street from La Ballona School. Silent film comedian Roscoe "Fatty" Arbuckle owned the club from 1928 to 1930. The orchestra's first record was released under the name of the 
California Poppies
 in 1923. They also released records under the name of 
The Stompin' Six
 in 1925.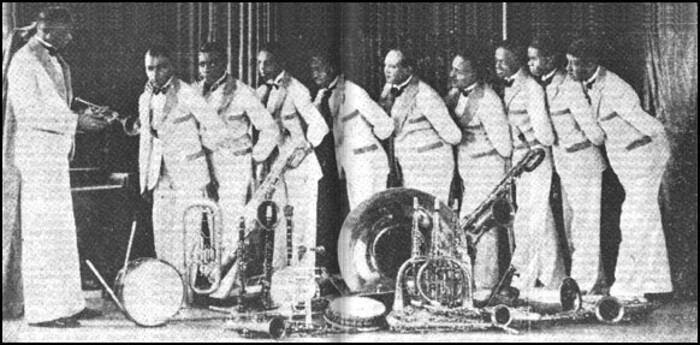 The band had some strong ties with the New Orleans Jazz scene. Trumpet player Ernest Coycault was from Violet, Louisiana a small town about 15 miles north of the city. Coycault had played in the Peerless Orchestra and had replaced 
Bunk Johnson
 in the Superior Orchestra while living in New Orleans. In 1914 he moved to Los Angeles to join Clay's band. Sonny Clay himself had played drums in 
Jelly Roll Morton's
 band in Mexico and Southern California in and with 
Kid Ory's
 Creole Orchestra in California in the early 1920s. 
Chicago Breakdown
 is one of Morton's songs that 
Louis Armstrong and his Stompers
 also recorded in 1927. Vocalion 15641 was released under the name of Sonny Clay and his Orchestra.

Title

Recording Date

Recording Location

Company

Bogloosa Blues


(Sonny Clay / Wiedoeft)

7-28-1925
Los Angeles, California
Vocalion
B 15078
California Stomp


(Sturdevant)

8-26-1926
Los Angeles, California
Vocalion
B 1050
Chicago Breakdown


(Jelly Roll Morton)

2-2-1926
Los Angeles, California
Vocalion
B 15254
Devil's Serenade


(Sonny Clay)

1-12-1928
Los Angeles, California
Vocalion
B 15641
In My Dreams
(I'm Jealous Of You)


(Leon Rene / Otis Rene)

1-12-1928
Los Angeles, California
Vocalion
A 15641
Jambled Blues


(Sonny Clay)

7-28-1925
Los Angeles, California
Vocalion
A 15078
Plantation Blues


(Sonny Clay / Ernest Coycault)

2-2-1926
Los Angeles, California
Vocalion
A 15254
Slow Motion Blues


(Sonny Clay)

8-26-1926
Los Angeles, California
Vocalion
A 1050

| | |
| --- | --- |
| Artist | Instrument |
| William Blakeney | Trumpet |
| John Carson | Tenor Saxophone, Clarinet |
| Sonny Clay | Piano, Leader |
| Ernest Coycault | Trumpet |
| Leonard Davidson | Clarinet |
| Louis Dodd | Alto Saxophone, Banjo, Guitar |
| Fitzgerald | Banjo |
| Luther Graven | Trombone |
| William Griffin | Tenor Saxophone, Clarinet |
| Herman Hoy | Tuba |
| Rupert Jordan | Banjo |
| Archie Lancaster | Trumpet |
| David Lewis | Drums |
| Willie McDaniels | Drums, Kazoo |
| John Studevant | Clarinet |
| W.B. Woodman | Trombone |