Steve Ross with fellow cabaret stars Andrea Marcovicci, Maude Maggart, and Jeff Harnar (courtesy www.steveross.net)
---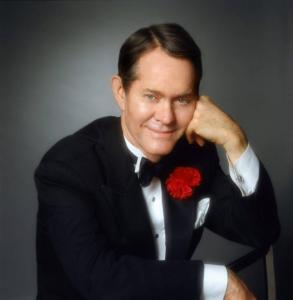 When New York City pianist-singer Bobby Short died in 2005, Steve Ross, the "crown prince of cabaret" as the New York Times dubbed him, became its king. Ross, 79, still wears that crown, even though his kingdom has dramatically changed from the days when every bar had a piano and someone to croon over it. These days, the great cabaret night spots have dwindled to a precious few, but the tuxedo-clad Ross continues to spread the gospel of the Great American Songbook from Manhattan to Brazil.
"There seems to be a core interest in it," Ross tells the Syncopated Times from his Manhattan apartment. "You do see the same people in the audience. (But) there are still places (in New York City) where you can go hear jazz, like Vince Giordano's marvelous orchestra. The music has pockets of being alive all over town. It seems to be at least maintaining."
Ross, born one of five children in New Rochelle, New York, grew up during the heyday of the big bands. He listened to music constantly on the radio, and remembers his mother playing the piano and his father enjoying opera. While his mother learned classical music, it was the popular tunes of the day that she played while Ross laid "under the piano." He started working with a teacher and when the family moved to Washington, D.C. in his teen years, he could already play by ear. Ross believes he might have turned out as a different sort of musician had it not been for the way his mother would play without sheet music.
"I remember going and talking to her as a little guy—and she was playing and talking at the same time—and I thought 'that's what you do.' I've always wondered how that formed me. When I worked later on in saloons, and people would talk to me while I was playing, I was like 'well, this is fine' and I kept playing. I just played by ear. I didn't think that you couldn't. I always speculate, what if she said: 'you can't talk to me now, I'm reading this piece of music.' I wonder how that particular influence translated itself to me and my ability to hear a song and play it." Ross said.
Popular music and variety shows in high school also shaped him into the talent he would become. He says classical music held little interest for him because he lacked the discipline to practice. Ross enjoyed "making people happy." Popular tunes did that when he played them on stage or at a party. It also allowed Ross to be popular with his peers. Upon graduation, Ross did something that one might find surprising given he would spend all of his adult life in saloons and nightclubs – he entered a Jesuit seminary with the idea of becoming a priest.
"I went to a Jesuit School and I was raised in Catholic, so I thought that was what I wanted to do," Ross said. "[Honestly] I didn't know for sure what I wanted to do. But I went there and immediately got involved with this musical programming of this church, and playing the organ at the chapel. That was fine—but for one reason or another, in about a year and a half into, it I realized that it wasn't for me."
Before enrolling at Georgetown University, the US Army drafted Ross for a two-year stint where the keyboard again played an important role. He performed in hospital wards for wounded servicemen. He's certain that the men would have rather seen a pretty girl singing country music, rather than a skinny kid playing Broadway show tunes, but it kept him from doing more labor-intensive jobs like KP duty. Once discharged from the Army, and now attending college, the opportunity arose for Ross to play piano professionally in a saloon, but it was in a style that usually isn't associated with the elegant performer of Porter, Coward, and Gershwin. This time, Ross was performing ragtime music.
"I love the old-timiness of it. I love the rhythm of it. There's a core of us diehards who love ragtime. It wasn't too demanding to play as far as technical skills go, which was why I liked it because I didn't have a technique for jazz piano like Art Tatum or Oscar Peterson. But it was still jazz, because there was syncopation involved even though I never became a jazz player. That's my version of jazz and I'll stick to it," Ross said.
Besides the keyboard, Ross knows his way around a lyric. His multitude of recordings and live performances always feature the best words from sophisticated songwriters like Cole Porter and Noel Coward. Though sounding like a natural today, singing wasn't always part of his repertoire. Like Nat Cole, Ross saw himself as only a pianist until a New York City bar owner told him to sing. He had just moved from Washington in 1968 upon the urging of a friend who had given him a Bobby Short record and the directive "to be like him." Ross rarely—if ever—sang because he just thought he didn't have the voice for it.
"I went to the old songs that I heard in my recordings, a couple of ragtime pieces, and that's how it all started with the singing. When I began losing my voice, I learned I wasn't singing properly, then I began work with a series of singing teachers. I continue to work with a teacher to this day," Ross said.
Manhattan offered Ross so many opportunities, he never worked outside of music. His reputation as a cabaret performer grew as did his audiences. Critics also took note of him, giving him rave reviews including a major notice by Stephen Holder in the New York Times. Celebrities like Liza Minnelli and Ginger Rogers sought him out for accompaniment.
When the famed Algonquin hotel reopened its Oak Room in 1980, Ross became its featured performer for four years. Soon England beckoned the self-described Anglophile. Ross played at the Ritz in London and returned frequently to the popular—but now-closed—Pizza on the Park. His shows have focused on the greatest composers and performers of popular song like Irving Berlin, Fats Waller, Fred Astaire, Stephen Sondheim, Alan Jay Lerner, and of course Porter and Coward, for which he is an acknowledged expert. He's performed on Broadway, at the Metropolitan Museum of Art, and Lincoln Center, as well as in concert halls and nightclubs from Hong Kong to Brazil to Australia with performers such as K.T. Sullivan, Billy Stritch, Patricia Hodge, Karen Oberlin, Peter Mintun, and Gregory Moore.
Moore, who met Ross by chance when seated next to him at a Carnegie Hall recital in 2003, raves about Ross's generosity to other performers such as himself.
"He's helped literally hundreds of people," Moore says. "He helps everyone, and that is no exaggeration. And asks for nothing in return, except perhaps loyalty and sincerity…and talent. Anyone in cabaret would echo that sentiment: Steve Ross is in a league of his own, and is certainly one of the most genuinely beloved artists in New York—and well-beyond. If anything, London loves him just as much (if not more) than New York."
Moore also humorously discovered that he and Ross, both dressed in tuxedos, rode their bicycles to the event.
Ross is also giving back to young people who are interested in his style of music. He's begun offering a masterclass at his home in Manhattan, where you can sit shoulder-to-shoulder with the master. Plus, he continues to record music. His latest release is Good Thing Going—The Songs of Stephen Sondheim (Harbinger Records). It is through his recordings that Ross hopes to be remembered.
"The only way I would have any lasting factor I suppose is from my recordings," Ross says. "I don't know how people will access them in future years. They won't listen to 78s or LPs, but all I can do is to record. I have a lot of recordings now out and I'm just getting a new website so they can be more readily available. I'm not moved to write a book of memoirs; a lot of people have done that with far more skills than I possess. I don't have much to say… it's such a specific thing, this whole music business."
He says he can't worry about the state of cabaret or popular music today. All Ross can do on stage is make a connection to his audience. It's a connection where the listener hears their own story in the words of song, even one written decades before.
It is no doubt that the always debonair Steve Ross will be spoken of in the same breath with such legends as Mabel Mercer and Bobby Short when the history of popular music is written.
---
Visit Steve Ross online at www.steveross.net.
---
Brian R. Sheridan, MA, is the chair of the Communication Department at Mercyhurst University in Erie, PA (hometown of Ish Kabibble) and a longtime journalist in broadcast and print. He also co-authored the book America in the Thirties published by Syracuse University Press.
Sheridan can be reached at bsheridan@mercyhurst.edu. Find him on Twitter @briansheridan and brianrsheridan on Instagram.
---
This is what our print edition feels like. If you want good news to read with your morning coffee, order a print subscription. You'll get full online access to our archives, web extras, and our next issue will arrive at your door. Online only access to all of our original material is also available! Support Hot Jazz Journalism- Subscribe
Subscription Options
---
Or get the Print Edition with Online Access. To get the print edition of The Syncopated Times use this Paypal link. After you pay you will be issued a coupon for free online access.