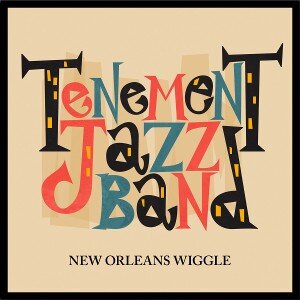 When I heard the name Tenement Jazz Band my first thought was "I bet they're from Scotland". I was hoping Glasgow, where twenty years ago I was an exchange student nursing Tennent's Lager as I read Robert Burns. In search of local flavor I danced to the Peat Bog Faeries, but if there was trad jazz afoot in the 90s I was unaware of it.
Alas, the Tenement Jazz Band hails from Edinburgh, always the hipper town, and home of both the famous Fringe festival and a jazz festival that does a great job of putting traditional jazz groups on equal footing with their more modernistic contemporaries. They've played both events since forming early last year and quickly recording this short album as a teaser.
The tease worked and they quickly became a hot group on the scene, invited to festivals in every city in Scotland and sometimes farther afield. At the Edinburgh Fringe Festival they performed an educational show titled "Red Hot Roots of Jazz", following stylistic developments of the music out of New Orleans. At the Edinburgh Jazz and Blues Festival, this summer they shared a triple bill with Meschiya Lake and The Shake 'Em Up Jazz Band.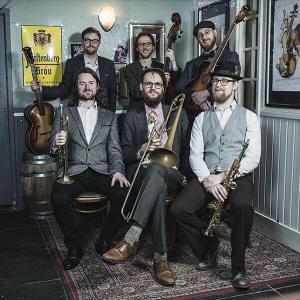 My own copy of the disc came from a trusted associate of the Whitley Bay Jazz Festival so in addition to being popular I knew they'd also be darn good. I quickly noted the inclusion of Clarence William's Chocolate Avenue, which has become a pet tune of mine. I've been following it from band to band. I first noted it played by Tuba Skinny, but it is also played by the UK's Cable Street Rag Band, my guess is it follows wherever Ewan Bleach visits, but that is only a guess. The Tenement's version isn't my favorite but they do demonstrate how a great composition can be explored from limitless angles, and they get the sadness right.
Another track with currency among the New Orleans bands is "Whenever You're Lonesome". Even if I can intuit where they picked up these tunes their approach to them is all their own. It just means they are following some of the best young bands, and that can only be a good thing.
Those two titles, by the way, are the only slow numbers. The other six are "New Orleans Wiggle", "Cushion Foot Stomp", "Bogalusa Strut", "Mahagony Hall Stomp", "Dusty Rag", and "Big Chief Battle Axe".
The backgrounds of the members get interesting. Now in their early thirties two of the members played in a trad group back in college that included T.J. Müller, now a resident of St. Louis and leader of The Gaslight Squares. Several spent their twenties playing in New Orleans Style Funk bands and for them, it seemed natural to trace back the roots. I found other prior bands among them that were much more experimental, involving electric guitars and audio sampling.
If that makes you question how serious they could be about traditional jazz, don't. Any track on this disc will quickly dissuade you. They've done their homework. They follow tight roadmaps through somewhat familiar tunes with a focus on ensemble over solo. The results are rich and multilayered even if played somewhat faster than normal in hopes of energizing a dancing crowd.
It's a great little album, they call it an EP at 27 minutes for eight tracks, the benefit to you is that a download is only $6 US, so there's no excuse not to check it out.