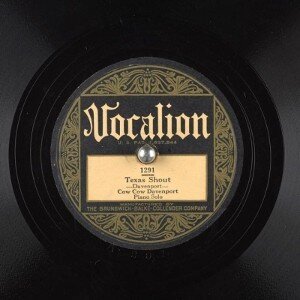 Set forth below is the fifty-second "Texas Shout" column. It first appeared in the July 1994 issue of West Coast Rag, now The Syncopated Times.
I can't remember where I saw it, but I recall reading that there were certain musical themes in common circulation among early ragtime and jazz musicians, ones which no one person seems to have composed, that were considered fair game for anyone in the community to sell to a song publisher and claim on a going-forward basis. That is, nobody got too upset if Musician A sold a composition containing one of these musical notions which, from that time on, was regarded as his.
If I am right in my recollection, I can understand how this situation might have come about. At the turn of the century, Tin Pan Alley was in its infancy. There might not have appeared to be much return to be made out of selling songs for publication, particularly in the Black areas of towns like Sedalia, Missouri, or New Orleans, both of which were not near big sheet music publishing centers. What money there was in ragtime and Dixieland mostly came from gigs.
Anyway, for whatever reason, if you listen to or play Dixieland and ragtime for very long, you will become aware of some of these anthems which turn up from time to time in various pieces, some of them quite well known. There are far too many of them to mention in one column.
However, talking about a few of them might be interesting in itself. Also it might get your ears a little more attuned to do some detective work on your own as you listen in the future.
Let's get the framework in place before we start. You can find piles of different tunes that have the same chord pattern (Jersey Jazz has just finished running a serialized article listing dozens of similar songs, many of which are new melodies based on standard patterns). For example, there are thousands of variations of the twelve-bar blues.
Other recurring Dixieland chord patterns include those to the choruses to "I Wish I Could Shimmy Like My) Sister Kate," "How Come You Do Me Like You Do," "When The Saints Go Marching In" and "Bill Bailey, Won't You Please Come Home?" Each of these four different chord structures occurs in more jazz tunes than we could begin to discuss here. I'm generally excluding that type of similarity from today's column.
We're not talking about cases where, for one reason or another, a tune's composer recorded it under two different titles, or recorded it under one title and published it under another. Jelly Roll Morton, for example, did those things on several occasions.
Finally, let's also exclude instances where, consciously or unconsciously, something has been stolen wholesale. The tune entitled "Egyptian Fantasy," credited to Sidney Bechet, is an illustration thereof. It was actually written by Abe Oleman in 1911 and comprises the first two strains of his pseudo-Eastern instrumental entitled "Egyptia."