Jazz Jubilee by the Sea, held October 24 to 27 on California's Central Coast, presented a spectrum of early jazz and swing but spotlighted trad, and the sizable audience responded enthusiastically. Such was my encouraging take-away from this, the 43rd edition. Almost unbelievably trad jazz seems to be prospering despite predictions of imminent demise.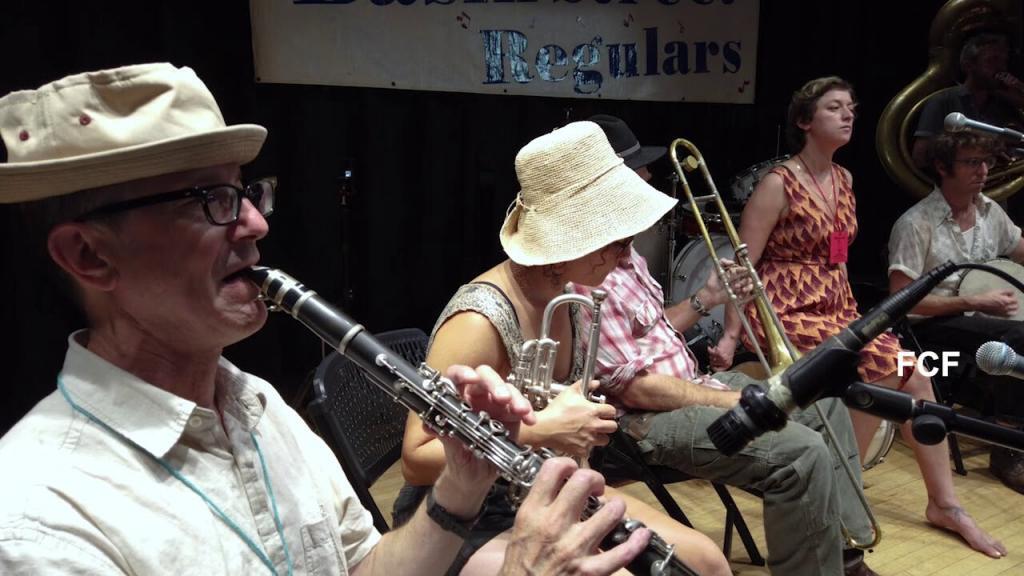 Originally confined to Pismo Beach where two of its five venues were cavernous tents with folding chairs, the Jubilee in 2017 abandoned the tents in favor of two elegant auditoriums in neighboring Arroyo Grande thereby substantially upgrading audience comfort and acoustical ambiance. Justifiably the seaside Addie Street tent remains, for there is something beguiling about gazing out over the sea while standing at the wall behind the tent eating lunch and listening. The venerable Veterans' Memorial Hall in Pismo continues as the headquarters venue. The downside is the four mile separation of the two geographically extreme venues, but the festival provides a continuous shuttle bus circuit that lessens the inconvenience.
In all, nineteen bands, including two swing bands, populated the stages. Festival Chairman Rhonda Cardinal announced that despite some resistance from a festival board concerned about cost, she had engaged a band that really spoke to her; thus, Tuba Skinny made its second California appearance. A denizen of New Orleans, Skinny has become celebrated for archaically styled arrangements of obscure and not-so-obscure jazz, blues, and ragtime tunes from the teens and twenties such as "The Thriller," "Oriental Strut," and "It's Tight Like That." I spoke with several aficionados who had traveled long distances specifically to hear this group perform live.
More contemporary on the authenticity scale, Cornet Chop Suey, renowned for its precision arrangements of standards from New Orleans and the Great American Songbook, was a major draw. Others in the trad category were the Night-Blooming Jazzmen, the all-female Shake 'Em Up Jazz Band who surprised me with several smooth trio vocals, the Australian Jazz Connection, and the Creole Syncopators with brassy vocalist Valerie Johnson, whose fans wouldn't let her get away without singing "Was I Drunk, Was He Handsome, and Did My Ma Give Me Hell."
Six all-star performers populated the stages. Popular clarinetist Bob Draga and friends offered a set dedicated to the life and music of the late Pete Fountain. While Bob charmed his audience with witty and sometimes racy dialogue, he averred that he refused to sing the lyrics to "Shine" considering them racist. Jeff and Anne Barnhart as Ivory and Gold, piano and flute, contributed a bit of repartee and ragtime as well as vocals by Anne whose style is steadily improving.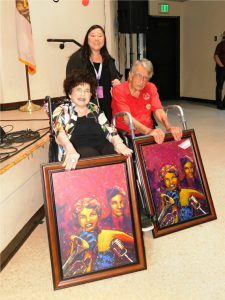 A swing block featured two big bands plus the Midiri Brothers and Professor Cunningham's Old School. Cajun and zydeco were represented with Gator Nation and Tom Rigney and Flambeau, and mariachi by Mariachi Autlence. Furthering the "youth and scholarship program" of the sponsoring Basin Street Regulars in an effort to preserve traditional jazz, the festival devoted blocks of time to four high school and college bands.
The festival was dedicated to nonagenarians, who were asked to wear a distinctive button. Two of them were musicians whose appearances at the festival have spanned many years: vocalist Pat Yankee at 92 and cornetist Chet Jaeger, leader of the Night Blooming Jazzmen, at 95. They were honored with a painting by artist Priscilla Wilson based on their 1940s photographs adorning the cover of the program booklet and a musical "grand finale" tribute session closing the festival.