On a bright November day my wife Laura and I drove the short distance from our home to a store called Piecemakers in Costa Mesa, California. The spelling of the store's name is a clue to what they sell. The nondescript wooden building–a local institution–sells quilting supplies, among other quaint items and confections you'd expect to find in an old-fashioned, Christian-based country store. Think "potpourri and Laura Ashley," and you'll get the idea.
A few months before, TST contributor Lew Shaw informed me he had located the legendary big band and show drummer, Viola Smith, who was about to turn 106 years old. That isn't a typo: one hundred six years old. She was living in Costa Mesa, and was being looked after by the staff at Piecemakers. [Update: Viola has now turned 107 and is doing fine.]
Laura and I walked into Piecemakers with a small bouquet of flowers for Ms. Smith and were promptly and courteously greeted by a mature woman behind a sales counters. I explained I had spoken with a "Deborah" some weeks before, and that Deborah had arranged the interview with Ms. Smith. Off went the woman- to find Deborah.
After just a couple of minutes, Deborah came out of a back room, smiling and escorting a cheerful woman who shuffled toward us using a metal walker for support. Viola Smith, in person!
I was frankly astounded at how well Viola looked. Remarkable, I thought. She looks like a seventy-five-year-old in terrific shape!
We all introduced ourselves, and Viola seemed genuinely appreciative of the flowers. Yet another staff member appeared, and whisked them away, saying she would get them into water. Deborah found us a small table in the back, and Ms. Smith, Laura, and I were seated. It was rather early for night clerks and jazz musicians, and I was trying not to appear too excited when Deborah offered us coffee. I didn't want to be the first to accept, but after Viola said she'd like some, Laura said, "I think my husband would really appreciate a cup of coffee right now."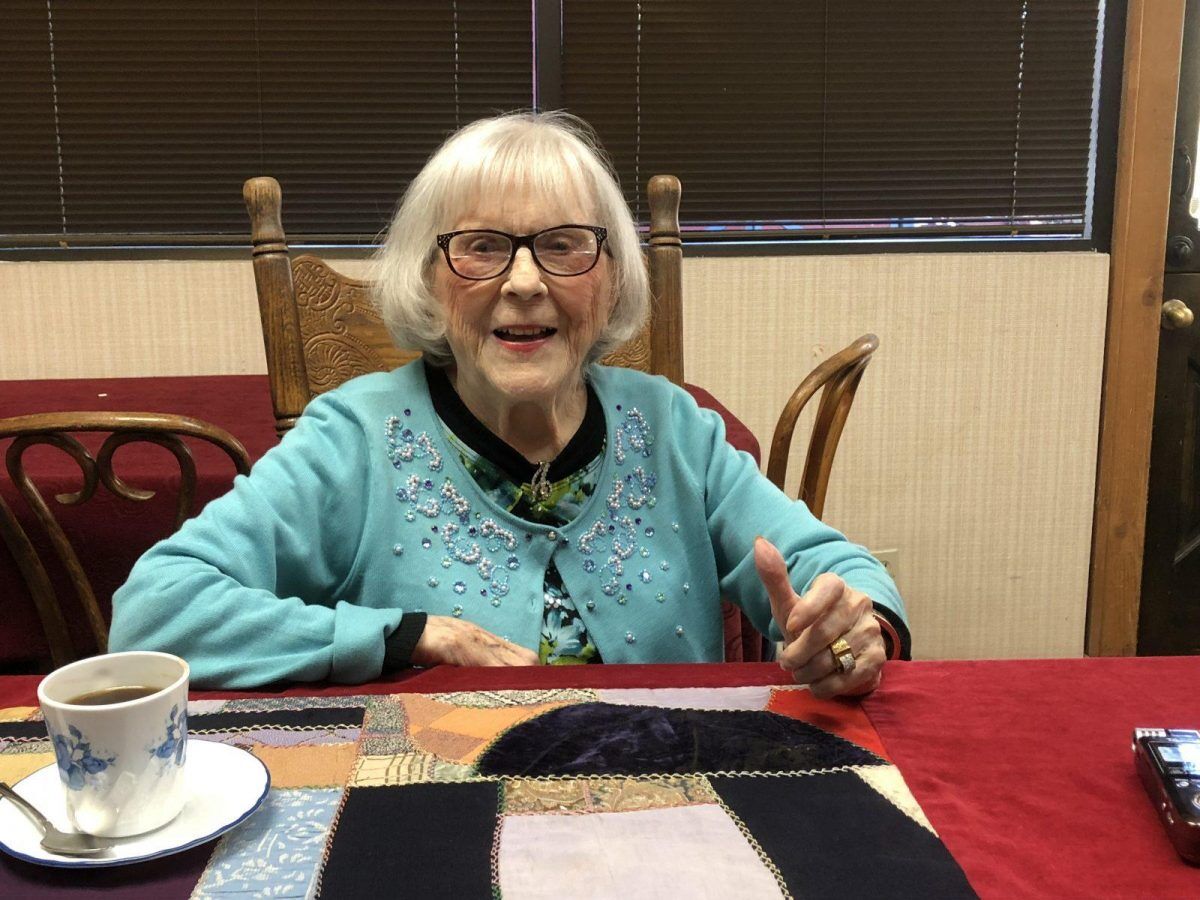 Deborah brought the coffee—a very nice brew, incidentally—and excused herself. After I thanked Ms. Smith for consenting to see us, she began to explain the walker she had used.
"I fell down a couple of months ago," she began. "I hadn't needed one of these things for my entire life, up until that fall." She seemed kind of angry about it. "The doctor said the way things are, I'll need this from now on." She gave us a what are you gonna do? kind of a shrug and sipped her coffee.
I sat there thinking that if by some miracle I'm still around to see the age of one hundred six, I'll be on a stretcher with a team of friends carrying me if I ever want to go someplace. Or on a gurney, being pushed around town by Team Barrett. But just needing to use that metal walker really bugged Ms. Smith. That's what they used to call "feisty!"
Ms. Smith — whom I eventually was able to call "Viola" — was dressed in smart black slacks; a black top with a green and blue wild-animal pattern; and a perfectly-coördinated cornflower-blue beaded sweater. Her silver hair was straight and fell to the base of her neck. A pair of stylish eyeglasses completed her chic look. Viola wore just a little carefully-applied makeup, and, as I said, looked great.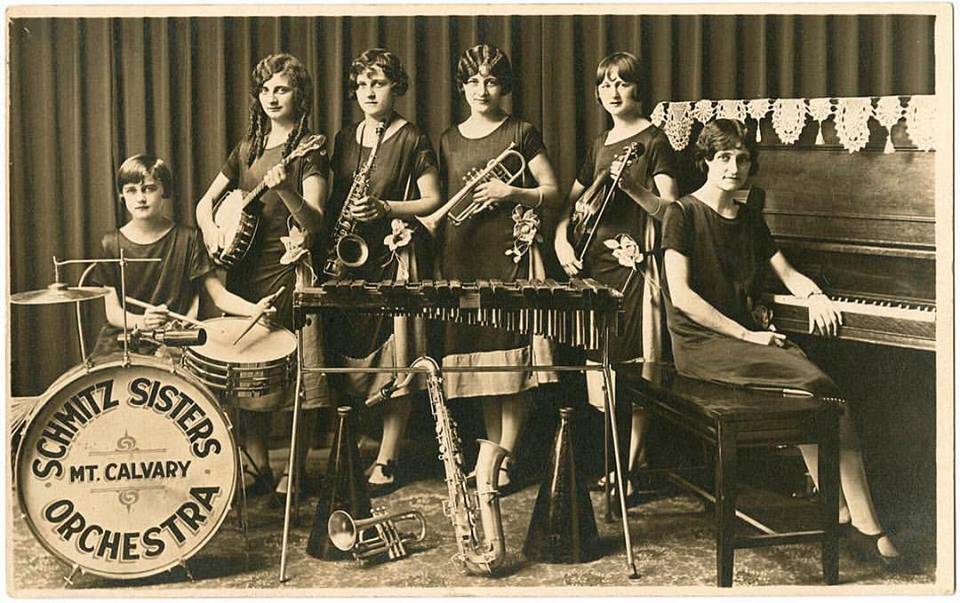 ---
Before we get into the interview, here's a bit of biographical information:
Viola Schmitz was born on November 29, 1912 in Mount Calvary, Wisconsin. She was one of ten children, having had two brothers and seven sisters. They all studied piano, and in the 1920s their father formed the Smith Sisters Orchestra (nee' "Schmitz Sisters family Orchestra"). This group performed on the Radio-Keith-Orpheum (RKO) circuit, playing in vaudeville and movie theaters while juggling their school schedules.
Voila got her first big break when the band (along with her nephew, Dennis Bartash), performed on the Major Bowes Amateur Hour, the 1930s radio version of America's Got Talent. With the help of the popularity gained by that broadcast, in 1938 Viola and her sister Mildred (a saxophonist) were able to start an all-girl orchestra called the Coquettes, with which they performed until 1942, when Mildred got married.
Viola moved to New York City where she received a summer scholarship to the Julliard School Of Music. Soon after, she joined Phil Spitalny's Hour Of Charm Orchestra, perhaps the most famous "all-girl" orchestra in the country. Her ability to read music fluently, coupled with her overall musicianship was such that she later played with the NBC Symphony Orchestra, one of the leading orchestras of the day.