I'm going to veer wildly off-format here in order to fulfill a promise I made in this column last month. Last year, a subscriber named John Gahan sent me a manuscript. Much to my surprise, it was written out by hand, just the way Charles Dickens or Edgar Allan Poe used to do. In fact, most editors would never consider such a contribution. I remember reading a writers' guide from the 1920s (I believe it was a Little Blue Book) that suggested that handwritten manuscripts are read about as enthusiastically as Etruscan novels. But I am not most editors, even if I am a procrastinator. I might here suggest that if you're feeling brave you could send me such a document; just be aware that I'll read everything else that is sent to me before I get to your calligraphy.
When John called our office to wonder about his story, I realized it was time to type it up and print it. That took only another month to occur. In formatting the story, I realized that it resonated closely with our March Jazz Birthday of the Month, Jean Goldkette. It also recalls a previous March Jazz Birthday honoree, a very special one who will shortly be named. And thus, in the interest of keeping my word, fulfilling an obligation, and being somewhat timely, I here present John Gahan's story exactly as he worded it: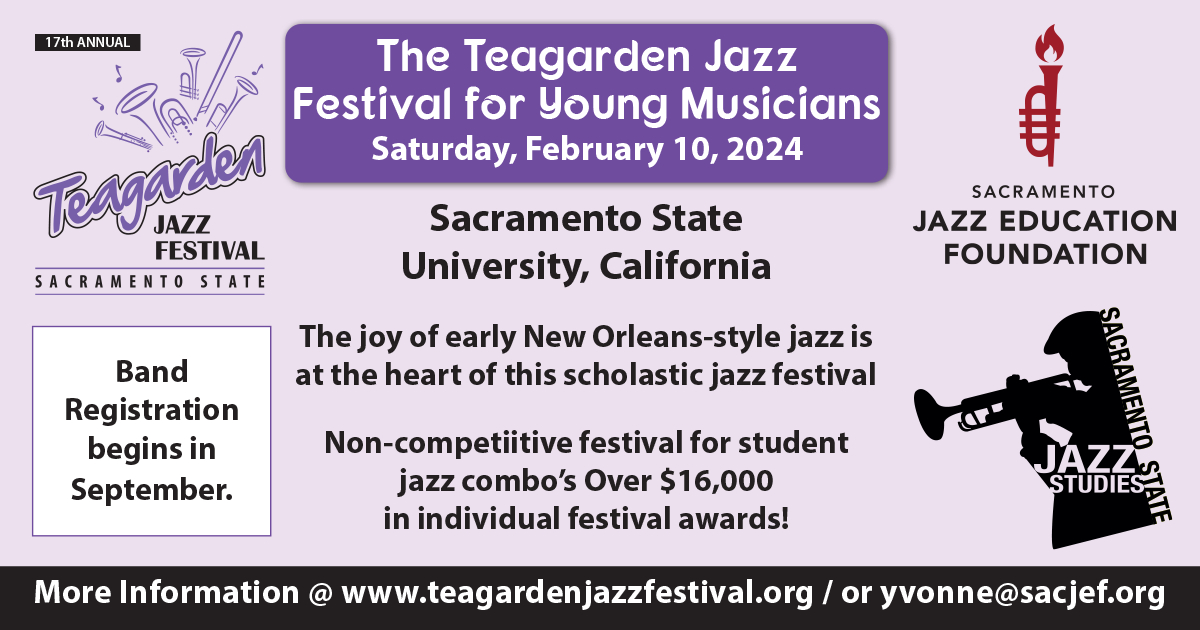 My Pilgrimage to Hudson Lake to 'Hear' Bix
(A Journey Back in Time)
by John Gahan
I'm not a 100% moldy fig but lean in that direction in spite of the fact that I like Glenn Miller's "In the Mood," Count Basie's "One O'Clock Jump," and Miles Davis' "So What." However, my jazz jones is predominantly traditional. I was a drummer in a dance band that also played some Dixieland. (Oops—there's that word.) A highlight of my somewhat brief career was sitting in and playing Zutty Singleton's drums at Jimmy Ryan's on 52nd Street in NYC.
I've seen and heard many of the jazz greats over the years, and have had the privilege of personally meeting Louie Armstrong, Gene Krupa, Teddy Wilson, Lil Hardin Armstrong (I have a story about that) to name a few. I have also seen and heard many of the great big bands—and I don't mean the ghost bands that are out there. How did all this happen? I'm 87 years old and a retired Federal Investigator who had many assignments, including Chicago and New York. I seldom passed up an opportunity to go and hear the great legends of jazz.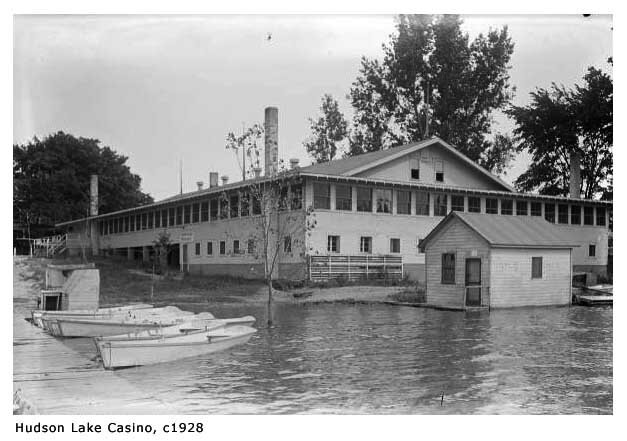 Moving on to my nostalgic trip to the Roaring '20s at a legendary place called Hudson Lake. It was a roadhouse in Indiana and a short train ride from Chicago. In 1926 Jean Goldkette took it over and named it The Blue Lantern Inn. The Jean Goldkette Orchestra with Bix Beiderbecke and Frankie Trumbauer played there. I happen to be a Bix buff. I belong to the Bix Beiderbecke Memorial Society and each year journey to Davenport, Iowa, to attend their jazz festival. I have a CD with 95 Bix solos—that's just his solos, one after another. I believe it was Louie who said, "Ain't no one of them play like him yet."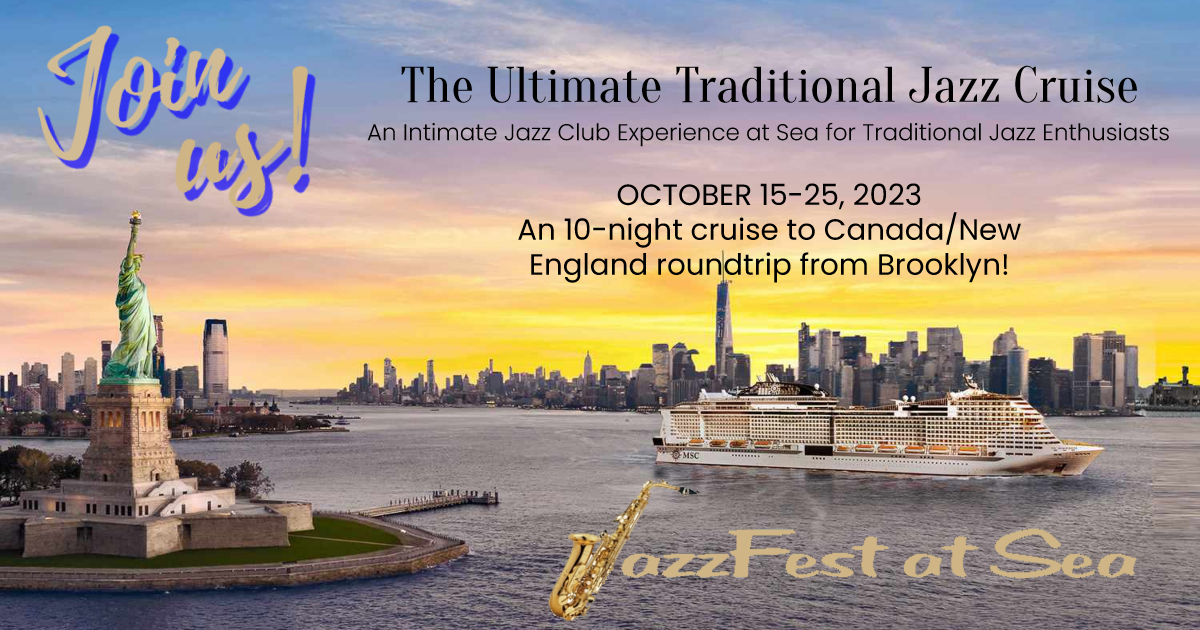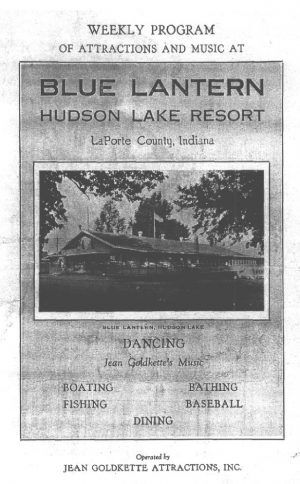 So, on my way back to St. Louis from the Elkhart (Indiana) Jazz Festival I took a short detour to Hudson Lake. As I entered the parking lot I saw this modern-day café. Bix played here? Yes he did! Behind the café was the original Blue Lantern Inn overlooking Hudson Lake. A very nice lady offered to unlock the door and let me in. Wow! I walked into a huge dance floor with a large bandstand at one end. The wall behind the bandstand had silhouette artwork of a band. Another wall had a framed photo of the Jean Goldkette Victor Orchestra. I'm thinking this is most likely the way it was in the 1920s.
The nice lady left me alone. I stood in awe for a long time as I "listened" to the echoes of "Jazz Me Blues" and "Riverboat Shuffle." My imagination was short-lived when the nice lady came back and ended my journey back in time. See you later, Bix.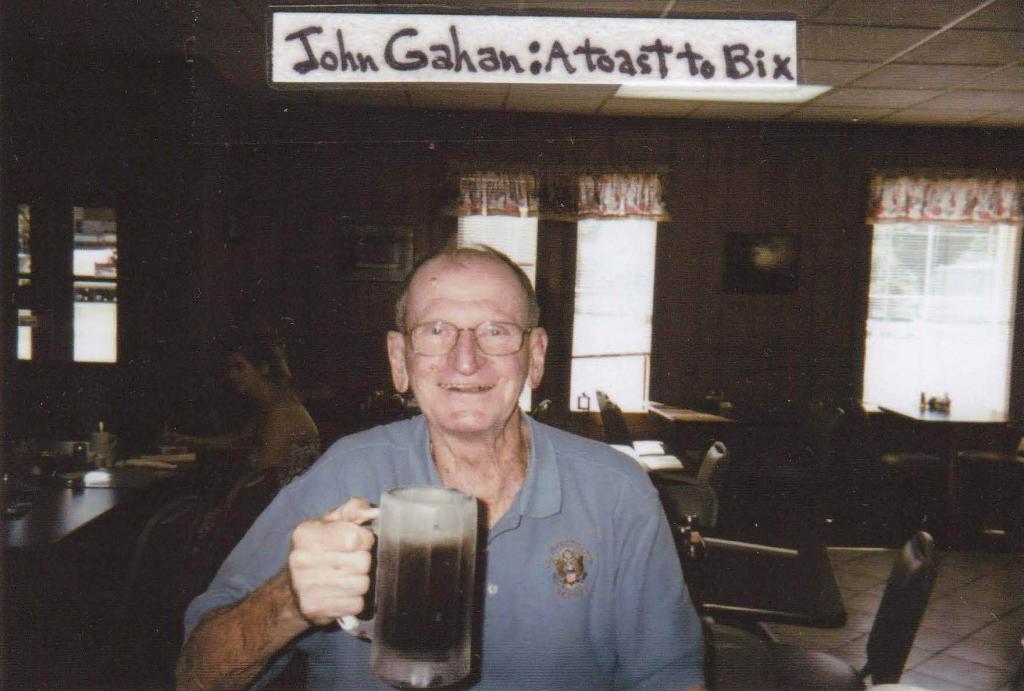 I left the Blue Lantern Inn and my fantasy trip behind and entered the café up front. I ordered a beer and made a toast to Bix. (Sorry Bix, it's only a root beer.) I thanked the nice lady who unlocked a small piece of the Jazz Age that sent my imaginary mind back to the Roaring '20s. On to St. Louis and the real world.
"Bix Lives"