It is glorious time of the year when summer (and hurricane season) ends, when strolls through the French Quarter are pleasant and when parading groups of wedding parties cause lots of smiles and waves from spectators and participants.
Arriving in the late afternoon gave us the opportunity to run over to Fritzel's European Jazz Pub which began daily music offerings last year in addition to its usual nightly performances. Grabbing a quick bite down the street, we settled in for a late afternoon and evening full of traditional jazz. Colin Myers (tb) and Simon Lott (dr) had a few hours left on their time slot before Chuck Brackman (bs), Jamil Sharif (tp), Earl Bonie (cl), and Leslie Martin (p) joined Simon for the evening gig. What a wonderful way to start the next few glorious weeks in the French Quarter!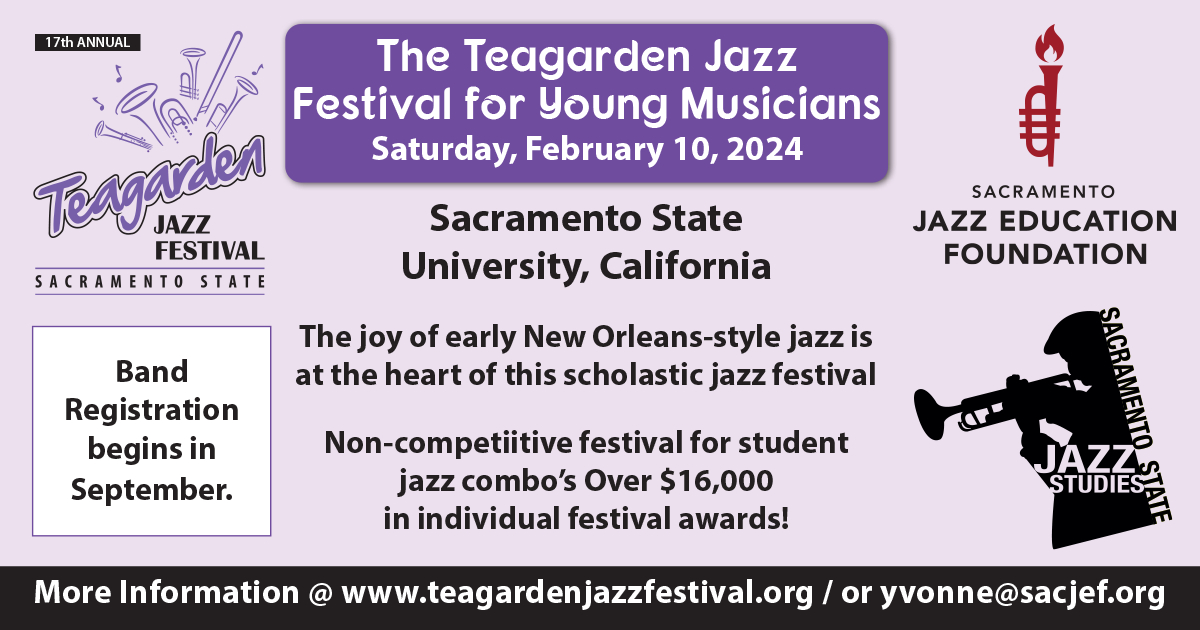 Matt Perrine (tuba) and his son Ben (dr) along with Lee Floyd (bj) had several afternoon sessions and I was happy to see Ben as another New Orleans Traditional Jazz Camp attendee now performing professionally around town. Doyle Cooper (tp) is another NOTJC "graduate" as his mother Leslie, together with vocalist Banu Gibson, are two of the three founders of the Camp that started in 2010!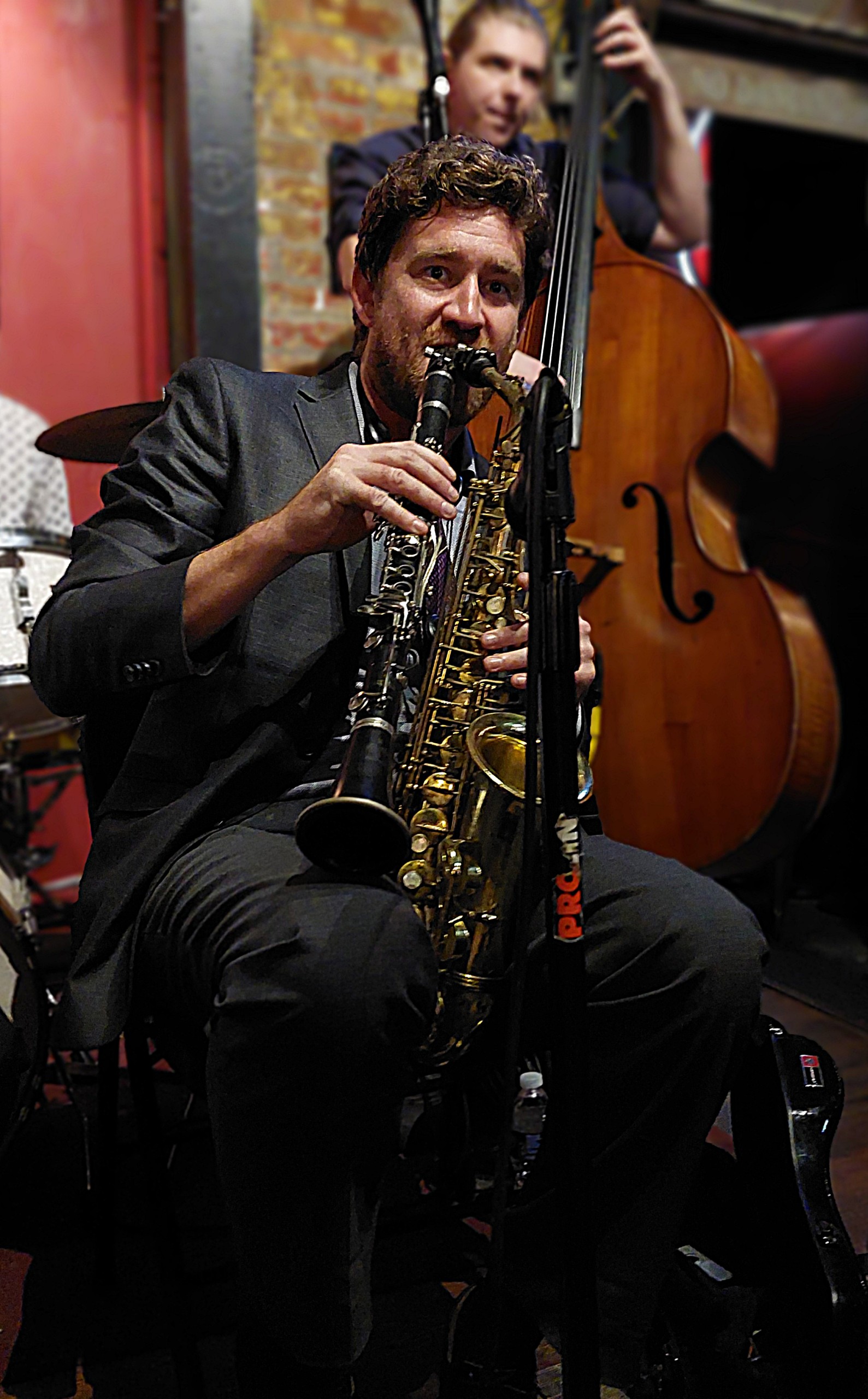 Fritzel's All Star evening bands feature dozens of top performers that we see at many other venues as well: Chris Sharkey, J. D. Haenni, Sam Lobely, Jim Markway, Nathan Lambertson (BS); Rory Guffour, Owen Callahan, Connor Stewart (REEDS); Joel Zobrist, Mike Voelker, (DR); Kevin Clark, Zach Lang (TP); and Steve DeTroy, Yoshitaka "Z2" Tsuji, Dave Hall (P).
Richard Scott (p) has several solo gigs there during the week and we try to attend most of them before or after a quick lunch. The next five evenings and five evenings the following weekend were spent at the Palm Court Jazz Café with several bands including Gregg Stafford, Mark Braud, Leroy Jones, Duke Heitger, Will Smith, Clive Wilson, Kevin Louis (TP); Freddie Lonzo, Robert Harris, Katya Toivola, Craig Klein, Ronell Johnson (TB); James Singleton, Richard Moten, Mitchell Player, Kerry Lewis, Taylor Kent (BS); Bruce Brackman, James Evans, Tom Fischer, Louis Ford, Tim Laughlin (REEDS); Lars Edegran, Kris Tokarski, Meghan Swartz, Steve Pistorius, Mari Watanabe, David Boeddinghaus (P); Joey Lastie, Shannon Powell, Barnaby Gold, Benny Amon, Aron Lambert, Shawn King (DR); and Yolanda Robinson as vocalist one evening provided an exceptional experience. Guest artist Sammy Rimington (reeds) sat in several nights after arriving from the UK. After seeing him this past Jazz Fest in April and May, it was a special thrill to see him twice in one year!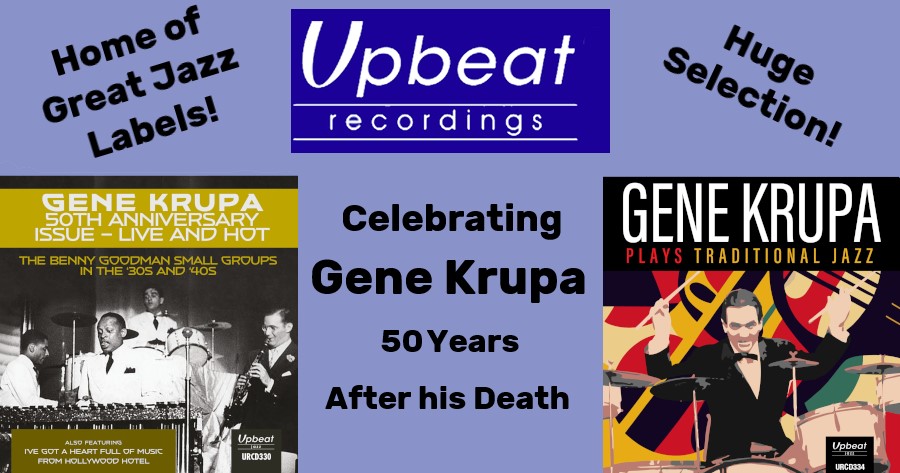 A visit to the Carousel Lounge at the Monteleone Hotel gave us an opportunity to see Lena Prima (v) with her band members Tim Fahey (gtr), Catie Rodgers (tp), Justin Pardeau (tb), Thad Scott (sax), Clayton Hopkins (dr), and Mike Torregano (p). Catie is another NOTJC graduate and this year acted as coordinator for the youth groups at the Camp. Later in the week we were able to catch Wendell Brunious (tp), Caroline Brunious (cl), Mike Lemmler (p), and Steve Masakowski (gtr).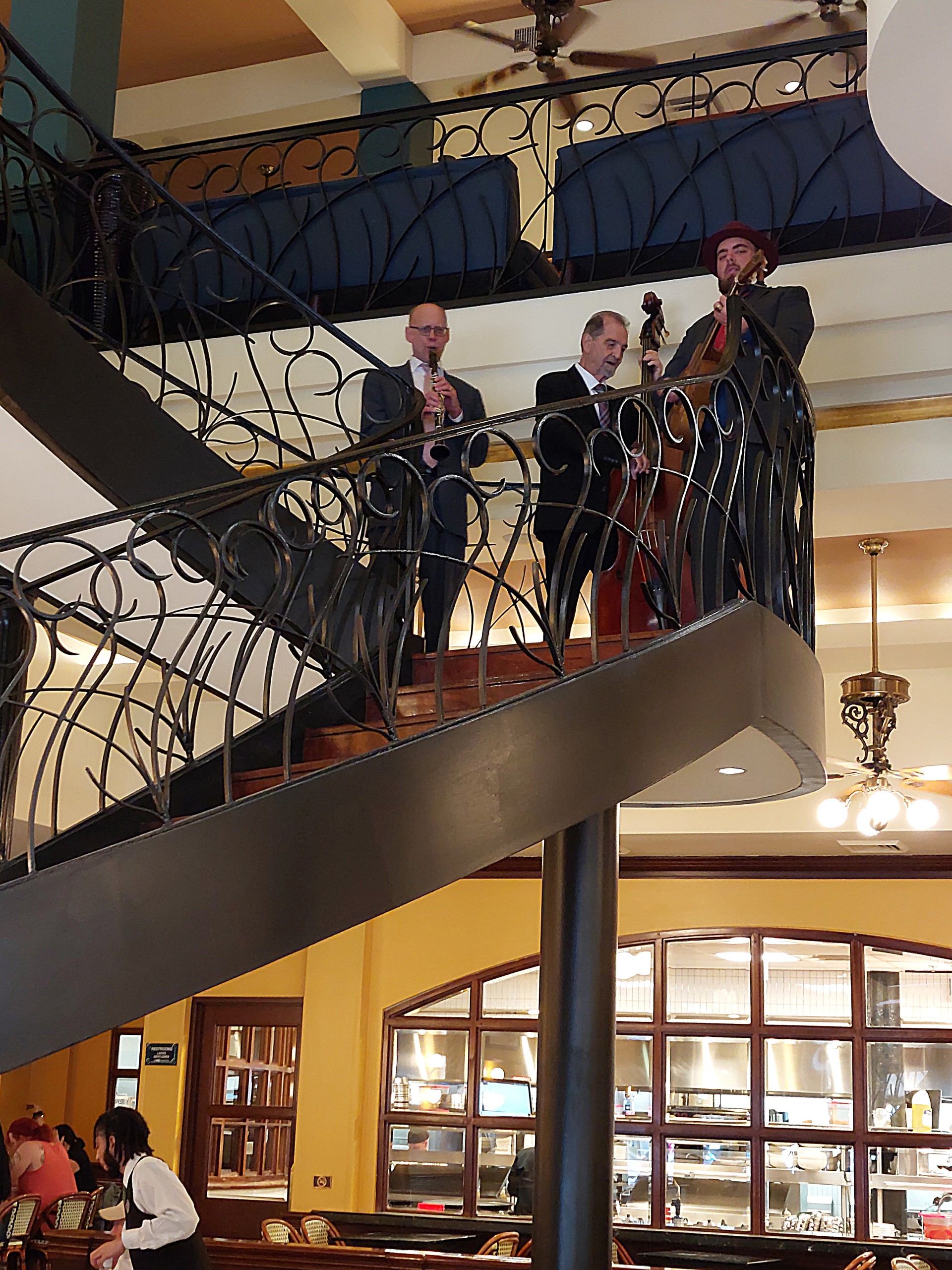 Caroline is originally from Sweden and studied in New Orleans quite a few years ago when she and Wendell first met. She has "crossed the pond" this past year with their two children and we hope to see her again on our next visit. Suzanne Ortner (cl) had an early afternoon gig there another day and we stopped by to say hello and wish her many more recordings and performances.
The Maison Bourbon is another "stop in" venue and we caught Dave Ruffner (tb), Fred Staehle (dr) and Joe Cea (p) for an early evening session.
Mahogany Jazz Hall also has a nightly schedule and we enjoyed Tom Fischer (cl), Gerald French (dr), Richard Moten (bs), and Joe Kennedy (p).
Joe has written a book Spread the Jam: an Essential Guide to Sitting in and Jamming with Musicians. Joe will be attending several educational conferences in the coming months on a promotional tour. For more information visit his website at www.bigjoekennedy.com.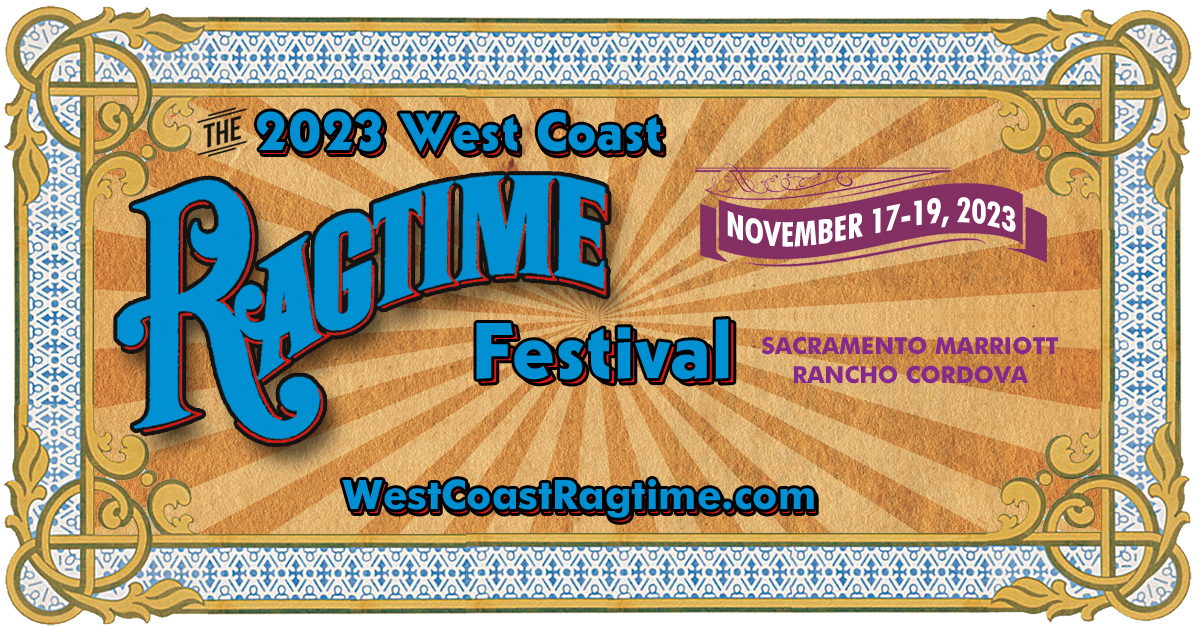 Enjoying a lovely Sunday jazz brunch at the Palace Café, is a must. The newly remodeled restaurant had its first musical weekend in almost three years after its earlier close in 2020 and damage then sustained from Hurricane Ida in late 2021. Tom Fischer (cl), Al Bernard (bs), and Hunter Burgamy (bj) led the "inaugural" event and I am happy to say that the remodeling was beautiful, elegant and consistent with its history.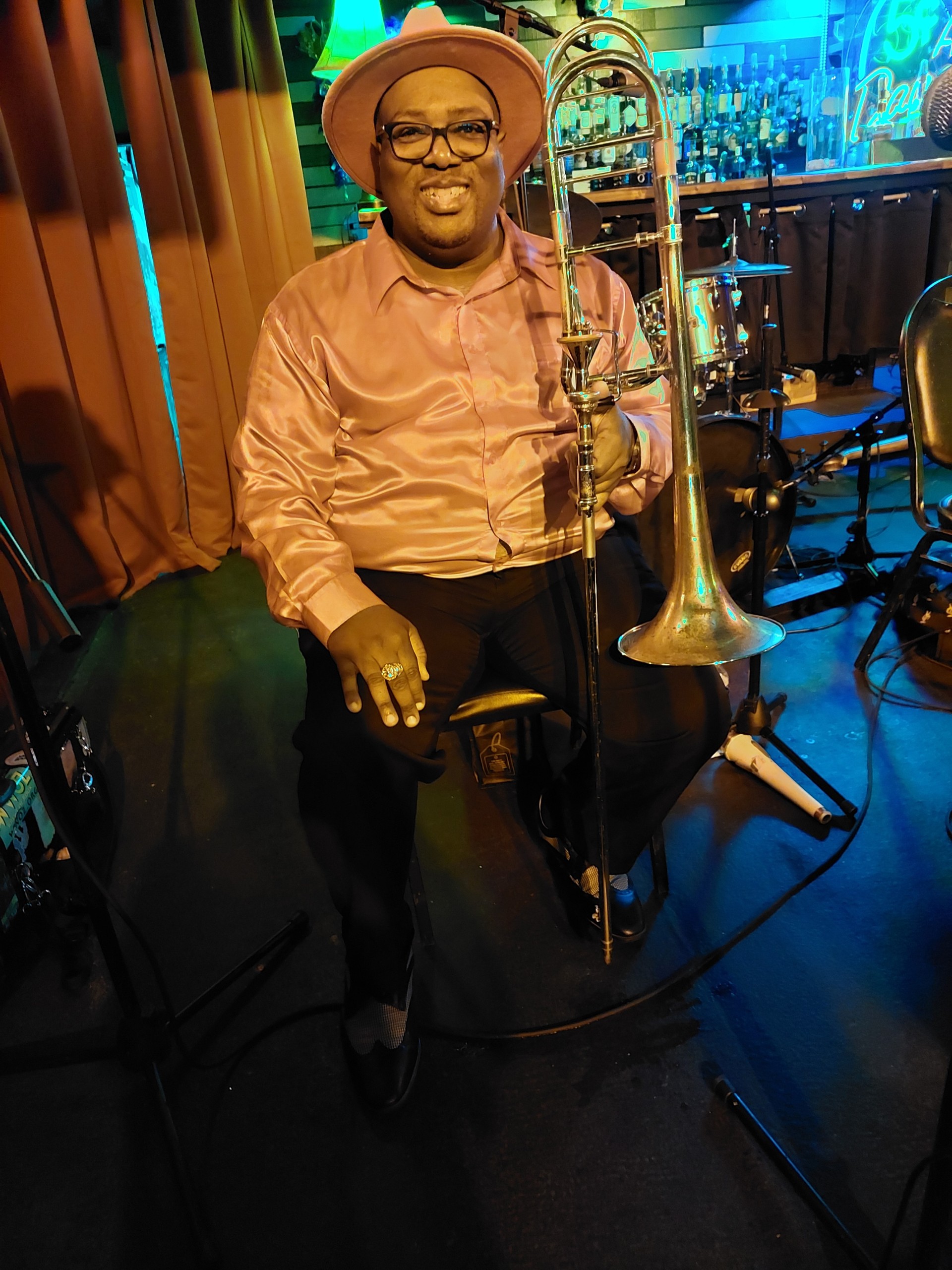 Later that day, the Nickel-A-Dance gig at the Maison Frenchman had Ronell Johnson (tb), Kevin Louis (tp), Bruce Brackman (cl), Mari Watanabe (p), Kerry Louis (bs) and Glen Finister Andrews (dr) stirring up the dancers with lots of frivolity and enthusiasm. Ronell's trombone has extra tubing with an "F" trigger to create those deep bass sounds he enjoys interspersing in his various renditions of many standard tunes. The following week, the Nickel-A-Dance showcased Will Smith (tp), Mari Watanabe (p), Freddie Lonzo (tb), Louis Ford (sax), Sammy Rimington (cl), Joey Lastie (dr) and Kerry Lewis (bs). It is always a fun afternoon and many of the local dancers attend the free sessions so we get to visit with them outside of the annual Jazz Fest venues earlier in April/May.
The Court of Two Sisters has a daily Jazz brunch and Norbert Susemihl (tp), returning again from Denmark, together with Skip Phipps (gtr) and Steve Braun (bs) created another pleasant time.
Artist Emilie Rhys and drummer Joey Lastie joined us for a lunch at the historic Napoleon House. Emilie also dined with us one evening at Palm Court where I got to watch her create a sketch of Freddie Lonzo (tb) right at our table! It was amazing to witness her creativity and attention to details while drawing a line here, a scrawl there and have it turn out to look just like Freddie and his trombone! We also saw Banu Gibson for a short while one evening when she dropped by Palm Court to wish Ken a milestone happy birthday so we could wish her the same as they are only six days apart! I hope there will be many more milestone birthdays for both of them.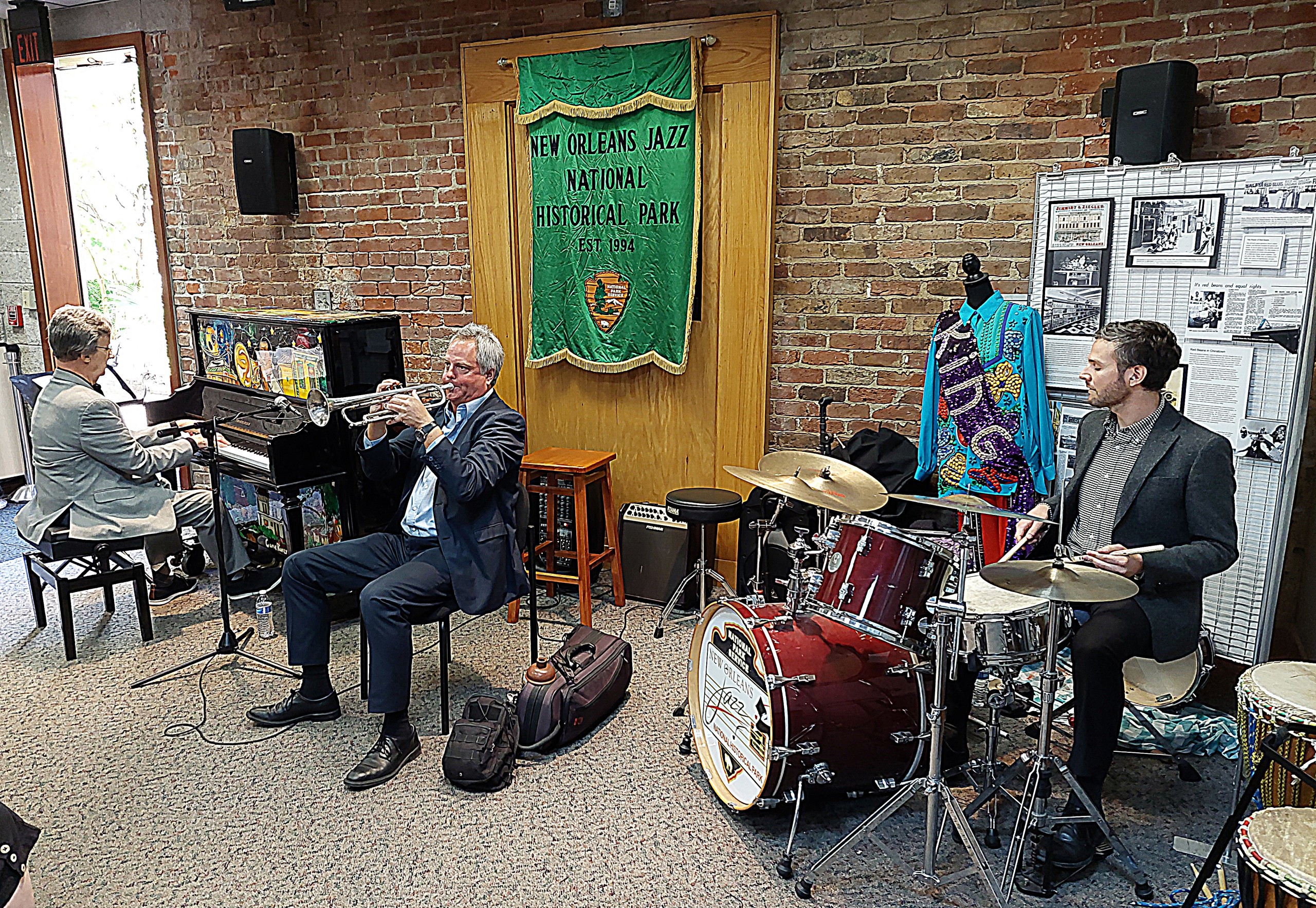 The New Orleans Jazz National Historical Park offers multiple daily presentations on a variety of local interests. Not all National Parks have rolling hills or an abundance of trees! From their website: The park's mission is to serve the nation as a global leader in the promulgation of New Orleans jazz by enhancing and instilling a public appreciation and understanding of the origins, early history, development and progression of this uniquely American music art form—jazz. The French Quarter "Park" has three venues and we attended one music session with Steve Pistorius (p), Duke Heitger (tp), and Benny Amon (dr). The focus was on Jelly Roll Morton and Steve did an excellent job combining some historical data referencing the tune being played.
The next day we attended a lecture/presentation with Ranger Davis and Simon Lott (dr) explaining the influence iconic New Orleans drummer, Warren "Baby" Dodds had with Joe Oliver and Louis Armstrong's groups in the '20s and '30s. Simon said what looked like a seven piece drum kit was actually an 80+ piece drum kit! He showed how using sticks, brushes and mallets, plastic or wood blocks, various cymbals and drum sizes created different sounds and frequencies depending on how the implement struck the parts of the kit. Tuning the heads, striking the rim, even hitting the cymbal from underneath created a different sound! It was an educational experience and I gave more thought to a drummer's artistic improvisations on later subsequent solos.
The Assunto Dukes are performing on Friday evenings at the Bourbon "O" in the Bourbon Orleans hotel. The lively venue finds itself on the corner of the building visible to many passersby who can stop in for a set. Deano Assunto always has his video camera recording the current band playing some of his dad's favorite tunes. Jim Syoen (tuba), Jack Pritchett (tp), L.G. Sullivan or Sean Clark (dr), Ryan Burrage (cl), and Zachary Wiggins (p), with guest Rob Pearce (tb) visiting from the UK, stay true to the '50s, '60s and early '70s renditions of Frank, Freddie, and Papa Jac Assunto. It is always a pleasure to see and hear them perform!
Fritzel's celebrated its 53rd anniversary with lots of catered homemade Greek food set up in the back courtyard for all to enjoy. The evening's band with Richard Scott (p), Jamil Sharif (tp), Ben Fox (bs), and Bryan Besse invited lots of other musicians on stage for a tune or two! Mark Brooks (bs), Josh "Jams" Marotta (dr), Danny Rubio (tuba, p), and Joe Kennedy (p) were among the many musicians stopping by for some jovial camaraderie and delicious spanakopita and baklava!