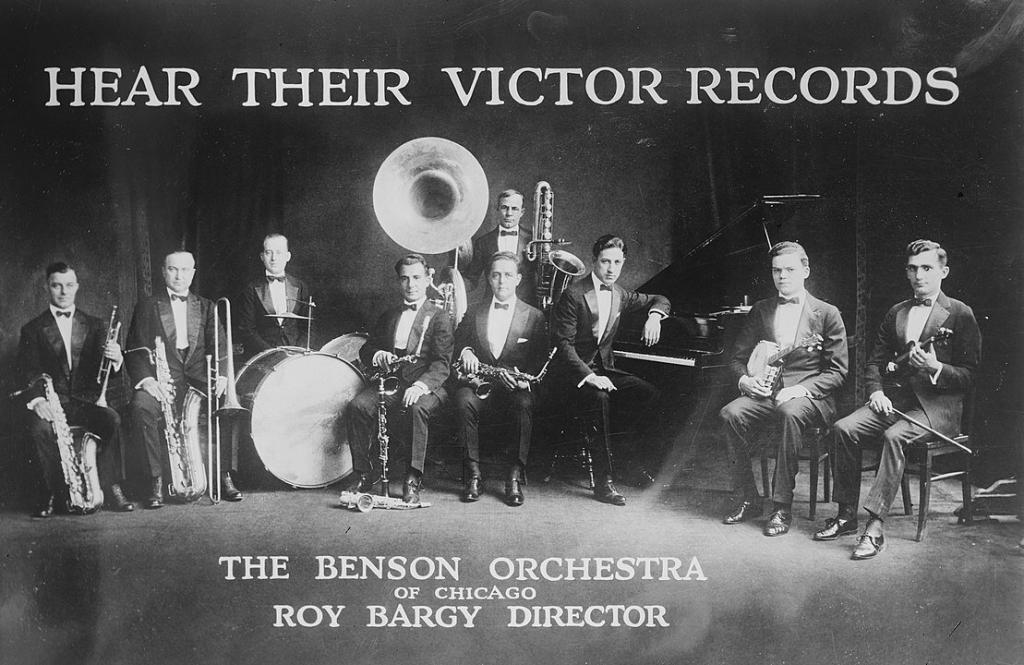 Edgar A. Benson was a 'cellist' who became an impresario, managing many bands in Chicago from 1920 to 1930. The Number One orchestra was originally directed by pianist
Roy Bargy
, who left the Benson organization at the end of 1922, and Don Bestor, also a pianist, took his place at the front of a new orchestra that for the first eight months featured the forward-looking saxophone work of 
Frank Trumbauer
.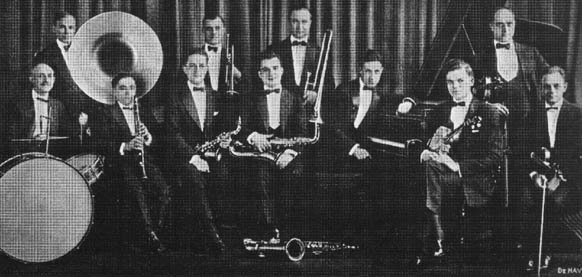 Two of the most jazz-oriented sides that the Benson Orchestra of Chicago recorded are included here: "Copenhagen" must be one of the hottest versions on record next to the Wolverines' own
(it was recorded by them with Bix Beiderbecke leading on cornet just four months prior to the Benson version), and "Riverboat Shuffle", written by Hoagy Carmichael with the Wolverines in mind, is another from the Wolverines' date, but which the Bensons did not record until a year had elapsed. By that time, recording had become electric, and the warmth of the Benson Orchestra is much more apparent.
by Brian Rust
(from the liner notes of The Chicago Hot Bands 1924 – 1928 on Timeless Records)
Thanks to Carl Rose, Andy Hall and Owen Miller for their help with this page.

Title

Recording Date

Recording Location

Company

After All, I Adore You


(Lou Herscher / Art Coogan)

8-21-1924
Camden, New Jersey
Victor
19426-B
Ain't We Got Fun


(Richard A. Whiting)

4-11-1921
Chicago, Illinois
Victor
18757-B
Angel Child


(Price / Silver / Davis)

2-1-1922
Chicago, Illinois
Victor
18870-B
Are You Lonely?


(Joe Burke)

9-17-1923
Camden, New Jersey
Victor
19263
Back In Hackensack, New Jersey


(Art Beiner / Dan Russo)

4-2-1924
Chicago, Illinois
Victor
19318-B
Because Of You The World Is Mine
5-21-1925
Camden, New Jersey
Victor
19693
Biddy


(J.S. Zamecnik)

9-24-1920
Camden, New Jersey
Victor
18718-A
Black-Eyed Blues


(Don Kendall)

2-2-1922
Chicago, Illinois
Victor
18874-B
Bimini Bay


(Gus Kahn / Raymond Egan / Richard Whiting)

9-28-1921
Chicago, Illinois
Victor
18824-B
Birdie


(Crawford)

6-28-1922
Camden, New Jersey
Victor
18937
Chili Bean
Introducing: "I Told You So"


(Albert Von Tilzer)

9-21-1920
Camden, New Jersey
Victor
18698-A
Copenhagen


(Charlie Davis)

9-8-1924
Camden, New Jersey
Victor
19470-A
Crooning


(William F. Caesar)

4-12-1921
Chicago, Illinois
Victor
18765-A
Deedle Deedle Dum
(Sherman / Coslow / Irving Mills)
6-20-1922
Camden, New Jersey
Victor
18917-B
Do I?
(Do – Do I Love Her?)


(Young / Lewis / Akst)

9-6-1922
Camden, New Jersey
Victor
19197-B
Do You, Don't You, Will You, Won't You Love Me To?


(Little / Howard / Schertzlein)

11-5-1923
Chicago, Illinois
Victor
19197-B
Doodle Doo Doo


(Art Kassel / Mel Stitzel)

4-2-1924
Chicago, Illinois
Victor
19318-A
Doodle-Um Blues


(O'Neal / Price / Bernie)

6-19-1924
Chicago, Illinois
Victor
19386-A
Don't Bring Me Posies
(It's Shoesies I Need)
Intro. California Rose


(Fred Rose)

7-17-1922
Camden, New Jersey
Victor
18931-A
Down In Maryland


(Bert Kalmar / Harry Ruby)

1-29-1923
Camden, New Jersey
Victor
19022-A
Dreams Of India


(Percy Wenrich)

6-15-1923
Camden, New Jersey
Victor
19106
Drifting Back To Dreamland


(Charlesworth / Harrison / Sadler)

6-15-1923
Camden, New Jersey
Victor
19101
Easy Melody


(Conley / Rodemich)

9-17-1923
Camden, New Jersey
Victor
19147-A
Fair One
Introducing, "Rock-a-Bye Lullaby Mammy")


(George Mallen / Walter Donaldson)

9-23-1920
Camden, New Jersey
Victor
18697-A
Foolish Child


(Lindsay McPhail / Roy Bargy / Nelson)

8-27-1923
Camden, New Jersey
Victor
19136-A
Forgetful Blues


(Fred Rose / Fred Hamm / Henry Winston)

11-4-1923
Chicago, Illinois
Victor
19235
Forget Me Not
(Means Remember Me)


(Conrad / Hanbury / Gillen)

4-1-1924
Chicago, Illinois
Victor
19312-A
Georgia Cabin Door


(Eleanor Young / Harry D. Squires)

1-30-1923
Camden, New Jersey
Victor
19022-B
Go Emmaline


(Henry Creamer / Ray Brown)

9-30-1924
Camden, New Jersey
Victor
19484
Heart Broken Strain
11-10-1924
Camden, New Jersey
Victor
19568
I'd Love To Fall Asleep And Wake Up In Mammy's Arms
(Introducing: Jing-a-Bula-Jing-Jing-Jing)


(Fred E. Ahlert / M.K. Jerome)

9-24-1920
Camden, New Jersey
Victor
18697
I Had Someone Else Before I Had You
(And I'll Have Someone After You're Gone)


(Harris / Darcy / Stanley)

5-22-1925
Camden, New Jersey
Victor
19685-B
I'll Keep On Loving You


(Rose)

4-12-1921
Chicago, Illinois
Victor
18765-B
I Love You Sunday
(Introducing: Ev'rybody Calls Me Honey)


(Charley Straight)

9-24-1920
Camden, New Jersey
Victor
18701-A
I'm Drifting Back To Dreamland


(Charlesworth / Harrison / Sadler)

6-15-1923
Camden, New Jersey
Victor
19101-A
I'm Through
(Shedding Tears Over You)


(Edwin J. Weber)

9-14-1922
Camden, New Jersey
Victor
18994-A
In A Covered Wagon With You


(Norworth / Stover)

9-17-1923
Camden, New Jersey
Victor
19147-B
In A Tent


(Ted Koehler / Frank Magine / Joe Lyons)

6-13-1923
Camden, New Jersey
Victor
19103-B
In Bluebird Land
Bird Warbling by Sue Ernest Hewling


(Albert Short)

1-30-1922
Chicago, Illinois
Victor
18871-B
I Never Miss The Sunshine
(I'm so Used To The Rain)


(Norman Jay Harvey)

6-14-1923
Camden, New Jersey
Victor
19102-B
It Must Be Someone Like You
(Charley Straight / Roy Bargy)
4-23-1921
Camden, New Jersey
Victor
18804-A
June Moon


(Charley Straight / Frank Magine)

9-30-1921
Chicago, Illinois
Victor
18833-A
Just For To-Night


(Oscar Geiger)

7-14-1923
Camden, New Jersey
Victor
19101-B
Just Like A Rainbow


(Mary Earl / Ted Fiorito)

9-29-1921
Chicago, Illinois
Victor
18823-B
Just One More Kiss


(Leon Berger)

11-7-1923
Chicago, Illinois
Victor
19277-B
Keep On Dancin'
9-29-1924
Camden, New Jersey
Victor
19470-B
Little Thoughts
(Charley Straight / Roy Bargy)
1-31-1922
Chicago, Illinois
Victor
18912-B
Lonely Little Wallflow'r


(Gus Kahn / Simmons)

4-2-1924
Chicago, Illinois
Victor
19361
Lonesome And Blue


(Edwin Tillman)

11-4-1923
Chicago, Illinois
Victor
19198
Loose Feet


(Spencer Williams)

1-31-1923
Camden, New Jersey
Victor
19045-B
Love Is Just A Flower


(Schonberg / Billing / Lyman)

6-13-1923
Camden, New Jersey
Victor
19129-B
Ma!


(Fred Fisher)

9-29-1921
New York, New York
Victor
18819-B
March Of The Mannikins


(Onivas / Hirsch)

6-15-1923
Camden, New Jersey
Victor
19183
Mean, Mean Mama


(Eleanor Young / Harry Squires)

8-21-1923
Camden, New Jersey
Victor
19138-B
Midnight Rose


(Mitchell / Pollack)

9-17-1923
Camden, New Jersey
Victor
19148
Morning


(Turk / Silver)

8-14-1924
Camden, New Jersey
Victor
19445-B
My Dream Moon


(John Anderson / Dan Russo)

8-14-1924
Chicago, Illinois
Victor
19317-A
My Little Bimbo
Introducing: "I Love The Land Of Old Black Joe"


(Walter Donaldson)

9-25-1920
Camden, New Jersey
Victor
18698-B
My Mammy Knows


(Harry De Costa / M.K. Jerome)

2-1-1922
Chicago, Illinois
Victor
18870-A
My Rose Marie
9-8-1924
Camden, New Jersey
Victor
19476-B
My Sunny Tennessee


(Bert Kalmar / Harry Ruby / Herman Ruby)

9-28-1921
Chicago, Illinois
Victor
18819-A
My Sweetie's Sweeter Than That


(Koehler / Murphy / Fiorito)

11-5-1923
Chicago, Illinois
Victor
19239
Na-Jo


(Rudy Wiedoeft / Walter Holiday)

4-15-1921
Camden, New Jersey
Victor
18779-A
Nobody Knows But The Pillow And Me


(Vincent / Hueston / Frisch)

6-13-1923
Camden, New Jersey
Victor
19102-A
No No Nora


(Ted Fiorito / Ernie Erdman)

7-20-1923
Camden, New Jersey
Victor
19121-B
No One's Fool


(Fred Rose)

9-29-1921
Chicago, Illinois
Victor
18833-B
Oh Gee! Oh Gosh!
(My Feet Won't Behave)


(Erdman / Beck / Foote)

9-21-1920
Camden, New Jersey
Victor
18701-B
Oh, How I Miss You Tonight


(Davis / Burke / Fisher)

5-23-1925
Camden, New Jersey
Victor
19685-A
Oh You Little Sun-Uv-Er-Gun


(Joseph Solman)

9-17-1923
Camden, New Jersey
Victor
19155-B
Oklahoma Indian Jazz


(Hibbeler / Johnsen / Barna / Guarini / Murrin)

11-7-1923
Chicago, Illinois
Victor
19257
One Kiss


(Earl Burtnett / Gus Arnheim)

9-28-1921
Chicago, Illinois
Victor
18823-A
One More Hour
11-7-1923
Chicago, Illinois
Victor
Oogie Oogie Wa-Wa


(Archie Gottler)

6-20-1922
Camden, New Jersey
Victor
18917-A
On The Alamo


(Isham Jones)

7-17-1922
Camden, New Jersey
Victor
18931-B
Pickin' Em Up And Layin"Em Down


(Louis Panico)

7-19-1924
Camden, New Jersey
Victor
19386-B
Railroad Blues


(C. Luckeyth Roberts)

9-21-1920
Camden, New Jersey
Victor
18850
Riverboat Shuffle
(Hoagy Carmichael / Dick Voynow / Irving Mills)
5-23-1925
Camden, New Jersey
Victor
19688-B
San


(Lindsay McPhail / Walter Michaels)

4-11-1921
Camden, New Jersey
Victor
18779-B
Say It While Dancing


(Abner Silver)

6-28-1922
Camden, New Jersey
Victor
18938
Sing A Little Song


(Erdman / Chon / Westphal)

8-21-1924
Camden, New Jersey
Victor
19426-A
Scandanavia


(Ray Perkins)

4-11-1921
Chicago, Illinois
Victor
18757-A
Shim-Me-Sha-Wabble


(Spencer Williams)

8-21-1923
Camden, New Jersey
Victor
Sobbin' Blues
(Art Kassell / Vic Berton)
8-17-1923
Camden, New Jersey
Victor
19130-B
Somebody
(Introducing: Just For Today)


(Little / Dellon / Wiedoeft)

9-25-1920
Camden, New Jersey
Victor
18718-B
Somebody's Wrong


(Henry Marshall / Raymond Egan / Richard Whiting)

7-25-1923
Camden, New Jersey
Victor
19122-A
Some Other Day, Some Other Girl
9-29-1924
Camden, New Jersey
Victor
19476-A
Starlight Bay


(Walter Donaldson)

1-30-1923
Camden, New Jersey
Victor
19031-A
Stuttering


(Maceo Pinkard)

8-29-1922
Camden, New Jersey
Victor
18948-A
Swanee Bluebird
(Whistling Variations by Master Billee Osborn)


(Cliff Friend / Con Conrad)

6-28-1922
Camden, New Jersey
Victor
18924-A
Tea For Two
(from the Musical Comedy "No No Nannette")


(Vincent Youmans / Irving Caesar)

8-28-1924
Camden, New Jersey
Victor
19438-A
Tee Pee Blues
1-30-1922
Chicago, Illinois
Victor
18874-A
Ten Little Fingers And Ten Litle Toes
(Featuring Piano Duet by Roy Bargy and Charley Straight


(Ira Schuster / Ed Nelson)

1-31-1922
Chicago, Illinois
Victor
18871-A
That Lullaby Strain
(Art Kassell / Vic Berton)
11-7-1923
Camden, New Jersey
Victor
19235
That Old Gang Of Mine


(Ray Henderson)

8-27-1923
Camden, New Jersey
Victor
19136-B
That's Georgia


(Little / Gillespie / Shay)

8-28-1924
Camden, New Jersey
Victor
19445-A
The Cat's Whiskers


(Felix Austed / Edward Gladstone)

6-15-1923
Camden, New Jersey
Victor
19103-A
The Doodle-Um Blues


(O'Neale / Bernie)

7-19-1924
Camden, New Jersey
Victor
19386
The Whole World Is Dreaming Of Love


(Gus Kahn / Don Bestor / Charley Straight)

5-22-1925
Camden, New Jersey
Victor
19693
These Longing For You Blues


(Westphal / Robinson)

8-29-1922
Camden, New Jersey
Victor
18948-B
The World Is Waiting For Sunrise
(Introducing "Singing")


(Seltz / Hylton)

9-6-1922
Camden, New Jersey
Victor
18980-A
Think Of Me


(Al Eldridge)

1-30-1923
Camden, New Jersey
Victor
19031-B
Those Longing For You Blues


(Westphal)

8-29-1922
Camden, New Jersey
Victor
18948-B
Toddle
(Introducing: Maori)


(Paul Biese / Frank Westphal / Jimmy Steiger)

4-11-1921
Camden, New Jersey
Victor
18756-A
Tomorrow Morning


(Eleanor Young / Harry D. Squires)

9-6-1922
Camden, New Jersey
Victor
18980-B
Toot, Toot, Tootsie! (Goo'bye)


(Kahn / Erdman / Russo)

9-13-1922
Camden, New Jersey
Victor
18954
Trot Along


(Clarence M. Jones)

1-30-1923
Camden, New Jersey
Victor
19044
Tuck Me Away in My Old 'Tucky Home
Under the Direction of Roy Bargy


(Lewis / Young / Meyer)

9-29-1921
Chicago, Illinois
Victor
18820-A
Venetian Love Boat


(Frank Magine / Ted Koehler)

2-1-1922
Chicago, Illinois
Victor
18868-B
Virginia Blues


(Fred Meinken)

2-2-1922
Chicago, Illinois
Victor
18868-A
Wabash Blues


Fred Meinken)

9-28-1921
Chicago, Illinois
Victor
18820-B
Wabash Blues
Under the Direction of Roy Bargy


(Fred Meinken)

9-29-1921
Camden, New Jersey
Victor
18820-B
Wait Till You See My Gal


(Sullivan / Wilbur)

4-2-1924
Chicago, Illinois
Victor
19327
When Lights Are Low


(Kahn / Koehler / Fiorito)

11-5-1923
Chicago, Illinois
Victor
19198
Wolverine Blues
(Benjamin Spikes / John Spikes / Jelly Roll Morton)
9-10-1923
Camden, New Jersey
Victor
19140
Words


(Dubin / Tucker / Spenser)

9-29-1924
Camden, New Jersey
Victor
19484
Wow!


(Ted Baxter)

11-4-1923
Chicago, Illinois
Victor
19239
You
11-5-1923
Chicago, Illinois
Victor
19197-A
You Left Me Out In The Rain


(Rose / Raskin / Violinsky)

4-1-1924
Chicago, Illinois
Victor
19337

| | |
| --- | --- |
| Artist | Instrument |
| Rick Adkins | Trumpet |
| Matthew Amaturo | Clarinet, Alto Saxophone |
| Roy Bargy | Piano, Director |
| George Bass | Violin |
| Joe Baum | Violin |
| Seigfried Berendson | Trombone |
| Don Bestor | Piano |
| George Brommerberg | Drums |
| Herb Carlin | Trumpet |
| Guy Carey | Trombone |
| Dudley Doe | Clarinet, Alto Saxophone |
| Ed Files | Tenor Saxophone |
| Walter Foster | Drums |
| Myron Fischer | Violin |
| William Foeste | Tuba, Bass Saxophone, Drums, Xylophone |
| George Jernberg | Trumpet |
| Art Kassell | Clarinet, Tenor Saxophone |
| Arthur Layfield | Drums, Xylophone |
| Jack Lundin | Banjo |
| Joseph Miller | Banjo |
| Pierre Olker | Tuba |
| Herb Quigley | Drums, Xylophone |
| Charles Sansone | Piano |
| Harold Sturr | Alto Saxophone, Tenor Saxophone |
| Thomas Thatcher | Tenor Saxophone |
| Frank Trumbauer | C Melody Saxophone, Alto Saxophone |
| Art Weiss | Trombone |
| Miles Vanderauer | Trumpet |
| Bill Stuart Williams | Clarinet, Alto Saxophone |
| Walter Zurawski | Trumpet |