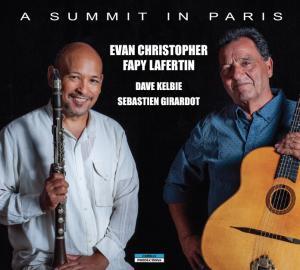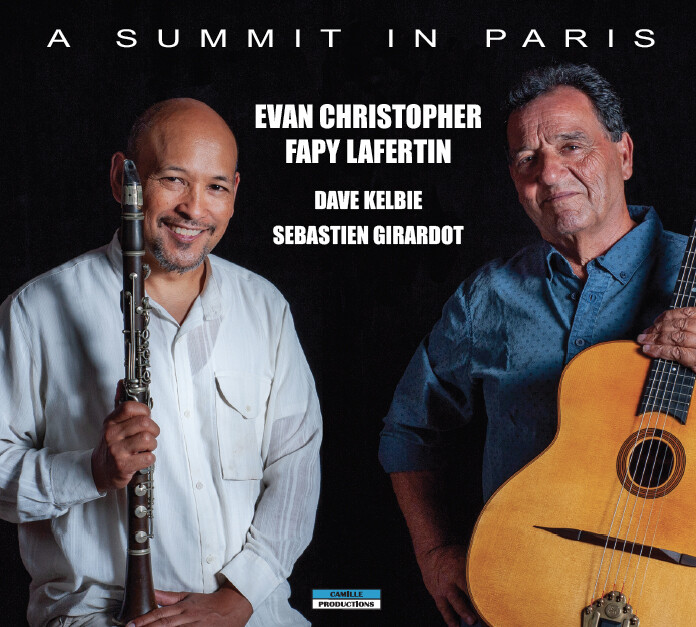 After Hurricane Katrina clarinetist Evan Christopher spent two years in Paris exploring the legacy of Django Reinhardt. The result was a band joining Christopher's classic New Orleans jazz style, Gypsy jazz, and dashes of Caribbean flavor.
Django à la Créole was a phenomenon. Their 2008 album received rave reviews from all corners. Another album followed, and extensive touring produced a live set. All the while Christopher, who has been called one of the great jazz clarinetists of all time, maintained the New Orleans style of play in his other band, Clarinet Road. He was on our cover in August 2017.
This past July he was back in a Paris recording studio. The Reinhardt inspired lineup is the same as the previous albums with one tremendous exception, it's the reason this album doesn't wear the Django à la Créole name. Instead of guitarists Dave Blenkhorn or Don Vappie, who appeared previously, Christopher's primary interlocutor is Fapy Lafertin.
To those who have never explored the Django revival this name may be unfamiliar. To those steeped in this music it won't be. Lafertin was born in a Romani/Manouche community in Belgium and began learning guitar as soon as he could hold one. Since interest in Django Reinhardt began to flower in the 70s he's been a leading guitarist in a movement where guitar is king. Some have said he surpasses Django himself, not only in technical skill, but in artistry.
The other members of this quartet are Dave Kelbie on rhythm guitar and Sebastion Girardot on double bass. Kelbie's professional focus has been as an accompanist to great jazz soloists, and among many he has frequently partnered with Lafertin for over twenty years. Girardot is a member of Three Blind Mice, La Section Rythmique and several other steady groups. You couldn't ask for a better support team.
The heart of this album is Christopher's haunting clarinet playing. There is less fancy fretwork than you might expect, and it contains fewer fiery passages than the previous efforts, leaning more American and less Caribbean. The revelation is the beauty of clarinet over strings, and the compelling nature of the lead guitar, rarely heard outside of the French styles. If Sidney Bechet had recorded with Django's trio while both were in France the result may have sounded something like this.
Part of the way the styles are merged is through track selections, much as might have happened in our fantasy meeting. Louis Armstrong is present in "Wild Man Blues" and "Swing That Music". Two of the tracks are Bechet's, "Little Creole Lullaby" and "Bechet's Fantasy". Only two of the titles are strongly associated with Django Reinhardt. The lean of the compositions towards New Orleans, or at least American jazz makes this a different animal from a typical hot club album. It's all about the possibilities, the opportunity for exchange inherent in collective improvisation.
Christopher and Lafertin are a marvelous pairing, weaving and building counterpoints across jazz worlds. Each contributes two originals to this thirteen track album — over an hour of surprises. I recommend it to traditional jazz fans who seek to stick a toe in the water and explore the Jazz Manouche style, or those raised at Django festivals who want to ease themselves into trad jazz. While this summit may not tear you away from your favorite camp, it's a worthy undertaking none the less.
Evan Christopher, Fapy Lafertin, Dave Kelbie, Sebastien Girardot: A Summit in Paris
lejazzetal.com/shop/a-summit-in-paris