Was your 2020 a bit of a let-down? Mine was. I'd just moved to a new city. I had big plans for my little business, for travel. I was going to buy a house and a caravan. Still, it could have been worse: I could have missed touring with genre-smashing jazz superstars Scott Bradlee's Postmodern Jukebox, or with blond brass-blowing bombshell Gunhild Carling. So spare a thought for Eric Heveron-Smith, who had dates with both of the above cancelled last year.
Mercifully this brass and bass sideman to the stars had the chance to play with both Scott and Gunhild in 2019, while his production skills kept him busy mixing music for remote projects and online festivals like CalBal Live.
Eric is now back in his home state of New York—arguably the jazz capital of the world, although it's not where his heart is. He returned with wife Holly and their young children to wait out the pandemic near his parents. He'd rather be in his adopted home of Asheville, NC (where he plays with the John Henry's jazz band at 5 Walnut and with Russ Wilson's Orchestra at the Foundry Hotel), which has a "surprisingly good vintage jazz scene" for a "gorgeous little town" in the Blue Ridge Mountains. (It might have something to do with Asheville hosting Lindy Focus, one of swing dance's most famous festivals.)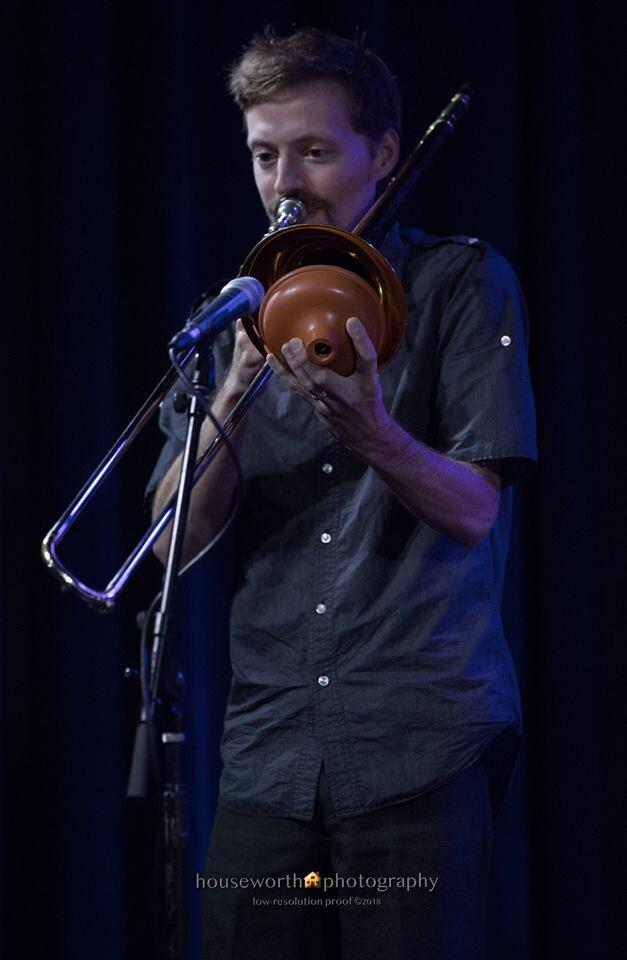 Like all the best jazz stories, his happened by accident. Though his aunt was a big fan, the teen from Rochester, NY, was more interested in rock and funk. A childhood friend inspired him to join his elementary school band, in which he wanted to play sax. "The band teacher handed me a sax mouthpiece, to see what sound I could get out of it," said Eric. "I blew it upside down and nothing came out. So then he handed me a trombone mouthpiece—there is no upside down with a trombone mouthpiece." And the rest is history.
An awe-inspiring, eleventh-grade trombone camp led by Curtis Fuller—sideman to the likes of Art Blakey, John Coltrane and Miles Davis—finally ignited Eric's jazz passion. "That's when I realized I wanted to play jazz for a living," he said, "and I really hit the ground running."
Even then, bebop was more Eric's thing. A jazz music and mastering degree at the University of Hartford, CT, followed, after which Eric moved to New York City and spent two years jamming with Canadian pianist Gordon Webster and Californian vocalist Tamar Korn.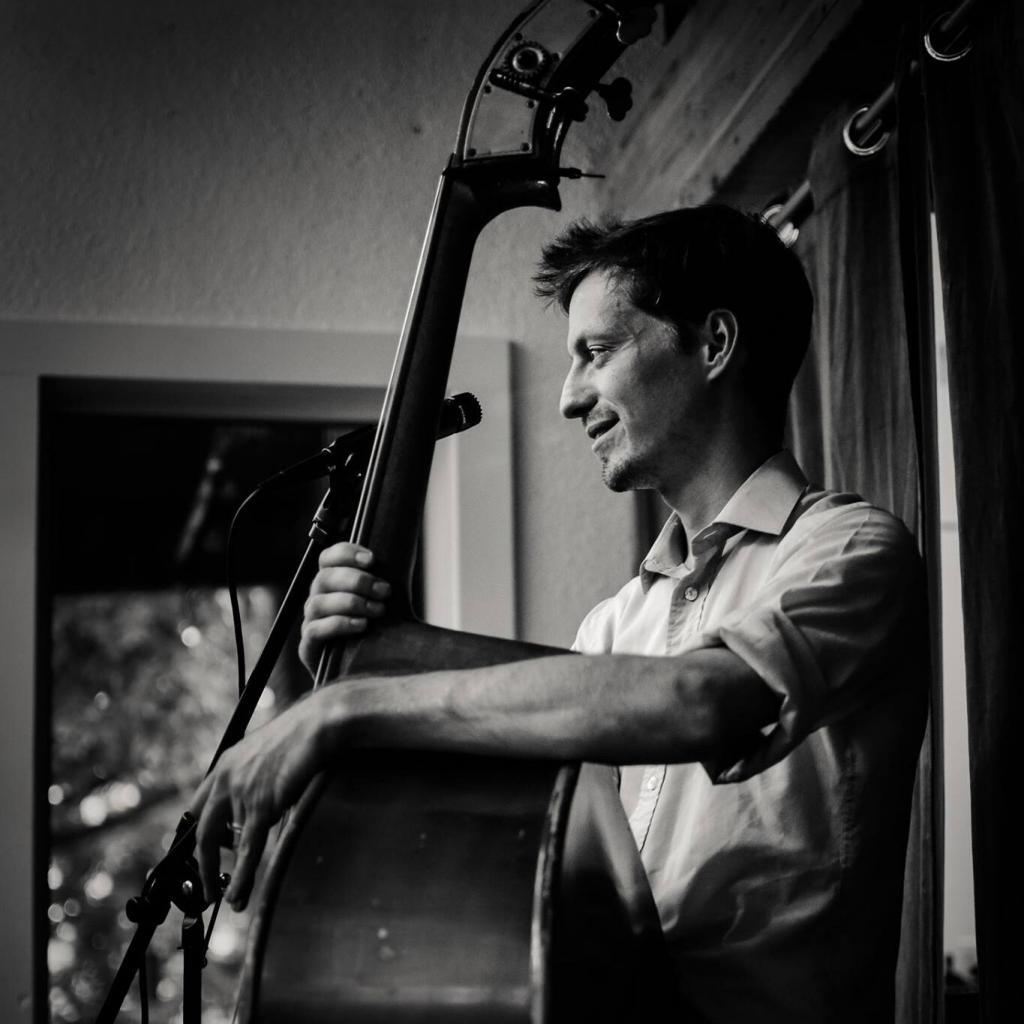 That's when Eric picked up his second love: the upright bass. "After so many years playing trombone, I really just wanted to be part rhythm section," he said. "A surprising number of trombonists play bass, because everyone needs a bassist; not everyone needs a trombonist." It was "a while" before he was good enough for gigs, but he persuaded pianist Solomon Douglas to take him on nonetheless.
It was Solomon—formerly of the Glenn Miller Orchestra—who turned Eric on to everything pre-bebop. "Solomon was playing fifties stuff and was hired to play some forties stuff," explained Eric. "That was my introduction to the world of swing. I went down the rabbit hole gradually, based on what work was available."
(Facebook)
They did a three-week tour together and recorded Solomon's album Ain't No School Like the Old School. At first Eric thought the music "a little corny," but a gig was a gig—seeing swing dance for the first time cemented his interest. "I thought, 'This is cool. And it's such a huge scene.' I loved to see people who were expressing the music I was playing," he said. "I started listening to more swing, really digging into it and eventually, instead of thinking it corny, I would think, "This is really swinging.' But it took some time."
It was also easier to get a reaction from the jitterbug crowd than finger-clicking bebop set, Eric discovered. "I noticed that if I was soloing for dancers and tried to be too complex, they didn't react," he said. "But when others played riffs which dancers could latch on to, they got a huge response. So I tried playing simpler, swinging, ear-catching stuff which people could really do something with. That's when people really started complimenting me."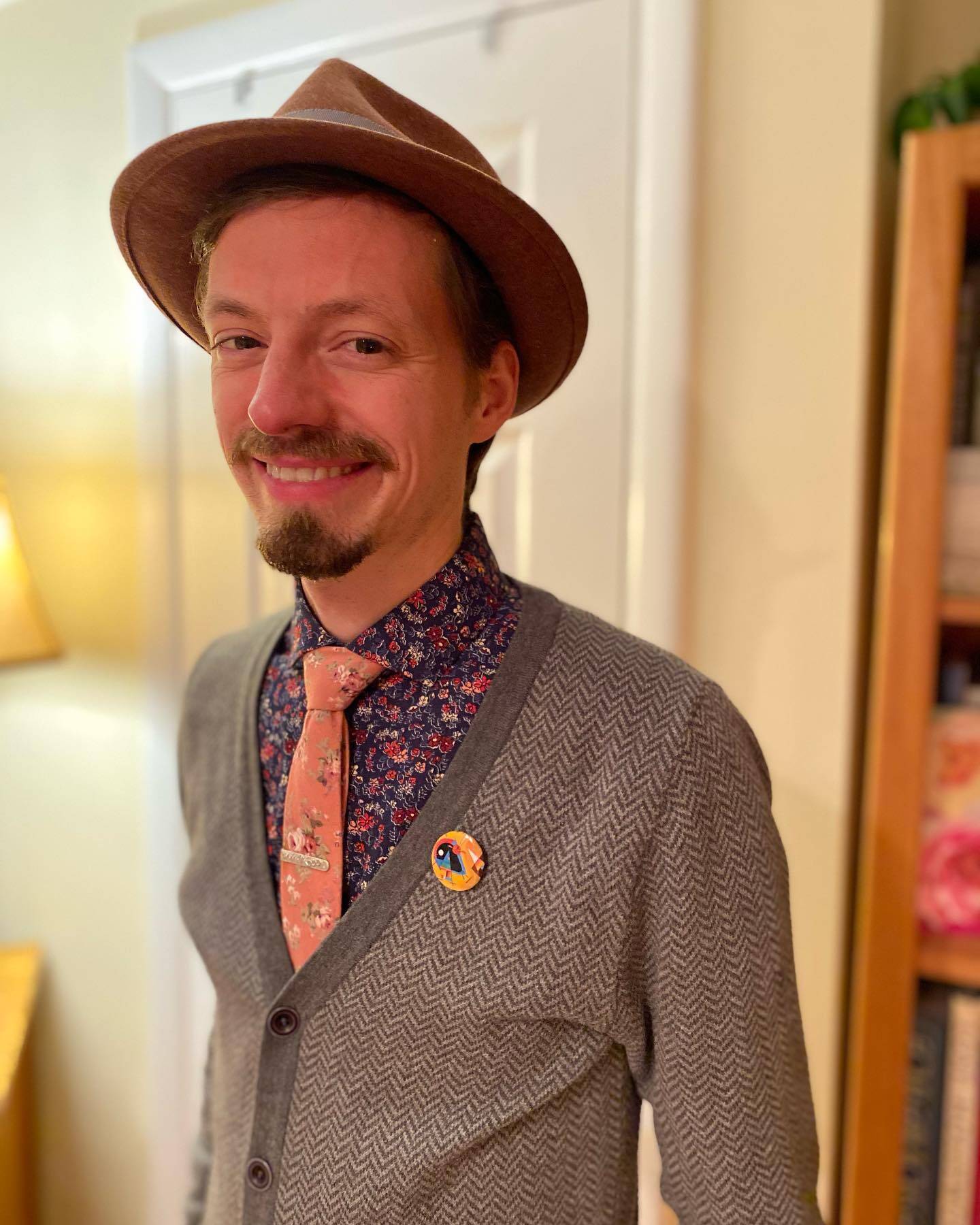 This was much more satisfying than the "cut-throat," all-night bebop jam sessions which left him "bored and burned out." Everyone in the dance scene was "so friendly and open," he added. "I thought, 'There's more space here for a trombonist who doesn't have ridiculous chops.'" The scene also opened his ears to the New Orleans sound, and a love affair with the tuba blossomed.
A guitarist taught Eric some Django Reinhardt tunes, prompting him to put together a quartet (after moving to Nashville, TN). This would become his Moonshine Rhythm Club: a QHCF-like "gypsy" outfit, but with a "groovy fifties'' twist. "That's what I absorb the best," said Eric: "small group stuff by Basie, Ellington, Peterson, Cole, or Brown—composers who write beautiful, textural things and take you on a journey. Something cool, something chill. The way Basie's horn players lay way back. Lionel Hampton, Jimmie Lunceford—that's the stuff I dig."
This certainly comes through in Spirits of Rhythm, MRC's four-part (and counting) series celebrating some of swing's big hitters: Artie Shaw, Count Basie, Django Reinhardt, and Benny Goodman, so far. Three were released in 2017, but the fourth only saw daylight in 2020 when Eric—who had been busy playing residencies, touring the States and Europe and having a family—suddenly had time on his hands again.
Why these four composers? "Artie was in our consciousness and we just wanted to check him out more," said Eric. "With Basie it was more that we really knew and loved him—the same with Django. Benny was an obvious pick, as so many people have played his arrangements. We wondered what our take on that music would be." The fifth disk is set to combine Dizzy Gilespie and Duke Ellington, as recording work on both was interrupted by the pandemic.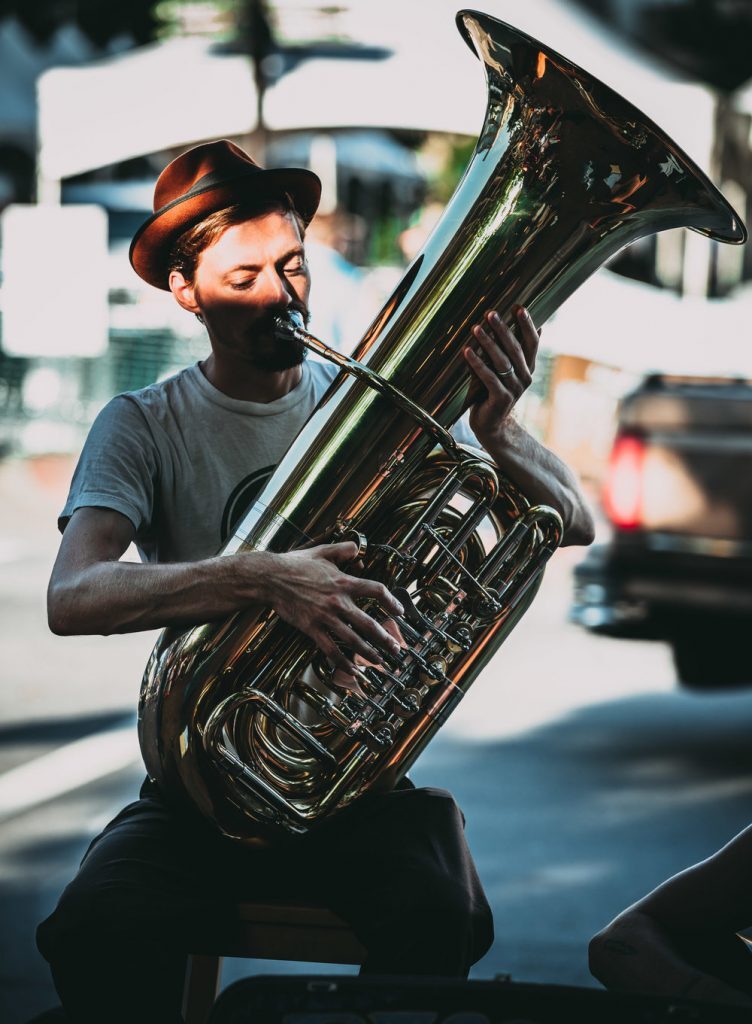 It's less about replicating old recordings than reliving the joy of creating great jazz. "We'd hear a song we liked then listen to all of these different versions and combine them with our own ideas," said Eric. "I've played with so many great transcribers, trying to nail that vibe just the way it was. It's a great exercise, but not so satisfying to me." Much more satisfying was making old favorites his own, playing them as if writing them anew. "We'd think about what it was like coming up with this stuff at jam sessions, taking ideas and putting them through our brains with all our influences over the years," he added.
And so the group improvised on the classics afresh, with the instruments they preferred. "Our sax player doesn't like playing clarinet," said Eric, "so the Artie disk isn't about clarinet—it's about what he was thinking and working with what we've got."
Their Basie collection was all about "translating a big band into a small group with no drummer and no piano," so the big shout chorus on "Shiny Stockings" became a quiet bassline—Basie's piano was less important than his groove; "Li'l Darlin'," for instance, was "just about being laid all the way back and shimmery" (which it achieves splendidly).
The tracks chosen were those which "spoke to" the players, and not always their idols' most famous numbers. "We started with the artist, compiled a list of songs we dug, picked the deep cuts and the ones we hadn't heard and listened to versions of other people playing them," said Eric. "From there it was just putting it together, changing the key, changing the energy, pulling versions together, so it didn't turn out as a tribute album."
While he is rightfully proud of his band's work, Eric still loves playing sideman to the likes of Jonathan Stout, Glenn Crytzer, and Michael Gamble—plus Gunhild and former college classmate Scott. "Touring with PMJ in 2019 was just amazing," he said. "I told him to hit me up if he ever needed a trombonist. When he eventually called, it was a bassist he wanted."
Playing a PMJ set is far removed from spitballing in the rehearsal room, Eric explained. "It's more of a stage show, in that it's very tightly scripted," he said. "You play the song and flip to the next one—there's a bit of room for soloing, but the most fun thing is playing a really tight show and nailing it. And all the other musicians are always killer."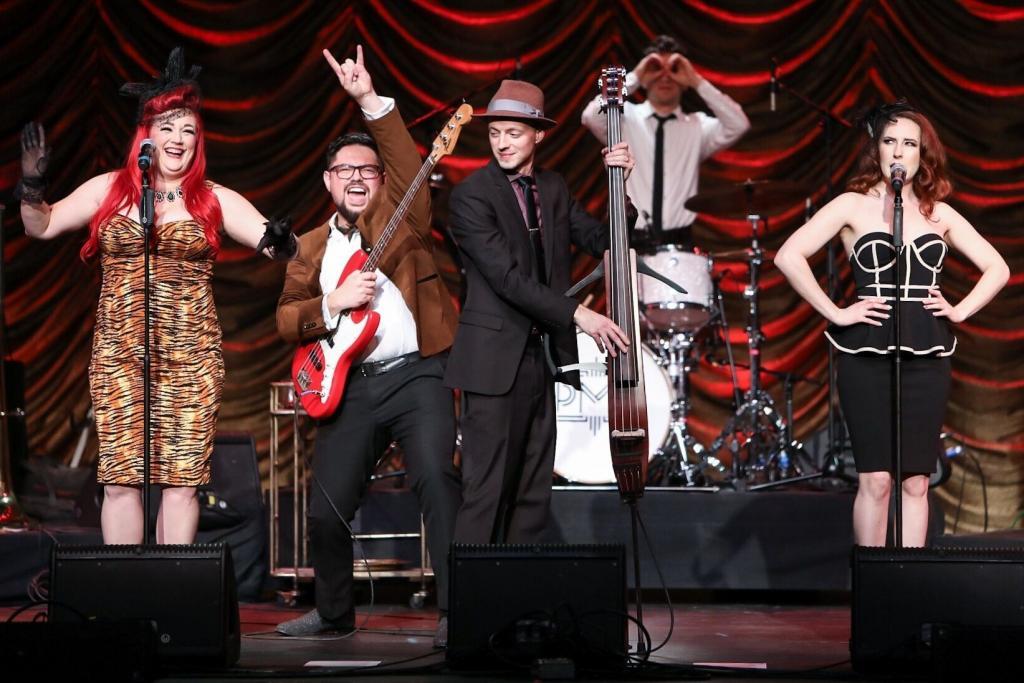 Gunhild is a bit more Spirits of Rhythm in style. Eric met her on his second PMJ tour. "I don't think I've ever met anyone who loves jazz as much as her," he said. "She's really loose and free with it: 'Let's try this, let's try that, don't worry about it.' We'd rehearse and sound check and she'd just keep jamming." After-show sessions were common with Gunhild, too. "I'd bust out the tuba and the keyboard player would play melodica," said Eric. "She mentioned having gigs at Birdland and I said, 'Hit me up if you need a bassist.' And so I did a tour with her too."
While Eric has kept himself busy—mixing remote projects, building bass guitars, writing indie rock and raising kids—he can't wait to get back in a small room with like-minded musicians. "It's hard to keep motivated to play trombone or bass alone," he said. "The best thing about playing is being in a band, blending with other instruments. I'm really enjoying learning about woodworking," he added. "I'm psyched about sandpaper, digital calipers and stuff—but if I give myself permission to be optimistic, I can wait to just get out on the road. Because that's what I love."
With famous friends like his, is it any wonder?
---
Also see our review: Moonshine Rhythm Club • Spirits of Rhythm