The 50th anniversary Bix Beiderbecke jazz festival in Bix's hometown of Davenport, Iowa, got underway in its usual fashion on Thursday afternoon, August 5, with a free one-hour concert at the Putnam Museum, which houses Bix's 1927 Conn cornet. This year it was played by Scott Davis of the NOLA Jazz Band from Des Moines, one of nine bands headlining the festival. With a surge in the Delta variant of COVID, the museum required all attendees to wear masks, and seating in the theater was limited to alternate rows. In previous years that I have attended this concert, it was held in the spacious main lobby. But another event was scheduled there so we were moved to more comfortable seats in tiered rows in the theater.
The 50th anniversary festival should have occurred last year but COVID reduced it to an online-only event, a fate that befell almost all festivals. This year's edition was a combination of live and online. The effect on attendance will not be known until after the fact, but Bix Beiderbecke Memorial Society President Steve Trainor told me that in-person registrations were favorable. He said the Society expected to lose money on streaming but felt it was necessary to sow the seeds for the future. Perhaps some people who watched online this year will attend in person next year.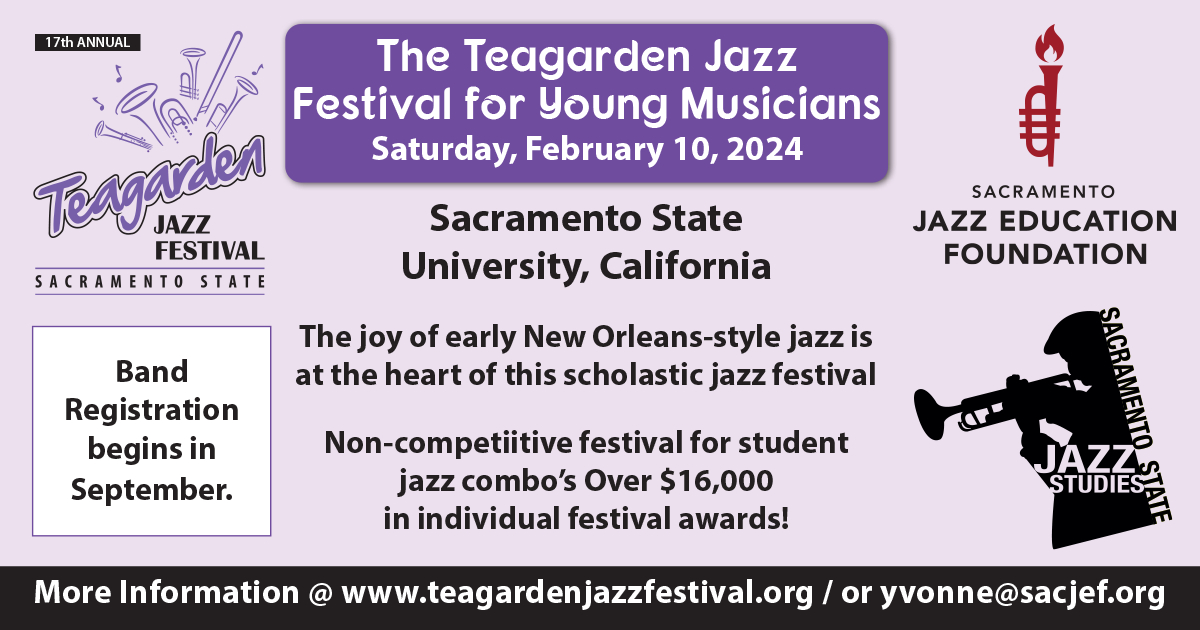 The perennially over-air conditioned Rhythm City Casino was otherwise the only festival venue. No concerts were scheduled at LeClaire Park downtown as had been the tradition in the past. Steve said attendance there was low and donations were scant. This was not an issue to me since I usually come to Davenport by train and bicycle, and the park is a 45-minute ride from the casino, often in hot, humid weather that's typical of Iowa in August. Even for people with cars, going downtown means missing one, and sometimes two, sets at the casino.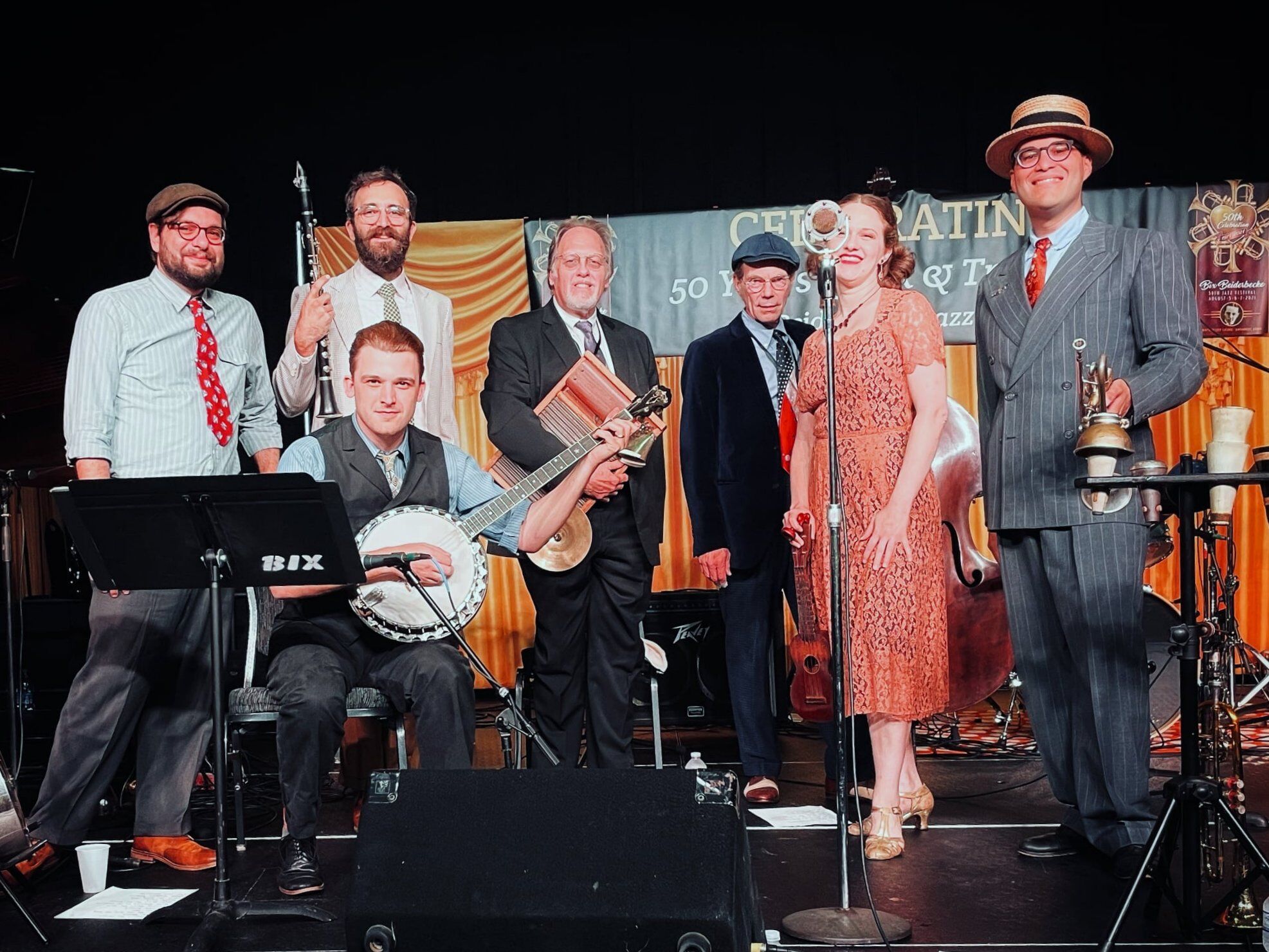 Here's the roster of the bands: the Bix Youth Band, an appropriately permanent fixture; the aforementioned NOLA; the perennial favorites the Chicago Cellar Boys and Josh Duffee's Graystone Monarchs, the latter usually comprised of a few local players and festival members of other bands; Joe Smith and the Spicy Pickles from Denver; Miss Jubilee and the Yas Yas Boys from St. Louis; and two bands I had not heard—the Southside Aces from Minneapolis that was making its first festival appearance, and the Cakewalkin' Jass Band from Toledo which first played the Bix in 1978 and has been back no fewer than 16 times since (but none of the times I was there, until now). Rounding out the list was the Mortonia Sextet, a band for this occasion put together and led by drummer Hal Smith that I'll describe further below.
There was also one special guest: trombonist Bill Allred, a native of nearby Rock Island who appeared at the first Bix festival in 1971. He's been a musician and bandleader his entire adult life and is well known in the trad jazz and festival worlds. He sat in with several bands.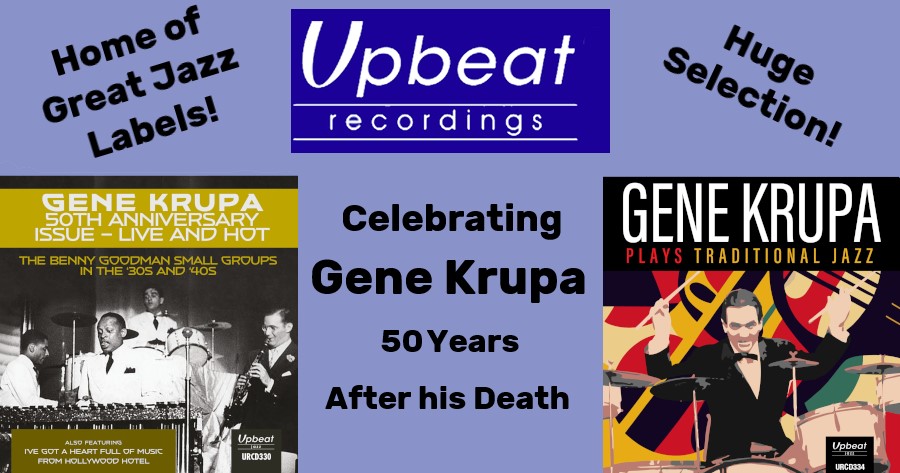 Each afternoon and evening session consisted of five 45-minute sets with a 15-minute break between each. Each band was scheduled for three sets except NOLA, which had two, plus the Putnam concert. Afternoon sets ran from 11:30 to 4:15 and evening sets were from 6 to about 10:45. In prior years there was an after-hours jam at the nearby Quality Inn, where the musicians are housed, but no mention of this appeared in the program. That was deliberate; jams did take place on Friday and Saturday nights, but they were planned to end at 2 AM so the musicians would not be sleep-deprived for the next day.
The reason for not publicizing the jams was that in the past there were too many moochers. The Quality Inn manager allows hotel guests to attend the jam free, and charges others $10. That would be reasonable for just the music, but he also provides a substantial amount of food. Being an early riser, I would not be at peak as a chronicler of the festival if I attended the jam and all the regular-hours sets.
Many festivals have merchandise sales, and this one is no exception. In addition, there was an extensive array of silent auction items of both local and more far-flung appeal. This helps raise money for the Bix Society. I noticed, however, that some items attracted no bids.
A nicely done commemorative program booklet was prepared and on sale for $5. In addition to the festival schedule, it contained historical recollections from past festivals. An aural-visual record of the festival was being produced and will be sold as a DVD or thumb drive for $25, available by late September.
Now for a review of the bands. I felt the NOLA band was improved over its showing two years ago. Several people told me that they felt there were too many vocals by Abbie Sawyer. I didn't completely agree, as I felt that she has a good voice and good delivery.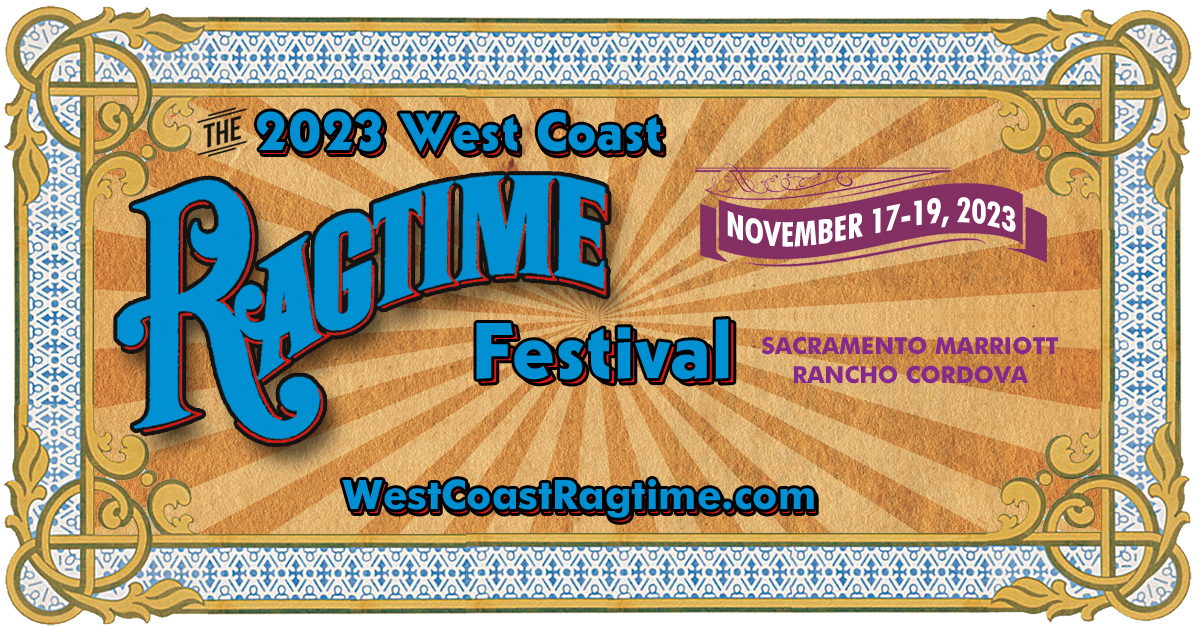 The Cellar Boys had a new banjoist, Jim Barrett. I did not ask what had happened to John Donatowicz. But this band again, as always, wowed the audience. They played the wrap-up set Sunday evening at the Knoxville Tap in nearby Milan, Illinois, an event I have never attended. Doing so means staying over an extra night. So I cannot report on how it went.
The Monarchs' first set paid tribute to the bands Bix played in, and their other two featured tunes, often not widely known, from other often unheralded '20s dance bands. There are usually ten members, which allows them to perform arrangements from a wider array of bands. Josh was usually on drums, but on two occasions brought in Hal Smith while he (Josh) played the xylophone, which honors his hero Teddy Brown. All their sets were excellent.
Miss Jubilee (Valerie Kirchhoff) and her band play an almost unique brand of music: blues and pop performed in the '20s and '30s mostly by female singers, many of them black. Some may feel that this is out of place at a trad jazz festival, but it truly is trad and the blues were an integral part of early jazz. The band itself—a quintet, but with Hal Smith added this year on drums and washboard—is very good. Ethan Leinwand is the best barrelhouse pianist I have seen.
I was seeing the Spicy Pickles for the second time at the Bix. I consider them more of a swing dance outfit with a lean toward a '50s style. I believe they were hired to encourage young dancers, which Steve Trainor believes are part of the key to success of future festivals. Perhaps so, but there were few such people here over the weekend.
The Mortonia sets featured music written or played by Jelly Roll Morton. In the band, besides Hal, were Dave Kosmyna from the Cakewalkers on trumpet, TJ Muller with Miss Jubilee on banjo, pianist Paul Asaro from the Cellar Boys, clarinetist Dave Bennett (who did not play with any of the other bands), and bassist Steve Pikal, who was also with the Monarchs. A better group could not have been found. During the band's last set, a woman in the audience was recognized: Jan Ostrom, a great-niece of trumpeter Sterling Bose, who played with Bix in St. Louis when Bix was with Frankie Trumbauer's band.
I very much enjoyed the Cakewalkin' Jass Band, which dates from 1968. Yet this was the first time I'd heard them. Like its Toledo cousin the Chefs of Dixieland, whose performance in Buffalo I reported on last month, the Cakewalkers are partly a family affair. Leader/clarinetist Ray Heitger's daughter Nicole is an excellent singer, and pianist "Ragtime Rick" Grafing and his wife, banjoist Betsy, are also in the band.
The Southside Aces gave a good accounting of themselves. I knew nothing about this band, but they are a favorite around Minnesota. They recently released a CD that included Butch Thompson on piano.
I only caught parts of the 16-piece Youth Band's sets, which are, perhaps a bit unfairly, scheduled around mealtimes. This is by nature an ever-changing organization, and leader Steve Little is the glue that holds it together. Nobody expects them to be as polished as the adults, yet the kids do a commendable job, often playing difficult arrangements.
It was revealed several times during the weekend that the Beiderbecke family home at 1934 Grand Avenue has fallen on hard times. It's on the National Register of Historic Places and a local effort is being launched to make needed repairs and preserve it. While still in the very early stages, a more widespread appeal for funding may be launched. Festival-goers concerned about the house's fate were invited to show their interest by putting their names on a list; I did so.
The traditional Saturday morning service at Bix's grave in Oakdale Cemetery was played by the Cakewalkers. A smaller than usual crowd showed up. I doubt it was the weather that kept people away; it wasn't raining, the sun was partly shielded by clouds, and the temperature was moderate (although the humidity was not).
Personal highlights of the festival:
●The Cellar Boys and the Graystone Monarchs—the two top bands to my ears, although all the bands were at least good, and most were very good.
●A moment of silence during the Monarch's first set, precisely at 8:30PM CDT Friday, the moment of Bix's death 90 years ago, August 6. This was followed by perhaps Bix's signature tune, "Singin' the Blues."
●Vocals by Nicole Heitger with the Cakewalkers, especially her a cappella rendition of "Miss Otis Regrets."
●Being introduced to two notables in the trad world: Barry Winograd, who has a show on Chicago's WDCB-FM that can be heard on the web; and Jon Wilkman, a noted author and Emmy award-winning producer of documentaries. He was here working on a book called Hot Jazz Remix, putting jazz in the context of America's history. It's not intended to be a history of jazz; plenty of such books already exist. Jon wanted to talk to young musicians for their interpretations of how this music resonates with them. I spent an hour with him discussing his subject and pointed him to some people he should contact. I'm proud that many of those musicians are my friends.
This year's recipient of the Bix service award was Jim Petersen for his years on the boards of the BBMS and the Bix Museum. Among other duties, Jim leads the Friday morning bus trip from the casino to the museum. He's Bix's second cousin once removed; his grandmother and Bix's mother were first cousins. Over the years I have met several Beiderbecke family members; this year it was Bix's great niece Liz Beiderbecke Hart.
Of all ten or so Bix festivals I have attended starting in 2001, this one ranks at or very near the top.