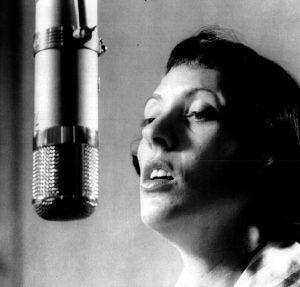 Renowned pop and jazz vocalist Keely Smith, died on December 16, 2017, in Palm Springs, California. Her passing at age 89 was due to "apparent heart failure," according to her publicist Bob Merlis as reported by the San Jose Mercury News.
Smith, born Dorothy Jacqueline Keely on March 9, 1928, first gained nationwide fame as a singer with Louis Prima's Orchestra in 1948. She married Prima in 1953 and performed with him in every entertainment medium throughout the 1950s. The two are remembered for such memorable selections as "Bei Mir Bist Du Schön" and "I've Got You Under My Skin," with best-selling albums The Wildest! and The Wildest Show At Tahoe. The pair won the first-ever pop vocal Grammy in 1959 for their hit recording of "That Old Black Magic."
Her solo album debut was in 1957 with I Wish You Love, produced by orchestra leader Nelson Riddle for Capitol records, and it established Smith as a star in her own right. Among her other popular albums are Swingin' Pretty (Capitol) and The Intimate Keely Smith (Reprise).
Of The Intimate Keely Smith, allaboutjazz.com critic Marc Myers writes, "the quality of the work is, frankly, astonishing. Smith's song choices are off-beat and perfectly tailored for her voice, and her delivery is confessional and pure saloon. What's more, we hear Smith's voice completely exposed, with little to mask her intonation or articulation. Both are heart-melting." Myers concluded that "This is a flawless album and a perfect way to get to know a Las Vegas singer who should have been as widely known as any of the great jazz vocalists."
Smith continued to record and to perform in concert in more recent years, and was nominated for a Grammy for her 2001 album Keely Sings Sinatra. Her 2005 engagement at Feinstein's nightclub in Manhattan was acclaimed by Variety, which said, "Smith's bold, dark voice took firm hold on a handful of great standard tunes, and she swung hard" and the New Yorker review called her "both legendary and underrated. . .she can still sing the stuffing out of a ballad as well as swing any tune into the stratosphere."
Smith was "very resolute in being in control of the trajectory of her career," according to the news release issued after her death. That determination was emphasized in a statement she made to theatermania.com before her retirement several years ago. "Nobody will ever interfere with what I do on stage," Smith said. "Someone might have an opinion of something but, if I disagree with it, I'll go with my own thinking."
Her final performance came on February 13, 2011, at the Cerritos Performing Arts Center in Southern California. Keely Smith and Louis Prima had two children, Toni Elizabeth Prima and Luanne Prima, both of whom survive their mother.
Philadelphia-based writer/musician Bruce Klauber offers this remembrance in a December 17 post on Facebook: "While she was superb with Prima, her Grammy Award-winning work as a soloist cemented per place in musical history as among the finest and purest, jazz-influenced singers of popular songs in musical history. Many of us in and out of the musical community were proud to have known Keely, worked with her and/or had the good fortune of hearing this marvelous artist in person. Like Tony Bennett today, Keely Smith sang beautiful songs beautifully. And that's the best that any singer, at any level, can hope for."