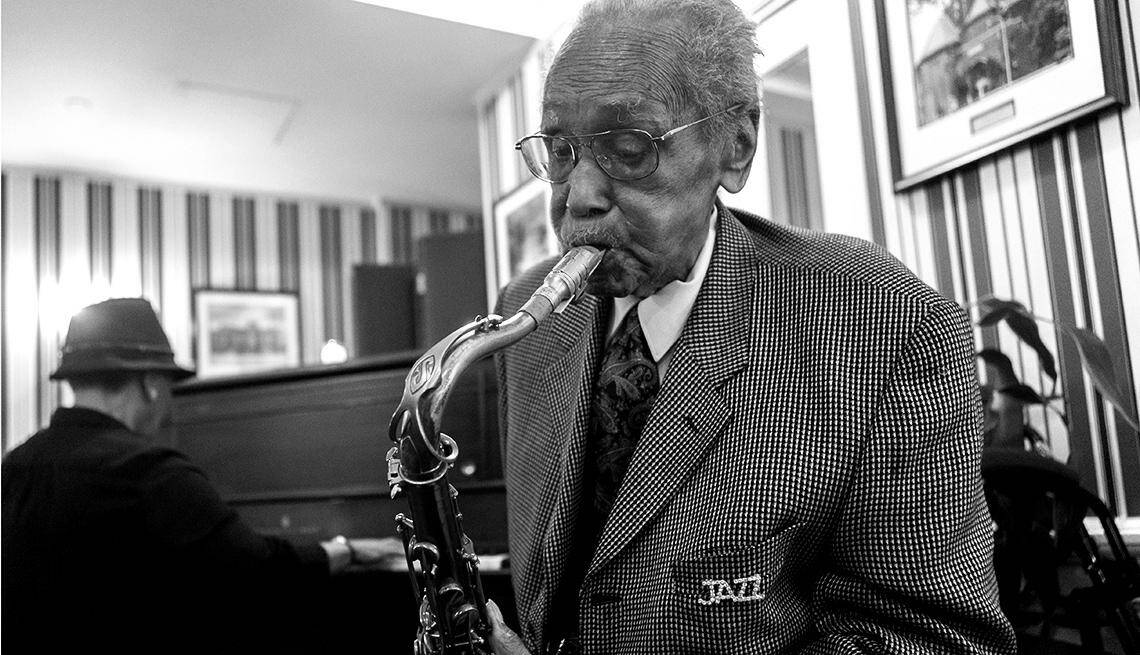 Jazz Jottings August 2017
What a Wonderful World
August 16 will mark the 50th anniversary of Louis Armstrong recording "What a Wonderful World," which became his best-loved song. The Louis Armstrong House Museum will have an exhibit that will run through October celebrating "50 Years of 'What a Wonderful World.'" The exhibit includes photos of Louis at the original session, his vocal part of the Tommy Goodman arrangement, a photo of Louis and producer/co-composer Bob Thiele, newspaper articles, magazine covers and much more, including the song's resurgence after being featured in the 1986 film, Good Morning, Vietnam.
The song meant a great deal to Louis, and he talks here about how every time he sang the song, he thought about his neighborhood in Corona, Queens: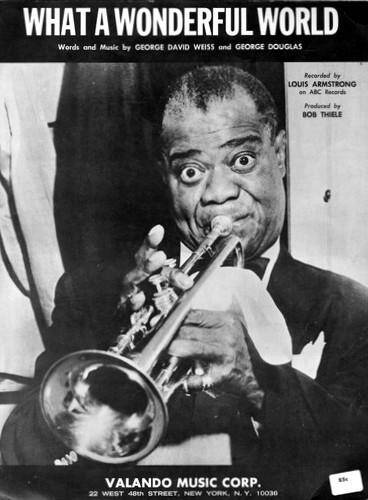 "There's so much in 'Wonderful World' that brings me back to my neighborhood where I live in Corona, New York. Lucille and I, ever since we're married, we've been right there in that block. Everybody keeps their little homes up like we do, and it's just like one big family. I saw three generations come up on that block. And they're all with their children, grandchildren, they come back to see Uncle Satchmo and Aunt Lucille.
"That's why I can say,'I hear babies cry / I watch them grow / they'll learn much more / than I'll never know.' And I can look at all them kids' faces. I got pictures of them when they was five, six and seven years old. So when they hand me this 'Wonderful World,' I didn't look no further. That was it. And the music with it. So you can see, from the expression, them people dug it. It is a wonderful world."
The orchestra that backed Louis on that recording included such notables as Clark Terry, Joe Wilder, Urbie Green, J.J. Johnson, Tyree Glenn, Hank Jones, Grady Tate, and Marty Napoleon.
♫ ♫ ♫ ♫ ♫
Louis Armstrong and his wife, Lucille, had two dogs, Trumpet and Trinket. When they start barking together, Armstrong wrote, "Oh, boy, what a duet."
♫ ♫ ♫ ♫ ♫
When Ricky Riccardi had to cull his list down to 20 essential Armstrong recordings, he admits he winced when he had to eliminate the following five tunes: "Beau Koo Jack" (1928), "Swing That Music" (1936), "A Kiss to Build a Dream On" (1951), "You Rascal You" (with Louis Jordan (1950), and "Hello, Dolly! (1964).
♫ ♫ ♫ ♫ ♫
Another interesting tune on the Riccardi list is "Ding Dong Daddy from Dumas." The obvious question is "Where's Dumas? and "Who wrote the tune?" Well, Dumas is a town known primarily for oil, farming and ranching in the Texas Panhandle, 50 miles north of Amarillo. It's named after Louis Dumas who developed the town back in the 1880s.
In the 1920s, a moderately-successful bandleader and songwriter named Phil Baxter spent a few weeks in Dumas before moving on to Kansas City, Missouri where his Texas Tommies were the house band at the El Torreon Ballroom from 1927 to 1933. He copyrighted "Ding Dong Daddy" in 1928, and it was recorded and popularized by Phil Harris when he was leading his band on the Jack Benny radio show.
♫ ♫ ♫ ♫ ♫
Does it surprise you that the car Ricky Riccardi drives has been tabbed "The Satchmobile."
The question came up as to whether Armstrong drove a car. Apparently he did, but his problem was speeding. There was an occasion when he was pulled over for exceeding the speed limit, and the policeman told him, "Mr. Armstrong, you certainly have a jazzy foot!" So he mostly left the driving to others, while his wife Lucille always had a new Cadillac.
♫ ♫ ♫ ♫ ♫
At the age of 102, Fred Staton may be the world's oldest working jazz musician, according to a recent feature article in The New York Times. His younger sister was jazz and blues vocalist Dakota Staton, who passed away in 2007 at the age of 76.
Born on Valentine's Day in 1915, Staton grew up in a poor family in Pittsburgh with no money for music lessons and no radio in the house. He began singing in a church choir and initially took up the drums, but found them frustrating to deal with when his bandmates dashed off to socialize. At one engagement, he picked up a tenor saxophone that had been left behind and decided he'd teach himself to play it. He became enamored with legendary saxophonists like Lester Young, Coleman Hawkins and Ben Webster and began leading jazz combos while always maintaining a day job. He moved to New York City in 1952. When the music became more modern, he stayed with the traditional swing style, which he still plays today, even while dealing with arthritic hands.
♫ ♫ ♫ ♫ ♫
Another old timer, Baker's Keyboard Lounge, located at 20510 Livernois Street in Detroit, claims to be the world's oldest continuous-operating jazz club, dating back to May 1934. Opened in 1933 as a lunchtime sandwich restaurant, it has been designated a Historic Site by the Michigan State Historic Preservation Office. Some of the musicians who have played the club include Ella Fitzgerald, Fats Waller, Gene Krupa, Miles Davis, Oscar Peterson, George Shearing, Sarah Vaughn, Joe Williams, Maynard Ferguson, Cab Calloway, Woody Herman, Modern Jazz Quartet and Nat "King" Cole. Baker's piano-shaped bar inspired Liberace to install his famous piano-shaped swimming pool at his home in Beverly Hills.
♫ ♫ ♫ ♫ ♫
Nonagenarian Tony Bennett has added to his list of awards when it was announced by the Library of Congress that he will receive the Gershwin Prize for Popular Song, an award that honors a living musical artist's lifetime achievements "in promoting the genre of song as a vehicle of cultural understanding; entertaining and informing audiences; and inspiring new generations." The award was especially meaningful to Bennett, saying, "I am proud that one of the earliest records I made was a song written by George and Ira Gershwin: 'Fascinatin' Rhythm.' Their songwriting mastery was so exceptional."
♫ ♫ ♫ ♫ ♫
The National Endowment for the Arts announced the 2018 NEA Jazz Masters Fellowship recipients—the nation's highest honor in jazz. Those selected are vocalist Dianne Reeves, pianist and composer JoAnne Bracken, guitarist and composer Pat Metheny, and club owner-producer Todd Barkan.
♫ ♫ ♫ ♫ ♫
A new website is available that is shaping up to be an invaluable resource for fans of New Orleans music history. A Closer Walk is a new project developed by radio station WWOZ (90.7FM) that catalogs nearly 80 landmarks connected to the city's music history from the past two centuries. The website's most useful feature is its lists of ready-made tours, complete with maps, itineraries and pertinent information.
♫ ♫ ♫ ♫ ♫
Vocalist Tierney Sutton has been appointed an associate professor of music in jazz studies at the Indiana University Jacobs School of Music. She has received a Best Jazz Vocal Album GRAMMY nomination for every project she has released in the past decade.
♫ ♫ ♫ ♫ ♫
Gathering dust in the archive of a collector, a box of master tapes that contained unreleased Thelonious Monk sessions intended for the soundtrack of the 1958 French art-house film Les Liaisons Dangereuses 1960 have been discovered and reissued by the founders of two French labels, Saga Music and Sam Records.
♫ ♫ ♫ ♫ ♫
The 9th annual conference of the Jazz Educators Network will be held January 3-6 at the Hyatt Regency in Dallas, Texas.
♫ ♫ ♫ ♫ ♫
How time flies! On January 31, 1940, the first Social Security check was issued . . . for $22.54.
---
This is what our print edition feels like. If you want good news to read with your morning coffee, order a print subscription. You'll get full online access to our archives, web extras, and our next issue will arrive at your door. Online only access to all of our original material is also available! Support Hot Jazz Journalism- Subscribe
---
Online Only
For Online Only Access without delivery of the print paper sign up below.
Subscription Options
---
Print Edition
 If you'd like the PRINT EDITION, (12 monthly issues) use the following PayPal link. After your payment is complete you will be allowed to create an online account. You will receive the next mailed copy, usually shipping around the 22nd of the month. See a PDF Sample Here.