Zhou Wanrong (center, standing), then 94, plays the maracas during a Shanghai Old Jazz Band performance at the Fairmont Peace Hotel in 2014. (photo courtesy Shanghai Daily; www.shine.cn)
---
Writing about the 60th anniversary of the Queen City Jazz Band got me to wondering where they ranked among the longest continuous-performing trad jazz bands that are still working. According to my unscientific research, the top honor goes to the Salty Dogs, who got their start on the campus of Purdue University in 1947.
Chet Jaeger began to use the Night Blooming Jazzmen name for his bands as early as 1952, but it wasn't official until 1975 when the group hit the festival circuit representing the Society for the Preservation of Dixieland Jazz.
It was in 1970 that a banjo-playing surgeon and a dentist who played the piano gathered a group of fellow professionals to play for a testimonial dinner in the San Francisco Bay area. The group became the Natural Gas Jazz Band a year later, and according to leader Dr. Phil Crumley "has been on life-support ever since."
Other familiar bands that have been around since the 1970s include: New Black Eagles, Uptown Lowdown, Fulton Street, High Sierra, Don Neely's Royal Society Jazz Orchestra, and High Society from San Diego. The early 1980s introduced us to the Cell Block 7, Scott Anthony's Golden Gate Rhythm Machine, Grand Dominion, Devil Mountain, Blue Street, and the Side Street Strutters.
The Grove Street Stumpers have been holding forth Monday nights at Arthur's Tavern in Greenwich Village since 1953. Allan Jaffe founded the Preservation Hall Jazz Band in 1963, and Vince Giordano organized the Nighthawks in 1975. Out in the Windy City, the Mike Smith Quarter has been a fixture at Andy's Club for the past 37 years.
This list is hardly all-inclusive, but will recall some of our favorites who have entertained us over the years.
♫ ♫ ♫ ♫ ♫
There is a jazz band in Shanghai, China, whose members average 82 years in age that the Guinness World Records once identified as "the oldest jazz band on the planet." Playing nightly at the Fairmont Peace Hotel in the historic Bund section of the city, their ages range from a youthful 63 to the senior member, a 97-year-old trumpeter.
Shanghai was a hard-partying city back in the 1930s, and the hotel bar became known as a jazz haven. But World War II, the 1949 Communist takeover and the 1966-76 Cultural Revolution made playing or even listening to jazz a dangerous activity.
As China has become a more open society in recent years, there has been an influx of Western jazz. The Old Jazz Band has been a fixture at the Fairmont since 1980 where it performs 365 nights a year, playing what it calls "soft jazz with a Shanghainese flavor."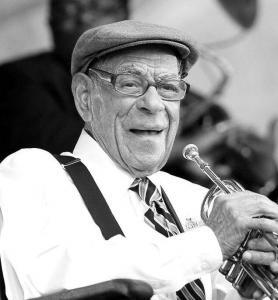 ♫ ♫ ♫ ♫ ♫
Continuing our review of long-tenured musicians, Lionel Ferbos, who passed away in 2014 at the age of 103, was considered the oldest working New Orleans musician in modern times. Born July 17, 1911 in the downtown Creole section of the city, he was inspired to play music when he heard the trumpet sound in an all-girl band. He started playing New Orleans-style jazz and popular dance music at house parties and restaurant and then went on a tour of the South.
Back in New Orleans in the early 1930s, he was in a WPA band, became a sheet metal worker and had a long tenure with the New Orleans Ragtime Orchestra. He made several recordings and appeared in two feature films. His home was flooded and severely damaged by Hurricane Katrina, and most of his possessions were lost. Up until recent years, he could still be heard one night a week at the Palm Court Jazz Café where he was a fixture for 15 years.
At the time of his passing, fellow trumpeter Irvin Mayfield said, "There was nothing more beautiful than to watch a man in his 90s, and then at 100, and then 101, saying that he had to practice. Mr. Ferbos captured the sound of all those legends we talk about. When we hear his trumpet, we hear the sounds of Jelly Roll Morton, Kid Ory, King Oliver, Louis Armstrong, and Buddy Bolden."
Known for his ability to blend into an ensemble and play the intricate harmonic parts that give New Orleans jazz its special flavor, Lionel Ferbos once told a newspaper reporter, "I don't know modern jazz. I just hope I make the right notes. You see, I'm a melody man."
♫ ♫ ♫ ♫ ♫
Another interesting story from New Orleans concerns the Preservation Hall Jazz Band and Ben Jaffe's sousaphone that was stolen out of his car earlier this year, but fortunately was recovered a month later. His horn is a rare Italian-made instrument that has the words "Preservation Hall, New Orleans" imprinted on the bell. "Stealing an instrument in New Orleans is like removing a statue from a church," Jaffe declared. "It's a lifeblood and a livelihood."
Details of how the iconic tuba was recovered remain vague. No questions were asked; Jaffe just wanted his 38-pound instrument back. The piston-like valves used to change notes were bent, plus a few dents, and required repairs costing around $2,000.
Actually, the theft of tubas is not all that unique. Schools and music stores have occasionally reported the disappearance of this massive brass instrument. The theory is that some may end up in Mexico, where banda music—which features the tuba—is popular; some may be melted down for the metal; and some may end up on the Black Market since a new tuba can cost anywhere between $3,500 and $8,000.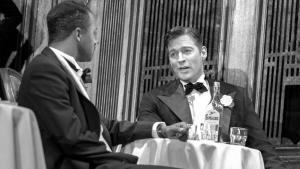 ♫ ♫ ♫ ♫ ♫
Harry Connick, Jr., is staring in a musical adaptation of the Academy Award-winning film, The Sting. Set in 1936 Chicago where "the blues reigned, the stakes were high, and the dice were always loaded," the show had its pre-Broadway run at the Pepper Mill Playhouse in Milburn, New Jersey in April and is headed for Broadway once a suitable theater becomes available. Connick plays big-time hustler Henry Gondorff, a role that Paul Newman had in the 1973 film.
♫ ♫ ♫ ♫ ♫
Katie Cavera has been hired as a Disney cast member to be part of a new band called the Pixarmonic Orchestra that performs hits from Disney/Pixar movies at the Paradise Gardens bandstand in the Disneyland California Adventure theme park. Many of their numbers are done in a style reminiscent of Spike Jones and his City Sticker, replete with cowbells, kazoos, duck calls, sirens and slide whistles.
Pixar movies have won 32 Academy Awards and have grossed more than $11 billion at the worldwide box office to date.
♫ ♫ ♫ ♫ ♫
The larger-than-expected turnout for the Celebration of Wesla Whitfield's life on April 29 necessitated a move to a larger hall in St. Helena, California. The iconic singer succumbed to cancer on February 9 at the age of 70.
♫ ♫ ♫ ♫ ♫
Among the credits listed on the sleeve of B.A.D. Rhythm's 2016 Phloughee CD was the following: "Andy Reiss uses LaBella strings, Little Walter Tube Amps, and the fabulous V picks. Brian Holland uses whatever piano is available (in this case, a very nice Yamaha C7). Danny Coots uses the bathroom at least 10 times during a recording session."
The recording is loaded with a potpourri of jazz styles: R&B, Funk, Swing, Stride, Blues, Boogie, 2nd Line, Latin, Lindy Hop, and Ragtime—all in just 16 tunes.
♫ ♫ ♫ ♫ ♫
"Excellence is the gradual result of always striving to do better." – Pat Riley
---
This is what our print edition feels like. If you want good news to read with your morning coffee, order a subscription ($30 for 12 monthly issues). You'll get full online access to our archives, web extras, and our next issue will arrive at your door. Online only access is available for only $20 a year! Support Hot Jazz Journalism- Subscribe
Subscription Options
---
Or get the Print Edition with Online Access. To get the print edition of The Syncopated Times use this Paypal link. After you pay you will be issued a coupon for free online access.