CORRECTION OF AN OVERSIGHT
In my review of the Hep CD The Unheard Artie Shaw (which is in the January issue), I neglected to mention the name of James Langton. The project, which features Dan Levinson on clarinet along with the New York All Star Big Band, was James Langton's dream. It utilizes his band, he edited the arrangements, and he put quite a lot of work into the rewarding project. If you love swing, be sure to pick up a copy!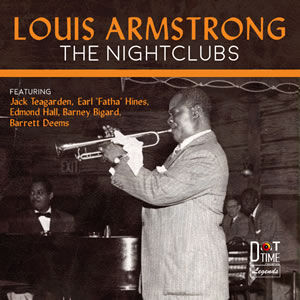 "NEW" LOUIS ARMSTRONG, VOL. 2
In 1950, Louis Armstrong acquired his first reel to reel tape recorder. During the next 20 years, he often recorded his own band's performances which helped him to plan his repertoire and the pacing of his shows. The invaluable tapes are part of the research collection of the Louis Armstrong House Museum. Arrangements have been made by the Dot Time label to release four CDs from the tapes. Volume 2 is called The Nightclubs.
Five different overlapping versions of the Louis Armstrong All-Stars are heard from on selections taken from 1950-58. The recording quality is listenable if not impeccable. The set begins with heated versions of "Royal Garden Blues" and "My Monday Date" from the 1950 band with Jack Teagarden, Barney Bigard, and Earl Hines. The next three numbers are by a transition group in 1952 (with Russ Phillips temporarily on trombone), performing before an audience that includes Billie Holiday who Armstrong mentions in his comments. A radio announcer unfortunately talks during the first part of an otherwise magnificent version of "West End Blues." 1953's "New Orleans Function" (Armstrong's impressions of a New Orleans funeral) reminds one how skilled a drummer Cozy Cole always was. A stretched-out "Muskrat Ramble" is the highpoint of a 1955 broadcast with Bigard and Trummy Young. The last six numbers, from the 1958 band with Young and Edmond Hall, include "Struttin' With Some Barbecue," a still-funny "That's My Desire," and a medley of "Tin Roof Blues" and "When The Saints Go Marching In" that should have been utilized by Satch more often.
Louis Armstrong truly loved performing and tended to sound inspired nearly every time he played before an audience. His playing and singing throughout The Nightclubs is a constant delight.
The Nightclubs (Dot Time DT 8008, 16 selections, TT = 65:24) www.dottimerecords.com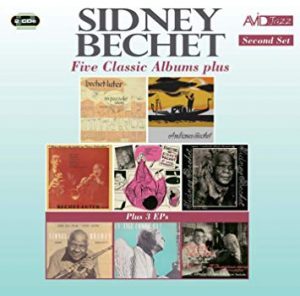 SIDNEY BECHET IN THE 1950s
The great New Orleans soprano-saxophonist and clarinetist Sidney Bechet was 52 when he went to Paris in 1949 to perform at a jazz festival. The reception greeting him was so overwhelming that he soon decided to move permanently to France for what would be his final decade. While he was treasured by many American jazz fans, he was otherwise unknown in the U.S. In contrast, France treated him like a hero and a matinee idol.
Bechet's French recordings are generally lesser known than his earlier performances. He usually used bands that were filled with fine ensemble players who could take decent solos while staying out of the way and letting the spotlight shine on Bechet. The two-CD set Five Classic Albums Plus 3 – Second Set from the British Avid label has the music from no less than five LPs plus three EPs. Dating from 1952-55, Bechet is heard with bands led by clarinetists Claude Luter and Andre Reweliotty. There is a great deal of joyful music on this twofer which includes many of Bechet's original compositions. Highlights include the original version of "Si Tu Vois Ma Mere" (the haunting theme heard throughout Woody Allen's Midnight In Paris), "Dans Les Rues d'Antibes," "Ghost Of The Blues," the hit "Petite Fleur," a "Show Boat Medley," "When I Grow Too Old to Dream," and two medleys of Bechet songs. Some of the music was formerly rare and all of it is rewarding, showing that Sidney Bechet deserved the acclaim that he received in France.
Five Classic Albums Plus (Avid AMSC 1278, 48 selections, TT = 2:37:05) www.avidgroup.co.uk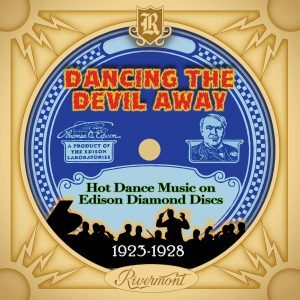 DANCING THE DEVIL AWAY
Thomas Edison, a genius on so many levels, had the reputation of having poor taste in music. He may have invented the phonograph but his reactionary taste in music (described by Mark Berresford as "rather akin to that of a nineteenth-century rural Sunday School teacher") and his deafness kept him from taking a liking to that new-fangled jazz music.
Despite that, his Edison label recorded a surprising number of worthy jazz sides from mid-1923 until the company's demise in 1929. Dancing The Devil Away (a Rivermont release that is subtitled "Hot Dance Music on Edison Diamond Discs 1923-1928") is comprised of 21 generally hot jazz selections. Programmed in chronological order, the set list offers rarities from Charlie Kerr, Ernest Stevens, Polla's Clover Garden Orchestra, Sam Lanin, Ernie Gordon, Donald Lindley, the California Ramblers, Don Voorhees, Al Lynn's Music Masters, Duke Yellman, and Phil Napoleon. The musicianship of these groups is top-notch with such notables as cornetists Leo McConville and Red Nichols, trombonists Abe Lincoln and Miff Mole, bass-saxophonist Adrian Rollini, guitarist Eddie Lang, and drummer Vic Berton making appearances along with many unknown players. Most unusual are trumpeter Donald Lindley's two entirely written-out duets with pianist Arthur Schutt: "Hot On A Summer's Day" and "Trumpet Blues."
Whether it is obscure versions of "Tiger Rag," "Clarinet Marmalade," and "Symphonic Raps," a delightful rendition of "When The Red, Red, Robin Comes Bob, Bob, Bobbin' Along" or a number called "Just A Little Thing Called Rhythm," Dancing The Devil Away is a highly enjoyable set of infectious 1920s hot dance music. A special bonus is Rivermont's typically thorough and colorful 32 page-booklet featuring Mark Berresford's extensive and very informative liner notes. This is a classy collection on all levels.
Dancing The Devil Away (Rivermont BSW-1166, 21 selections, TT = 79:37) www.rivermontrecords.com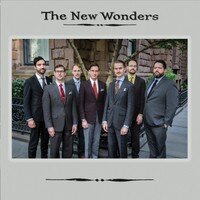 MIKE DAVIS AND THE NEW WONDERS
Mike Davis is one of the bright new voices in classic jazz. The 25-year old New York-based cornetist has forged his own musical path by sticking steadfastly to 1920s and early '30s jazz rather than feeling compelled to follow his former classmates into more modern jazz styles. He said in a note to me that he hopes to sound like Red Nichols, Chelsea Quealey, Bill Moore, and, most of all, Bix Beiderbecke. He does at times hint at all of them on his recent CD The New Wonders (named after his septet). Fortunately, Davis also sounds like himself much of the time, as if he were part of the 1920s scene next to his musical heroes. Based on this recording, he would have held his own with Nichols and Leo McConville if not Bix.
The New Wonders also includes Ricky Alexander on clarinet and alto, trombonist Joe McDonough, pianist Dalton Ridenhour, banjoist Jared Engel, bass saxophonist Jay Rattman and drummer Jay Lepley. Remember those names because each of them has the potential to be important forces in classic jazz of the next couple of decades. They have the 1920s styles down pat, display high musicianship, and show plenty of enthusiasm and creativity within the idiom. Four of the musicians (including Davis) also sing very much in the period style and sometimes as part of a Rhythm Boys-type vocal group.
Other than "She's Funny That Way," none of the songs on this CD would be considered standards. But anyone interested in 1920s jazz will enjoy hearing these versions of such obscurities as "Flamin' Mamie," "I'm More Than Satisfied," "I'd Rather Cry Over You," "Persian Rug," and "Clorinda." The concise solos are hot, the arrangements by the leader (some adapted from recordings, others not) are definitive for each song, and the New Wonders has a classic sound of its own.
All in all, this is a very impressive effort by Mike Davis and his musicians, one that is highly recommended.
The New Wonders (Self-Released, 15 selections, TT = 47:42) store.cdbaby.com/cd/thenewwonders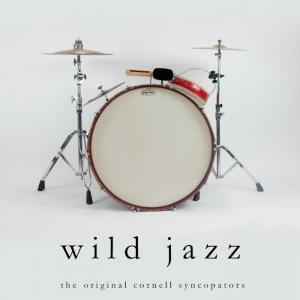 THE ORIGINAL CORNELL SYNCOPATORS
Imagine if youth bands in high schools and colleges, instead of playing modern big band music inspired by Stan Kenton, chose to concentrate on 1920s arrangements. Wild Jazz is how the better ones would sound.
The 12-piece Original Cornell Syncopators is comprised of students from Cornell University. Led and directed by cornetist-clarinetist-arranger Colin Hancock, the band plays consistently ambitious pieces from the 1920s including Bennie Moten's "18th Street Strut," Fud Livingston's "Imagination," and "She's Crying For Me Blues." It is fair to say that not too many college bands have those songs in their repertoire.
The musicianship in the band covers a wide range. Some of the performances with the entire group are hindered by the bass drum and the tuba very loudly emphasizing the beat on the one and three. Best are small group performances that allow the fine trumpeter to hint at Bix ("The Co-Ed") or Nick La Rocca (in an ODJB version of "Indiana"). The trombone soloist is good, too—as are some of the reeds.
It is great to hear a college band playing these songs. Hopefully, as the Cornell Syncopators evolve, other college programs will start to give their students opportunities to play early jazz.
Wild Jazz (Electric Buffalo Records, 17 selections, TT = approx. 55:00) electricbuffalorecords. bandcamp.com/releases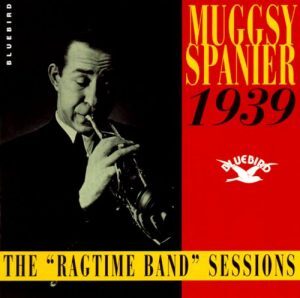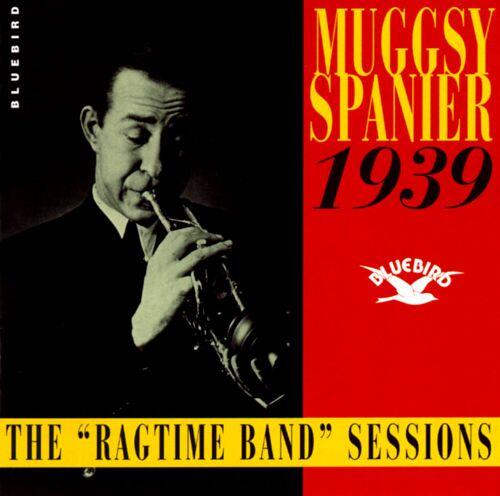 JAZZ CLASSIC OF THE MONTH
Muggsy Spanier loved to perform New Orleans and early jazz songs. The cornetist considered King Oliver and Louis Armstrong his musical heroes but he had his own distinctive sound and driving style. While he was featured on some exciting freewheeling sessions in the 1920s, in the 1930s Spanier spent a long period with Ted Lewis and a few months with Ben Pollack's swing band. In 1939 he was determined to play the music he most loved. He formed his "Ragtime Band," an octet that performed hot jazz rather than ragtime. They gained critical success with their recordings which were later dubbed "The Great 16." But due to the individual popularity of some of the sidemen (who soon were offered more lucrative jobs with other bands) and the inclusion of some heavy drinkers, the group only lasted a few months before breaking up. It came a little too early for the Dixieland revival movement.
The 1995 Bluebird CD, simply called The Ragtime Band Sessions, has all of the music by the Ragtimers including, for the first time, the inclusion of all eight alternate takes. The four-horn, four-rhythm band included such sidemen as trombonist George Brunies, clarinetist Rod Cless, three different tenor-saxophonists, and either George Zack or Joe Bushkin on piano. Among the classic performances are famous versions of "Big Butter And Egg Man," "I Wish I Could Shimmy Like My Sister Kate" (with Brunies' vocal), "Relaxin' At The Touro," and "Mandy Make Up Your Mind."
It is ironic that many of these recordings were released shortly after Spanier's band broke up, receiving high praise while he temporarily went back to being a sideman. While the Bluebird set (which has excellent liner notes) may be hard to find, these memorable sessions have since been reissued by European labels.
In any format, one should consider "The Great 24" (counting the alternates) to be a must.
The Ragtime Band Sessions (Bluebird 07863-66550, 24 selections, TT = approx. 67:11) www.amazon.com
---
In every issue of the Syncopated Times, this monthly column features reviews of CDs by classic jazz, 1920s and '30s, New Orleans Jazz, Swing and Dixieland artists, covering both vintage greats and some of today's top musicians. Be sure to send a copy of your CDs to Scott Yanow, P.O. Box 1220, Lake Hughes, CA 93532 if you wish to have your recordings reviewed. If you are a musician and need liner notes, bios or press releases, feel free to drop me a line at scottyanowjazz@yahoo.com.
---
This is what our print edition feels like. If you want good news to read with your morning coffee, order a print subscription. You'll get full online access to our archives, web extras, and our next issue will arrive at your door. Online only access to all of our original material is also available! Support Hot Jazz Journalism- Subscribe
Subscription Options
---
Or get the Print Edition with Online Access. To get the print edition of The Syncopated Times use this Paypal link. After you pay you will be issued a coupon for free online access.