Andy Schumm and his Sink-O-Pators
Futuristic Rhythms: Imagining the Later Bix Beiderbecke
Rivermont BSW-2244 (2018)
www.RivermontRecords.com
Andy Schumm has made a name for himself in the last decade as the leading cornet player in the style of Bix Beiderbecke: a true standout in a crowded field. Futuristic Rhythms: Imagining the Later Bix Beiderbecke is his third album taking on the role of Bix himself.
Schumm led the Lake Records release of Bix: Off The Record (LACD339 2015) which featured tunes Bix was known to have played but never recorded. He followed that up with When Louis Met Bix (LACD345 2016) where he as Bix and Enrico Tomasso, in the role of Louis Armstrong, imagined not so much a foggy riverside meeting as a series of professional engagements featuring both legends.
In Futuristic Rhythms, he takes it further, exploring what might have been recorded had Bix lived past 1931. Such an exercise is in part a guessing game for scholars of the life and legend: who would he have worked with? What songs would he have been drawn to? Would he have developed with the times? The reasoning behind each track on the album is explained in the extensive liner notes written by Julio Schwarz Andrade. Several are obscure compositions from the 20's that Bix might have been attracted to later. "Rain," composed by Eugene Ford in 1927 is given a gorgeous softness. The standout track on the album, "The Things That Were Made for Love," features a guitar, cornet, and piano chorus at the pinnacle of the sweet music of the era.
Other tracks seem to have been included to imagine specific pairings. "I Never Knew" has Bix with Benny Goodman on a particularly hot night with room for a Clarinet solo by Ewan Bleach, a star of the London early jazz scene and features a drum break by another Londoner, Nicholas D. Ball, a master of period percussion from the ragtime era onward. The band is equally uptempo when Bix meets Basie and perhaps a good Bixian solo is what the tune was missing for me because while I typically find "Moten Swing" underwhelming this fine band really pumps it. Hoagy Carmichael's beautiful "Memphis in June" allows guitarist Martin Wheatley to pay tribute to Eddie Lang. Martin's son, Tom Wheatley, impresses on bass throughout the album. Still in his 20s, he can be found both playing slap bass in trad bands and producing highly avant-garde music of his own. The latest the album ventures is to 1948 and Cole Porter's "Why Can't You Behave?" which receives a crisp and believable rendition.
Which leaves us with Andy Schumm himself, who steeped as he is in Bix's style of playing makes the presentation of the chosen tracks musically viable with no more—and no less—Bix than you would have expected to hear on real period recordings. Unnecessary ventures into Bix Bop are avoided and avid fans of Bix, as well as fans of the smaller bands of the swing era, will be pleased with this album.
Shake 'Em Up Jazz Band
le Donne Mangiano Zucchero (2017)
A Woman's Place (2018)
shakeemup.bandcamp.com View and Share this review as a single post.
I recently read a column Tex Wyndham wrote for our predecessor paper The West Coast Rag back in 1990 lamenting the lack of female instrumentalists playing traditional jazz and speculating that the number of active trad musicians could be nearly doubled if women were encouraged to join the band rather than stand in front of it. He noted it wasn't a problem unique to jazz; rock and popular music had the same gender disparity. While the situation hasn't improved any in rock music I'm happy to report that the younger trad bands are rapidly integrating across the gender line. A wave of female performers have become the star instrumentalists of their bands.
Chloe Feoranzo has led and played with great trad groups in the last few years and taken her clarinet on tour with Pokey Lafarge and Postmodern Jukebox before finally landing in New Orleans. Haruka Kikuchi, originally from Japan, wowed the West Coast festivals before bringing her Kid Ory inspired trombone playing to the Crescent City—and it doesn't seem like they'll let her leave. Molly Reeves has been a mainstay of the Frenchman Street music scene, in demand for her guitar playing as much as her vocals. Marla Dixon leads the stellar Shotgun Jazz Band with her trumpet playing. Julie Schexnayder is a veteran of the venerable New Orleans street musicians cohort the Loose Marbles, first as a dancer and then on stand up bass. Defne "Dizzy" Incirlioglu is a stunningly interpretive washboard player who was a member of the Yes, Ma'am band and can be seen with other groups fortunate enough to have her making rhythm.
Though several of these women are fine singers the reason they are all so in demand is their instrumental skill, and now we can hear them play together as The Shake 'Em Up Jazz Band. Originally organized by Shaye Cohn, of Tuba Skinny, for a one-time event, the concept of a New Orleans all-female super group was so compelling that requests from festivals started pouring in. They now play regularly around New Orleans and released their first album le Donne Mangiano Zucchero in June of 2017.
I discovered this group from a YouTube video of a brilliant performance at the Abita Springs Opry and must admit that when I first heard the album I was disappointed. It felt too constrained by the studio. These are musicians with extensive street and stage experience and though the playing was individually fantastic I felt it lacked some of the camaraderie of the live show where the mutual admiration between them shines through.
On repeated listening, I realized I had been far too harsh. The album is crisp, well thought out and well produced by Molly Reeves, the guitarist. They are taking the time to get it right in the studio and people frustrated by shaky video and off balance sound on YouTube will be grateful for their efforts. It opens hot with "Washboard Wiggles" giving Dizzy a chance to shine. "Shame and Scandal in the Family" is a clever calypso-inspired number and the female vocal on "Make Me a Pallet on Your Floor" satisfies. They play the song with the slow sultry swing of a New Orleans summer, with inspired solos and some fresh lyrics that give it a contemporary flavor.
I have no reservations at all about their second album, released this March. The band has cohered immensely in a year. This is top notch studio work from the first roaring note.
A Woman's Place pays tribute to female composers between 1910-1930 with 12 great selections you may not have known were written or arranged by women. It's a much more creative album for having a theme and diverts them from the entertainingly hot playing ubiquitous in New Orleans. The harmonized vocals on the Boswell Sisters original "Putting it On" are layered and lovely. "In The Gloaming," the oldest song on the record, is a vehicle for thoughtful playing on trumpet and guitar; the effect is truly timeless. There is a Hawaiian feel to Lil Hardin's composition "My Heart." "Last Kind Word Blues," taken from Geeshie Wiley, a nearly anonymous woman on an ultra rare Paramount 78 rpm record, has a captivating darkness made darker by the addition for this track of Albanie Falletta on resonator guitar. "Skid-dat-de-dat," "Dusty Rag," and "Charleston Mad" are nicely done acoustic numbers and to quote a guy on YouTube, "Chloe Feoranzo owns the Sugar Blues." The album is named for Vivien Garry's composition "A Woman's Place is in the Groove." Garry had an all-female group in the '40s and there were others before and since but we have something truly special now with The Shake 'Em Up Jazz Band and it's a great sign for the future of traditional jazz.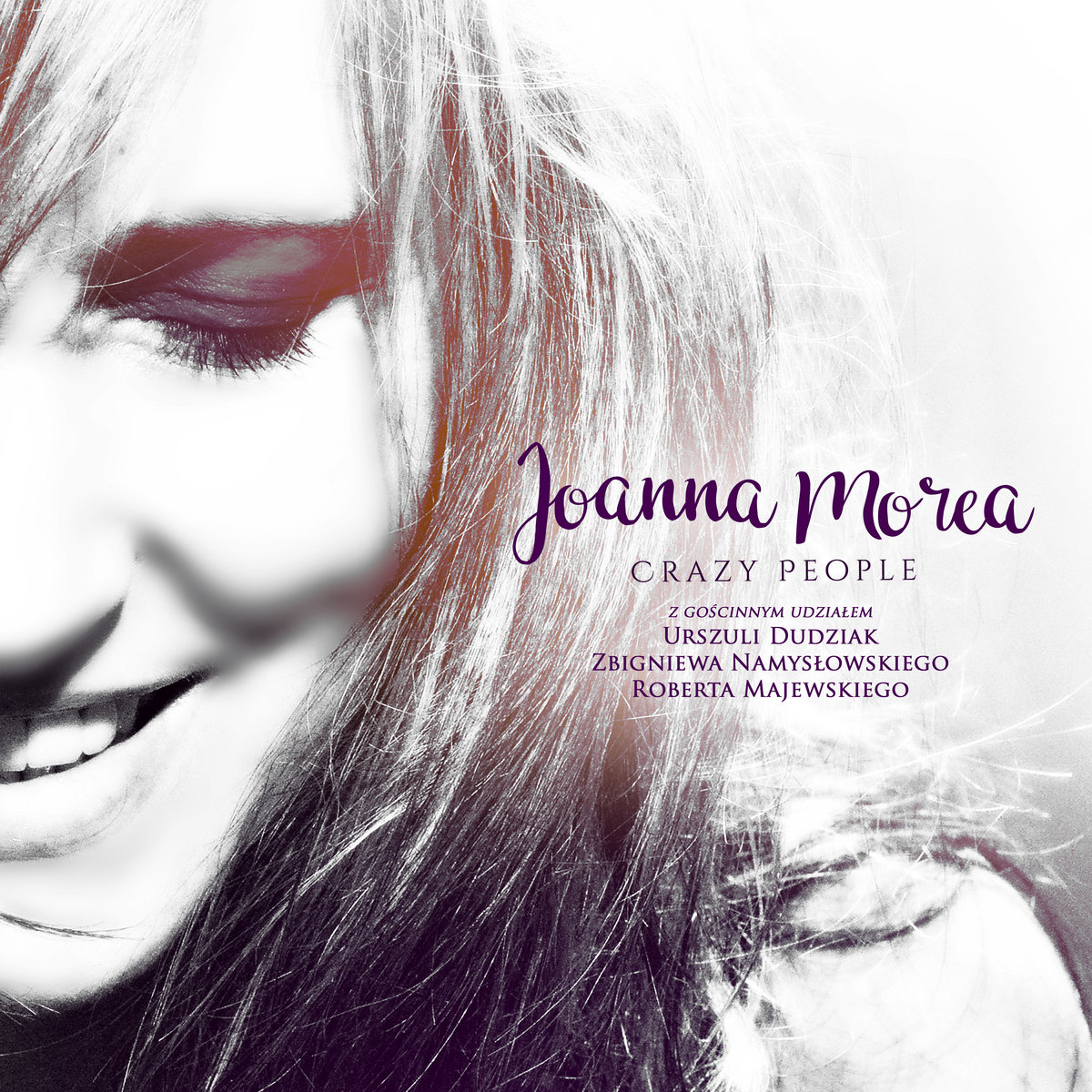 Joanna Morea
Crazy People – English version (2017)
pronetrecords.bandcamp.com/album/joanna-morea-crazy-people
Eastern Europe, and Poland in particular are crazy about jazz. Joanna Morea, a Polish singer and instrumentalist, is publicly recognizable in a way that just wouldn't happen in America. Not a pop star by any means but she is visible on TV and can be heard hosting a jazz radio program. She made an album for pregnant women, a coloring book for children, and has meanwhile joined numerous jazz musicians on stage including visiting Americans recognizable to our readers. She has recorded with the Mark Shepherd Swing Quartet and led her own Swinging Boys.
Her new album, Crazy People, consists of new music and lyrics she has composed as well as a few creative choices from the '30s canon, including the title track and the humorously risque treasure "Was I Drunk?" It was first released in Polish with the five vintage tunes sung in English. Her Polish originals have now been translated and an English version of the album is on offer. Two of twelve tracks remain in Polish and I for one don't mind a bit. Listening to a foreign artist sing in English always involves a period of acclimation to the accent, the Polish tracks fall naturally on the ears. In an interesting essay on her website, she discusses a translation process that involved new songs for the same tunes.
The album consists of upbeat small group swing or mainstream jazz. Her well-timed vocals are interspersed with her enjoyable solos on saxophone and flute. The flute adds a high flying Artie Shaw feel. The band varies from four to seven members assembled for the studio session all of whom are veterans of the Polish jazz scene. The jam on "Tropical Paradise" is particularly good but my album favorite was the Latin-inspired "Jazzowe Nutki"—which translates as "Jazz Notes."
Allan Vaché
It Might As Well Be Swing
Arbor Records ARCD 19461 (2018)
arborsrecords.com
Allan Vaché is a veteran of the Jim Cullum Jazz Band and appeared for years on the Riverwalk Jazz radio show. He is known for a clarinet style reminiscent of a young Benny Goodman. His professional career stretches back to the early '70s and he has released or appeared on scores of albums on labels such as Jazzology, Audiophile, and the German-based Nagel-Heyer.
It Might As Well Be Swing is his fifth album with Arbor Records. Having made several for Arbor already featuring larger groups he decided to record this album of swing standards with a tight quartet. He brought in musicians he regularly works with near his South Florida home base. Mike McKee on piano, Charlie Silva on bass, and Walt Hubbard on drums. He set two tracks for three clarinets and brought in his wife Vanessa Vaché, an accomplished clarinetist in her own right, and a former student Erin Davis-Guiles to give "Air Mail Special" and "Poor Butterfly" that added oomph.
The small group allows a lot of action for each member. Instrumental jams on ten classics including "Cheek to Cheek," "Out of Nowhere," and "Do Nothin' 'til You Hear From Me" produce a smooth, mellow swing that holds throughout the album. The third track, "Time After Time," is my takeaway cut. It displays Vaché's clarinet to full effect while setting the mood for what is to come.
---
Please, don't send me any CDs. I'm wonderfully overwhelmed with excellent albums to review farther into the future than I want to contemplate…  I will except download codes for our Bandcamp page. You get some visibility there, and I get to enjoy your music in the car.
---
This is what our print edition feels like. If you want good news to read with your morning coffee, order a subscription ($30 for 12 monthly issues). You'll get full online access to our archives, web extras, and our next issue will arrive at your door. Online only access is available for only $20 a year! Support Hot Jazz Journalism- Subscribe
Subscription Options
---
Or get the Print Edition with Online Access. To get the print edition of The Syncopated Times use this Paypal link. After you pay you will be issued a coupon for free online access.