Lovely weather and lots of music greeted us in New Orleans for what is often considered the "wedding" month. Many postponed nuptials and their attendants were booked at the French Quarter hotels, the St. Louis Cathedral and various restaurants with several parades each weekend. Typically the second-line parade forms after the vows have been said and happy guests trail behind the brass band and the bride and groom on their way to the reception venue. All onlookers are encouraged to wave and throw "wishes" to the couple on their very special day!
Although both the French Quarter Fest and the Jazz & Heritage Festival were cancelled (again) and postponed to April, we decided to visit anyway along with some other fest-going friends that couldn't wait until spring.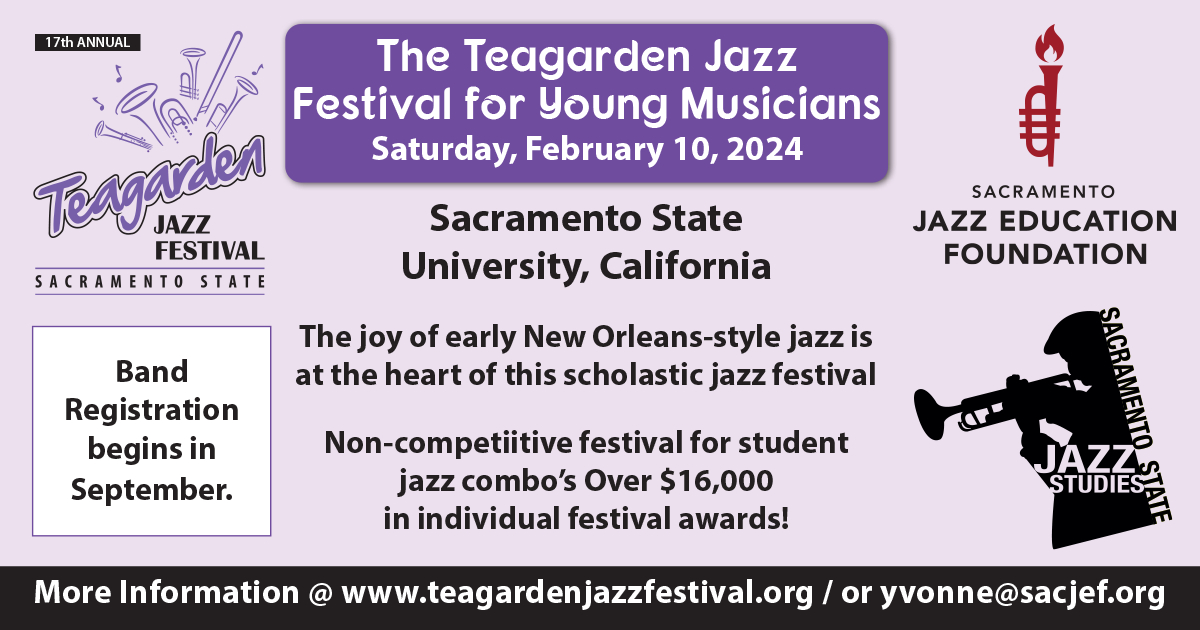 We headed straight to the newest club for traditional jazz—Mahogany Jazz Hall—which opened this past July 1st. Owners Kate Wimmer Fulton and Jun Yoshizaki have created a space not only for traditional New Orleans jazz but burlesque, pre-Prohibition craft cocktails, and absinthe! The clever burlesque is performed on Friday and Saturday nights and the craft cocktails include The Proprietress with mezcal, lemon, and two liqueurs or a Death In The Afternoon with absinthe and sparkling wine. Or try a Bee's Knees with gin, lemon, and honey. No matter what you imbibe, you will enjoy the great line-up of musicians every night.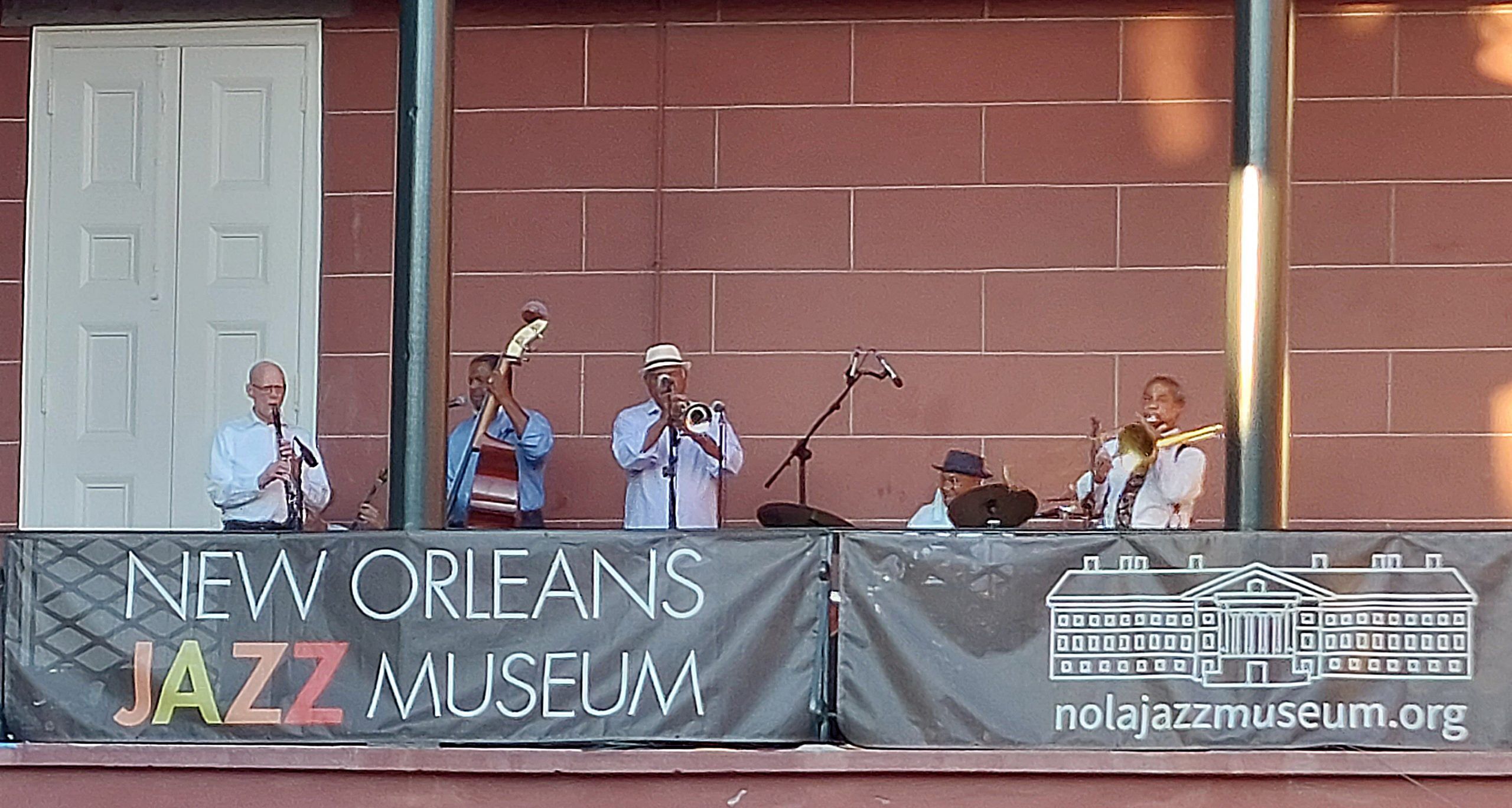 Over the next two weeks, we saw Mark Braud (tp), Megan Swartz (p), Mark Brooks (bs), Doug Belote (dr), Kevin Louis (tp, flgl), Tom Fischer (cl), Gerald French (dr), Joe Kennedy (p) and Chris Sharkey (bs).
Palm Court Jazz Café finally opened after these past 19 months and what a thrill to be back at this wonderful establishment! Owner Nina Buck not only battled Hurricane Ida after her European trip but managed to "break a leg"—hip, actually, but was very much on the mend during our visit. She is a very attentive hostess and thoroughly enjoys the music and atmosphere of her club.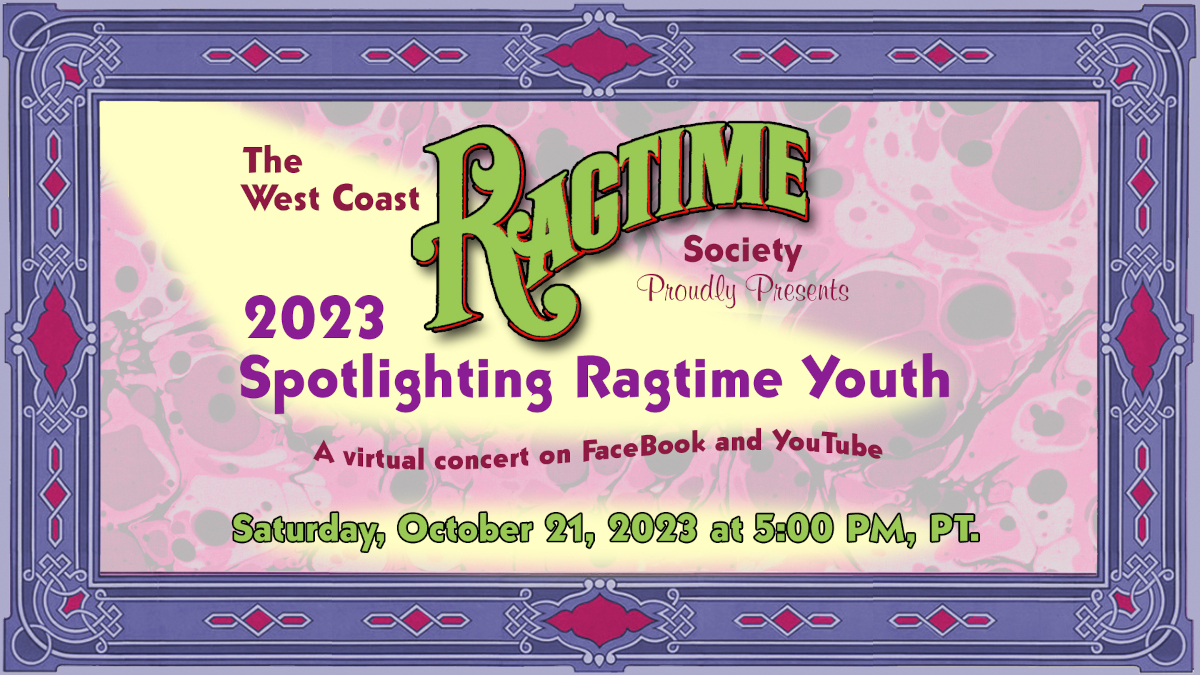 The dozens of musicians included Gregg Stafford (tp), Mitchell Player (bs), Steve Pistorius (p), Shannon Powell (dr), Robert Harris (tb), James Evans (reeds), Leroy Jones (tp), Katya Toivola (tb), Louis Ford (cl), Cori Walters (dr), Nobu Ozaki (bs), Meghan Swartz (p), Mark Braud (tp), Benny Amon (dr), Bruce Brackman (cl), Mari Watanabe (p), Kevin Louis (tp, flgl), James Singleton (bs), Ronell Johnson (tb), Will Smith (tp), Kerry Lewis (bs), Freddie Lonzo (tb), Jamil Sharif (tp), Charlie Halloran (tb), Craig Klein (tb), Tim Laughlin (cl), Duke Heitger (tp), Pete Siers (dr), Ed Wise (bs), David Boeddinghaus (p), Matt Rhody (vln), and Craig Klein (tb). Hunter Bergamy (bj), Saturo Ohashi (tb,tp), and newcomer Caleb Nelson (tp) sat in for a number.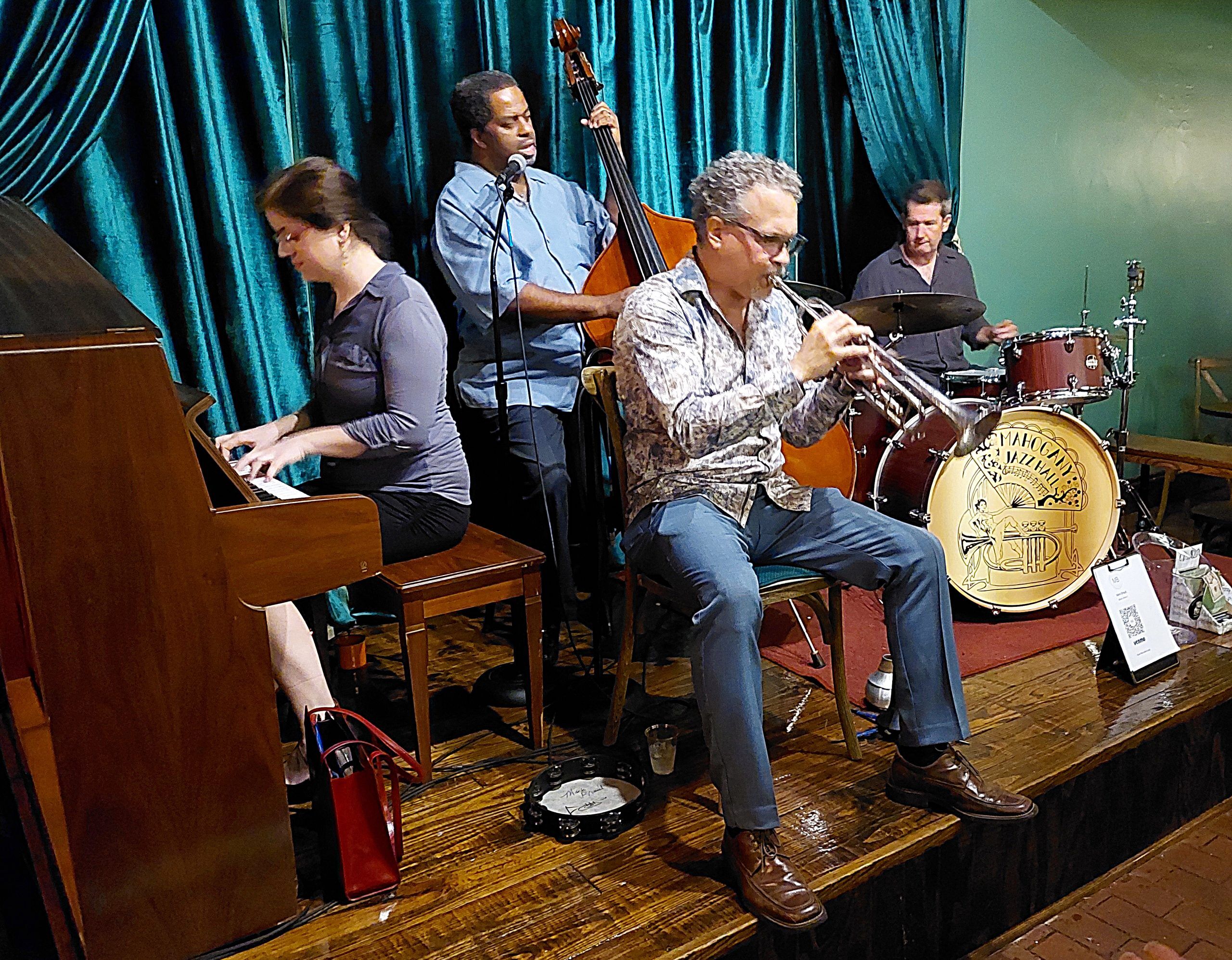 Vocalist Topsy Chapman had her two daughters with her one evening so the "Solid Harmony" trio included Yolanda Robinson and Jolynda Chapman—it was just like Fest! All these fine artists were more than welcoming and expressed their extreme pleasure at being able to perform before a very live and attentive audience. Their smiles were genuine and sincere as was our delight in enjoying their performances.
The "grandfather" of the Frenchmen Street clubs—Snug Harbor—is back with weekend music and we were able to obtain tickets for an evening with Michael White (cl), Gregg Stafford (tp), Kerry Lewis (bs) and Detroit Brooks (gtr). This classic venue with no yakkers, phones, or photographs allowed is very devoted to providing a professional atmosphere with small tables and seating near the stage or up in the balcony. Artist Emilie Rhys attended the concert and completed a portrait of Detroit Brooks which she immediately sold to the gentleman behind her!
Tim Laughlin had several late afternoon concerts at the beautiful Westin Hotel on Iberville. Its 11th floor observatory overlooks the Mighty Mississippi and the extremely high ceilings provide for excellent acoustics. Tim's clarinet soared appropriately! Together with either Peter Harris or James Singleton on bass and David Boeddinghaus or Kris Tokarski on piano, the trio was the perfect beginning to a rousing evening.
The Monteleone on Royal Street has expanded its Carousel Lounge and the stage along the back wall opens the area past the revolving bar. Lots of wedding goers and attendees crowded the floor but we were able to spend a set with Richard Scott (p), Gerald French (dr) and Ted Long (gtr). Another evening Tom Hook (p), Wendell Brunious (tp), Karl Budo (dr) and Steve Braun (bs) entertained some happy couples and lots of guests. The lively quartet put everyone in a very good mood!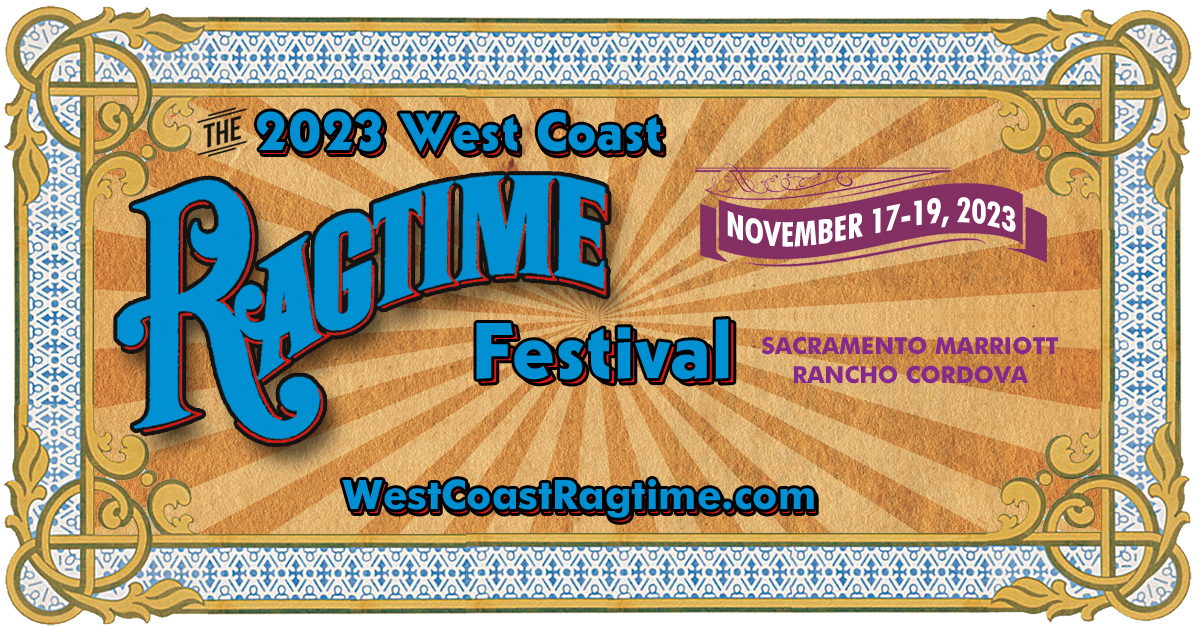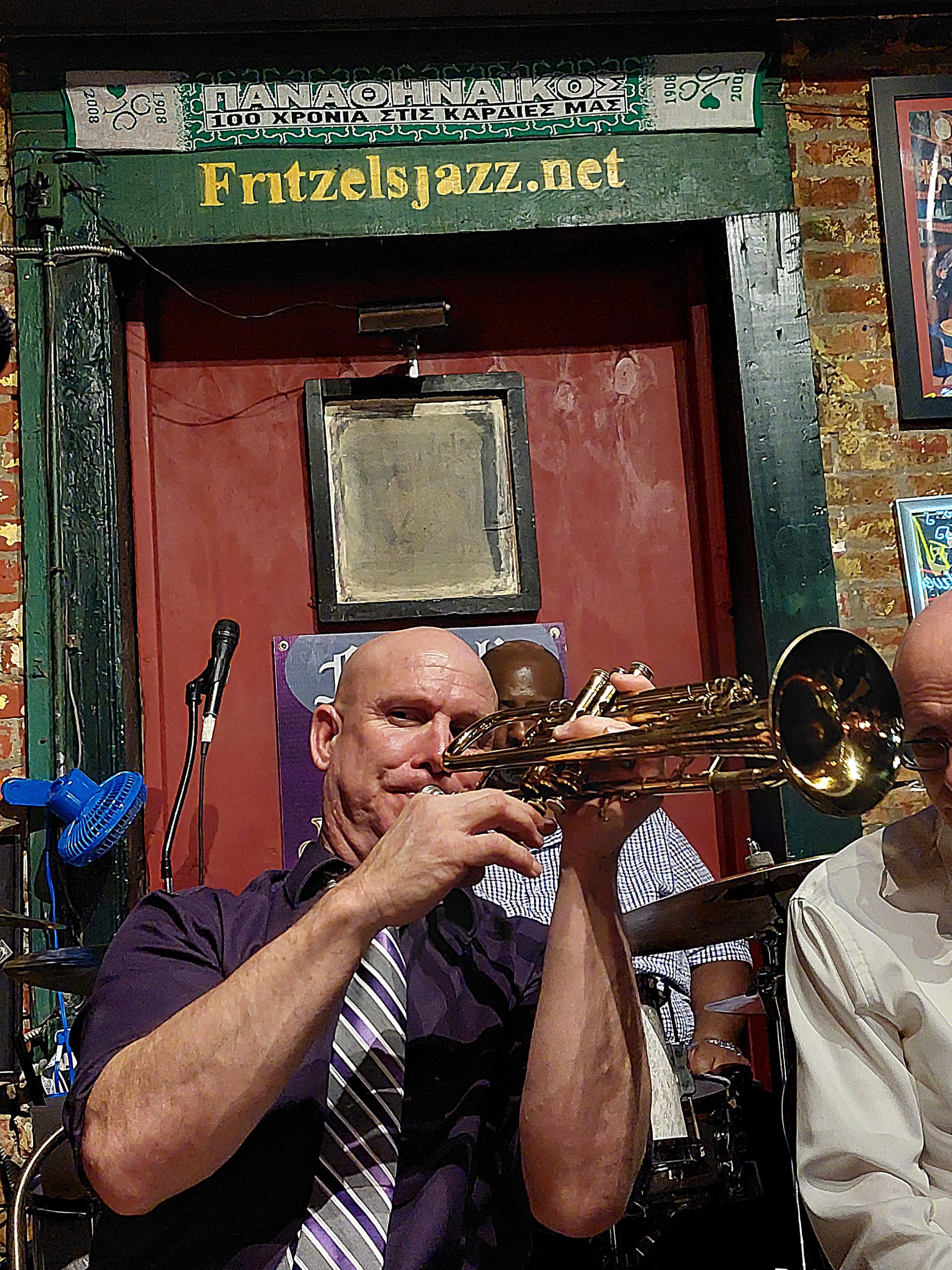 An enjoyable buffet with music at the Court of Two Sisters has always been a tradition. Our mini-Fest group spent a delightful late morning listening to Tim Laughlin (cl), Gary Grimes (gtr), and Skip Phipps (bs).
The New Orleans Jazz Museum provided music throughout the weeks and on the 12th had a special all-day event. The balcony concerts are open to the public and the grassy area on the Barracks side of the complex beckons stadium chairs or blankets from the onlookers. The area is family and pet friendly and it is a good place to visit with the local music lovers.
Wendell Brunious (tp) had a terrific band there with Freddie Lonzo (tb), Amy Sharpe (bj), Tom Fischer (cl), Shannon Powell (dr), and Mark Brooks (bs). Brenda Thornton (former president of the French Quarter Festival) and I sat on the grass enjoying the sextet with many, many others. Banu Gibson stopped by and gave us an update on the progress of her hurricane related roof damages since the Prescott Jazz Summit. Another late afternoon performance included the New Orleans Nightcrawlers –recently announced Grammy winners for their album "Atmosphere"—Craig Klein (tb), Kevin Clark (tp) Matt Perrine (sousa) with several other band members relishing the great weather and appreciative audience.
The Café Beignet on Bourbon Street in Musical Legends Park has resumed their music schedule and we caught up with Dave Ruffner (tb) and Michael Parsons (p) giving the many tourists a reason to miss New Orleans! Dave and The Blue Street Jazz Band were based in Fresno, CA for 30+ years. Dave moved to New Orleans a few years ago and is playing that trombone on a daily basis at several places on Bourbon and other venues in the Quarter but enjoys it when The Blue Street Jazz Band can get together for other festivals and events.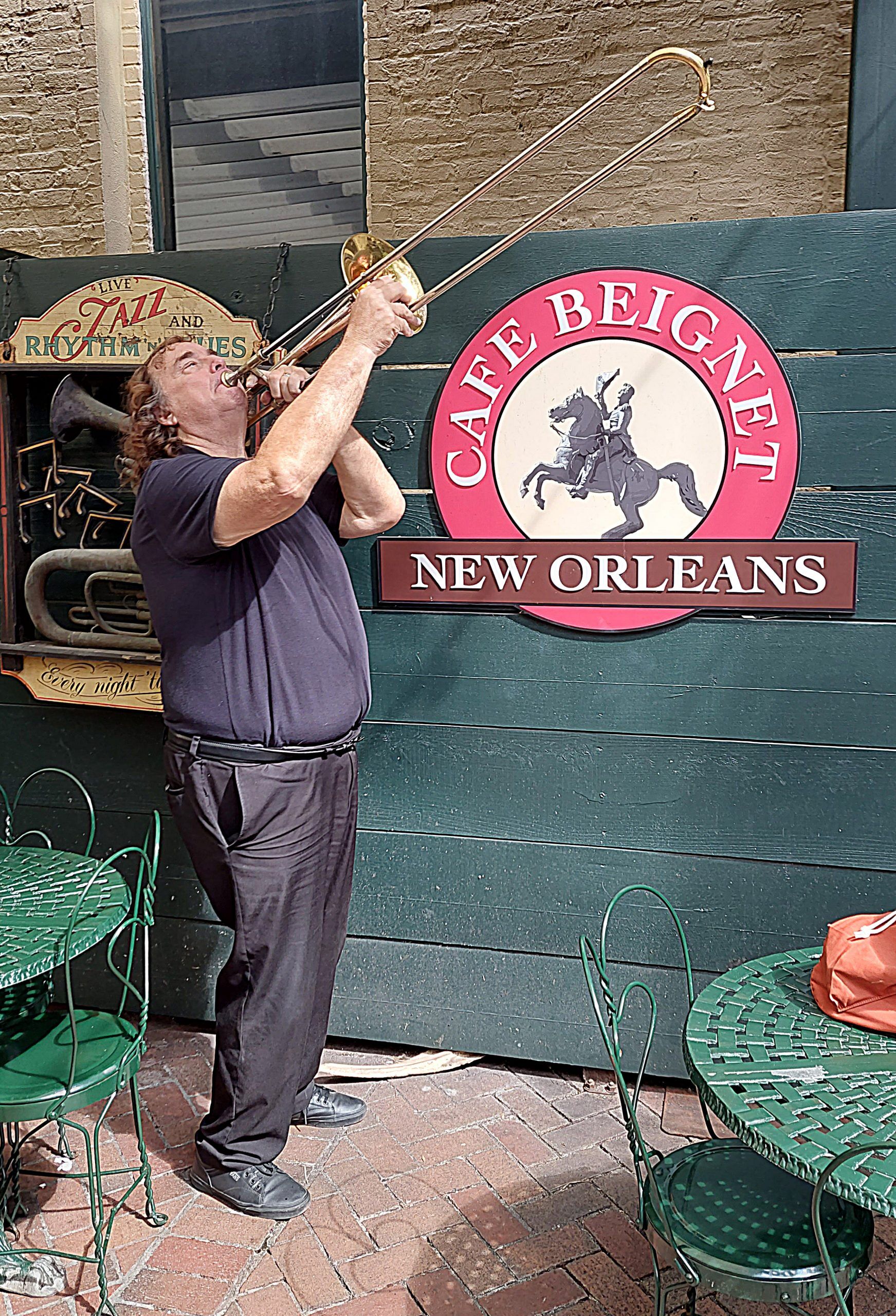 The Maison Bourbon had some early evenings of music with Dave Ruffner (tb), Lee Floyd (bj), Danny Rubio (tuba), and Josh "Jams" Marotta (dr). This worked well in our schedule to kick-off the night's activities and it was fun to be part of the "beginning" crowd of their music lovers.
Preservation Hall is having lots of weekend events beginning in the afternoons and we were able to visit with the Shake'Em Up Jazz Band featuring Marla Dixon (tp), Haruka Kikuchi (tb), Molly Reeves (gtr), Julie Schexnayder (bs), and Dizzy Incirlioglu (wash). Over the years, these women have performed individually with other groups but when they play together it is dynamic. They respond to each other's cues and the result is lots of fun for the audience.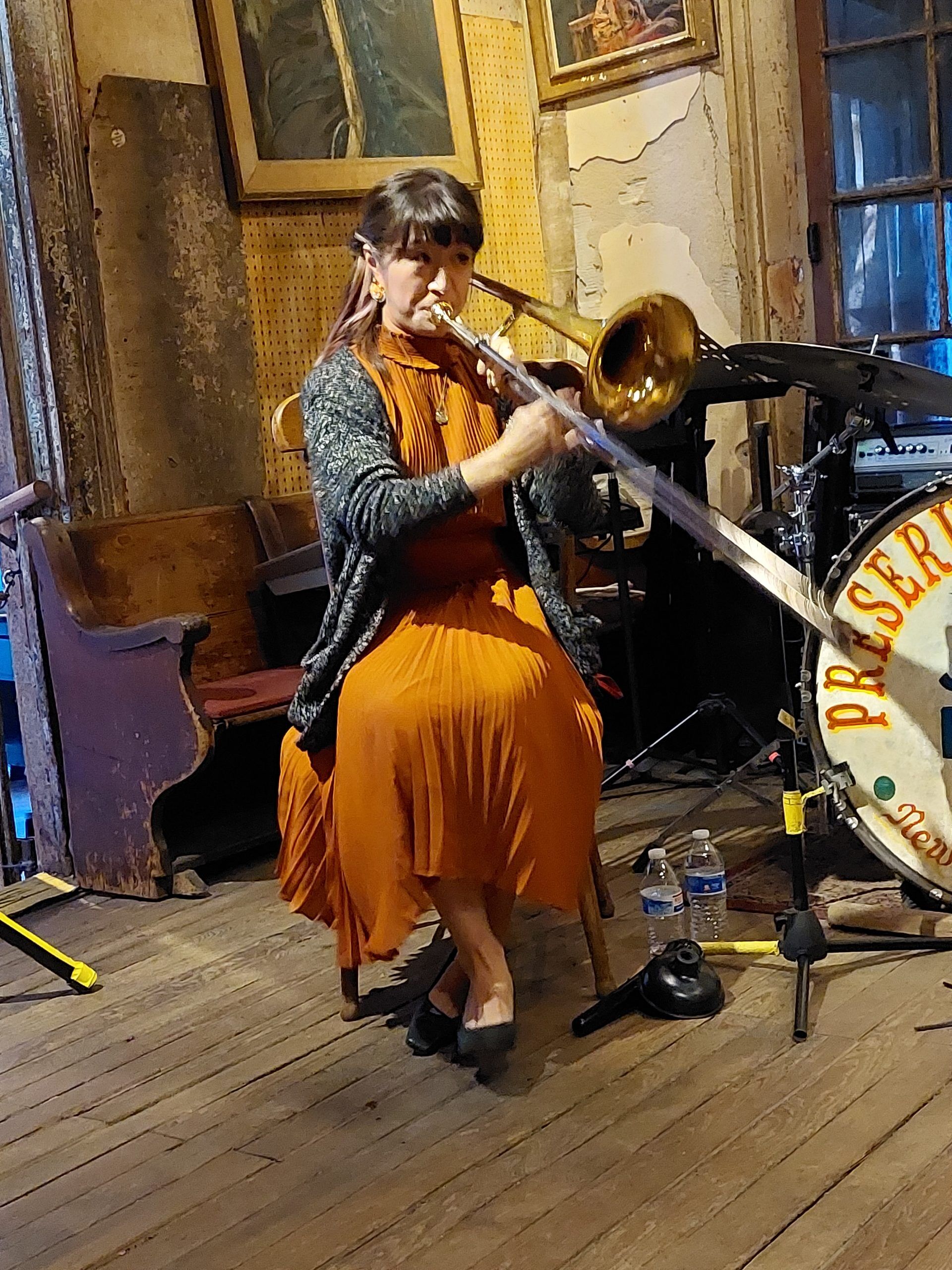 Fritzel's is always a fun place to finish the evening and Kevin Clark (tp) has taken over the music director duties. He is also instituting music during the afternoon hours on various days with Richard "Piano" Scott and stride piano Wed-Sun beginning at 12:30 PM. Other local bands will begin at 2:30 PM and at 6:00 PM Thurs-Sun and the Fritzel's All Star Bands will take over at 8:00 PM or 9:00 PM on Friday and Saturday. The Bourbon street location is easy to spot and is in close proximity to many hotels with guests eager to experience the New Orleans sound. Their 52nd anniversary celebration was held the last night of our stay and it was a lovely event with lots of food, revelry and visiting musicians stopping in for some delicious Greek food and camaraderie.
The many musicians we saw and heard there also included drummers Bryan Besse and Gerald French; trumpeters Chuck Brackman (who can "play that thing" upside down!) Doyle Cooper and Catie Rodgers and bassists Mark Brooks, Ben Fox, Chris Sharkey, and Jim Markway (he brought his students for an early set during their jazz studies). Clarinetists Tom Fischer and Bruce Brackman kept pace with the piano playing of John Royen, Leslie Martin, or Joe Kennedy and Wes Anderson (tb) and Barry Foulon (bj) rounded out several evenings.
♫ ♫ ♫ ♫ ♫
From Greg Lambousy, Director of, The New Orleans Jazz Museum, the following information is for the Improvisations Gala on December 4th:
"Encouraging Education and Improvisation for a New Generation of Musicians
"The New Orleans Jazz Museum will host the 4th annual Improvisations Gala on Saturday, December 4, from 7PM to 11PM. The Gala will feature an exciting mix of some of the finest local and national musical talents, spectacular New Orleans cuisine, a selection of coveted auction items, and a dazzling Sound Collage installation — all on the grounds of the New Orleans Jazz Museum.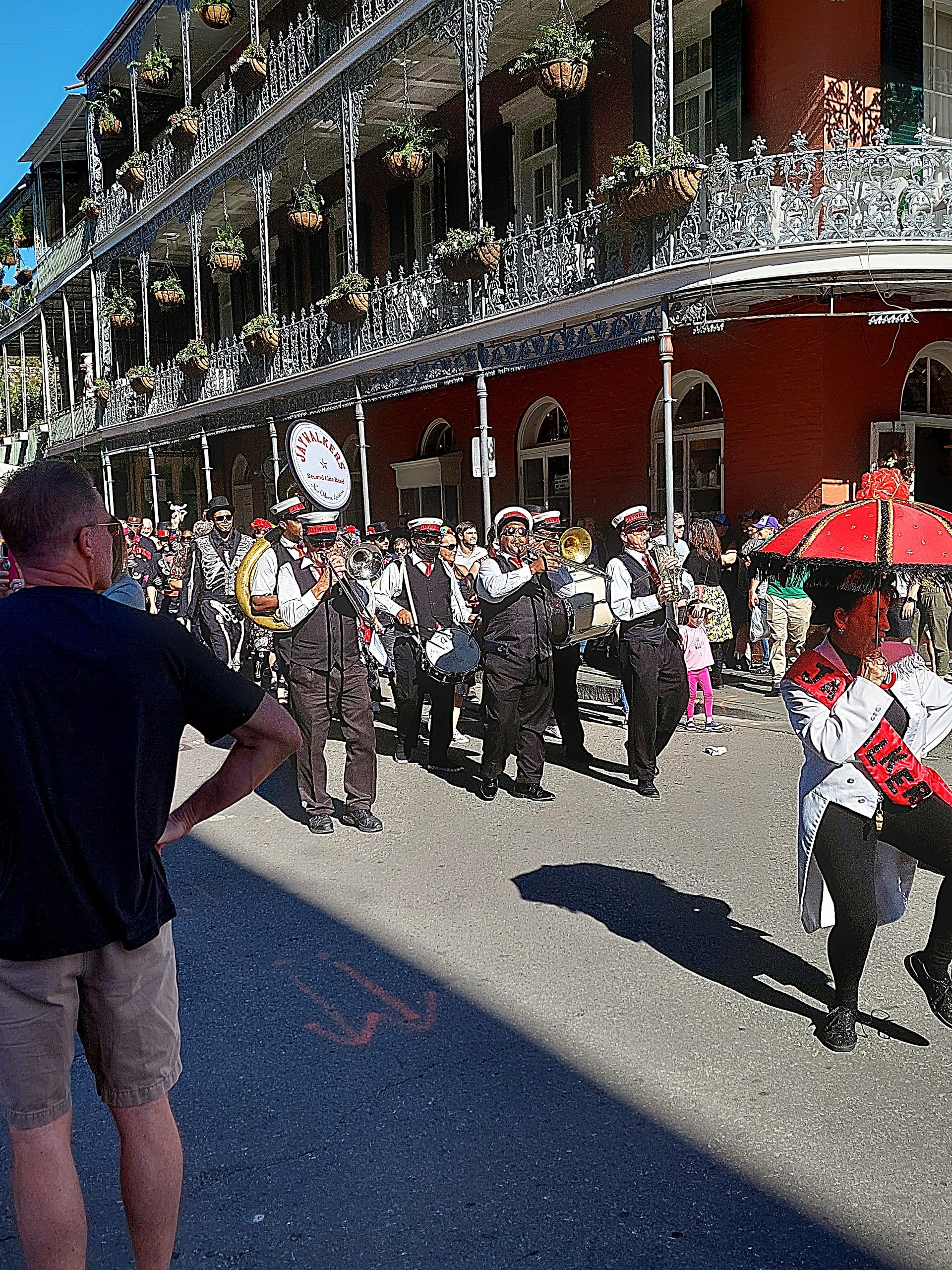 "The Patron Party will take place from 7PM to 8PM in the Decatur Street Courtyard with an exclusive balcony concert by Trumpet Mafia, accompanied by the N'Awlins D'awlins Baby Dolls and the Original Wild Tchoupitoulas Indians led by Big Queen Mary K. Stevenson. The Patron Party will also feature craft cocktails with Beam Suntory, a Beattie's martini bar, and passed hors d'ouevres.
"The full Improvisations Gala will open to ticket holders at 8PM and will showcase a stellar line-up including George Porter, Jr. & Runnin Pardners, Charmaine Neville Band, Bo Dollis, Jr. & The Wild Magnolias, Corey Henry & The Treme Funktet, Gabrielle Cavassa Band, Jelani Bauman Band with Jesse McBride, Herlin Riley and Gregg Stafford, Mahmoud 'Mood' Chouki Band with Oscar Rossignoli and special guest Detroit Brooks, special choreographed performances by the NOLA Chorus Girls and more."
♫ ♫ ♫ ♫ ♫
The New Orleans Jazz & Heritage Foundation will continue with its fall concert series through December. Tickets are only $5 and performances are held at the George & Joyce Wein Jazz & Heritage Center at 1225 Rampart.
♫ ♫ ♫ ♫ ♫
Preservation Hall's Ben Jaffe and his wife Jeanette together with Clayton & Boo Randle and several unnamed investors have purchased the Toulouse Theatre at 615 Toulouse. Originally opened as the Toulouse Theatre in 1961, it was renamed the Shim Sham Club in 1999 and then One-Eyed Jacks which closed in March 2020. The interior has been completely remodeled and now will have a capacity of 420 with limited seating for certain events in the heart of the Quarter! Its grand opening before Halloween was well attended and we look forward to this larger scale venue in the future. Ben has lived in the French Quarter all his life and has a special interest and dedication to the history of its music and musicians. This new venture will feature artists from other musical genres as well and will introduce the value and power of live performances to so many others.
♫ ♫ ♫ ♫ ♫
On the local scene, the Arizona Classic Jazz Society held their Festival the first weekend in November in Chandler and I will feature the event in my next column. As it turned out Syncopated Times columnists, Lew Shaw and Bill Hoffman both attended so they will also provide some details in their columns.