New York features a multitude of venues for hot jazz throughout the year with themed events being a local specialty, but the short summer offers unique opportunities to take the party outside. Listed here are some of the biggest and best early jazz and swing events to break out your dancing shoes for.
INTREPID: Battle of the Big Bands (2019)
Saturday, June 8, 2019, 8:00 p.m.
Intrepid Sea, Air & Space Museum 640 W 46th St New York, NY
Three of the best big bands in the land will go head-to-head under the stars on the flight deck, with a massive stage and 3,600-square-foot wooden dance floor, you'll find even more live music & dancing below deck when you explore the museum! The spectacular lineup has nearly 100 performers. 'Follow the Fleet' with Navy-inspired outfits… vintage clothes and dance shoes are encouraged.
Headliners: Sisterhood of Swing led by Bria Skonberg, Johnathan Stout Orchestra, and the Harlem Renaissance Orchestra. All three bands are 18 pieces, each band plays a one hour set on our massive 50ft stage, and the last set features all three big bands on the same stage, battling it out.
Below Deck: Festivities led by MC Dandy Wellington, Music from Cait & The Critters, Barbershop from the Madhattan Quartet, Chorus Gals The Bathtub Ginny's, The Harvest Moon Hoppers dance troupe, three DJ's, 1940s style pinup & cigarette gals, beginner swing dance instruction, dance contests with prizes, best dressed contest, photo booth with a 1940s airplane backdrop, bar and food.
This event sells out every year, Buy Your Tickets now.[ad_dropper zone_id="1225″]
Hot Jazz Age Frolic 
Sunday, June 16th beginning at 2:30 p.m.
Caramoor Center for Music and the Arts, Katonah, NY
In a first for the beautiful venue in Westchester County most known for classical music performances, Caramoor is hosting some leading lights of Hot Jazz for a "family centric" event on Fathers Day. Bria Skonberg will lead off the day with demonstrations of instruments and a family concert with her Hot Five. Also on hand will be tap dancer, DeWitt Fleming, Jr., and "Grammaphone DJ" Michael Cumella. The afternoon activities are available on a separate ticket for those who can't stay for the evening concerts. Attendees are encouraged to come early to walk the manicured grounds and enjoy catered picnics before the event.
Skonberg will return to kick off the evening with her normal set, followed by swing dance instruction from Gaby Cook and Nathan Bugh. The headliner is Vince Giordano and the Nighthawks with vocalist Kat Edmonson. The event takes advantage of an expanded dance floor set up for Caramoor's Opening Night Gala the evening before. For statements about the event from the artists themselves read— First of its Kind Hot Jazz Frolic to be Held at Caramoor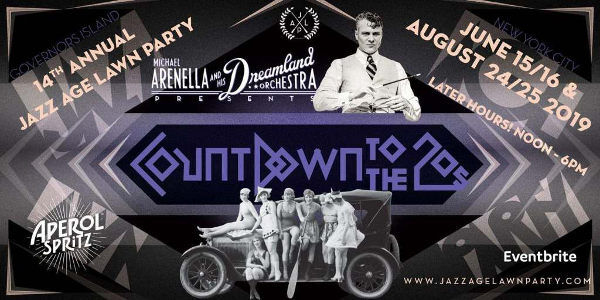 Jazz Age Lawn Party
June 15/16 and August 24/25, Starting at 12:00 p.m. each day.
Governor's Island, NYC
Michael Arenella & His Dreamland Orchestra play before an enormous sun-dappled dance floor on Govorners Island at the 15 annual Jazz Age Lawn Party. The mother of similar events around the North East. Join in on 1920s dance lessons and rub elbows with other fashionable Flappers and Sporting Gents, bedecked in their freshest holiday linens and straw hats. Witness the bedazzling Dreamland Follies, a ten-lady dance spectacle invoking the great Ziegfeld, and the world-renowned Canarsie Wobblers with their scandalous Charleston numbers. Off the dance floor, partake in impromptu lawn games, activities and fun-loving contests as you mix and mingle. Enjoy exquisite cocktails and gourmet picnics on the lawn as the breezes play.
Artists: Michael Arenella and his Dreamland Orchestra, Drew Nugent and the Midnight Society, The Dreamland Follies– an Art Deco spectacle evoking Ziegfield-esque grandeur, Roddy Caravella and the Canarsie Wobblers '20s dance troupe, Gelber & Manning Band, Queen Esther, and Peter Mintun.
Other Activities: Dance Lessons, Dance Contests (Charleston and Peabody),  Vintage Portraits, Bathing Beauties and Beaus Promenade, '20s Motorcar Exhibition, Croquet, High Court of Pie Contest, Old-Time Magic Show, Kidland, Children's Parade, Vintage Clothing Vendors and General Store.
Not all events and activities available on all dates, check the website for specific schedules.

Midsummer Night Swing at Lincoln Center
Daily Events Tuesdays through Saturdays Starting June 25th and Ending July 13th
Damrosch Park at Lincoln Center
A diverse array of artists are on the schedule. Of interest to Syncopated Times readers:
Vince Giordano and The Nighthawks will be the stars of opening night on Tuesday, June 25th.
On Wednesday, July 3rd Bria Skonberg leads the Sisterhood of Swing Seven featuring Catherine Russell, with Camille Thurman, saxophone; Emily Asher, trombone; Endea Owens, bass; Shirazette Tinnin, drums; Champian Fulton, piano; and Molly Ryan, guitar.
Joe Battaglia & The New York Big Band will appear Friday, July 5.
Charles Turner & Uptown Swing headline Saturday, July 6th. Turner is a young ambassador of swing who slides effortlessly from crooning jazz melodies to hard swinging standards and down-and-out blues, all backed by a flawless five-piece rhythm and horn section. LaTasha Barnes and Joshua Mclean will be on hand to teach Lindy Hop.
Eyal Vilner Big Band featuring Brianna Thomas and Brandon Bain appear Wednesday, July 10th.
Maria Muldaur sings the songs of Blue Lu Barker and more on Friday, July 12th with a special performance by the Brooklyn Bombshells.
Closing night, Saturday, July 13th, features the Harlem Renaissance Orchestra in their 15th Annual Tribute to Illinois Jacquet. The night also features the Ambassador Prize Lindy Hop Dance Contest. The DJ for the evening will be The Track Podcast host Ryan Swift.
[smartslider3 slider=6]