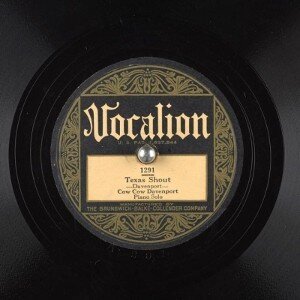 Set forth below is the thirty-seventh "Texas Shout" column. It first appeared in the March 1993 issue of the West Coast Rag now the Syncopated Times). Because the text has not been updated, I should mention that the South Frisco Jazz Band disbanded as a regular working group at year-end 1998.
To play Dixieland jazz effectively, an instrumentalist must attain a minimum level of competence in three general areas. I have referred to them in prior columns as "reading skill," "solo skill" and "ensemble skill."
Each of the seven styles of Dixieland uses all three skills. However, the degree of importance assigned to a given skill differs depending on the style being played.
"Reading skill" is the ability to execute preplanned notes (whether written down or as part of memorized "head" arrange­ments) with a jazz feeling so that they sound spontaneous and blend properly with the other instruments. The hot dance Dixieland style places its highest values on this skill.
"Solo skill" is the ability to play jazz solos that are creative, presenting a distinctive, personal and fresh vision of the selection. Chicago style, the only solo-oriented Dixieland style, con­siders this skill the most important of the three.
The other five Dixieland styles – white New Orleans, downtown New Orleans, uptown New Orleans, West Coast revival and British trad – rank ensemble skill highest. With the majority of the bands at most of today's festivals probably being uptown New Orleans, West Coast revival or British trad, ensemble skill thus becomes, at many weekends, the most critical one on the scene. However, for reasons explained below, it often goes unrecognized and unrewarded by audiences, and sometimes even by musicians.
That's because ensemble skill is an invisible skill. Success at ensemble playing requires complete selflessness, per­formance at all times solely for the benefit of the band without unduly calling attention to one's self.
I'd like to use the rest of this column to make this important ability a little more visible, to draw your attention to it and give you some idea of how you can go about recognizing it. Let's start by defining it more precisely: "Ensemble skill" is the ability to listen simultaneously to as many as seven other musicians all improvising around you, to assimilate these seven lines, and to concurrently improvise exactly those notes that will complement and en­hance their work, thus making the whole greater than the sum of its parts – while also making your own personal and original statement within the overall picture.
Sounds difficult, doesn't it? You better believe it. Ensemble skill is an ability one acquires only via steady, dedicated playing with other improvising musicians, both live and — to experience the challenge of working with different approaches and the best jazzmen – along with recordings.
The high value placed on ensemble skill in five Dixieland styles explains why a bandleader in one of those styles typically makes the seemingly odd, but usually correct, decision to fill a vacancy with an instrumentalist who is deeply committed to the style vs. a more technically accomplished but less devoted performer. Great technical skill is not normally required for effective Dixieland ensemble playing.
Dixieland is the branch of jazz in which the largest number of musicians can be improvising at once without need for any sort of written charts. In swing, bop and more advanced styles, with their busy lines and complex chords, an arrangement is needed to keep ensembles from being too cluttered if you have more than about five players on stage. With Dixieland, you can have as many as eight before charts are needed.
However, with eight improvising Dixielanders, no one player has a lot of room in which to operate. The role of each instrument in a Dixieland ensemble is very specifically defined. A player who steps out of this role, by going too far outside the normal range of his instrument, or by playing too many notes, will invade territory belonging to another player and upset the balance of the ensemble.
For that reason, virtuoso technique, though not to be denigrated, does not necessarily increase one's ability to play ensemble Dixieland. Playing the right notes is what matters, and those notes may turn out to be a few easy-to-play notes in the mid-range.
For example, the great trombonist Jim Robinson had a fairly limited vocabulary of favorite licks and a technique within the grasp of an average junior high school sliphornist. However, Big Jim's propulsive effect on ensembles, and his expressive use of those licks, was such that he is, beyond question, the most imitated uptown New Orleans trombone player.