32nd annual ARIZONA CLASSIC JAZZ FESTIVAL (Chandler, AZ) – Nov. 4-7
The only major festival to go off as planned during the pandemic the ACJF will be back this fall. Bands may include: Howard Alden, B.A.D. Rhythm, Dick Maley's WYSIWYG, Cheryl's vintage Jazz with special guests Dan Levinson and Katie Cavera, Groovus, Queen City Jazz Band, Stephanie Trick & Paolo Alderighi, Sun City Stomperz, We 3 +1, Tom Rigney & Flambeau, Wildcat Jazz Band, Wolverine Jazz Band, and the St. Louis Stompers.
Howard Alden, "Big" B.AD. Rhythm, Brian Holland, Andy Weiss, Danny Coots, Sam Rocha, Cheryl's Vintage Jazz with special guests Dan Levinson & Katie Cavera, Queen City Jazz Band, Big Little Ragtime Band, Tom Rigney & Flambeau, Groovus, St. Louis Stompers Classic Jazz Band, Sentimental Breeze, Something Doin', Stephanie Trick & Paolo Alderighi, Sun City Stomperz, Dick Maley's WYSIWYG (What You See Is What You Get) Leader: Dick Maley, drums; Herb Bruce, trombone; Steve Pikal, bass; Randy Morris, piano, WE 3 + 1 (Patrick, Lansford, Pesce, Early), Wildcat Jazz Band, Wolverine Jazz Band, ACJS JAMMERS.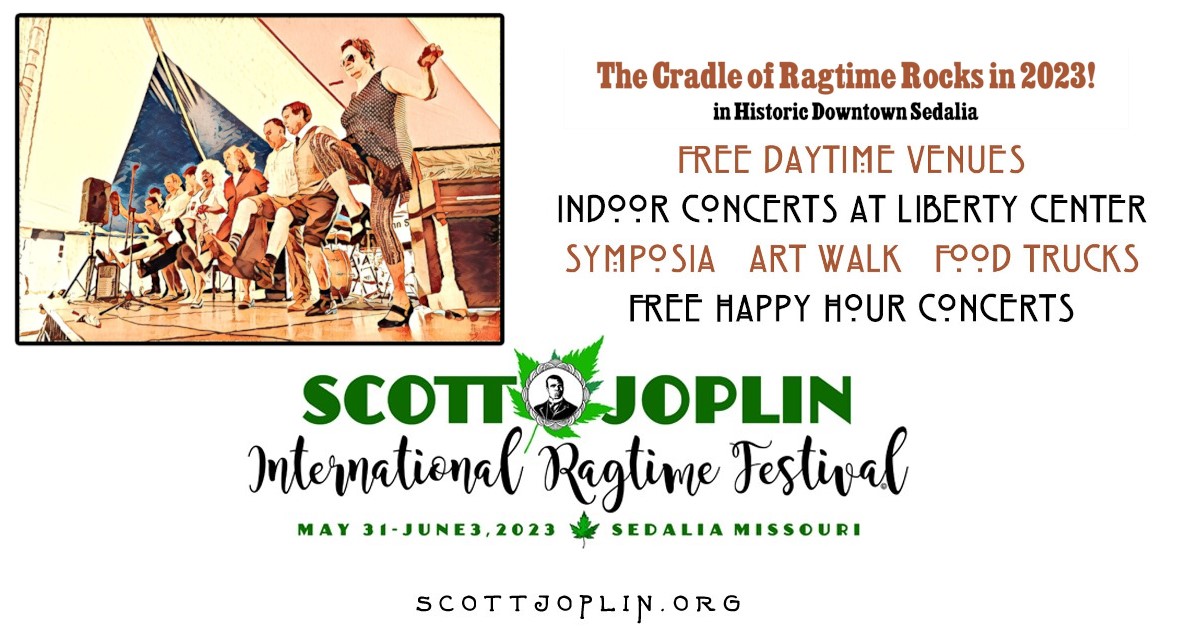 For details, go to azclassicjazz.org or call 480-620-3941. Send checks or credit card orders to ACJF, 10918 E. Michigan Ave., Sun Lakes, AZ 85248.
MIKE DURHAM'S INTERNATIONAL CLASSIC JAZZ PARTY (Newcastle-upon-Tyne, UK) – Delayed to 2022
We are very sorry to announce that the 2021 Classic Jazz Party is being postponed until November 2022. All of us on the organizing committee have really tried to stay optimistic through the summer, hoping that the Covid-19 situation would quieten down now, but the continuing travel restrictions mean we would not have been able to bring you the "international" part of the Classic Jazz Party with musicians from overseas, and it is financially better for us to cancel now rather than risk the plug being pulled closer to November with any potential restrictions/lockdowns being brought back in.
We are aiming to host the 2022 festival around the same time, with the first weekend in November penciled in. Let's pray to the jazz gods that it can finally happen!
For tickets and other information, please visit whitleybayjazzfest.com; [email protected]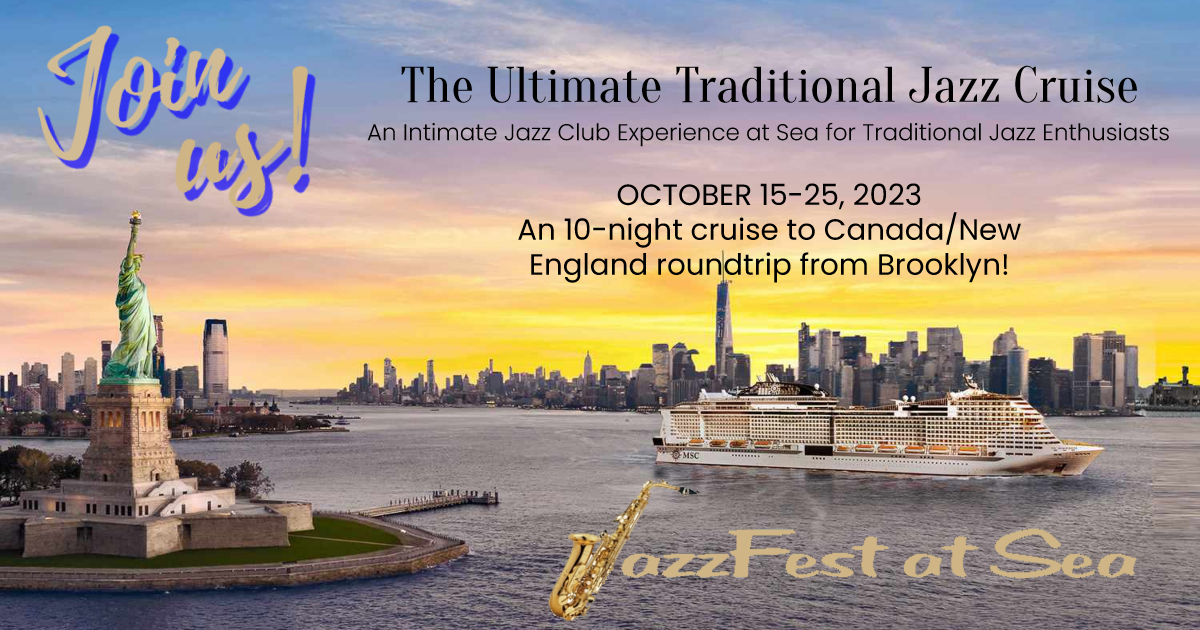 WEST COAST RAGTIME FESTIVAL (Online Event) Nov. 19-21st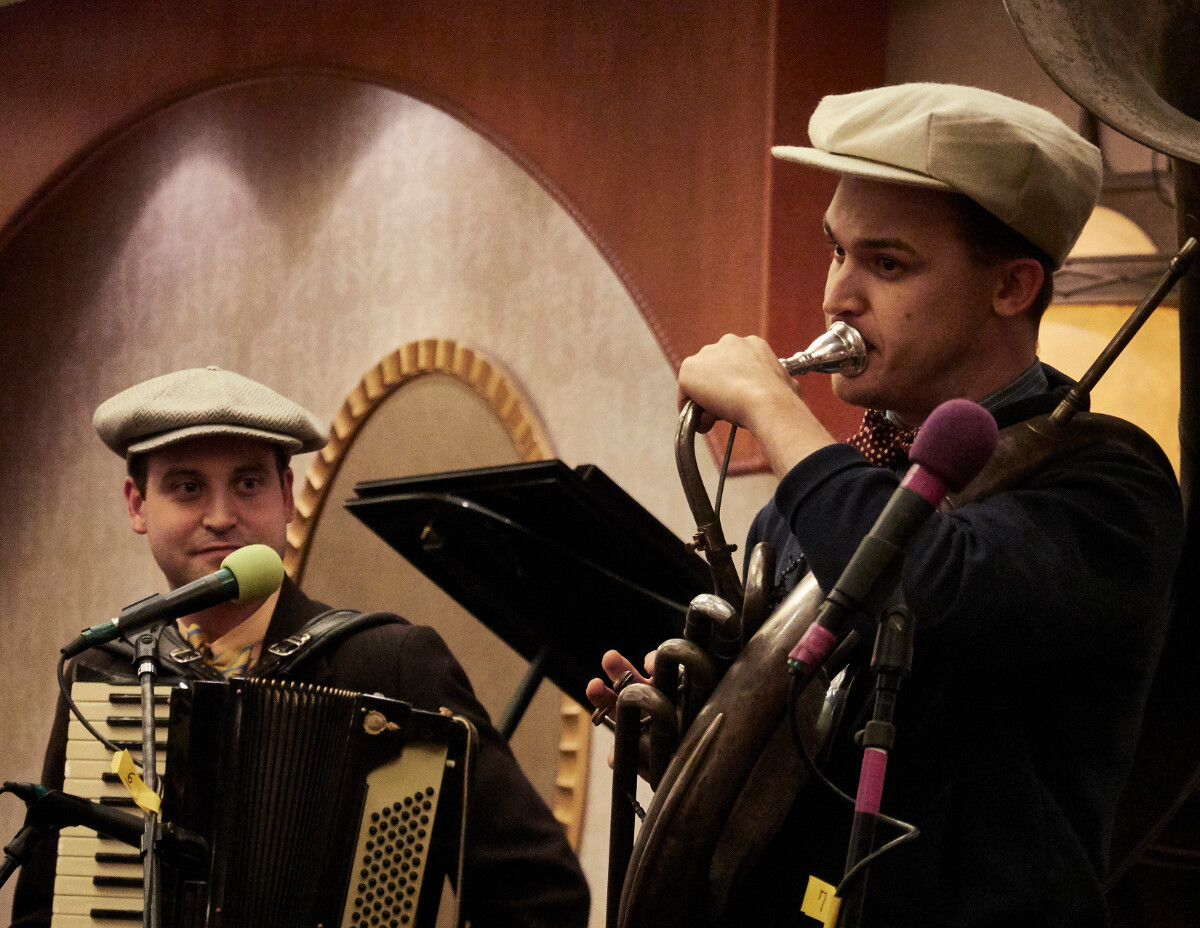 The 35th annual West Coast Ragtime Festival will take place November 19 – 21st, 2021!  Due to the on-going uncertainties with the pandemic, the festival is planning a full 3-day on-line festival only that weekend.   We'll miss all of you in person, but hope that you can tune in during our festival weekend to a full program of special shows and concerts for you to enjoy on-line.  Further detailed information about our programs will be posted in the Fall.   We sincerely hope that we can resume the in-person festival in November, 2022.
For more  information, please visit: www.westcoastragtime.com
SUNCOAST JAZZ FESTIVAL (Clearwater Beach, FL) – Nov. 19-21
Professor Cunningham & His Old School, Dave Bennett Quartet, Tom Rigney & Flambeau, Ed Metz Trio with Rossano Sportiello and Nicki Parrott, Brubeck Brothers Quartet, Bill Allred and The Suncoast Festival Allstars – Johnny Varro, Allan Vache, Davy Jones, Jay Mueller and Eddie Metz, Tom Rigney and Flambeau, Heather Thorn and Vivacity, La Lucha, Diego Figueirdo, Nate Najar, Daniela Soledade, Bakey and Betty, Betty Comora and Mike Evans, Amateur Jams with Dr. Jim Gover and His Naples Pals, Cat's Meow, Swing Dance Lessons, and More To Be Announced!
For tickets and information, visit us online at suncoastjazzfestival.com; or write: PO Box 395, Largo, FL 33779; (727) 248-9441.
39th ANNUAL SAN DIEGO JAZZ FEST (San Diego, CA) – Nov. 24-28 (Online Event)
The hard decision has been made to make the 2021 festival an online only affair. Some of the bands that were scheduled will appear online. Please visit our website for more information.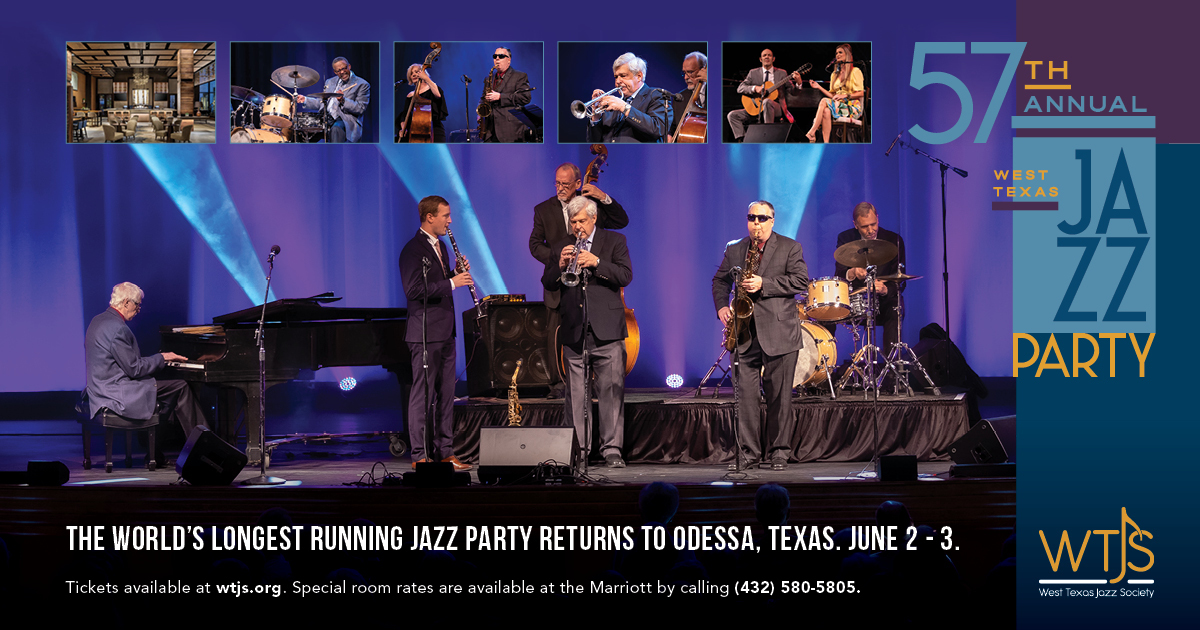 Contact: AFCDJS, P.O. Box 880387, San Diego, CA 92168-0387; 619-297-5277.
Email: [email protected]; Website: http://www.sdjazzfest.org/
NORTH CAROLINA JAZZ FESTIVAL (Wilmington, NC) Feb. 3-5
One of the oldest Traditional Jazz Festivals in the country, the North Carolina Jazz Festival, will return February 3, 4 & 5, 2022. This 3 day event, held in the ballroom of the Hotel Ballast (formerly Wilmington Hilton Riverside), features internationally known jazz musicians from across the United States, Australia, and Italy.
Thursday is Special Event Night featuring different styles of jazz.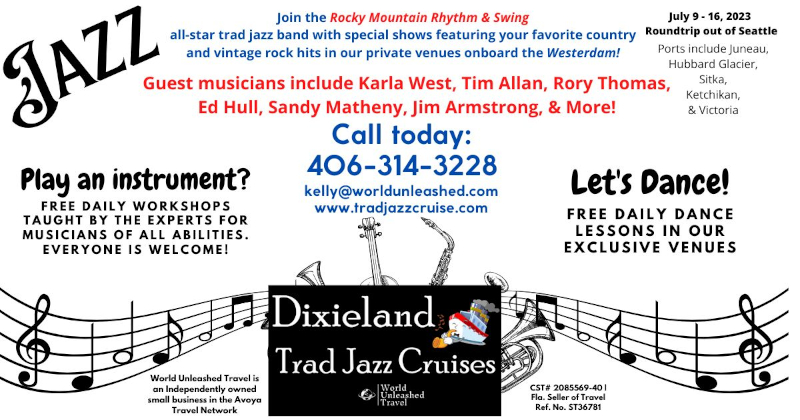 Thursday night will be an EXTRAVAGANZA – a celebration of our all being together again, to enjoy live jazz with our friends, at the home of the North Carolina Jazz Festival – The Hotel Ballast! We will open the evening with vocalist Steve Washington, whose style and voice are reminiscent of Nat "King" Cole and Billy Eckstine. Backing him are Herman Burney on bass, Rossano Sportiello on piano, and on drums Chuck Redd.
The next set will feature internationally renowned and award winning jazz pianist Lenore Raphael, who is a Steinway artist and radio host (Lenore Raphael's Jazzspot) where she interviews and performs with famed jazz musicians. With her tonight is vibist extraordinaire Steve Hobbs and NCJF's Herman Burney on bass.
Our third set for the evening will be a tribute – 2022 marks 60 years of Jazz Samba – the landmark 1962 album by Charlie Byrd and Stan Getz that launched Bossa Nova to international Stardom. Joined by Jeff Rupert on tenor saxophone, Herman Burney on bass and Chuck Redd on drums, Nate Najar pays homage to the spirit and iconic repertoire of that classic recording with songs like Desafinado, Samba Dees Days and of course One Note Samba. To help celebrate this 60th anniversary, Nate's new album Jazz Samba Pra Sempre will make its' debut here at our festival. It is a cd "coming out party"!
Rounding out the evening will be our Traditional Jazz Jam featuring some of our International All-Stars, who will be featured on Friday and Saturday nights.
On Friday and Saturday nights we will have thirteen jazz all-stars playing seven sets of traditional and classic jazz each night, with a different leader on each set. Invited musicians include Rossano Sportiello, Johnathan Russell, Dion Tucker, Ehud Asherie, Emily Asher, Nicki Parrott, Herman Burney, Nate Najar, Houston Person, Kevin Dorn, Steve Washington, Shaye Cohn, Chuck Redd, Adrian Cunnigham, and Bruce Harris. All concerts begin at 7:30 pm, Thursday is a three hour concert, while Friday & Saturday concerts go until midnight.
Ticket are $45 for Thursday, and $65 for each night Friday & Saturday. Each night $25 military, $15 students. Patron tickets are $215, and include Fri. & Sat. evening concerts plus the special patron brunch at 10:30 Sat. morning, where the all-star musicians will play and socialize with patrons, then patron/musicians will be invited to "sit in" with the all-stars. Patrons receive preferred, reserved seating plus their names in the program. The $240 patron tickets include all of the above plus tickets to Thursday evening's Special Event. Tickets may be purchased from the festival website, E-Tix, or at the AudioLab at 5732 Oleander Dr., Wilmington.
For more information visit www.ncjazzfestival.org, e-mail [email protected], or call 910-793-1111.
TUCSON JAZZ FESTIVAL (Tucson, AZ) Jan. 14-23
Primarily an event with individually-ticketed concerts at the historic Fox and Rialto theaters, as well as TCC Music Hall and Club Congress, with some free outdoor events around town. Main festival acts include Lee Ritennour & Dave Grusin, Dianne Reeves, Jon Batiste, Herb Alpert & Lani Hall, Adonis Rose and the New Orleans Jazz Orchestra's NOJO 7 feat. Cyrille Aimee, Spanish Harlem Orchestra, Dave Stryker Quartet, Eric Alexander Quintet, Kendrick Scott, Sergio Mendoza & Quetzal Guerrero, and Emmet Cohen.
Ticket pricing, festival schedule, and lodging information may be found at the festival website tucsonjazzfestival.org; (520) 989-0720.
28th Annual EAGLES & IVORIES WEEKEND (Muscatine, IA) – Jan. 27-30
The 28th Annual Eagles & Ivories Weekend is staged in Muscatine in southeast Iowa, at four different locations: Sunnybrook, 3515 Diana Queen Drive; Wesley United Methodist Church, 400 Iowa Ave.; Muscatine Art Center, 1314 Mulberry Ave.; and after hours at Merrill Hotel & Conference Center at 119 Mississippi Dr., W. Muscatine. A free eagle watch takes place Saturday morning at Pearl City Station, 200 W. Riverfront, in Riverfront Park, and visitors can also focus their binoculars at the Norbert F. Beckey Bridge, the only span over the Mississippi River nocturnally illuminated with LED lights. The ragtime tunes will be performed by Ivory &Gold® featuring Jeff and Anne Barnhart, Steve Pikal, Brian Holland,Danny Coots, Chase Garret, Jim Radloff, the Mad Creek Mudcats, and the Locust Street Boys.
An entire four-day concert package costs $70; individual event admissions range from $5 to $20; children ages 16 and younger are admitted free to all events; the Merrill hotel offers a special rate for those attending the festival: 563-263-2600; for more information and tickets: muscatineartscouncil.org; (563) 263-9978; [email protected]
SOUNDS OF MARDI GRAS (Fresno, CA) – Feb. 10-13 2020 INFO UPDATE!!!!!!!
The 2022 edition of this festive festival in Fresno kicks off at the Doubletree by Hilton with a Thursday evening pre-party. The schedule picks up Friday with a themed parade, followed by the annual coronation of the Festival King and Queen, and a hot-jazz Swing Dance.
Attendees can meet-and-greet musicians Saturday morning before the Parasol Parade and Masquerade Party and Costume Parade in the grand tradition of Mardi Gras. Things wrap up on Sunday with a Wind Down Dinner and Dance. Bands will be announced soon.
Four-day passes and passes for individual events available, admission is free for those ages 18 and younger when accompanied by a paying adult; (209) 534-1924; fresnodixie.com; lodging reservations (for the Fresno Double Tree by Hilton) can be made directly through the festival website or by calling 559-268-1000.
TEAGARDEN JAZZ FESTIVAL (Sacramento, CA) Feb. 12th
The joy of New Orleans-style jazz is at the heart of this scholastic combo festival, which is dedicated to fostering a better appreciation of this classic American art form. Each year, scores of young musicians gather at the annual Teagarden Jazz Festival (formerly named Traditional Jazz Youth Band Festival) for experiences that take their musical skills to the next level.
For band registration and tickets, call Patricia Jones at the SacJEF office: (916) 571-5533 or email: [email protected]; write PO Box 661763, Sacramento 95866; or visit the festival website: TeagardenJazzfestival.org.
SAN DIEGO JAZZ PARTY (Del Mar, CA) Feb. 25-27
The 30th annual San Diego Jazz Party is set to take place in Del Mar, Calif., 20 miles north of San Diego.
Performers at the 2022 Jazz Party will be Dan Barrett, Danny Coots, Evan Arntzen, Ken Peplowski, John Allred, Jon-Erik Kellso, Rebecca Kilgore, Ed Metz, Jr.,  Nicki Parrott, Houston Person, Ed Polcer, Vinny Raniolo, Harry Allen, Chuck Redd, Richard Simon, Peter Washington, Rossano Sportiello, and Jason Wanner. A swinging late night set with Lizzy and the Triggermen was recently added.
All-events badges cost $250 and includes Friday free-bar cocktail party, Saturday jazz brunch, and late night; Friday-evening passes cost $85; Saturday passes cost $145; Sunday passes cost $85; Saturday late night passes are $25. Purchase passes on www.sandiegojazzparty.com or order by telephone (619) 787-8792; or write San Diego Jazz Party, 1632 Hillstone Avenue, Escondido, CA 92029-4332.
41st annual JAZZ BASH BY THE BAY (Monterey, CA) March 4-6
The 41st annual Jazz Bash By the Bay Monterey takes place March 3-6, 2022, in the beautiful Conference Center and Portola Hotel & Spa with seven venues and six dance floors.
Among the world-class musicians returning to Monterey are Blue Street Jazz Band, Bye Bye Blues Boys Band, Carl
Sonny Leyland Trio, Don Neely's Royal Society Jazz Orchestra, Fast Mama Excitement, Holland/Coots Jazz Quintet,  Holy Crow Jazz Band, Ivory&Gold®, Le Jazz Hot Quartet, Sierra Seven, Tom Rigney & Flambeau, We Three,
Yve Evans and Company. Special guests include BobDraga, Brian Holland, Danny Coots, Dawn Lambeth, Eddie Erickson, Gary Ryan, Jeff Barnhart and Katie Cavera. NEW to the festival will be Corey Gemme's Rolling Figs Jazz Orchestra and guest vocalist Marilyn Keller! The Musician of the Year is Brian Holland.
Kick off Jazz Bash by the Bay on Thursday, March 4, 2022 with We3, featuring Bob Draga, Jeff Barnhart, and Danny Coots, playing from 7 to 8:00 pm. Admission is $25. THEN join the Monterey Marauders SUPER band for a rollicking show for listening and dancing in the De Anza Room from 8:15-10:30, featuring TWO Bakers, and one each Caparone, Coots, Holland, Keller, Ketner, Maggio, Otto, Pikal and Rocha!  Admission is $30.  Enjoy both shows for $50.
All-event badges, $115 until 1/15/2022; $125 thereafter. Day badges, $50-$75. Order discount Early-Bird All-Event badge before January 15, 2022. Badges can be ordered by phone at 831-754-8786 or 888-349-6879. Download mailable order form at jazzbashmonterey.com; Jazz Bash by the Bay, 177 Webster St., #206, Monterey, CA 93940.
42nd Annual SARASOTA JAZZ FESTIVAL (Sarasota, FL) March 13-19
Over 100 musicians to be announced. Highlights include four main stages, late night Jazz Jams, Jazz Trolley Pub Crawl, Jazz Films and Mini concert and more. Day passes and all event passes available. For more information visit sarasotajazzfestival.org. Jazz Club of Sarasota, 330 S. Pineapple Ave, Suite 111 Sarasota, FL 34236; 941-366-1552.
CHARLES H. TEMPLETON RAGTIME & JAZZ FESTIVAL (Starkville, MS) – March 24-26
The 16th Annual Charles H. Templeton Ragtime and Jazz Festival & the Gatsby Gala will be held at the Mississippi State University campus at Starkville from Thursday, March 24th through Saturday, March 26th. The Templeton Festival is the only one of its kind in the southeast that brings world-renowned artists and entertainers to campus to perform throughout the weekend, sharing their insights and love of ragtime, jazz, and blues music. For more information visit https://festival.library.msstate.edu/
2022 Announced Dates
April 8-10 Three Rivers (CA) JazzAffair
June 1-4 Scott Joplin Ragtime Festival (Sedalia, MO)
Sept. 2-5 Hot Jazz Jubilee (Sacramento, CA)