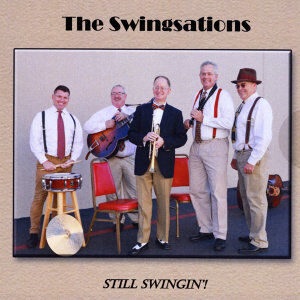 The Swingsations, a quintet based in Southern California, was founded in 1995 by its leader trumpeter-singer Jim Ziegler. The group originally consisted of Ziegler, Phil Krawzak on tenor and clarinet, acoustic guitarist Tom Hynes, bassist and tuba player Westy Westerhofer, and drummer Ed Slauson.
The Swingsations made their recording debut in 1999 with Swing That Music. 2005's Swingers And Novelties – Featuring A Tribute To Don Redman had Bryan Taylor succeeding Slauson on drums. 13 years passed, Westerhofer passed away (and was succeeded by bassist-singer Dave Eastly) and now the Swingsations have their third CD out, Still Swingin'.
The recent recording, as with the previous two, is geared towards those who are fans of swing (including swing dancers) and trad jazz, ranging from standards to novelties. A couple of the performances ("Rhythm" and "Sentimental Journey") feature hip harmonized vocals that may lead some record collectors to recall The Spirits Of Rhythm.
Some of the other tunes look towards 1930s Count Basie ("Oh Lady Be Good," "Mortgage Stomp," and "Dinah") or the swing era in general ('Jivin' Around," "Coquette," and "I Know That You Know").
"I Believe In Miracles" was performed in memory of Westerhofer, Ziegler is featured on "Time On My Hands," and Krawzak hints at Coleman Hawkins on "It's The Talk Of The Town." In the offbeat category are Thelonious Monk's "In Walked Bud" (a disguised relative of "Blue Skies") and "I Like Bananas Because They Have No Bones."
With the two horn players showing individuality and versatility within the swing style and the rhythm section always keeping the music swinging, the Swingsations is a veteran group that is easily recommended to anyone who enjoys spirited swing.
Still Swingin' (Self-Released 16 selections, TT = 57:52) www.theswingsations.com