Growing up in Massachusetts, Dan Gabel was introduced to the mellow sounds of Tommy Dorsey's trombone at the age of 10 when he was in the 4th grade. There was always music in the Gabel home, and one day his parents bought Dan a CD of 17 Number Ones—17 hit tunes associated with the Dorsey band that had reached #1 on the Billboard charts (1935-53).
"It was like a light just went on," he recalled. "I instantly fell in love with the man (who became my idol), the instrument, and the music." So his father's King 2B trombone, which the elder Gabel had played in high school and college, came out of the closet, and Dan was soon taking lessons from a series of teachers and performing in school orchestras.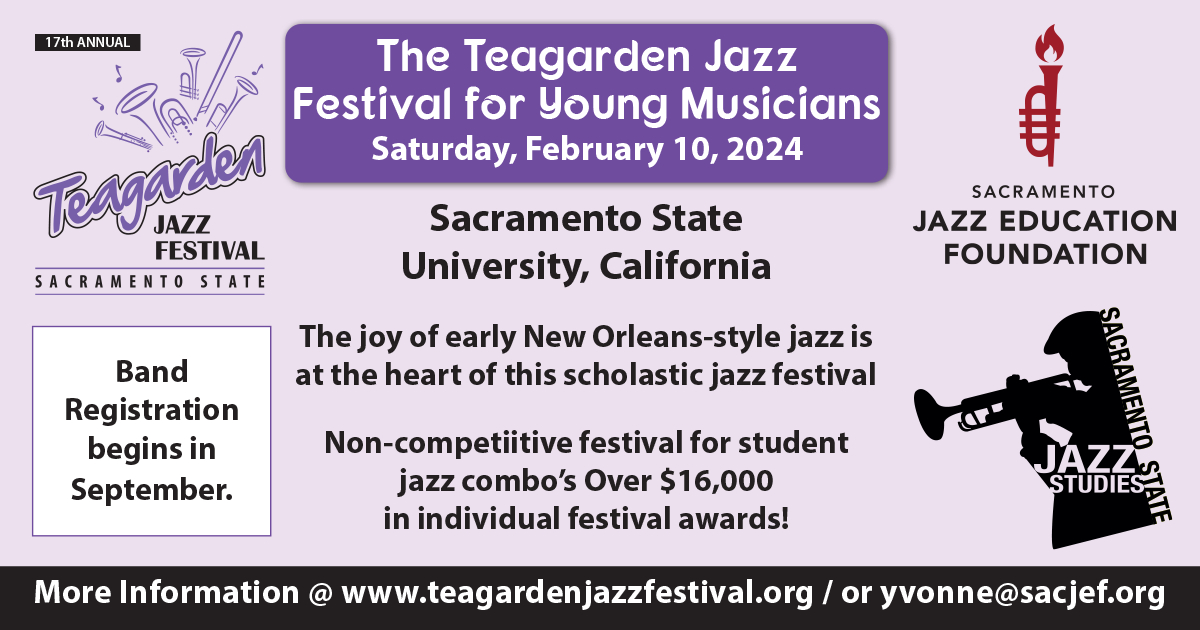 As he grew in proficiency, he formed a band when he was 13 that played in the '20s-'30s-'40s style. "I got the idea to form a band when I would talk to my friends about Dorsey, Teagarden, Goodman, and Miller, and they had no clue who those people were. I decided to have a band that would help keep alive the great sounds of Jazz, Ragtime, and Swing."
Toured with Miller Band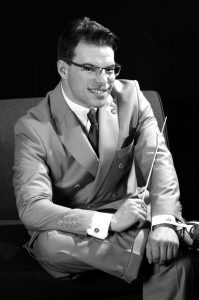 Starting out as a quartet and gradually expanding over the years, the band initially performed for talent shows, church suppers, flea markets, and birthday parties, averaging a gig a month, with Dan doing all the arrangements. In January of 2009, when Dan was a freshman at the University of Massachusetts-Amherst, a friend told him that the Glenn Miller band directed by Larry O'Brien was looking for a trombonist. "I sent an audition tape and very shortly got the call I had the job. I was told to meet the band in Atlanta and to be sure to have my passport because the band was going on a year-long world tour. I was 19 years old at the time." He also had brief tours with the Tommy Dorsey, Hal McIntyre, and Cab Calloway bands.
Returning to UMass, he triple-majored in Jazz History, Political Science, and Legal Studies, graduating from the Commonwealth Honors College in 2011. "While music has always been my passion, I also had aspirations to be a lawyer and perhaps get into politics, perhaps even ultimately becoming the United States senator from Massachusetts." In 2014, he earned a Master's degree in Trombone Performance from the New England Conservatory of Music.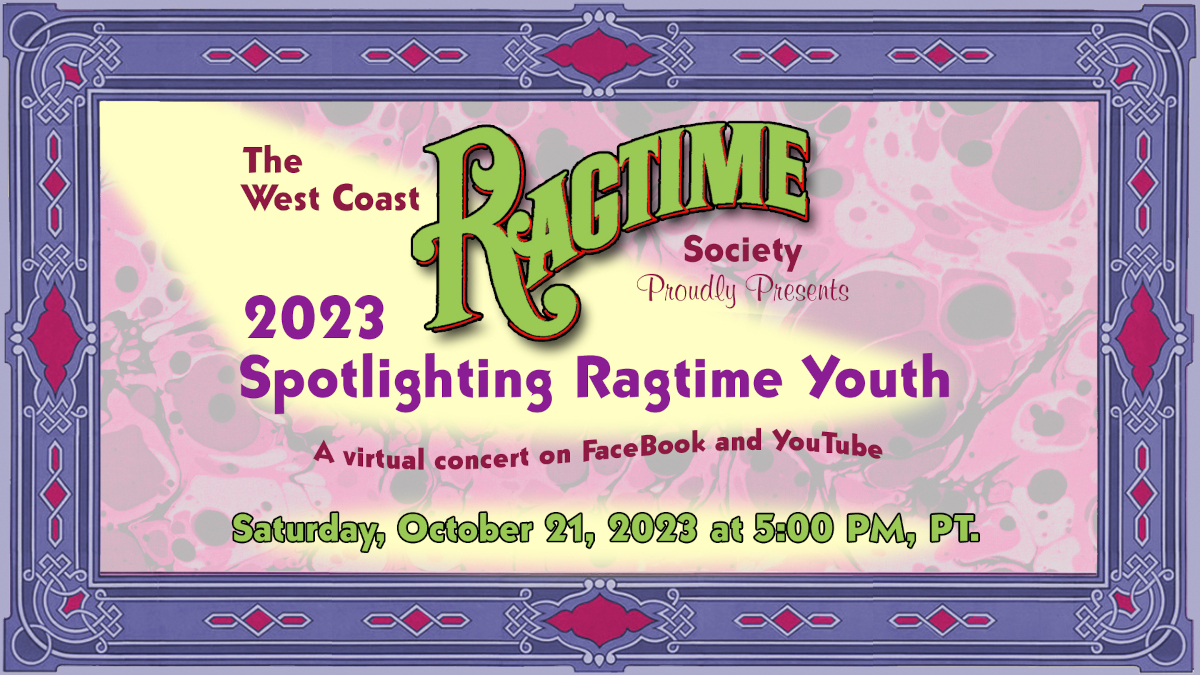 Abletones' 1930s Look
In 2010, Dan Gabel and The Abletones, an 18-piece Big Band specializing in the dance music of the 1930s and '40s, officially came into being. The name derived from one of the musicians referring to the band's intrepid leader as "Gabel is able." Dan said, "I wanted the band to have that 1930s look, so we sport a vintage look with matching tuxedos, pocket squares, color-coordinated vests, French cuff shirts and ties and use period equipment such as 1930-era mutes and stands."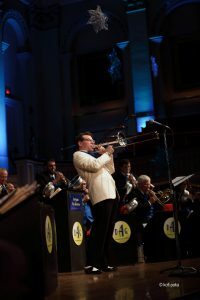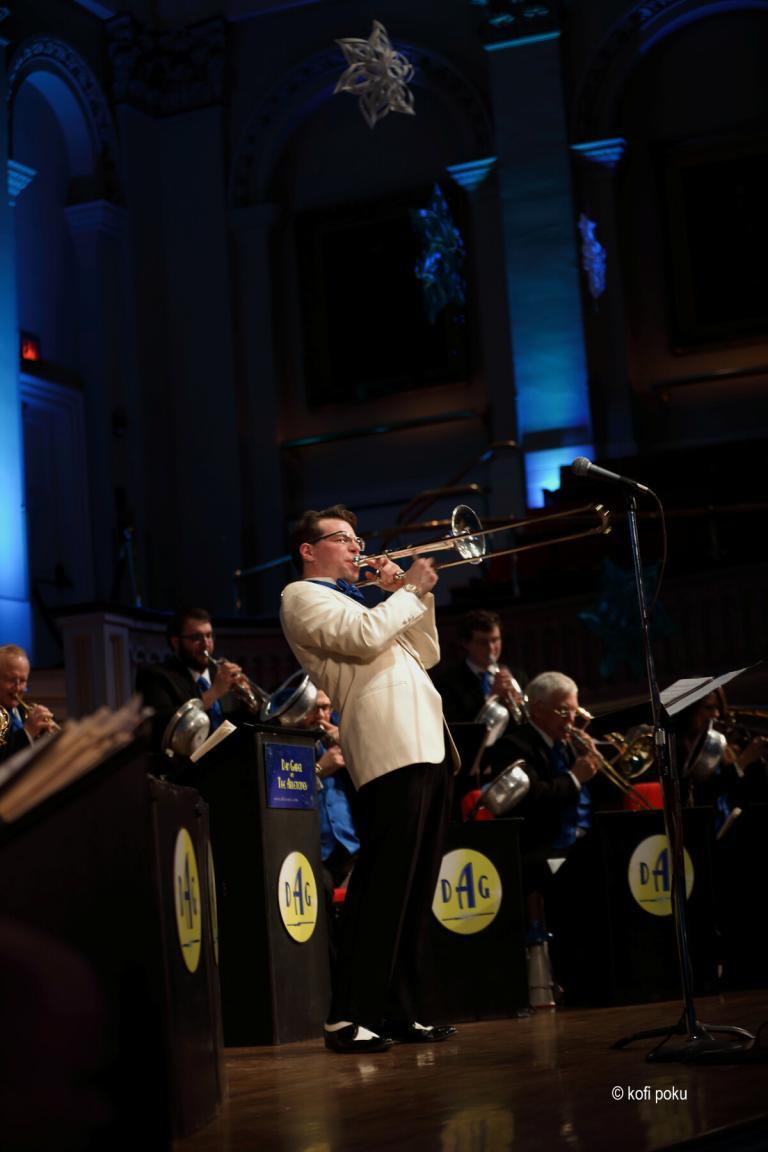 The band's theme song is "Whispering," a tune recorded in 1920 by Paul Whiteman and his Ambassador Hotel Orchestra that was the #1 hit in the United States for 11 weeks and sold in excess of two million copies. One hundred years later in 2020, Whiteman's rendition was selected by the Library of Congress for preservation in the National Recording Registry for being "culturally, historically or aesthetically significant."
Another Gabel band is the more jazz-oriented High Society Jazz Band that Dan took over from the late Dr. Warren "Bud" Trow, a trombonist who had founded its predecessor, the Tuxedo Classic Jazz Band in the Boston area in 1976. Dan plays a tuba that belonged to Trow, whom he considers a mentor who instilled in him a love of traditional jazz and who stressed the importance that "music should be a joy to play."
Vaughn Monroe Library 
While attending the New England Conservatory, he discovered the library of the Vaughn Monroe band "was languishing in the bowels of the NEC basement." After some prodding, he took on the job of archivist of the library and is currently researching and writing a biography of Monroe. In 2017, with approval from the Monroe family, The Vaughn Monroe Show, complete with the Moon Maids vocal quartet and variety acts, became part of the Abletones' repertoire.
While originally from Ohio and educated in Pennsylvania, Monroe (1911-73) formed his first orchestra in Boston in 1940 and began recording for the Bluebird label, a RCA Victor subsidiary. In 1946, he built The Meadows, a restaurant-night club on Route 9 in Framingham, Mass., which he and his wife continued to operate until they sold the property in 1959. The band enjoyed huge success in the '40s and '50s with radio and TV shows and such hits as Monroe's theme song, "Racing with the Moon," along with "There I've Said It Again" and "Ghost Riders in the Sky."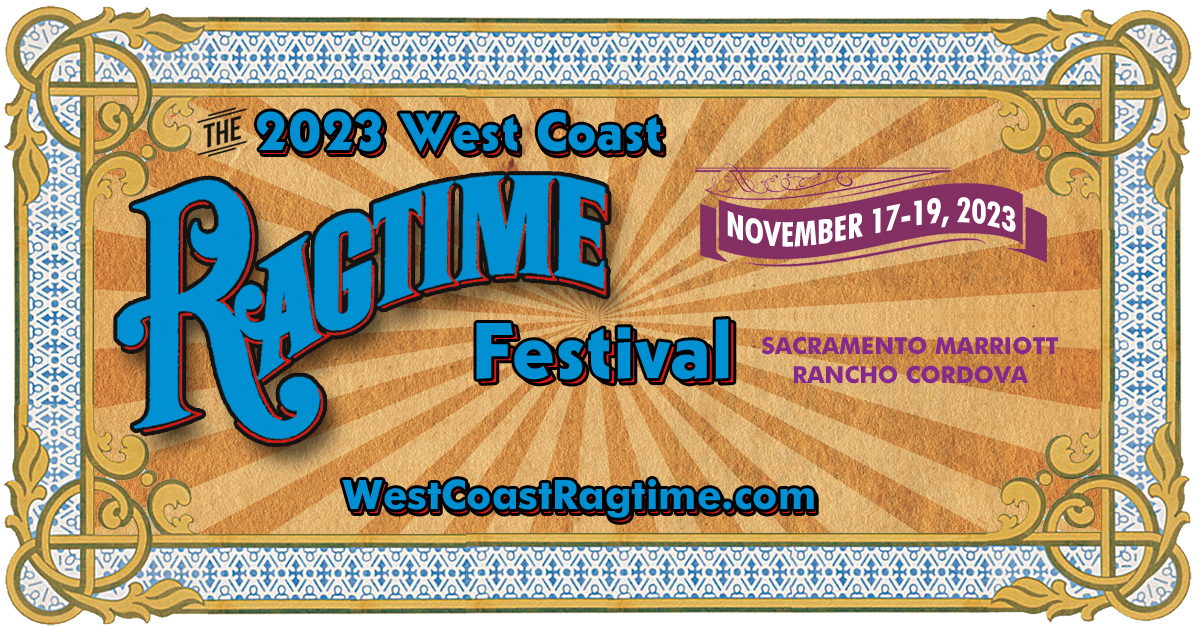 The American Big Band Preservation Society was founded in 2007 by vocalist Amanda Carr and was incorporated as a non-profit organization in 2009. Dan Gabel was elected president and CEO in 2012. The Society's purpose is to serve as a repository for Big Band historical materials, currently involving over 10,000 song titles; to make the various arrangements available for educational purposes; and to produce in-school programs designed to educate the next generation about the Big Bands in a fun, educational and exciting way.
Busse Shuffle Rhythm Band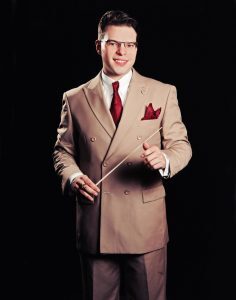 A recent addition to the ABBPS inventory is the library of the Henry Busse Shuffle Rhythm Band, whose big hits were "Hots Lips" and "Wang Wang Blues." The Henry Busse story is an example of Dan's story-telling ability and encyclopedic knowledge of jazz history, musicians and tunes. Born in Germany, Busse (1894-1955) "jumped ship" to come to the United States where, unable to speak English, he initially spent his nights sleeping in New York City's Grand Central Station. He got a job in a ship headed for California where he found work as an extra in Keystone Cop films and playing trumpet in a movie theater pit band.
In 1917 he was playing trumpet with the Frisco Jass Band and in 1918 he joined Paul Whiteman's Orchestra. In 1925, he recorded with a contingent from the band as "Busse's Buzzards." As concertmaster of the Whiteman band, he was earning $350 a week, compared with Bing Crosby's $150 weekly stipend, and according to Dan, his contract called for an 8-bar solo on every arrangement the band recorded. He left Whiteman in 1928 to form his own band, which had its greatest success in the years 1930-45. Busse died of a heart attack in 1955 just before his band was to perform at an undertakers' convention at the Peabody Hotel in Memphis, Tennessee.
In addition to being a busy bandleader and arranger, Dan lectures at colleges, museums and historical events and is a contributor to several jazz publications. For seven years, he was director of the music department at his alma mater, Holy Name High School in Worcester. Since 2016, he has been in charge of the jazz program associated with the Worcester Youth Orchestra.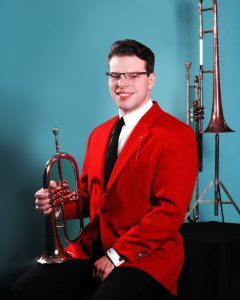 He has a collection of vintage musical instruments, including a 1935 King Silvertone trombone played by a member of Tommy Dorsey's band, Vaughn Monroe's valve trombone, his original 1894 King Cornet, and a complete 1929 Leedy traps set (28" bass drum with original painted calfskin heads, a Black Beauty snare, cymbals, tack toms and hardware), of which he is only the second owner.
His music company, Gabel Music, Inc., functions like a mini-conglomerate with its different, but related functions. In normal years, he books 250 gigs for himself and his bands. Asked what's ahead for this ambitious 31-year-old, he responds, "We're going to keep on doing what we're doing—to entertain audiences with professional music and quality presentation; to preserve, promote and perform Jazz, Big Band, and the Great American Songbook; and to work to get and keep music in the schools."
He remains optimistic that the music of the Big Bands will survive in this era of changing musical tastes, saying, "Young people today will respond to vintage music when it is presented correctly. They are open and accepting of different styles, and when exposed to the music, they really enjoy it."