Jeff Barnhart: Hal, after our brief, but wonderful, foray into the musical world of little-known trumpet man Benny Strickler, let's talk about the Post-War version of Lu Watters' Yerba Buena Jazz Band.  Aside from Ellis Horne no longer being part of the eight-piece line-up and Bob Helm cemented in the clarinet chair, downsizing to one banjo (the redoubtable Harry Mordecai) and Dick Lammi firmly seated on tuba, what other changes distinguish the 1946 YBJB from previous incarnations?
Hal Smith: Jeff, the 1946 YBJB sounded more confident, powerful and inspired than any of the other lineups we have listened to. The musicians had been separated for four years and they were all champing at the bit to play hot jazz together. They rehearsed extensively before returning to the Dawn Club and added a lot of new material (including originals by the band members) to the repertoire. I'll bet the ovation from the fans on the band's first night back at the Dawn Club was deafening!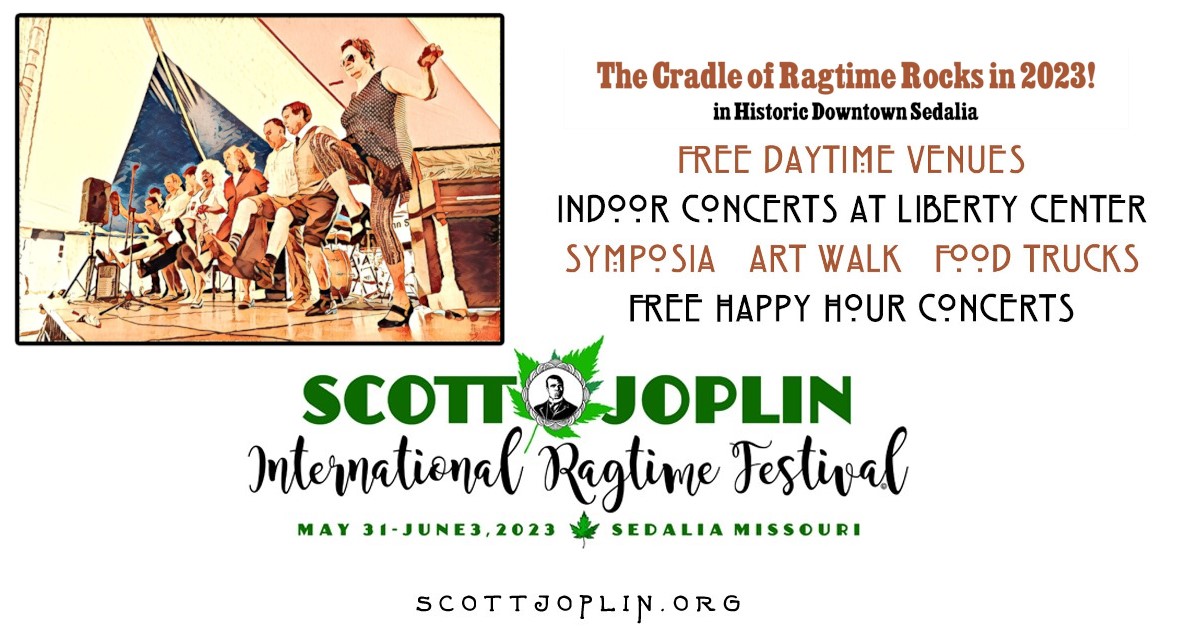 Bob Helm brought a real cutting edge to the front line and Turk Murphy played harder than ever before (in a good way). Harry Mordecai played a more driving style than the previous banjoists, Dick Lammi sounded like a tiger going after raw meat. Bill Dart helped to drive the rhythm section whether playing woodblocks, choke cymbal or tack-head tom-toms. Wally Rose's sparkling ragtime piano made the rhythm section rock, strut and dance. Watters and Bob Scobey had developed their individual styles quite a bit since 1941 and they complimented each other perfectly.
To open the discussion, let's listen to one of the West Coast 78s that the band recorded at the Avalon Ballroom in San Francisco in the spring of 1946. This side happens to be the first record I heard by the Watters band. That was in January of 1965 and I still haven't recovered from the experience of hearing the Yerba Buena Jazz Band for the first time!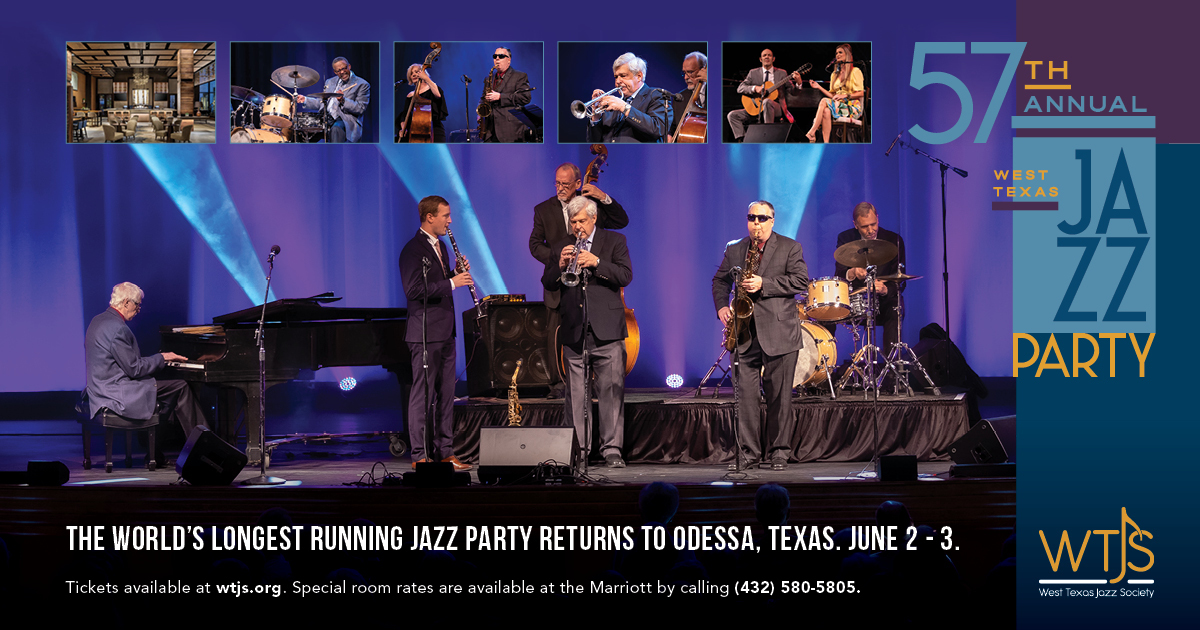 JB: You're referring to "I Ain't Gonna Give Nobody None O' This Jelly Roll," right? I hadn't listened in a while to this side and I put myself in your shoes in 1965, imagining this were the first side I, too, encountered. First, the tempo struts beyond belief. The stomping, hard-driving beat demands that you move with it. That front-line sounds as if those men had single-handedly won the war!! After Helm's clarinet solo, it's a treat to hear the rare verse, during which you really notice Watters' arranging skills. The split-chorus that follows between Scobey (??) and Turk, urged on by Dart's savage choke cymbal, invokes great times, great broads and great booze, not to mention scorching heat!! The final chorus really knocks me out. They were out for blood!
HS: It certainly was a fantastic introduction to the Yerba Buena Band! And after I read in Lester Koenig's liner notes that Lu was the trumpet soloist, listening to this side over and over helped me to hear the differences in tone and phrasing between Lu and Scobey. Lu tended to play close to the beat, with very little vibrato. Scobey pushed the beat (and sometimes played around it) and had a pronounced vibrato. Once I figured that out, it became easy to tell who was playing lead and who was playing second on all the records.
Also, Bill Dart is one of my heroes on drums. I still think about the way he played this style whenever I get a chance to work with a San Francisco style ensemble. I love the way he plays a choked Chinese cymbal behind Lu and Turk's split chorus. Also, it takes a special rhythmic gift to play woodblock on the last chorus with the intensity that Dart displayed here. (By the way, I saw a photo of the block he used on this recording. It was as big as a shoebox!)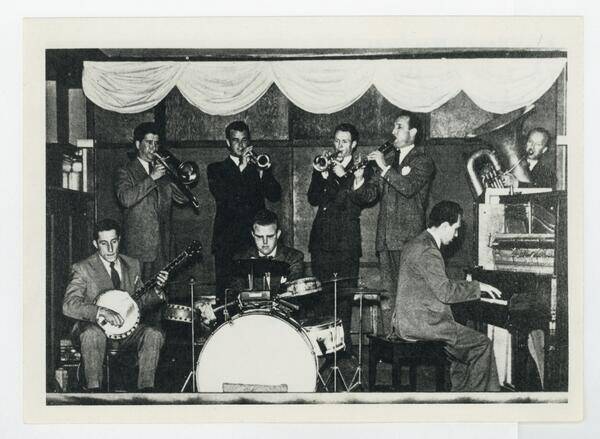 Moving on, here's a number from the King Oliver Creole Jazz Band: "Working Man Blues." The Yerba Buena band was often accused of copying King Oliver, but other than the emphasis on ensembles and part-playing in the front line, it's a totally different sound. I think they may have been working with a stock arrangement here, as there is one strain missing from Lu's chart. But nevertheless, this is a great example of the YBJB's swaggering approach to Oliver's music. What do you hear on this one, Jeff?
JB: Right out of the gate, the YBJB's departs from the Oliver recording by adding a four-bar ensemble with unaccompanied trumpet pick-up-notes that already has you rocking. Nice touch to have one of the major hooks of the tune appear at the outset. Other notable moments for me include the bell chords leading into Helm's 4-bar solos, the breaks in three-part harmony (Watters, Scobey, and Helm) during which Turk picks up a bucket mute (something I don't recall him doing often) to moan away during the 4-bar ensembles then into that wonderful poly-syncopated piano solo by Wally! Finally, hearing that final raucous, almost rude playing on the out-chorus made me sit up a LOT straighter!
Hal, I have one observation and a question. When you mentioned the stock arrangement, I went through my Wattersania and found his arrangement for "Working Man Blues." He added a lot to the stock if he used it as a base! It was fun to see how he scratched in "two bar ending" as this tune departed from their customary extended four-bar, or double, ending. My question: During that kick-ass final chorus, Bill Dart is choking the cymbal, but letting it ring longer, almost as if in slow motion to accommodate the tempo. It's an intoxicating effect! Does this technique have a special name and what is its provenance?
HS: Years ago I talked with John Gill about the stock arrangements that Watters may have used. Since the last strain (heard on the Oliver record) was omitted, I thought this might have been a stock that was simplified by one of the Melrose staff arrangers. In any case, it is a wonderful recording of the song! I don't know the technical term for what Dart played, but that effect you mentioned is something that Zutty Singleton, Gene Krupa and others were using on records in the late 1920s.
Next, here is Lu's composition "Annie Street Rock," written while he was stationed on the U.S.S. Antigua during WWII. For some reason, this one has not been played or recorded as often as Lu's other compositions. This version is an airshot from the Dawn Club, originally broadcast on KGO in San Francisco. The band takes it at a little slower tempo than on the West Coast 78, but that allows us to hear more details. One of those details is Harry Mordecai's driving sound on the banjo; almost in bold relief here! This is also a good example of Lu's phrasing versus Scobey's (Lu plays lead on the A strain, Scobey on the B, Lu solos and Scobey is lead on the last chorus). Furthermore, there is wonderful interplay between the trumpets—especially on the last chorus. Lu described his second trumpet playing as "wild and free." You can definitely hear that on this recording!
JB: I know how people point to the Oliver band as part of the Watters inspiration; the King and Louis would have been very happy to play that opening two-trumpet break. The structure of this piece pays homage to the multi-strain rags and marches of 30-50 years prior and has unique features such as that surprise tuba break at the end of the B section. After an almost (Jelly Roll) Mortonesque interlude, we're introduced to the trio section with Turk's classic trombone smearing of the melody and hot clarinet filigrees by Helm. Many brass players tell me that playing second trumpet in a band like this is MUCH harder than playing hot lead; Watters is a master of this technique. The entire band must've needed a drink after finishing this one! I could go back and listen to this again and again but I know you have more in store, Hal. What's next?
HS: Trumpeter Don Kinch told me that when he sat in with the band at Hambone Kelly's in 1950, he and Lu "fought over who had to play first and who got to play second." Both were masters at improvising a second part. On the same subject, Lu told me that if Don had been around when the YBJB was organized, he would have been in the band!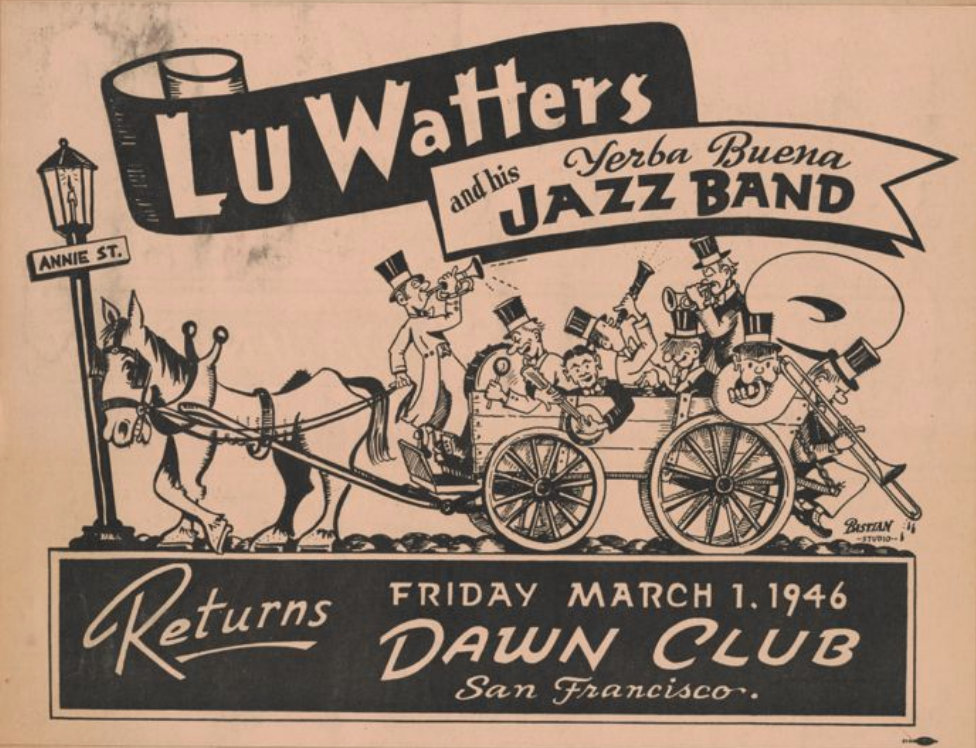 We need to listen to a live version—another KGO airshot—of the YBJB playing Lu's most famous composition: "Big Bear Stomp." This was named for the Big Bear Tavern, in the Berkeley Hills, where the band first started playing together in the late 1930s. Like Lu's other compositions "Emperor Norton's Hunch" and "Yerba Buena Strut," this starts in a minor key with an ensemble introduction, then a rhythm vamp, then the verse. This broadcast version is a lot looser than the commercially-released performance on the West Coast label. A highlight for me is the great trumpet solo by Scobey on the last chorus, then Lu's red-hot lead (even though he cracked the high G) on the last 16 and the signature double ending. For me, this is one of the best versions of "Big Bear Stomp" ever. What do you think, Jeff?
JB: I've been waiting for this one, Hal. I remember as a young teenager hearing my local band, The Galvanized Jazz Band, play "Big Bear Stomp" and thinking it was about the most exciting tune I'd ever heard! I'd love to hear your insights as to why this one became Lu's signature tune rather than any of his other terrific compositions. In the meantime, listening to this version makes me think PARTY…closing down the joint, although the tempo is slower than the West Coast 78 and looser as you mentioned. The interlude to the trio (RIGHT out of ragtime, btw) leads us into pure abandon. During this chorus you can hear the interweaving of our trumpet stars. The notes Helm bends during his half-chorus are hot and after Scobey's facile solo, I don't think of Lu's note as a crack but rather a solid F note tugging us UP to the G. It's hot, relaxed, natural AND swinging. I like this tune so much that I really wish bands would open up and take two or three ensemble out-choruses instead of finishing on a half-chorus since they aren't limited to three-plus minutes. I guess I just can't get enough of "Big Bear Stomp!"
HS: I'm with you, though I also like the concept of "leave 'em wanting 'more'!" "Big Bear" builds up a real head of steam right from the introduction and for that reason I think it is the most exciting of Lu's compositions—and the biggest crowd pleaser.
Besides the original compositions by the band members, another important part of the YBJB repertoire was Ragtime. Although the full band played a few rags, most of them featured Wally Rose and the rhythm section. Wally's version of "Black and White Rag" on the 1941 recording session really helped to kick off a Ragtime Revival that ran parallel to the Traditional Jazz Revival. Other than "Black And White," the rag that Wally is most closely identified with is Scott Joplin's "The Easy Winners." As a ragtime pianist, what are your thoughts on this performance?
JB: A little back story: when I first heard this it was a revelation; until Rose's "Easy Winners," I'd only heard it on the Sting soundtrack, Joshua Rifkin's "Joplin a la Brahms" releases and the Max Morath recordings on Nonesuch. After Wally Rose's by-the-score intro, Harry Mordecai's banjo (incorrectly credited to Clancy Hayes on the label) explodes onto the scene, Bill Dart's woodblock mightily syncopates, and Dick Lammi's bass lays down a sonorous foundation. This must have been an inspiration for Trebor Tichenor when he put together his St. Louis Ragtimers. Although Wally plays it mostly straight, there is a freedom in phrasing in both hands and it lopes along beautifully, THEN…you get to the (sadly only one) D section, and he takes off! He paraphrases the final melody up an octave and really barrelhouses it, with walking tenths in the left hand! The music from this quartet bubbles with joy; you can tell this was not work for them! I know that "Black And White Rag" was a hit, was this one as well, Hal?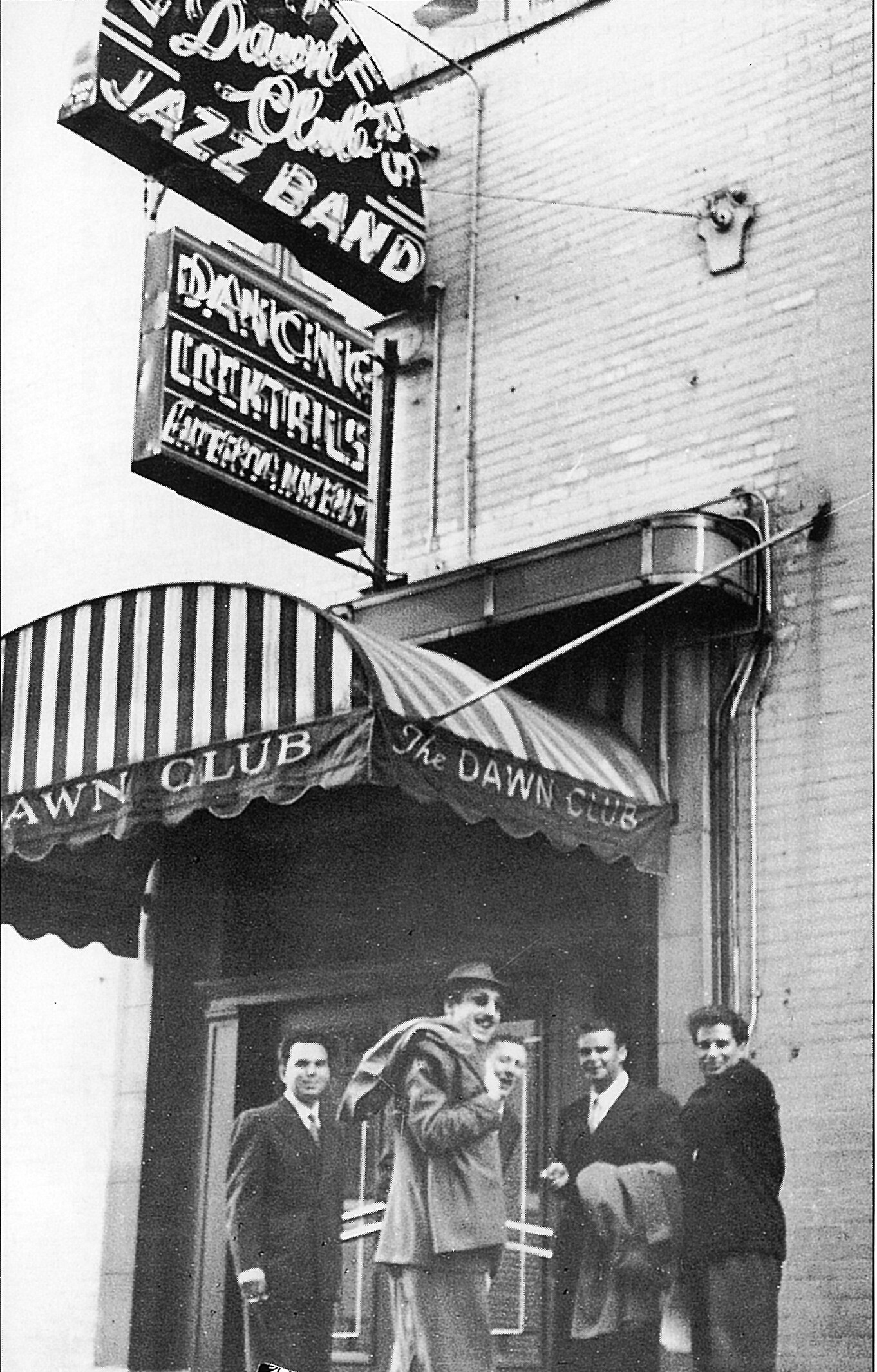 HS: Wally certainly played "The Easy Winners" many, many times in subsequent years. Wally told Terry Waldo that he "never hesitated to 'build up' his performances of the rags, as 'Watters could never get enough banjo'" and he wanted to be heard above the rest of the rhythm section. Your notes on how Wally played on the D section are spot-on and they illustrate perfectly how he "built up" his playing to match the volume of the rhythm section.
Earlier I mentioned that the full band played a few of the rags in the YBJB repertoire. One they especially seemed to enjoy performing was Joplin's classic "Maple Leaf Rag." In fact, Lu recorded it three times: 1941, 1947 and 1950! I was told that this version—from a West Coast 78—was included on early editions of the three-LP San Francisco Style LP set on Good Time Jazz. I am guessing that the noisy acoustics caused it to be cut from subsequent reissues. This certainly is an oddball record…besides the overall sound, we can hear two banjos (the second is Clancy Hayes, sitting in) but barely any piano. I think Wally is on this, but he is almost inaudible. The break on the B strain which would normally be played by piano was given to the banjos and the piano solo on the Trio was played by clarinet instead. Despite all the weirdness, I confess this is one of my favorite recordings by the Yerba Buena band — because of Dick Lammi's unrestrained, over-the-top tuba playing. I'll gladly put up with the auto repair shop acoustics to hear that glorious WhaaaRUMP from the brass bass!
JB: I really can't hear Wally either, but the tempo is ballsy, strutting and, yes, Lammi is taking NO prisoners!! A TOTALLY different interpretation from the 1941 version we covered in a previous column. Turk's lines in the second ensemble out chorus fill in the spaces perfectly. Hal, that's the D section they're playing and then it returns to the C for the outchorus, so departing from Joplin's form. When did they add that strain? And how I would have loved to hear this live from this band! I do miss Wally in there, though…
HS: Lu did include the final strain when the band returned to the Dawn Club in 1946. I remember hearing Bill Carroll play the same tuba part as Lammi on that strain when Bill was in Turk's band. Lovely sustained bass notes!
To wind up our listening session, here is "You Can't Shush Katie." Like "Maple Leaf," this one did not make it on to the Good Time Jazz three-LP series that introduced you and me (and many others) to the San Francisco Style. It is a 1920s popular song which shares a lot of similarities to "Hard Hearted Hannah" and illustrates Lu's ability to kick off great dance tempos. There are a few cracked notes along the way and that may be why it was left off the LPs. But listen to the wonderful bass lines on the verse, the breaks on the chorus by the trumpets and trombone, the characteristic solos by Bob Helm and Wally Rose and Lu's beautiful Armstrong-like lead on the last chorus.
JB: That first chorus sounds like a light night jam session; everyone drinking and trying to decide who to take home at the end of the night. I LOVE the hot, snaky clarinet solo Helm takes, with Lammi galloping behind him on tuba and Wally Rose ragging along. Rose's half-chorus solo has some lovely moments as well. I can see the boys keeping this one going if the dance floor was filled.
Hal, we've spent some good hours revisiting Lu Watters' legacy up through 1946. The wealth of recordings and original tunes he and his Yerba Buena Jazz Band contributed to the cache of hot jazz music will be performed, listened to, and studied for generations to come. AND, we're not done yet: In the future, we'll be covering 1947 and 1949-50 culminating with Lu's legendary Blues Over Bodega session. We'll revisit Watters and company sometime mid-2022.
For next month, I've always been interested in the two top territory bands that came out of the Western and Eastern most cities of Missouri. How about we take a listen to, and compare, Bennie Moten's Kansas City Orchestra and the Missourians from St. Louis?
HS: Sounds great, Jeff!