JB: Hal, when someone studies the traditional jazz "revival" of the 1940s-1950s (if anyone actually does anymore!!!), two names emerge as towering figures. While there were certainly many artists who were rediscovering and performing early jazz works and styles during that time, the names George Lewis and Lu Watters are always mentioned. This time around, we're going to explore Watters' music and its legacy.
In a previous column, I mentioned I became aware of the San Francisco Style created by Lu Watters' Yerba Buena Jazz Band (YBJB) from contemporary groups I heard playing it at festivals and on recordings, including the South Frisco Jazz Band and John Gill's Dixieland Serenaders as well as, and—Hal, I am not saying this because you're doing this column with me—the BY FAR best band capturing the Watters style to my ears, your own Down Home Jazz Band. Hearing that music inspired me to look up the source and listen to those recordings.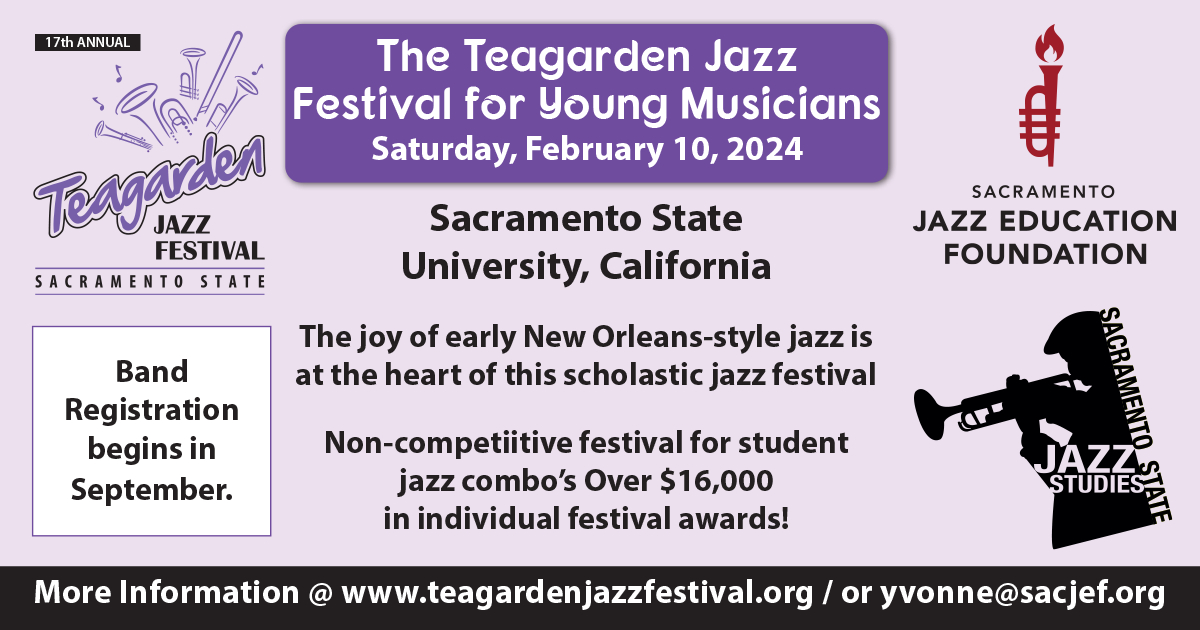 Fortuitously, the Good Time Jazz label had just released their 4-CD complete YBJB collection (GTJCD-4409-2) and I immersed myself in the sound. Subsequently, I discovered other bands playing SFJ like The Bay City Jazz Band. While there are many exponents of Watters' two-trumpet lineup, we'll share that Watters had a great musical career before and after he created his seminal ensemble. Hal, as a disciple and leading progenitor of groups celebrating Watters and his music, I'm sure you'll give us a good overview of Watters' musical history and legacy.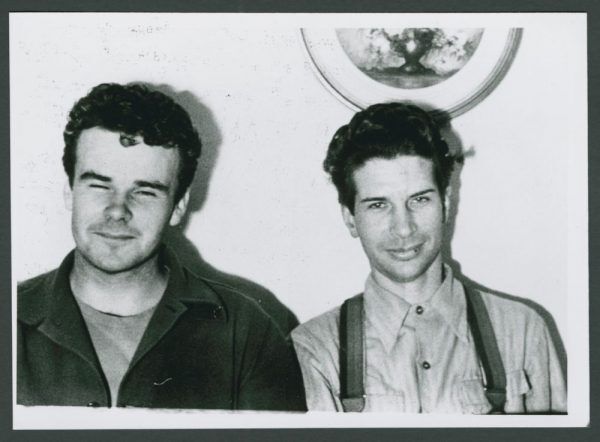 HS: Jeff, thank you for the kind words! I've been a fan of Lu Watters' music since 1965—when I first heard the 1946 recordings by the Yerba Buena Jazz Band on Good Time Jazz LPs. GTJ's Lester Koenig wrote some very detailed notes concerning Lu's early career. When Clint Baker and I wrote about Lu for the San Francisco Traditional Jazz Foundation website—decades after the LPs were released—we were still referring to those notes in our biographical entries on Lu!
As Clint wrote, Lu was playing bugle, then trumpet, at an early age while attending St. Joseph's Military Academy. He was already working as a professional musician playing on cruise ships while in high school. He won a scholarship to the University of San Francisco and of course he studied music!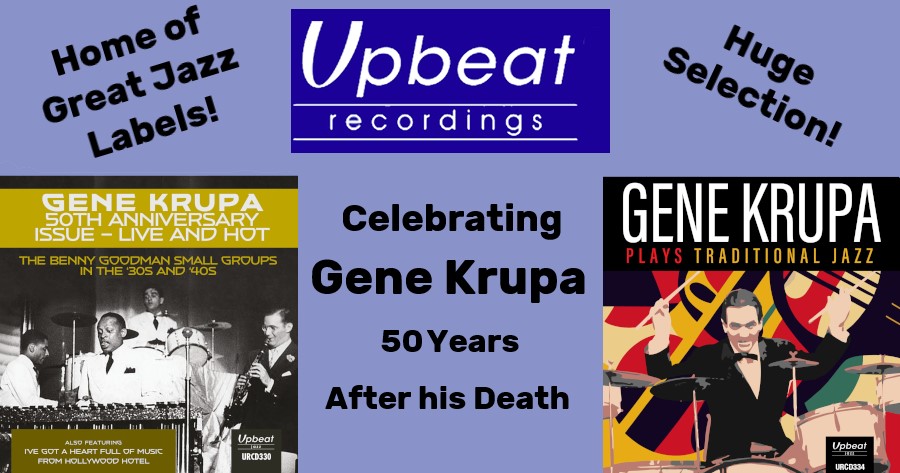 Lu developed quickly as a trumpeter. He also became an excellent music reader and arranger. His original influences were Bix Beiderbecke and Red Nichols, as can be heard on a 1929 recording by Jack Danford and his Ben Franklin Hotel Orchestra (a San Francisco-based group).
JB: In "Alabama Stomp," the band exemplifies the name, with the first section given to the trombones in homophonic figures, into a second chorus for reeds then a trombone solo with trumpet back-up (the pianist takes the bridge with a solo channeling both Arthur Schutt and Earl Hines–!?!), the next chorus is given over to clarinet, then finishes out with guitar, and THEN we hear Lu playing a figure with another trumpeter in the close harmony and rhythm he'd incorporate in YBJB several years later. Although they are playing WAY more notes than in the YBJB style, you can hear how the sound of two trumpets together was entering his ears early on. Hal, two questions. Is that Lu playing the solo on the bridge? Also, you mentioned his arranging skills. When was his first opportunity to show them off?
HS: Yes, that is definitely Lu on the solo—identified as such on the liner notes of the "West Coast Jazz" LP on Arcadia. As for his arranging, while still a teenager, Lu wrote an arrangement of "Alice Blue Gown" for Phil Harris. During Lu's stay with the Carol Laughner Orchestra, that outfit was the house band on Bing Crosby's radio program. Lu continued to write arrangements, and many of them were sung by Crosby. Lu's arranging skills proved to be invaluable when he organized the Yerba Buena Jazz Band, as did his ability to switch back and forth from the lead to the second part with Laughner's other trumpeter.
JB: When you introduced me to Lu's version of "Fidgety Feet" by his Sweet's Ballroom Orchestra, I was knocked out. Great clarinet harmony on the first break of A section, swinging piano behind the second A, adept part writing for both B's, and the trio foreshadows the stomping sound Lu would perfect when arranging for the YBJB. You confirmed he did all the arranging for Sweet's as well: quite a few more pieces than the 8-piece YBJB. How long did he lead that band and was he influenced by (or perhaps influencing?) the Bob Crosby sound? At any rate, how long did he lead that band? Not too many people know about his early career.
HS: I'm positive that Lu was influenced by the Bob Crosby Orchestra (and Bob Cats). The Crosby groups were playing the type of repertoire that appealed to Lu—especially the 1920s songs associated with Louis Armstrong. By the time he led the Orchestra at Sweet's, Lu was growing weary of playing the big band style and the pop music of the day. He had become an avid record collector and he was particularly enamored of Armstrong's Hot Five and Hot Seven records. I remember seeing a letter from Lu to William Russell where Lu mentioned trading "RARE" Beiderbecke records for Armstrong sides!
I believe the Orchestra lasted for a couple years; 1938 to 1939. Note that several of the musicians would later play key parts in the Revival: Bob Scobey, Bob Helm, trombonist Hi Gates, Ray Janhigen, Russ Bennett, Squire Girsback and Gordon "Gramps" Edwards. Sometime in 1939, Lu began to realize his ambition of leading a hot jazz band. There is a homemade disc of "Maple Leaf Rag" and "Struttin' With Some Barbeque" recorded in Lu's apartment in 1939 with himself, Turk Murphy, Bob Helm, Paul Lingle and Pat Patton. That is the true beginning of the Yerba Buena Jazz Band!
JB: And by 1941, that sound had coalesced into the hard-driving, two-beat style aficionados identify with the YBJB. Although the post-war sessions put Watters and his band on the revivalist map, you offered two titles from the pre-war line-up and sound. Let's start with "At a Georgia Camp Meeting" from 1941. To my ears, it is the PERFECT tempo for this cakewalk: strutting, solid yet relaxed, you can't keep still while listening to it.
A nicely arranged full-band intro leads us to two ensemble A's and then two ensemble B's. Two solos on A feature Ellis Horne's chalumeau clarinet solo followed by one for Lu, and then a gutbucket, smearing solo on B by Turk, urged on by our first hearing of Bill Dart's off-beat choke cymbal. One more ensemble A gives way to a final ensemble B culminating in a two-bar tag. All of the elements of the fully realized YBJB sound are here, if in fledgling form. What do you hear when you listen to this one, Hal?
HS: This first commercial recording by the Yerba Buena band was made on Lu's 30th birthday: December 19, 1941. Normally, you would think that between the bandleader's birthday and the band's first recording session it would result in a festive atmosphere. But considering the event that occurred just 12 days prior to the session, I suspect there may have been a considerable amount of unease among the musicians. By the way, the ensemble on this date consisted of: Lu Watters, cornet/leader; Bob Scobey, trumpet; Turk Murphy, trombone; Ellis Horne, clarinet; Wally Rose, piano; Russ Bennett and Clancy Hayes, banjos; Dick Lammi, tuba; and Bill Dart on drums.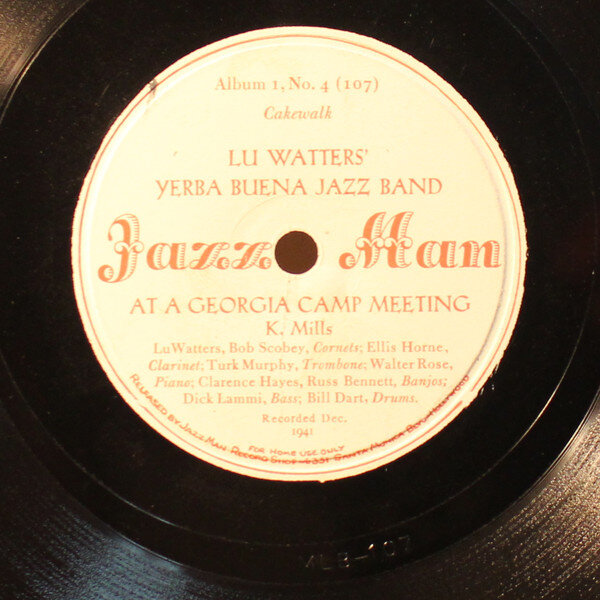 My favorite moments on this track are the solos by Ellis, Lu, and Turk. Ellis had such a beautiful, woody tone and the musical sensibilities of Johnny Dodds and Leon Roppolo. Lu's playing makes me think of Bunk Johnson's description of how he played: "stomping" the cornet. And even on this early recording, Turk's sound is unmistakable.
Note the "modern" introduction and the absence of the trio strain. I think the band may have been using a doctored stock arrangement for this performance. John Gill told me that the band also based their arrangements of "Kansas City Stomps" and "Maple Leaf Rag" on stocks.
Speaking of "Maple Leaf"… This must have been one of Lu's favorites to play. Over years, the YBJB recorded it three times—in addition to versions heard on Dawn Club broadcasts and Bob Helm's live recordings of the band at Hambone Kelly's.
The "stock" elements of Joplin's great rag include the "hot" melodic line on the trio strain (as opposed to the original melody) and the "How Dry I Am" strain before the trio is reprised. This version leaves out the final strain, though the YBJB included it on later performances.

I asked Wally Rose why the band played "Maple Leaf" in F and Bb rather than the original Ab and Db. Wally explained that it was "easier for the horns." The Bob Scobey and Turk Murphy bands also played the song in F and Bb. Interestingly, so did pianists Paul Lingle and Burt Bales. (Wally was the only YBJB alumnus who performed the rag in the original keys)!
JB: It's a stomping performance! There are two records that introduced me to Watters' "take-no-prisoners" sound. I first heard the 1941 version of "Maple Leaf Rag" on the CD reissue, edited by my friend and ragtime scholar Dave Jasen, of They All Played the Maple Leaf Rag. It was the version I almost wore out; I could never only hear it once. I'll reveal the other tune in next month's column.
The A strain sounds like a stock, with all the close harmonies and homophonic voicing. They loosen up a bit during the ensuing two B sections. What knocks me out is what happens between the ensemble trio sections: Wally Rose plays a solo B section (with banjos and drums; tuba sits out) straying only somewhat from the melody. Rose continues farther afield during his second ride but the gasser is the HEAVY tuba line (LOTS of low F's!!) Lammi provides under his solo. Things continue to build from there. That "How Dry I Am" chorale benignly boosts Ellis's hot clarinet solo into two of the most exciting (and unSTOPpable) ensemble choruses in Revival Jazz. I think it's OK to have left out the D section; I've often seen the C section as the climactic part of "Maple Leaf Rag"; alternatively, many solo performers finish on the B section due to the exciting nature of that strain. No matter, this is my favorite band performance of the world's favorite rag.
HS: Wow! I had no idea that you liked it that much. My favorite band record of it is Kid Ory's, from 1954. But—the 1941 Yerba Buena version is great too. I also like the one they recorded for the West Coast label in 1947, but for a very different reason.
Before we move on to 1942, we should mention that Wally Rose's record of "Black and White Rag" from the 1941 session—with just the piano, banjos and drums—outsold all the other sides. Wally was very proud of that fact, for good reason. If you think about it, that record was actually the beginning of the Ragtime Revival!
JB: It sure was! People rightly give the Honky-Tonk releases (Joe "Fingers" Carr, Johnny Maddox, et al) in the 1950s and Max Morath, Bob Darch, and Trebor Tichenor (among others) credit for fomenting renewed interest in Ragtime in the 1960s, but Wally was way ahead of all of them.
HS: Most of the musicians entered the Armed Forces in 1942, but in March of that year they were still performing regularly at the Dawn Club in San Francisco and broadcasting live on station KYA. Recording sessions were scheduled for March 22 and 29, but there was a considerable amount of concern from the producer regarding the repertoire and the personnel. (All of this is detailed in Cary Ginell's excellent book Hot Jazz For Sale).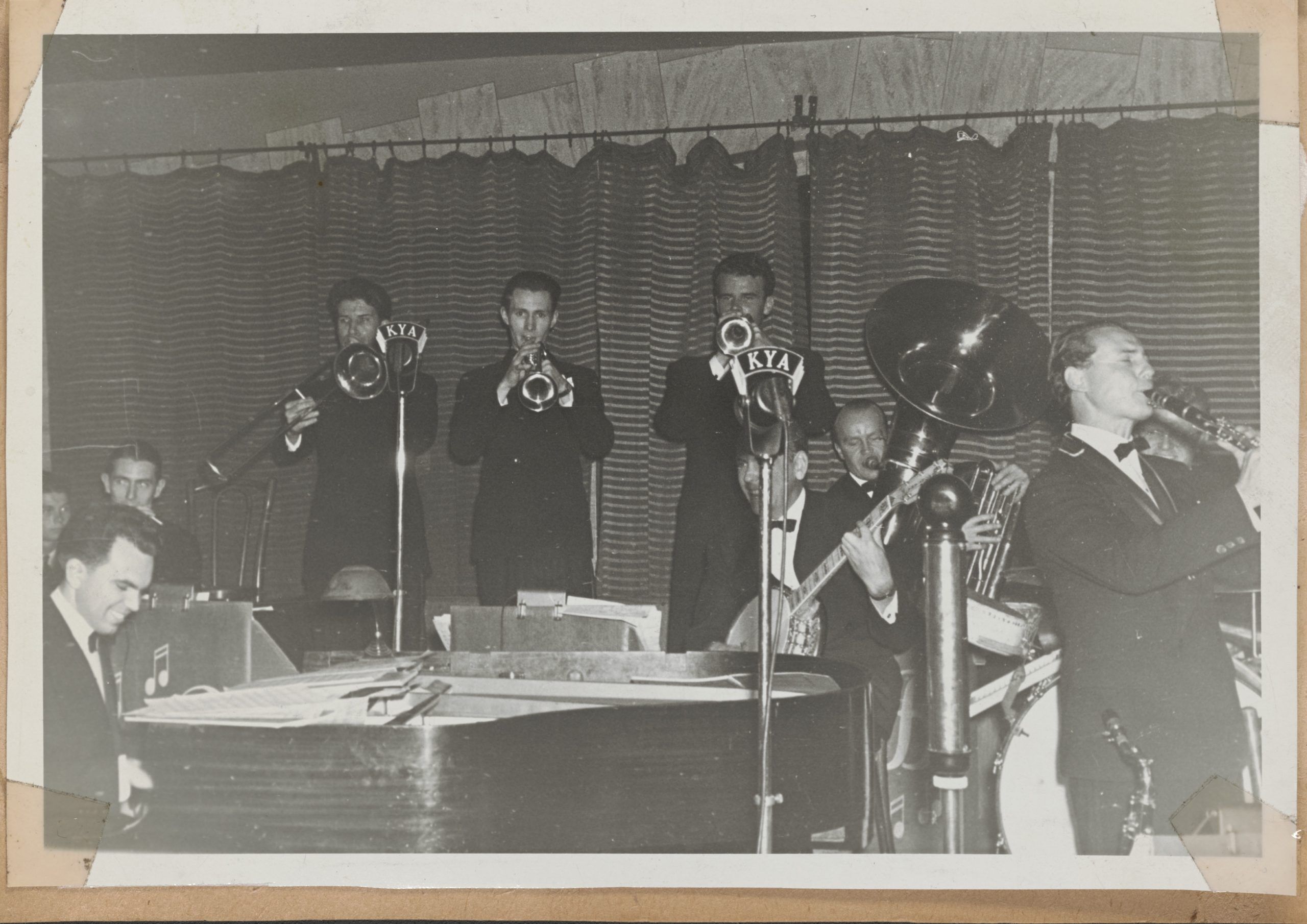 Lu agreed to some of the producer's requests: to use a different brass bassist—Squire Girsback—and to have Bill Dart lay off the bass drum. There were some hard feelings within the band when the final list of songs for the recording did not include any vocals by Clancy Hayes—even though Clancy's vocals had been part of the band's performances at the Dawn Club. Some of the band's supporters suggested that the cakewalks and "commercial rags" recorded on the first session should not be included on the March sessions. Coincidentally or not, the songs chosen for the recording were hot jazz numbers. However, Wally and the rhythm section recorded Henry Lodge's "Temptation Rag" and Paul Pratt's "Hot House Rag" the week before the full band session.
Except for Girsback, the personnel was the same when the band recorded on March 29. The horns blended very well and we start to hear a significant difference between Lu's playing and Scobey's…Lu played an uncomplicated lead, usually right on the beat and with a nice, rounded tone on his Conn-Victor cornet. In contrast, Bob Scobey played with a pronounced vibrato, often phrased around the beat, and by using a trumpet rather than a cornet he achieved a brighter tone. (The first strain of "Fidgety Feet" illustrates this difference: listen to Lu on the first break and compare it to what Scobey plays on the second break). Elsewhere in the front line, Ellis Horne was having an exceptionally good day and he sounds marvelous in all registers of the horn. Turk had a bloody lip, but you would not know that from listening to any of these recordings.
With a less exuberant brass bassist, nearly inaudible bass drum and slightly under-recorded banjos, sometimes the overall sound is almost too polite. Luckily, there are a few moments where Bill Dart rides to the rescue—particularly on the split chorus between Lu and Turk on "Sunset Café Stomp" and the first ensemble trio on "Milneburg Joys."
Despite the radically different sound of the band, there is plenty to enjoy from this session—including the fact that these are the first "revival" recordings of standards like "Come Back, Sweet Papa," "Cakewalking Babies From Home," "London Blues," and "Riverside Blues."
Jeff, what are your thoughts regarding the sound of the band on this 1942 session?
JB: First, I've always been intrigued by the dichotomy twixt Ellis Horne and Bob Helm. They couldn't have been farther apart in intent or execution, yet somehow they BOTH add so much to the band during their tenures. Horne had a learned, almost studious quality to his playing, along with a superior tone in all registers, but he could get hot. Helm had a twisty, rambunctious, iconoclastic style of playing with a whining, poly"tunal," almost dirty sound. I've always been comfortable with Ellis and surprised by Bob.
Concerning the tunes you mention, it's a nice surprise to hear the clarinet, not the trumpet, playing the short verse to "Sunset Café Stomp" and "Milneberg Joys" simply kicks up a storm—regarding the latter, I must reiterate that Watters had a flawless sense of tempo…most bands play that tune too fast. For the remaining sides you listed, Hal, I have only superlatives to add. They happen to be some of my favorite tunes to play—or listen to—and on "Come Back" I hear an almost melancholy phrasing in the trumpets during the first ensemble (can there be such a thing as a "wistful hotness?").
I'm gobsmacked that Murphy was having lip trouble throughout these tunes, but especially on his half-chorus on this ride! "Cakewalkin' Babies" is, as expected, the right tempo; the rendition is only marred by the band's disagreeing on the harmonic turnaround at the half-way point of the chorus, a fact largely solved during Horne's clarinet solo when Rose pounds out the correct changes in block chords to set everyone straight! Since I mentioned Wally Rose, I love all of the work he does on "Riverside" from his playing behind the soloists to those fill-ins between the horns, especially on the final ensemble chorus. Simply beautiful stuff.
On "Milneberg" and "Cakewalking" I have to comment on Bill Dart and am eager to hear your expert analysis, Hal: He seemed to use the offbeat choke cymbal more sparingly in 1942, relegating it to trombone and trumpet solo choruses only—so always the woodblocks on the outchorus—whereas by 1946 he would most often utilize the choke cymbal during the final outchorus. What happened?
HS: Actually, Dart played woodblocks for the outchorus on some of the 1946 recordings and broadcasts, too. Remember that he was basing his choice of percussion instruments on a combination of what was audible on acoustic records of the 1920s and what he was directed to play by Lu. I remember making a CD with Wally Rose where we played "Gladiolus Rag" with the rhythm section. I tried to vary the sounds by using woodblock, muted tom-tom and choke cymbal throughout the performance. When we finished the first take, I asked Wally if the drumming was o.k. He replied, "It was FINE! Dart would have played woodblock through EVERYTHING!"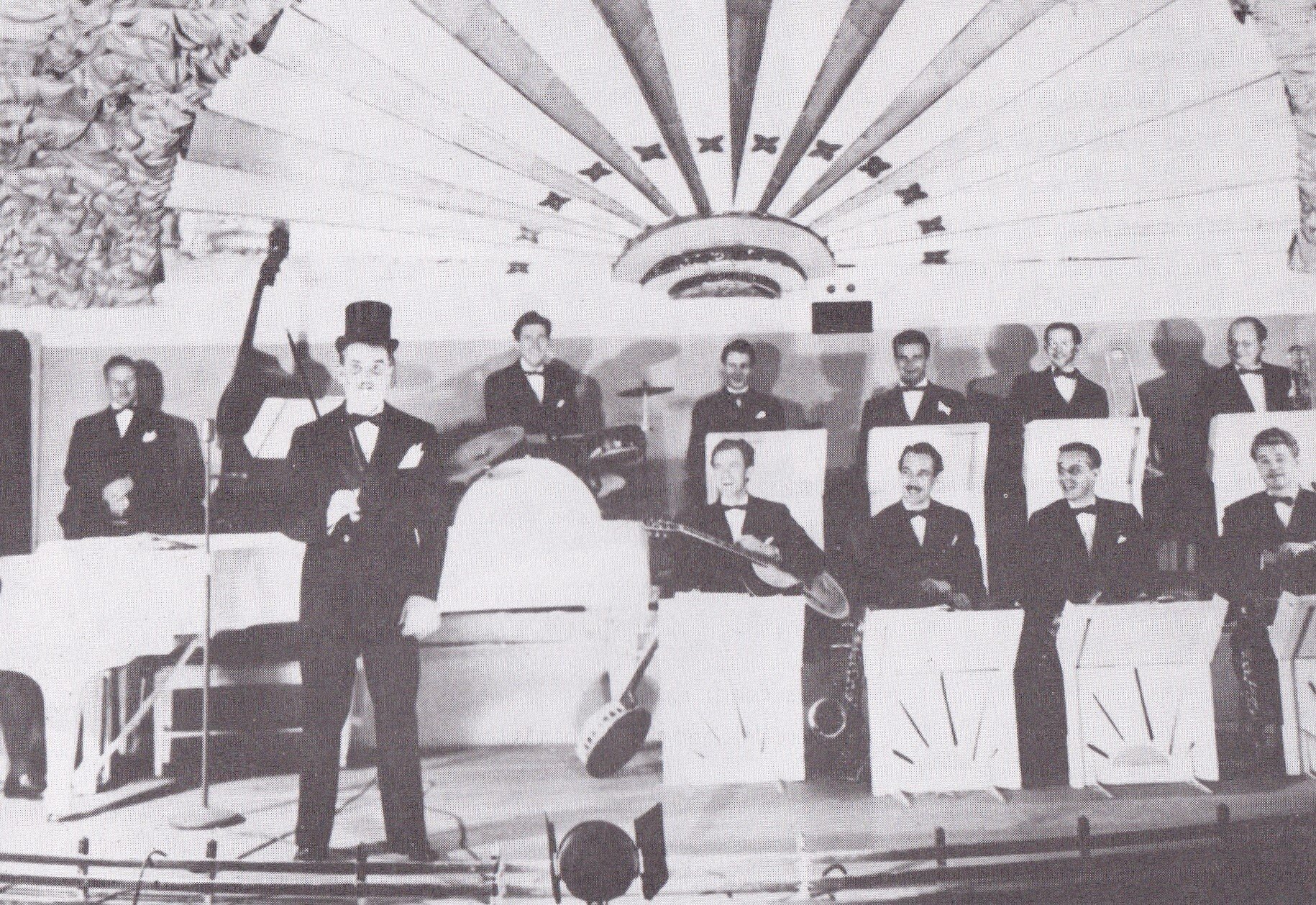 With the completion of their second commercial recording session, the Yerba Buena Jazz Band was definitely on its way. Unfortunately, WWII put a temporary crimp in the band's activities as Lu, Scobey, Turk, Wally and Dart traded their civilian clothes for uniforms. However, albeit with ever-changing personnel, the YBJB continued to perform at the Dawn Club. In the summer of 1942, a marvelous trumpeter named Benny Strickler joined the wartime version of the YBJB. Musicians and audience alike were knocked out by his great trumpet style. Next month, we will talk about Benny Strickler's career and recordings with his daughter—Diane Breazeale.
JB: Looking forward, Hal! Our exploration of Strickler will include the wartime YBJB, among other ensembles, and then we'll return to continue our focus on Watters for the Post-war era YBJB, including the celebrated sides from 1946 and more! See you next month!