THE ARIZONA CLASSIC JAZZ FESTIVAL (Chandler, AZ) November 5-8, 2020
The music starts at 5:30 p.m. on Thursday, November 5, and ends at 5:00 p.m. on Sunday, November 8. In addition, an Afterglow that includes a buffet dinner and music will be offered at the hotel from 6 – 8:30 p.m. on Sunday for a cost of $35.
The bands will be: "BIG" B.A.D. Rhythm, the Black Market Trust, Cheryl's Vintage Swing with special guest Dan Levinson on reeds, Cocuzzi Courtet, Lynn Robert's Swinging Saxes, Queen City Jazz Band, Sentimental Breeze, Stephanie Trick & Paolo Alderighi, Sun City Stomperz, Tom Rigney & Flambeau, We 3 + 1, Wildcat Jazz Band, and guest Howard Alden. There may be others.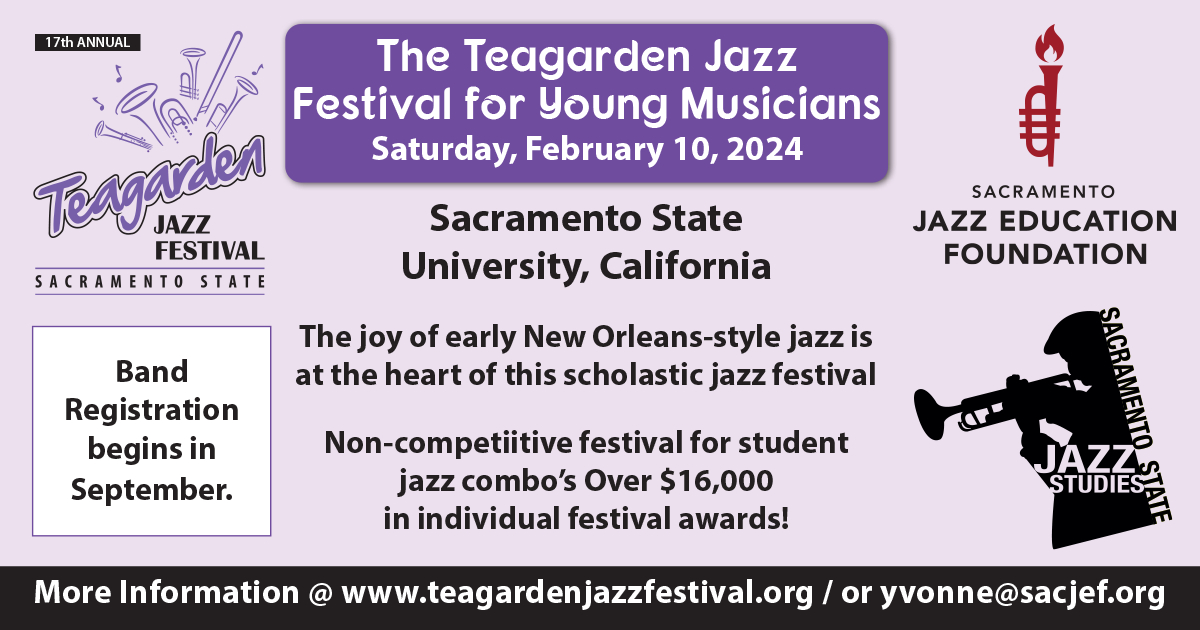 The event is held at the Crowne Plaza Phoenix – Chandler Golf Resort, One San Marcos Place, Chandler, AZ. For rooms, call the hotel at 877-685-5594 before October 6 and be sure to identify that you will be attending this event. Badges may be purchased before October 29 by sending a check or credit card information to ACJF, 10918 E. Michigan Ave., Sun Lakes, AZ 85248 or by calling 480-620-3941. They will be available at the door starting at 2 p.m. on Thursday, November 5. Badges are $110 each if purchased before August 15; $130 after that date. Day badges will be available for purchase at the door: Thursday $20, Friday $55, Saturday $65, Sunday $45. Band sponsorship is very much appreciated. (www.azclassicjazz.org)
Virtual 2020 Jazz Jubilee by the Sea BONUS Videos, November 15

th

, Noon
Flush from the tremendous success of Virtual 2020 Jazz Jubilee by the Sea, a Livestream show that featured both pre-recorded and live performances, we now present a reprise event featuring new BONUS videos.
There were so many fine videos created and sent to us that we were not able to air them all during the October 24th and 25th Virtual Jazz Jubilee. We had more live bands in October than originally planned and therefore less time to run videos. We have packaged up the remainder and will run them on November 15th, the date of our regular Sunday Session, starting at noon, Pacific Standard Time. Some bands, such as Crescent Katz, Professor Cunningham and Gino and the Lone Gunmen, sent two hours' worth of fine video, and we weren't even able to air even one full hour. We were only able to play half of the videos submitted by Molly Reeves & Nahum Zdybel and Jessy Carolina & Mario Maggio. We will replay them in their entirety. We have received a new video from Matty Bottel and Sheri Colby of Blue Street as well as a few gems from Rick Canfield. We also have new interviews to air with Danny Coots and Larry Scala. This material was not shown in October. The videos will be streamed on our Basin Street Regulars Facebook page as well as our Basin Street Regulars and Pismo Jazz Jubilee YouTube channels. See links below. We will start streaming the videos at noon. We expect to have at least 6 hours' worth for your viewing enjoyment.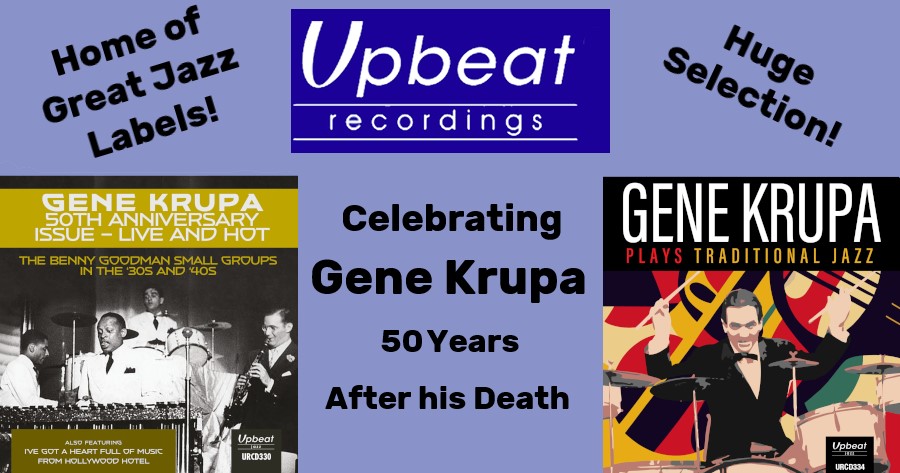 This Virtual event is our way to raise money to benefit Jubilee musicians who have been unable to perform to their capacity due to the restrictions imposed during the pandemic. We will have a live stream link that will be publicized in advance. If you wish to receive notification of this link, please send us an e-mail at [email protected].
We are working with Valerie and Simon Mercado from our local production and marketing company, "Noble Productions", to put together the best show possible. Noble Productions did a fine job helping us pull together our complicated but hugely successful event in October.
The money we receive from donations will be used to cover the expenses for putting on the event and then, most importantly, to pay the participating musicians, both those that performed live and those that provided videos. We are hoping that our audience will continue to be generous this month so that we can give back to the musical community that supports our passion. . Donors at the $250 or more level will get a "Virtual 2020 Jubilee by the Sea face mask. Donations of any size will help. Please go to www.pismojazz.com to donate online.
For more information about this event as it unfolds, go to the Basin Street Regulars website: http://pismojazz.com/
The Livestream will be broadcast on the Facebook page of the Basin Street Regulars: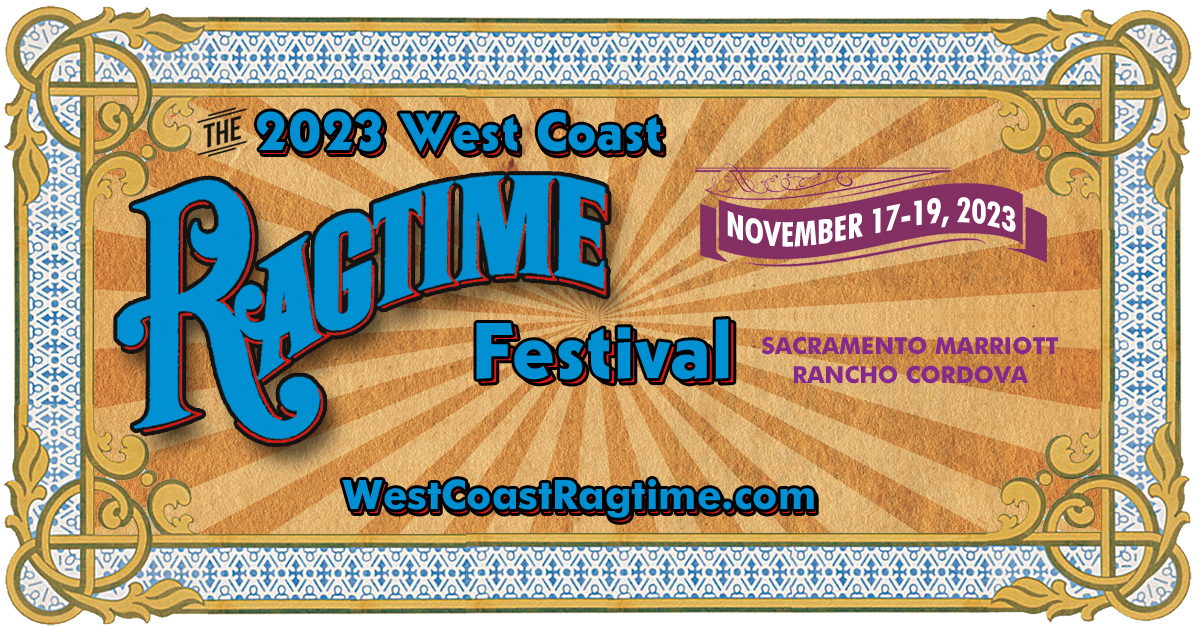 https://www.facebook.com/BasinStreetRegulars
And also on our Basin Street Regulars YouTube Channel:
https://www.youtube.com/user/BasinStreetRegulars/
and the Pismo Jazz Jubilee YouTube Channel:
https://www.youtube.com/channel/UC6Rm9YcFNgdcKkBX6t35XXw
If you wish to pre-sponsor a band, the link will be: http://pismojazz.com/purchase-badges.htm
If you wish to donate any amount in advance (strongly encouraged), our donation link is: www.paypal.me/basinstreetregulars
or you can mail a check to:
Jazz Jubilee by the Sea
c/o P.O. Box 356
Pismo Beach, CA 93448
Let's all work together to make this a successful event and support our musicians in 2020 so that there will still be bands left to perform for us in 2021!
Rhonda Cardinal
Festival Director
Virtual 2020 Jazz Jubilee by the Sea
SUNCOAST JAZZ FESTIVAL (Live Stream Only) Fri.- Sun. Nov. 20-22
A Live Stream event is being arranged for the weekend the Clearwater, Florida, festival would have happened in a normal year. Confirmed bands include:
Professor Cunningham Does Barcelona
Dave Bennett Quartet
Heather Thorn and Vivacity 
La Lucha 
featuring James Suggs
Ed Metz Trio 
featuring Rossano Sportiello and Nicki Parrott
Johnny Varro Trio 
featuring Ed Metz and Mark Neuenschwander
Tom Rigney and Flambeau 
Bakey and Betty 
(Paul and Theresa Scavarda) 
Tarpon Springs High School Jazz Ensemble
Nate Najar  & Friends
Daniela Soledade, John Lamb, Jean Boldouc, Jeff Rupert and Randy Sandke
For more information as it comes in, please visit www.suncoastjazzfestival.com.
WEST COAST RAGTIME FESTIVAL (Live Stream Only) Nov. 20-22
The West Coast Ragtime Festival in person event has been cancelled for 2020 but there will be some form of Live Stream event to take the place of it that weekend. Please tune in to enjoy 33 of the same great artists you would have seen as we prepare for 2021.  westcoastragtime.com.
THE SAN DIEGO JAZZ FEST & SWING EXTRAVAGANZA (Live Stream Only) Some portion of Nov. 25-29
Based on COVID-19 related concerns for our attendees and hotel partners as well as mandates from the CDC and State of California, the AFCDJS Board of Directors has made the decision to cancel this year's San Diego Jazz Fest live event, originally scheduled for November 25-29, 2020 at the Town and Country Hotel & Convention Center. We are currently putting together an online, "virtual" event in its place. Details can be found at www.sdjazzfest.org. Facebook Event page: www.facebook.com/events/437680127159552/
Eagles and Ivories (Livestream) Jan. 30th
Performers: GROOVUS (Brian Holland, Danny Coots, Steve Pikal); Chase Garrett; Ivory&Gold®; Holland/Coots duo; Jeff Barnhart. Time: 7 pm EST. Show will run approx. 2 hours. Donations will be split by the performers.
Eagles&Ivories will go virtual in 2021 with a two hour festival on Saturday, January 30 at 7 pm EST featuring the greatest American music from Ragtime and Blues to Jazz and Boogie and many surprises! Performers include the celebrated musical duo of Brian Holland and Danny Coots, who will also be joined by bassist Steve Pikal in their trio GROOVUS. Boogie/Blues phenom, pianist Chase Garrett, will be making a welcome return, as will festival stalwarts Anne and Jeff Barnhart as Ivory&Gold®. Jeff will also be providing some solo piano tunes. This fast-paced event will accept donations and "tips," all of which will be shared among the performers. Attendees will be able to access the party live on FaceBook and YouTube.
NORTH CAROLINA JAZZ FESTIVAL (Wilmington, NC) Feb 4-6 (CANCELLED)
Following the guidelines of our governor, and for the sake of the health of our attendees and musicians, we are postponing our 41st 
North
Carolina
 Jazz Festival from February 2021 to the first weekend in February,2022. We have our musicians for 2021 under contract and they have all agreed to the new dates.
The event will be at the Hotel Ballast on the bank of the Cape Fear River, in historic Wilmington NC. Those who have purchased tickets or patronships in advance will have the choice of a refund or have them validated for 2022.
For more information on the festival and the musicians who will be playing there please go to our website 
www.ncjazzfestival.org
For more information visit ncjazzfestival.org, e-mail [email protected], or call 910-793-1111.
TEAGARDEN JAZZ FESTIVAL (Sacramento, CA) Feb. 8 (CANCELLED)
The joy of New Orleans-style jazz is at the heart of this scholastic combo festival, which is dedicated to fostering a better appreciation of this classic American art form. Each year, scores of young musicians gather at the annual Teagarden Jazz Festival (formerly named Traditional Jazz Youth Band Festival) for experiences that take their musical skills to the next level.
SOUNDS OF MARDI GRAS (Fresno, CA) – Feb. 11-14
We are waiting for restrictions for large gatherings to be rescinded before we can begin planning our Festival.  We hope to have good news in November. Keep checking in at  www.fresnodixie.com, Facebook Event page: www.facebook.com/events/806269303118501
SAN DIEGO JAZZ PARTY (Del Mar, CA) – Feb. 19-21
The 32nd annual San Diego Jazz Party is set to take place in Del Mar, Calif., 20 miles north of San Diego, at the Hilton San Diego/Del Mar.
Performers at the 2020 Jazz Party will be Harry Allen, John Allred, Evan Arntzen, Dan Barrett, Danny Coots, Rebecca Kilgore, Ed Metz, Nicki Parrott, Ken Peplowski, Jon-Erik Kellso, Houston Person, Ed Polcer, Vinny Raniolo, Chuck Redd, Rossano Sportiello, Dave Stone, and Jason Wanner.
All-events badges cost $250 and includes Friday free-bar cocktail party and Saturday jazz brunch; Friday-evening passes cost $85; Saturday passes cost $145; Sunday passes cost $85; reservations for single sessions accepted after Jan. 1. Visit www.sandiegojazzparty.com; or write San Diego Jazz Party, 1632 Hillstone Avenue, Escondido, CA 92029-4332.
Virtual Lionel Hampton Jazz Festival – February 25-27, 2021
Since the 1960s, the University of Idaho Lionel Hampton Jazz Festival has been honoring the music, dance and history of jazz music and one of its most cherished artists Lionel Hampton.
By providing a virtual experience for students, artists and educators across the globe, the 2021 Festival will continue to honor these traditions while breaking new ground. Music enthusiasts will have the opportunity to attend artist and educational workshops, perform and receive feedback from world-class artist educators, and view phenomenal concerts featuring live performances of present jazz stars and archival footage of past greats including Hamp himself. You won't want to miss this incredible event! www.uidaho.edu/class/jazzfest
JAZZ BASH BY THE BAY (Monterey, CA) (Cancelled)
The Board of Directors of Dixieland Monterey, after much consideration, has voted to cancel Jazz Bash by the Bay 2021 because of the risks posed by COVID-19. The majority of our demographic falls within the most at-risk population. Even with conflicting reports of when a vaccine might be available to all Americans, we do not want to put anybody involved with the festival at risk. Will a vaccine be available soon enough before our festival for everybody to receive their two doses and time to develop their own immunity? We don't know and care enough about all of you to not take the chance. Will California – Monterey County specifically – be able to hold large indoor gatherings and concerts by early March? We don't know. Would everybody feel comfortable and safe without thinking of the risk? Probably not. We want Dixieland Monterey's Jazz Bash by the Bay to retain the joyful party atmosphere we all so highly treasure at our beautiful event instead of everyone walking on eggshells and very much on edge.
So, with that said, please put March 4-6, 2022 on your calendar for the best Jazz Bash by the Bay ever. We plan to invite the bands and musicians who had verbally committed to 2021 plus many more. More information will be on our website as plans develop. Stay safe! We care about each and every one of you. Keep posted at jazzbashmonterey.com.