Note: Earlier in 2021, jazz writer Dave Radlauer was offered a collection of recordings by the Red Onion Jazz Band—from the collection of Dick Dreiwitz, the band's last trombonist. Dave sent out a plea for help in preserving and distributing the recordings. At the same time, The Syncopated Times' Joe Bebco asked for interested parties to consider writing a detailed article on the Red Onion Jazz Band. In this article, we will touch on the origins of the Red Onion Jazz Band, its lineup from the 1950s on, and a development which may keep the Red Onion sound alive for future audiences.
As the Jazz Revival flourished in the 1950s, outstanding bands of young musicians could be heard across the US Groups such as the Bay City Jazz Band, South Frisco Jazz Band, the El Dorado Jazz Band and Bob Mielke's Bearcats joined the ranks of established ensembles like the Salty Dogs, Dixieland Rhythm Kings, Tailgate Jazz Band and the Polecats. One such group, which lasted well into the 2000s, was the New York-based Red Onion Jazz Band, led by drummer-washboardist Robert Thompson.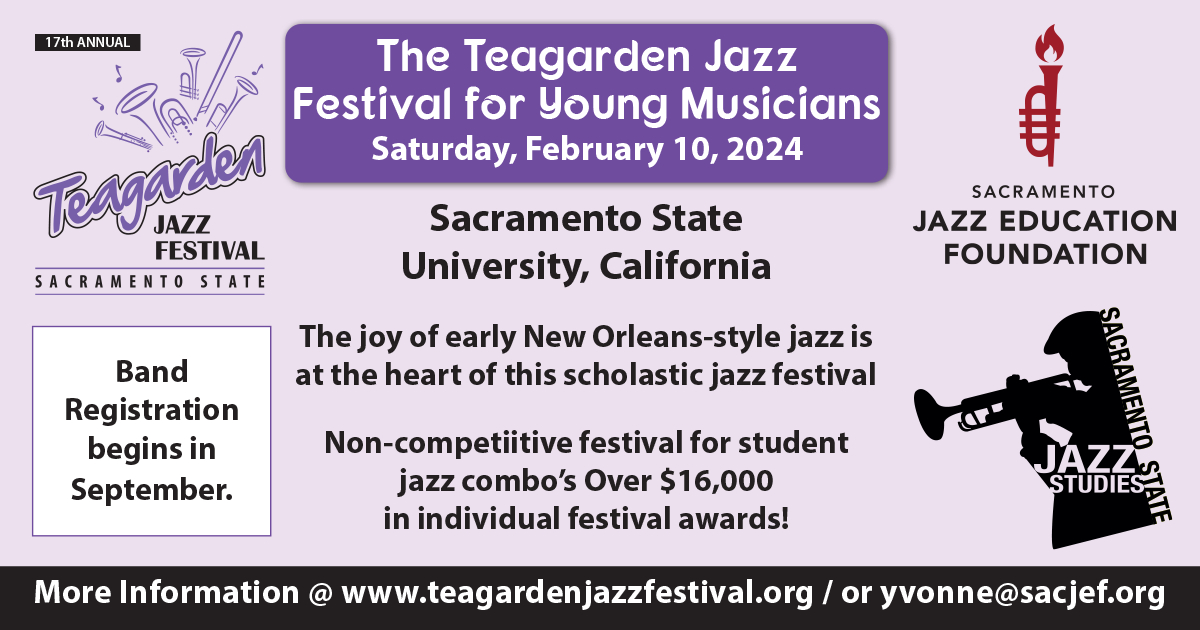 Thompson, a native New Yorker, served in the U.S. Army from 1941-46, earned a degree in Chemistry from Columbia University and worked as a chemist before studying Psychology. He wrote for The Record Changer magazine and played washboard on a 1951 session which included cornetist Carl Halen and pianist Bob Greene. In 1952, Thompson was leading his own group, the Dixieland Footwarmers. The Footwarmers received a tremendous boost when Bob Hodes, one of the finest trumpeters of the Revival, joined the band.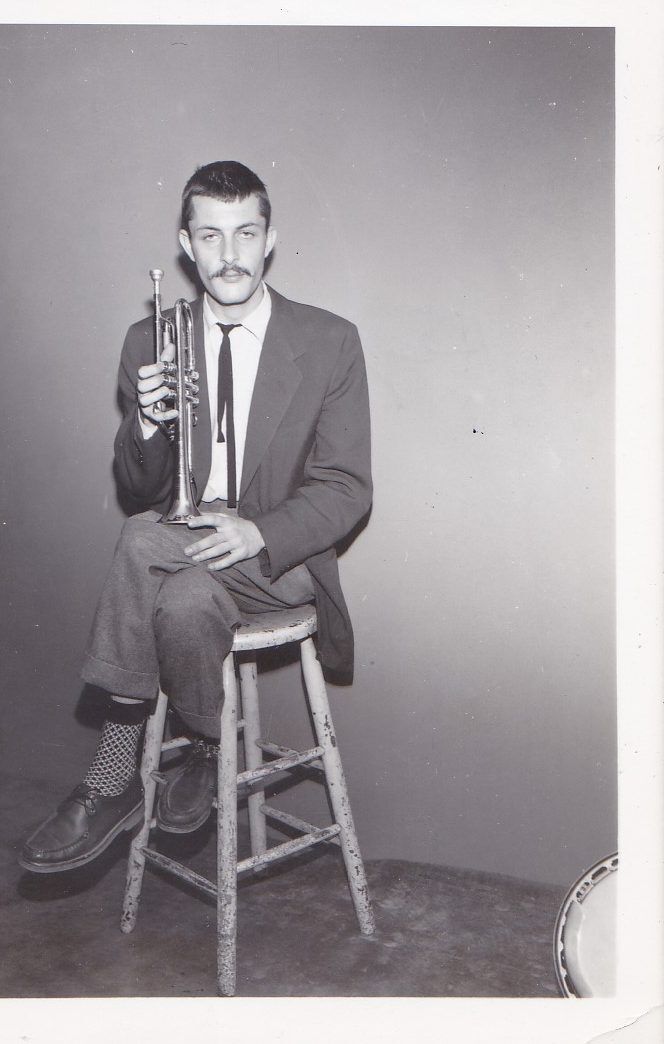 However, Thompson's studies interfered with bandleading duties and he turned over leadership of the band to Hodes. Hodes, in turn, reorganized the group and changed the name to "Red Onion Jazz Band." In addition to Thompson and Hodes, the first edition of the Red Onions included Charlie Sonnanstine, trombone; Joe Muranyi, clarinet; Robin Wetterau, piano; Chuck Kling, banjo; and Bill Stanley, tuba. This ensemble developed a formidable sound of its own. They performed in New York at Jimmy Ryan's and the Blue Note and in January, 1953 recorded a session for release on a 10" Riverside LP entitled New Orleans Encore.
After the recording session, Sonnanstine, Hodes and Wetterau left the band. (All three soon wound up playing in Gene Mayl's Dixieland Rhythm Kings). Bob Thompson took over as leader and began the reorganization process. In September of 1954, a new version of the band recorded for Riverside; a 12" LP called Dance Off Both Your Shoes. Thompson, Muranyi and Stanley remained from the 1953 group. New band members included Jim Heanue, cornet; Dick Brady, trombone; Hank Ross, piano; and Mike Stieg, banjo, with Bill Stanley switching to string bass.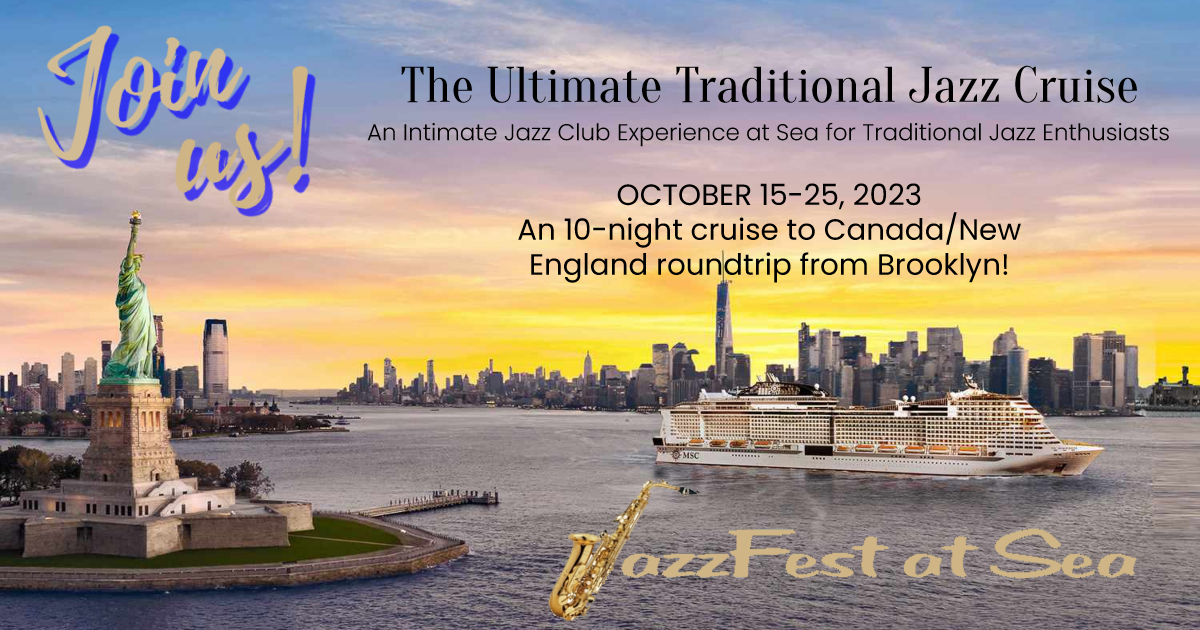 Even though the new band was clearly playing a more eclectic style, Thompson continued to play drums and washboard in the San Francisco tradition. Not long after Dance Off Both your Shoes was recorded, he played washboard on several sides with the Turk Murphy Jazz Band when they recorded the Dancing Jazz album (plus one session unissued at the time) during the Murphy band's 1954 tour. At the same time, Thompson and Bill Stanley also recorded with Bob Helm's "Riverside Roustabouts"; another 10" LP issued on Riverside.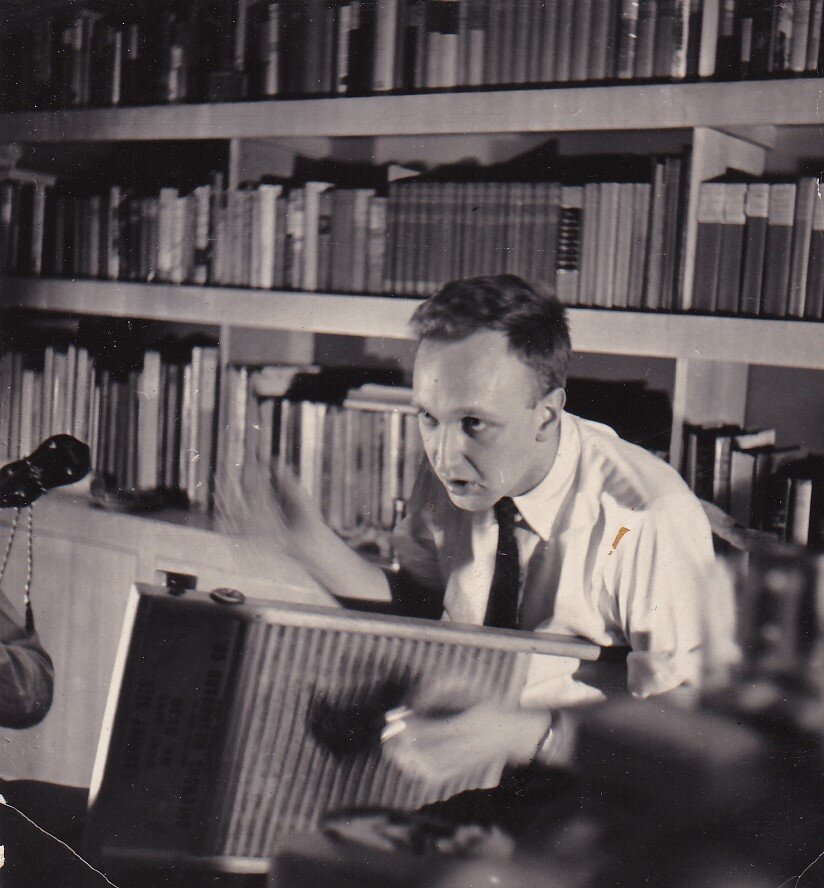 The band personnel continued to change for several years. Cornetist Frank Laidlaw, pianist Bob Greene and banjoist Pete Diller (son of comedienne Phyllis) played with the group during this time. Several ROJB alumni distinguished themselves in fields outside traditional jazz… trombonist/tubist Steve Knight became a highly respected Rock musician (The Devil's Anvil, Wings, Mountain).
Clarinetist/soprano saxophonist Richard Hadlock is an author and longtime radio host. Banjoist George Segal was a well-known actor and banjoist Steve Larner was an Emmy-nominated cameraman and Director of Photography. In 1959 the Red Onions recorded with humorist Shel Silverstein for the Elektra label (Hairy Jazz). Four years later, the band backed folksinger Dave Van Ronk on an album entitled In The Tradition, which was released on Prestige. Despite numerous personnel changes, the Red Onion band continued to demonstrate high musical standards and they remained one of the finest traditional jazz groups of the Revival.
By the mid-1960s, the band personnel stabilized. Regulars included John Bucher, cornet; Dick Dreiwitz, trombone; Denis Brady, clarinet and soprano saxophone; Hank Ross, piano; Eric Hassell, banjo; Arnie Hyman, string bass; and Thompson at the drums. Vocalist Natalie Lamb also joined the ensemble and was featured on the band's excellent 1969 Biograph LP There'll Be A Hot Time In The Old Town Tonight.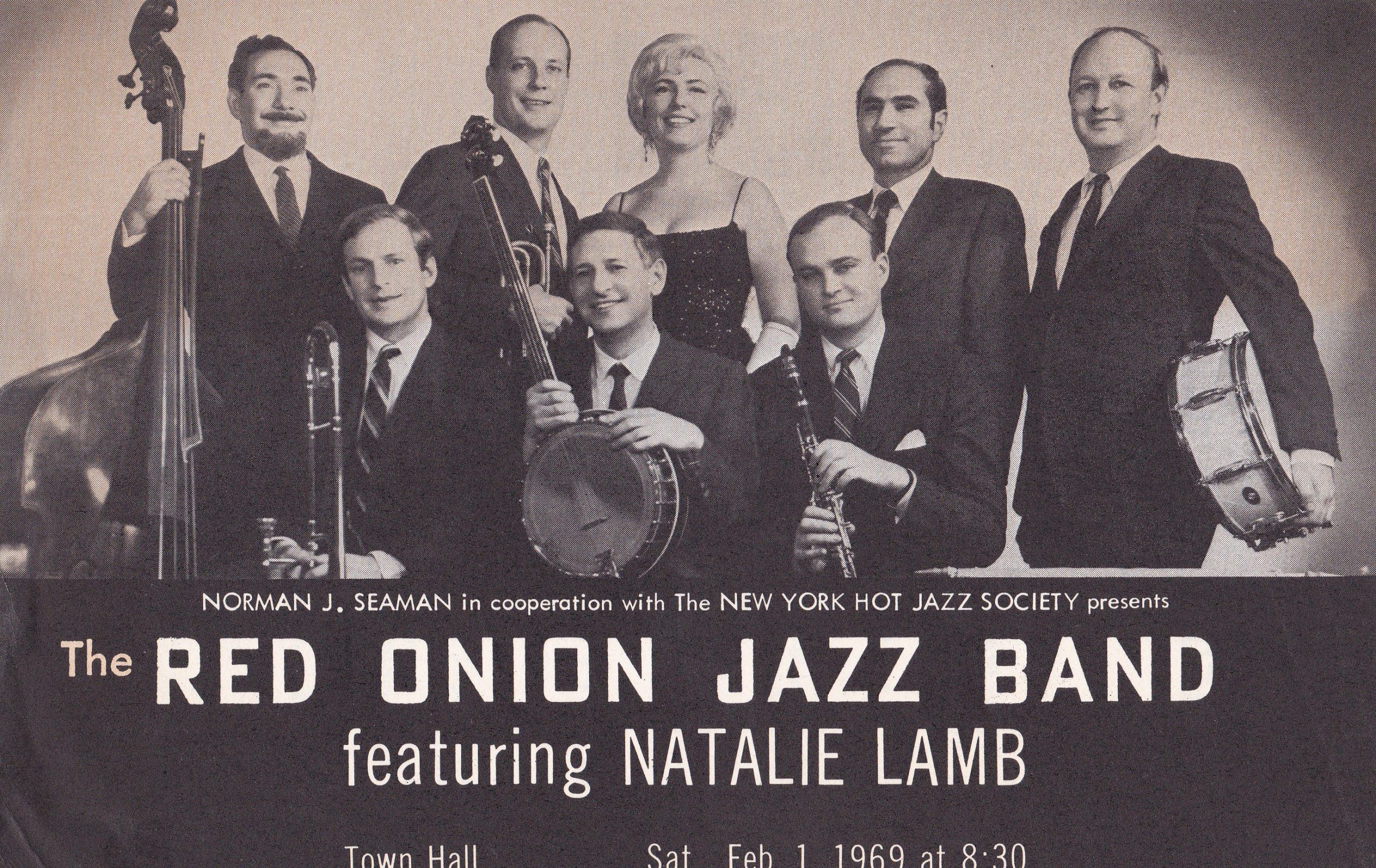 In the 1970s, the Red Onion Jazz Band appeared at the Connecticut Traditional Jazz Club as well as the Manassas Jazz Festival. LPs recorded at these sessions include Bucher, Dreiwitz, Brady, Ross, Hassell, Hyman, Thompson and Lamb plus guests: Lew Green, cornet; Theis Jensen, trumpet; Charlie Bornemann, Bill Allred, trombone; and Jack Harkavy, tuba.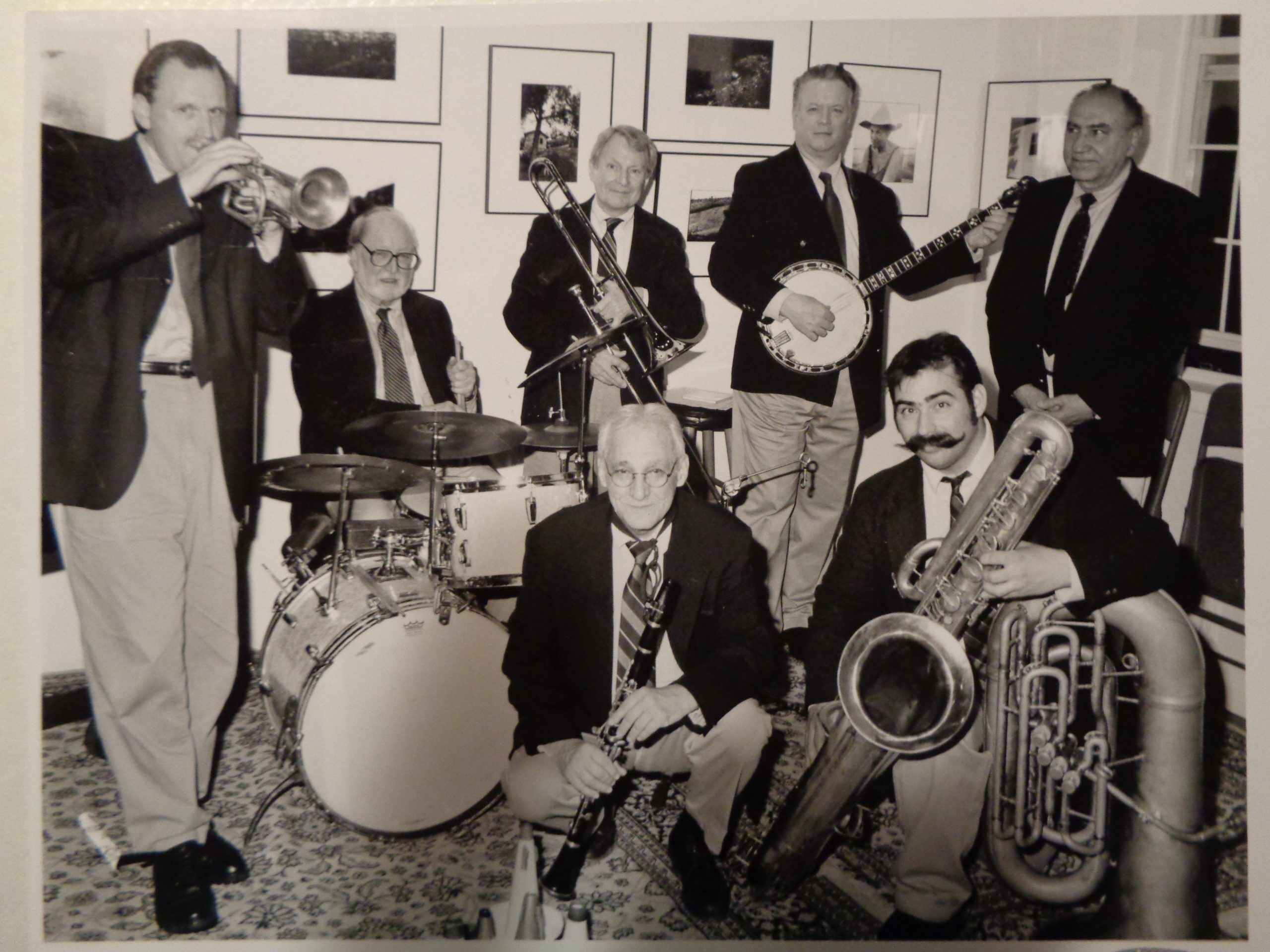 Later editions of the Red Onion band included cornetist Larry Weiss, trumpeter Simon Wettenhall, clarinetists Joe Licari, Dan Levinson, and Sam Parkins, banjoists Cynthia Sayer and Alan Cary, tubist Barbara Dreiwitz, tubist/bass saxophonist Bob Sacchi and vocalist Ronnie Washam. The last regular appearance by the Red Onion Jazz Band was in 2006, at the Cajun in New York City. Bob Thompson passed away in 2010 and, for the time being, the Red Onion Jazz Band was history.
One of the musicians who played with a later version of the Red Onion Jazz Band is banjoist John Gill.
HS: John, how did you become aware of the Red Onion Jazz Band?
JG: There were lots of jazz clubs in New York that featured traditional jazz, staring in the 1950s: Charlie Bates Saloon, Kenny's Pub, The Red Blazer, The Red Garter, The Leaves, Patch's, The Gordion Knot, Cinderella Club, The Music Box, The Broken Drum, The Gaslight Club, The Metropole, Arthur's Tavern and a place called Your Father's Mustache (formerly Nick's). That club had a Dixieland Band on Sunday afternoons. The band was called "The South Hampton Dixie, Racing and Clambake Society Jazz Band." When I was about 17 years old I ventured into NYC alone to hear them.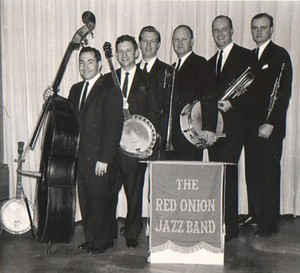 It's one of those old guy stories: I had to walk a mile to the bus stop, then take a bus to Main Street Flushing, take a train to 42nd Street and then a train downtown to Sheridan Square and 7th Avenue in Greenwich Village. On the corner of west 10th and 7th Avenue stood Your Fathers Mustache. It was a very successful banjo, sing along place and every Sunday they had traditional jazz with the South Hampton group. They were the first jazz band I ever heard live and I can still remember the sound of the band coming out of the open windows and into the street. It was great. Well, once a year they hosted a one-day event that featured a few local traditional bands and instrumentalists. This is where I first heard and met The Red Onion Jazz Band.
Were you able to find all their recordings?
Yes, the first one I got was Hot Time In The Old Town Tonight. Later I found a copy of Dance Off Both Your Shoes, New Orleans Encore, In The Tradition, and Hairy Jazz. I liked Hot Time In The Old Town best. Kenny Davern made a record that utilized most of the ROJB called Ken Davern and his Salty Dogs and I really liked it too. There were lots of record shops in those days and places where you could find older out of print recordings.
Though I never heard the band in person, their records were excellent. I would be interested to hear your thoughts regarding the Red Onion LPs…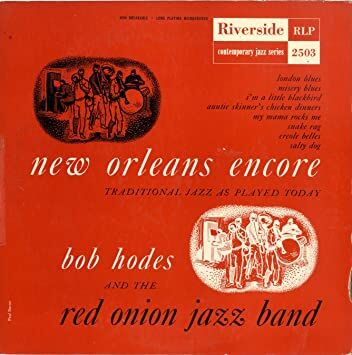 As mentioned previously, their first record, New Orleans Encore, included Bob Hodes, Charlie Sonnanstine and Robin Wetterau. All three joined Gene Mayl's Dixieland Rhythm Kings in 1953 and their contributions really gave the DRK a distinctive sound. I particularly like Bob Hodes' trumpet playing, which sounded so much like Lu Watters.
New Orleans Encore is a nice record. I found this, If I remember correctly, at a record shop called King Karol Records which was a great place to find out of print traditional jazz records. There was a guy there who they called "The Grizz" because he was big like a grizzly bear. He always wore khaki pants and a white undershirt and had a big bushy beard. He had a secret stash of traditional jazz records in the back room that he sold for premium prices. I probably picked up my copy around 1971.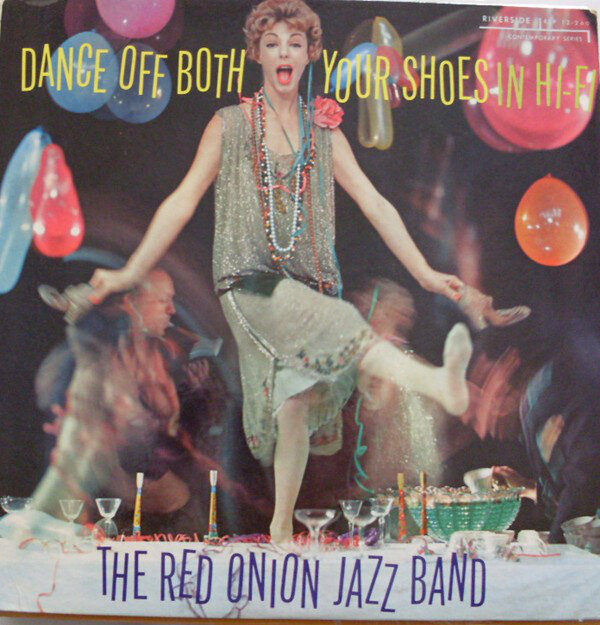 The next record, Dance Off Both Your Shoes, de-emphasizes the San Francisco sound. To my ears, this edition of the ROJB was much closer to the Gin Bottle Seven; wide-ranging repertoire and quite a variety in the repertoire. It is the first recording by the band to include the great Hank Ross on piano. He was one of the finest pianists of the Traditional Jazz Revival, but unfortunately is not as well known as he should be.
Hank Ross actually took lessons from James P. Johnson. Hank went to Johnson's home and paid for lessons. Amazing! Dance Off Both Your Shoes didn't do much for me. And you're right, it's sounds very much like the Gin Bottle Seven. Good music and good players—just stylistically not for me.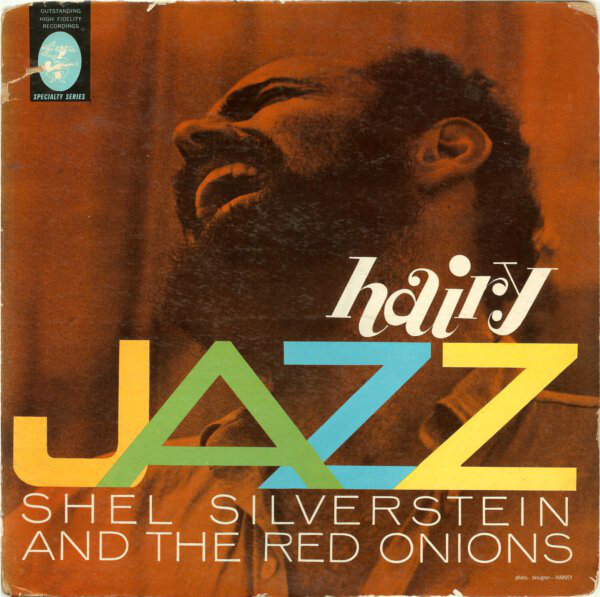 Next is Hairy Jazz with Shel Silverstein. The personnel was still fluctuating, but I think this was a very strong version of the band. Bob Thompson doubling drums and washboard, Steve Larner on banjo, Steve Knight doubling trombone and tuba, Arnie Hyman on bass and Bob Greene's Jelly-style piano really make the band go. Shel Silverstein's vocals are a little over the top, but there sure is some terrific music being played underneath all the shouting!
Hairy Jazz was interesting. The band sounds great and it has a "recorded live in front of an audience" vibe going on. A party record if you will. I just wish that Shel Silverstein had been a better singer. For me he's hard to listen to. He was a great songwriter and composed many hit songs like "The Unicorn" for The Irish Rovers, "A Boy Named Sue" for Johnny Cash, and "Queen Of The Silver Dollar" for Emmylou Harris. And he wrote some famous children's books. He was a big fan of traditional jazz. Incidentally, Steve Knight was a Board Member of the town of Woodstock, New York in the late 1990s and early 2000s.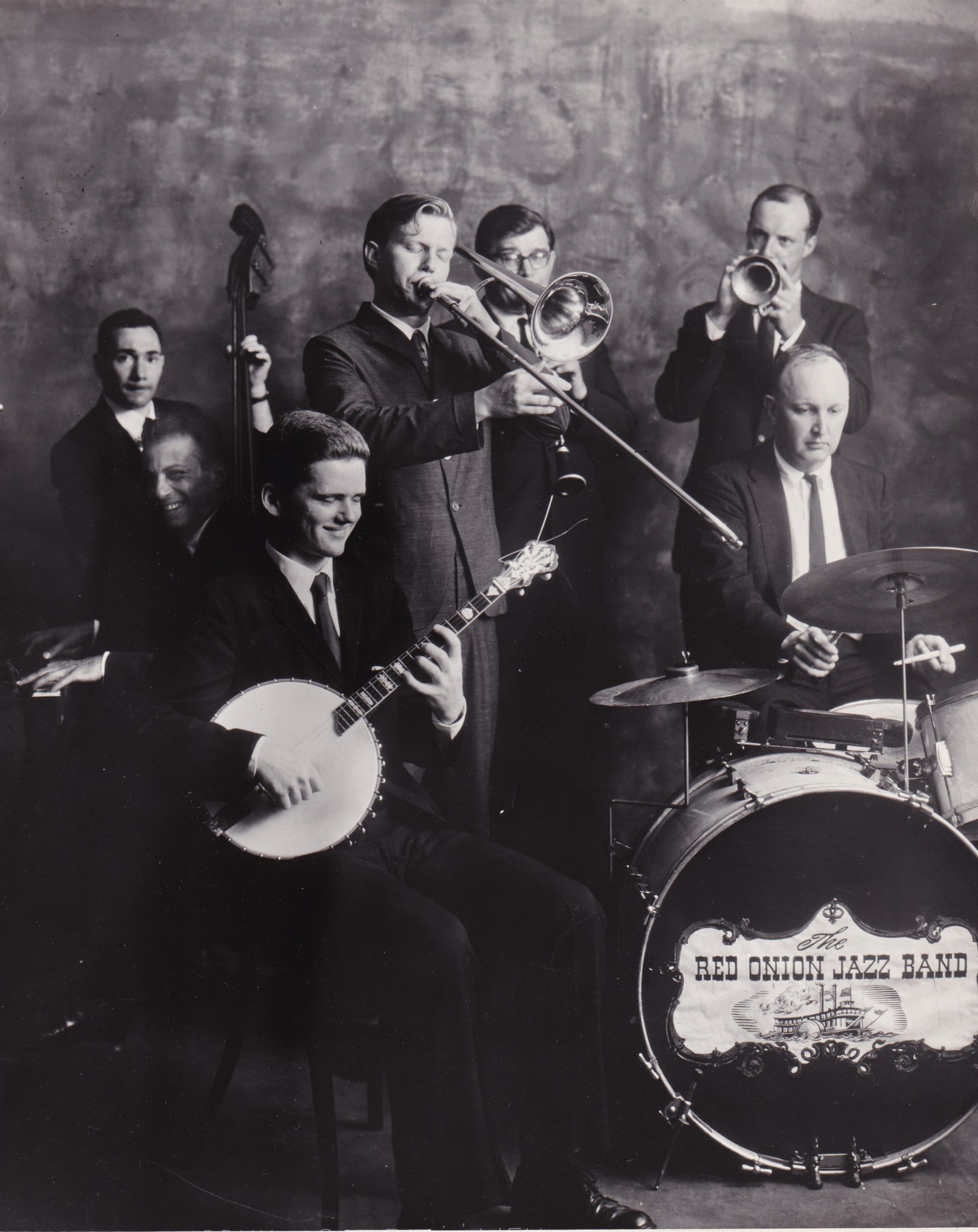 Another male vocalist, folksinger Dave Van Ronk, recorded with the band in 1963. The Red Onions on this occasion included some musicians who would stay in the lineup for some time: John Bucher, Dick Dreiwitz, Denis Brady, Eric Hassell, and Hank Ross was back on piano.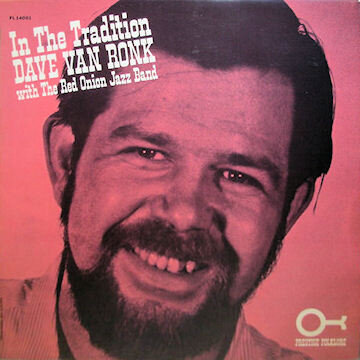 In The Tradition is a Dave Van Ronk album that utilizes the Red Onions as backing on a few of the tunes. The band is in fine form here with wonderful playing from everyone. Again, as in the case of Silverstein, Van Ronk's singing can be a little rough but he had a lot of heart and truly was a fan of traditional jazz. He had become friendly with Clarence Williams and his wife Eva Taylor. In the early to mid-'70s, Van Ronk used to hang out at a bar called Jimmy Day's on Barrow Street in Greenwich Village. He used to see me walking in with my banjo to have a late night snack after a gig and that's how I got to know him a little. He was a famous folk singer and they called him "The Mayor Of Macdougal Street."
You mentioned that There'll Be A Hot Time In The Old Town Tonight is your favorite recording by the Red Onions. It's also my favorite. However, I do wish that Biograph had released another LP with a few more instrumentals, to compliment Natalie Lamb's vocal features.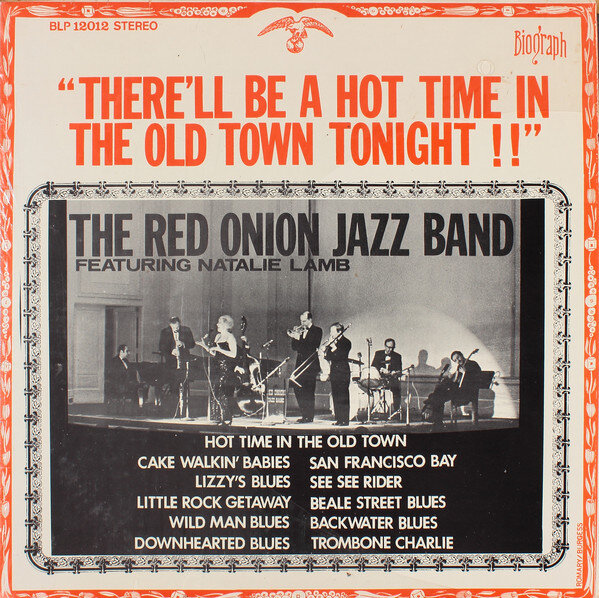 There'll Be A Hot Time In The Old Town Tonight was the first Red Onion album I got—around 1969, when I was a senior in high school. It features the old time blues singing of Natalie Lamb who does a great job in a big Bessie Smith type voice. It's a live recording of a concert from Town Hall and I wish that more of it had been released. Natalie was originally a folk singer and got interested in the blues from Odetta. Excellent backing from Hank Ross along with some really beautiful cornet from John Bucher and some fine Bechet style soprano sax from Denis Brady.
You obviously listened closely to all the Red Onion Jazz Band's records and you heard the band in person. How did you wind up playing with them?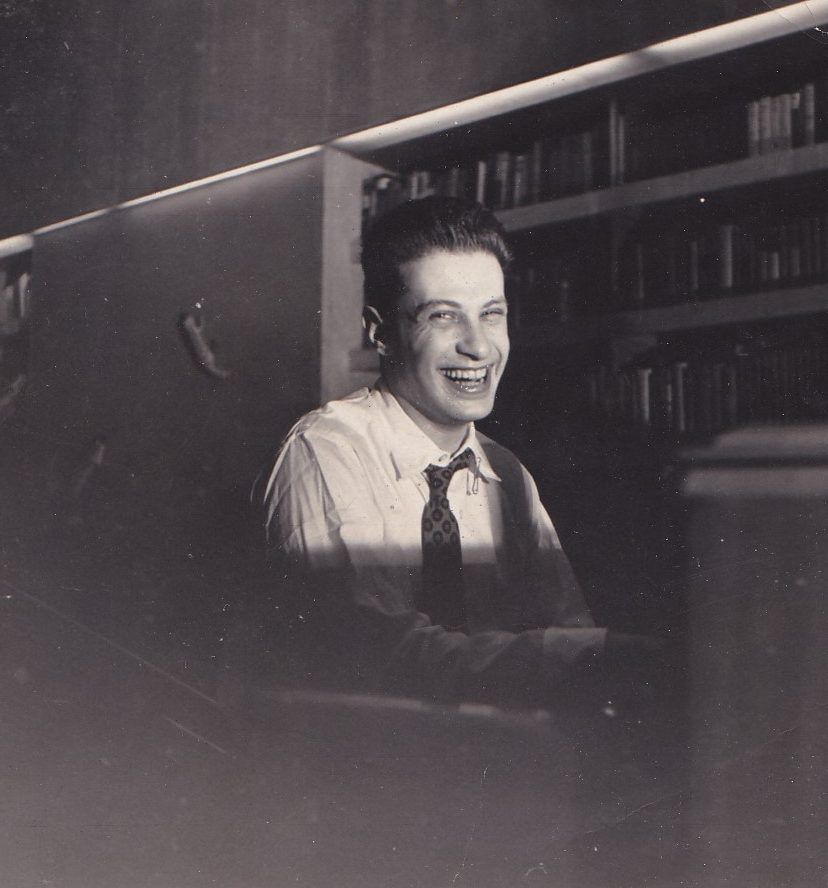 After I became familiar with the band around 1969, I began to follow them. In those days the band was pretty active and playing around the NYC area. New Jersey, Connecticut, etc. Bob Thompson was very welcoming to the young guys coming up and encouraged me to come to the concerts, gigs, etc. and sit in. At the time I was playing drums and just beginning on banjo.
By 1974 or so Bob began calling me to play some jobs. As I remember it, the regular banjo player Eric Hassell was unable to make some of the engagements because of the demands of his day job. He was an Aeronautical Engineer. It was around this time that I started subbing on banjo with Woody Allen's band at Michael's Pub in Manhattan. The regular banjoist with that band was Marshall Brickman who was a very successful screen writer. Coincidentally, several members of Woody's band were also Red Onions.
Who were some of the other band members?
Well, the main players were John Bucher, cornet; Dick Dreiwitz, trombone; Denis Brady, clarinet and soprano sax; Hank Ross, piano; Barbara Dreiwitz, tuba; Natalie Lamb, vocals; and Bob on drums. There were the occasional subs too. Bill Barnes, trumpet; Charlie Bornemann, trombone; Bob Greene, piano; Jack Harkavy, tuba; and Joe Muranyi, clarinet.
By the time I started playing with the band Arnie Hyman was no longer a member and Barbara Dreiwitz became the tuba player.
What kind of repertoire did the band play?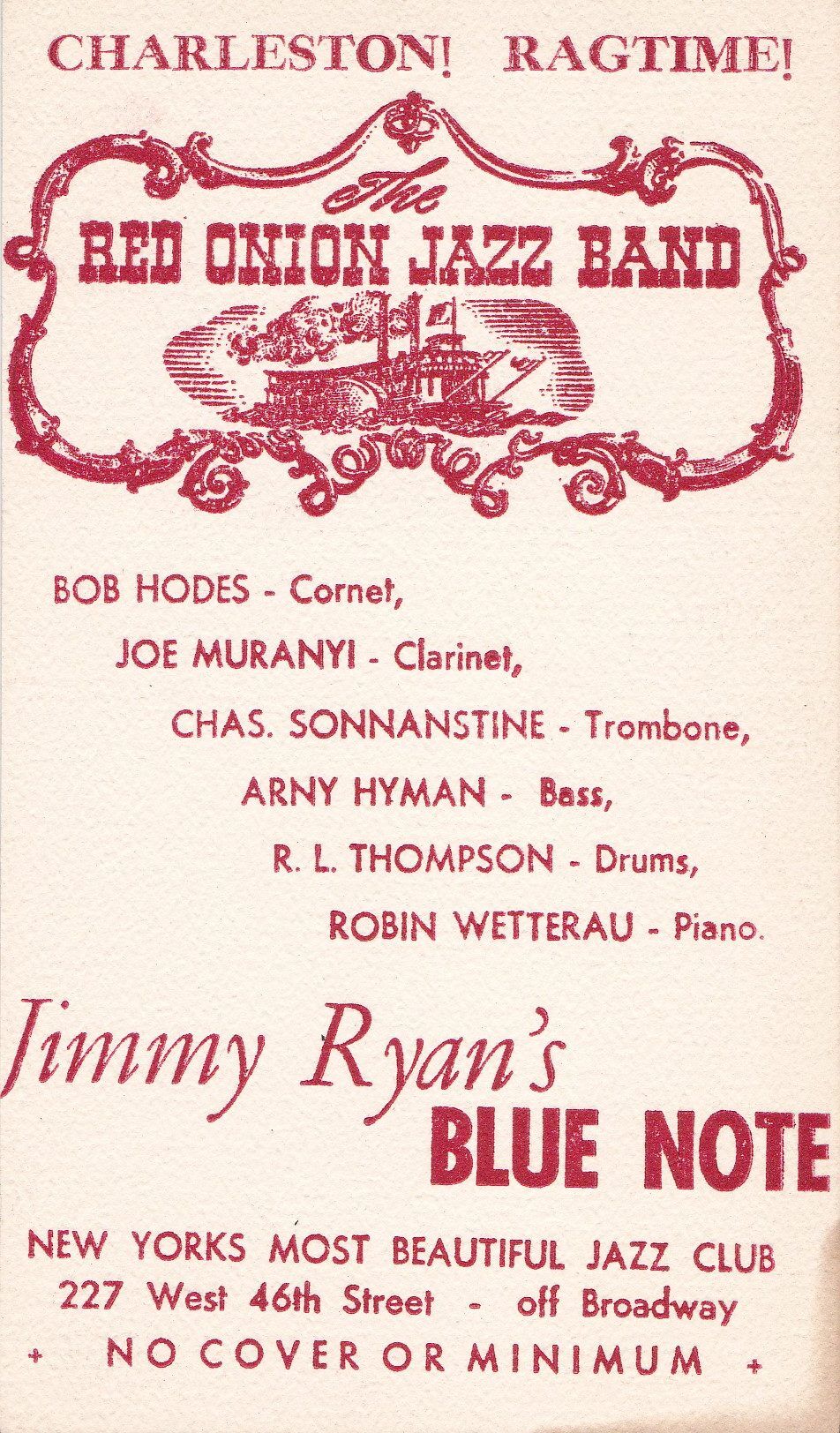 The repertoire was very broad. Every set had a piano feature by Hank Ross. Hank had been a student of James P. Johnson and was a wonderful player. So in addition to rags like "Easy Winners" and "Scott Joplin's New Rag," Hank also performed stride piano pieces like "Jingles," "Little Rock Getaway" and "Carolina Shout." Natalie Lamb would also do a few tunes on every set; Bessie Smith classics mostly. Bob had a lot of 1920s pop tunes in there as well, and it was all rounded out with classic jazz standards. Bob had a routine written down for every number we performed along with a chord chart. Before each set Bob would select the tunes he wanted to play and that was it. Bob's routines were carefully thought out and worked quite well.
How was Bob to work with?
Bob was a real gentleman and a pleasure to work with. The music meant a lot to him and he did his best to present it as best he could. John Bucher, in addition to being a very good horn man was also very good at directing things. Back then there was a real camaraderie amongst the traditional jazz players so it was very much a feeling of family. Bob's drumming was in the two beat style, and not loud. He had a nice press roll and was an excellent woodblock player and very good with the choke cymbal. He also played washboard very well.
What were some of the clubs and events where you played with the Red Onions?
Well, the band played The Manassas Jazz Festival and concerts for the Connecticut Jazz Club, and The Long Island Traditional Jazz Society. There were bars and nightclubs too, Your Father's Mustache, The Limelight, The Music Box. And mostly private events like house parties.
You left New York to join the Turk Murphy Jazz Band in 1977. Did you stay in touch with some of the Red Onion musicians?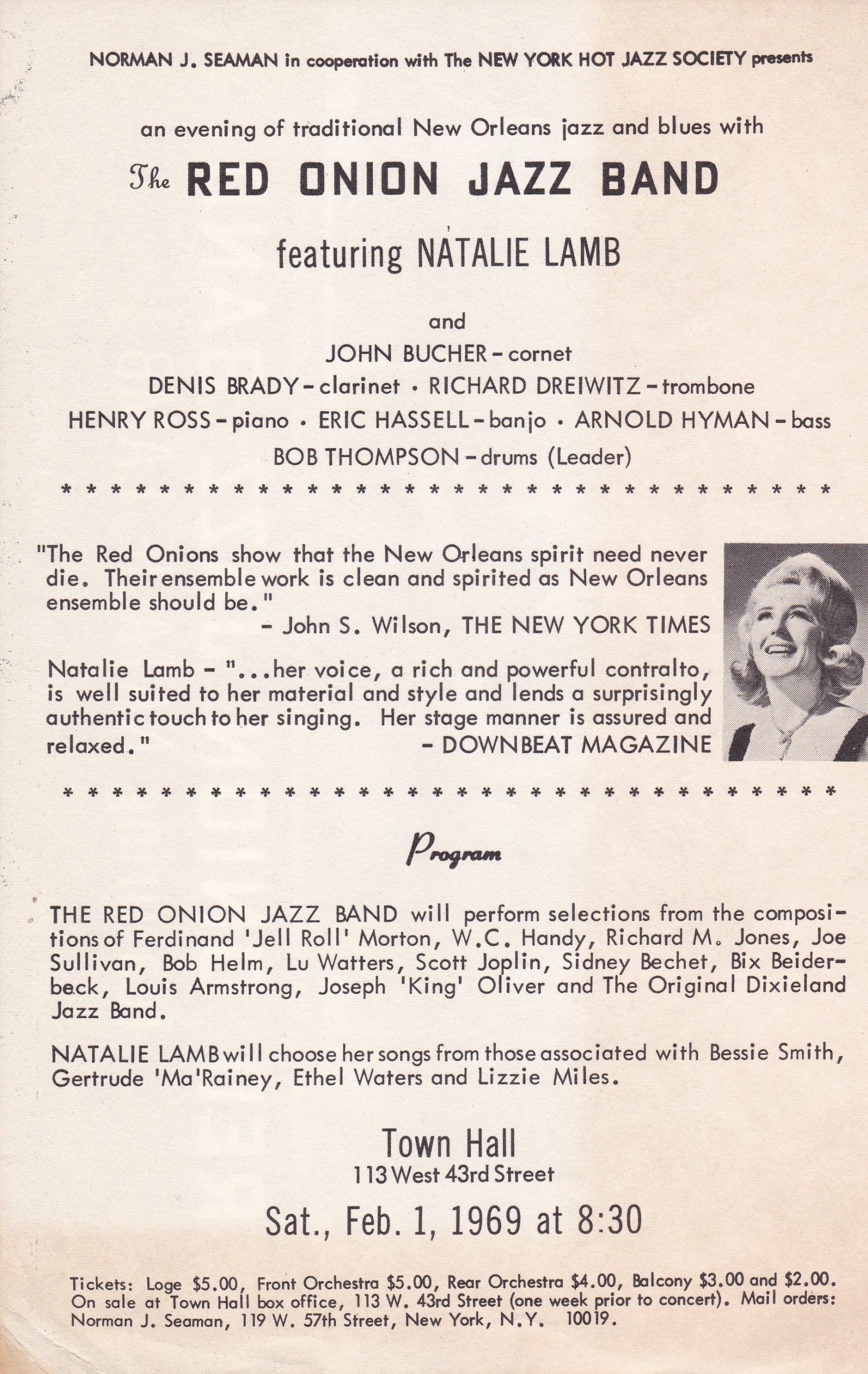 I used to get back to NYC at least once a year during my time with Turk and I did stay in touch that way. Mostly with Bob Thompson and the Driewitzes and Hank Ross. When I moved back to NYC in 1987 I did start playing again with the band as a sub on banjo and sometimes drums. This was mostly at The Cajun.
Dick Dreiwitz obviously thinks very highly of you. I understand that he arranged for you to inherit something that has great value to a traditional jazz musician and bandleader.
Dick and Barbara Dreitwitz are good decent folks and we go back quite a ways. During my last time living in NY (2007-2018) I would see Dick at Arthur's Tavern from time to time and made a trip or two out to his place in New Jersey. I called Dick a month or so ago and asked if it would be okay with him if I were to use the name "Red Onion Jazz Band" for any groups I might put together here in New Orleans. Back in the day there was a saloon and musicians' gathering place called The Red Onion Saloon so I thought it was a good connection. Dick gave me his blessing to use the name and maybe carry on the ROJB tradition. I'm very honored to be the keeper of that name.
Oh yes, a big box arrived in the mail from Dick Dreiwitz that contained The Red Onion band front/music stand that the name emblazoned on the front. You can see it on the cover photo of the Hot Time In The Old Town LP. Also, a smaller sign and Bob Thompson's washboard! Some nice memorabilia here.
Have you thought about a possible re-launch of the Red Onion Jazz Band?
It would be fun to create a group and use the ROJB name. Maybe play a festival or two. It's getting harder and harder to find musicians who know the traditional repertoire and are willing to dedicate themselves to that style. But I would consider doing some shows, after all I'm not getting any younger.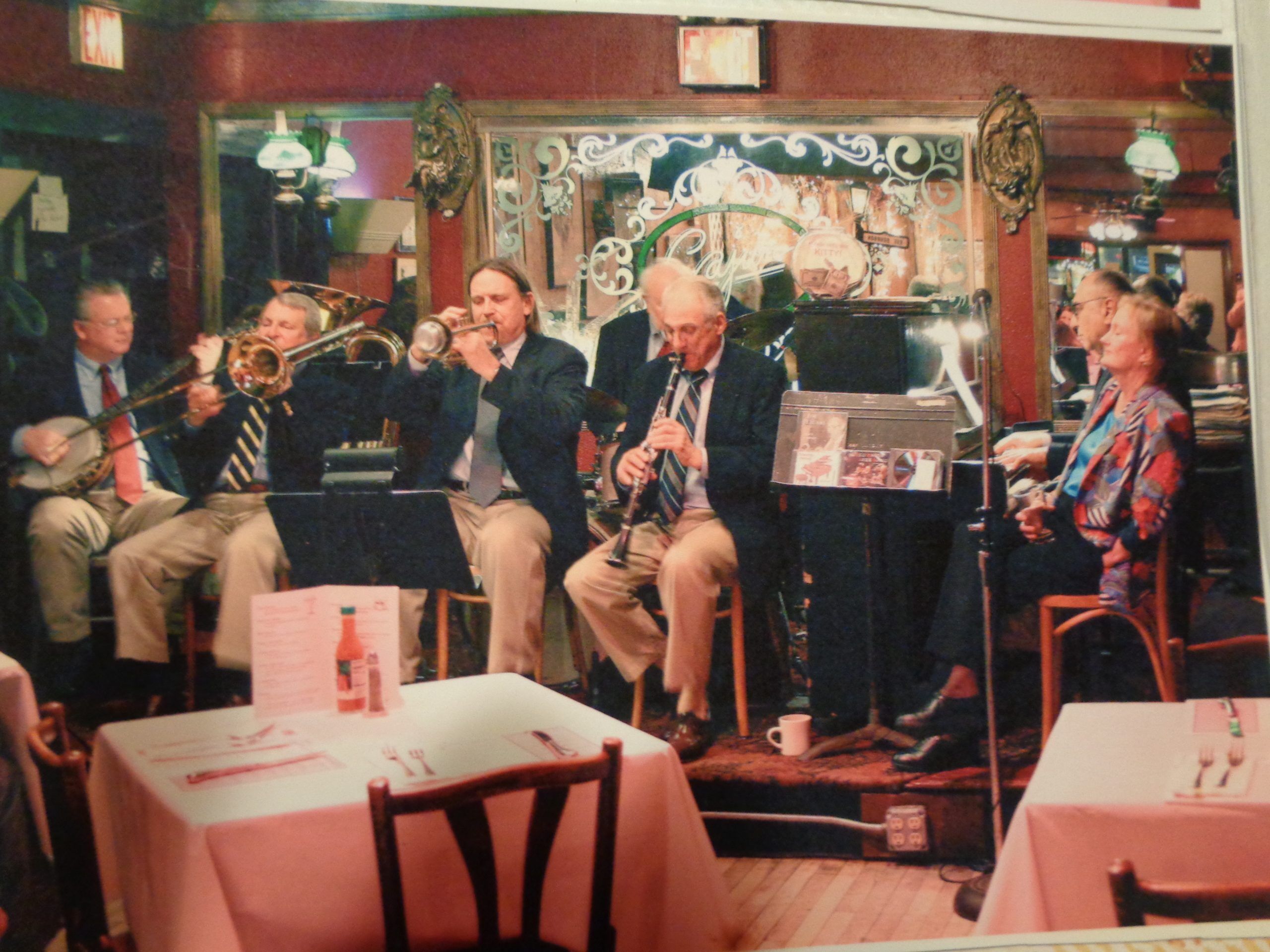 Do you have any additional thoughts regarding the Red Onion Jazz Band and their status as one of the premier bands of the New Orleans Revival?
I'm pleased to see an article being written about the band and I hope it might spark a little interest. I know that Bob Thompson, John Bucher, Hank Ross, Steve Knight, Bob Greene, and the others would be delighted to have been remembered.
Thank you, John. Here's hoping that a new edition of the Red Onion Jazz Band will be performing at festivals, concerts and jazz clubs in the near future.
Sincere thanks to Dick Dreiwitz, Dave Radlauer and Joseph Spencer for assistance with rare recordings and photos.