This lively tribute to Mielke offers three dozen exclusive photos and music tracks from his personal collection.  Included in this profile of an innovative bandleader and imaginative trombonist are first publication of live performances with Joe Sullivan (1961) and The New Bearcats (1991).
Bob Mielke (1927-2020) was one of the most original Jazz trombone players to emerge from the Frisco Jazz Revival of the mid-Twentieth Century. His passing closes a chapter on the second generation of West Coast Traditionalist musicians who built an independent regional Jazz style in the West drawing from New Orleans music and the sounds of Harlem, Chicago and Kansas City as heard on early Jazz records.
While music was the strongest element in his life, Bob was a man of many parts encompassing father, photographer, hiker and freethinker. Through the decades Mielke (pronounced "milky") was associated with numerous illustrious names of Jazz: Sidney Bechet, Joe Sullivan, George Lewis, Muggsy Spanier, Wingy Manone, Darnell Howard, Don Ewell, Jess Stacy, Bob Helm and Lu Watters. His recent death at age 93 was the result of age and fragility, not the coronavirus pandemic.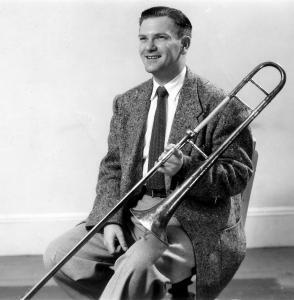 Almost none of the three dozen photos have ever been published, neither in print nor online, except as noted.  I'm deeply grateful to Bob and Dick Oxtot's widow, Darylene Oxtot, for contributing these rich legacies containing thousands of tapes and photos.
Personal Trombone Style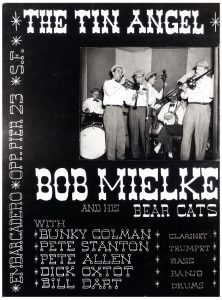 As an improvisor, Bob kept things interesting by being brave enough to take the unexpected path. He was particularly skilled at carrying his solos back into the ensemble, providing excellent support for the other musicians with his supportive counterpoint and comping. His exemplar for playing New Orleans trombone parts was George Brunies as heard in the 1939 Muggsy Spanier Ragtime Band records.
Bob had a rich full tone, bold ideas and broad range. His trombone style fused elements from Kid Ory's New Orleans tailgate tradition, the Harlem swing of J.C. Higginbotham and the plunger mute techniques of Ellington's "Tricky Sam" Nanton.
Bob Mielke and The Bearcats Jazz Band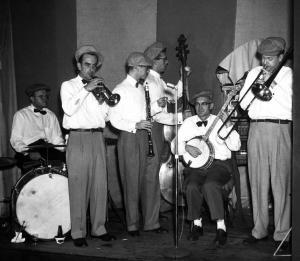 By 1955 Bob Mielke and The Bearcats were leading a second wave of the Frisco Jazz Revival at The Lark's Club in Berkeley. They crafted a distinctive sound based on driving rhythms, skilled soloing, creative voicing of the horns and Bob's faith in "standing on the chord." Most importantly, they fused New Orleans ensemble parts with Kansas City-style riffing to shape their independent style.
The Bearcats name was inspired by Mielke's esteem for Bob Crosby's Bobcats (a Dixieland unit within the popular Swing orchestra of Bing's brother) and the Wildcats of Bob Wilber, musicians he knew and played with on record. The grizzly bear on the California state flag has been a fierce symbol of independence dating back to the Bear Flag Revolt of 1846.
Mielke's bands were bold and inventive, rejecting the prevalent Dixieland formulas of Eddie Condon's jam sessions, East Coast cutting contests or the Traditional Jazz style of Lu Watters and Turk Murphy. Instead, they adopted as a starting point the popular New Orleans four-beat style associated with George Lewis and Jim Robinson, adding their own innovations.
Their fresh and creative style blended Mielke's love for New Orleans ensemble polyphony with P.T. Stanton's Basie-inspired riffing behind the soloists, a key feature of the band. The riffs were typically organized by cornet player P.T. Stanton in coordination with the clarinetist or trombonist. This riffing became a distinctive feature of East Bay bands run by Stanton, Dick Oxtot, Earl Scheelar and Mielke.
These techniques are evident in tracks from a recovered demo tape much of it probably recorded around 1955 or '56. "Bully of the Town" is sung by Oxtot who imported it from the country string band tradition. "Darktown Strutters' Ball" is a rare surviving example of P.T. Stanton's vocal stylings. "Saturday Night Function" is an early Ellington tune that is so ubiquitous among the surviving tapes it might be considered The Bearcats' theme song.
Saturday Night Function – Demo tape 1955
Just a Little While to Stay – Demo tape 1955
Bully of the Town – Demo tape 1955
Darktown Strutters' Ball – Demo tape 1955
The Lark's Club, 1954-56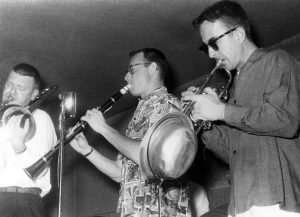 Mielke became the leader of this pre-existing group when he secured them steady gigs — most notably at the The Lark's Club  in Berkeley. The club was located in an African American neighborhood at the South end of Berkeley. The clientele was from the local community, young white Dixieland fans and traditional jazz enthusiasts. It became a vanguard for the East Bay Jazz Revival.
The Bearcats popularity demonstrated that an eager young audience would turn up for the music, and not just on weekends but several nights of the week. They played Thursday through Saturday, other bands performed, and Dick Oxtot booked in one of his Polecats ensembles.
For the next half century Bob Mielke was at the core of an East Bay contingent in the second wave of the great Frisco Jazz revival. "Bogalusa Strut" was a frequent set opener, "Should I?" a band staple and the others were some of Bob's favorites to sing.
Bogalusa Strut – Lark's Club 1955
Should I? – Lark's Club 1955
When I Take my Sugar to Tea – Lark's Club 1955
Sweet Georgia Brown – Lark's Club 1955
I'll be Glad When You're Dead, You Rascal You
Monkey Inn Combo, 1961-62
To the end of his days Mielke considered the Monkey Inn combo a high point of his career, and the fifteen hours of tapes among his most prized possessions. Thursday nights in Berkeley during 1961-62, Bob sounded great with piano player Bill Erickson's combo and two New Orleans-born musicians: clarinet player Frank Big Boy Goudie and drummer Jimmy Carter.
The nameless "Blues" is a good example of Goudie's noteworthy talent for playing the Blues on clarinet, a skill he'd been honing for a quarter century. "You're Gonna Lose Your Gal" is a bit of fluff from the 1930s played as a trombone feature by Bob. "Walkin' with the King" just makes you want to strut, or shout hallelujah!
Walkin' with the King 8.31.61
Blues 8.31.61
You're Gonna Lose Your Gal 1.18.62
Monkey Inn Complete Set A  
Personal Challenges, 1960s and '70s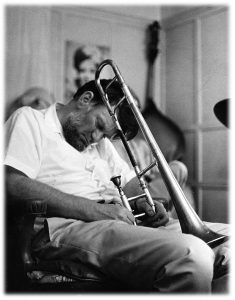 In his maturity, Mielke grew into a warm and personable man, a skilled musician dedicated to the performance, lore and culture of Classic Jazz. Nonetheless in his early years Bob was a drinker and known as a hothead. Being a local celebrity did not exempt him from tragedy and travail.
Sadly, Bob's wife and partner Frances Mielke, died suddenly in 1960, leaving him a widower raising two young sons in his early-30s. Among his new responsibilities was a full-time job dealing with statistics for the State of California Department of Health. When his position was moved to Sacramento, Bob commuted from Berkeley, sleeping in his van several nights of the week in the capitol city. Meanwhile he continued performing, running ensembles and building his superlative chops.
Premier: Joe Sullivan at the Tin Angel, 1961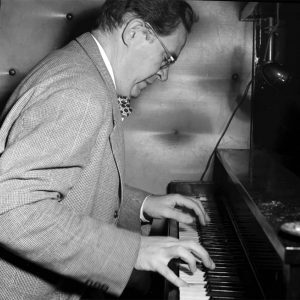 Dwelling in besotted obscurity in San Francisco, Joe Sullivan still 'had it' when he played a residency at the Tin Angel on the Frisco waterfront in 1961 or '62. Mielke told his biographer Jim Goggin that working with Joe in "a red-hot band . . . was a delight."
Never previously published or posted, these tracks were probably recorded at the Tin Angel. Backing Joe's magnificent keyboard artistry were cats Mielke was associated with at the time — the elusive trumpeter Byron Berry, Pete Allen (bass) and drummer Bob Osibin who worked there when Kid Ory ran that club as On the Levee. The bold and luminous clarinet lines of little-known San Francisco native Vince Cattolica is an added thrill.
You're Driving Me Crazy – Joe Sullivan Band 1960s
Love is Just Around the Corner – Joe Sullivan Band 1960s
Sweet Lorraine – Joe Sullivan Band 1960s
(What Did I do to be So) Black and Blue – Joe Sullivan Band 1960s
Baby, Won't You Please Come Home – Joe Sullivan Band 1960s
Complete Joe Sullivan Set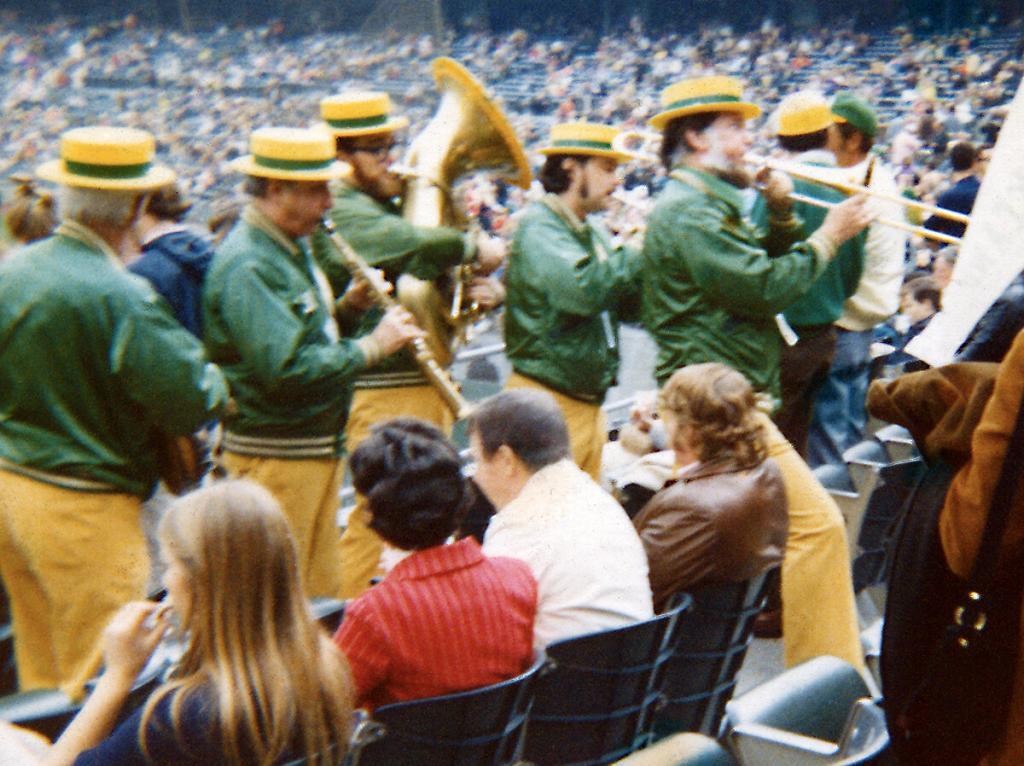 Swingin' A's Strolling Dixieland Band, 1969-92
For twenty-three baseball seasons Bob's Swinging A's Oakland Baseball Band brought vintage jazz to ballpark audiences, private parties and Traditional Jazz events. A solid band that played the home games of the Oakland Athletics (aka Oakland A's). Much of their repertoire was popular tunes delivered in the three-horn New Orleans/Dixieland format of trumpet, clarinet (or soprano sax) and trombone.
Off-season and on the side, Mielke booked this jolly quintet at diverse sports, civic, casual and Trad Jazz events. You'll find this slice of Americana vividly depicted in The Horns of Summer.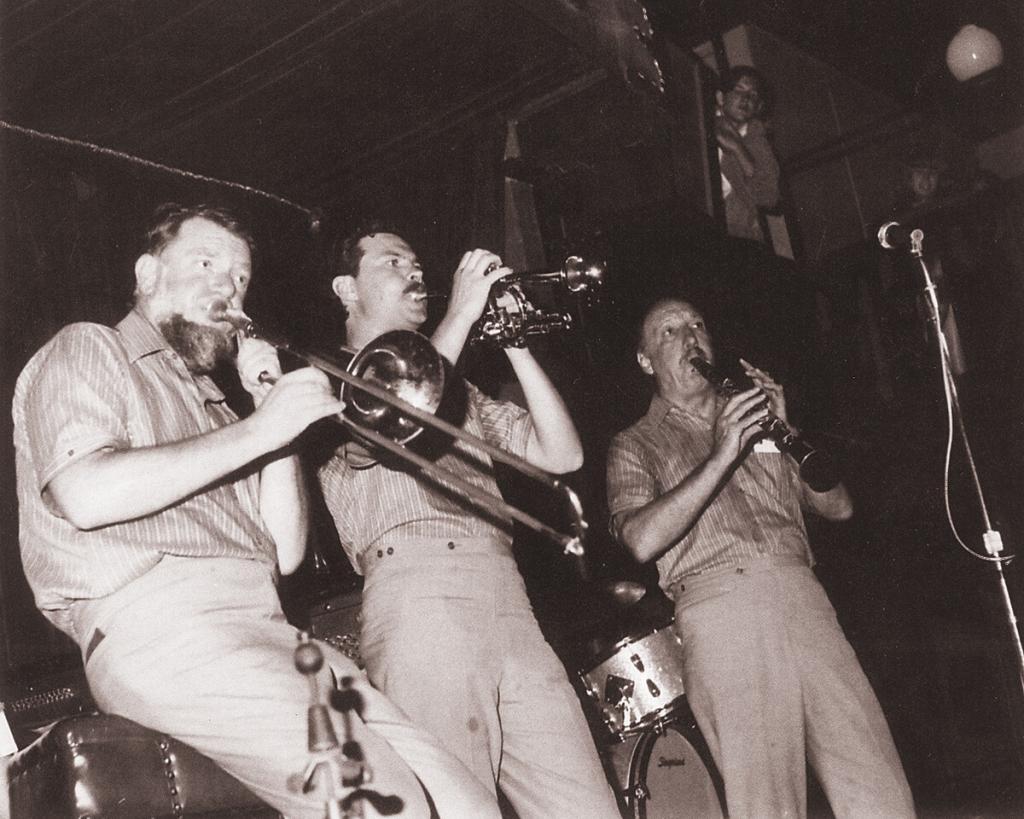 Mielke's strolling baseball band brought authentic Classic Jazz directly to millions. Here's the original quintet with Bob Helm taped in the rich game-day ambience of the Oakland Coliseum stadium and hallways in July 1970.
BALLPARK SET MEDLEY: Wolverine Blues, Floatin' Down to Cotton Town, 'Chaser,' Red Wing, I Want to Be Happy, Step to the Rear, Turkey in the Straw, Down Home Rag (8:03)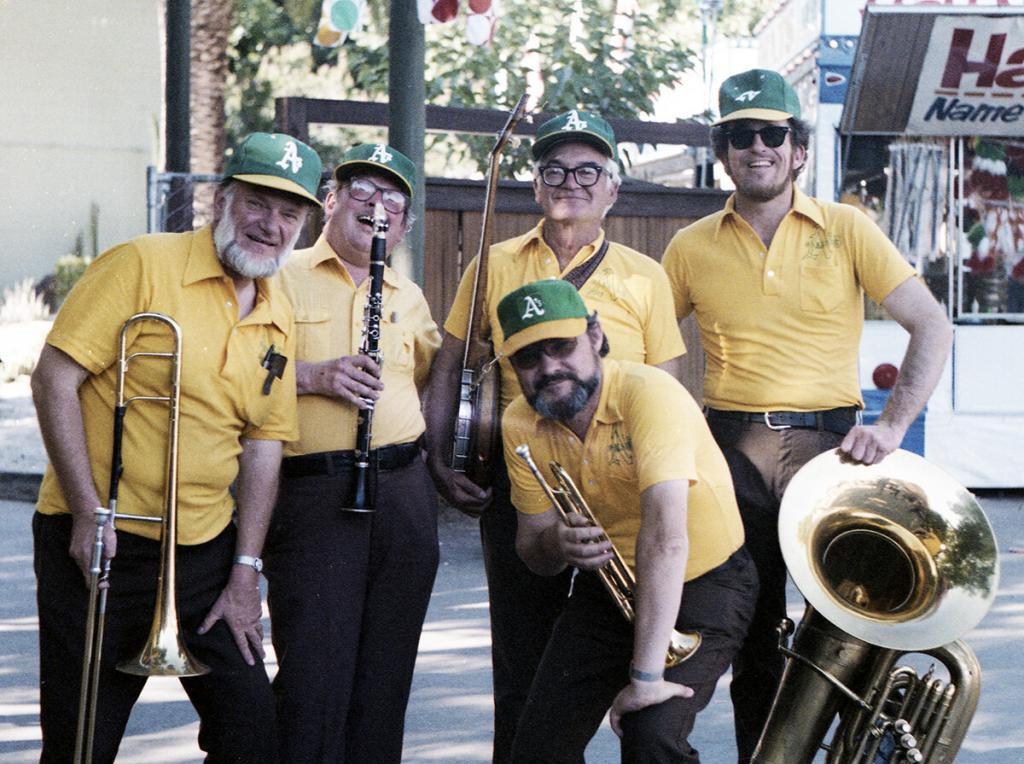 Mielke and the Non-Profit Jazz Clubs, 1970s-80s
By the mid-1960s Mielke and most of his fellow musicians had acquired larger responsibilities, growing families, demanding jobs or other avocations. The "beer and peanuts" music joints where they had played closed. Rock music displaced or absorbed the former jazz venues. For Mielke and his cohort, the action shifted from nightclubs three or more nights a week to the weekends and events hosted by Traditional Jazz clubs.
Traditional Jazz societies like the New Orleans Jazz Club of Northern California (NOJCNC) were formed as non-profit organizations to support a culture of monthly dances, jam sessions, band showcases and multi-day special events. Mielke won the NOJCNC favorite trombonist polls for half a dozen consecutive years, and played regularly at the biggest festival of them all in Sacramento, California, often performing in more than one band.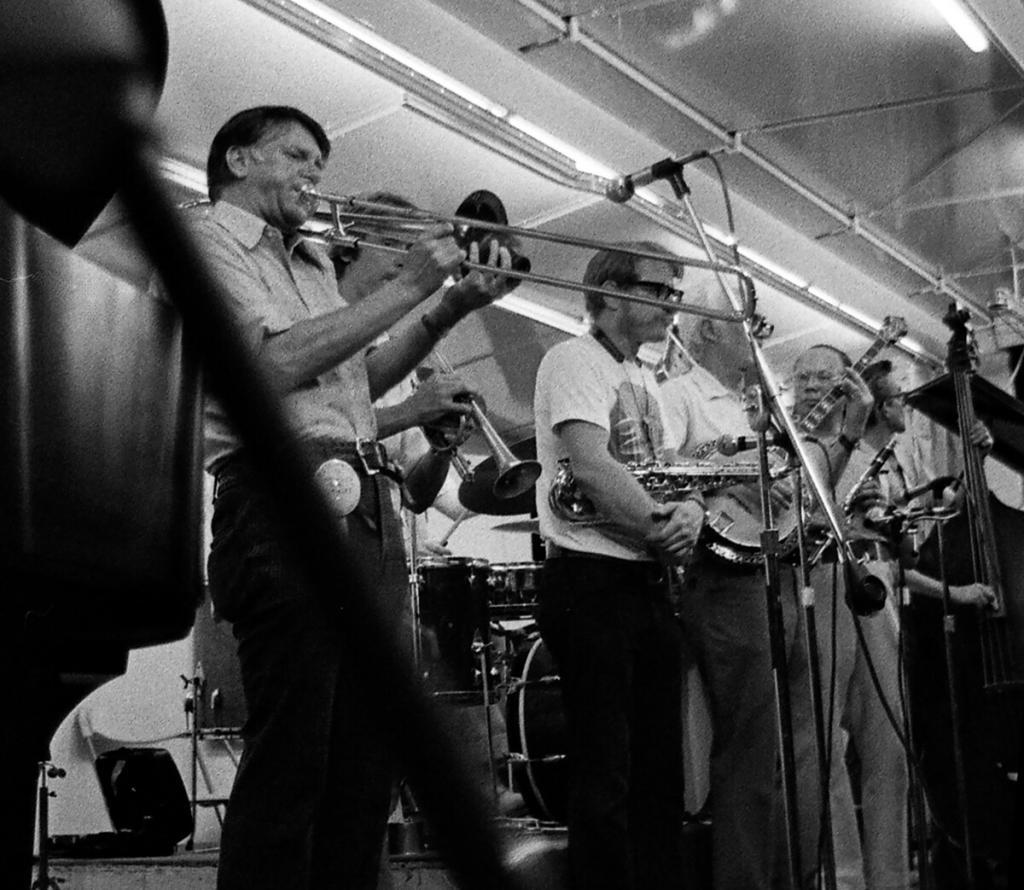 At its zenith, the Sacramento Dixieland Jubilee presented more than 50 jazz bands from across the nation and the world. For up to five days from noon until midnight, ensembles rotated through thirty or more stages in ballrooms, dance halls, pizza parlors, bistros, barrooms, al fresco garden venues, open air tents or parking lots fitted with bleachers and dance floors.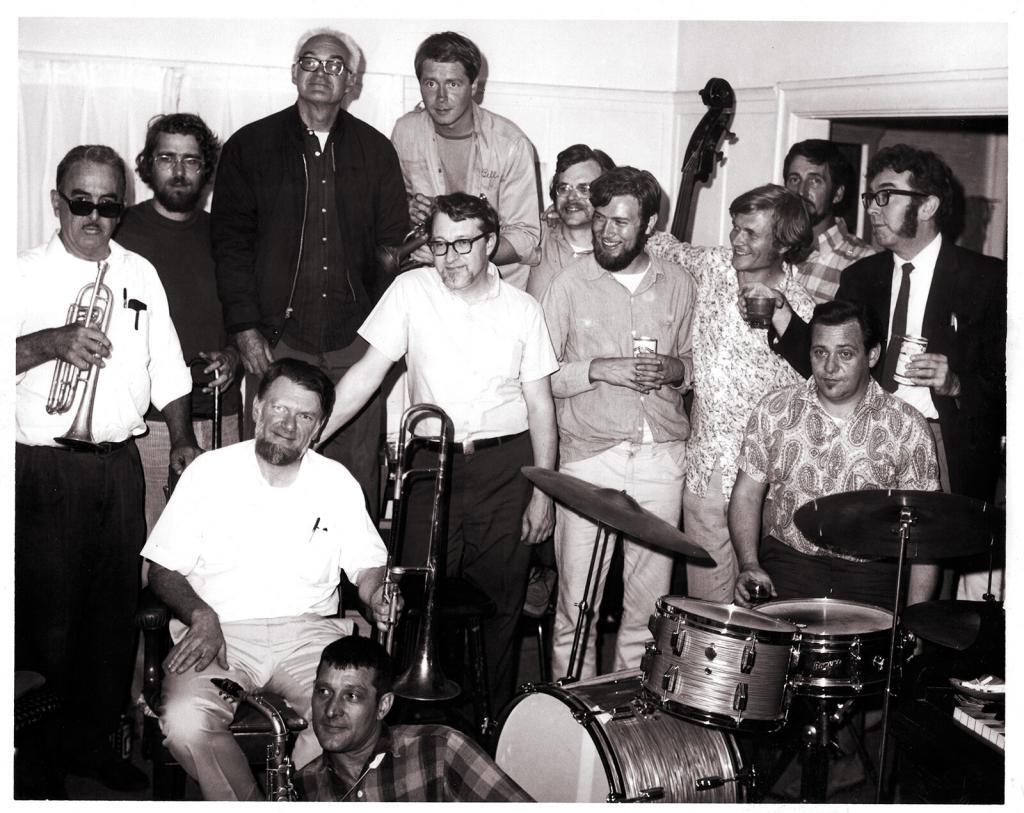 Talented Associates
Bob could not have succeeded without brilliant associates and would be the first to credit them. Listed below are some of his closest lifelong friends and colleagues, all of whom passed away decades before Bob.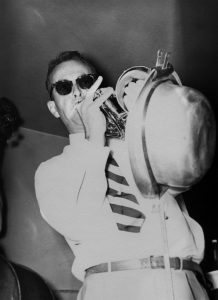 P.T. Stanton  (1923-87, cornet, occasional vocals) defined The Bearcats' sound. Though Mielke got the gigs, hosted onstage and was the star trombone player, Stanton was music director and arbiter of harmonics. P.T. subtly directed the group on the fly or led obliquely through emphasis, cadence or counterpoint. Taking a limited solo role, he steered and maintained their momentum invisibly as if by sleight of hand.
Stanton's cornet style was like no other. A mute, plunger or hand was almost always in or near the bell of his instrument. Rejecting the horn's clarion majesty, he substituted a rough personal vocabulary of quavering tones and expressive cries.
While "Egyptian Fantasy" may hinge on Bunky Colman's sumptuous clarinet line, Stanton's muted outcries shape and define its character and in "Ice Cream" his quavering horn lead is painted in feral growls and squawks. These stereo tracks are from the star-crossed, unissued Empirical Records Bearcats album of 1955.
Egyptian Fantasy – Empirical 1955
Ice Cream – Empirical 1955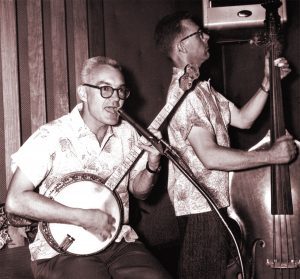 Dick Oxtot  (1918-2001, banjo, vocals, bass, cornet) was one of Mielke's longest and closest partners dating back to the 1940s. And Bob was heard often in his various groups and Oxtot's Golden Age Jazz Band.
An appealing performer, good songwriter and full-time professional entertainer, Dick ran his own bands in a wide range of formats — often interchangeable with The Bearcats — on both sides of San Francisco Bay. A musician of diverse tastes and talents, he blew cornet in the early days and played good bass, both string and brass. And around 1960 he had modest commercial success with a Folk Music harmony trio.
Oxtot wrote some delightful song's and sings his originals, "My Lovin' Imogene" and "Ain't Nobody Got the Blues Like Me." These performances are most likely from the Larks Club, c. 1955 or '56.
Ain't Nobody Got the Blues Like Me – Demo Tape c 1956
My Lovin' Imogene – Demo tape c. 1956
Corrine, Corrina – Larks Club 1955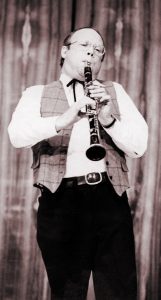 Bill Napier (1926-2003, clarinet) was Mielke's longest, dearest friend and first alternate clarinetist in The Bearcats. During a half-century career, Bill worked in the ensembles of Turk Murphy, Gene Mayl (Dixieland Rhythm Kings), Joe Sullivan, Burt Bales, Don Ewell, Ev Farey (Bay City and Golden State Jazz Bands), Dick Oxtot and Robbie Schlosser (Magnolia Band and trios).
A reliable lifelong professional musician, Napier was among the finest instrumentalists produced by the Frisco revival. He created ingenious clarinet parts and delicate but daring improvisations in a wide range of tone colors — always fresh and inventive.
The set below includes two examples from the Lark's Club sessions.  At Kimball's East with the New Bearcats in 1991 the full richness of Bill's tone and brilliant variations may be appreciated in Billy Strayhorn's misty "Daydream," which is a sumptuous duet with piano master Ray Skjelbred — a Mielke comrade for decades — as is "Struttin' with Some Barbecue."  On the air in 1993 at radio station KALW-FM in San Francisco, Bob explained the source of his original tune, "The Sawdust Blues."
The Sawdust Blues – KALW-FM, 1993
Sing On – Lark's Club 1955
Pontchartrain Blues – Lark's Club 1955
Daydream – New Bearcats, 1991
Struttin' with Some Barbeque – New Bearcats, 1991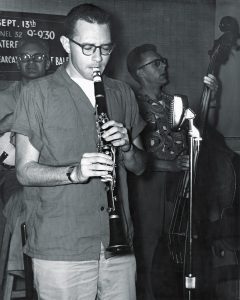 Bunky Colman (1932-1983, clarinet) was The Bearcats' designated clarinetist. A virtuoso with refined tone and technique, he brought tasteful reed parts to the ensemble, with his particular blend of New Orleans, Chicago and Swing clarinet styles. He was a medical student during the Bearcats era which limited his availability for performing. His stellar substitutes included Ellis Horne, Bill Napier and Frank Goudie. A beloved musician, Bunky eventually became a doctor but died relatively young at age 50.
Colman wrote the fine tune, "Blue Guaiac Blues," based on a medical term and "Sing On" is simply one of the finest Bearcats charts. Showcasing his exquisite tone and soloing technique, these superb recordings are from The Bearcats' never-issued Empirical Records album. Recorded in the glorious acoustics of Jenny Lind Hall in Oakland, the tapes have been restored for the first time to their original mid-side stereo format.
Weary Blues – Empirical 1955
Blue Guaiac Blues – Empirical 1955
Sing On – Empirical 1955
Joshua – Empirical 1955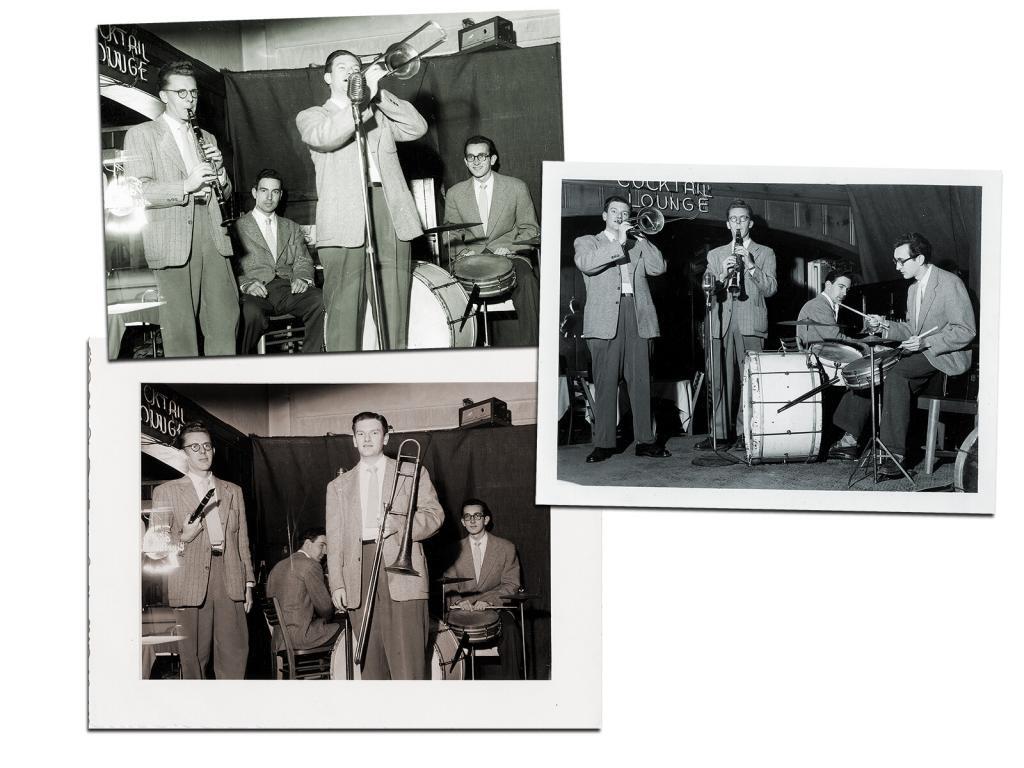 Pete Allen (1921-2008, string bass, vocals) projected a throbbing beat that could fill a room. Prior to around 1955, Pete played pretty fair clarinet and alto sax. He had lifelong associations with all of these musicians dating back to his Berkeley high school days.
He was one of best string bass players, if not THE best, of the Frisco revival. He was in high demand with local dance orchestras, combos and heard regularly in the bands of Dick Oxtot, Earl Scheelar P.T. Stanton and Mielke. Allen was often paired in an unmatched, hard-driving timekeeping duo with Oxtot, who wrote of the Bearcats in his memoir, "Pete Allen and I hardly ever took a night off, the job was way too much fun!"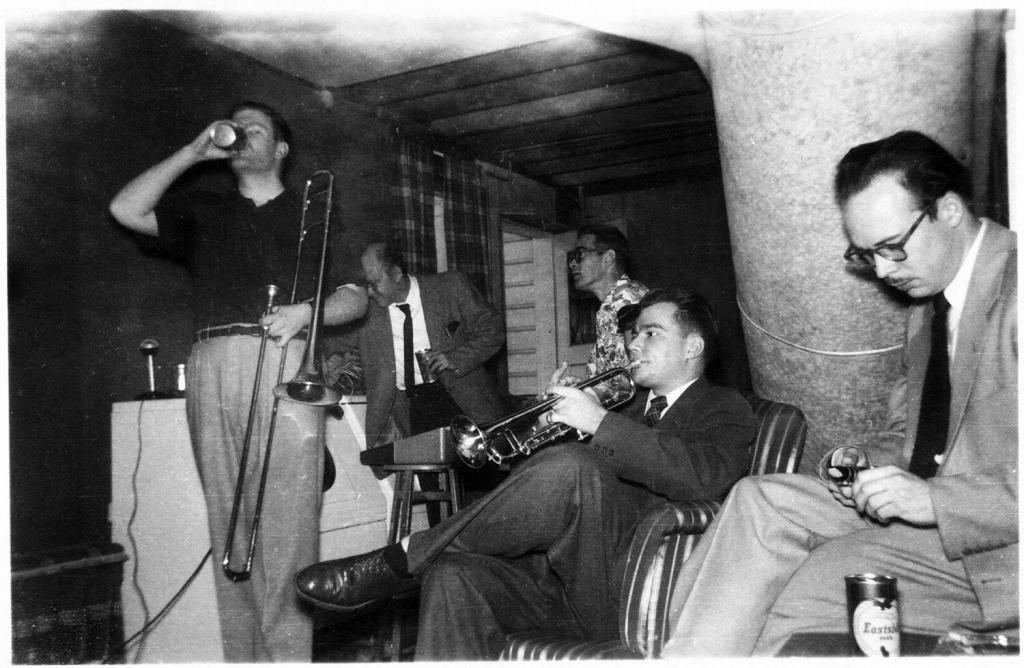 Bill Erickson (1929-67, piano, trumpet, vocals) was a close friend and associate of Mielke. A singular force in the local jazz scene, he is almost completely forgotten today. His main enterprise was directing jam sessions several nights a week at Pier 23 in San Francisco 1960-67. Bill occasionally blew trumpet — in the Bearcats and related bands — such as with Oxtot's Stompers at Burp Hollow or the 1959 Estuary Jazz broadcast from Pier 23.
At the Monkey Inn, Bob joined Erickson in a regular Thursday night combo during 1961-62 with clarinet players Frank "Big Boy" Goudie or Ellis Horne. Sadly, Bill's traumatizing suicide in 1967 prematurely cut short the career of a brilliant musician, multi-instrumentalist, arranger, composer and raconteur that some called Willie the Master.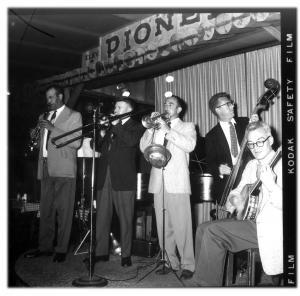 Frank "Big Boy" Goudie (clarinet, 1899-1964) was a noteworthy figure in the Frisco Revival and a frequent associate of Mielke, Erickson, Oxtot and the Berkeley crowd. Born near New Orleans, the Creole multi-instrumentalist (trumpet, saxophone, clarinet) moved to Paris in 1924, South America during WW II and returned to Europe after the war. In 1956 he repatriated to the United States after 32 years overseas, settling in San Francisco.
By 1957 or '58 Goudie was an alternate clarinet player in Mielke's Bearcats. He had developed a distinctive clarinet style with a rich, husky tone and flowing lines reflecting his New Orleans roots, advanced musicianship and decades playing swing tenor in Paris.
"Big Boy" stood almost six and a half feet tall, was nearly twice the age of these musicians, wore a beret and spoke with a strong French accent. These are some of his best recordings, made Thursday nights in Berkeley during 1961-62 and further explored in The Gang at Monkey Inn, Pt. 2. Mielke called it "a gas" working with this skilled and gracious Gentleman of Jazz and always considered the Monkey Inn tapes among his most prized possessions and sweetest musical memories. (Goudie's globe-spanning tale unfolds in a forthcoming three-part series.)
On evenings when trumpet player Jerry Blumberg dropped by, they had a proper three-horn front line, as when Blumberg joins "Royal Garden Blues" and "Careless Love." During the latter, we hear a Harley V-Twin motorcycle fire up and pull away, a reminder of Bob's comment that "It could get a little rough." Mielke always maintained that "Joseph, Joseph" derived from Jewish folk music via the Andrews Sisters' 1938 hit song.
Royal Garden Blues 
Just a Closer Walk with Thee 
Japanese Sandman
Careless Love
The Blues my Naughty Sweetie Gives to Me
Joseph, Joseph
Complete Monkey Inn Set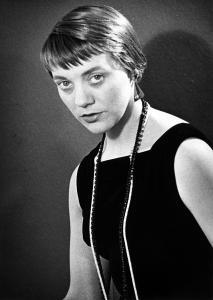 Barbara Dane  is a powerful Jazz and Blues singer whom Jazz critic Leonard Feather once called "Bessie Smith in stereo." Dane was never formally affiliated with The Bearcats but was often a special guest who sang with them at the Lark's Club. Bob did yeoman duty on her 1957 her album, Trouble in Mind, with trumpeter P.T. Stanton, clarinetist Darnell Howard, Don Ewell on piano and bassist Pops Foster.
Muddy Water – Trouble in Mind, 1957
Mighty Rumbling Blues – Trouble in Mind, 1957

The 1980s and '90s
Mielke retired from the civil service in the mid-1980s to resume working as a full-time music professional. He was in steady demand for a wide range of ensembles and a mainstay of Ev Farey's  Golden State Jazz Band in this era. Reuniting with Barbara Dane, he became music director for her Good News Bonanza Band that featured reedman Richard Hadlock and bassist Pete Allen.  Barbara increasingly indulged her leftist screeds against war, Republicans and capitalism.  In the early 1990s she explained her interpretation of "Boulevard of Broken Dreams," lest we forget that Bob was a Berkeley musician.
Boulevard of Broken Dreams- Barbara Dane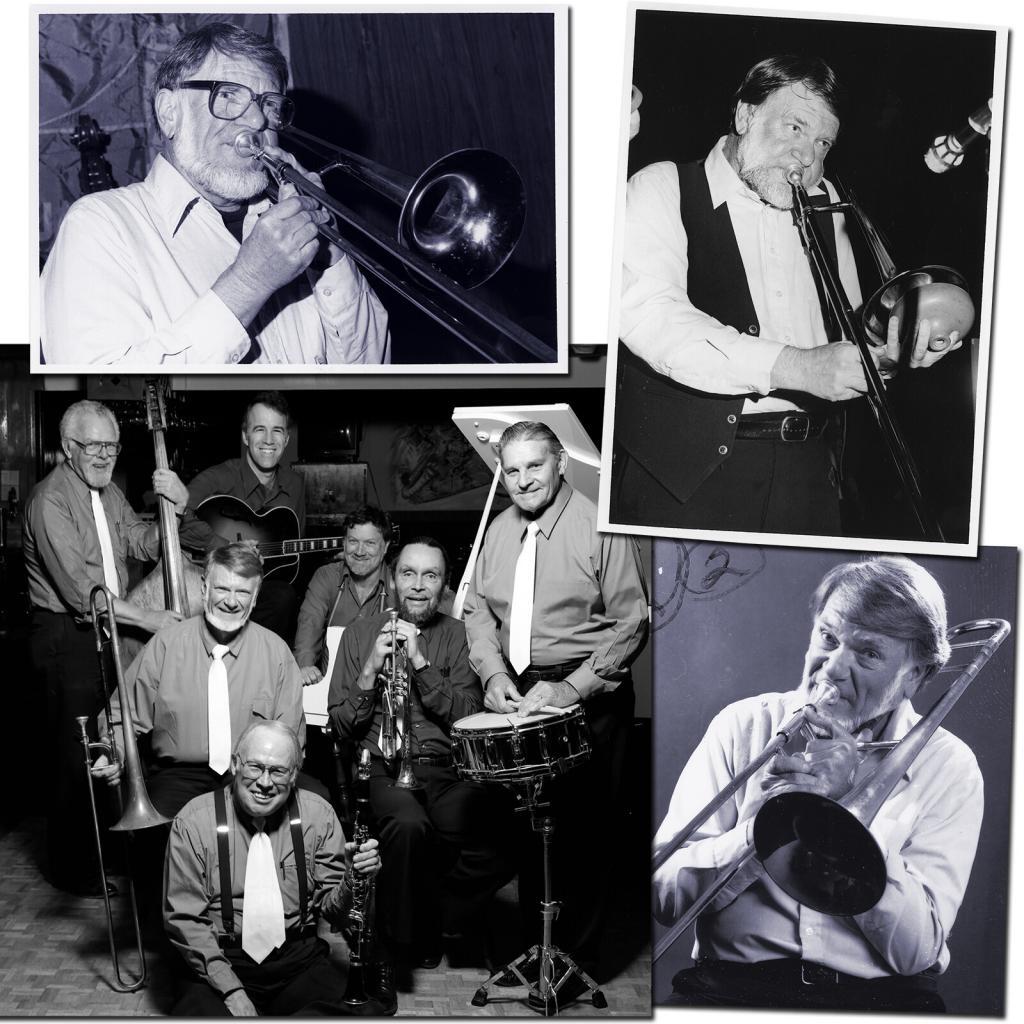 Mielke was also closely associated with singer Barbara Lashley (1935-1992) whose warmth, charisma and superb musicality drew a Bay Area jazz family around her, including Mielke. Her music and story are found at Barbara Lashley: A Love Affair with Song.
The Necklace of Lights Jazz Band, 1987
The spectacular 10-piece Necklace of Lights All Star Jazz Band gave only ONE performance, arranged and directed by Bob on July 13, 1987. They played for a celebration recommissioning the "Necklace of Lights" surrounding and illuminating Lake Merritt, Oakland's central geographic feature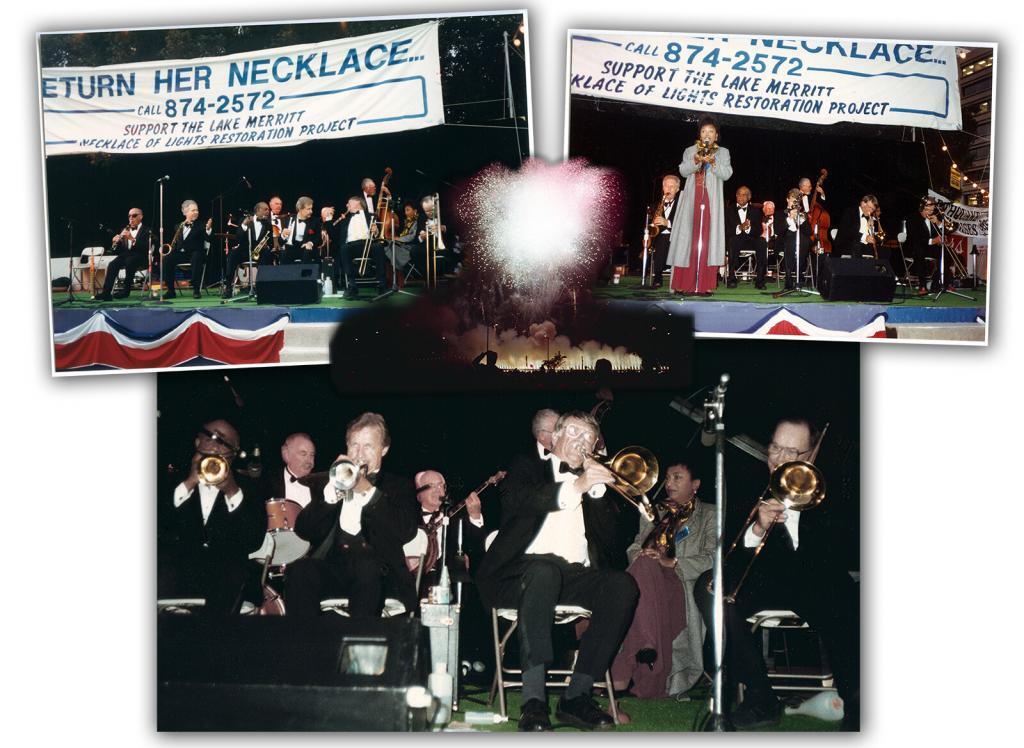 Barbara Lashley ebulliently sang and was master of ceremonies. An elite cadre of local Classic Jazz stars played hot jazz from Mielke's charts: Leon Oakley and George Fleming (horns), Bob Helm and Phil Howe (reeds), Bob Mielke and Bill Bardin (trombones), Jeff Hamilton (piano), Dick Oxtot (banjo), Pete Allen (string bass) and Jack Mangan (drums).
Necklace of Lights – Some of These Days, Mobile, Personnel, Crazy Rhythm, Panama, Swinging the Blues 
Premier: New Bearcats, Kimball's East, 1991
In the early 1990s, Bob created and booked Bob Mielke's New Bearcats for nightclubs, casuals, Trad Jazz events and festivals. He built a fine, if conventional band with marvelous musicians such as trumpet player Jack Minger, pianist Ray Skjelbred, former Bearcats drummer Don Marchant and clarinetist Napier.
This high-profile gig was one of the first outings for the New Bearcats in October 1991 at Kimball's East in Berkeley-adjacent Emeryville. Bob always loved singing jazz and popular standards. "Blue Guaiac Blues" and Django's "Tears" showcase the superlative tone and improvising skills of clarinetist Napier.
Sweet Sue – Kimballs 1991
Blue Guaiac Blues – Kimballs 1991
When I Take my Sugar to Tea – Kimballs 1991
Tears – Kimballs 1991
Bogalusa Strut – Kimballs 1991
Weary Blues – Kimballs 1991
Kimballs Complete Set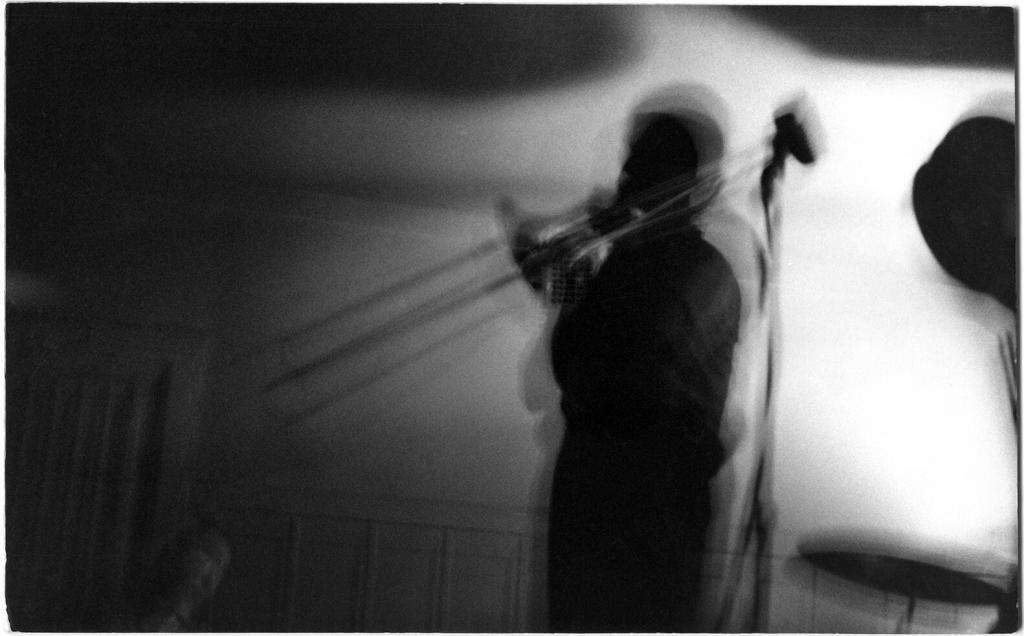 A Photogenic Legacy
As a young man, Mielke aspired to become a professional and/or artistic photographer. He emulated the famed photo journalist Weegee (Arthur Fellig 1899-1968), who specialized in scenes of squalid city life. Branching out, Bob shot and printed compelling Jazz photography. With the assistance of his wife Frances, he created the vivid the Lark's Club images seen here.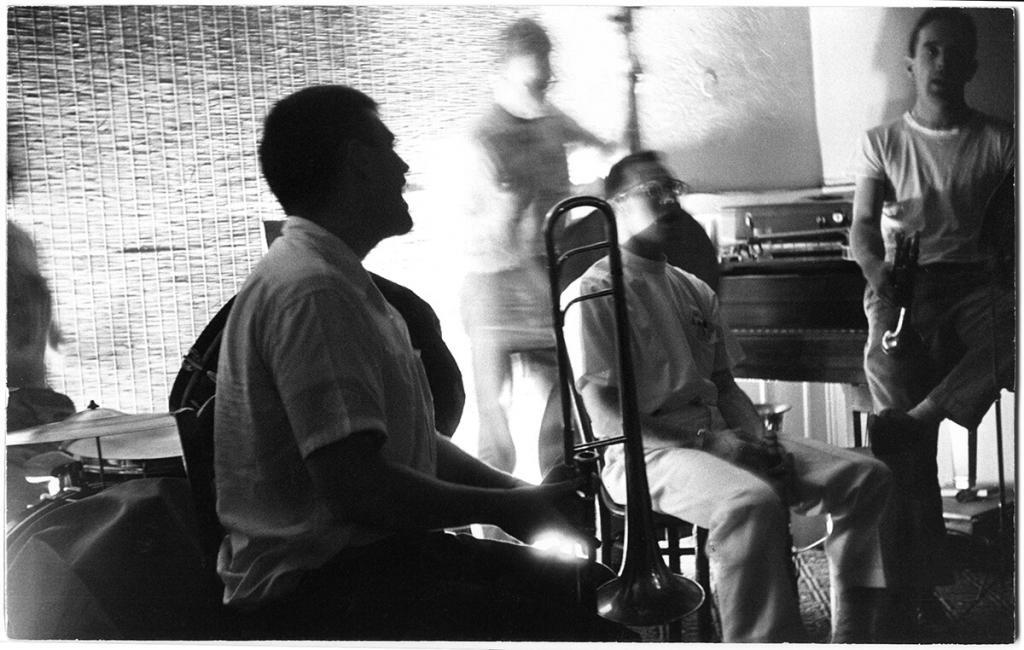 Over the decades, Bob's personal photos mingled with hundreds of images he acquired from other photographers, unintentionally amassing a unique visual record of East Bay Jazz life. Large tranches of his photos, tapes and memorabilia are found at the Jazz Rhythm  website and preserved in the Stanford University Libraries Dave Radlauer Jazz Collection.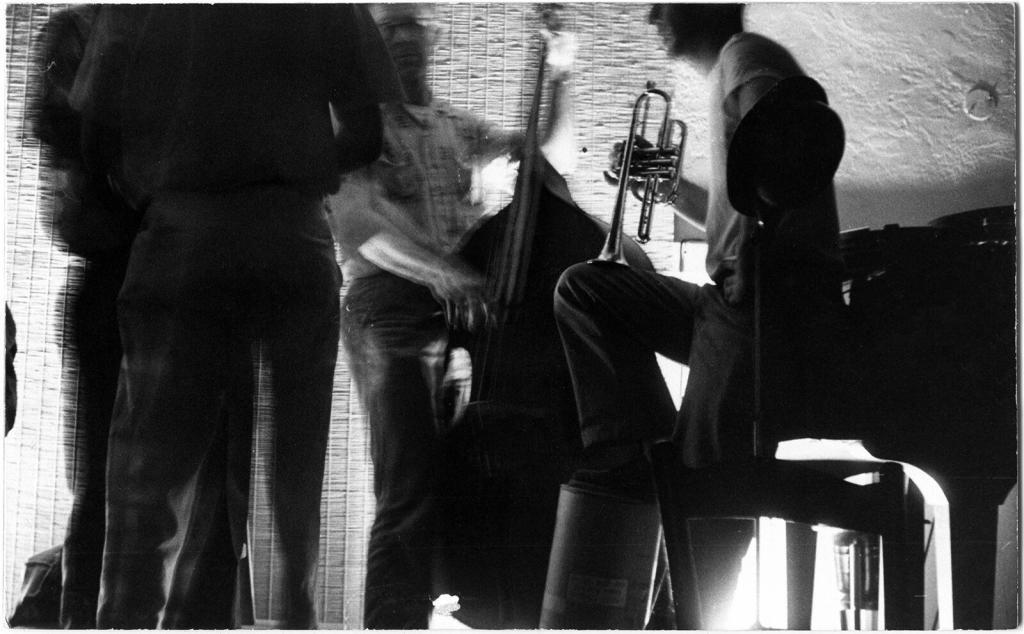 Farewell, Bob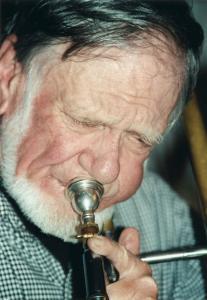 Accidents and health challenges sidelined Mielke in the 2000s. Bob remained a beloved local musician and a popular guest at concerts, parties or informal jams until not long before his passing.
The Bearcats Jazz Band and related ensembles created a fresh sound by fusing four-beat New Orleans ensemble polyphony with Kansas City style riffs, fueling a second wave of the great San Francisco traditionist jazz movement. A creative jazz trombonist and original bandleader, Bob Mielke left a distinctive signature on the Frisco Revival and mid-century Jazz in the West.
Coda and Last Chorus
Here's a closing set from the Monkey Inn, 2.1.62 with Bob, Frank Big Boy Goudie (clarinet), Bill Erickson (piano) and Jimmy Carter (drums). "Creole Love Call" is one of Ellington's silkiest confections and Kid Ory's "Get Out of Here" conjures the earliest days of New Orleans Jazz.
Creole Love Call 2.1.62
Darling Nellie Gray 2.1.62
Somebody Stole my Gal 2.1.62
Get Out of Here 2.1.62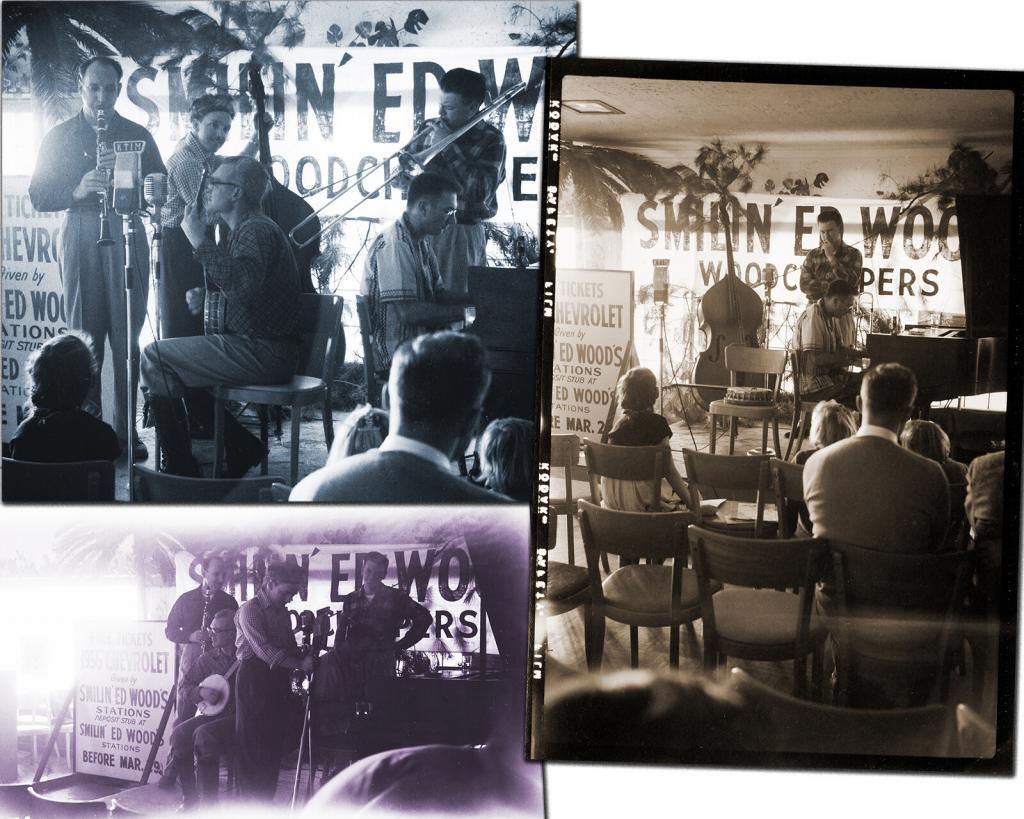 Acknowledgments
Based on interviews and discussions with Bob Mielke, Richard Hadlock, Barbara Dane, Dave Greer and Earl Scheelar, 1992-2016. Great thanks to Bob Mielke for auditing this text in early 2020. Thanks to Hal Smith for assistance.
The crème de la crème sampled above is merely the tip of the iceberg. Mielke and Oxtot compiled some 3000 photo images, 1000 audiotapes and 1000 news clippings, promotions and memorabilia. Another 500 items relate to the baseball band. All are destined for preservation in the Stanford Libraries Dave Radlauer Jazz Collection.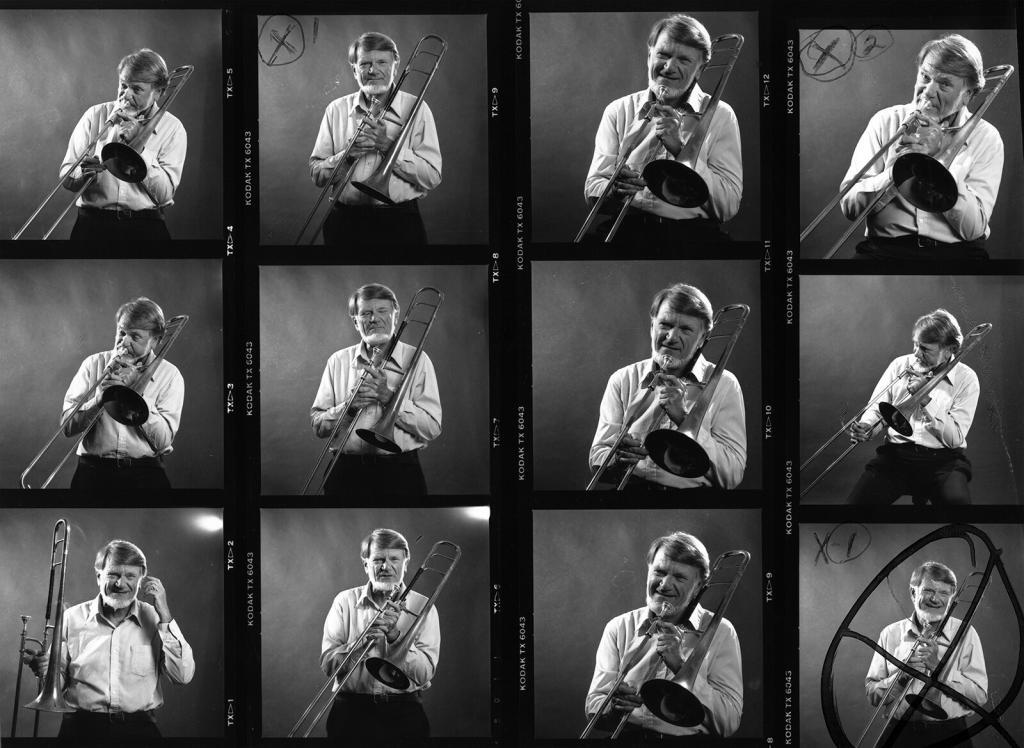 Sources and further reading:
BIG BOY, The life and story of Frank Goudie, Vernhettes, Dan with Christine Goudie and Tony Baldwin (2015 Jazzedit.org)
Bob Mielke: A Life in Jazz, Jim Goggin (Trafford/Goggin, 2008)
Jazz Scrapbook Dick Oxtot and Jim Goggin (Creative Arts Books, 1999)
Jazz West 2, K.O. Ecklund (Donna Ewald, 1995)
Mielke at Stanford Libraries/SFTJF
Bob Mielke's Oakland Swingin' A's Strolling Dixieland Baseball Band
Bob Mielke story, music and three radio programs
The Odd Brilliance of P.T. Stanton
The Unissued Bearcats Stereo Album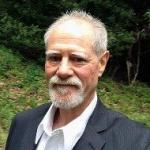 Dave Radlauer is a six-time award-winning radio broadcaster presenting early Jazz since 1982. His vast JAZZ RHYTHM website is a compendium of early jazz history and photos with some 500 hours of exclusive music, broadcasts, interviews and audio rarities.
Radlauer is focused on telling the story of San Francisco Bay Area Revival Jazz. Preserving the memory of local legends, he is compiling, digitizing, interpreting and publishing their personal libraries of music, images, papers and ephemera to be conserved in the Dave Radlauer Jazz Collection at the Stanford University Library archives.