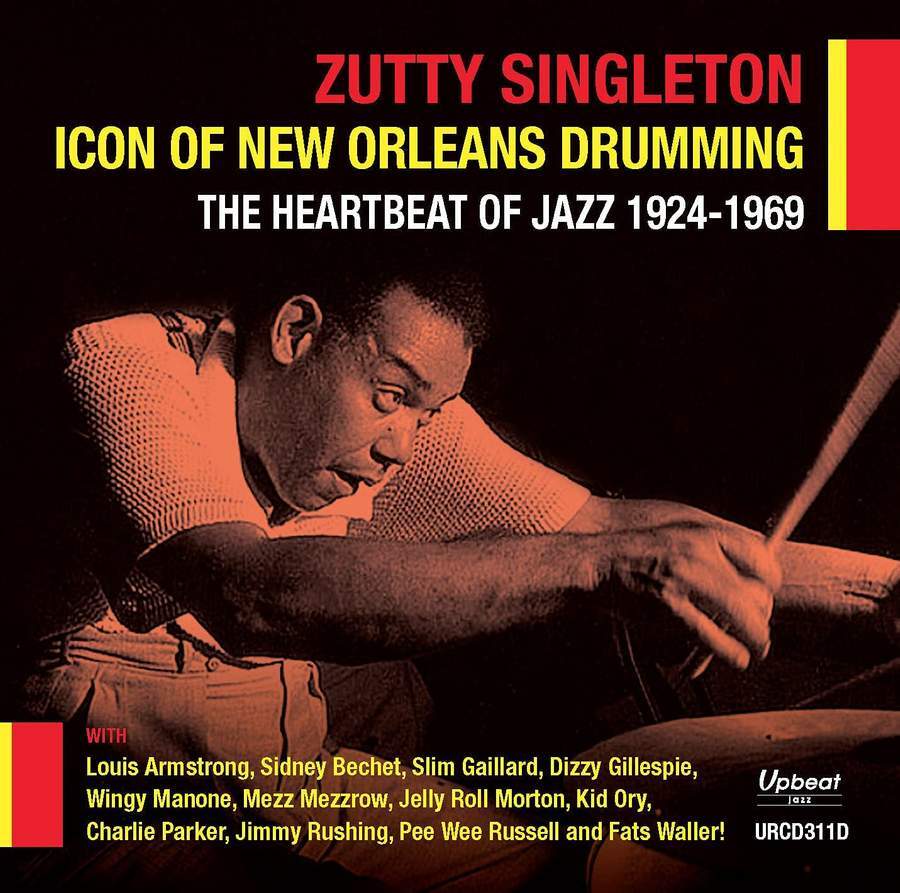 This superb two-disc set honors drummer Arthur J. Singleton, known throughout the jazz world by the nickname "Zutty." (Trevor Richards says in his liner notes, "Zutty" is Creole patois for "cute," and John Petters, in his analysis of this set in Just Jazz magazine, the Nov. issue of 2021, says the same and adds that the sobriquet was applied to Singleton when he was a little kid by an aunt, after which it followed him for the rest of his days.) The album's title points to two of Singleton's attributes: he was, indeed, an icon of New Orleans drumming and the jazz heartbeat almost any time he was a member of the band, as this pair of discs illustrates.
The New Orleans style of drumming is not flashy. The best exponents of the style, like Baby Dodds and Zutty Singleton, do not play to the crowd—but having said that, I must admit that it sounds as if Singleton gets carried away somewhat by the audience's reaction to "The Sheik of Araby." While it is oversimplifying a bit, I would say the New Orleans style bands play mainly ensemble throughout, and the drummer and the rest of the rhythm section plays a supportive role beneath the front line. The drummer relies mainly on pressed roll work with accents, and this drives the band. He uses sticks for the most part—when he wishes to play really softly, he achieves this by lightening the stick pressure and/or moving away from the center of the drum head out toward the rim. We hear Singleton do this frequently on the tracks here, one prime example being the wonderfully light stick work he plays behind the bass solo on "That's A Plenty." He uses brushes infrequently, doing so on only a few tracks such as "Brushin' off the Boogie" and "Riff City." (Baby Dodds eschewed brushes altogether, relying totally on light stick work for dynamics.)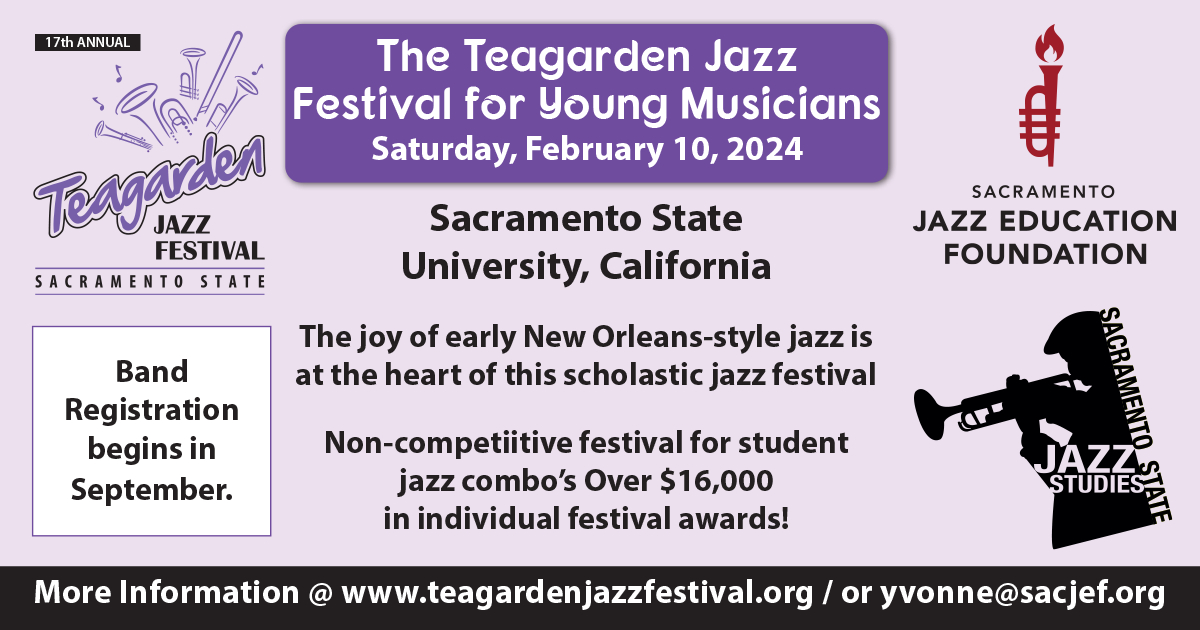 Part of what propels a band in the New Orleans style, along with the pressed rolls, is playing four-beat bass drum. This Singleton does on almost every track. (Sometimes, thanks to a sound engineer's heavy hand, it is a little louder than it should be). The combination of the pressed rolls and the four-beat bass drum is irresistible and potent, giving the band enormous drive. One can sense this throughout these two discs.
Complementing the performance is Singleton's judicious placement of accents, whether they be off beats on a tom tom, rim shots on the snare or a tom, or accents played on the cowbell or woodblock, as well as the punctuation he supplies with the choke cymbal. An important ingredient also is syncopation. The accents find various placement, not being in the same location in each bar, such as the off-beats, but varied, some being before, some after the beat, all adding up to excitement. Singleton will also vary the pressed rolls, some accented, by occasionally playing them on the woodblock rather than the snare. But in every case, they seem just right in that spot.
We also get a chance to hear the bock-a-da-bock cymbals—a pair of hand-held spring-loaded cymbals played by the hand holding them and/or a stick held in the other hand, sounding a little like castanets. He plays these at the start of "That's Like It Ought to Be." (One can see these demonstrated on YouTube.) He plays the bock-a-da-bock cymbals infrequently and not at all after they went out of fashion with drummers shortly thereafter. Regardless of what he plays or does, however, Singleton's taste is impeccable.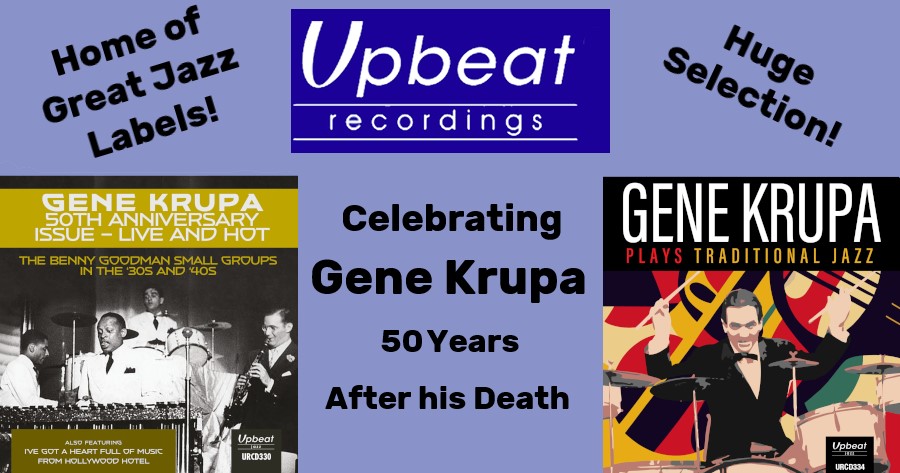 It is also the case that Singleton's drumming is, for want of a better term, musical. He does not seek the spotlight, to vaunt technique for its own sake, hitting everything in sight. While I never witnessed him play, I shouldn't think one would ever see him throwing his sticks in the air or playing his sticks on the drum rims, then moving to the cymbal stand and over the rest of the drum set and ultimately around the room, playing on everything in sight—tables, chairs, walls, etc. Rather he is a musician, not a showman. Everything he does is musical. It is also apparent in the introductions he provides for some of the tunes on these discs, whether they are eight bars long as in "The Sheik of Araby" or "Bill Bailey" or even thirty-two bars as in "Moppin' and Boppin'." Similarly, ending tags he applies are apropos, almost all four-bar. And, of course, there is nothing to fault in his backing of the other instruments, individually or in ensembles.
His musicality is also clearly demonstrated in the several tracks which are essentially drum solos: "About Face," "Drum Face #2," and "Drum Face #3. In "Drum Face #2, for instance, he demonstrates, with fine artistic awareness, the uses of a drummer's equipment, opening with hi-hat stand work, moving on to various rolling snare figures with Chinese cymbal crashes, snare rim shot accents, some ratchet work, and cowbell accents. The whole fifty-six measures are taken at a medium pace, and when the solo concludes, he is given a rousing ovation from the audience, this having been recorded during a live performance in Paris in 1952. When the applause ends, he takes it up again, this time picking up the pace, with accented pressed rolls for some twenty-four measures. Again when he stops, it is to much crowd acclaim. (For a detailed analysis of each track, by the way, see the Petters' review in Just Jazz, alluded to above.)
Among drummers, Singleton was a paragon, and this set of CD's gives ample evidence of it. His fellow musicians of all jazz genres were well aware of it, too, as can be seen by their flocking to have him complete their rhythm sections. Singleton is heard here with Fate Marable, Louis Armstrong, Jelly Roll Morton, Roy Eldridge, Pee Wee Russell, Sidney Bechet, Wingy Manone, Joe Sullivan, Slim Gaillard, Wilbur de Paris, Omer Simeon, and Henry "Red" Allan—quite a panoply and a testament to his appeal. These leaders obviously saw him as an icon and were eager to have him provide the heartbeat for their respective musical aggregations.
For some two-and-a-half hours this set will delight a traditional fan's heart—and ears! It goes without saying that it is also something of a master class for traditional jazz drummers. It is a most worthy part of the late Mike Pointon's legacy and we are indebted to Liz Biddle and Upbeat Recordings for making it available. For ordering one can go to Upbeat Recordings' web site www.upbeatmailorder.co.uk or to other web sites such as Amazon.
ZUTTY SINGLETON – Icon of New Orleans Drumming • The Heartbeat of Jazz 1924-1969 – Upbeat URCD311D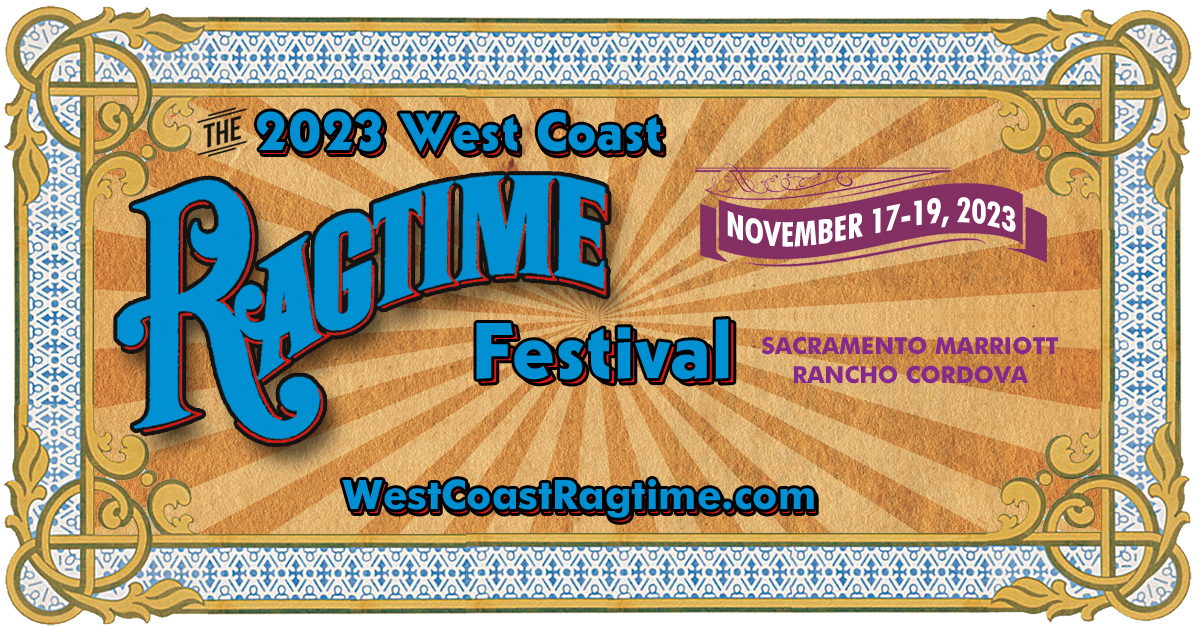 CD 1 – 1924-1941 Playing time: 74m. 53s.
Frankie and Johnny; Grandpa's Spells; No One Else but You; Funny Feathers; That Rhythm Man; Like It Ought to Be; Turtle Twist; Each Day;It's Gonna Be You; Runenae Papa (I Want a Lot of Love); After You've Gone; Mr. Ghost Goes to Town; There'll Be Some Changes Made; Everybody Loves My Baby; Hackett Picking Blues; Chant in the Night; China Boy; Climax Rag; Good Old New York; Honky Tonk Town; King Porter Stomp; Shim-Me-Sha-Wabble; Pinetop's Boogie Woogie; Jig Walk; About Face.
CD 2 – 1943-1969 Playing time: 77m. 00s.
Moppin' and Boppin'; Sister Kate; High Society; Barney's Bounce; Brushin' Off the Boogie; Slim's Jam; Sweet Georgia Brown; Riff City; Mahogany Hall Stomp; Tiger Rag; Just Some Blues; The Sheik of Araby (Mezzrow Orchestra); The Sheik of Araby (Coleman Swing Stars); Drum Face #2; Limehouse Blues; Bourbon Street Parade; Grand Boubousse; Qua-ti Blues; Bill Bailey; New Orleans; That's a Plenty; Brush Lightly; Drum Face #3.
All recording places and dates and all personnel are given in the liner notes. Zutty Singleton appears on all tracks and delivers the vocal on "Hackett Picking Blues."