What a wonderful time to be in the French Quarter after all restrictions were lifted on May 28th. Plans began for a visit two weeks later and upon arrival, we headed to the Maison Frenchman for the Nickel-A-Dance event with reed player Joe Goldberg & The Function. Joe recently moved to Florida to continue his education with his wife Kimi and baby Max Theodore. We last saw them in early 2020 where they announced their engagement!
The lively big band members included Ricardo Pascal (reed), Ricio Fruge (tp), Wes Anderson IV (tb), Brett Gardner (gtr), Ryan Hanseler (p), Jake Ricke (bs) and Gerald Watkins, Jr. (dr). Lots of dancers made their way to the floor and Wes Anderson III accompanied a few numbers on the tenor sax. We enjoyed visiting with a dozen or so of the folks we see at Fest and many hugs and smiles were exchanged.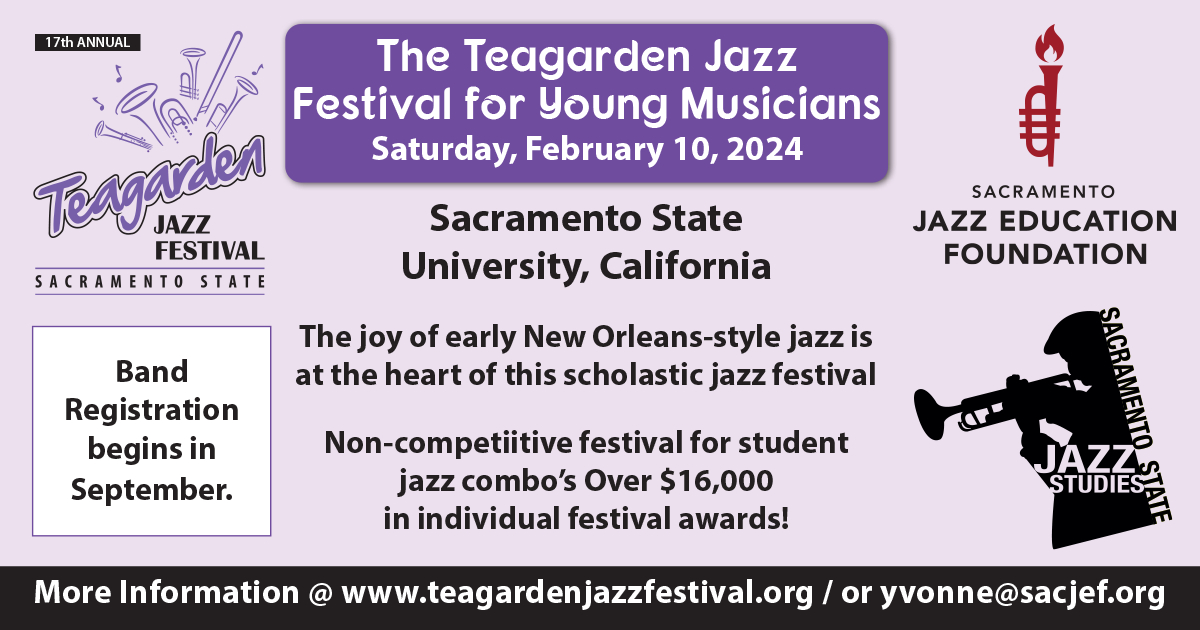 Later that evening we headed to Fritzel's to see Mike Fulton (tp), John Royan (p), Bryan Besse (dr), Chris Sharkey (bs) and Lee Floyd (bj). The venue was open every night although starting at 8:00 on most nights. The bands continuously expressed their appreciation to the audience and how wonderful it was to play before a live audience! This sentiment was voiced repeatedly at every venue for the entire visit.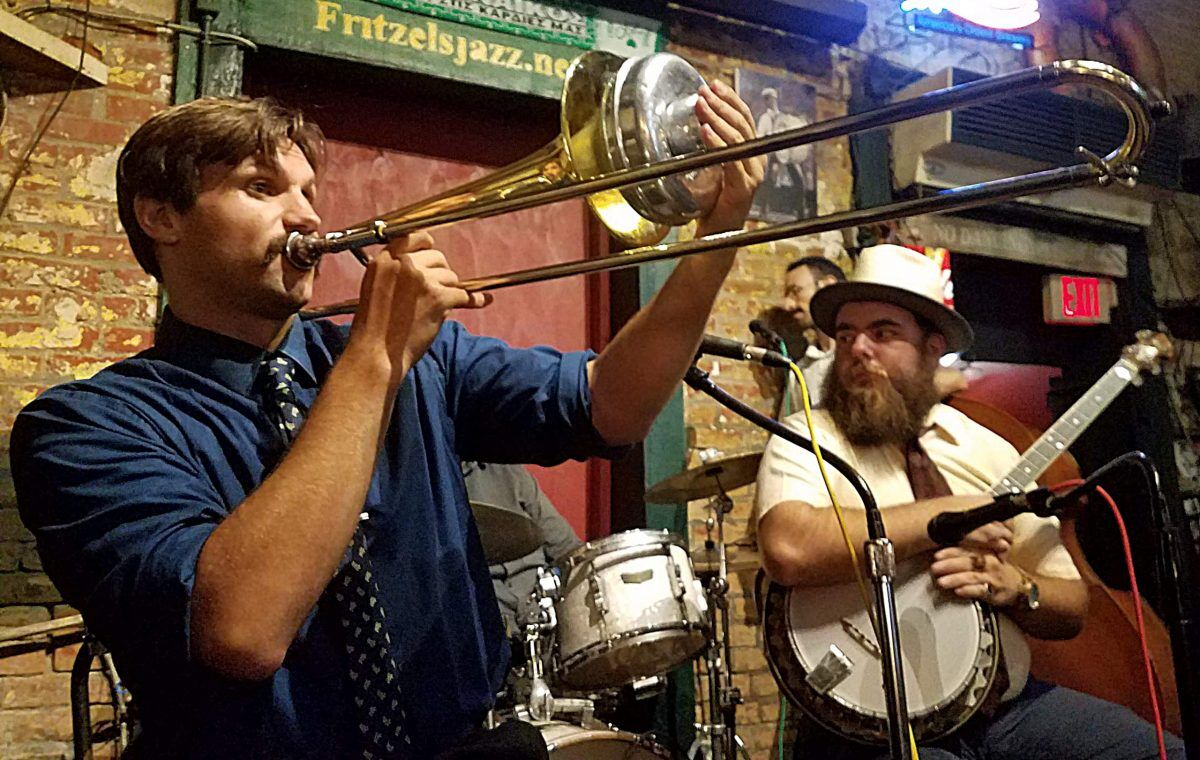 The following day included lunch with friends and visits to the French Market which had limited hours. That evening back at Fritzel's with Colin Myers (tb), Hunter Burgamy (bj), Bryan Besse (dr) and Ben Fox (bs). The next evening's roster included Tom Fischer (cl), Richard Scott (p), Cori Walters (dr) and Chris Sharkey (bs). I was expecting some of the musicians to be a bit "rusty" but the professionals that they are were in the finest form. It was truly outrageous how well they interplayed with each other!
We had lunch with artist Emilie Rhys, the subject of my column in March 2020. She was the highlight of a New Orleans Jazz Museum exhibition that included her father, Noel Rockmore, and his portraits in Preservation Hall. The exhibit was postponed several times but was finally scheduled to be removed September 1st. I was disappointed that I would not get to see it and then when this trip was planned, I immediately contacted her. I was so very happy to finally enjoy her works and the joint exhibit with her father's paintings. We met her at her new gallery at 1036 Royal which was not yet open to the public.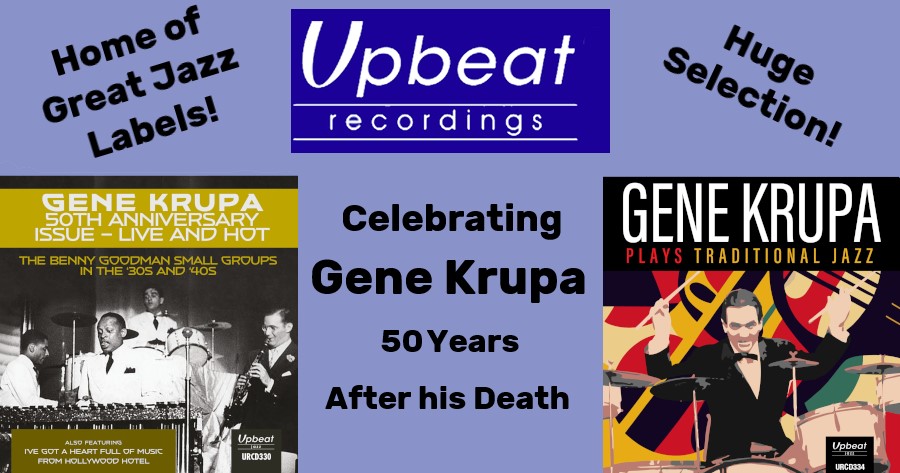 After lunch we went to the Jazz Museum and were given a personalized tour of the paintings. Emilie explained various techniques used in her art and gave some background information on the history of her father's work. A very large mural in one of the hallways had a special significance as she didn't realize she worked on it with her father when she lived here years ago. In going through many boxes of documents, film, and personal artifacts, she came across a film roll of them both working on the large painting. Of special note is an easel that was used not only by her father, but her grandmother. It is a lovely piece of memorabilia and a tribute to her family's artistic talents.
Emilie has a self-published book currently at the printer which will be available very soon and chronicles her life as an artist. The book title is the same as the Museum Exhibition: New Orleans Music Observed: The Art of Noel Rockmore and Emilie Rhys. The curation of the exhibition by David Kunian was the catalyst for the book and the book expands upon that by adding lots of content not in the show—such as a biographical story by John Ed Bradley, interviews with musicians by Gwen Thompkins, a collector's perspective by Myles Robichaux and photographs by Sesthasak Boonchai.
After the exhibit we met up with Greg Lambousy, Director of the NO Jazz Museum and he invited us to visit a live stream event with Ron Jones (p), Julius Hardy (sx), Anthony Hamilton (gtr) and Shannon Hamilton (dr), who were busy with a New Orleans blues tribute to such local icons as Fats Domino. We got to sing some of the background vocals, and it renewed my long ago interests in being one of the Raelettes!
Fritzel's was the go-to spot for the evening with Kevin Ray Clark (tp), Barry Foulon (bj), Chuck Brackman (bs) and Cori Walters again on drums.
Preservation Hall was celebrating their 60th anniversary with limited weekend performances. I was thrilled to be there for this opening as I was for the 20th, 30th, 40th, and 50th anniversaries of this hallowed ground. Although the sets were only 50 minutes or so, it was wonderful to see and hear so many of my favorite musicians. Sandra Jaffe (co-founder) was also at one of the sets and I got to have a chat with her about my many memories of the Hall. Yes, things have changed but the walls are the same, Noel Rockmore's paintings are the same and the music is definitely the same.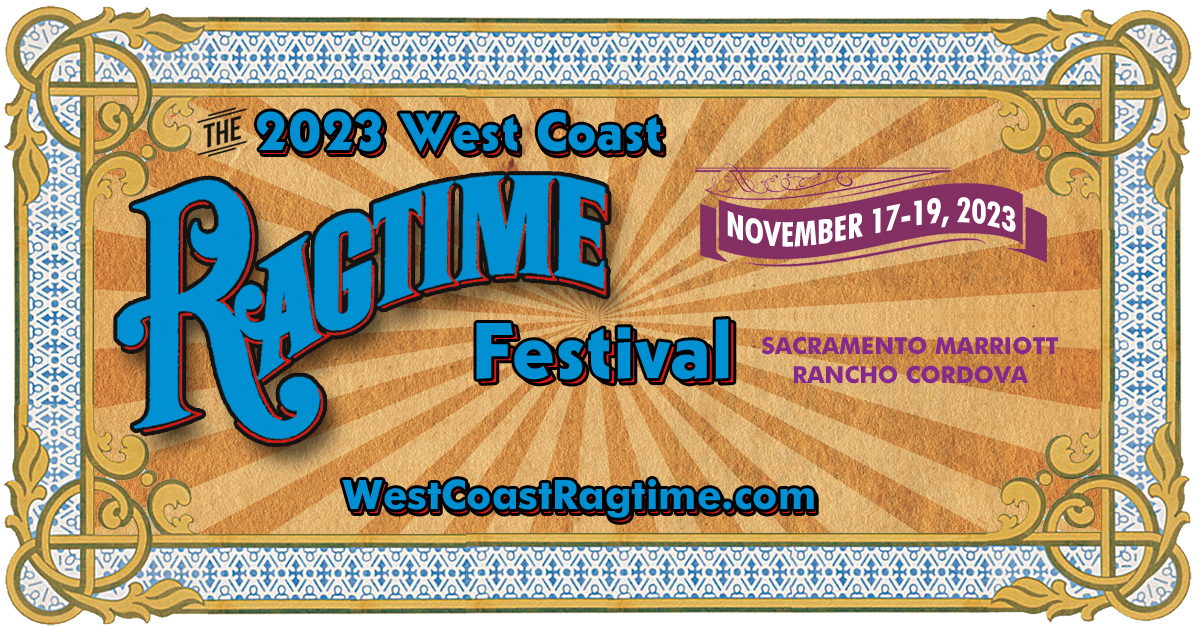 Whenever we visited, I spent many evenings there when standing in the back for a few sets guaranteed you could work your way up to the benches and then the floor cushions to be within inches of the slide trombone and look up at the trumpet player above your head. That part isn't the same but I visualize it when I am there and recall the same excitement I had within that small space away from the typical Quarter crowds. It was and is still a very special place. We were there for three early evening sets and look forward to seeing many of them at the several Fests scheduled for October. As one of the main characters in the TV series "Treme" said: you don't dis the Hall!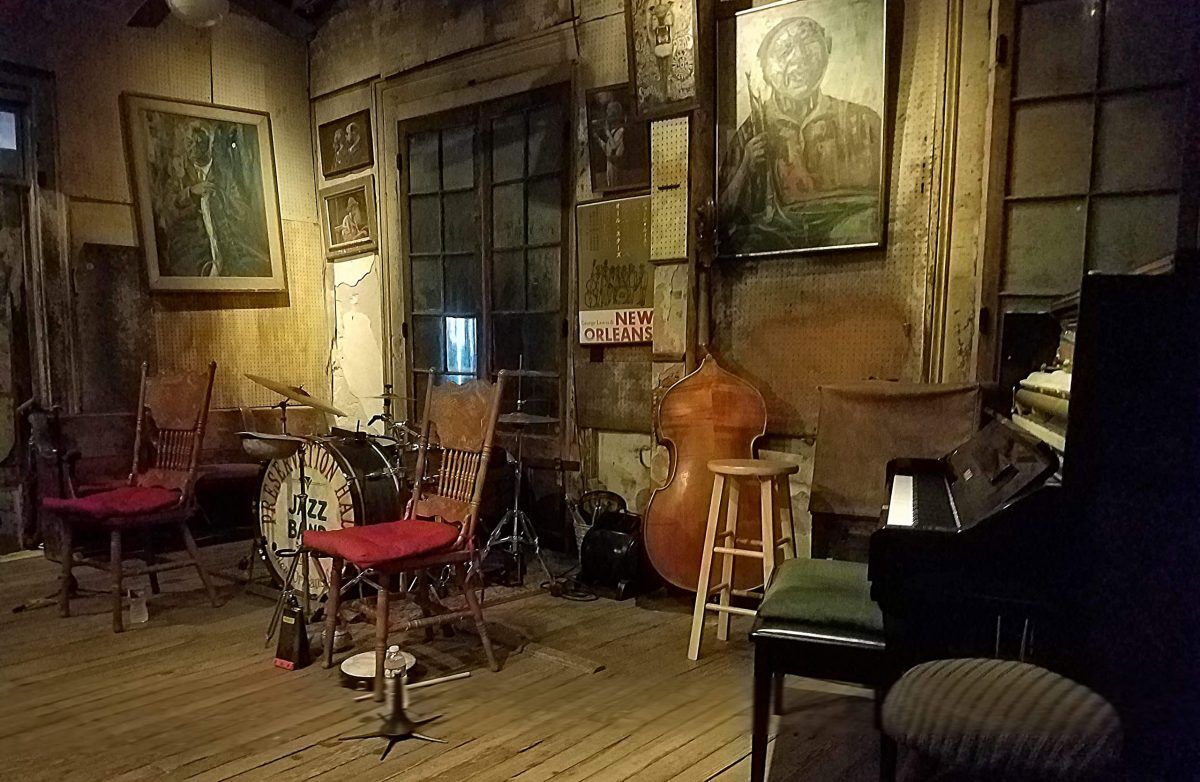 Musicians included Wendell Brunious (tp), Freddie Lonzo (tb), Shannon Powell (dr), Richard Moten (bs), Mark Braud (tp), Louis Ford (cl), Aron Lambert (dr), Meghan Swartz (p), Mark Brooks (bs), Kevin Louis (tp, flgl), Kerry Lewis (bs) Mari Watanabe (p), Joe Lastie (dr), Christian Winther (reeds) and Kyle Roussel (p).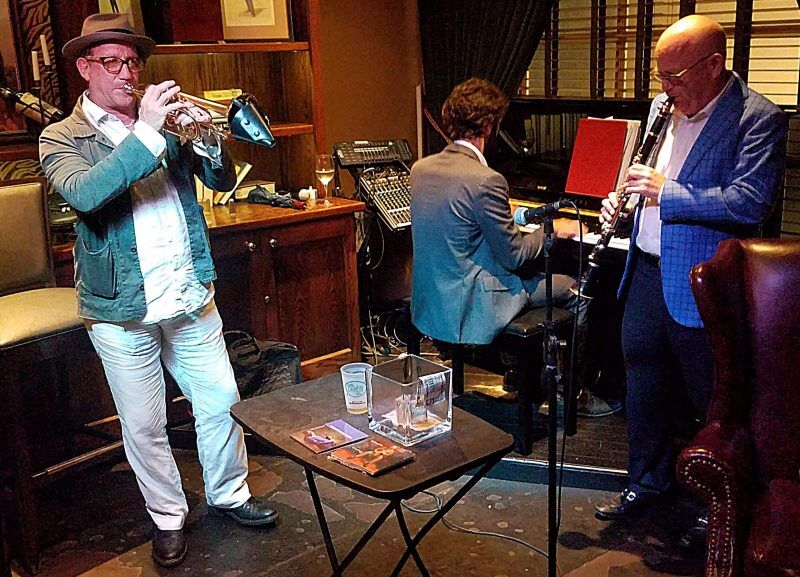 The Bombay Club at the Prince Conti Hotel has resumed some jazz evenings and we got to see Tim Laughlin (cl) and Kris Tokarski (p). Kevin Ray Clark dropped in and played a few numbers with Tim and Kris, they were having fun together and so were we! Lars and Kathy Edegran joined us for dinner with a few others and it was nice to spend some time with Lars away from his piano!
Another night at Fritzel's wowed us with Nick Garrison (tb), John Saavedra (gtr), Stephen Lands (tuba) and Gabriel Case (bs) and their swinging gypsy styles including many jazz standards.
The following night we enjoyed Cori Walters (dr), Dave Ruffner (tb), Mike Fulton (tp), Mark Brooks (bs) and Steve Rohbock (p).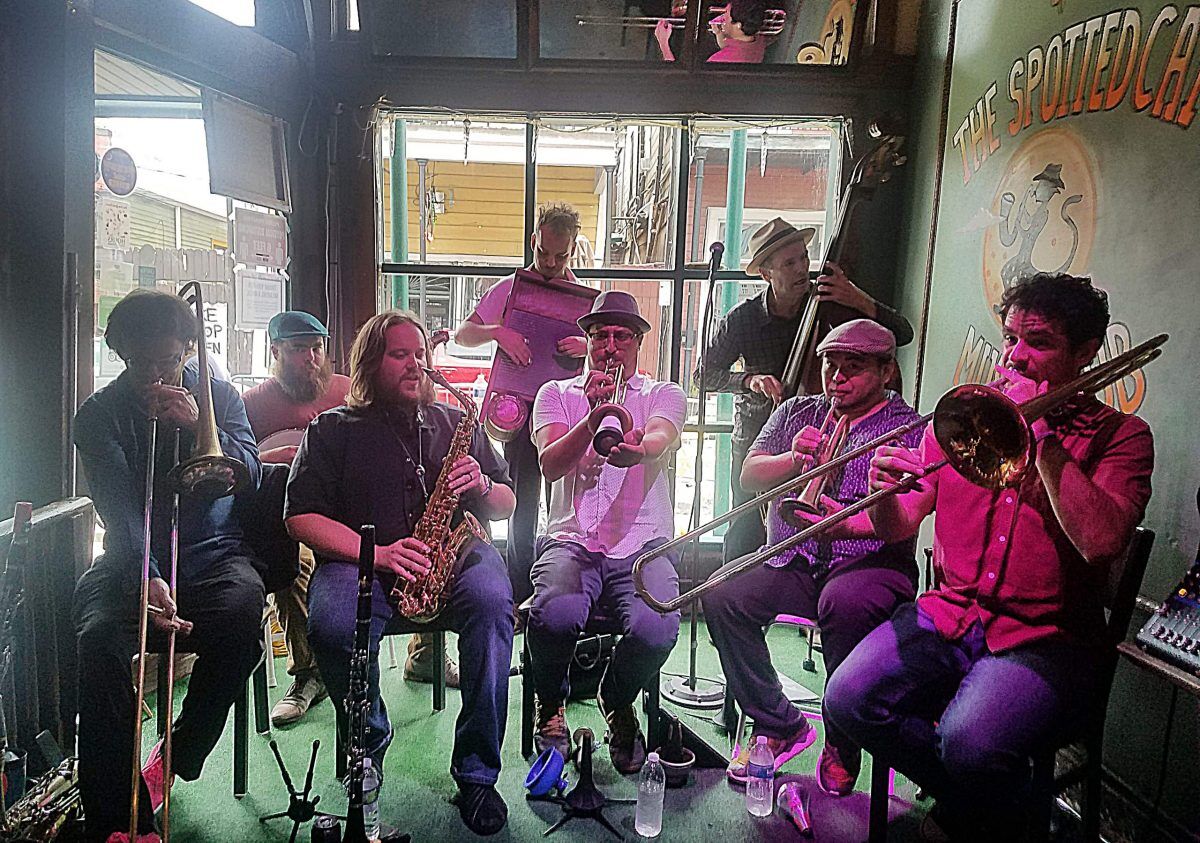 The Spotted Cat had an afternoon session with Jory Woodis (cl), the interview subject of my October 2020 column. I was grateful for a hug and kiss and the Secret Six CD (it was reviewed by Joe Bebco in the most recent June issue)—with leader of the Secret Six John Joyce (bs) (who is also leader of the Smoking Time Jazz Club), James Evans (reeds), Hunter Burgamy (bj), Russell Ramirez (tb) and Reid Poole (cnt). Joining them for this gig was Robin Rapuzzi (wash) and Satoru Ohashi (tp) with vocalist Heidi Malnar on the classic Creole Love Call. I have heard the vocals on a recording but this was the first time I witnessed it live. It was hauntingly beautiful.
A special surprise occurred when I turned to my left to see Dan Levinson (cl) enjoying the band as well. We would see him a few hours later at the kick-off event for the Jazz Camp activities.
Ambling across the street, the next Nickel-A-Dance featured Mari Watanabe (p), Kevin Louis (tp, flgl), Louis Ford (cl), Robert Harris (tb), Kerry Lewis (bs) and Glen Finister Andrews (dr).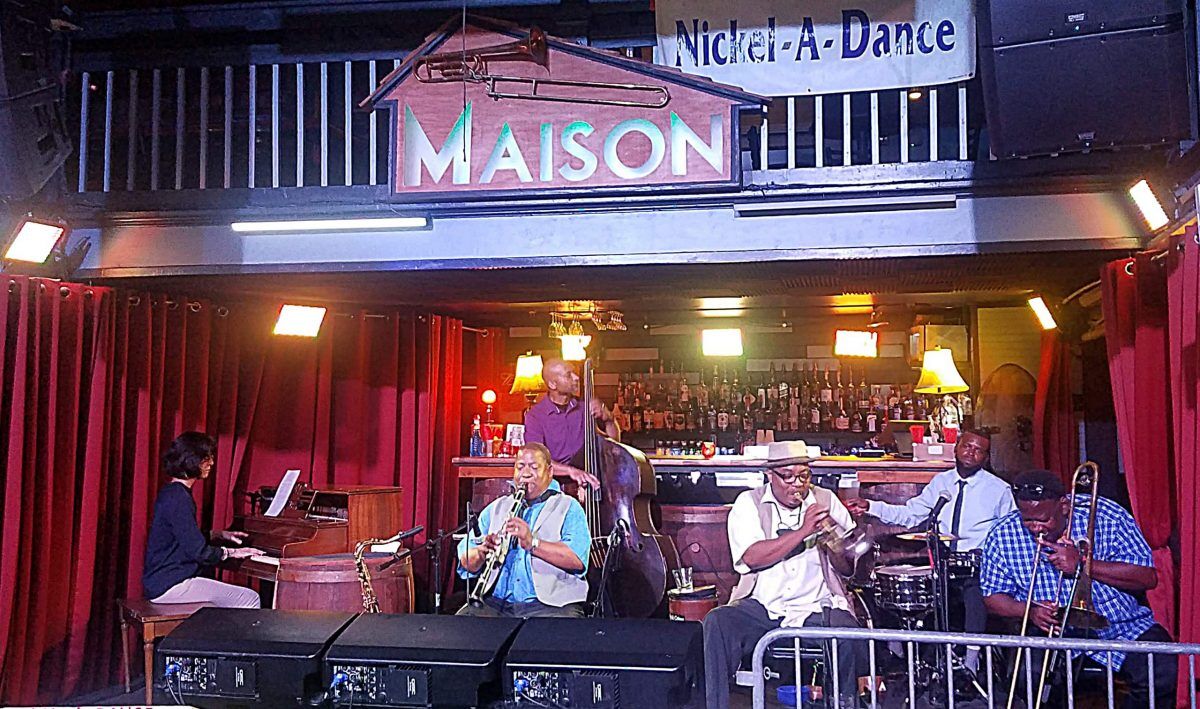 Cutting it short we had to get to that kick-off celebration of the New Orleans Traditional Jazz Camp and the beginning of its week of instruction, education, and fun. We have been sponsors of the Camp since its beginning and it was a treat to meet this year's campers and the illustrious faculty—a literal microcosm of Who's Who in traditional jazz. Faculty members included: Ben Polcer, Doyle Cooper (TP); Charlie Halloran, Ronell Johnson (TB); Tom Fischer, Dan Levinson, Larry Garrett (CL); Ray Moore (SX); Kris Tokarski, Steve Pistorius, David Boeddinghaus, Heather Pierson (P); Katie Cavera, Larry Scala (BJ&GTR); Mark Brooks (BS); Matt Perrine, Danny Rubio (TUBA); Hal Smith, Gerald French (DR); Leah Chase, Banu Gibson (V).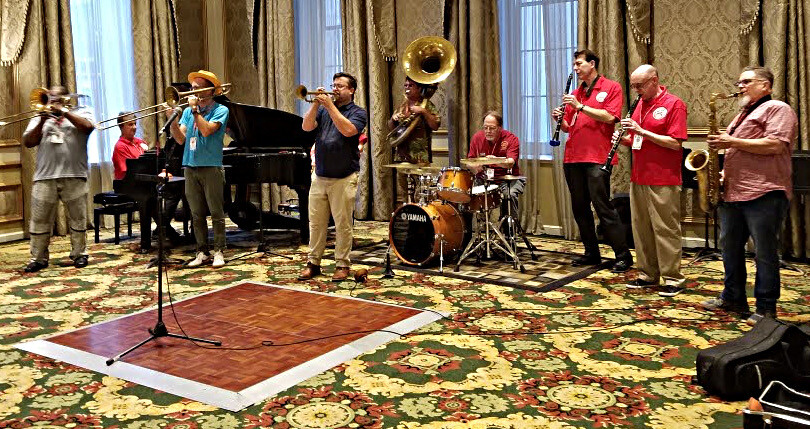 After the Sunday evening "meet and greet," jam sessions occurred in the Bourbon Orleans Hotel bar, then Monday morning begins the orientations, sectionals and afternoon ensembles. That evening included a demonstration of New Orleans Brass Band and Funeral traditions played by the faculty. More jam sessions in the hotel bar and a slow jam led by Katie Cavera in one of the classrooms. Tuesday offered a lecture by Hal Smith on the music and life of Alex Hill with a demonstration of his music played by the faculty, continued sectionals and ensembles in the afternoon followed by more jam sessions in the hotel bar with a slow jam led by Heather Pierson.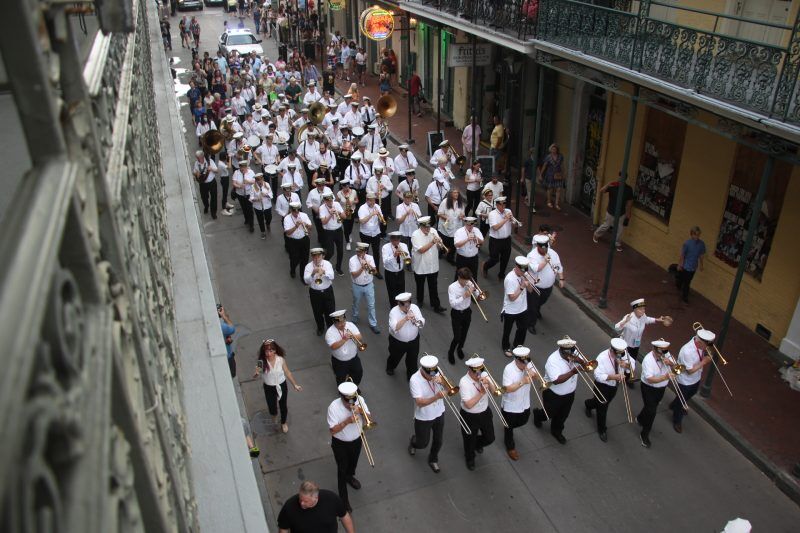 Wednesday included a lecture by John McCusker, additional private lessons and demonstrations how vocalists and musicians work together; with more ensembles, then an evening pool party featuring the vocalists with a band composed of mostly campers. Thursday featured a tap dancing demonstration by Heidi Malnar discussing the common language between drummers and tap dancers, and then Heidi and Hal Smith traded fours.
Afternoon ensembles were played at Preservation Hall and the evening led to a celebratory cruise on the Mississippi River's new Riverboat the "City of New Orleans" where the faculty played and all enjoyed a 1920s nautical themed event. More jam sessions followed back at the hotel. Friday ensembles were rehearsed for the final concerts and Saturday featured the first jam session at the new Mahogany Jazz Hall club (125 Chartres) now open to the public beginning in July. This newly renovated venue is in the location of a prior club and will be a welcomed addition to the evening traditional jazz scene in the Quarter.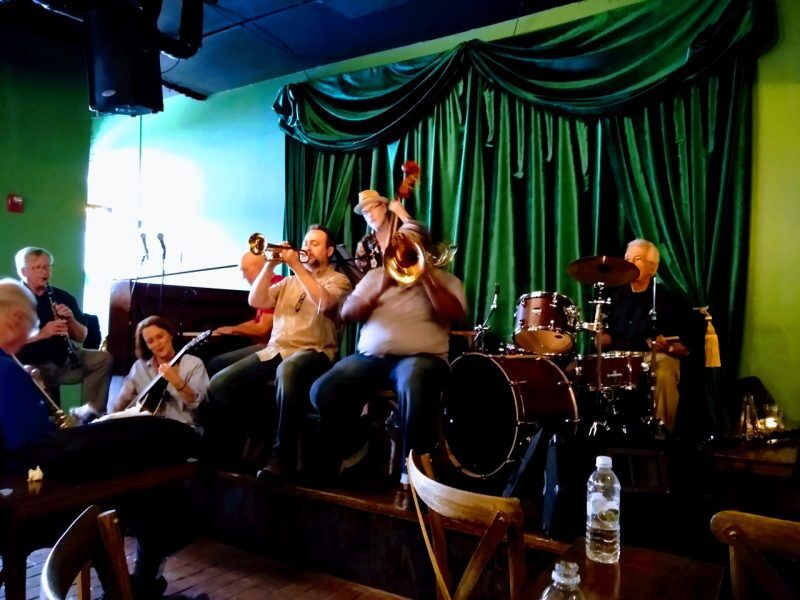 We were only able to enjoy the campers and faculty at the kick-off and the following day but I wanted to include the whole weekly schedule so that our readers get a glimpse of the efforts and effects of this Jazz Camp annual event with Executive Director Banu Gibson and Production Director Leslie Cooper. Prior to this unusual year, campers have attended from all the corners of the world, although this year was a bit more restricted.
On our last day we stopped in at the Maison Bourbon to catch Dave Ruffner (tb), Danny Rubio (tuba) and Lee Floyd (bj) for a short set and then headed back to Fritzel's for a final evening with Colin Myers (tb), Kris Tokarski (p), Ben Fox (bs) and Bryan Besse (dr). The jazz campers were also jamming at the Bourbon Orleans so we hopped back and forth across the street between the raindrops and the sets!
It was a fantastic, quick visit and gave us the ammunition to truly look forward to the festivals in October!