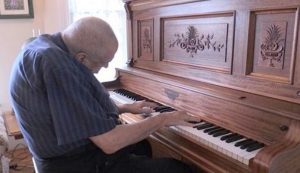 Pianist Ed Clute, who was featured in the February 2016 issue of The Syncopated Times, has achieved worldwide recognition for his incredible playing, thanks to a Facebook video that has been seen more than 7.8 million times.
On the morning of September 4, Ed, who works as a piano technician in Watkins Glen, New York, was hired to tune the old upright at the Hudson Manor Bed and Breakfast. After tuning the piano, Ed played one of his barnburner showpieces, "Sweet Georgia Brown," at the request of Jim Somerville, the owner of Hudson Manor. Somerville caught the performance on camera, and posted it on Facebook and on YouTube. On Facebook he added, "Imagine if he had warmed up a little first! Oh, did I mention he is sightless?"
Ed Clute has indeed been blind since birth; he was also a musical prodigy who studied piano in France with Robert and Jean Casadesus. He has worked for over five decades as a musician, with the uncanny ability to play jazz, classical—or anything else.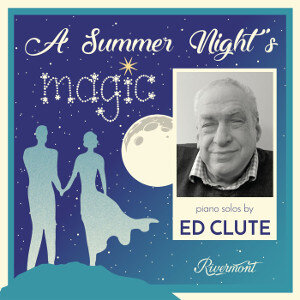 It didn't take long Ed's bravura stride rendition to catch the fancy of those surfing the internet. The Facebook post alone has been shared more than 140,000 times. Ed's story has been featured on the news in New York state and as far away as Australia.
The Facebook post included a link to Ed's Rivermont CD, A Summer Night's Magic, for "anyone who would like to enjoy more of Ed Clute and his phenomenal artistry." We were in touch with Rivermont's Bryan Wright, who said that Ed's CD is selling briskly.
"Yes, the video prompted enough sales that we've had to order a second pressing of the CD. We have plenty for anyone who wants a copy." (Buy it HERE)
Ed, for his part, is delighted that his music is being heard and is making people happy.