Pianist Russ Kassoff, a frequent musical partner of Bucky Pizzarelli, sent along an upbeat report on Bucky's recovery from a recent stroke. "I had the honor and privilege of visiting legendary guitarist Bucky Pizzarelli with vocalist Catherine Dupuis. He looks great and has vastly improved. We played music, and Catherine sang for about 45 minutes. He got better and better and more comfortable with his brilliant rhythm groove, chord solos and singe line solos, He's definitely going to be back playing and gigging soon. I believe all the prayers are being answered."
♫ ♫ ♫ ♫
Leah Bezin's reaction to making the front page of the February issue: "Finally a cover girl. I'll take it."
♫ ♫ ♫ ♫
Fans continue to ask trombonist Bob Haven about his 23 years with the Lawrence Welk Show. It should also be remembered that early in his career, Bob spent time in New Orleans when he was part of a front line that included trumpeter Al Hirt and clarinetist Pete Fountain at Pier 600. Bob joined Welk in 1960 when the show was still being telecast live. "I enjoyed my time with Lawrence. I had steady work, got lots of exposure and had plenty of time to pursue my own musical interests. Jazz people may criticize Welk, but he was a genius when it came to business. He was smart enough to identify his target audience and to deliver the kind of music they wanted to hear."
♫ ♫ ♫ ♫
When asked by North Carolina Jazz Festival executive director Sandy Evans to identify her most memorable moment performing on stage, Bria Skonberg certainly came up with the right answer, saying, "I still laugh when I think of the final jam session at the NCJF a few years back. There were 20 musicians onstage, including pianist Rossano Sportiello and trombonist Wycliffe Gordon. Wycliffe played a very swinging solo on the piano, followed by a robust trombone solo by Rossano! I had no idea Rossano played trombone, and I cracked up watching him get into it. A lot of musicians have sidebar talents that will come out if the setting is fun and comfortable – NCJF provides just that."
♫ ♫ ♫ ♫
Mike Greensill, who is musical director/accompanist for his wife, vocalist Wesla Whitfield, has authored and published a book, Playing for Singers – The Art of Accompaniment for the Jazz or Cabaret Piano Player. The book also includes tips on arranging, chart writing and rehearsal techniques. Not to be outdone, Wesla is penning a book on San Francisco female singers.
♫ ♫ ♫ ♫
Mike Johnson, "Mr. Washboard," informs me that in spite of all the bad jokes, there is a banjo museum and hall of fame. It's the American Banjo Museum located in Oklahoma City, a $5 million, 21,000 square-foot facility that is home to 300-plus instruments. Claiming to be the largest collection in the world on public display, examples include replicas of primitive banjos developed by African slaves in the Old South; Minstrel Age instruments from the 19th Century; post-World War II instruments used in bluegrass, folk and world music; and the Museum's core collection of ornately-decorated banjos made in America during the Jazz Age of the 1920s and 30s.
♫ ♫ ♫ ♫
Jazz journalist/photographer Ken Franckling has published a book, Jazz in the Key of Light (80 of Our Finest Musicians Speak for Themselves) that is available for purchase through Amazon. Franckling, who was UPI's jazz columnist for 19 years, states, "This is not your typical fine art photography book. Images of the featured artists, in performance or moments of personal reflection, are paired with illuminating quotes from interviews I had with those musicians in assignments for a variety of mainstream and music publications over the past 30 years."
♫ ♫ ♫ ♫
I may not have realized it at the time, but the late Ernie Santosuosso undoubtedly influenced my jazz writing as I read his reviews in The Boston Globe when I lived back in Massachusetts. There was a reference in his obituary from a former colleague, who pointed out: "Ernie always looked for the good in musicians. He helped a lot of musicians and was more of an encouraging critic. Ernie saw the positive side of someone's music. He was not cynical or jaded, and that was his best quality as a writer."
Mr. Santosuosso wrote that Judy Garland was the most exciting performer he had seen, "even on her worst nights." Among his many recollections, he said he once made the mistake of asking Miles Davis what he was going to play. After getting that familiar scowl, the famed trumpeter replied, "I don't talk about my music. I just want you to listen."
♫ ♫ ♫ ♫
Stephanie Trick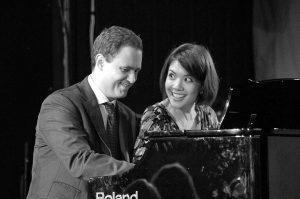 has expanded her repertoire to include more standards from the Jazz Age and Great American Songbook to go along with her radiant smile and the stride piano classics with which she initially gained notoriety. When she was in Sun Valley this past October, with husband Paolo Alderighi on his way back from a concert tour of Japan, Stephanie was accompanied by her mother Alina. Mother Trick, who helped out selling her daughter's CDs, originally comes from Pasig City, Philippines.
♫ ♫ ♫ ♫
Beginning with the Fall 2016 class, all 20 students accepted at Berklee College of Music's master of music in contemporary performance/global jazz concentration program will be awarded full-tuition grants valued at $46,000. Students accepted to each subsequent entering class will also attend entirely tuition-free.
♫ ♫ ♫ ♫
Respondent beware! Have you ever received an email – purportedly from someone you know – informing you that the friend and his family are in some foreign country and had been mugged, with their money and credit cards stolen? Then comes the hook: "Send money so we can pay our hotel bill and have our bags released."
Well, I've received three such messages, the last supposedly from Los Angeles bassist, Richard Simon. When I profiled Richard several years ago, I described him as "a raconteur with an engaging sense of humor." On notifying the inveterate punster of this latest ploy, his response ran true to form: "Don't be Russian to send me money, but what the hack. It's obviously bogus. With Kiev in mind, may I suggest a fine Russian hors d'oeuvre: a small picture of the Russian president emblazoned on a salty cracker – Putin on the Ritz."
♫ ♫ ♫ ♫
Advice from a friend: "I do what I want . . . where I want . . . when I want! As long as my wife says it's okay."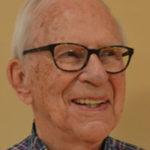 Lew Shaw started writing about music as the publicist for the famous Berkshire Music Barn in the 1960s. He joined the West Coast Rag almost thirty years ago and has been a guiding light to this paper through the two name changes since then as we became The Syncopated Times.  47 of his profiles are collected in Jazz Beat: Notes on Classic Jazz. Volume two, containing profiles from 2013-2016 will be available on Amazon soon. He taps his extensive network of connections and friends throughout the traditional jazz world to bring us his Jazz Jottings column every month.