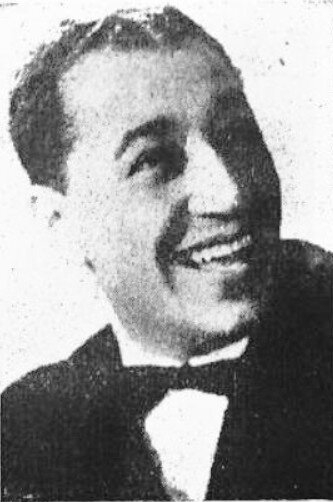 Throughout his long career, Louis Prima was a New Orleans-based trumpeter, a good-humored singer, and a lovable personality. While his wide-ranging career can easily be divided into three periods, Prima's image was always consistent. He both celebrated and made fun of his Italian heritage, displayed the influence of Louis Armstrong in both his singing and playing, and carved out his own musical niche.
Louis Prima was born on December 7, 1910 in New Orleans. His older brother, Leon Prima (born in 1907), was a trumpeter and cornetist who recorded with Tony Parenti during 1925-28, worked with his sibling's big band in the mid-1940s, and had a record date of his own in 1954 but never became that well known outside of New Orleans.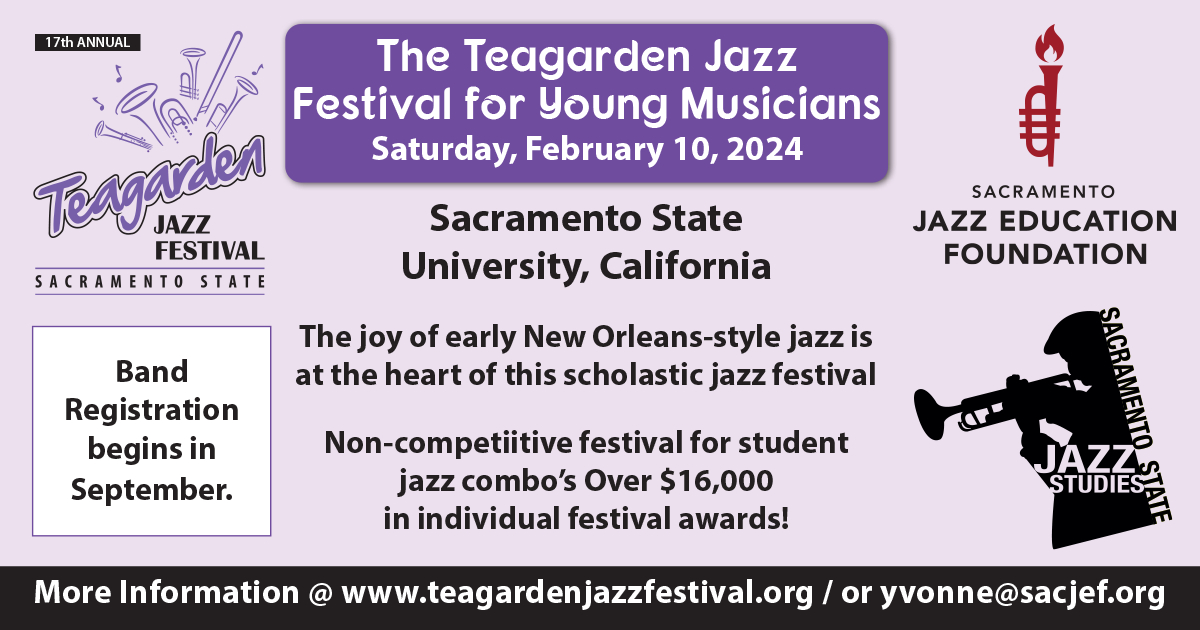 The younger Prima had violin lessons from the age of seven. Inspired by his brother and the sounds that he heard regularly in New Orleans, he taught himself to play trumpet in 1923, forming a kids' band the following year that included clarinetist Irving Fazola. Prima worked locally at a variety of jobs for the next eight years including during 1931-32 at the Avalon Club that was owned by his brother.
In 1932 Prima moved to New York, working briefly with Red Nichols and making his recording debut the following year with the Hotcha Trio. The latter was a group with pianist David Rose and violinist Norman Gast that featured Prima singing and playing on "Chinatown, My Chinatown" and "Dinah."
By 1934, Prima was making a name for himself, leading a popular combo at the Famous Door on 52nd Street. He began an extensive series of recordings with his "New Orleans Gang," at first utilizing such notables as trombonist George Brunies and tenor-saxophonist Eddie Miller. During 1935-36, Prima headed a sextet that had clarinetist Pee Wee Russell as the other horn, having a hit with "The Lady In Red." Prima and Russell thoroughly enjoyed playing together and spoke highly of each other as late as the 1960s. While their recordings ranged from swing standards to some novelties, it was essentially New Orleans jazz with the trumpeter-singer dominating the music a la Louis Armstrong.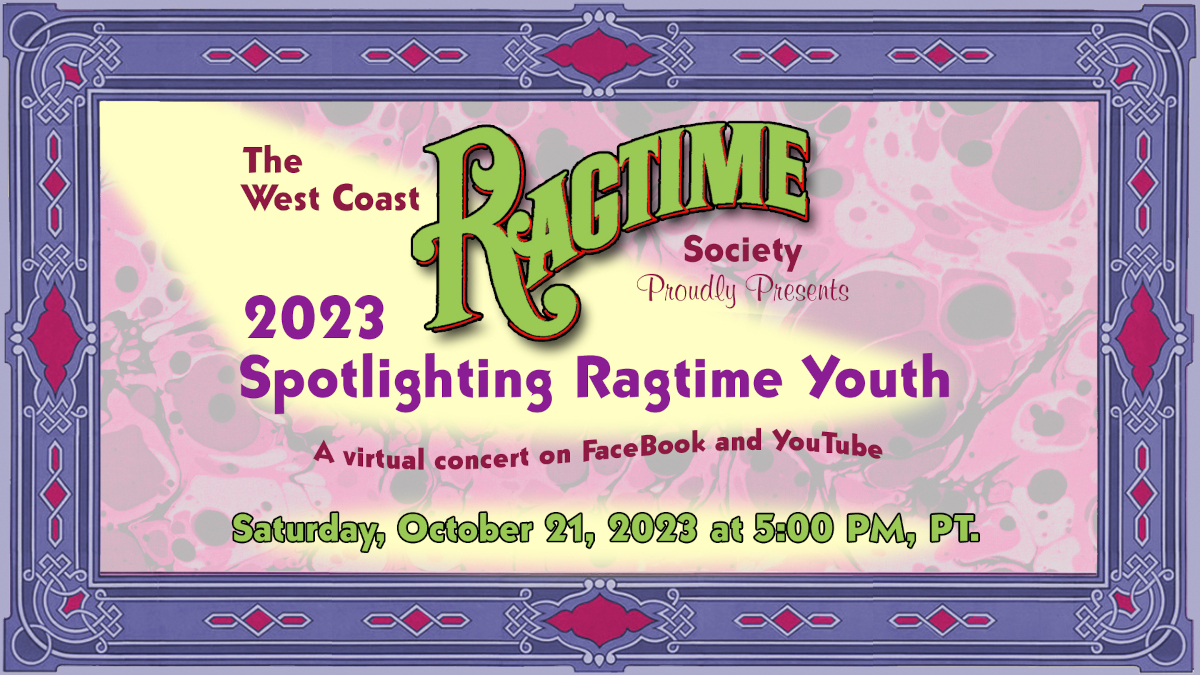 In 1936 Prima recorded his new composition, "Sing Sing Sing," which originally featured his singing. Benny Goodman heard it and soon turned it into an instrumental that showcased Gene Krupa. It would always be Prima's best-known original. Prima was already so well known that that year he was the subject of a fictional but entertaining biographical film short, Swing It.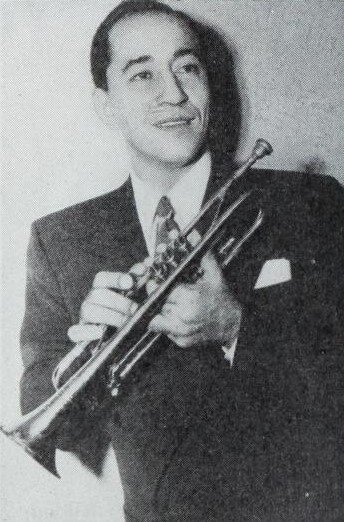 Although quite successful, he became restless, moved to Los Angeles for a few months, and formed a big band that recorded two sessions. Unfortunately that ensemble was not successful and by 1937 Prima was back at the Famous Door in New York with a new sextet that lasted through 1939.
Later in 1939, Louis Prima decided to make a second attempt at leading a big band. It was the height of the swing era and most of the top swing stars, including his idol Louis Armstrong, were leading their own orchestras.
This time he had success. While not a pacesetter like the bands of Ellington, Basie or Goodman (one would be hard pressed to name any of his sidemen), Prima's orchestra developed its own audience. Even though World War II had started and the United States was soon fighting Italy, Prima's versions of Italian songs were popular. Always a colorful entertainer, he came across as humorous, non-threatening, and so friendly that audiences accepted anything that he performed.
Prima (who because of a knee injury did not have to serve in the military) had hits in 1944 with his recordings of "Robin Hood," "Angelina," and "Oh Marie," each of which became permanent parts of his repertoire. 1945 brought strong sellers in "My Dreams Are Getting Better All The Time" and "Bell-Bottom Trousers." However the drop in popularity of big bands in general began to affect both his livelihood and the quality of his recordings. Despite that, Prima continued on with his orchestra and his swing-oriented music since he was never particularly interested in bebop or in cutting back to a New Orleans jazz combo.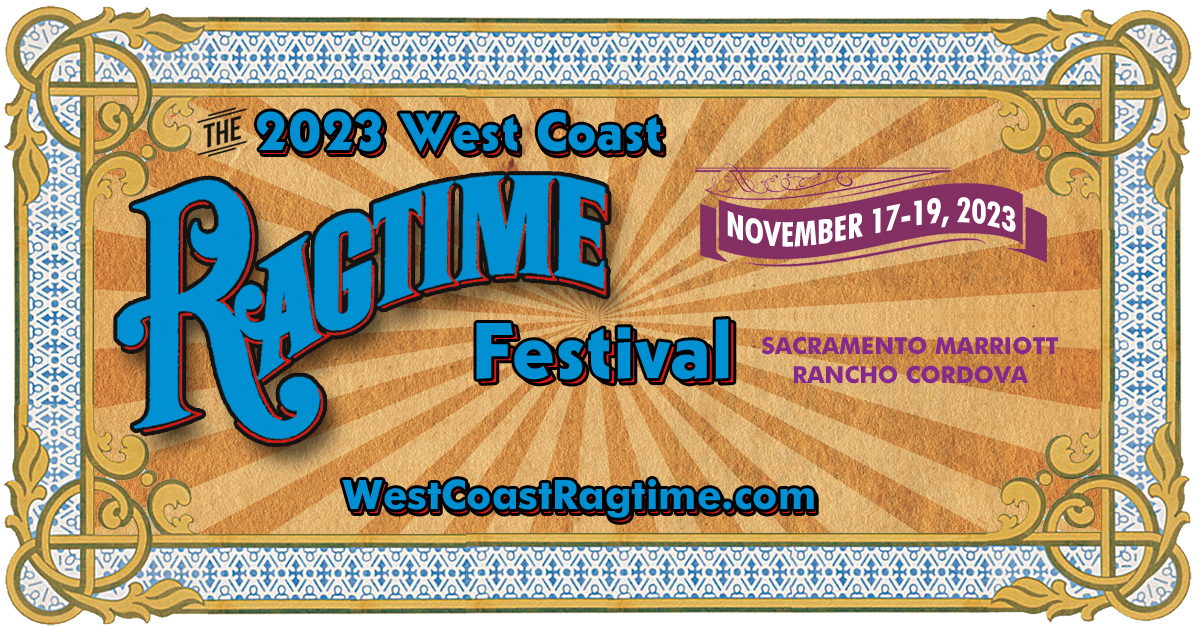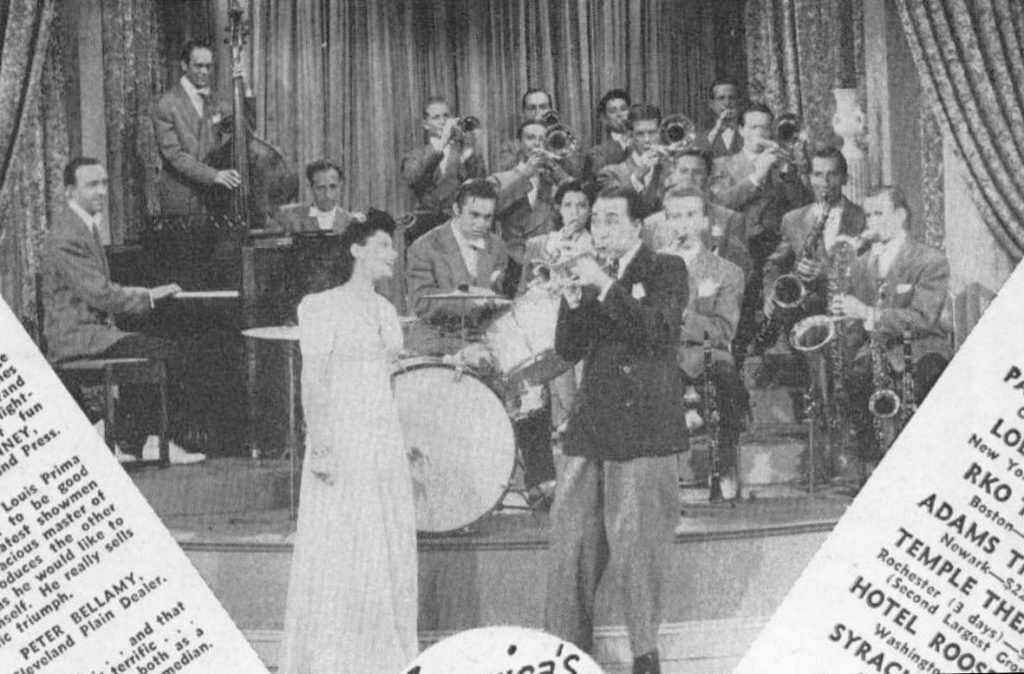 In 1948 the 37-year old entertainer met 20-year old Keely Smith who became his band's new singer, succeeding his long time vocalist Lily Ann Carol who had recently departed. Smith's quiet but cheerful personality meshed well with Prima, and she was at her best singing warm ballads which added to the orchestra's appeal.
Their vocal duet on "Oh Babe" resulted in a new hit but despite that, it appeared that, as with many other swing era stars, the times were passing Prima by. In an effort to sell more records during the early 1950s, when novelties were dominating the pop charts, Prima's material was often corny. That effort did not work well since his record sales continued to decrease. Prima had to reluctantly break up his big band around that time and, while he still had a name, it looked like he was on his way to merely becoming a nostalgia act. Louis Prima needed something new to bolster his career.
In 1953, Keely Smith became Louis Prima's fourth wife. Despite their age difference, the marriage worked very well at first with Smith helping Prima's confidence and Prima giving his young wife invaluable advice with her singing. But the trumpeter's career was directionless and he was not appealing to younger audiences or to fans of modern jazz, Dixieland, or pop music.
But then in 1954, his career completely changed. While in New Orleans, Louis Prima met the fiery r&b tenor-saxophonist Sam Butera who became the key to a brand new formula in his music. Prima hired Butera and his musicians (who were soon known as "The Witnesses") and put together a wild act that was considered a sensation when they began performing at the Sahara in Las Vegas, leading to them being signed by the Capitol label.
The music that Louis Prima performed, which would be one of the main models for the Retro Swing movement of the 1990s, was a fascinating mixture of styles. It combined together the leader's New Orleans jazz trumpet with a repertoire that was filled with swing standards and Prima's hits, Butera's honking r&b-ish tenor, his rollicking group the Witnesses, Keely Smith's ballad vocals, Prima's Italian humor, a shuffle beat, and a rock & roll sensitivity. Nothing quite like it had been heard before. The show was non-stop energy and joy with Prima and his audience having a great time every explosive night.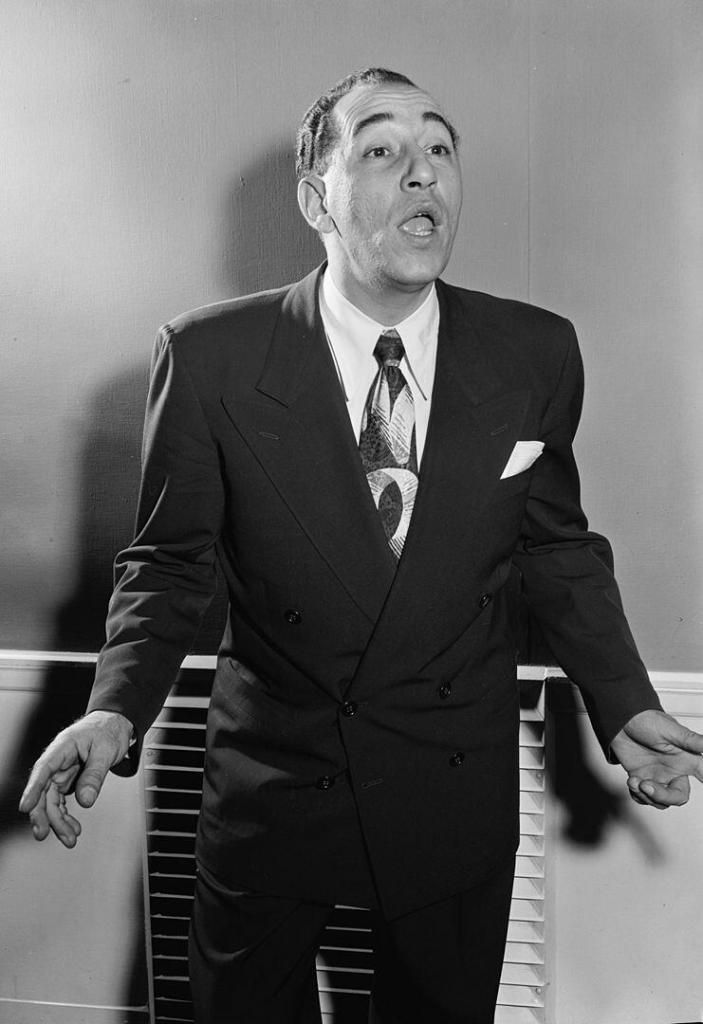 While largely ignored by the modern jazz world, Louis Prima's music was both very jazz-oriented and an entertaining show. While he frolicked onstage with Butera, Keely Smith often adopted a deadpan expression that contrasted with his constant merriment, and it became a challenge for him to crack her up. Her ballad vocals also served as a contrast, adding a bit of class to the wild show, although she also joined in on some of the crazier vocal tunes
The 1955-60 period was a glorious time for Louis Prima. Unlike most of the top stars of the swing era, his fame and popularity had grown, he was making a large amount of money, and every night was a well-rehearsed party. Prima, Keely Smith, and Sam Butera recorded famous versions of "That Old Black Magic" and "Jump, Jive An' Wail," memorable medleys in "Just A Gigolo/I Ain't Got Nobody" and "When You're Smiling/The Sheik Of Araby," and their performances generated constant excitement. They appeared regularly on television (including the Ed Sullivan Show) and in 1959 made the fun movie Hey Boy, Hey Girl. The potential seemed endless. It might have been the rock and roll era but Louis Prima at 50 was competing with Frank Sinatra and Elvis Presley.
But the bubble began to lose some of its air when Louis Prima and Keely Smith were divorced in 1961. Smith had a successful solo career although she was never a superstar. Prima continued with Butera and the Witnesses even if the work gradually became less lucrative. In 1962 the bandleader started the Prima One Records label and promoted a 21-year old waitress, Gia Maione, as a new up-and-coming singer. While she had a pleasant voice, she never took singing that seriously. Instead, in 1963 Gia Maione became the sixth and final Mrs. Louis Prima, marrying the 52 year old despite their 30-year age difference. They had two children who both became singers: Louis Prima Jr. and Lena Prima.
Louis Prima appeared in the enjoyable movie Twist All Night and continued performing in nightclubs throughout the 1960s and '70s with Butera. By then he had finally become a nostalgia act although the emphasis was on his 1950s music rather than his earlier groups. There was one last hurrah. In 1967 for the animated Disney movie The Jungle Book, Prima's voice was used for King Louie, an orangutan who sang the joyous "I Wanna Be Like You."
In 1975 Louis Prima suffered a major stroke. He fell into a coma, never regained consciousness, and passed away after three years on August 24, 1978, at the age of 67.
Fortunately most of Prima's best recordings have been reissued and can be found with a bit of effort. A limited-edition and now out-of-print six-CD set from Mosaic, The Brunswick and Vocalion Recordings of Louis Prima and Wingy Manone, has most of his small-group sessions of the 1930s. The single-CDs from the European Classics label titled 1934-1935, 1935-1936, 1937-1939, 1940-1944, 1944-1945, and 1945 are more elusive but have all of his studio recordings from those periods with the latter three covering the best of his big band sessions. And the single-disc Jump, Jive An' Wail: The Essential (Capitol) contains all of the best Prima/Smith/Butera recordings.
Most rewarding of all is the DVD Louis Prima In Person: The Wildest Performances 1936-1973 (S'More Entertainment) which contains a documentary filled with many full-length performances plus several "Extras" including the Swing It film.
A decade after his passing, Louis Prima's unique mixture of styles and his legendary personality became major factors in the rising popularity of Retro Swing. Ironically, more than at any period during his lifetime, Prima was emulated by a countless number of young bands and singers, most of whom never had the opportunity to see him perform live. Due to this surprising "comeback," Louis Prima's musical legacy can still be felt today.