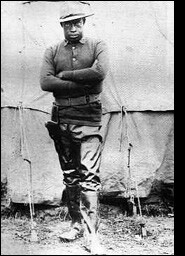 This multimedia presentation of the music of Lt. James Reese Europe was made possible by the permission and cooperation of the following parties:
Written by Tim Gracyk. Originally published in Over There (summer 1996 issue). Musical cuts from the James Reese Europe CD from Memphis Archives. (See bottom of page for CD details)
James Reese Europe (February 22, 1881 – May 9, 1919) is cited in books about ragtime and early jazz as the most respected black bandleader of the 'teens', but he should also be recognized among World War I historians because of his musical compositions inspired by wartime experiences and the achievements of his band, known as the 369th U.S. Infantry "Hell Fighters" Band.
Recordings made by Europe's band in early 1919, within weeks of the men's return to the States, are finally being reissued on compact disc. Especially remarkable are the songs "On Patrol In No Man's Land" and "All Of No Man's Land Is Ours", recorded in March, 1919.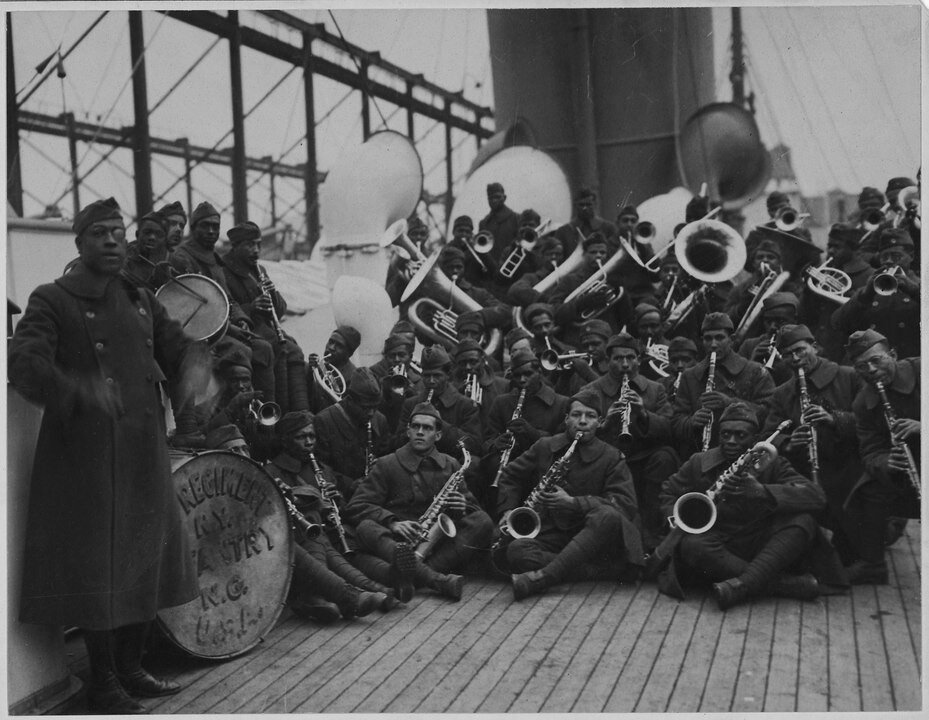 These songs about the war have an authenticity lacking in other popular recordings of the day. Tin Pan Alley produced hundreds, perhaps thousands, of songs about the war, but popular singers like Henry Burr, Irving Kaufman, Billy Murray and Nora Bayes never fought in the war they sang about. Jim Europe and his musicians had experienced that war's horrors and, after the Armistice, had been among the first African-American soldiers to enter a disarmed Germany. They were members of the most famous black unit of the war.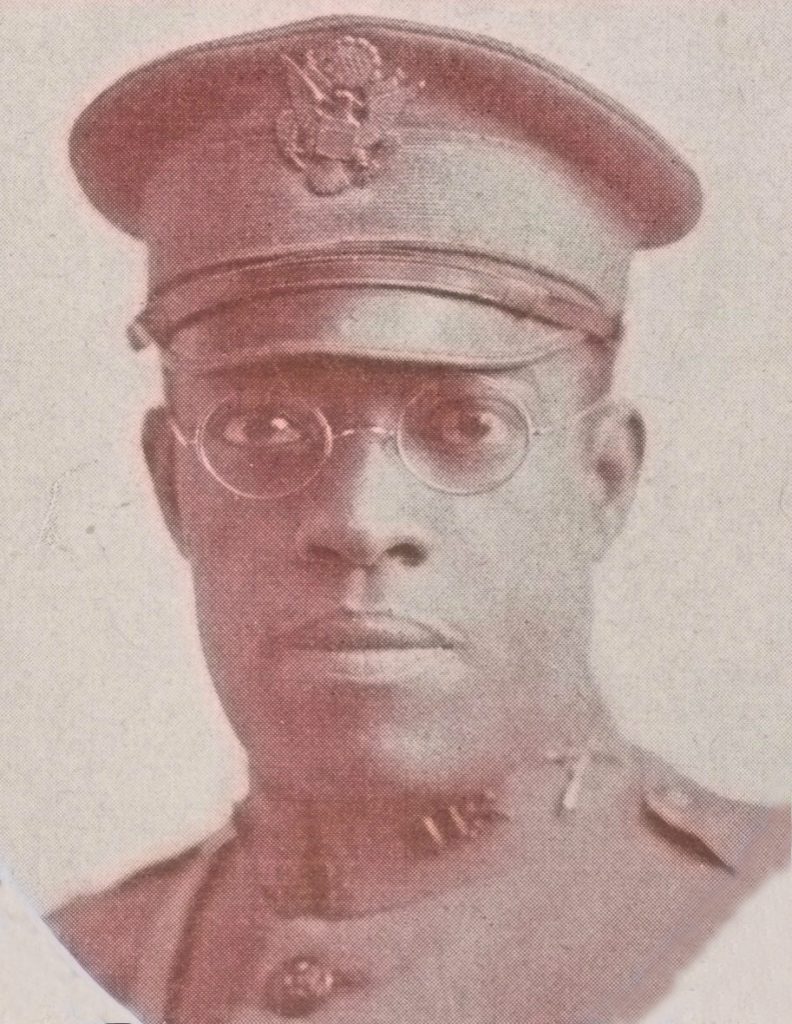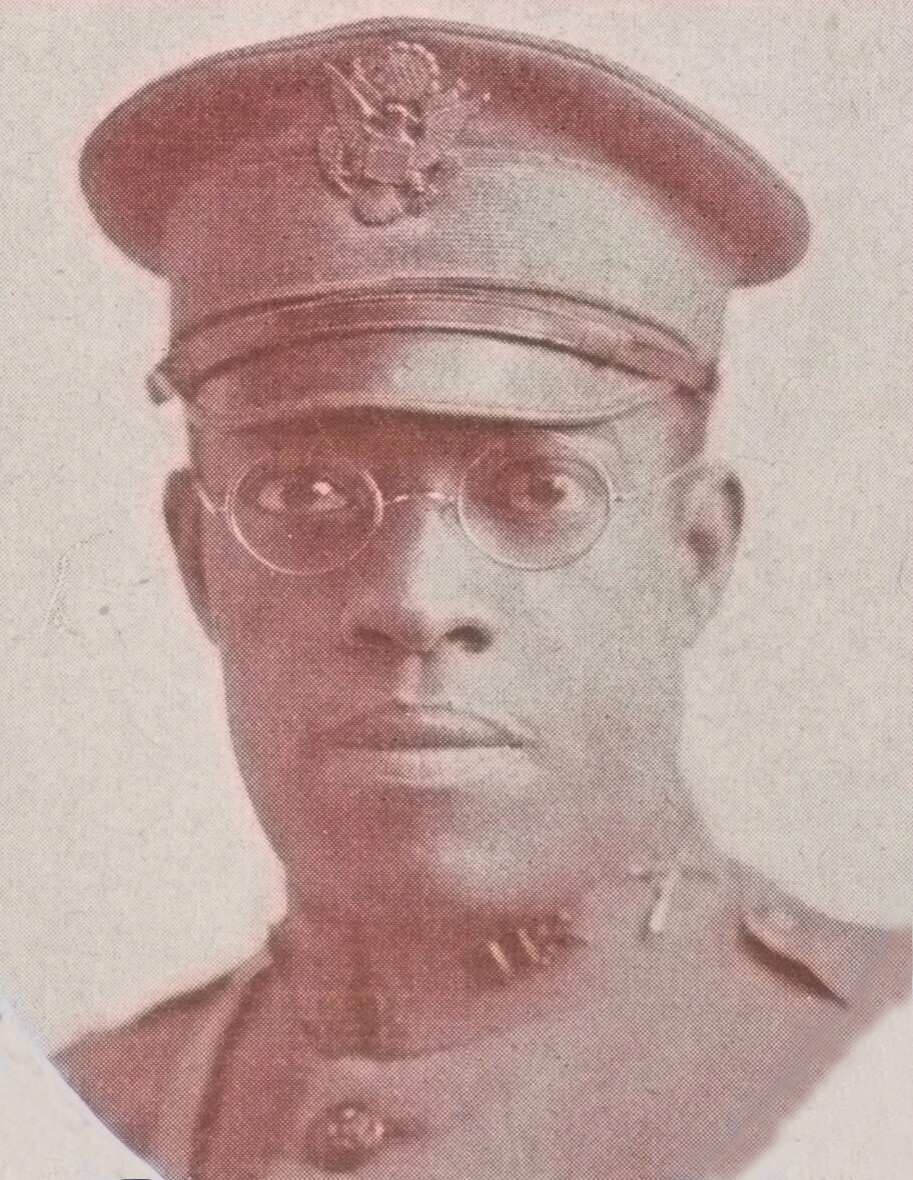 When he returned triumphantly in 1919 from the Western Front, Lieutenant Europe had fresh opportunities for playing his music to wide audiences. The Pathe record company secured his services as an exclusive artist and heavily promoted Europe's music. A number of the recordings give musical form to the military experience of Europe's musicians. The lyrics of "On Patrol In No Man's Land" describes a small unit attack. In "All Of No Man's Land Is Ours", a soldier whose ship has docked phones a loved one. Another song evokes a Victory Parade for returning heroes, the kind in which Europe and his musicians proudly marched. Two songs celebrate a return to the South — home again!
Europe's group performed as a military band but there is a freedom and swing evident in the band's Pathe recordings that no other military bands attempted. The music is rich in syncopation and jazz effects. Europe's Pathe discs are radically different from discs Europe made for the Victor Talking Machine Company under the name of Europe's Society Orchestra five years earlier, right before the war (his last four titles for Victor were recorded on February 10, 1914).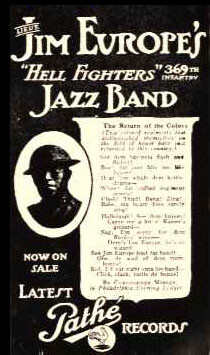 The Pathe company proudly promoted Europe's discs by issuing a special flier announcing new titles: "Eleven records of the world's greatest exponent of syncopation just off the press." In bold type, the flier announced, "Jim Europe's jazz will live forever." Sadly, the music fell into relative obscurity.
There is no need here for a summary of Europe's earliest years since Reid Badger's biography of Europe titled A Life in Ragtime (Oxford Press, 1995) covers that period superbly. But I should mention that when Jim Europe was nine, his family moved to Washington D.C., where he lived for a time only houses away from John Philip Sousa. He would have known very well the extraordinary excitement Sousa and his famous U.S. Marine Corps Band could generate.
Before the war, Europe worked closely with the husband and wife team Vernon and Irene Castle. In 1914 he signed a contract with the Castles to tour England, France, and other countries, but declaration of war changed those plans. Vernon Castle, born in England, volunteered to serve in the British Aviation Corps. He was to die in a plane accident in Texas on February 15, 1918. (Also See: The Product of Our Souls: Ragtime, Race, and the Birth of the Manhattan Musical Marketplace for Europe's prewar involvement in establishing the Clef Club.)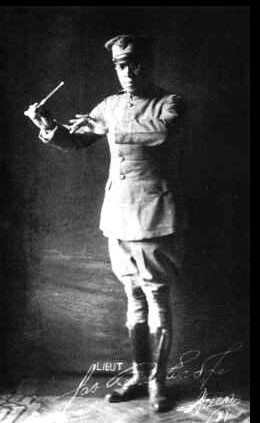 Regular public performances of Europe and the Castles ended in 1915. On September 18, 1916, Europe enlisted in the 15th New York Infantry, a Black National Guard regiment formed in Harlem. Noble Sissle, a friend and fellow musician, joined a week later. Pianist Eubie Blake, with slim chances for becoming an officer like Europe and Sissle, took over administration of Europe's music business — a step which proved invaluable to Europe.
Why Europe joined when he did is a little puzzling. War fever played no part. Reid Badger suggests that Europe joined because he believed "a national guard unit in Harlem could become an important organization of benefit to the entire community".
Europe evidently felt his enlistment set a good example for others in Harlem. Still in New York, Europe passed the officer's exam, was commissioned and about to take command of a machine gun company when his Regimental Commander, Colonel William Hayward, induced him to organize a military brass band. Money was allocated so Europe could recruit talented musicians.
Within the year, Lieutenant Jim Europe and his regiment, recently redesignated the 369th U.S. Infantry, were in France earning a superb reputation by entertaining countless soldiers, officers, and French civilians. Assigned by General Pershing to serve with the French 161st Division, the 369th Infantry was soon training at Givry-en-Argonne. Here Europe learned to fire French machine guns prior to moving into the active trenches. Europe's Regimental Commander later wrote: "… We are proud to think our boys were the first Negro Americans in the trenches. (Lt.) Jim Europe was certainly the first Negro officer in. You can imagine how important he feels!"
But senior officers realized that a top-quality band was invaluable for troop morale, so in August 1918 Lieutenant Europe and his musicians were ordered back from the front. Europe then entertained thousands of soldiers in camps and hospitals — an extremely important contribution to the Allied cause.
Europe's combat duties had included going out on patrol, and a harrowing experience inspired lyrics for "On Patrol in No Man's Land," which he put on paper while in a hospital after a gas attack. Sissle later wrote that Europe performed it at the piano while the band made "all the sound effects of a bombardment." The speed with which Europe wrote the song after an actual attack is remarkable, and little time was wasted before this was recorded. Nothing is romanticized. Lyrics give listeners some sense of what being in No Man's Land was like. An officer leads men "over the top" of the trenches for patrol, warns them of danger from German weapons, and gives an order to attack.
On Patrol In No Man's Land
written by James Europe, vocal by Noble Sissle and recorded around 14-Mar-1919
What the time? Nine?
Fall in line
Alright, boys, now take it slow
Are you ready? Steady!
Very good, Eddie.
Over the top, let's go
Quiet, lie it, else you'll start a riot
Keep your proper distance, follow 'long
Cover, brother, and when you see me hover
Obey my orders and you won't go wrong
There's a Minenwerfer [German mortar] coming --
look out (bang!)
Hear that roar (bang!), there's one more (bang!)
Stand fast, there's a Very light [flare]
Don't gasp or they'll find you all right
Don't start to bombing with those hand grenades (rat-
a-tat-tat-tat)
There's a machine gun, holy spades!
Alert, gas! Put on your mask
Adjust it correctly and hurry up fast
Drop! There's a rocket from the Boche [German]
barrage
Down, hug the ground, close as you can, don't stand
Creep and crawl, follow me, that's all
What do you hear? Nothing near
Don't fear, all is clear
That's the life of a stroll
When you take a patrol
Out in No Man's Land
Ain't it grand?
Out in No Man's Land

Newspapers reported what was happening to soldiers overseas, but here the experience of battle is shaped in artistic form — in Europe's case, in ragtime. Nothing in American popular song at that time was quite like this. The record label identifies this as a "tenor solo," but that is an understatement. All of Europe's musicians participate in recreating the chaos of battle.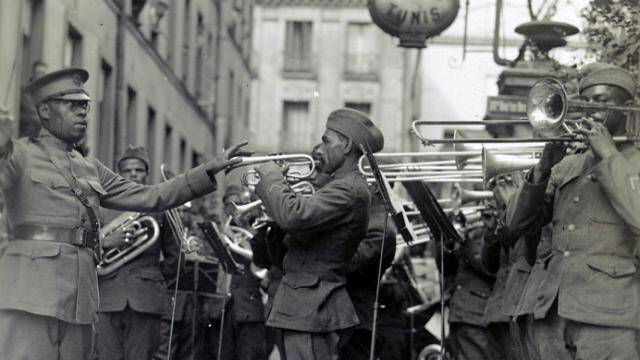 A companion piece is "All Of No Man's Land Is Ours," sung by Noble Sissle. Although the title expresses the pride of victorious soldiers, this is really a love song. A soldier has docked and phones a sweetheart to announce his arrival home, his intentions to marry her, and even his plans for children ("Just think how happy we will be — I mean we three").
After the returning soldiers phoned family, friends, and sweethearts — that is, anyone not already at the pier greeting the ships — the men proceeded to their next destination for demobilization. Europe's men arrived in New York in February, 1919, and this song by Sissle and Europe was probably composed shortly after that homecoming. It was recorded one month later.
All Of No Man's Land Is Ours
written by James Europe and Noble Sissle, vocal by Noble Sissle and recorded around 14-March-1919
Hello, Central
Hello, hurry
Give me 4-0-3
Hello Mary, hello dearie
Yes, yes -- this is me
Just landed at the pier
And found the telephone
We've been parted for a year
Thank God at last I'm home
Haven't time to talk a lot
Though I'm feeling mighty gay
Little sweet forget-me-not
I've only time to say
[Chorus] All of No Man's Land is ours, dear
Now I have come back home to you, my honey true
Wedding bells in june-y June
All will tell by the tuney tune
That victory's won
The war is over
The whole wide world is a-wreathed in clover
Then hand in hand we'll stroll through life
Just think how happy we will be
I mean we three
We'll pick a bungalow among the flagrant boughs
When I come back to you with the blooming flowers
All of No Man's Land is ours

"How 'ya Gonna Keep 'em Down On The Farm?", recorded in March of 1919, is also vocalized by Noble Sissle. This song became incredibly popular when introduced in early 1919. Many recorded it, with versions by Nora Bayes and Arthur Fields especially popular. The song's lyrics question if American men returning from battlefields and especially from "Paree" will readily settle down to the chores of farm life. Broadway lights and jazz clubs will be far more alluring.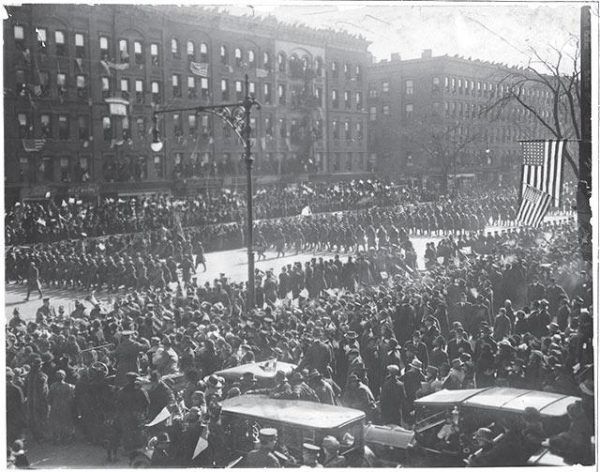 The song arguably took on a political significance when African-Americans performed it. Black musicians may be asking this: how will America keep returning black soldiers "down" after they have tasted equality while serving in France? Jim Europe's musicians were not the only blacks to record this at the time. Ford Dabney's Band recorded it weeks after Europe's did.
"My Choc'late Soldier Sammy Boy" is worth discussing here. Composed by the prolific white composer Egbert Van Alstyne, this song was a sequel to the 1918 hit "Mammy's Chocolate Soldier," written by Sydney Mitchell and Archie Gottler.
Employing virtually no jazz effects, the band is as tight as some of the great military bands of the time. Lyrics express the pride of a mother watching her son in a victory parade.
Sheet music gives a verse naming the regiment as "Colonel Jackson and his Colored Brigade." The "choc'late" expresses pride in the soldier's race. While the term may offend some today, it did not raise eyebrows decades ago. In 1917, Noble Sissle and Eubie Blake had published and recorded their "Mammy's Little Choc'late Cullud Chile," which was revived in the 1924 revue The Chocolate Dandies.
My Choc'late Soldier Sammy Boy
written by Egbert Van Alstyne, vocal by Noble Sissle and recorded around 14-Mar-1919
See him marchin' along
Oh, hear him hummin' a song
Watch that baby throw out his chest -- whoa, boy!
See them medals pinn'd on his breast
Lord love him!
I'm so happy and proud
I just feel like shoutin' out loud:
My honey -- come, come to your mammy
My choc'late soldier Sammy boy

"Dixie Is Dixie Once More" is also sung by Noble Sissle. Lyrics express a Southerner's joy that loved ones in the Army are coming home. The line about Alexander having his ragtime band back in Dixie alludes to Irving Berlin's "Alexander's Ragtime Band" and to songs that evolved from Berlin's classic, such as "When Alexander Takes His Ragtime Band to France."
Dixie Is Dixie Once More
written by Turner and Kard, vocal by Noble Sissleand recorded around 7-Mar-1919
There'll be happy days in Dixie
Happy days and night
All our boys are back once more
Celebrating 'cause they won the war
Soon again you'll hear them singin'
'round that cabin door
Old Alexander's got his ragtime band
Where he belongs, in dear old Dixieland
There'll be happy days in Dixie
'cause Dixie is Dixie once more

Not every song recorded by Europe's men stemmed from their war experience. Instrumental numbers share much with early "jass" recordings made at this time. "That Moaning Trombone" was recorded around March 7, 1919 and is the most jazz oriented, especially in featuring the breaks characteristic of jazz in its early years.
"Ja Da," recorded around March 7, 1919, is also typical. Europe's version features some innovative trumpet growling and even, at the end, a comparatively "hot" clarinet solo. This 1918 song by Bob Carleton has remained a standard for traditional jazz bands.
Europe suffered a fatal stabbing two days after his band recorded six titles for Pathe. That recording session took place on May 7, 1919. There was no clear motive for the stabbing. Accounts differ, but it seems that backstage during a Boston concert Europe reprimanded Herbert Wright for the drummer's unprofessional habit of walking on and off stage while other acts performed. When Europe ordered Herbert Wright to leave Europe's dressing room, the unstable drummer produced a pen knife and stabbed the bandleader in the neck.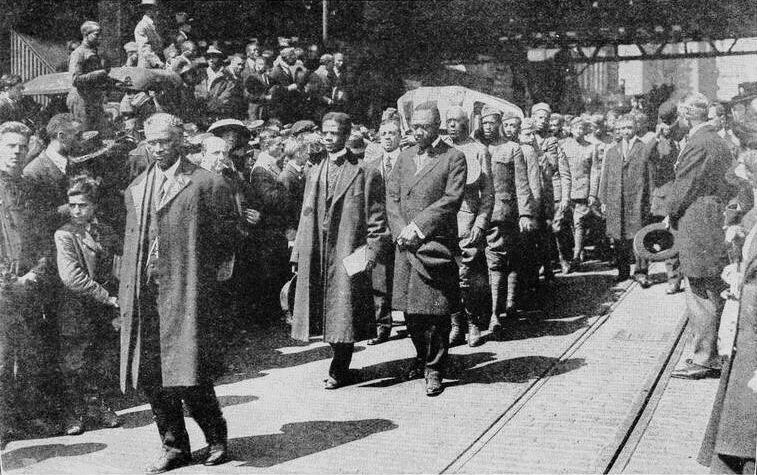 Europe was rushed to City Hospital, where he soon died. Europe could have contributed significantly to popular music in the 1920s and beyond. He was ambitious, talented, energetic. New opportunities presented themselves in 1919, and Jim Europe's best days may have been ahead. We simply cannot know what form that contribution would have taken.
Tim Gracyk is the editor of Victrola and 78 Journal, a quarterly for collectors of phonographs, 78s, and cylinders. Tim lives in Roseville, California.
---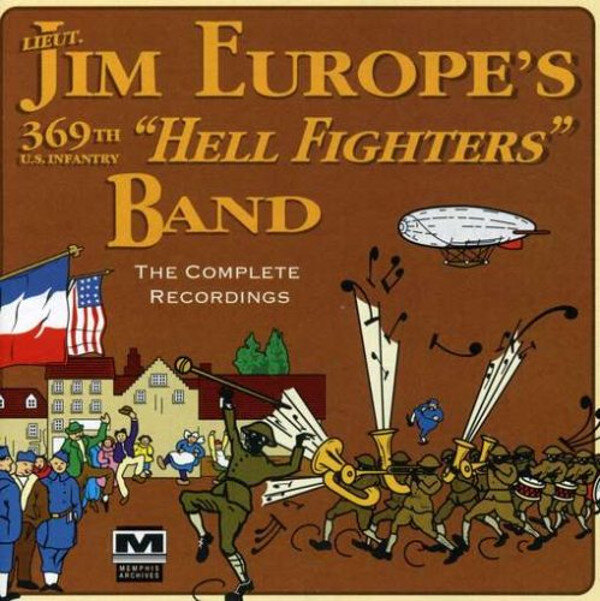 The CD complete with 44 page liner notes booklet and photographs is available from Inside Sounds/Memphis Archives.
Inside Sounds/Memphis Archives
PO Box 171282
Memphis, TN 38187