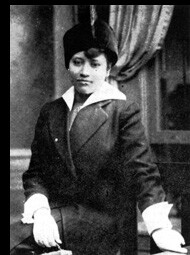 Lucille Hegamin
(November 29, 1894 – March 1, 1970) was the second African-American Blues singer to release a record in 1920, just few a months after
Mamie Smith's
 groundbreaking success with "
Crazy Blues
". Hegamin's first record was "
The Jazz Me Blues
" and "
Everybody's Blues
" for Arto Records and it sold well enough, but her next record in 1921 "
Arkansas Blues
" and "
I'll Be Good But I'll Be Lonesome
" was one of the most popular records of 1921 and made her a star of the blossoming Blues scene.
Hegamin was born in Macon, Georgia and traveled with Laurel Harper Minstrel Stock Company doing tent-shows in the South in the early teens. Lucille joined the African-American migration from the South and moved north to Chicago around 1909. In 1914, she teamed with Bill Hegamin (who she would later marry) and worked at cabarets and nightclubs in Chicago where she sometimes sang with jazz pianists Jelly Roll Morton and Tony Jackson. She and her husband moved to Los Angeles in the late teens before settling in New York in 1919.
In New York she continued her career as a cabaret and nightclub singer and performed in musical revues. In 1920, she and her husband formed the Blue Flame Syncopators who supported her on all of her Arto records and toured the vaudeville circuit throughout Pennsylvania, West Virginia and Ohio with her. In 1922, Lucille became a member of the cast of Sissle and Blake's musical comedy Shuffle Along in New York City. When Arto went bankrupt in 1923, Hegamin signed with Cameo and eventually became known as the Cameo Girl. She had another big hit with the risqué Blues song, "He May Be Your Man, But He Comes to See Me Sometimes" which was widely covered by other Classic Blues singers and Jazz bands of the 1920s.
Throughout the rest the 1920's and early 1930's, Lucille continued to sing and perform in musical revues. When the Blues craze died out in the mid-1930s she left show biz and became a registered nurse, but continued to perform and record from time to time. In the early l960s, Hegamin returned to recording and released records with Willie "The Lion" Smith and Victoria Spivey. After 1964, Lucille did little performing due to illness. She died March 1, 1970.
Editors Note: All of the audio files from this page and for several of the band pages for Lucille Hegamin have been lost. There is plenty to listen to under her Blue Flame Syncopators. If you have any of the missing recordings from redhotjazz.com we would love access to them. 


Title

Recording Date

Recording Location

Company

Always Be Careful Mama
Piano Accompaniment by J. Russel Robinson


(J. Russel Robinson)

9-1928
New York, New York
Cameo
450
Bleeding Hearted Blues


(Lovie Austin)

8-1923
New York, New York
Cameo
397
Muse 345
Lincoln
2085
Chattanooga Man
10-1923
New York, New York
Cameo
494
Lincoln
2297
Dinah


(Sam M. Lewis / Joe Young / Harry Akst)

2-1926
New York, New York
Cameo
877
Lincoln
2472
Down Hearted Blues


(Lovie Austin / Lovie Austin)

8-1923
New York, New York
Cameo
381
Muse 345
Lincoln
2085
Easy Goin' Mamma
(Don't Play Hard To Get with Me)


(Lewis / Young / Ahlert)

10-6-1924
New York, New York
Cameo
624
Hard Hearted Hannah


(Yellen / Ager / Bigelow / Bates)

10-6-1924
New York, New York
Cameo
624
Here Comes Malinda


(Rose / Woods)

3-1926
New York, New York
Cameo
907
Lincoln
2483
Land Of Cotton Blues


(Bennett / Jerome / Ahlert)

8-1923
New York, New York
Cameo
407
No Man's Mama
2-1926
New York, New York
Cameo
877
Poor Papa
(He's Got Nuthin' At All)


(Rose / Woods)

2-1926
New York, New York
Cameo
902
Lincoln
2483
Rampart St. Blues
(Lovie Austin)
10-1923
New York, New York
Cameo
494
Lincoln
2297
Reckless Daddy
Piano Accompaniment by J. Russel Robinson


(J. Russel Robinson / Holden)

9-1928
New York, New York
Cameo
450
Shake Your Cans
3-4-1932
New York, New York
Okeh
8941
Some Early Morning


(Klages / Monacco / Sardvoll)

8-1923
New York, New York
Cameo
407
Sweet Papa Joe


(Link / Britt / Russell)

8-1923
New York, New York
Cameo
397
Syncopatin' Mama
3-1923
New York, New York
Cameo
317
Totem Pole
3-4-1932
New York, New York
Okeh
8941
Wanna Go South Again Blues


(Gold / Ruby / Caine)

8-1923
New York, New York
Cameo
381
Muse 345
Lincoln
2085
Your Man – My Man


(J. Russel Robinson)

3-1923
New York, New York
Cameo
317
Lincoln
2019

| | |
| --- | --- |
| Artist | Instrument |
| J. Russel Robinson | Piano |