Mosaic Records was founded, nearly forty years ago, with the mission of reissuing great jazz recordings in a way that best showcases a particular artist or label. The reissues are prepared from the best source material that can be found, with skillful audio restoration to minimize noise while maintaining the music's integrity. This is the Criterion Collection of recorded jazz. When one of the limited-edition box sets sells out, you'll find it on eBay and elsewhere for far more than the original retail price.
As co-founder Michael Cuscuna wrote in 2017, "Charlie Lourie and I started Mosaic Records in 1982 and our first releases were in 1983. The company was almost an afterthought. The idea of definitive boxed sets of complete recordings by jazz masters at a crucial time in their careers was a small part of a proposal that we made to Capitol Records in 1982 to relaunch the Blue Note label. Even before Capitol turned us down, it occurred to me one night that the release of these boxed sets could be a business unto itself if we made them deluxe, hand-numbered limited editions sold directly to the public." And so it has been, with each box set limited to a few thousand numbered copies, each boasting a booklet renowned for its scholarly essays and exhaustive discography.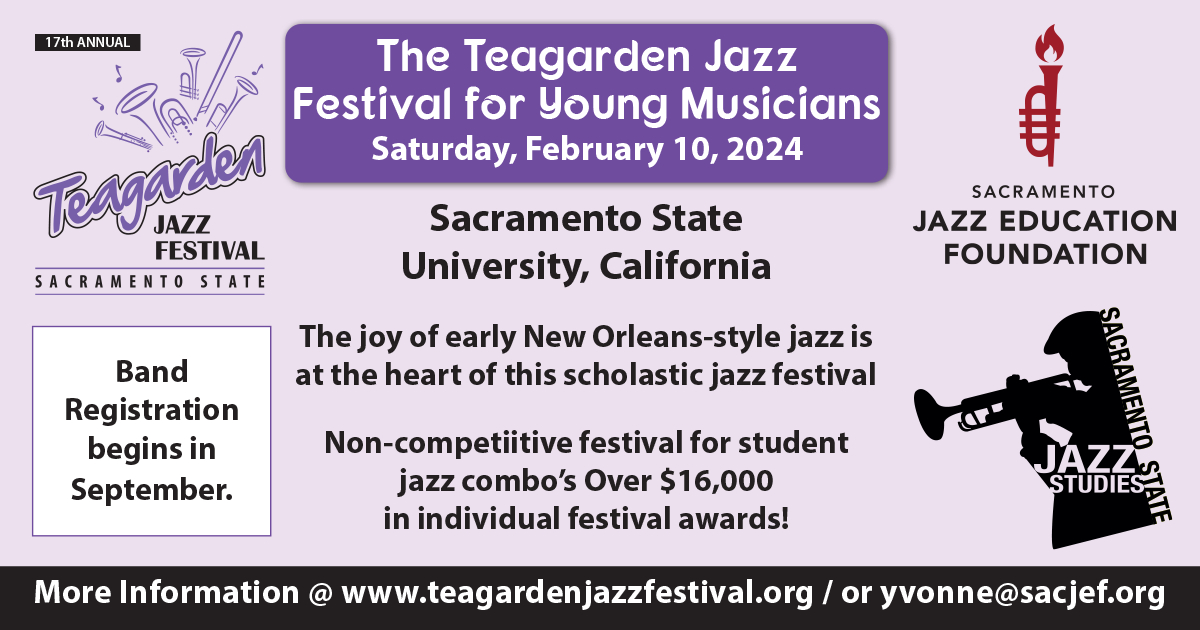 Now, 271 box sets later, Mosaic is closing its offices. If you're on the list, you got the e-mail. (If you're not, you can sign up at mosaicrecords.com.) It sounded a little alarming, especially considering the financial perils the company has shared in the past. But Cuscuna assures us that it's a positive step. The email also invited the record label's fans to an open house. Not the first one that Mosaic has held, but this would be the last.
Until the beginning of November, Mosaic was in an industrial section of Stamford, Connecticut's Waterside district, not far from the Long Island Sound. The company moved there in 2010, downsizing from a larger space nearby as it outsourced warehousing and distribution. But even though the company is closing its doors, the business will persevere with its principals working from their respective houses.
"All of our computers are networked," Cuscuna explains, sitting at the desk he'll be saying good-bye to in a couple of weeks. "We share all our files, and we have gotomypc, so it costs almost nothing. I can roll out of bed and get on the computer and start working, so we don't really need this office to be here. We decided this was the time to do it, because we're shrinking. We've always been shrinking, for the last twenty or thirty years. Part of it is the economy, and part of it is the audience."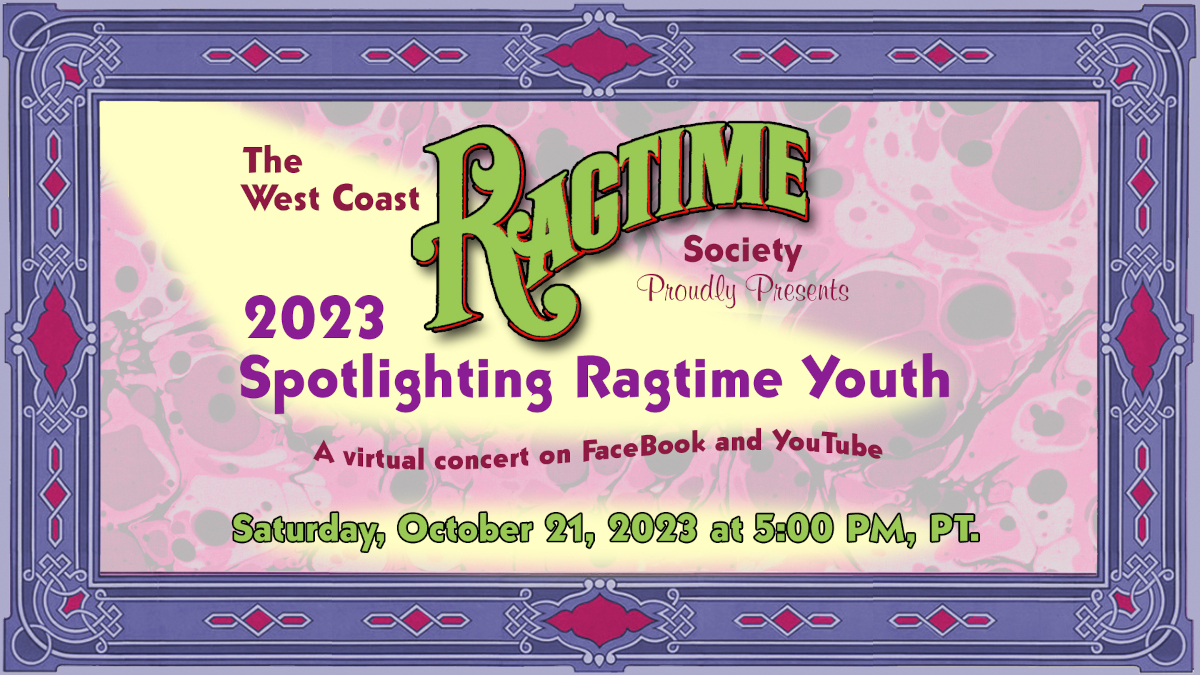 Stepping into the Mosaic office puts you in Scott Wenzel's cubicle, such as it is. His desk is piled high with paperwork and the adjacent wall looks like a continuation of the desk. Wenzel joined the company in 1985 after excitedly phoning Lourie in response to a rave review he read of a Sidney Bechet set. Wenzel began there part-time, moving to full-time in 1989 when the company ambitiously took on larger office and warehouse space and more employees. Not surprisingly, Wenzel is a collector himself, and some of his overflow of 78s, LPs, and CDs are part of the merchandise being offered for sale at the open house, alongside partial Mosaic sets, booklets, and cover photos.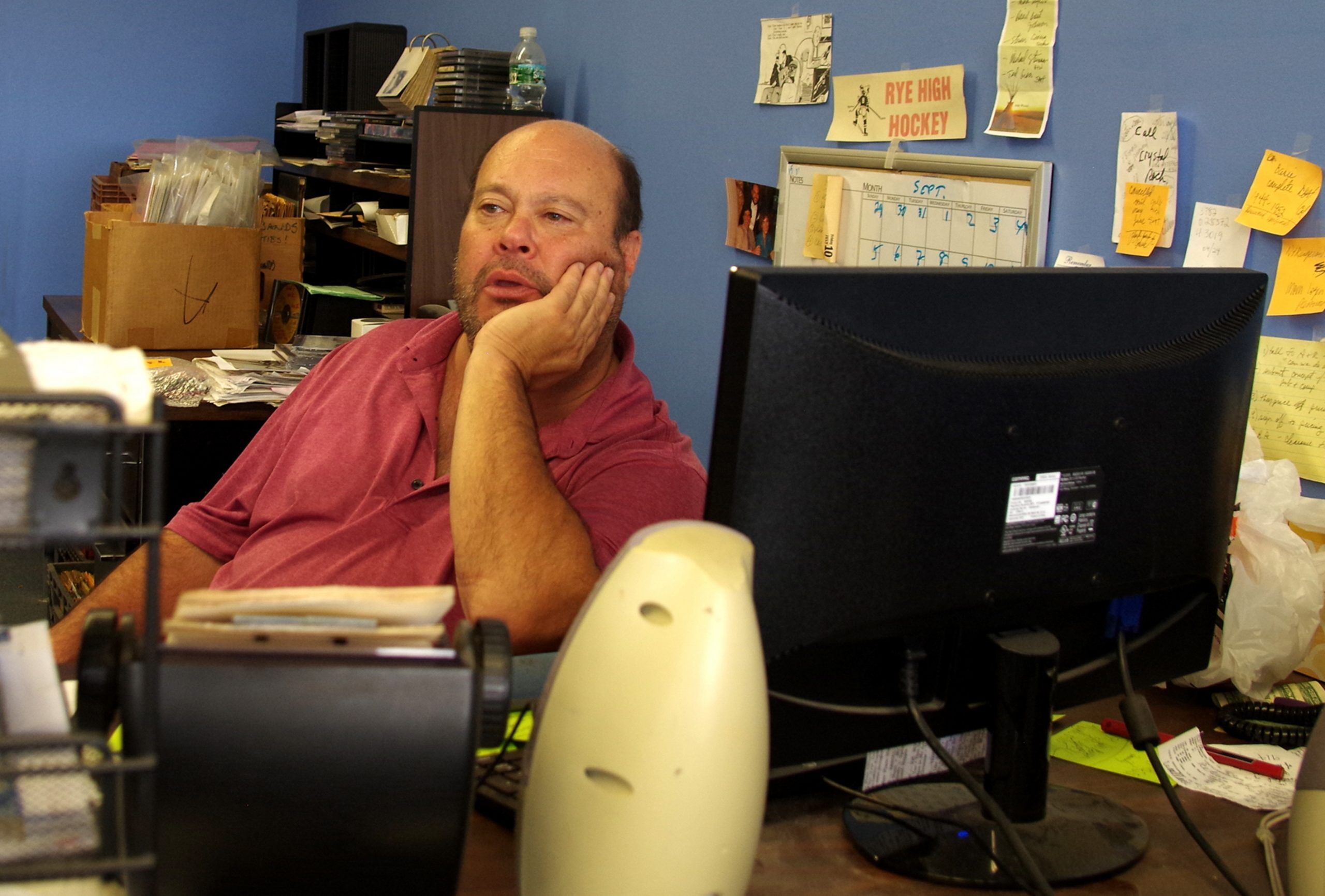 Wenzel notes that he shares the collector's joy in finding a long-sought LP or CD. Mosaic, he explains, "enhances that pleasure because we also provide booklets with essays and session analyses by the best writers, and the most up-to-date discographies. And we find rare photos, often from the sessions themselves."
Although his work as a Mosaic producer is his full-time job, "I attempt to play clarinet and alto sax." He has a big band, with which he started playing in the 1980s before taking over the reins a decade later. "I've had Aaron Sax, tenor and alto player. (Trombonist) Eddie Bert was in the band. We had Johnny Amoroso, who was a trumpeter and singer with the Dorseys—in fact, I have 78s of him with Tommy's band. So it's been great with guys like that. And my drummer now, Paul Francis, was Lady Gaga's drummer. I also have a trio of guitar, bass, and myself on sax. We're getting more jobs now that things are opening up."
The walls of the second-floor office suite are lined with shelves divided books and recordings. Above them, an array of jazz performers on posters and caught-in-the-action stills. There are Mosaic sets on view that attest to the company's admirable legacy; there is evidence on the shelves of research being conducted for Mosaic releases to come.
Lourie died at the end of 2000, but Mosaic remains dedicated to upholding the values he and Cuscuna envisioned. Which became ever more challenging as, through the decade that followed, the business was forced to adapt to changes in record-buying habits.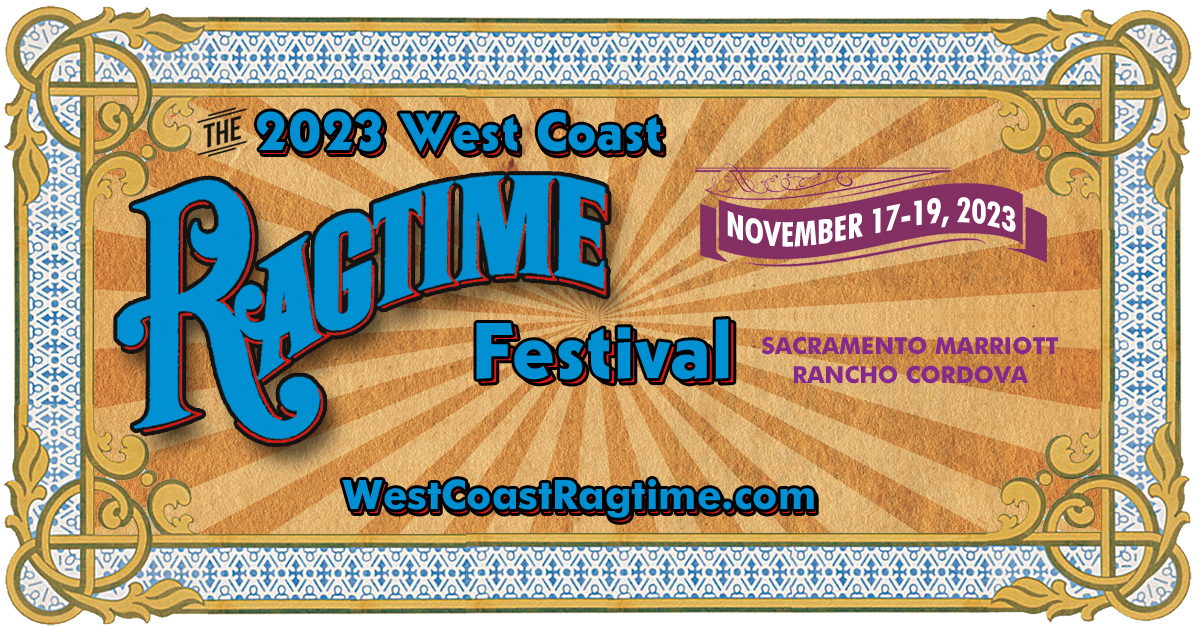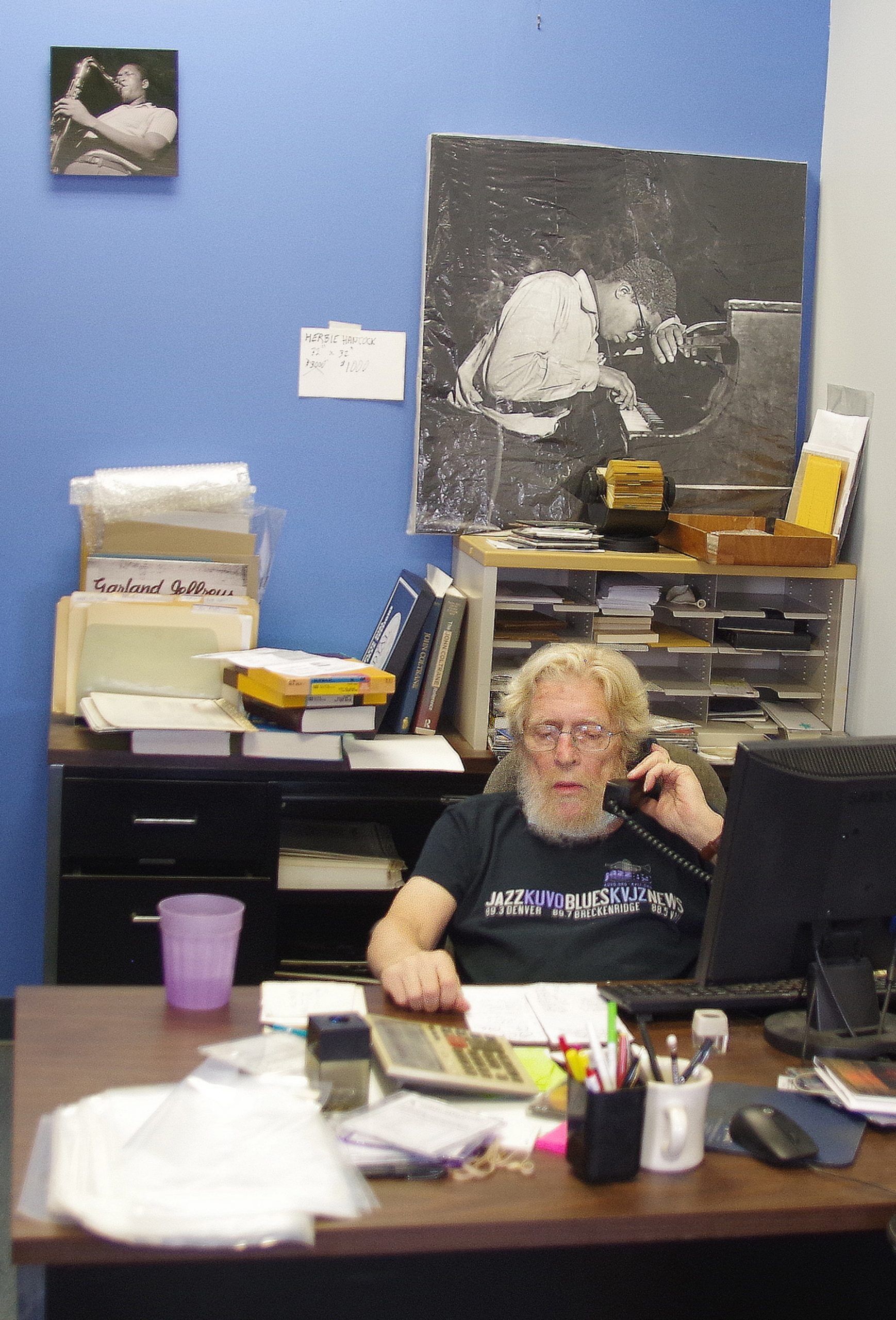 "Another part of it is the record companies from which we license material," Cuscuna explains. "They go through stages where they think, 'Well, box sets are selling so we'll do it ourselves,' and they won't license stuff —then five years later, after they've done nothing, they'll license it. And there's another problem that's gotten worse over the past twenty years: The special markets divisions of all these companies, which clears and licenses material to third parties, are shrinking. Some of them have gotten to the point where one person is now doing the work formerly handled by fifteen. So obviously they can't handle it all and a lot of people get left at the chapel."
Still, the range of artists and labels covered so far in those box sets is breathtaking, from early jazz pioneers like Bix Beiderbecke, Joe Venuti, and Eddie Lang, to such swing-era stalwarts as Artie Shaw and Woody Herman, to the distinctive voices of Anthony Braxton, Art Pepper, and Larry Young.  Mosaic has been particularly attentive to the recorded legacies of Louis Armstrong, Count Basie, Duke Ellington, and Woody Herman, issuing multiple sets showcasing the music of each. They even flirted for a while with one- and three-CD sets issued as Mosaic Singles and Mosaic Selects, with a narrower focus for each.
Although pandemic-inspired protocols slowed the process even more in 2021, Mosaic issued a magnificent Louis Armstrong set focusing on his later Columbia albums, and a box of saxophonist Joe Henderson's complete Blue Note sessions from the 1960s.
Up next is a unique Lennie Tristano collection: Personal Recordings 1946 – 1970, a set that covers twenty years of private recordings that include mid-'40s trio sessions with guitarist Billy Bauer and bassist Arnold Fishkin; duos and trios with bassist Sonny Dallas and drummer Nick Stabulas; live sextet recordings with a variety of notable players; and many solo piano recordings, some made at Tristano's own Manhattan studio. "And there's a groundbreaking free jazz session from 1948 featuring Lee Konitz, Warne Marsh, and Billy Bauer," Cuscuna says with an enthusiast's grin. "Carol Tristano, Lennie's daughter, is a drummer who lives in France with her husband, saxophonist Lenny Popkin. They went through all his stuff and picked enough material for six CDs. And each CD is like a different chunk of real estate. It's great. It's wonderful. It's amazing that they've been sitting on that stuff for so long, especially the solo stuff."
After that, look for an 11-CD box set presenting the best of the long-defunct Black & White label. Founded in 1943, it recorded a varied roster of artists. "Guys like Cliff Jackson, Nat Jaffe, Art Hodes, Errol Garner," Wenzel notes. "And it's great straight-ahead stuff. There's a little bit of Dixieland, too, with trumpeter Phil Napoleon doing one of his best sessions. These came out on 12-inch 78s, although some of them came out on vinyl—a lot of Joe Marsala came out on vinyl.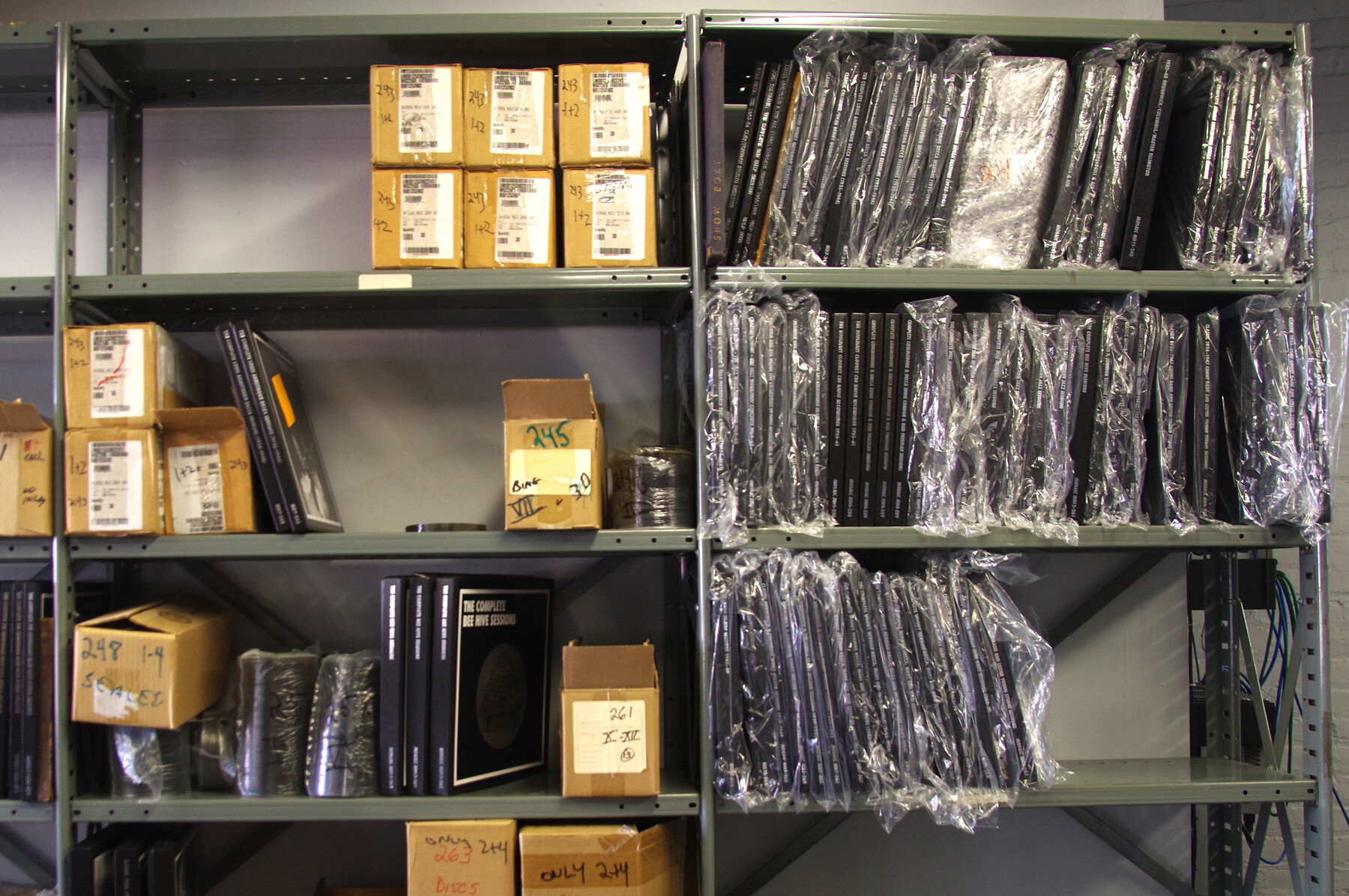 "And there was Mike Lo Scalzo, a pianist who no one really knows much about, and Chuck Wayne's playing some great electric guitar on it yet it's a Dixieland band. Napoleon plays his ass off on it, using all the different mutes and he's just great." Cuscuna, passing Wenzel's desk at that moment, adds, "For a dictator, he's very good."
Cuscuna notes that the task of getting the rights to the Black & White material has been thwarted by the total lack of any ownership records. "And we looked everywhere. The last company that owned it was Pickwick Music, which used to be based in New York, until, ironically, it moved to Stamford in the '80s. But we can't find a trace of them. They sold their T-Bone Walker masters to Capitol, and we put those out on our T-Bone Walker set in 1990. But we can't find anyone that lays claim to the other Black & White material, so we decided to just do it. It's the first time we've ever tried to do something this way."
The search for clean masters of vintage small-label material is always a challenge. As Wenzel explains, "One of Joe Marsala's dates has Dizzy Gillespie and Cliff Jackson on it, and one of their 78s had 'On the Alamo' and 'Perdido.' And nobody seemed to know if it had ever been issued! Turns out I got my hands on a copy at the Institute of Jazz Studies when Dan Morgenstern asked me to go through the acetates a few years ago. He warned me that there were a lot of dubs in there because guys had home cutting machines and made their own copies. Dan said, 'You'll know what's crap and what's not,' so I went through them. And I came across this one. So when we were doing the transfers for the Black & White set a few months ago, I realized I had that copy! Dan is writing the notes for our set, and he says, 'I defy anyone to find a copy of this on the commercial 78.'"
Another source is eBay. Wenzel: "One of the guys that's on (radio station) WKCR, a young 78s collector, told me, 'Hey, they're selling Mush Mouth Robinson.' He was a blues singer that Black & White did a couple of sessions with, and in his band were Lil Armstrong and J.C. Higginbotham. So we got a clean copy of that from eBay, and it was cheap enough, and there was nowhere else to find it.
"We threw a wide net out, all over the world, asking people who were collectors of 78s. Léon Dierckx, a collector in Belgium, sent us a bunch. Luckily, I was in the Institute of Jazz Studies before the lockdown and picked up what copies they had. Lloyd Rauch from the Bronx is a major collector and he had a bunch of things. Steven Lasker in California asked his group out there, and Brad Kay and Dr. Demento lent him some copies to transfer."
Mosaic (and many other labels) work with composer, producer, and engineer Andreas Meyer, who was Grammy-nominated for two earlier Mosaic sets. "And what Andreas has been able to do with restoration is amazing," says Wenzel. "I mean, I've worked with him for twenty years and I know what he can do, but on this set it's amazing. What really struck me was the Phil Moore Four—the piano's right here, and the surface noise is way back there." And the release date? "We're looking probably just right after the first of the year – January, February, somewhere around then."
We're interrupted by a customer, who greets Wenzel and says, "I came not only to browse but also to say thank you for the work you've done." Replies Scott: "Have at it. We have shellac over here. We've got vinyl here. We've got CDs down there, booklets, plenty of photographs. And if it's not nailed down you can take it away."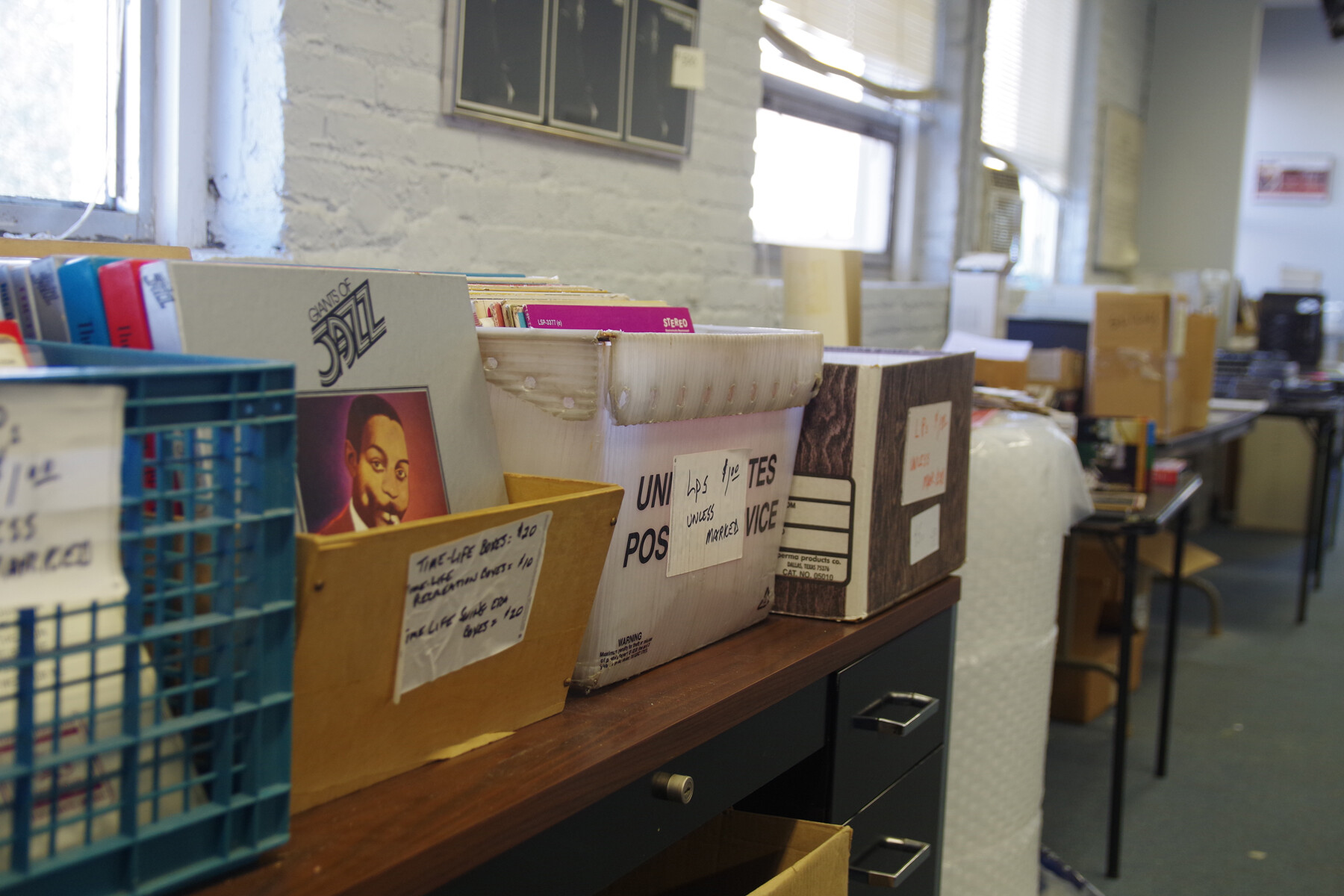 Two significant alterations in the box set presentations occurred in recent years: "Complete" is occasionally replaced by "Classic," and alternate takes moved to the end of each CD. "We started with everything complete at the beginning," says Cuscuna, "because the premise for a set was my compulsive Virgo drive to take something that had been issued in scattered form, pull it back together, and document the order in which it was recorded with pristine masters to give the full picture."
Mosaic's Classic Capitol Jazz Sessions, released in 1997, was the first of their box sets not to declare itself complete, but, as Cuscuna explained in the booklet, it was "essentially a rescue mission for forties sessions rooted in traditional jazz or swing that rarely made it to the 12-inch LP era and, most likely, would not have been reissued on CD."
And, he adds, "Especially when we got more heavily into the swing, it becomes a case of, you know, a bandleader or someone was sleeping with a female singer, but she can't sing. So why should I have to bother with those recordings?"
This approach also helped open up the catalogues of individual artists. The Classic Columbia and Okeh Joe Venuti and Eddie Lang Sessions filled eight CDs with selected material that wasn't dance-band stuff or on previous Mosaic releases, while on 2007's Classic Chu Berry collection, Berry's sideman sessions were cherry-picked for numbers where he had a significant solo. For Classic Artie Shaw Bluebird and Victor Sessions, producer Wenzel noted that the aim was to concentrate on Shaw's instrumentals, with a very selective number of vocal tracks.
A recent set, Classic Brunswick & Columbia Teddy Wilson Sessions 1934-1942, documents the pianist in solos and band sessions that include everything he recorded for those labels except the Billie Holiday sides, "because nobody would give us the Billie Holiday, and every Billie Holiday track has been issued eight thousand times," says Cuscuna, "but the Teddys were forgotten. And what a band! What a great personality! Most of those Holiday recording sessions had three instrumental numbers to one vocal, so there was a lot of material."
As for the alternate takes—an important part of a Mosaic reissue—all takes of a given song were sequenced together until the 2003 release of The Complete Verve Gerry Mulligan Concert Band Sessions, where the alternates were moved to the end of whichever CD featured the issued take.
Cuscuna laughs. "We learned that the hard way. Scotty and I were both compulsive about putting them next to the master take for a point of comparison. And then we realized that's not what people want. And in fact, if we're honest with ourselves, that's not what we want as a listening experience either. And with a CD you can jump around where you like, which you couldn't do as easily in the LP era."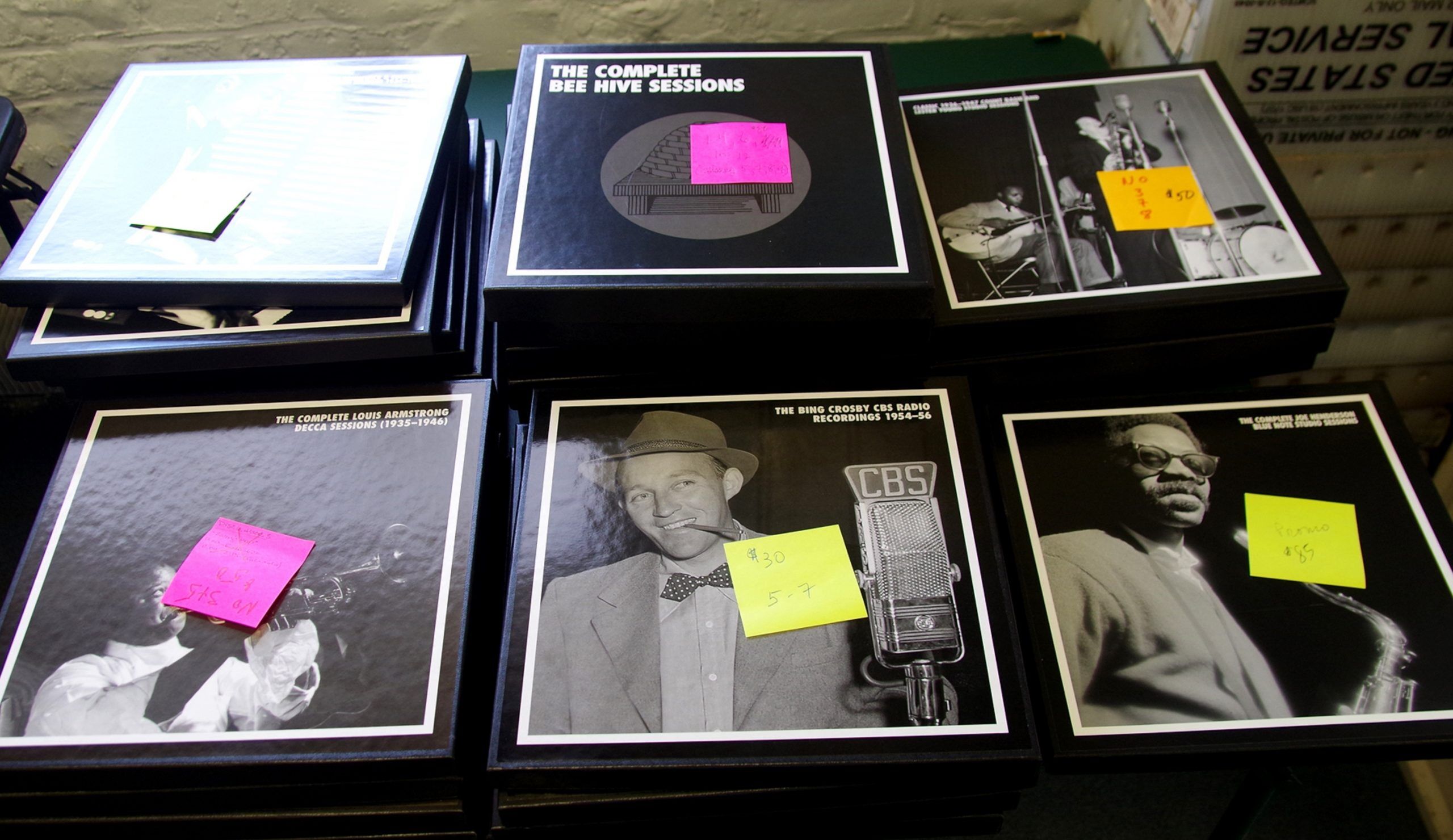 The emphasis, of course, remains to satisfy the collector who shares Cuscuna's and Wenzel's wide-ranging tastes. "Even if people already have the material we're putting out," says Wenzel, "they know they can get rid of other stuff, because this will be the best sound. Our Joe Henderson set is that way. I haven't heard anybody say, 'Never mind, I have this music.' They're saying, 'I have it already, but I'll get it again because it's going to sound better than ever."
But the future offers technological challenges. "What really annoys me now is that people aren't getting CD players in their cars any more," Wenzel complains, "which means you can't listen to music like this. You can't say, 'Alexa, play me Take C of Fletcher Henderson's "Fidgety Feet."' They don't have it! The only saving grace, if there is one, is that the kids are saving vinyl now. And getting turntables. My kid among them."
Vinyl was the medium on which Mosaic began, soon turning to CDs as that technology took over. Cuscuna explains, "We used to pride ourselves on doing both CDs and 180-gram quality LPs, and then LPs started getting harder and harder to sell. So we decided to limit ourselves to issuing 400 LP sets along with the CDs. And then we realized that it still took us two years to sell 400 LP sets. Also, the minimums that LP-pressing companies were asking for was going up, so it got to a point where we just couldn't sustain it anymore."
Putting together a set takes longer than it every did before. Says Wenzel, "We were able to get out four, five, or six sets—even more than that—a year. Now if we get three sets out, we're good. That keeps us going. And it's got to be a set with four discs and up. That's why we stopped the Singles and the Selects."
One recent remedy for the economics was to take advance orders, as was done for the Complete Woody Herman Decca, Mars and MGM Sessions (1943-1954) in 2018. "And we'll do that again," says Cuscuna. "Some of the projects I have in mind are too risky, and we're at a point financially—there are times when we've done very well and times we've we've done okay—but we're at a point where one mistake would put us out of business."
I ask Wenzel if they have anything planned beyond the Black & White release. "We've got some ideas out there," he says. "Things I can't talk about because we're waiting for approval. So we just have to wait and see." But, off the record, he mentions some proposed projects being held up by licensing recalcitrance, projects that have me salivating. "Then you're our kind of customer," he says, going on to ask if my wife approves my collecting. He's impressed to learn that she's okay with it, because that's not often the case. "I love the people who call in to place an order, and they're whispering, saying, 'I gotta be quiet. My wife's in the other room.'"