Late in 1932 
Fats Waller
 hired Phil Ponce as manager. Ponce promptly negotiated a contract with WLW, a powerful Cincinnati radio station which was heard throughout the Midwest. His show, "Fats Waller's Rhythm Club", was an instant success. When the WLW contract concluded in early 1934, Waller returned to New York where he broadcast the "Rhythm Club" show over the CBS network to a still larger audience.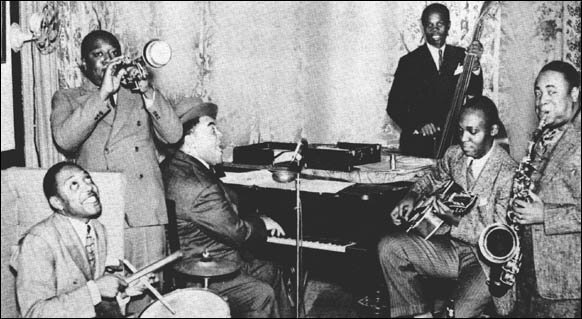 For most of a decade Victor's leading jazz artist had been Jelly Roll Morton and the various incarnations of his Red Hot Peppers, but Victor eventually declined to renew Morton's contract as lagging sales reflected changes in the public taste. Victor needed a bankable star to replace Morton as the label's featured jazz artist. Waller's success on CBS convinced Victor to sign him to his first recording contract; Waller decided upon a six-piece band format. Maintaining the association with the "Rhythm Club" name, Waller and Ponce christened the band "Fats Waller and His Rhythm". Between 1934 and 1942 the group recorded about 400 sides, well over half of Waller's lifetime recorded output. Material ranged from downright lamentable to outstanding and Waller's treatment of it ranged from brusque to brilliant.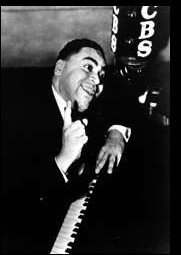 The "Rhythm" was primarily a studio band, and recording dates had to be worked into the musicians' different schedules. Waller's genius carried the band, enabling them to record as many as ten sides in a single day, often consisting mainly of new material. Rarely did band members know in advance which tunes they would be recording! It is a testament to the collective musical talent of the group that they managed so well without rehearsal. This chaotic approach succeeded in part because of consistency in core personnel which included Waller, Autrey, Sedric and Casey. The chaos no doubt contributed to the spontaneity which characterizes many of the Rhythm's recordings.
Many critics consider that the band's best work was issued in 1935 and 1936, and many of these releases were million- sellers. In February, 1938 Victor extended Waller's contract through May, 1944. It should be noted that Waller's recording contract was not exclusive and that during this period he also recorded for Commodore. Victor issued some of the Rhythm sides on their Bluebird label. The last session with Fats Waller and his Rhythm took place on July 13, 1942 in Victor's New York studios.
So, as Fats himself might say of these recordings, "My, My, My! Now here 'tis; Latch On!" -by Mike Donovan
A special thanks to Owen Miller and James Gallup for their help with the recordings on this page.<
Title

Recording Date

Recording Location

Company

Abdullah


(Neal Lawrence / Slick Jones)

8-10-1939
New York, New York
Bluebird
Ain't Misbehavin'
(Andy Razaf / Fats Waller / Harry Brooks)
8-2-1939
New York, New York
Victor
Ain't Misbehavin'


(Andy Razaf / Fats Waller / Harry Brooks)

1-23-1943
New York, New York
Jazz Selection
A Little Bit Independent


(Lesile / Burke)

11-29-1935
New York, New York
Victor
All My Life


(Mitchell / Stept)

4-8-1936
New York, New York
Victor
All That Meat And No Potatoes
(Ed Kirkeby / Fats Waller)
11-29-1936
Chicago, Illinois
Bluebird
A Porter's Love Song To A Chambermaid
(Andy Razaf / James P. Johnson)
5-16-1934
New York, New York
Victor
Armful Of Sweetness
(Alex Hill)
5-16-1934
New York, New York
Victor
A Rhyme Of Love


(Robin / Rainger)

11-29-1936
New York, New York
Victor
A Sweet Beginning Like This


(Young / Ahlert)

8-20-1935
New York, New York
Victor
A Thousand Dreams Of You


(Webster / Alter)

11-29-1936
New York, New York
Victor 25483
A Thousand Dreams Of You


(Webster / Alter)

11-29-1936
New York, New York
Victor 25490
Baby Brown (1)
(Alex Hill)
1-5-1935
Camden, New Jersey
Victor
Bach Up To Me
6-8-1936
Camden, New Jersey
Victor 25536
Baby Brown (3)


(Alex Hill)

1-5-1935
Camden, New Jersey
Victor
Beat It Out


(Bernier / Emmerich)

9-7-1937
New York, New York
Victor
Because of Once Upon a Time


(Bernard Maltin / Harry Stride / Joseph Young)

1-5-1935
Camden, New Jersey
Victor
Believe It, Beloved


(Nat Burton / J.C. Johnson / George Whiting)

11-7-1934
New York, New York
Victor
Big Chief De Sota


(Andy Razaf)

6-5-1936
New York, New York
Victor
Black Raspberry Jam
(Fats Waller)
6-8-1936
New York, New York
Victor
Blue, Turning Grey Over You
(Andy Razaf / Fats Waller)
6-11-1937
New York, New York
Victor
Blue Because Of You


(Charles Carpenter / Louis M. Dunlap)

6-24-1935
Camden, New Jersey
Bluebird
Boo Hoo


(Heyman / Lombardo / Loeb)

4-9-1937
New York, New York
Bluebird
Breakin' the Ice


(McCarthy / Kavanaugh / Weldon)

11-7-1934
New York, New York
Bluebird
Brother, Seek and Ye Shall Find


(Crum / R. Stewart)

8-2-1935
New York, New York
HMV
Buck Jumpin'


(Ed Kirkeby)

6-8-1938
New York, New York
Victor
Buckin' The Dice
(Cedric Wallace / Tiny Parham)
11-29-1936
Chicago, Illinois
Bluebird
Bye Bye Baby


(Lou Handman / Walter Hirsch)

8-1-1936
New York, New York
Victor
By the Light Of the Silvery Moon


(Hawley W. Ades)

7-13-1942
New York, New York
Bluebird
Cabin In The Sky


(Lesile / Burke)

4-8-1936
New York, New York
Victor
Christopher Columbus


(Andy Razaf / Leon Barry)

4-8-1936
New York, New York
Victor
Cinders
3-6-1935
New York, New York
Victor 
Copper Colored Girl
9-9-1936
New York, New York
Victor 25409
Cross Patch


(Seymour)

4-8-1936
New York, New York
Victor
Cryin' Mood


(Andy Razaf / Chick Webb)

3-18-1937
New York, New York
Victor
Darktown Strutter's Ball


(Shelton Brooks)

11-3-1939
New York, New York
Victor
Did Anyone Ever Tell You?


(Adamson / McHugh)

2-22-1937
New York, New York
Victor 25537
Did Anyone Ever Tell You?


(Adamson / McHugh)

2-22-1937
New York, New York
RCA 17048
Do Me A Favor


(Jeanne Cherdak / Richard Loring)

5-16-1934
New York, New York
Victor
Don't Let It Bother You


(Mack Gordon / Harry Revel)

8-17-1934
New York, New York
Victor
Don't You Know Or Don't You Care?


(Kahal / Fahn)

6-9-1937
New York, New York
Victor
Dinah


(Samuel Lewis / Joseph Young / Harry Akst)

6-24-1935
Camden, New Jersey
Electrola
Dream Man


(Milton Ager / Joseph Young)

11-7-1934
New York, New York
Victor
Dust Off That Old Pianna


(Irving Caesar / Sammy Lerner / Gerald Marks)

3-6-1934
New York, New York
Victor
Everybody Loves My Baby


(Jack Palmer / Spencer Williams)

11-6-1940
New York, New York
Victor
Floatin' Down To Cotton Town


(Jack Frost / F. Henry Klickmann)

9-9-1936
New York, New York
Victor
Fractious Fingering
(Fats Waller)
6-8-1936
New York, New York
Victor
Georgia May


(Andy Razaf / Paul Denniker)

8-17-1934
New York, New York
Victor
Garbo Green


(Fisher)

2-1-1936
New York, New York
Victor
Georgia Rockin' Chair


(Fred Fisher)

8-2-1935
New York, New York
HMV
Got A Bran' New Suit


(Howard Dietz / Arthur Schwartz)

8-20-1935
New York, New York
Electrola

Victor 25123 

Halleujah! Things Look Rosey Now (1)


(West / Flatow)

11-29-1936
New York, New York
Victor 25478
Halleujah! Things Look Rosey Now (Instr) (2)


(West / Flatow)

11-29-1936
New York, New York
Victor 25489
Have a Little Dream On Me


(Phil Baxter / Jack Murray / Billy Rose)

8-17-1934
New York, New York
Victor
Havin' A Ball
(Andy Razaf / James P. Johnson)
12-24-1936
New York, New York
Victor
Headlines In The News


(Milt Noel / Edgar Battle)

New York, New York
Hold Tight (Want Some Sea Food Mama)


(Buddy Desylva /Jerry Brandow / Leonard Ware)

1-19-1939
New York, New York
Bluebird
Honeysuckle Rose
(Andy Razaf / Fats Waller)
11-7-1934
New York, New York
Victor 24826
Honeysuckle Rose


(Andy Razaf / Fats Waller)

4-9-1937
New York, New York
Victor 36206
How Can You Face Me?
(Andy Razaf / Fats Waller)
9-28-1934
New York, New York
Victor
I Adore You


(Robin / Rainger)

11-29-1936
New York, New York
Victor
I Ain't Got Nobody (vocal)


(Abel Baer / Samuel Lewis / Joseph Young)

3-6-1935
New York, New York
Victor
I Ain't Got Nobody


(Abel Baer / Samuel Lewis / Joseph Young)

3-6-1935
New York, New York
Victor
I Believe In Miracles


(George Meyer / Samuel Lewis / Pete Wendling)

11-7-1934
Camden, New Jersey
Victor
I Believe In Miracles


(George Meyer / Samuel Lewis / Pete Wendling)

1-5-1935
Camden, New Jersey
Victor
I Can't Break The Habit Of You


(Andy Razaf / Charlie Beal)

2-22-1937
New York, New York
Victor
I Can't Give You Anything But Love, Baby
Vocal refrain by Fats Waller and Una Mae Carlisle


(Dorothy Fields / Jimmy McHugh)

2-22-1937
New York, New York
Victor
20-1582-A
I'd Rather Call You Baby


(Seymour / Lawhurst)

9-7-1937
New York, New York
Victor
If It Isn't Love


(Val Burton / Will Jason)

11-7-1934
New York, New York
Victor
I Hate To Talk About Myself
5-8-1935
New York, New York
HMV
I Just Made Up With That Old Girl of Mine


(Little / Pease / McConnell)

8-1-1936
New York, New York
Victor
I'll Dance At Your Wedding


(Joe Davis)

12-7-1938
New York, New York
Victor
I'm Always In The Mood For You


(Davis / Coots)

9-7-1937
New York, New York
Victor
I'm a Hundred Per Cent For You (1)


(Oakland / Parrish / Mills)

11-7-1934
New York, New York
Victor
I'm a Hundred Per Cent For You (3)


(Oakland / Parrish / Mills)

11-7-1934
New York, New York
Victor
I'm At The Mercy Of Love


(Benny Davis / J. Fred Coots)

9-9-1936
New York, New York
Victor 25409
I'm Crazy 'Bout My Baby (And My Baby's Crazy 'Bout Me
8-1-1936
New York, New York
Victor 25374
I'm Gonna Put You In Your Place
(And Your Place Is In My Arms)


(Bob Rothberg / Joseph Meyer)

6-11-1937
New York, New York
Victor
I'm Gonna Sit Right Down And Write Myself A Letter


(Fred Ahlert / Joseph Young)

5-8-1935
New York, New York
HMV
I'm On A Seesaw


(Desmond Carter / Vivian Ellis)

8-20-1935
New York, New York
Victor 25120 Electrola
I'm Growing Fonder Of You


(George W. Meyer / Pete Wendling / Joseph Young)

11-7-1934
New York, New York
Victor
I'm Sorry I Made You Cry


(N.J. Clesi)

12-24-1936
New York, New York
Victor
It's A Sin To Tell A Lie


(William P. Mayhew)

6-5-1936
New York, New York
Victor
It's No Fun


(Newman)

4-8-1936
New York, New York
Victor
I've Got A New Lease On Love


(Young / Ahlert)

4-9-1937
New York, New York
Victor 25580
I've Got A New Lease On Love


(Young / Ahlert)

4-9-1937
New York, New York
Victor 25571
I've Got My Fingers Crossed


(Ted Koehler / Jimmy McHugh)

11-29-1935
New York, New York
Victor 25571
I Wish That I Were Twins (1)


(Edgar De Lange / Frank Loesser / Joseph Meyer)

5-16-1934
New York, New York
Victor
I Wish That I Were Twins (2)


(Edgar De Lange / Frank Loesser / Joseph Meyer)

5-16-1934
New York, New York
Victor
I Used To Love You (But It's All Over Now)


(Lew Brown / Albert Von Tilzer)

6-28-1939
New York, New York
Bluebird
Just As Long As the World Goes Round and Round


(Woods)

8-2-1935
New York, New York
HMV
La-De-De-La-De-Da


(Sam Lewis / Peter De Rose)

9-9-1936
New York, New York
Victor 25430
Latch On
(Fats Waller)
6-8-1938
New York, New York
Victor
Let's Pretend There's a Moon


(Jack Stern)

9-28-1934
New York, New York
Victor
Let's Sing Again
6-5-1936
New York, New York
Victor 25398
Little Curly Hair In A High Chair
(From the MGM film "Forty Little Mothers")


(Charles Tobias / Nat Simon)

4-11-1940
New York, New York
Victor
Loafin' Time

(Milton Ager / Arthur Altman)

8-20-1935
New York, New York
HMV
Louisiana Fairy Tale


(Fred Coots / Haven Gillespie / Mitchell Parish)

3-6-1935
New York, New York
Victor
Lounging At The Waldorf
6-8-1936
New York, New York
Victor 25430
Lost Love
(Andy Razaf / Fats Waller)
6-11-1937
New York, New York
Victor
Lulu's Back In Town


(Al Dubin / Harry Warren)

5-8-1935
New York, New York
HMV
Mandy


(Irving Berlin)

9-28-1934
New York, New York
Victor
Moon Rose


(Rose / Fisher)

2-1-1936
New York, New York
Victor
My Very Good Friend, The Milkman


(Johnny Burke / Harold Spina)

6-24-1935
Camden, New Jersey
Bluebird
Nero


(Andy Razaf / Paul Denniker / Joe Davis)

12-24-1936
New York, New York
Victor
Night Wind


(David Pollack / Bob Rothberg)

1-5-1935
Camden, New Jersey
Victor
Oooh! Look-A There Ain't She Sweet


(Todd / Lombardo)

2-1-1936
New York, New York
Victor
Old Grand Dad
(Fats Waller)
4-11-1940
New York, New York
Bluebird
Old Plantation


(Redmond / David)

3-18-1937
New York, New York
Victor
One In A Million


(Mitchell / Pollack)

12-24-1936
New York, New York
Victor
Our Love Was Meant To Be


(

Alex Hill / Fats Waller)
9-7-1937
New York, New York
HMV
(Oh Susana) Dust Off That Old Pianna


(Irving Caesar / Sammy Lerner / Gerald Marks)

3-6-1935
New York, New York
Victor
Oooh, Look-A-There, Ain't She Pretty?
8-2-1935
New York, New York
Victor
Original E-Flat Blues
(Thomas Morris / Clarence Williams)
6-16-1940
New York, New York
Victor
Paswonky
6-8-1936
New York, New York
Victor 25359
Pardon My Love


(Milton Drake / Oscar Levant)

3-6-1935
New York, New York
Victor
Please Keep Me In Your Dreams


(byTot Seymour / Vee Lawnhurst)

12-24-1936
New York, New York
Victor
Rhythm and Romance


(Nat Burton / J.C. Johnson / George Whiting)

8-20-1935
New York, New York
HMV
Ring Dem Bells
(Duke Ellington / Irving Mills)
5-13-1941
Camden, New Jersey
Victor
Rosetta
(Earl Hines / William Woode)
1-5-1935
Camden, New Jersey
Victor 88781-1
Rosetta


(Earl Hines / William Woode)

1-5-1935
Camden, New Jersey
Victor 88782-1
Rump Steak Serenade


(Fats Waller)

New York, New York
Bluebird
B-11296-B
Sad Sap Sucker Am I


(Fats Waller / Ed Kirkeby)

New York, New York
Bluebird
B-11296-A
San Anton'


(Andy Razaf / Paul Denniker)

4-9-1937
New York, New York
Victor 25579
San Anton'


(Andy Razaf / Paul Denniker)

4-9-1937
New York, New York
Victor 25565
Serenade For a Wealthy Widow


(Dorothy Fields / Jimmy McHugh / R. Forsythe)

9-28-1934
New York, New York
Victor
Scram!


(Leonard Geoffrey Feather)

11-6-1940
New York, New York
Bluebird
She's Tall, She's Tan, She's Terrific


(Davis / Coots)

9-7-1937
New York, New York
Victor
Sing An Old Fashioned Song


(Young / Alhert)

2-1-1936
New York, New York
Victor
Smarty


(Freed / Laine)

6-11-1937
New York, New York
Victor
Somebody Stole My Gal


(Leo Wood)

6-24-1935
Camden, New Jersey
Camden
Spreading Rhythm Around


(Ted Koehler / Jimmy McHugh)

11-29-1935
New York, New York
Victor
Spring Cleaning


(Samuels / Whitcup)

3-18-1937
New York, New York
Victor
Squeeze Me
(Clarence Williams / Fats Waller)
8-10-1939
New York, New York
Victor
Stay


(Razah / E. Handy)

4-8-1936
New York, New York
Victor
Sugar Blues


(Clarence Williams / Lucy Fletcher)

8-2-1935
New York, New York
Montgomery Ward
Sugar Rose
(Fats Waller / Ponce)
2-1-1936
New York, New York
Victor
S'Posin'


(Andy Razaf / Paul Denniker)

9-9-1936
New York, New York
Victor
Sweet Heartache


(Washington / Stept)

4-9-1937
New York, New York
Victor 25580
Sweet Heartache


(Washington / Stept)

4-9-1937
New York, New York
Victor 25571
Sweetie Pie


(John Jacob Loeb)

9-28-1934
New York, New York
Victor
Sweet And Slow


(Al Durbin / Harry Warren)

5-8-1935
New York, New York
HMV
Sweet Sue (1)


(Will Harris / Victor Young)

6-24-1935
Camden, New Jersey
HMV
Sweet Sue (2)


(Will Harris / Victor Young)

6-24-1935
Camden, New Jersey
HMV
Sweet Thing


(Alhert / Young)

11-29-1935
New York, New York
Victor
Swingin' Them Jingle Bells


(J. Hancock)

11-29-1936
New York, New York
Victor 25483
Swingin' Them Jingle Bells


(J. Hancock)

11-29-1936
New York, New York
Victor 25490
'Tain't Good
(Like a Nickel Made of Wood) (1)


(Whiting / Bernier / Haid)

11-29-1936
New York, New York
Victor 254878
'Tain't Good
(Like a Nickel Made of Wood) (2)


(Whiting / Bernier / Haid)

11-29-1936
New York, New York
Victor 25489
Take It Easy


(Dorothy Fields / Jimmy McHugh)

6-24-1935
Camden, New Jersey
Electrola
That Never-To-Be-Forgotten Night


(Tobias / Fain)

2-1-1936
New York, New York
Victor
The Girl I Left Behind Me


(Edgar Leslie / George W. Meyer / Billy Rose)

8-2-1935
New York, New York
HMV
The Curse Of An Aching Heart


(Al Piantadosi / Henry Fink)

8-1-1936
New York, New York
Victor
The More I Know You (The More I Love You)  
6-5-1936
New York, New York
Victor 25348
Thief In The Night


(Howard Dietz / Arthur Schwartz)

8-20-1935
New York, New York
HMV
The Joint Was Jumpin'
(Fats Waller / Andy Razaf / J.C. Johnson)
10-7-1937
New York, New York
Victor
20-1582-B
The Love Bug Will Bite You


(Tomlin)

4-9-1937
New York, New York
Victor
The Meanest Thing You Ever Did Was Kiss Me


(Al Lewis / Murrray Mencher / Charles Newman)

2-22-1937
New York, New York
Electrola
The Panic Is On


(Clark / Thard)

2-1-1936
New York, New York
Victor
Then I'll Be Tired Of You


(E.Y. Harburg / Arthur Schwartz)

8-17-1934
New York, New York
Victor
There Goes My Attraction


(Billy Higgins / W. Benton Overstreet)

8-1-1936
New York, New York
Victor 25388
There'll Be Some Changes Made


(Billy Higgins / W. Benton Overstreet)

6-24-1935
New York, New York
Bluebird
There's Going To Be The Devil To Pay


(Robert Emmerich / Billy Hueston)

6-24-1935
New York, New York
Bluebird
To A Sweet Pretty Thing


(Young / Ahlert)

3-18-1937
New York, New York
Victor
Truckin'


(Rube Bloom / Ted Koehler)

8-2-1935
New York, New York
HMV
Twelfth Street Rag


(Euday L. Bowman)

6-24-1935
New York, New York
Bluebird
Two Sleepy People
(Frank Loesser / Hoagy Carmichael)
10-13-1938
New York, New York
Bluebird
Until the Real Thing Comes Along


(Sammy Cain / Saul Chaplin / Mann Holiner / Alberta Nichols)

8-1-1936
New York, New York
Victor
Up Jumped You With Love
(Fats Waller / Ed Kirkeby)
7-13-1942
New York, New York
Victor
Us On A Bus


(Seymour / Lawnhurst)

4-8-1936
New York, New York
Victor
West Wind


(Ager / Newman)

2-1-1936
New York, New York
Victor
What's the Reason (I'm Not Pleasin' You?)


(Jimmie Greer / Coe H. Poe / Pinky Tomlin)

1-5-1935
Camden, New Jersey
Victor 88784-1
What's the Reason (I'm Not Pleasin' You?)


(Jimmie Greer / Coe H. Poe / Pinky Tomlin)

3-6-1935
Camden, New Jersey
Victor 88785-1
When Love Is Young


(Adamson / McHugh)

2-22-1937
New York, New York
Victor
When Somebody Thinks You're Wonderful


(H. Woods)

11-29-1935
New York, New York
Victor
Where Is The Sun?


(Redmond / Davis)

3-18-1937
New York, New York
Victor
Who's Afraid Of Love


(Mitchell / Pollack)

12-24-1936
New York, New York
Victor
Whose Honey Are You?


(Fred Coots / Haven Gillespie)

3-6-1935
Camden, New Jersey
Victor 88779-1
Woe Is Me


(James Cavanaugh / Robert Emmerich / Dick Sanford)

8-20-1935
New York, New York
HMV
Why Do I Lie To Myself About You?
6-5-1936
New York, New York
Victor 25353
Yacht Club Swing
(Herman Autrey / J.C. Johnson / Fats Waller)
10-13-1938
New York, New York
Victor
You've Got Me Under Your Thumb


(Livemash / Brooks)

9-7-1937
New York, New York
Victor
You Showed Me The Way


(McRae / Chick Webb)

3-18-1937
New York, New York
Victor 25579
You Showed Me The Way


(McRae / Chick Webb)

3-18-1937
New York, New York
Victor 25565
You Stayed Away To Long


(Whiting / Schwartz)

11-29-1935
New York, New York
Victor
You're Laughing At Me


(Irving Berlin)

2-22-1937
New York, New York
Victor
Your Feet's Too Big


(Ada Benson / Fred Fisher)

3-20-1941
New York, New York
Victor
You Fit The Picture


(Bud Green / Jessie Greer)

1-5-1935
Camden, New Jersey
Victor
You're Gonna Be Sorry


(Clarence Gaskill)

3-20-1941
New York, New York
Victor
You Look Good To Me


(Billy Rose / Walter Donaldson)

10-13-1938
New York, New York
Bluebird
You're Not the Kind


(Burke / Spina)

6-5-1936
New York, New York
Victor 25353
You're Not the Only Oyster In the Stew


(Burke / Spina)

8-17-1934
New York, New York
Victor
You're So Darn Charming (1)


(Burke / Spina)

8-20-1935
New York, New York
Victor
You're So Darn Charming (2)


(Burke / Spina)

8-20-1935
New York, New York
RCA
You're the Cutest One
5-8-1935
New York, New York
HMV
You're The Picture, I'm The Frame


(Irving Golden / Bob Rothberg)

6-24-1935
New York, New York
HMV
You've Been Reading My Mail


(Meyer / Rothberg)

3-18-1937
New York, New York
Victor
You've Been Taking Lessons In Love


(Winston "Winky" Tharp / Grady Watts)

5-8-1935
New York, New York
BRS
You Went to My Head


(Meyer / Bernier / Emmerich)

3-11-1938
New York, New York
Victor

| | |
| --- | --- |
| Artist | Instrument |
| Herman Autrey | Trumpet |
| Al Casey | Guitar |
| Bill Coleman | Trumpet |
| Harry Dial | Drums, Vibraphone |
| Mezz Mezzrow | Clarinet |
| Floyd O'Brien | Trombone |
| Rudy Powell | Clarinet, Alto Saxophone |
| Billy Taylor | Drums, Vibraphone |
| Fats Waller | Piano, Vocals |
| Charlie Turner | Bass |
| Eugene "Honey Bear" Sedric | Clarinet |
| Ben Whitted | Clarinet |