One of my favorite songs is "Once in a While." Or should I say that two of my favorite songs are "Once in a While" because there are two different tunes with the same title. There is the 1927 number composed by William J. Butler that was recorded by Louis Armstrong & his Hot 5, and there is the 1937 version, written by Michael Edwards with lyrics by Bud Green, that most fans remember from recordings by Tommy Dorsey, Patti Page and many others.
That duplication raises an interesting question: Can song titles be copyrighted? Without delving into a lot of legalese, the simple answer is NO. Copyright protection generally does not extend to song titles because they usually are short and lack sufficient originality. A song title can, however, be protected from unfair competition as a trademark under trademark law whose primary goal is to protect consumers from confusion as to the source of a good or service, and to prevent later users from trading on the popularity of an earlier use of the name. Think of it like a brand.
As I researched this question, I found a number of songs over the years with the same name. Walter Donaldson wrote "Oh, Baby" in 1923, and it was recorded by The Wolverines. Wikipedia lists 25 songs with that title since then. Willie Nelson's "Crazy" was popularized by Patsy Cline in 1962, but there are at least 10 other "Crazy" songs. There are two distinct songs with the title, "I Found a Million Dollar Baby (in a Five-and-Ten Cent Store)" written five years apart, both, however, with lyrics by Billy Rose. Jazz historian Hal Smith recalled "Sugar," "Get Happy," "Hallelujah," and "Liza" as different compositions with the same title.
– And then they wrote… –
A bit of interesting background on the individuals responsible of the two "Once in a While" songs: William Butler did some arranging for Fletcher Henderson, Fats Waller, and the Ed Sullivan Show Orchestra and was also the founder and publisher in 1947 of Travelguide, a booklet that listed hotels and motels in the United States that would accommodate African-Americans in the days before the Federal public accommodations laws took effect.
Michael Edwards was considered a one-hit composer since none of the songs he wrote other than the 1937 "Once in a While" achieved any popularity. On the other hand, lyricist Bud Green wrote material for vaudeville and the movies and collaborated with many artists and fellow songwriters. Inducted into the Songwriters Hall of Fame in 1975, he wrote or co-wrote such tunes as "Alabamy Bound," "That's My Weakness Now," (popularized by Helen Kane in 1928); Ella Fitzgerald's "I'll Always be in Love with You", Doris Day's "My Number One Dream Came True," Les Brown's theme song, "Sentimental Journey," and "Flat Foot Floogie (with a Floy Floy)" with Slim Gaillard and Slam Stewart.
♫ ♫ ♫ ♫
The Ipana Troubadours. Boy, that's a name out of the past which recently popped up on Facebook and brought back the radio-listening days of my youth. The Troubadours were a popular dance band in the 1920s and '30s that headlined a musical variety show of hot foxtrots, sweet waltzes, and snappy novelty tunes on NBC Radio (1923-1934).
The band was actually the Sam Lanin Orchestra that over the years included the likes of Tommy and Jimmy Dorsey, Red Nichols, Jack Teagarden, Bix Beiderbecke, Jimmy McPartland, Bunny Berigan, and Joe Venuti. Sam, who was the older brother of society bandleader Lester Lanin, used the up-and-coming Bing Crosby as band vocalist on a couple of his Okeh records.
NBC had two radio networks back in those days, the Red Network, which featured commercially-sponsored entertainment where the programs were often produced by advertising agencies; and the Blue Network that carried non-sponsored news and cultural broadcasts. NBC sold the Blue Network in 1943, and it eventually became the American Broadcasting Company in 1946.
Ipana was a toothpaste made by Bristol-Myers and was promoted with the slogan, "Ipana for the Smile of Beauty; Sal Hepatica for the Smile of Health." The Troubadours always opened their shows with their theme song, "Smiles," a 1917 tune, music by Lee Roberts, lyrics by Will Callahan.
(Sal Hepatica is the name of a mineral salt laxative that became Bristol-Meyer's first nationally-recognized product in 1903. When dissolved in water, it was said to reproduce the taste and effect of the natural mineral waters of Bohemia.)
♫ ♫ ♫ ♫
Pete Anderson, Vince Giordano, and Jon-Erik Kellso were part of Jon Batiste's band on The Late Show with Stephen Colbert (CBS-TV) on February 5.
♫ ♫ ♫ ♫
THE WEEK Magazine reported that "Alan Tripp, 102, and Marvin Weisbord, 88, might be the world's oldest songwriting team. The pair, both residents of a Pennsylvania retirement community, have just released their debut album, Senior Song Book. They started writing together two years ago after jazz pianist Weisbord set one of Tripp's poems to music as a surprise gift for his 100th birthday. Soon the two men were pumping out songs, touching on true love ("Wonder Woman") and the perils of senior dating ("I Just Can't Remember Your Name"). The album has already sold out.
♫ ♫ ♫ ♫
Music educator-songwriter and musician Carolyn Sloan has written Welcome to Jazz, an introduction to jazz for young children, in a lively picture book complete with sound buttons to hear the instruments, the rhythms, and the New Orleans sound of "When the Saints Go Marching In."
A synopsis by Publisher's Weekly tells us, "In this interactive volume, readers meet three cool cats (literal felines) at a jazz club, where one explains the art form to the others. This setup allows Sloan to offer a relatively comprehensive introduction to jazz, from its origins as 'an African-American art form' to its signature sounds, toggling between the cats' dialogue and text-block explanations. A push-button side panel with 12 musical features plays instrument sounds (trumpet, double bass, etc.) as well as stylistic elements (scatting, improvisation), and each is called out in the text."
♫ ♫ ♫ ♫
Tenor saxman Harry Allen received the Jazz Monsters Award following a performance at Soka University in Aliso Viejo, California.
♫ ♫ ♫ ♫
Australian native and super bassist-vocalist Nicki Parrott recently became a U.S. citizen.
♫ ♫ ♫ ♫
Bass man Sam Rocha, who broke in with the Blue Street Jazz Band at the age of 17 and currently is making his mark in the trad jazz and gypsy swing circuits, has informed festival directors that he has updated his "musician bio" which reads in part as follows:
"Samuel W. Rocha has been floating around the universe in some form or other for who knows how long. He entered his current terrestrial form as a baby boy via Susan Wolfe Rocha, arriving in 1986. In this incarnation and possibly others, he has chosen music as a means for expression, work, and joy. Mr. Rocha has performed at various locations on earth as well as other far reaches of the galactic frontier. He proudly uses a plethora of instruments (mostly acoustic) and styles to convey a universal message of joy, love, and hope."
♫ ♫ ♫ ♫
In his book, Louis Armstrong (Giants of Jazz), author Chris Albertson tells about Satchmo's first paying job when he was growing up in New Orleans. At 17, Louis got his first regular job as a musician, playing cornet with a drummer and a pianist from 8 p.m. to dawn in a local honky-tonk. "Night I made my debut, I thought I was somebody," he said later. "I took my 15 cents home, and I give it to my mother. My sister woke up out of a sound sleep, saying, 'Huh, blowing your brains out for 15 cents.' I wanted to kill her. Finally I got a raise to $1.25 a night—top money, man."
♫ ♫ ♫ ♫
"You see, I went to the Louis Armstrong University, from which you never graduate." – Ruby Braff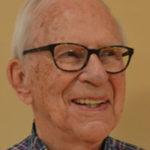 Lew Shaw started writing about music as the publicist for the famous Berkshire Music Barn in the 1960s. He joined the West Coast Rag almost thirty years ago and has been a guiding light to this paper through the two name changes since then as we became The Syncopated Times.  47 of his profiles are collected in Jazz Beat: Notes on Classic Jazz. Volume two, containing profiles from 2013-2016 will be available on Amazon soon. He taps his extensive network of connections and friends throughout the traditional jazz world to bring us his Jazz Jottings column every month.